Today's customers know what they want. Across the board, marketing and customer experience trends today reveal that customers prefer highly personalized services, including product recommendations and direct access to customer support.
One way that organizations can provide direct interactions with customers and attentive, personalized care is to utilize messaging apps. According to Gartner survey predictions, 80% of customer service organizations will replace native mobile apps with messaging platforms by 2025, just a few short years away.
WhatsApp is the most popular messaging app across the globe. The app supports over two billion active users located in nearly 200 countries around the world. Every single day, international WhatsApp users send 100 billion messages using this app.
The sizable audience is just one reason that WhatsApp is such a natural fit for businesses. WhatsApp has become ever more important for businesses, addressing both marketing and communications needs. In this article, we will take a look at why the messaging app is so important for businesses today and how specific brands are making creative use of WhatsApp. Then we will share helpful tips and tools that can allow organizations to make the most of this surprisingly multifaceted app.
Table of Contents:
How WhatsApp Is Becoming Essential For Business
WhatsApp is quickly becoming a vital tool for any business, and not just for marketing purposes. Since WhatsApp is used so widely across the globe, the messaging app will help to grow your brand's international customer base, allowing you to connect with more users around the world.
Since messaging speeds up the customer experience pipeline, embracing the use of a messaging app like WhatsApp can boost overall sales. A more direct interaction with the sales funnel means higher conversion rates and greater profits overall, so WhatsApp can lead to higher earnings.
WhatsApp provides a simple, streamlined platform for responding to customer feedback and requests. Creating more channels for customers to directly interact will help to improve customer experience across the board. With so many customers already active on the platform, offering customer service through WhatsApp creates a seamless transition from social to consumer interaction.
Companies across numerous industries have been turning to direct messaging tools to stay in touch with their customers. For example, medical clinics and hospitals often rely on direct messaging services to interact directly with patients by communicating medical updates from doctors, sending invoices, or scheduling appointments. This cuts out inefficient chains of hierarchy in the communication process.
Equally, employees frequently prefer to provide customer experiences via messaging apps rather than phone services or video calls, since messaging platforms allow employees to multitask while providing excellent customer service. This means that using WhatsApp to communicate with customers can foster better efficiency for employees.
How Brands Are Using WhatsApp For Marketing And Beyond
Approached creatively, WhatsApp can be a multifaceted tool not just for responding to customer inquiries, but also for boosting brand awareness, improving customer service plans, and diversifying marketing strategies. Let's take a look at some of the ways organizations can use WhatsApp for improving their business and customer experience.
Integrate Messaging With Your Professional Social Media
When you integrate your professional WhatsApp account with your business Facebook and Instagram accounts, you can seamlessly sync posts and information across platforms. Your organization's contact information on your professional Facebook and Instagram profiles will include your WhatsApp phone number. And your professional WhatsApp profile will display your most recent Facebook and Instagram posts.
In addition, you can promote direct customer conversations and interactions on WhatsApp by including direct actions in Facebook and Instagram ads that lead customers straight to your WhatsApp messaging platform. This interlinking smoothly boosts the power of your social media ads by combining customer access and enticement across platforms and easily leads to higher sales figures.
Share Brand Information
Not only is your WhatsApp account a tool for communicating through messages and phone calls, but it is also an additional place to display information about your company and promote your brand. Treat your WhatsApp business profile as another opportunity to advertise your brand values, services, and products.
You can provide answers to frequently asked questions, such as opening hours and locations directly in your WhatsApp business profile, making WhatsApp a helpful source of information for customers that will encourage them to log on. And you can include a link to a digital catalog that provides interactive content about your organization's services and products on offer, so customers can explore your company's offerings directly through WhatsApp.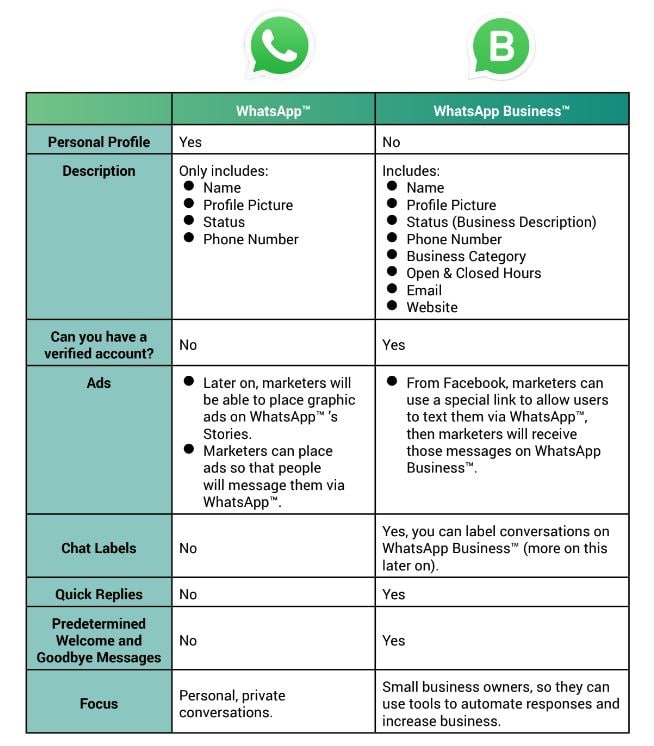 Automate Customer Support
One of the most powerful uses of WhatsApp as a business tool is to provide high-level, round-the-clock customer support while relieving your employees of the burden of checking and responding to every message.
Utilize an automated artificial intelligence chatbot with WhatsApp to respond to frequently asked customer questions to reduce the amount of time your employees spend attending to digital customer inquiries. Alternatively, you can hire a virtual assistant to run your business's WhatsApp for you, streamlining the customer interaction process and ensuring that every customer inquiry and feedback is promptly addressed and responded to. Make sure you look for virtual assistant contract templates that come with clear designations about the duration of the professional relationship and specify which duties the virtual assistant is expected to address.
For example, the European telecommunications company Vodafone uses WhatsApp to reach customers and provide customer support. Vodafone utilizes an advanced artificial intelligence-powered chatbot called TOBi that can address nearly 300 simple customer requests over WhatsApp messaging. With repetitive or simple customer queries easily addressed by TOBi, it frees up employees to handle more sensitive or complex issues or focus on strategy for improving the business overall.
Promote Content With Innovative WhatsApp Marketing
Your organization can craft an innovative marketing campaign that utilizes particular WhatsApp features. Use the Status feature on your WhatsApp profile to share temporary content, the same way you would share stories on your Instagram or Facebook profiles to promote new content, giveaways, newsletter signups, seasonal sales, or other announcements that will grab the attention of your customers and prospective customers.
Create attractive, eye-catching status updates for your WhatsApp account, treating these with the same care and attention you would any of your social media promotional content.
Streamline Sales
WhatsApp messaging has proven a more effective tool for generating leads and streamlining the sales cycle than phone calls or email blasts, creating higher conversion rates. Organizations can utilize automated message responses to help clarify any confusion during the checkout process, such as which payment options your company will accept. These helpful hints and 24/7 responses can speed up the engagement to the purchase process, resulting in more sales for your company.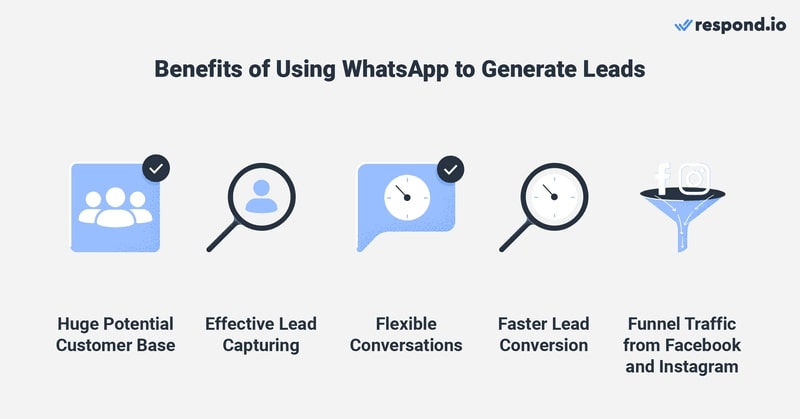 WhatsApp can also be used to speed up the sales process by sending personalized payment reminders and individual discount offers to customers. Customers can also receive automated alert messages on the app when your brand is having a sale event or other temporary promotional deals that can boost conversions.
Make Your Business Run Efficiently
Some areas of your business can be improved by replacing normal functions with the more convenient option of WhatsApp messaging. For example, a Spanish insurance provider called Mutua Madrileña provides personalized messages for customers that cover over 1000 distinct subjects.

In addition to making their customer response and engagement much more efficient, the insurance company also allows customers to submit automobile insurance accident claims through the company's WhatsApp virtual assistant, which has gone a long way towards speeding up the insurance process. To make your business run more efficiently, analyze and identify specific areas where you can replicate core business functions directly within WhatsApp.
Beyond customer interactions, WhatsApp can also be used for in-house communications. Employees and managers can benefit from the secure communications platform to quickly reach each other. Recruiters can utilize WhatsApp as a quick and easy way to respond to candidate questions and concerns. And employees can use WhatsApp to reach out to their organization's HR department to make paid time off requests, report any issues, or clear up misunderstandings.
5 Features to Optimize WhatsApp For Business
We have shared how to make good use of WhatsApp for your business in a general sense in the sections above. Now it is time to get down to brass tacks and take a deeper look at four specific ways to optimize the WhatsApp messaging platform for your business. Let's go over the top tools and features that can help boost your sales and conversions, amplify your brand's customer experience strategy, and hone your targets and marketing goals.
1 – Create A Welcome Message
The first message your customers will receive when they contact your business on WhatsApp should be an automated welcome message. Take the opportunity to craft a message that provides helpful information on key subjects such as opening hours and estimated response times.
Share a brief, friendly, professional welcome message that communicates to your customers who your company is and what type of customer experience they can expect to receive on this platform. You can close your welcome message with a call to action that encourages customers to check out the products you have on offer in your digital catalog, for example, or reach out to you with specific questions and requests. Giving your customers actionable goals is a great way to create a favorable outcome right from the get-go.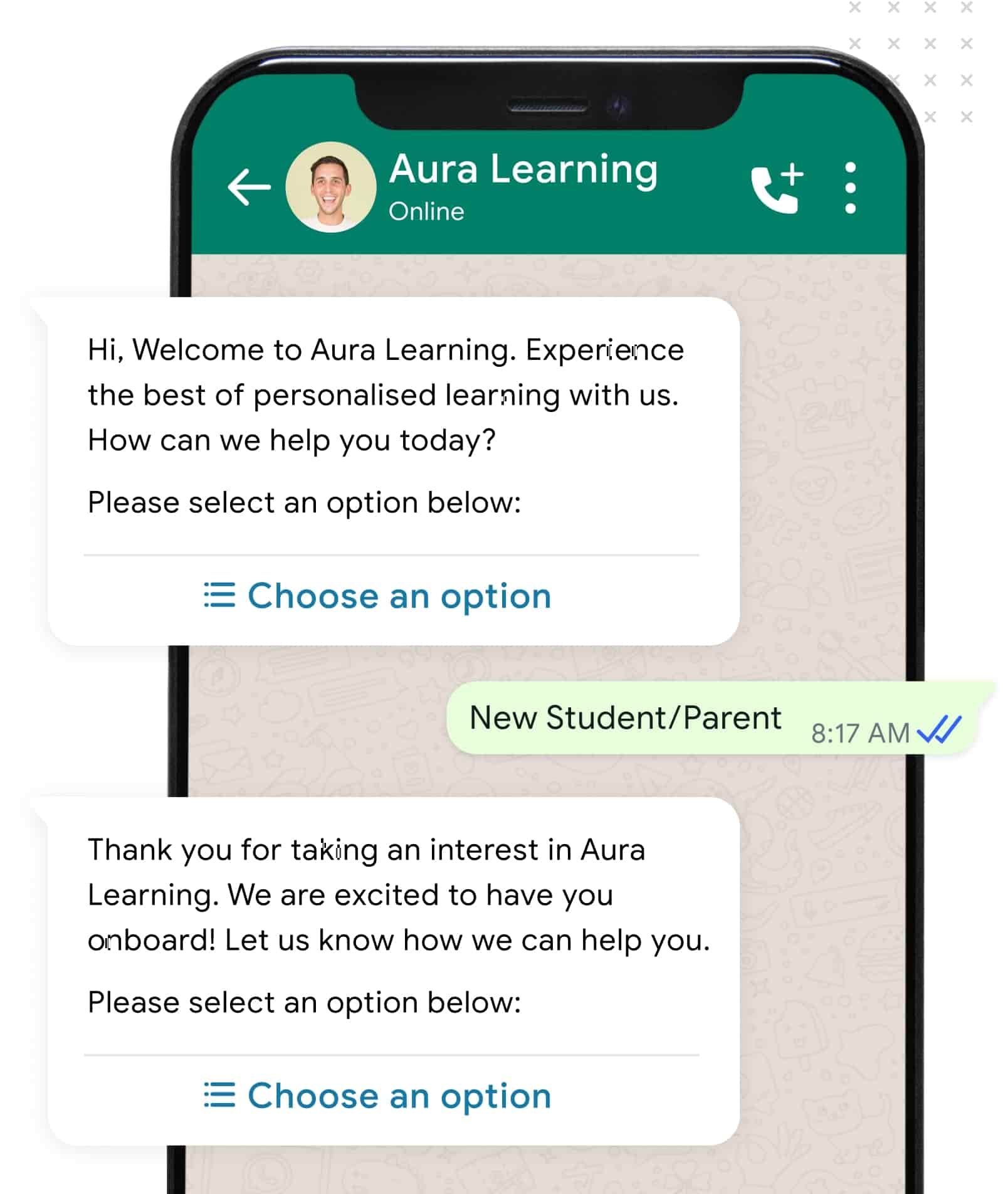 2 – Utilize Features Like Broadcasts and WhatsApp Groups
Familiarize yourself with the various modes of communication that WhatsApp provides to understand how best to focus your marketing and communications campaigns.
Sending a WhatsApp Broadcast allows you to reach multiple individual contacts at the same time, but each user will receive your message as if it was sent just to them, directly in their one on one chat space. WhatsApp Groups, meanwhile, allow you to band together like-minded customers to create a fun, community feeling where individual users can see the other members of the group who are being messaged.
You can utilize Broadcasts to share announcements about sales and promotions, while WhatsApp Groups can provide a social forum for natural marketing. You can include QR codes in your broadcast or group messages that customers can scan for more information about individual products, services, offers, and deals.
4 – Share A Detailed Digital Catalog
The best way to show customers what products and services your brand has on offer is to provide a detailed digital catalog. Customers will be able to leaf through pages and sort through easy-to-navigate categories to access key information about specific products and services.
Include links to your brand's digital catalog in your profile information section as well as your automated welcome message, so customers have multiple chances to find and access this helpful guide. If you are utilizing automated responses to customer service inquiries, the digital catalog can also be a resource for providing answers to simple customer questions.
Share attractive images of products and services and create a well-designed digital catalog that emphasizes the mood, values, and qualities your brand wants to convey.
Opt for color schemes and font palettes that are in line with your website, social media content, and other promotional materials to keep everything consistent and professionally engaging.
5 – Share Content On Your WhatsApp Status
As mentioned briefly above, your brand can and should treat your WhatsApp status as another form of ever-changing content that can reach your customers directly. Keep your WhatsApp status showing consistent updates so customers know to check back with your brand's WhatsApp profile for information on the latest brand updates.
You can offer special promotions and sales through your business WhatsApp status, to give customers an added incentive to keep checking your brand's profile consistently. Include special giveaways, freebies, and other enticing offers that are only available through your WhatsApp status.
These promotions will help your status reach an expansive global audience, taking advantage of the huge numbers of users that engage with WhatsApp on a regular daily basis. Offering one-off giveaways is a great way to boost the reach of your company, creating a robust and dynamic marketing strategy that keeps customers engaged. And WhatsApp status giveaways, contests, and sales can entice new customers to come and discover what your company is all about.
Final Thoughts
With messaging apps set to expand their features and capabilities for business, now is a great time to hop on the WhatsApp bandwagon and start to engage with customers through this globally popular messaging app. Utilize key tools and features such as business profiles, WhatsApp statuses, groups and broadcast channels, and automated messaging to interact directly with customers around the world at any time of day or night.
Embracing the creative capabilities that WhatsApp provides for clever businesses can help you to streamline your sales process, amplify the reach of your marketing campaigns, boost your leads and conversions, and provide superior customer experiences across the board.