My marketing career is still young, but if there's one thing that's become crystal clear so far, it's that in-house and agency marketing jobs might as well be different fields completely.
Sure, the end result is ideally the same: campaigns that rock people's socks off.
But your relationship to the brand you're marketing – whether you work for them as an employee, or with them as a client – shapes so much of your process and how you get to that end result.
Most obviously, when you work at an agency, you're essentially "becoming" multiple brands at once. To create marketing content for a company, you have to get in the mindset of their customer and the voice of their brand. Doing this for several companies at a time is like having multiple personas or alter egos you have to keep track of.
Then, there's the red tape. With agency-client relationships, a lot more people are involved in each decision. That means there's usually more back and forth and ultimately a longer decision-making process.
And oh, who can forget all the literal accounts for each account you manage?
Just one brand can have dozens of marketing accounts: Facebook pages, Twitter profiles, Instagram and Snapchat handles, not to mention any other workflow tools they need you to use because the rest of their team uses them.
But when you have dozens of brands with dozens of accounts? It's…a lot.
So obviously, it can be hard to manage.
We talk to successful social media marketing agencies all the time – ones who've figured out ways to do it all and keep track of it all, deliver great marketing campaigns, and keep clients happy in the process.
So today, we're sharing the social media marketing tools those agencies love – grab a pen and take note! (But first, a shout-out to BuzzSumo and SproutSocial! Out of the dozens of responses we received to our recommendations request, only a handful didn't mention one of these two apps! I love them both myself, but wow, our customers and readers really do too!)
To take things to the next level and put these tools to work, download our free guide to monitoring for agencies!
What to look for in agency tools
Before we dig into the actual social media tools, let's clarify a few things. Earlier, I mentioned that agency jobs come with a unique set of problems. Obviously, it takes tools with specific, unique features to solve them.
Collaboration: this one's a given. Since there are so many hands involved in managing your clients' accounts, both from their end and your own, it's so, so key for your social media marketing tools to have really easy and seamless collaboration and team communication.
Multiple accounts: another obvious feature. If you're managing a ton of different social profiles, you absolutely don't want to have separate logins for each of them. What a nightmare.
Reporting: you're getting paid by clients to get results, so you need to be sure of them. Clean, easy reports also helps you prove your worth to clients.
Permissions: lastly, you need to make sure no one completely screws anything up by changing something they shouldn't. Different user permissions allow you to set restrictions on what different departments and members of your client's team can change and do within the software.
So now that we know what agency/client relationships need in social media tools, let's look at the tools that meet them!
Advertising tools
Qwaya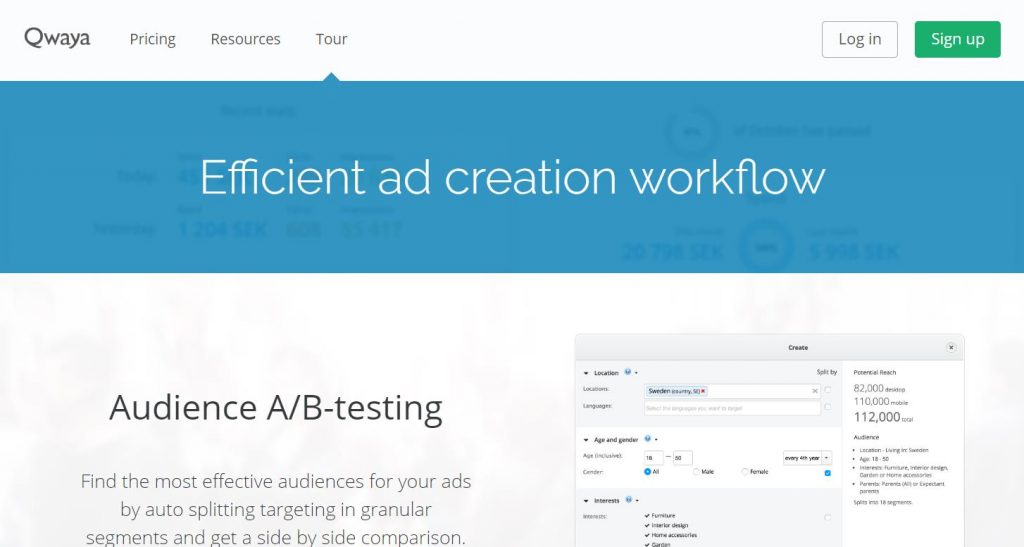 "My favorite social media tool is definitely, Qwaya for Facebook ads. All of our clients' ad accounts are in one dashboard, so we don't have to bounce around business manager to work with all of them. It's also just way more powerful than Power Editor, especially with their audiences and split testing capabilities. If you're handling Facebook ads for more than 2 clients, you should be using Qwaya." – Sujan Patel, WebProfits
TubeMogul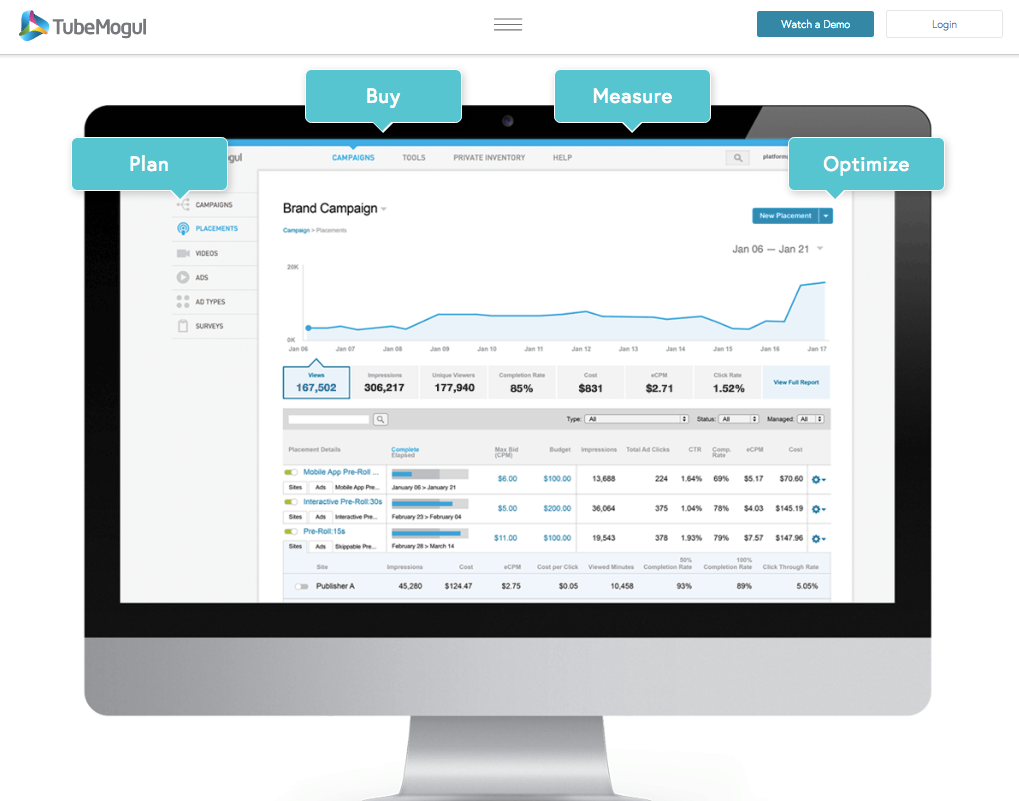 Recently acquired by Adobe, TubeMogul is an all-in-one solution for planning, buying, and measuring video advertising campaigns. And it actually just serves agencies and brands; it's not customized or marketed for in-house marketer use, so it has lots of really targeted features for your team and clients.
"Mostly for video upload and syndication, it allows us to upload a single video clip to dozens of video sites – not just YouTube. The real advantage of TubeMogul is that we get comparative statistics, i.e. how many views did our video get on each site, and how long on average did viewers watch our clips on each site? It's a great tool for moving beyond video upload to strategic video optimization." – Werner Geyser, Rainmakers Growth Hacking Agency
Social media tools
Buffer
"Hands-down, my favorite social media scheduling tool is Buffer. Their interface makes it so easy to schedule a bunch of updates all at once, across all of a client's social platforms. They also have great analytics. There's something to be said about something that just works, and Buffer definitely works." – Sujan Patel
Quuu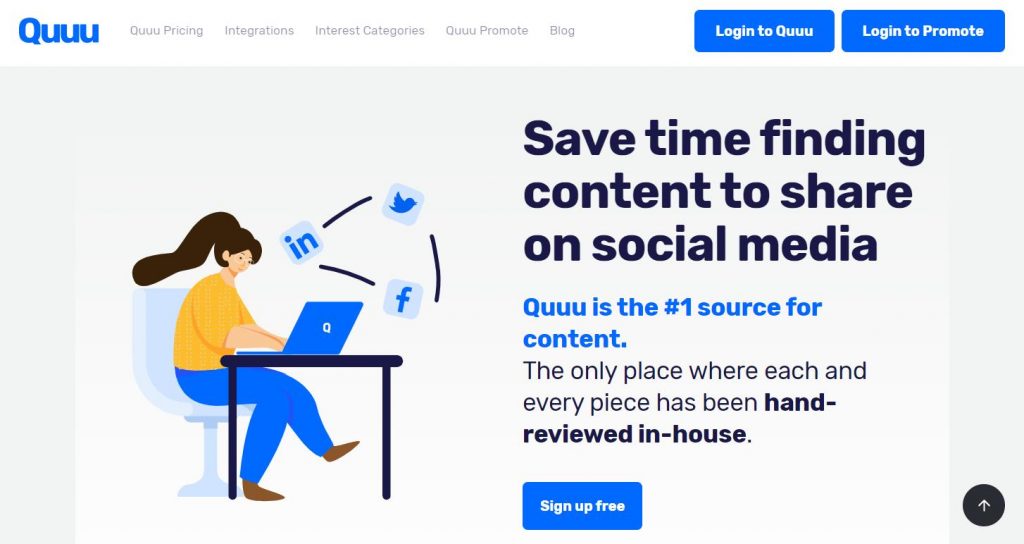 Quuu helps you save time curating content for your clients' social media profiles by automatically adding hand-picked content to their Buffer queues.
"Another great tool for agencies is Quuu . Connect it, choose topics you want to share, and automatically get quality content imported into your Buffer accounts." – Tomas Laurinavicius
Hootsuite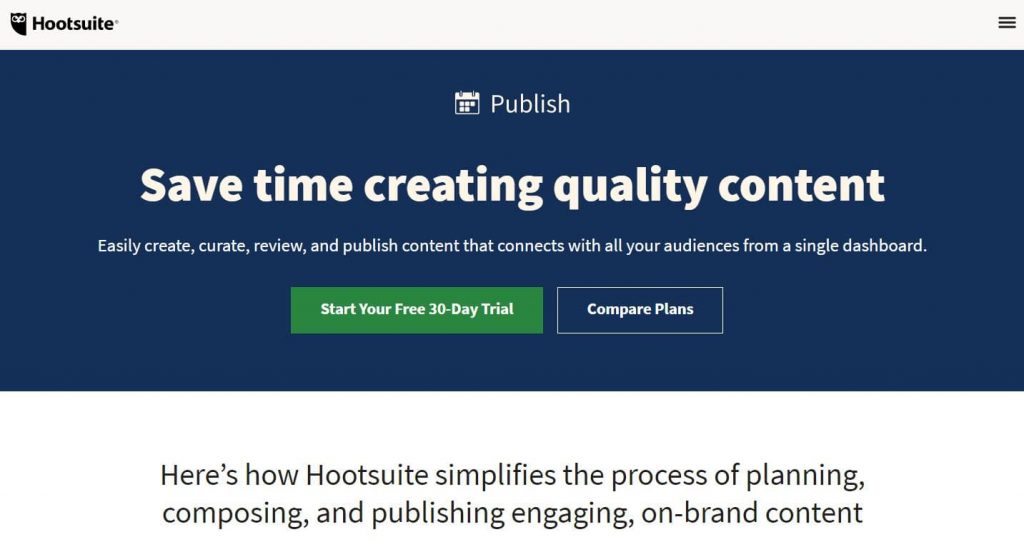 "We use Hootsuite for some of our clients who are not using a bigger tool such as HubSpot, and while it does offer Premium, the free version works quite well if you don't need lots of user accounts." – Laura Hawkins, Kula Partners
Sprout Social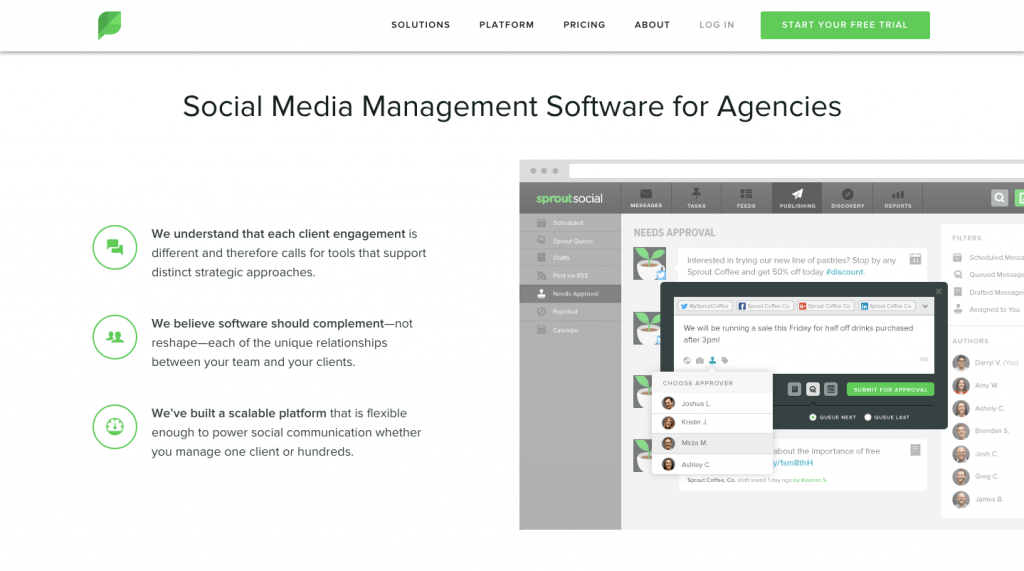 "Sprout Social is crucial to our social operations. We use it for monitoring, content distribution, community management, and reporting for each of our clients. The platform is incredibly user friendly and easy to integrate new profiles into the system so when a client has a project coming up, we can move quickly to add key search terms and set up reports." – Kelsey Nelson, Ferebee Lane

"I finally have found a social media management tool that provides everything I need, with an easy to use interface and great support team. Sprout Social for Agencies allows you to manage multiple clients' social media from one extremely intuitive platform, even Instagram!
Better yet, I can give permissions to my clients to go in and view their social platforms and approve or edit posts I have scheduled for them, removing the archaic email approval process I have had to do with clients in the past.
I do not have to worry about a client logging in and seeing anything I do not want them to see, such as another client I manage perhaps. Clients can see their custom interface by simply logging in. It also allows easy collaboration of teams on both the agency and client-side." – Tracy Hartman, Aloft Group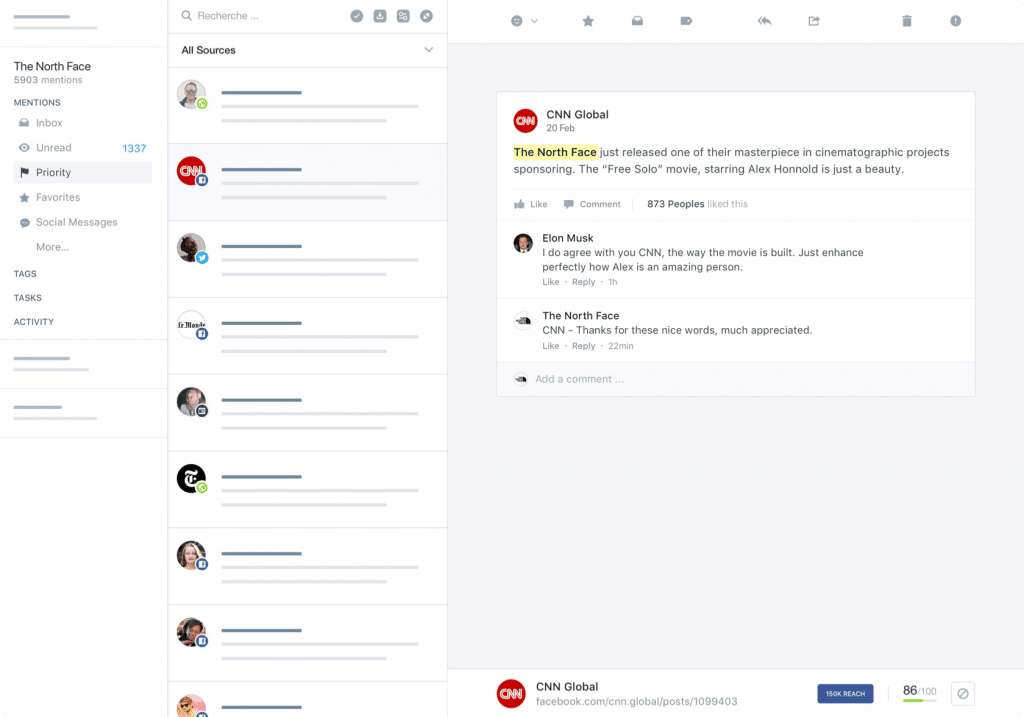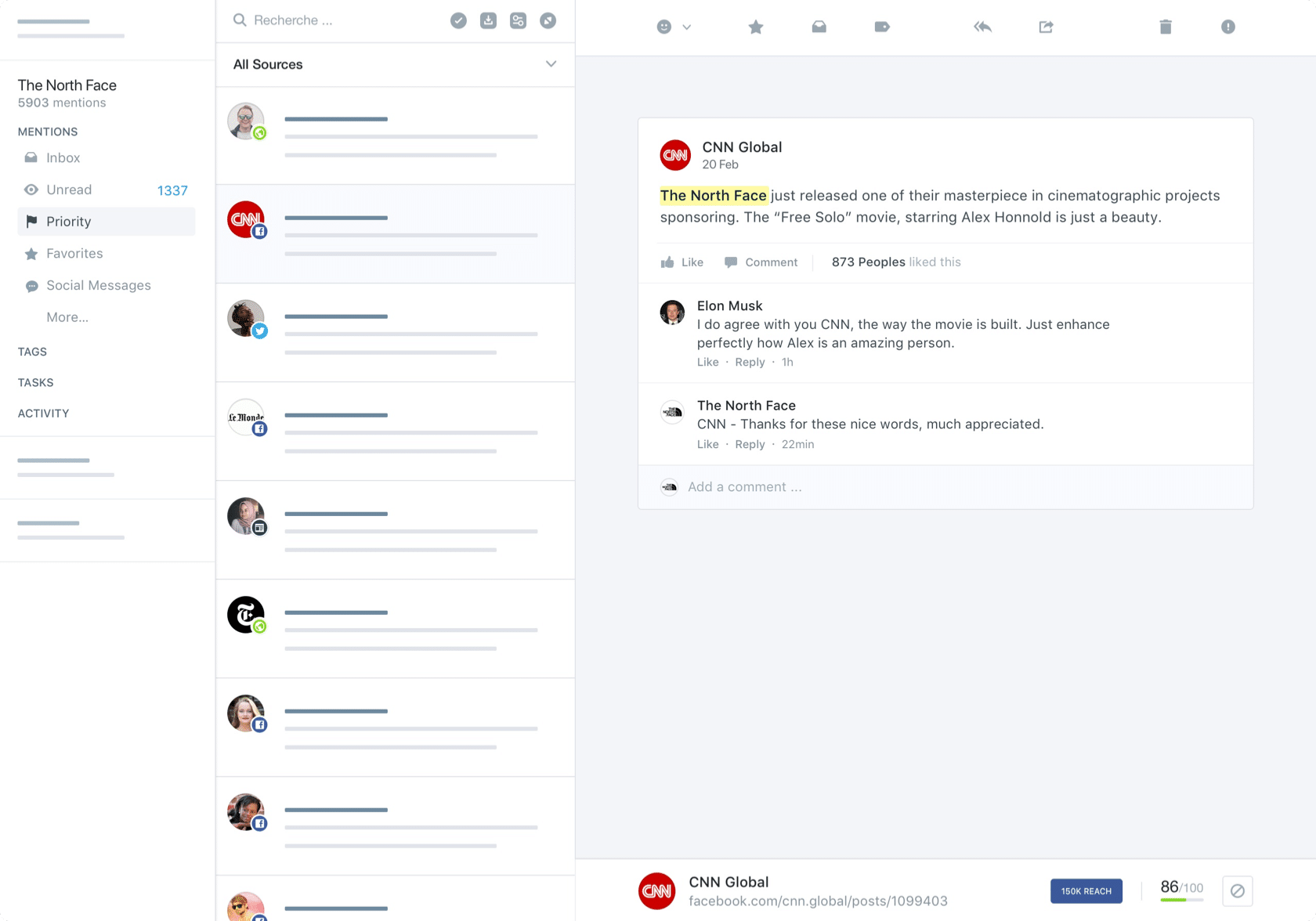 Obviously, I'm biased with this recommendation, and it would have ended up on this list regardless of whether or not someone else mentioned it. I'm shameless like that.
But!… We were excited to find a lot of agencies saying they already used Mention to help manage their clients' brands, as well as their own.
"We use Mention to receive automatic alerts whenever anyone talks about our brand. We have keywords set up for "Mod Girl" and "Mod Girl Marketing" and we absolutely leverage the notifications by mention as we instantly can view the mention and share across social!" – Mandy McEwen, Mod Girl Marketing
Content tools
BuzzSumo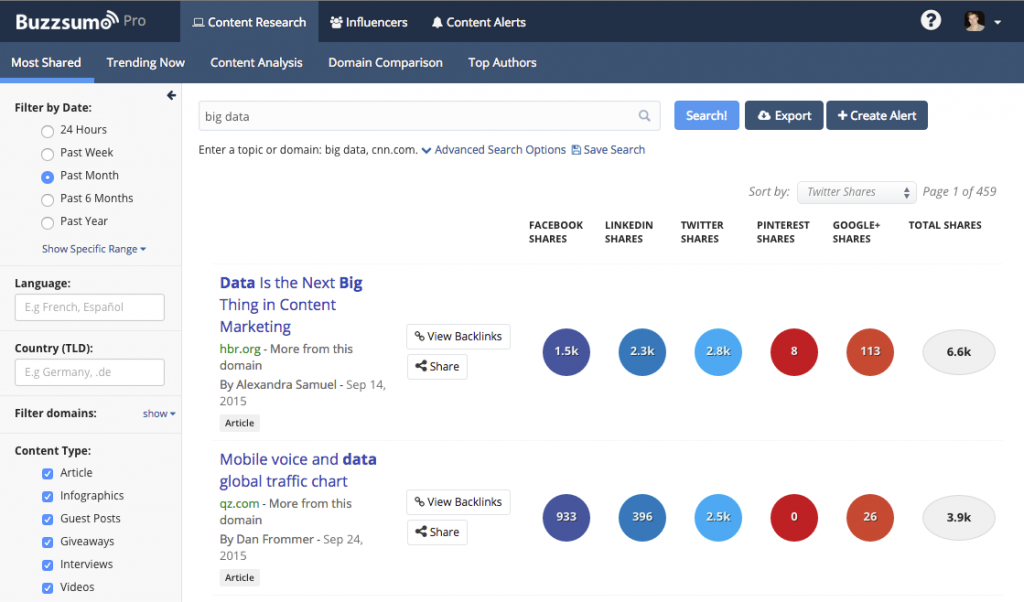 "BuzzSumo is great for understanding social media, content, and SEO basics. It's a simple and intuitive tool, so you won't have trouble extracting the insights. You'll quickly see which relevant topics and influencers are getting the most attention in your space.
Then you can design your strategy to better target them, whether that means dominating an already popular conversation or sparking a new conversation with serious amplification potential based on recent trends." – Shanelle Mullin, ConversionXL

"I have to give a shout-out to BuzzSumo. As the Senior Account Executive for The Content Factory, BuzzSumo saves me hours of research time every week because many of the processes that we used to do manually are completely automated or available in just a few clicks." – Jason Myers, The Content Factory
Answer the Public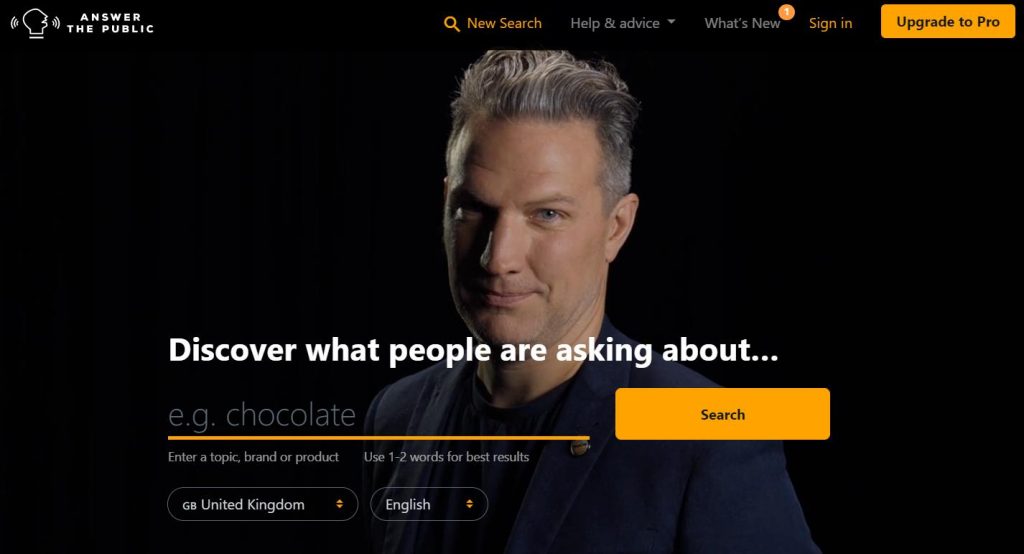 Answer the Public is a really awesome free research tool that takes "autosuggest" keyword recommendations to the next level by getting fancier than just finding words that start with "a" that sometimes, maybe get searched for with your query.
"Yes, it is one of our tools, but I still couldn't live without it when I'm writing blog posts or planning my social media strategy. This helps me create content people are really asking for!" – Stella Bayles, Coveragebook
CoSchedule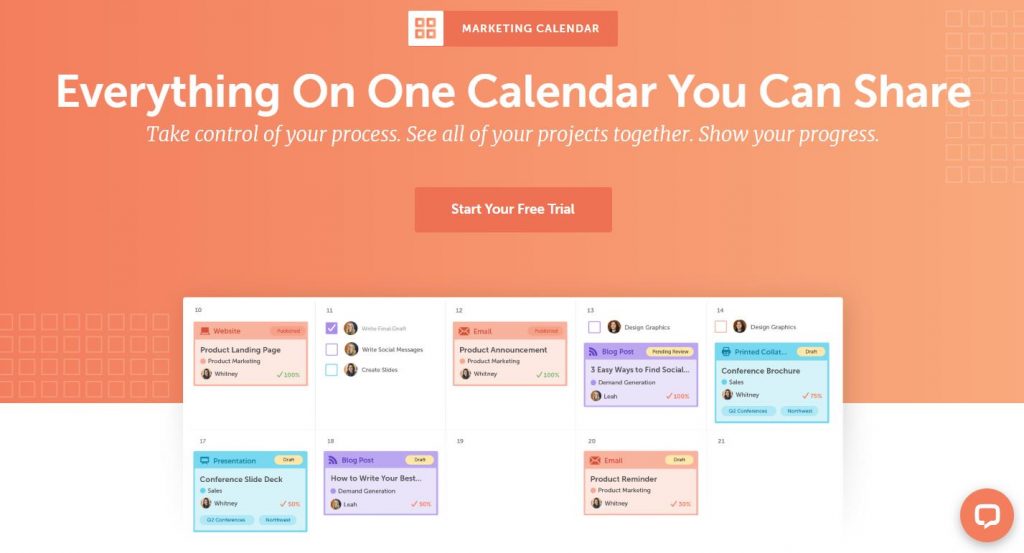 "I recently started using CoSchedule and it's quickly becoming one of my favorite social media tools. CoSchedule is built with a strong focus on team use, so agencies that may have many people involved in a project will find it very easy to collaborate.
The calendar format is a great way to visually organize upcoming projects, with color-coding options for different types of projects and social media scheduling capability. For each project you can add checklists and assign them to team members, and add comments, so you can converse directly within the project. You can also schedule tasks and all appropriate team members receive email reminders about upcoming tasks." – Fay Friedman, Quality Bath
Pablo by Buffer
It's well-known in the industry that Buffer makes your life super easy when it comes to sharing social media updates. It's a fact at this point. But their lesser-known tool, Pablo, does the same thing for the visuals you need to use in your social media updates.
"Pablo + Buffer – Cuts down on a lot of time producing and sharing content on social." – Jason Quey, The Storyteller Marketer
Reporting
Klipfolio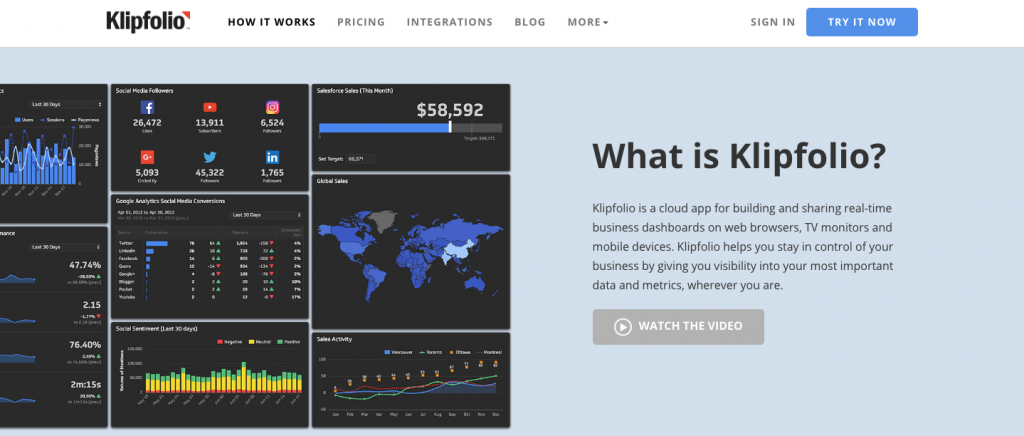 Klipfolio is an online business dashboard that lets agencies and clients see the real-time performance of their business online. It has tons of different use cases in integrations that are helpful for other areas of the company and has tons of features that make the agency/client relationship a lot easier and less time-consuming.

"[We use it] for real-time dashboards and instant monthly reports. We expect Klipfolio to save us hundreds of hours and help us gain key insights into client accounts." – Derric Haynie, Vulpine Interactive
Rebrandly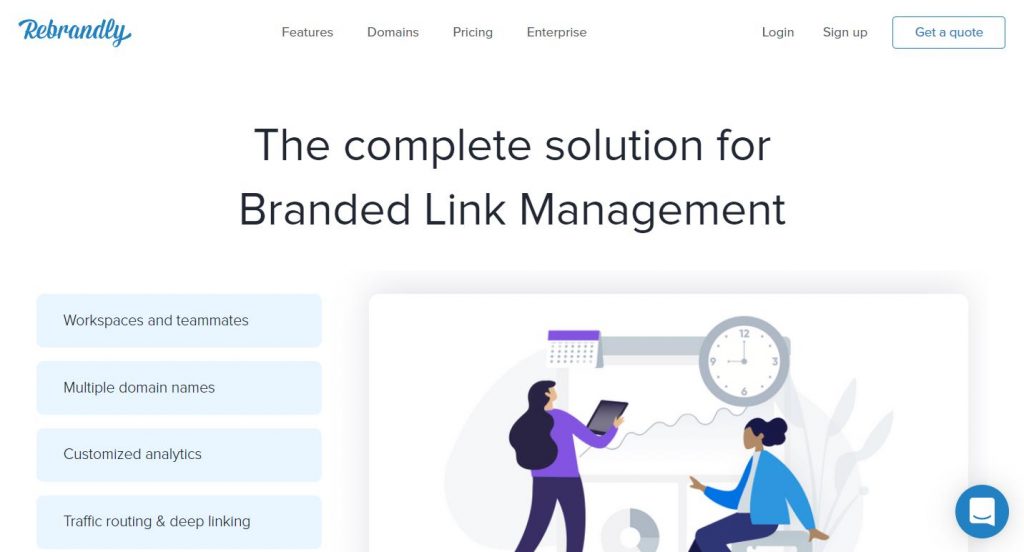 "This tool is great for sharing and tracking links, which is of course crucial to proving ROI to the client. They allow you to easily append UTM parameters to the end of links, and most importantly, you can add link retargeting, which is huge for anyone running retargeting ads (and everyone should be running retargeting ads)." – Derric Haynie
If you are looking to create custom UTMs for your campaign, check out our free Campaign URL Builder.
What runs your agency?
The tools a social media agency uses sets the structure for communicating with clients, and in turn how they see you. Do your tools make a good first impression?