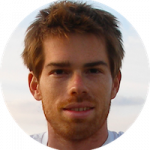 This is a guest post by Clement Vouillon, marketing & user acquisition as a service for @efounders startups. He is currently having fun with aircall, a phone solution for startups. Say hi @clemnt.
As a young startup with a very small team and limited resources, Aircall needs to be as creative as possible when it comes to leveraging media and social media monitoring.
What we like about Mention is that you can use it as a simple brand monitoring tool, but if you invest a bit of your time and a bit of creativity, you can go much further, leveraging it for lead generation, inbound marketing, and support.
Here's our experience and some tips for making the most of Mention.
How we use Mention for prospecting & sales
Mention can be a great "prospecting" tool for discovering people on social media who are either:
directly looking for a solution like yours,
or speaking about a pain point that your product can solve (so you can jump in the conversation to help them).
An important first step is to set up your alert correctly and identify the relevant keywords. Here are a couple of things we've learned along the way and might help you set up your alerts.
1. Monitor people who are looking for alternatives to your competitors
Create a simple alert containing: the list of your competitors + the word "alternative" (or "replacement").
Here's what it looks like: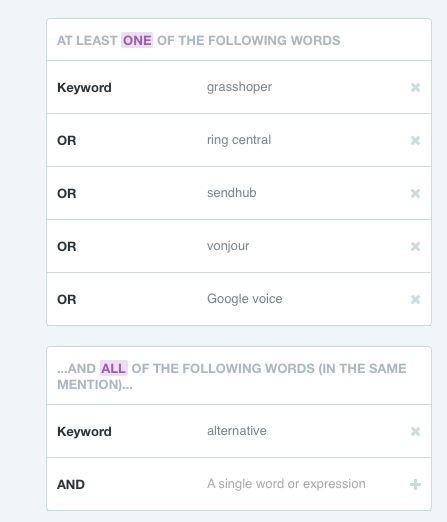 Here are the kind of results you can get with Mention.
People on forums asking for alternatives to Google Voice: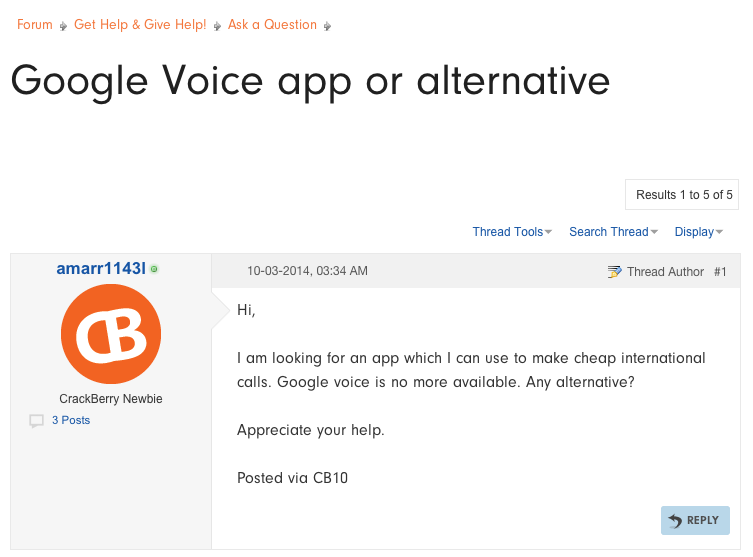 Or on social media:

This kind of alert works better when you have a huge competitor (for us Google Voice, for a social media tool it could be Hootsuite, for Mention, it was Google Alerts, etc…).
2. Monitor your "customer's problems" rather than your product's keywords
This tip will sound very "obvious" and yet it took us some time to really understand and apply it: Don't only monitor keywords which are directly linked to your product; instead, monitor your customer's problems.
Allow me to illustrate.
We are a phone system, so to start, we simply monitored mentions with keywords such as "business phone number," "business phone solution," "virtual phone system" etc.
The thing we didn't realize from the start is that the customers who get the most value out of Aircall are usually not people who were directly looking for a phone system (they didn't search "buy phone system" on Google). They are people who need to run their startup more efficiently. And phone is just a part of that context:
They have international offices: Creating / managing international phone numbers can be a pain
They are operating in the "sharing economy" industry: They connect people together to exchange goods and services; phone support is crucial for them
They are founders who are traveling a lot between Israel /Europe and the US: They need multiple phone numbers redirecting to the same mobile phone
The trick is to find ways to monitor these needs. For example, we monitor "country managers job" shared on Twitter because we know that managing multiple international phone lines is probably a need that these companies have (we've also limited the number of countries we cover to reduce noise).
This so called "obvious" tip can be difficult to put into practice because:
The "pain" felt by your customers can be indirect (they are not directly looking for a phone system)
You have to find the right keywords through which they express these needs (which I cover in the third section)
A another great example is Workable. They don't only monitor competitors and people looking for a recruitment software, but more globally, they track people hiring and how they can help them.
Monitor and bring value in a wider context than simply what the features of your app help your user do.
3. Use Google Trends to refine your keywords / get new ideas
As pointed out by Rob Long, Workable's Sales Director, determining which keywords to use in order to identify leads is mostly done through trial and error (and is not easy).
That said, we've found that Google Trends is an interesting tool to refine keywords and get new ideas.
Google Trends enables you to analyse "search" trends on Google. You won't get the exact volume of queries per keyword, but you'll see how the trend evolves and you can compare trends.
For example, in our industry, the terms "pbx" (Private Branch eXchange = private business phone system) and "voip phone" are widely used by businesses. But if you look at these keywords from a search point of view, you'll see that people are actually using them less and less: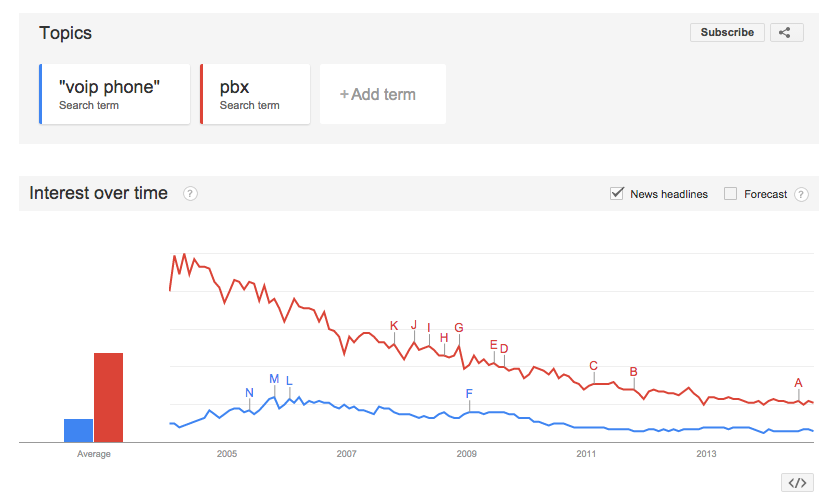 Is it worth heavily monitoring these keywords on Mention?  Not sure. These trends have to be taken into account as small businesses are less and less turning to old school phone systems, and are now looking for more mobile and flexible phone solutions. The vocabulary in our industry is changing and we cannot ignore it.
The "country manager" trend on the other hand is growing. It might be worth exploring more keywords and topics related to the trend as it grows: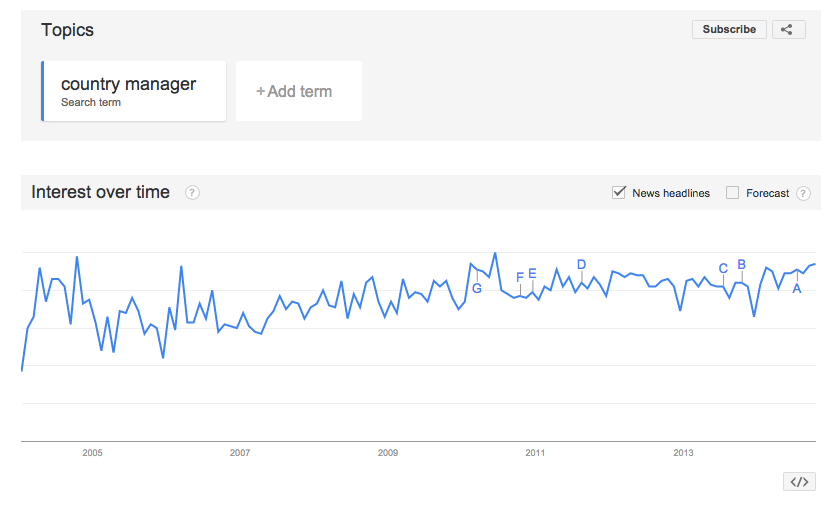 Same thing if I look at "google voice alternative," more and more people are using this query: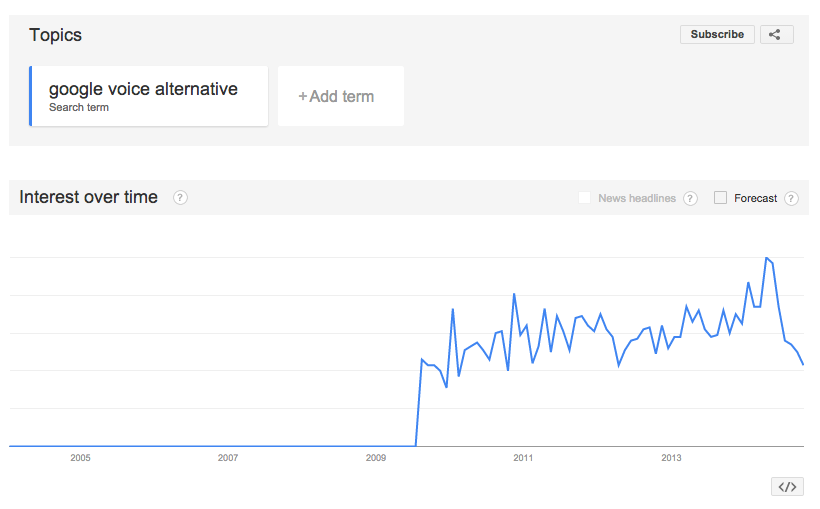 Google Trends also offers a "related searches" section which is worth looking at: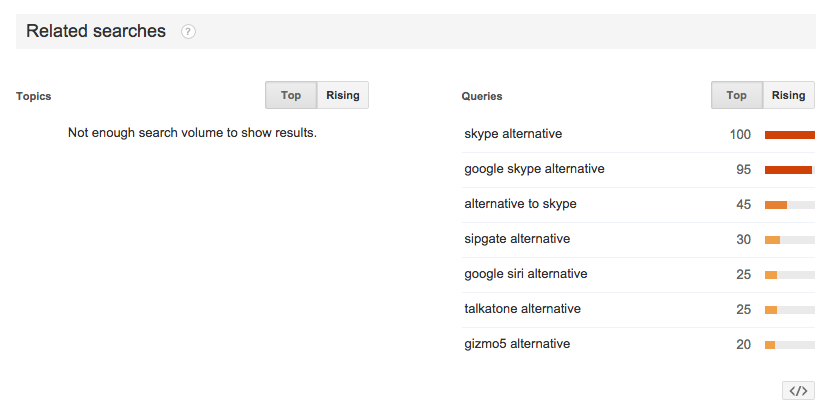 Here, we can see that we should probably include some Skype and sipgate related keywords in our Mention alerts as users seem to look for alternatives for them as well.
Download our free checklist to monitor your brand like a pro!
How we use Mention for inbound marketing
From the inbound marketing point of view, we use Mention mainly for two reasons:
To monitor what's going on in our industry, as we're looking for potential "newsjacking" campaigns
To monitor "list" and "top" types articles where we should be
1. Newsjacking
We haven't had the chance to really put newsjacking to work yet, but it's definitely something that we want to try when the opportunity comes. Mention's presentation on this topic is quite helpful. As we have Google operating in the phone space, we're quite confident that one day we'll be able to replicate what Mention did with Google alerts.
2. Monitor "top" and "list" types articles
We are living in a world where "top" and "list" articles are the king and queen of inbound marketing when it comes to social media sharing and attention (which is sad or great — I leave it to you to judge): "The X best tools for small businesses", "The X best alternatives to Skype…", "X way businesses can leverage their phone …"
We recently started paying more attention to these posts as they appeared in our Mention application. We try to contact the author whenever we think it makes sense, in order to:
Present our tool to them and see if they are interested in trying it / giving us feedback
See if they can update their article to include us, or think about us the next time they write one
We are not trying to spam them or to force them to write about us. We really see it as a nice way to open a conversation and bring value to people who are writing about a topic for which we think we make sense. If they don't answer, it's completely fine.
In terms of Mention alerts we detect these articles through:
Industry-specific alerts. Using us as an example, "business + phone + system or solution or voip"
Our "alternative to" alert (see section above) as the "X alternative to Y" is quite often used by inbound marketers.
We've just gotten started with this approach, but being able to contact an author as soon his article is out definitely helps in having an answer.
How can you not be proud to be mentioned in a "Apps that help us get sh*t done" article?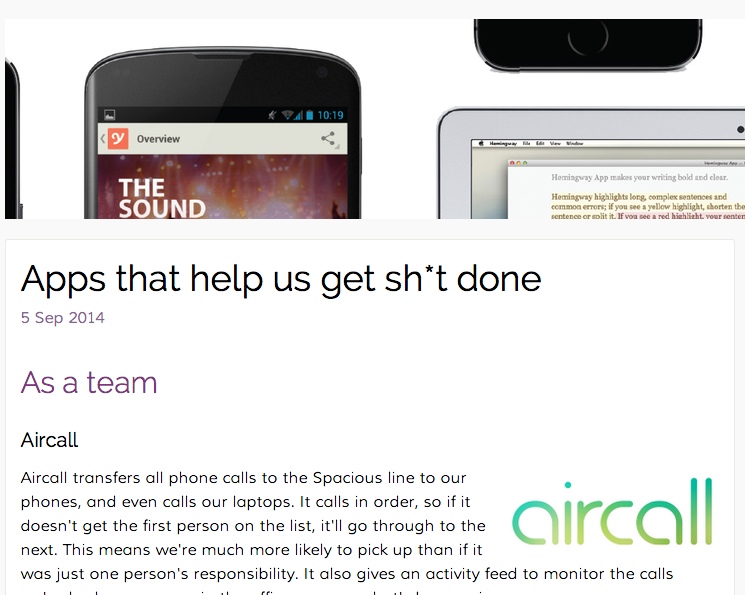 How we use mention for support
Our Mention usage for support is probably the most straightforward one, as we simply monitor the "Aircall" Keyword.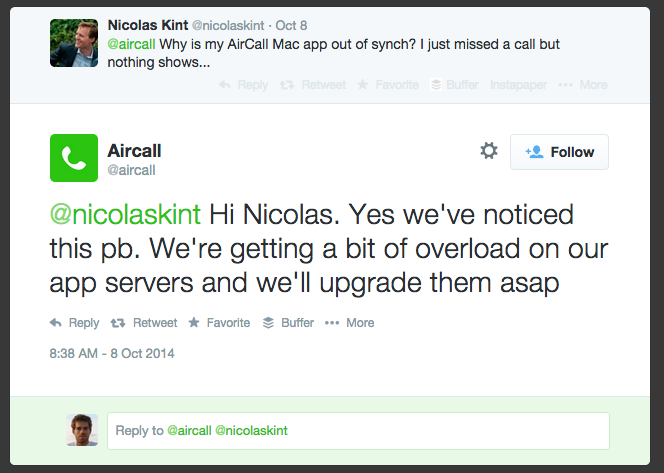 Monitoring our band name is important, as we've already had customers verbalizing issues and mentioning our name (aircall) without the @ in front of it. Mention comes particularly in handy in this case, since you won't receive a notification if you are only using a Twitter client.
By using Mention, we've been able to quickly react to customers with issues and potential customers with questions about aircall, who may not have reached out to us directly. This not only helps them, but helps us build stronger relationships with our community, which is particularly beneficial for a young startup.
—
Have any questions on identifying keywords or leads? Or how to best set up your alerts? Or even more about our experience as a young startup? Leave them in the comments below!
Download our free checklist to monitor your brand like a pro: