In 2018, more than half of agency leaders reported growth in revenue (56%) and profit (55%). On top of that, 79% said "they are confident that the next 12 months will be even stronger in terms of profitable growth" — Global Digital Outlook (2019).
While this sounds very promising, it's never been so challenging for agencies to grow their business.
This anticipated success is entirely based on their ability to deliver a wide range of services to clients who also expect no-less than excellent results. What's more, their market is highly competitive, and clients won't hesitate to take their business elsewhere if they're not satisfied.
In other words, they need to impress.
Now, the 2016 edition of this same study reminded us that there's a dangerous gap between being creative and being able to serve the client's needs.
At the end of the day, clients want results. And if agencies aren't able to show them a real ROI, they'll be moving on.
I'm aware that we can't fix every relationship overnight. What we can do, however, is to make the client reports a whole lot easier and better. With the right tools, you don't have to slave over spreadsheets.
So, we asked around, and we found 14 reporting tools that agencies rely on to report to clients. Using these tools should make feedback a walk in the park.
Let's start with the tools that do a bit of everything.
"All-in-one" reporting tools for agencies
"Digital marketing" is a big, broad behemoth. Modern agencies do everything from creating websites from scratch, to managing advertising spend, to posting and responding to social media comments for clients.
You use a wide range of different strategies in order to reach your client's overall goal.
But even if your strategies are separate, your reporting shouldn't be. Clients don't have the time or the willpower to piece everything together. Instead, you want reporting tools that'll let them see everything in one place, and understand how each strategy contributes to the final goal.
Here are some of the best.
Two different agencies recommended Cyfe to us, and it's easy to see why.
It makes life easier for clients:

Web Profits GM & Co-Founder Sujan Patel like Cyfe because it "pulls data and dashboards from all the analytics tools we use and puts them all in one place. It also integrates with Google Spreadsheets, so we can add information like backlinks and share numbers for specific pieces of content.
"Bottom line, it puts all the data on a dynamic dashboard and gives us a unique URL that we can send to the client. This cuts in half the time we spend reporting."
Nadav Dakner of InboundJunction uses it to "track performance metrics across dozens of platforms. Our clients really appreciate not having to log in to each platform's analytics – they can see everything they want on dashboards that we customize for each account."
How much does it cost?
Cyfe Premium costs $19 per month.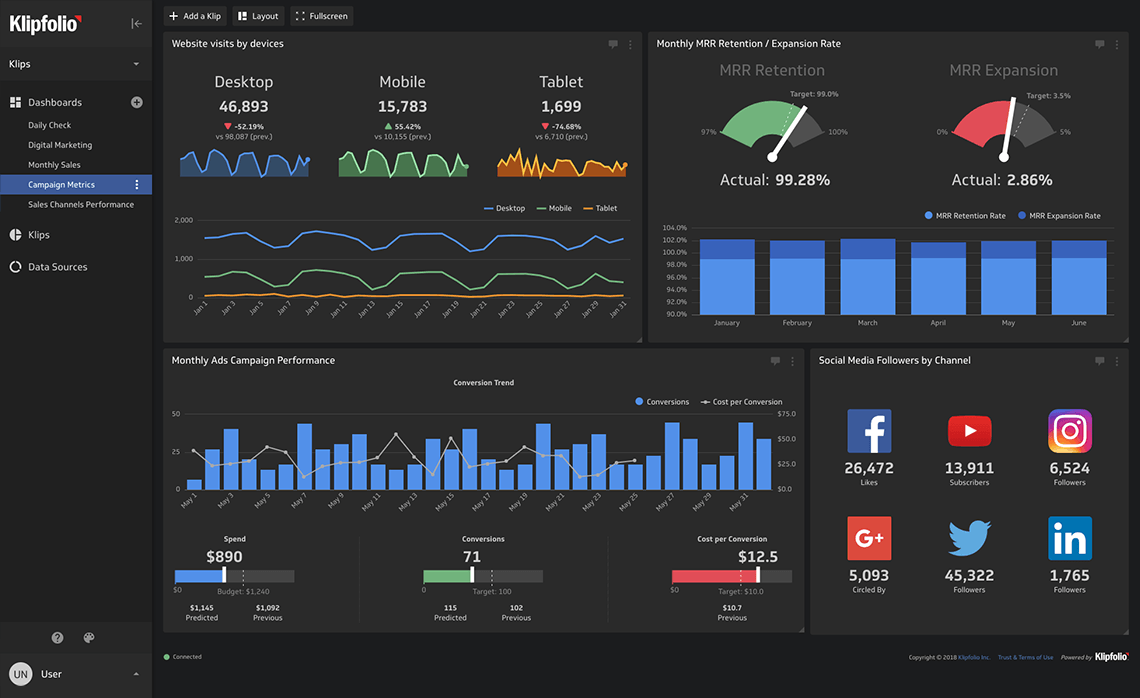 Klipfolio is a business dashboard software that displays your key metrics on any computer or television screen. And since it's cloud-based, you can share this information with anyone in the world, including clients in different countries.
But what makes it so valuable is its flexibility. Per Andy Crestodina, Strategic Director & Co-founder of Orbit Media, "it's a way to combine reports from all kinds of different systems. It's not just a dashboard with reports from different sources, but you can put several sources into a single report: Google Analytics, Moz, Facebook, HubSpot, SEMrush, and pretty much anything else.
"Once it's all set up, the insights jump off the screen."
How much does it cost?
Klipfolio starts at $24 per month.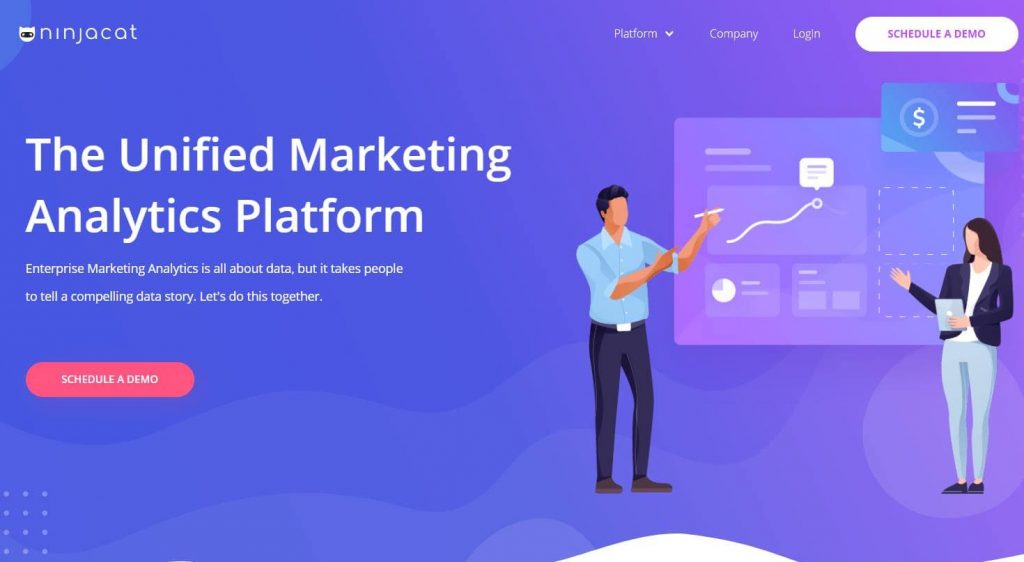 NinjaCat brings together information from a range of different sources to help agencies report to clients. These sources include PPC platforms, SEO tools, and social media sites.
Johnathan Dane, the founder of KlientBoost, appreciates this versatility. "It includes the biggest PPC platforms, analytics, and call tracking in one place."
And it lets KlientBoost hand the reins over to their clients and see their progress for themselves. "Our clients can get a dashboard login themselves and see anything they want at any given time and slice the data much faster compared to logging into their own PPC accounts."
How much does it cost?
Starting at $799 per month, it's not cheap. But if you're serious about client reporting, you're not looking for cheap. You're looking for great. NinjaCat appears to be that.
It would be easy to forget Google Analytics in a list like this. We're mostly looking at enterprise-level tools, and mostly ignoring anything free. In this case, that would be a mistake.
As Andy Crestodina explains, "it's the most robust web traffic analysis system, it keeps getting better…and it's free. It's easy to use and virtually everyone has it, although a lot of companies don't have things set up properly."
It may not look as slick as some tools on the market, but it sure is hard to beat.
A parting tip from Andy: "If you've fallen out of love with GA, try installing it on your phone and check out the assistant option. Life just keeps getting better."
How much does it cost?
It's free!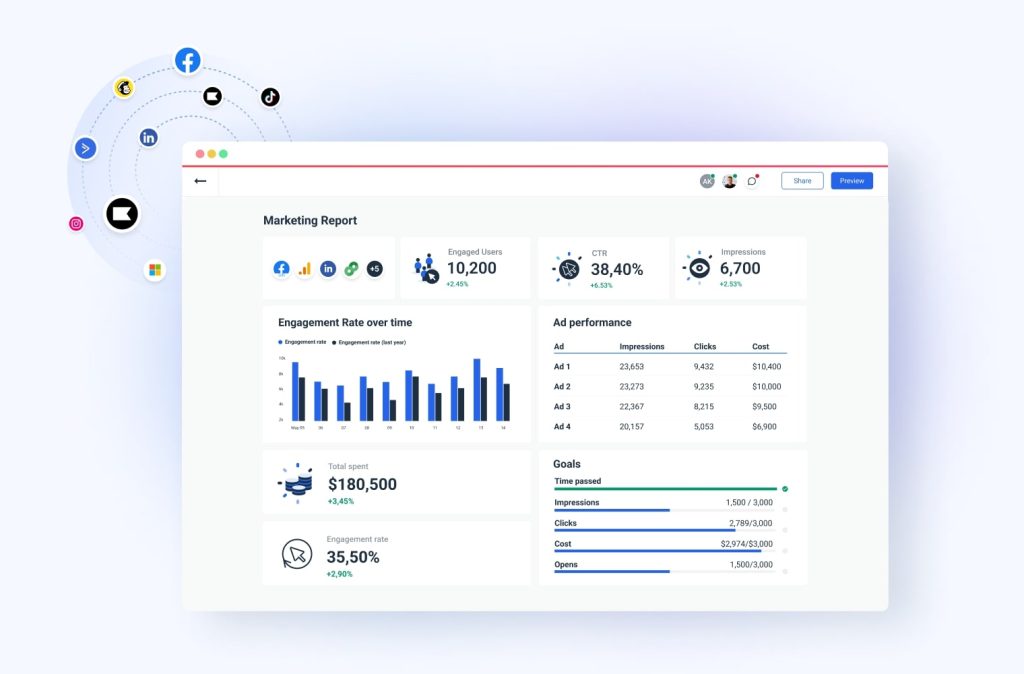 Used by marketing agencies, as well as in-house marketers, Whatagraph is a marketing reporting tool that makes it effortless to create marketing reports.
What makes it so useful, is the availability of 100+ marketing report templates, so you can just connect your data sources and have a report up and running within minutes. Speaking of sources, there are more than 40 of them, including the household names like Google Analytics, all the way to TikTok ads, LinkedIn Ads, Ahrefs and others.
You can also customize your reports in a variety of ways, including white labeling, making it a solid choice for agencies that want that fully branded touch.
How much does it cost?
Whatagraph pricing starts at $199 per month, which gets you 25 sources for your reports, as well as 5 seats on your team.
Tools for social listening and reputation management
Agencies play a role in building and protecting their clients' brands. Knowing what people say about them online is an important part of this process.
These tools help you track what people say about your clients online, and provide high-level data about social interactions.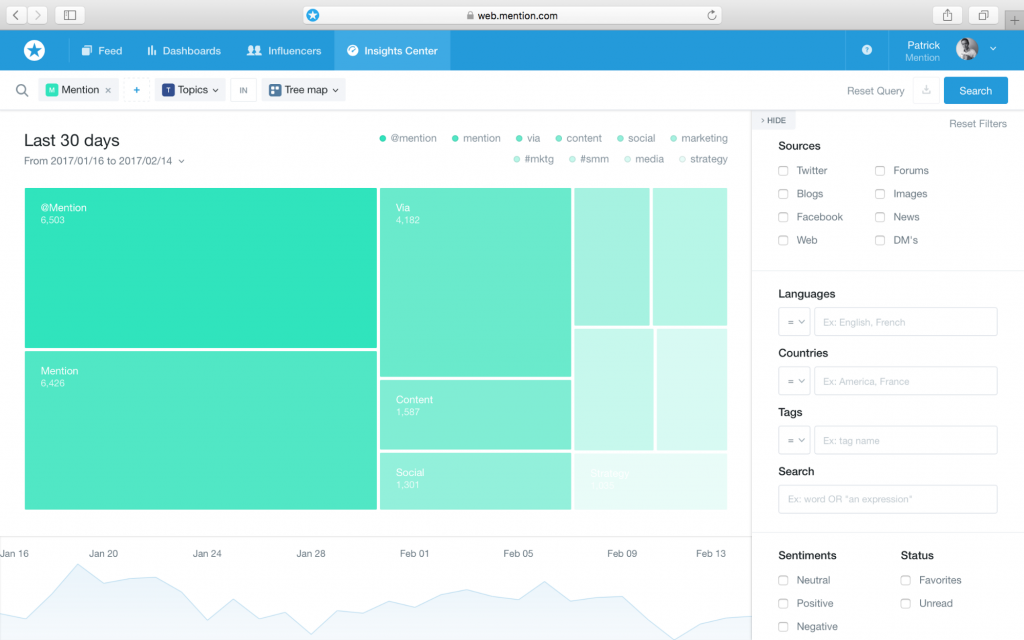 Social listening can be essential to the agency-client relationship. Companies want to know what people say about them online, which means you need to be able to tell them.
Mention makes this simple. It lets you track any keyword, anywhere online. This means all the major social media platforms, plus extras like review sites and forums.
Mention also features valuable analysis tools to let you:
Compare their share of voice against major competitors
Analyze sentiment towards them and their social posts
See the reach of their marketing campaigns
Recognize their best-performing content and promote this further.
How much does it cost?
Mention's plans start at $29/month, but your best bet is to request a demo and build your plan the way you want it.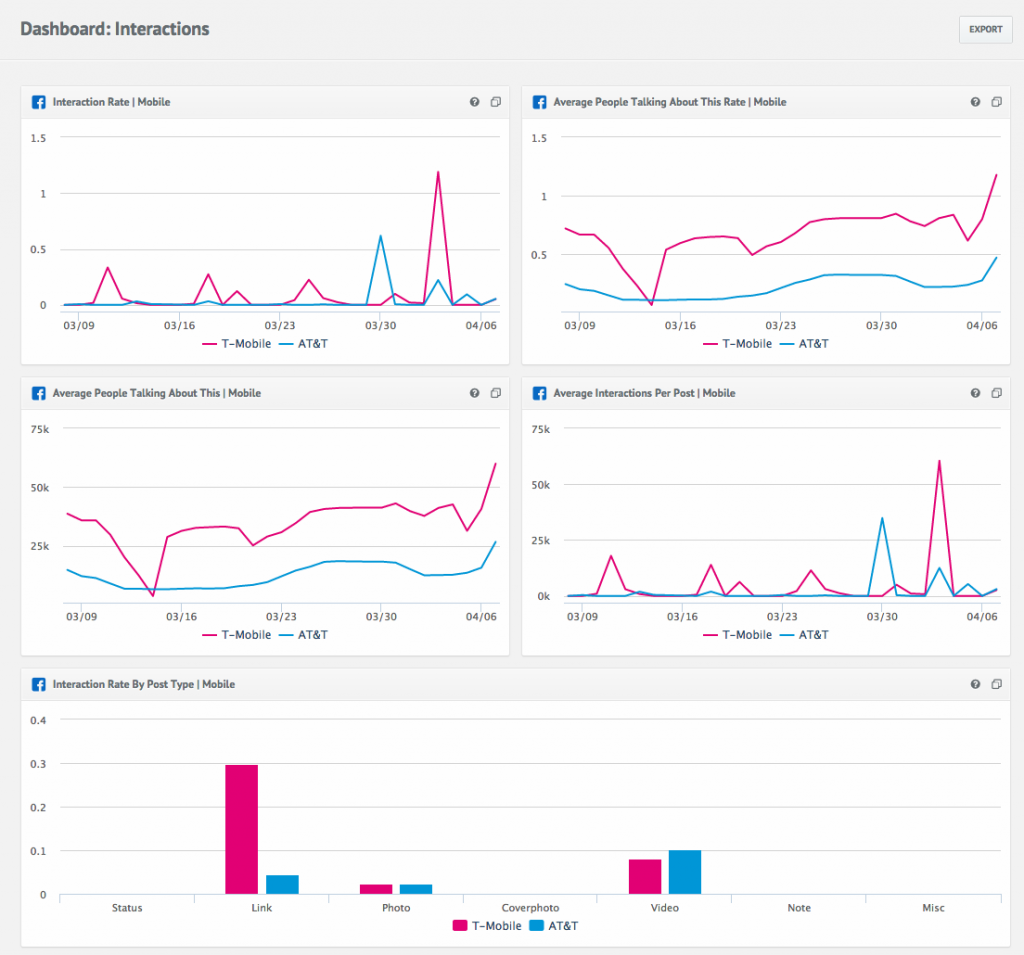 quintly is a social media analytics tool that lets you keep a close eye on all of your clients' social media profiles. When you're in charge of building an audience on Facebook, Twitter, and all the rest, having a central analytics tool is a lifesaver.

Use quintly to:
Track growth in followers across multiple platforms
See the reach of your social posts
Get deep insights into your audience demographics
How much does it cost?
quintly's plans start at $129 per month.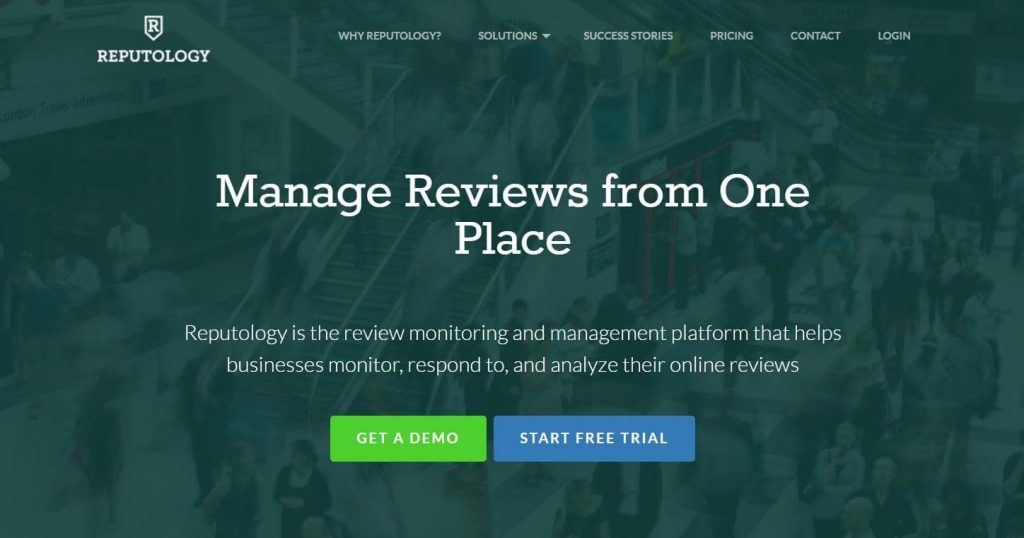 If your clients are brick-and-mortar businesses, you need to check out Reputology. It aggregates reviews from more than 70 sources including TripAdvisor, Yelp, and Yahoo.
So if your client operates 25 stores across three countries, you'll know how each individual location is reviewed, and how the brand is thought of in general.
Reputology lets you:
See negative reviews quickly and respond
Track locations all over the world
Monitor and compare competitors
Thank customers for good reviews
Plus, the workflow tool lets you coordinate your team to ensure that the necessary tasks have been done.
How much does it cost?
Reputology starts at $29 a month.
Tools to track public relations
Every PR professional wants to focus on the important task: giving smart communications strategy to clients. That's only possible if you're not spending hours on reporting.
Put your faith in robots, and try one of these PR tools for agencies.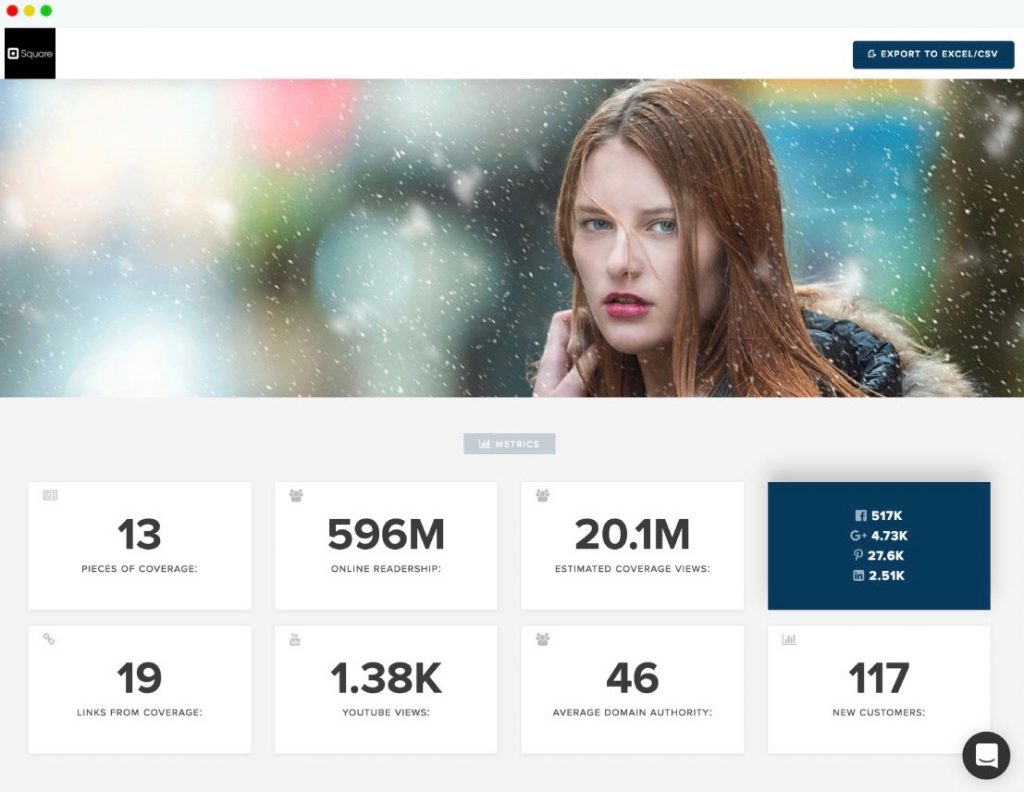 For PR agencies who want to avoid wasting time on reporting, Coveragebook is a great option. It helps you track the number of coverage pieces, the readership of those sources, links earned, and the overall return on investment for a campaign.
As described on CoverageBook's website, this is "hours of painstaking faff, magically condensed into minutes." You'll also have centralized records of all your past campaigns, showing you what's worked in the past, and what failed.
If you're sick of your messy collection of spreadsheets – and the time it takes you to make them – here's your solution.
How much does it cost?
CoverageBook plans start at $99 per month.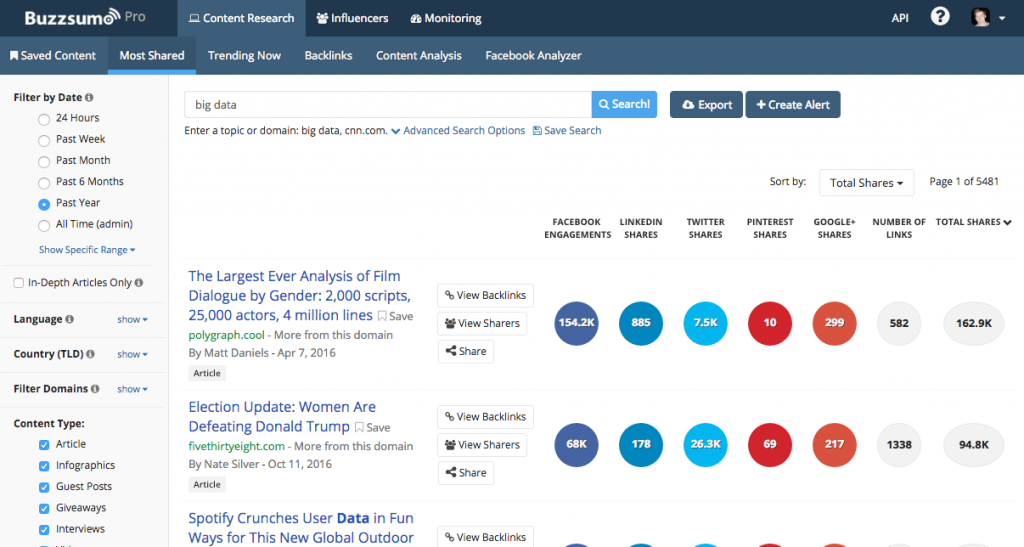 "One of the best ways to assess the performance of a content asset," according to Nadav Dakner, "is to check how many social shares it drives." If your goal is to build buzz and get eyeballs on your campaign, social media is the place.
"We use BuzzSumo to check how popular a given publication's articles are over time – and to see how many social shares our PR hits get across each social channel.
BuzzSumo provides this information quickly and accurately, and we often include it in our monthly reports to clients."
How much does it cost?
BuzzSumo's Agency plan is $239 per month.
Tools to monitor SEO performance
When it comes to SEO, clients love the numbers. They want to know how you've made them more visible, and how that's led to traffic.
These tools help you monitor your clients' keyword performance, report on new backlinks added each week, and track improvements in domain authority.
Moz is a comprehensive SEO tool with great automated reporting built-in. Track your clients across a variety of metrics including search visibility, on-page SEO, and traffic from organic search.
The best part? It lets you create custom reports from scratch:
Monitoring key metrics for a single client's campaign
Tracking several campaigns for different clients
Automating different reports for different users within a client's organization
And so much more. Moz lets you track pretty much any SEO metric you care about, and send results to clients without lifting a finger. Simple as that.
How much does it cost?
Moz Pro begins at $99 per month.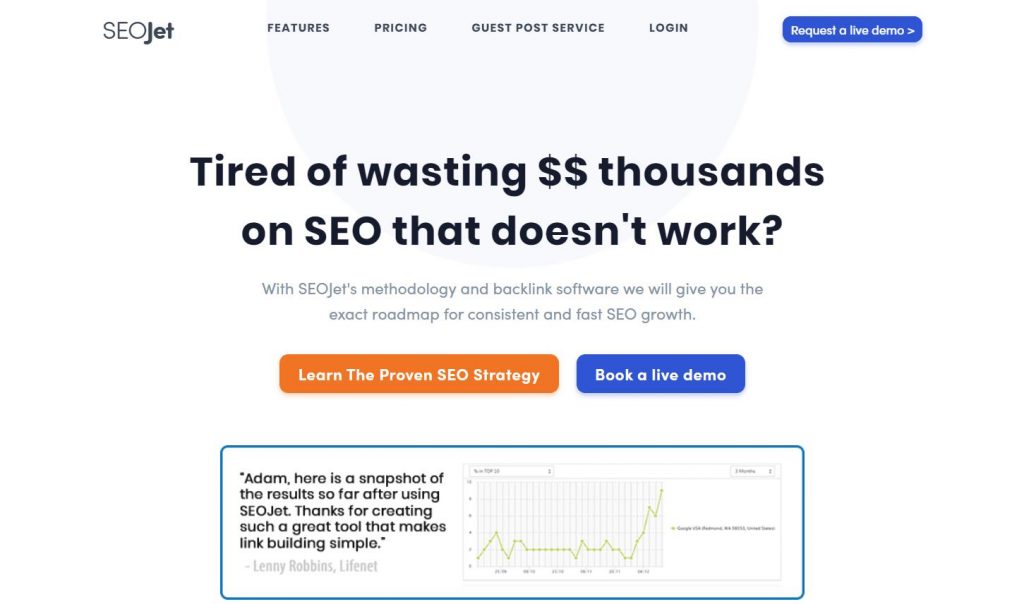 This tool is specifically designed for link building. According to Taco Agency's Chirag Kulkarni, "it gives you a seamless understanding of the links you need to build to power pages."
You choose which pages you want to boost ("power pages"), and SEOJet gives you link maps. These come with suggested anchor text, and SEOJet will tell you when your pages begin to look unnatural. All of this makes it simple to show clients how to construct their sites for better SEO performance.
How much does it cost?
SEOJet (for agencies) starts at $99 a month.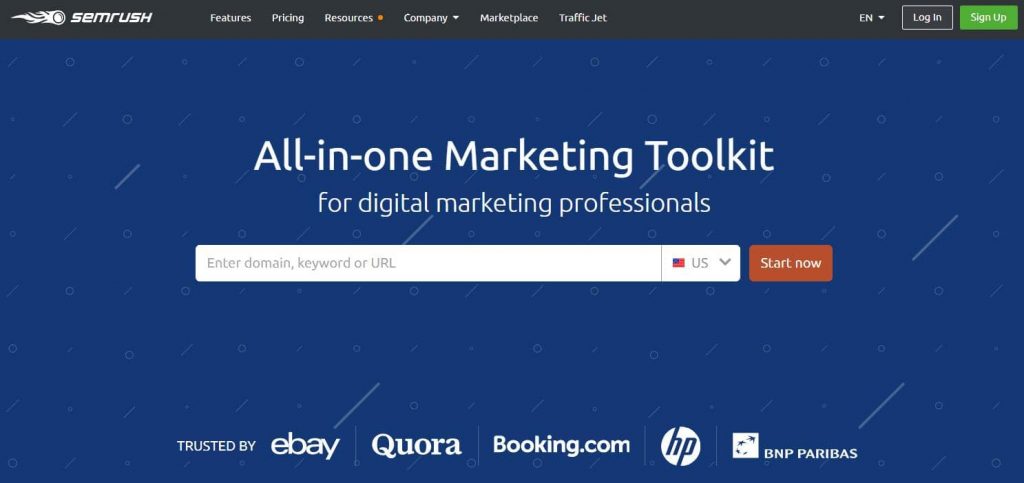 Similar to Moz, SEMrush lets you track key SEO metrics for yourself and your competitors. "You don't need to access Google Analytics or Search Console," say Andy Crestodina. "Just put any domain into SEMrush and you'll see a list of all the phrases they rank for."
These competitor features are particularly interesting to Andy. "It's brilliant for competitive analysis but also a fast way to jump in a find low-hanging fruit. Want to see all the phrases that your client ranks for on page two of Google? Create a filter, export the data and send it along. Your client will be immediately impressed."
Use SEMrush to:
Track your clients' keyword rankings
Perform audits to make sure clients' websites are optimized
Discover new keywords to target
Monitor PPC ads and find new opportunities
How much does it cost?
SEMrush plans begin at $99 per month.
Bonus tools
This one didn't fit neatly into a box. Pun intended.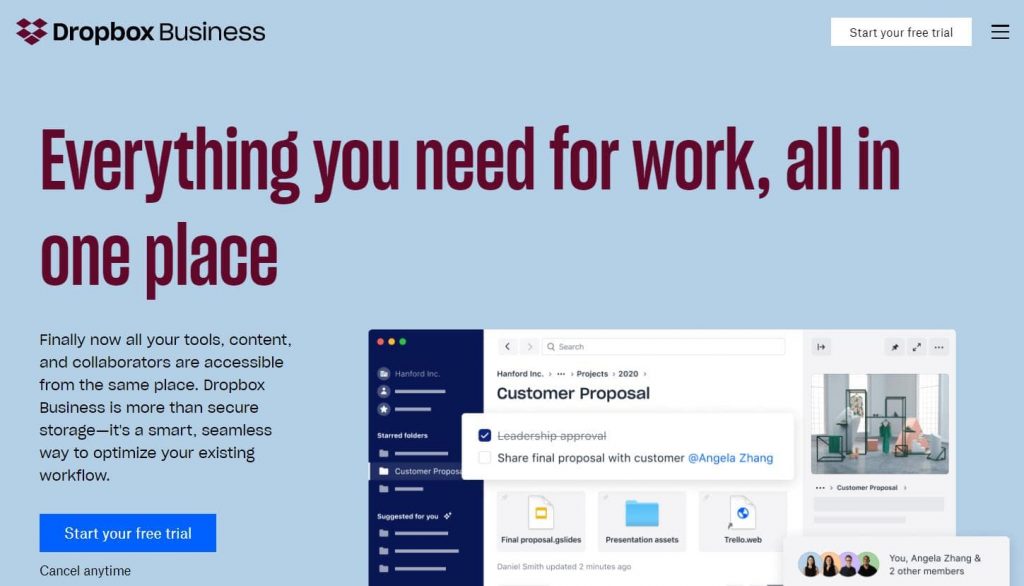 The secret to a good agency-client relationship is communication. InboundJunction loves Dropbox because it helps them keep lines open with their clients.
"We use a lot of spreadsheets to keep track of various types of account activity," says CEO Nadav Dakner. "Periodically, we'll invest some extra effort on creating a custom PDF report that covers a year's worth of activity, with screenshots and visualizations."
"Dropbox is perfect for us to store and share these types of files. We set up folders for each account, and our clients know they can just check out the shared folder to see the latest."
To keep clients in the loop and share in the process, Dropbox is a great option.
How much does it cost?
Dropbox Business starts at $10 per month.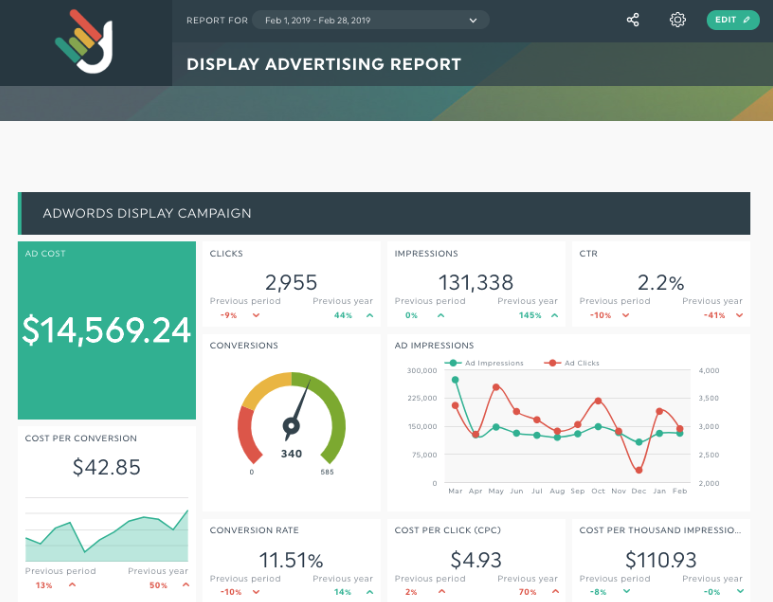 Here is another neat reporting tool that we've been hearing about.
DashThis is an automated marketing reporting tool for digital agencies. DashThis is known for being very easy-to-use with time-saving features like report templates, cloning options, automated email dispatches, and more. They also offer custom white label options and provide second-to-none customer service.
"We've played around with countless reporting tools over the years but none of them come anywhere close to DashThis. The level of integration and customization of reports, as well as their outstanding client support, are unrivalled!"
How much does it cost?
DashThis plans starts at 33$ per month
So which will you choose?
It all depends on your needs.
If you already have a range of specialized tools you might want an "all-in-one" to help you bring all those metrics together.
Otherwise, select from our list of PR, social media, and SEO tools based on which will benefit your clients.
And if you're still not sure, why not test them out? Free trials are the industry standard these days.
Remember that your chief goal should be to communicate openly with your clients, and save yourself time in the process. These tools should help you achieve both.