Hate it or love it, you can't deny the value of email marketing to grow an audience and increase sales. Even though this marketing channel is now almost 50 years old — you read that right — there are still lots of ways to increase the performance of your email marketing campaigns.
One way to do it is through video content.
Whether it is a testimonial, explainer, educational or how-to video, using video content in email marketing campaigns is the best way to give them a performance boost.
Actually, did you know that just by including the word "video" in an email title you can increase the opening rate by up to 13%?
And that's not even the most impressive statistic. Including video inside your email increases click-through rates by a staggering 300%.
Now that's impressive right?
But if you're going to start including video content in your email marketing campaigns, you need to do it the right way.

Boost your email marketing campaigns with videos — but do it the right way
Let's begin with the type of video you should use.
Know the type of video you can use
If you've done your homework and researched the topic already, you know that there are many different kinds of videos and that all of them work for different purposes.
Ultimately, yoy can find two families of videos:
Live-action videos
Animated videos: whiteboard videos, cartoon videos, 3D animation, motion graphic videos, etc.
Now, I'm stressing this out because it's not the same to design a cartoon animated video for a TV ad, and to film a testimonial video with real customers speaking to a camera.
There're not made the same way and they serves different purposes.
Learn more about this right here.
Now, the type of video you want to push should obviously be linked your conversion objective: what is it you're trying to achieve. But ultimately, what matters the most is who it's targeted at.
Send out the right message based on your recipients' issues
Are you having trouble to convert contact from your email list past the awareness stage?
Lucky for you, there are videos related tactics to get there.
In the awareness stage, it's recommend to send shareable and useful information to your recipients.
This is why educational videos works pretty well to attract new audiences, as they can be fun, interesting and — most importantly — provide real value!
Especially if you decide to design (or have designed for you) animated educational videos. After all, it's a known fact that people learn best when they're having fun.
Also, we are visual animals. This means that our brains find it easier to register a piece of information if it's displayed in a very visual way.
This is why whiteboard animated video work so well.
Here's an example of it from a great YouTube channel (AsapSCIENCE) I highly recommend if you like to learn while having fun:

Now, do you have a nice fan base but struggle to make sure that your audience knows all of the products and services you offer?
If your email marketing campaigns are focusing on the consideration stage, you should then consider a different approach with your videos.
Instead of just betting broad educational video content to do the job, you should use video content that's providing solutions to their problems.
You can use explainer videos, for example, to introduce your brand and products/services, and explain how they can help them.
They're great to communicate any kind of message, no matter how complex.
Here's an example with Spitz.

The idea is to tell a relevant story / use case, and show the viewers how you can help them. You don't have to put your brand in their face for them to remember it.
Make sure it appears somewhere and that the whole video follows your brands guidelines. If your content is good, they'll remember you.
You can also use product videos, if you want to show a specific product/service in action.
Here's one from Canon, introducing a new camera, what it can do and basically, how you can benefit from it.

Are your sales rates down? Are you using your mailing campaigns to give your leads a final incentive to turn them into customers?
Don't worry, it's not as hard as it looks.
Usually, when your leads are not completely convinced to buy, it often comes to a matter of trust.
They don't know your brand well enough to trust it, or they haven't read enough reviews about what you do. At the end of the day, they're unable to make a decision.
It's up to you to give them a final push.
Use videos that show the real and human side of your brand. Use testimonies.
You can tell the world that your product is great, nothing is ever going to be as powerful as your clients and users opinions.
In fact, 84% of people tend to trust online reviews as much as their friends' recommendations.
My advice? Encourage your clients and users to leave online reviews to share their thoughts about your brand.
And if you have the resources to do so, try and build testimonial videos. Here's one from Leetchi, a french donation platform, explaining how Mention helps them developing their business.

You can activate subtitles if needed
Now, after you have chosen your video, how can you include it in your newsletter?
How to include your videos in your emails?
The first thing to consider when including video in newsletters? Video content does not go embedded in emails.
Don't do it (it won't work anyways).
It's not just a pointless rule: the fact is that most email providers (even big ones, like Gmail) can't display them properly. It may work sometimes, but it's mostly a gamble.
But there are two ways around it.
Upload your video on YouTube if you've got a channel, on a social media platform you use or, even better, on your website. Then use the link, copy and paste it in your email, and that's that.
Now, some spam filters may not like this kind of things. Again, there's a way around it.
Hyperlink it in the body of your email
You can also hyperlink your video in the text.
The best way to do it is via an image (not just for aesthetics, but for communication purposes, as you can tell a lot more with an image than with words nobody will read, nor understand).
You could, for example, take a screenshot of the video, add a "play" icon on top, and make your audience click this image to get to the video.
Simple, yet efficient!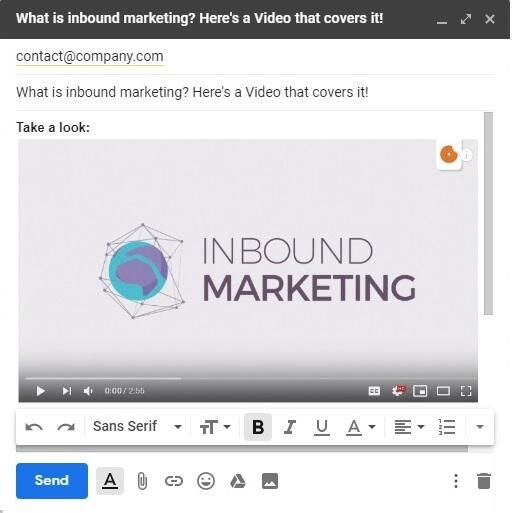 How to you get the best results?
Well, once you know what to say, how to say it and how to include it in your emails, it's time to works on final edits.
Use the right CTA
You want your viewers to take action, which is usually the whole point of an email marketing campaign. With video content, you can add an additional CTA besides the main one in your email, in the middle or at the end of your video.
Remember, keep your CTA clear, immediate, actionable and consider adding a sense of urgency in your message.
Always include the word "video" in the subject line
We said it at the beginning of this note, but we'll say it again because it's important. Let your viewers know that they'll find a video inside the newsletter that you're sending them. 33% of email recipients open emails based on the subject line alone!
Also, people like to watch videos (just think about it: most of the content you find on social media are videos!), and they definitely like to get interesting and creative content. So, if they know that your newsletter contains more than just the same old words that other brands have used, they'll be happy to open your email 13% happier, actually.
Get yourself a professional production team (if you can afford it)
If you're going to use video content in your email marketing strategy, you need to do it right. As you read before, videos are part of your company's branded content, they're a channel of communication with your audience. And if they're going to represent your brand like this, they need to look professional.
Quick videos filmed on a cellphone are fine for your personal Instagram account, but not for brands. Your audience is expecting content that's looking perfect — not because they're experts in video content, but because:
they are used to see high-quality videos pretty much everywhere
the quality of your content says a lot about your brand's quality
So, unless you have a dedicated expert in-house, consider hiring a freelancer or an agency to produce the best content possible.
Now, don't worry, there are video production companies for every budget size, so don't get intimidated and take a good look at their portfolios!
Time to include videos in your email marketing campaigns!
Remember, an email is only as good as its content, and if you're not providing your audience with interesting, engaging and shareable content, then you're not doing it right.
Luckily, video is the kind of content with the highest engagement rates out there, so it's time that your brand starts taking advantage of that! In this day and age, no brand should be left … videoless.
So, there you have it! It's time to video the heck out of those emails.