If I ask you to include videos in your marketing strategy, you'll be staring at me like I'm some dork. And, you're not to be blamed for that. It's 2022, and if I'm still talking about using videos in marketing, I'm a boomer for sure.
Everyone is using videos in marketing. Ecommerce business owners, mom and pop store entrepreneurs and large industries too. Video is the way of telling your brand story and connecting with people.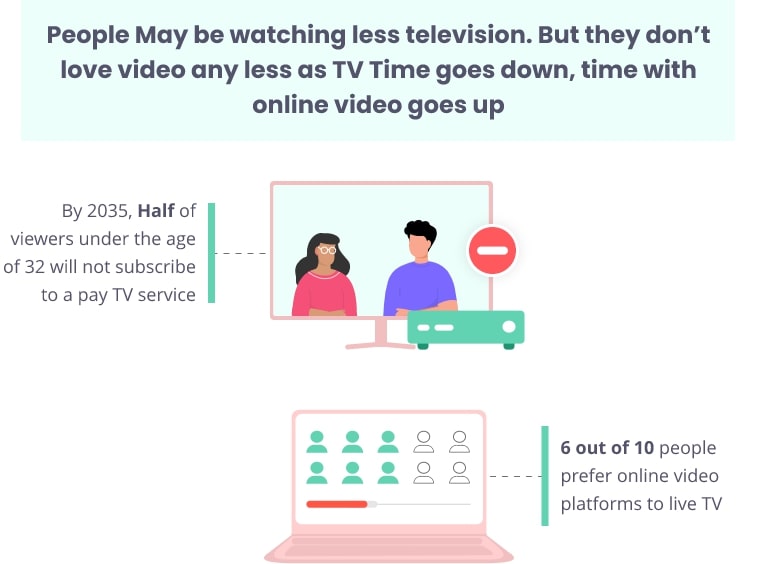 This is the reason why 94% of marketers agree to using more videos to keep their ROI high. Videos are useful for marketing and this has been tested with time. There are many research studies that have numbers to prove that. However, there is a transformation happening. So far, videos have been used only as a tool in a kit. Now, instead of being one of the channels for growing audiences, videos are taking center stage. Keeping videos at the core, your marketing strategy will be shaped around them. 
This is called video-first marketing. 
Table of Contents:
What is Video-first marketing – In detail?
Video-first marketing is about giving more emphasis to videos as a medium for reaching different audiences. In other words, it's about developing a video-first mindset towards marketing. However, it doesn't entail ignoring or replacing other marketing activities. If you have a blog abundant with useful segmented content, then by all means continue doing that. Content planning is highly beneficial for growing a readership and building an audience for your newsletter.

Here's an example of what I mean by a video-first marketing approach.
Video marketing strategy focuses on the big picture – informing people about the brand and promoting products. If a company starts a YouTube channel to upload videos about its products and how to use them, they're doing video marketing. Moreover, the emphasis is more on content distribution. Video-first marketing is about going to the granular level. If the same brand creates videos not just for their YouTube channel, but also for answering customer support questions, for hosting videos on their landing pages, so that the website visitors will have more clarity, then they're practicing video-first marketing. 
Observe what happened in the second case. The company does not keep its videos limited to just one platform. On the other hand, they are leveraging videos on their own websites and using them to have conversations with people.
A Video-first marketing strategy heavily focuses on the buyer's journey. It deep dives into understanding how videos can align with every stage of a buyer, and creates relevant video content to keep them interested.
Why is video-first marketing important?
People react to visual information in a better way. It's easy to understand stuff and retain it for a long time. Besides, they're more engaging too. It's easy to break-down even the most complex ideas into simple, lucid and layman level. This is possible because with videos you can show your ideas to people in the shortest time. You can show them how fuels are extracted from the earth's crust, how they're processed and how they're made available to us in less than 5 minutes. Try doing this in a blog. 
Videos help people learn by taking away the hard task of joining the dots and making sense of the whole thing. It visually arranges the information, adding to the experience of the viewer. Right now, when the patience level of an average human is comparable to a goldfish, videos are nothing less than a superpower for companies – it immediately hooks people to their content.
This is why video-first marketing is so important. It has all the ingredients to attract an audience, educate them and keep them engaged for a long time. And, it can do all of it without demanding mental prowess or a calendar invite. When you replicate videos and use them at every level of customer touchpoint, you're making them a part of your company's goals and objectives.
Comparing video marketing and video-first marketing
It's tricky to differentiate between video marketing and video-first marketing. In fact, you might argue that they are both the same. What matters is how you look at them. Yes, there is some truth to that, but I beg to differ. The difference is confusing as both of them have got to do with videos, but when you look closely, you will spot differences.
Here's a table which summarizes the differences in simple words:
| Video marketing | Video-first marketing  |
| --- | --- |
| Repurposing written content into a video and posting it on different platforms to fetch more views and engagement | Developing a deep understanding of a product, and making a series of videos for beginner, intermediate and advanced users, so that every user can find relevant content |
| Creating videos mostly for promoting products that's common for all users | Thoughtful and a more calculated process of creating and publishing videos that match the audience's requirements. Stressing more on personalization and not mass distribution |
| Heavily depending on social media and YouTube to promote video content | Along with social media and YouTube, using your website, emails, blogs and other platforms to share videos and interact with customers. Constantly analyzing the performance and taking corrective actions to refine the overall quality of experience |
| Number of views, clicks, likes and shares are more important | Building a long-term relationship by making videos that are relevant to users. Metrics matter, but customizing content is more important |
How to make a video-first marketing strategy?
Video-first marketing demands changes. Change the way you want to use videos, change the way your brand connects with the audience, change the way videos are made and shared with the world, and most importantly, change the way you look at videos. These are enormous changes. Unless you have thought about them, your strategy will fall flat.
Here are some points that will keep your planning sharp and help you come out with a strategy that bears positive results.
Plan ahead
When you decide to make videos as the pillar in your marketing strategy, you need to plan the activities well in advance. Making videos requires commitment, and there are many resources involved. Planning ahead gives you and your team a head start towards a designated direction. Had it been video marketing, your strategy could have been more dynamic. But, when you want to emphasize making your video relative to your audience's requirements, you can't let things wander off till the last moment.
Here's what you should know well ahead of time to frame your video-first marketing strategy –
1) What are the major product updates planned by the team?
2) What are the other marketing activities likely to impact the video production?
3) How many resources are available? Is there any chance of pulling more resources for video creation?
4) What will your video production process look like?
Learn the buyer's journey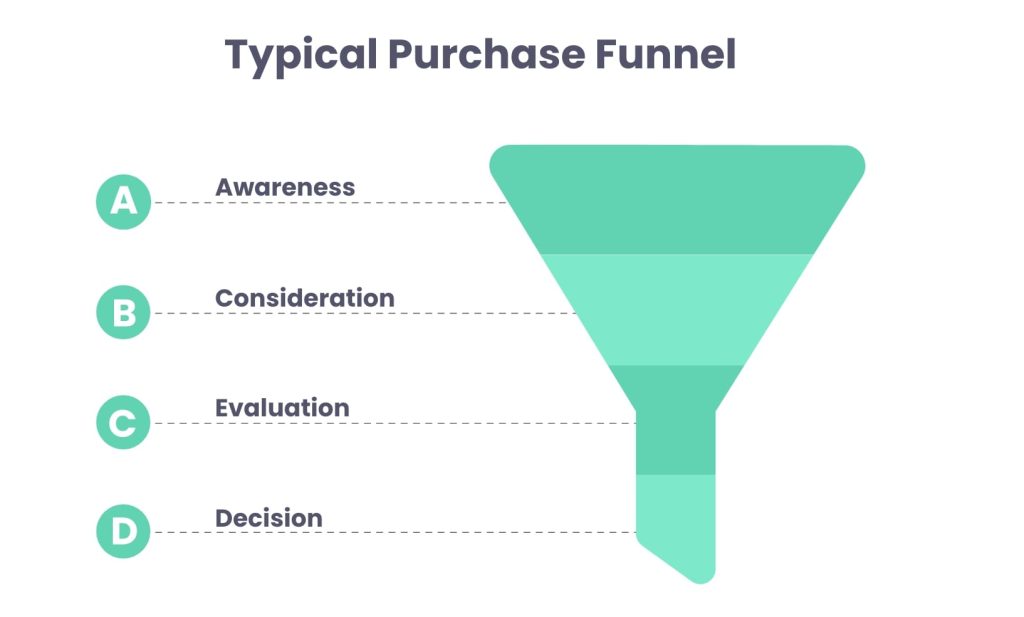 A buyer's journey is defined by the steps a user takes before making the final call to buy a product. The stages a buyer goes through are not fixed. It depends a lot on the product. A user looking for accounting software will have a different set of requirements from a buyer who is planning to buy a bamboo sofa set online. Learning about the buyer's journey will help you plot the challenges that your users are facing at every stage. These challenges can be quelled using videos.
To understand your buyer's journey –
You can interview your customers. Especially those who have become your brand advocates
Send a survey form to your current customers (don't forget to add an incentive)
Dig into data and try to understand how a user has interacted with your support team and other touch points
Decide the marketing channels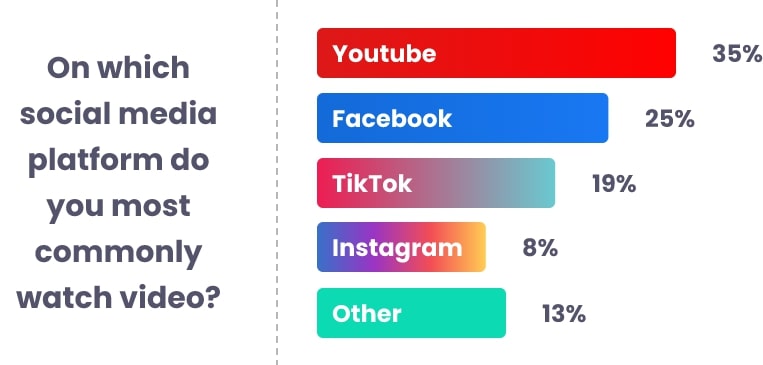 When you reach this level while making your video-first marketing strategy, you should be asking yourself – where do I want to see my videos? Remember, you're thinking about a video-first approach here. Your users are everywhere, and if you need to reach them, you have to target multiple channels.
Knowing the marketing channels will facilitate the kind of videos you want to create for each channel. In turn, this will help you plan the assets you will be required to make the videos.
Build the video infrastructure
After you're ready with the above information, you can start arranging the resources that you will need to record, edit and publish videos. The infrastructure will include team members, equipment, and a budget. Like a lot of companies, you can outsource the whole video production part to another company. This will save you from the hassle of writing a script, arranging the right camera, lights and hiring a team of editors. Outsourcing makes it easy to render instructions and what you're expecting from the video, and get things rolling faster.
To arrive at a decision, you have to-
Create an inventory list of items that will help you in video production
Check how many team members are already trained in making videos. Also, check for training prospects. How much time it will take to train a team of people, if you deicide to make videos in-house
Stress on the deliverability of the training material. Should you be going ahead with screen recorded tutorial videos or will you be hiring an external agency to take care of that
Develop a list of requirements you will need to zero in on a vendor whom you can outsource your video production 
Why should you use a video content calendar?
But, first, a few words about what is a video content calendar?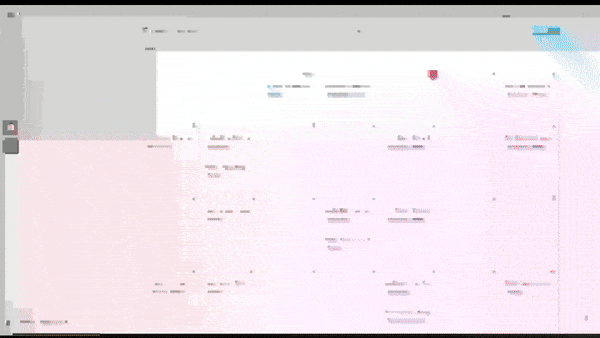 A video content calendar is a ready-to-use template made of different video ideas. When you decide to follow video-first marketing, naturally you have to spend more time creating more videos now. However, it's easier said than done. Thinking of video ideas can be an overwhelming experience. There are different platforms for publishing videos, and you start getting results when you have optimized them for a better customer experience. By making a calendar, you can have a thoughtful approach to video making without getting burned out. 
Here are some more reasons why using a video content calendar can work wonders for your strategy
Content spacing
The last thing that you want to do in a video-first marketing strategy is dump videos on your audience on different platforms. To keep your audience engaged, you have to space out the video content that you share with them. A good way of doing this is by deciding on a time frame, and then planting videos on different dates. Your time frame could be 6 months, 1 year or 2 weeks. The one that works for you and your team will be the best choice. We recommend going for 3 months. Once you have finalized the time frame, get your team onboard and start noting down different ideas. Once you have a satisfactory number of ideas, start writing them down on different dates. Adding too many or too fewer types of videos in a week can drop engagement. Two videos in one week is a good benchmark which you can continue for a long time
Consistency
You can lose out on your video-first marketing strategy if you're not consistent. A calendar helps you to be consistent because you already have plans ready for the coming weeks. You don't have to do the hard work of starting from zero – planning, coming up with new ideas, and then fixing a strategy. Besides, your team is also motivated to contribute because they're well-informed about what their schedule will look like. Last minute updates, unplanned tasks are surefire ways of letting your employees down
Allocation
Making a video requires resources. You need the right camera, lighting setup, software to edit and upload videos, and, of course, a team of people who can keep the operations running smoothly. The challenge here is that if you have not planned for this earlier, you can't get where you want to be. But, when you have a content calendar, you can show your ideas to people and ask them to keep their schedule free. You can also use it to get approval from your superior to arrange for the gadgets and tools that you will require for shooting videos. When you have people and tools ready, it will be a lot simpler to allocate them
Strategizing & Reviewing
The idea behind creating a video calendar is to have a strategic approach. Brainstorming with your team on different ideas, and having an open discussion is the way to build a video-first marketing culture. But, there's more to this. Once your pilot video-first marketing campaign is done, you can review the performance, fix the areas that were overlooked, plug in some fresh ideas, and implement your learning. This way, you can keep track of your activities, and keep improving your strategy
Wrapping it up
Video-first marketing is about including more videos in your marketing strategy. It's about aligning videos with the buying journey of your target audience, so that they engage more with your brand and your business gets better returns. However, this is not as easy as it sounds.

Most of the brands, right now, are using videos in their marketing strategy. To initiate a video-first marketing plan, you have to start by understanding how it's different from video marketing. Then, go on understanding the buyer's journey, the marketing channels that you will use to promote the videos and ultimately creating an infrastructure for making these videos. Along with all of these, do not fail to create a content calendar that has clearly defined timelines. This will keep you and your team on the same page, and keep the productivity rate higher. Lastly, when you have gained some experience with video-first marketing, revisit your plans and use your learning to keep moving forward.