Did you catch that breaking story? Somewhere (anywhere), an opportunity for your brand just landed online. What did you do about it?
If you wrote a blog post, created a video, or launched a campaign and got press coverage, you're already newsjacking.
More and more, inbound marketers are using newsjacking to create a tidal wave of traffic around their brand. The secret to their success? A powerhouse media monitoring tool.
Newsjacking is impossible to completely prepare for, and relies on reacting as soon as possible. That means newsjacking teams need to know where to look for opportunities, and get updated on them before they're old news. Not really possible when you're manually searching for stories.
What Is Newsjacking?
"Newsjacking," a term made popular by David Meerman Scott, is when you piggyback off breaking news and add your own spin.
The point is to get media and social attention for your brand.
You may be familiar with the idea; PR pros have been newsjacking for ages. But the advantages have grown in the past few years. With social media making stories go viral, and Google indexing content seconds after it's published, it's never been easier for your newsjack to land in the right hands.
The best part? As long as you're sticking to best practices, almost anything is fair game.
Why Do It?
Here's the thing about newsjacking: to do it well, you have to be quick and understanding. Success is both about the amount of traction your story gets, and how well it's received. Done well, newsjacking can:
Draw Attention to Your Brand
When people view your newsjack, they may stick around on your site for awhile afterward. They'll browse your site, discovering more of your content, and possibly subscribe to or follow you for more.
Increase Social Reach
Pretty much every event has a hashtag these days. Many outlets turn to Twitter to catch reactions and context. Promoting content using hashtags others are tweeting with will maximize your reach.
Add Variety to Your Content Strategy
Even the best of us get writer's block from time to time. Monitoring trends will help keep you inspired. It's easy to write about your company or industry, but focusing on news happening around the world may provide a number of other ideas.
Keep Your Brand Involved in Current Conversations
Monitoring what's being said online is an opportunity to react and engage. Commenting on relevant articles in your industry or answering questions from other commenters is a quick way to stay involved.
Entertain Loyal Readers
Not all newsjacks are serious! Brands have done a great job with funny images or comments on trending hashtags.
When the 2013 Super Bowl had a power cut, Oreo was quick to respond with this iconic Tweet, that made them a reference in the domain. The Tweet went viral because it was timely and funny.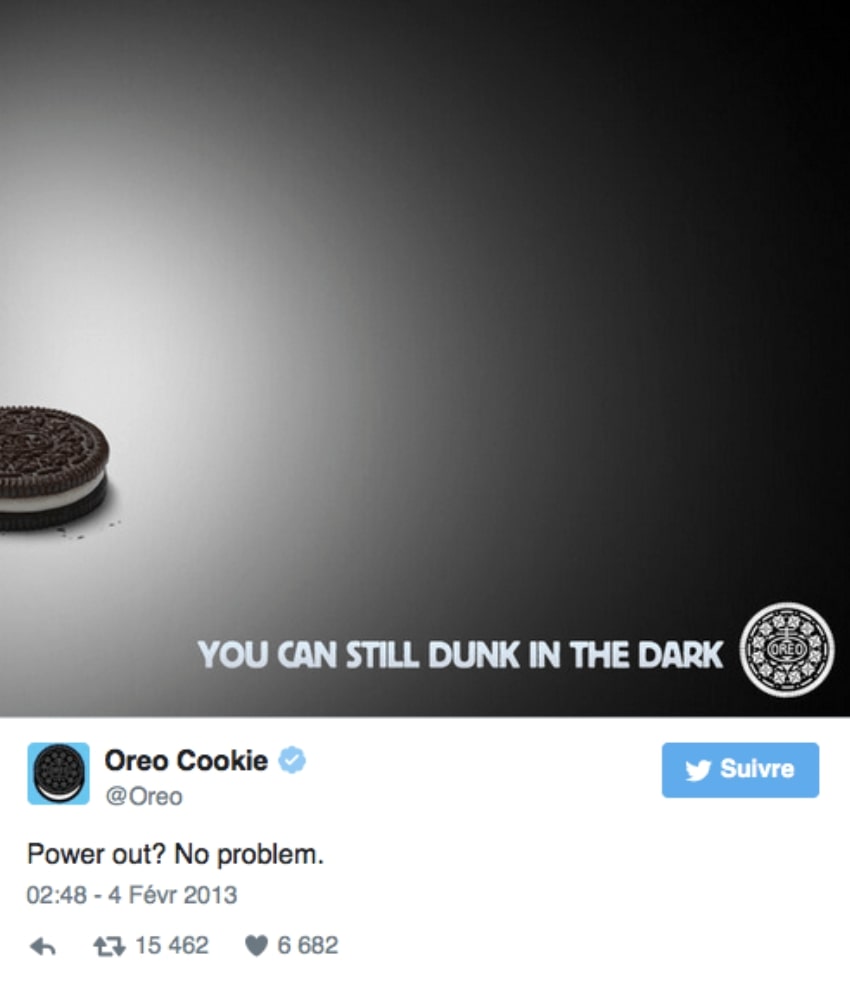 Build Your Online Reputation
Publishing your version of a breaking story can establish your brand as relevant and a thought leader. This is especially useful for smaller business who don't have the resources to compete against the bigger players.
How to Use Monitoring for Newsjacking
In order to find newsjacking opportunities while there's still time to react, you need to have a strong pulse on what's trending. That requires listening closely to the web and social for opportunities you've identified as relevant.
Here's how to build a monitoring strategy to fuel a successful newsjack:
Step 1: Choose Topics to Monitor
Using a monitoring tool like Mention, create alerts for important keywords or topics in the news or on social media. Starting out, you'll want to choose a handful of different topics to watch, like:
Industry keywords
Publications your audience reads
Important events
Local and national news sites
Notable bloggers or reporters who cover your business
Relevant online forums or chat rooms
Trending hashtags
Competitors
Once you've established who to watch, you may find a need to modify or filter your search. The goal is to monitor as many voices as you can, and what they're saying in real time, so that you can react quickly
Step 2: Prepare What You Can
You can't plan for everything, but monitoring will help you find the best stories for your brand. If a big announcement or event is coming up – The Oscars, a new Google update – create alerts and be prepared to insert your brand into the conversation.
Use an editorial calendar like CoSchedule to remind you when events will happen, and what you're doing about it.
A great example of advanced newsjacking is Twitter's "How to" guide, created for the 2014 World Cup to help fans "join the global viewing party on Twitter."
They published the guide 10 days before the World Cup, leaving fans time to prepare for the watch party.

But they didn't stop there. Two days before the event, they posted a blog post and a video with even more ways to keep up.
Why was Twitter's prepared newsjack so successful?
They published their content early in the event's online lifecycle.
They positioned themselves as a helpful resource.
They used multiple content types to newsjack the event.
Step 3: Find a Tie to the Story
When journalists rush to find information on breaking news, they're looking for why the story matters. Your job is to create that information. Offer expertise or entertainment around a topic that journalists will want to pull into their own articles.
How do you determine if an opportunity is right for your brand?
Tread carefully when planning a newsjack. Not every story is for your brand. Your company should have a legitimate reason to create content around the news.
Ask yourself the following questions to see if the topic is a good fit:
Will your company look insensitive if you post about it?
Will it look like you're trying too hard to make a connection?
Do you understand the topic? How much time would you need to spend doing research?
What are other people saying about it?
How do you see a newsjack affecting your goals (social media shares, more sign ups, etc.)?
What value can you bring to the story that hasn't already been said?
By asking these questions, you could be saving your brand from getting involved in a PR nightmare.
It's hard to recover from a bad newsjack. So err on the side of caution, and discuss it with your team beforehand – it will only help your brand.
Step 4: Get the Timing Right
Like anything online, you have to be quick for maximum impact. Newsjacking's no different. 
To get the most traction, plan what you can and react quickly to what you can't.
The best time to newsjack is right after a story hits, before it gains too much momentum. That way, when journalists search for more on the story, they might find your content.
The right media monitoring tool plays an important role here. Receiving real-time alerts will help you stay on top of conversations you can't anticipate. Check your alerts on the go and delegate tasks according to the newsjacking plans you've prepared.
Step 5: Create Content (Fast)
You've found your story and are ready to create content for it. The key is to present a new spin to the story. Journalists are looking for your added value.
First, decide what you want to write. Here are a few tips on different angles you can take:
Challenge an opinion – "Apple Watch is now on sale. Apple CEO Tim Cook says this is the first smartwatch that matters, but is he right?
Add new information – "Siri may be amusing, but she's limited by her lack of facial recognition."
Summarize impact – "This affects millions of Apple users, who struggle to find Siri's conclusions helpful."
Make predictions – "Based on our data, the answer to "what's next?" is an intelligent assistant who can recognize users' faces and understand language at human speed."
Next, decide how you want to present your content. If you're writing a blog post, write with a strong voice, and have your colleague sweep for grammar. But leave your perfectionism behind – it's all about being timely.
Aside from newsjacking via blog post, your brand could also send a press release, email customers or subscribers, or even host an event.
Conclusion
When executed properly, newsjacking can be a clever and effective way to tie a brand or product to a current event and leverage the public interest in that event to generate attention and engagement. However, it is important to approach newsjacking with caution, as attempting to piggyback on a tragedy or other sensitive news event can backfire and damage a brand's reputation.
Ultimately, newsjacking can be a valuable tool in a marketer's arsenal, but it requires a deep understanding of the event being referenced, a creative approach to incorporating the brand or product into the conversation, and a thoughtful approach to avoiding any unintended negative consequences.