Social media marketing is undoubtedly essential for every agency in this day and age.
Advertising and PR is all about making your content seen, and social media is integral to this. 
But if you're noticing that your firm's marketing efforts aren't measuring up to your goals, you'll start to wonder how to improve your strategy.
But where do you start?
Improving your agency's social media marketing is no small task. It's overwhelming, understandably.
Almost 3.4 billion of the 4.2 billion total active internet users worldwide use social media. Which means having an effective social media strategy is a must if you're looking for internet success for your clients.
With over 8 thousand advertising and PR agencies in the U.S. alone, social media dominance can help distinguish you from your competition.
To help you create better campaigns, this post will break down 5 different ways to improving your agency's social media strategy.

1. Know the platform personalities
Whether it's a large law firm or a small business, companies need agencies to boost brand performance and visibility. Companies are also usually using social media.
But where agency's make the mistake is in treating each social platform the same way.
Each social platform has its own personality. Recognizing the user demographics of each platform will help you cater to their needs. Which will, in turn, help you boost engagement and performance.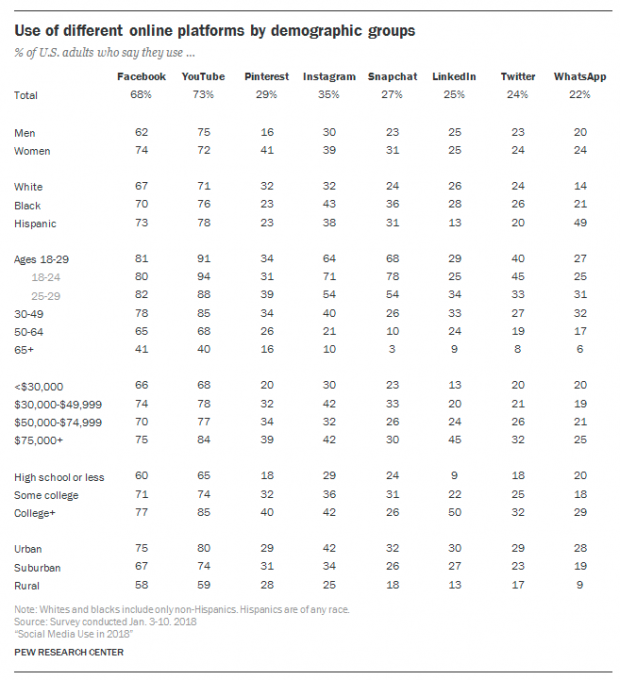 Using these user demographics of various social media platforms can be valuable in knowing how to market to them.
Not only are the demographics different amongst platforms, so are the reasons why people use the platform altogether.
For example, people use Facebook very differently from how they use Pinterest. Keeping tabs on a cancer awareness organization is very different than wanting to know next year's trending wedding colors.
So why would someone treat the two platforms the same?
Using these insights can help create very distinct strategies to better suit the audience that uses the platform. Ads for different social channels should have different text copy; images should cater to the specific type of audience – it all starts with knowing the platform.
Let's look at three well-known platforms that your agency is most likely advertising on.
Facebook characteristics
No surprise here, Facebook is a behemoth of a platform averaging around 2.27 billion active users per month. These users tend to be very opinionated and will read and watch videos actively. They share photos, updates, general news, with friends and family while following certain personal interests.
Facebook is not only used for personal use but offers a huge opportunity for businesses to market to specific audiences. This is the most valuable aspect to marketing on Facebook  (we'll get more into that a little later).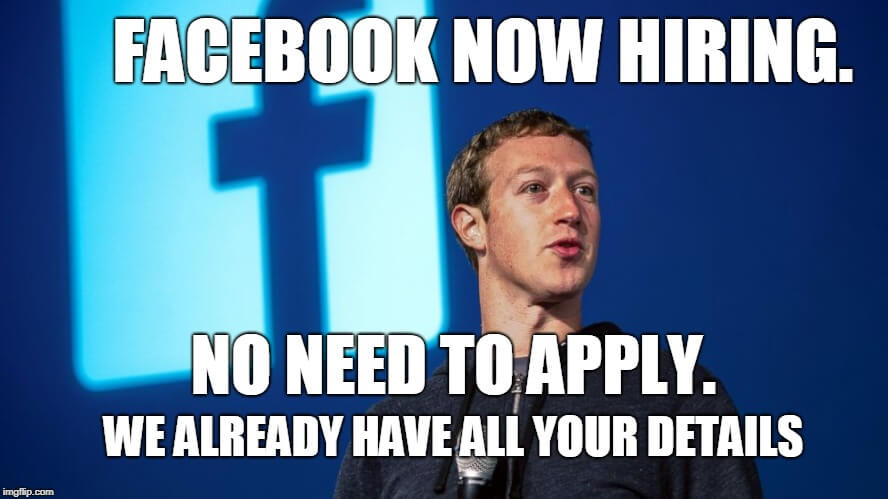 Twitter characteristics
Twitter has around 317 million monthly active users that are consistently reading, following, tweeting, re-tweeting and clicking on links. It's very fast paced and an easy way to connect with an open audience.
An agency can share quick pieces of information, photos, and links to drive people back to a website or landing page. You'll also want to offer content that is enticing enough to stop a person from scrolling past your ad and click through. You can utilize hashtags by targeting people who have used relevant hashtags to your business.
LinkedIn characteristics
Having around 260 miliion monthly active users, LinkedIn is designed specifically for businesses and professionals.
Here, users will showcase their job experience and professional opinions while engaging with different types of content.
Most LinkedIn users follow these different content streams via LinkedIn groups. LinkedIn groups will connect users with people in the same industry or with similar interests.
These groups are huge opportunities for agencies for lead generation purposes. These users will engage in conversations, providing a great way for an agency to showcase their expertise and make themselves well-known to groups and audiences.
Now that we're clear about the purposes of each platform let's look at how audience impact social media campaigns.
2. Know your audience
Knowing how your users' personalities coincide with each of these platforms is key to your social media success.
These platforms revolve around different types of audiences. Unlike advertising on search engine platforms like Google or Bing  where your ad is exposed to everyone – social media ads rely on how well you segment your audience, and how relevant your ad is to them.
It's important to consider what type of clientele you're dealing with when you choose which social media platform to use. If you're planning to reach finance and insurance customers. LinkedIn could be your best bet when choosing a social ad platform.
Being aware of your client's demographics, interests, target markets, and overall goals will always help guide your campaigns and strategies.
3. Remarketing is your best friend
When is comes to social media marketing, remarketing is the number one tactic you'll always want to consider. We can explain this in terms of temperature.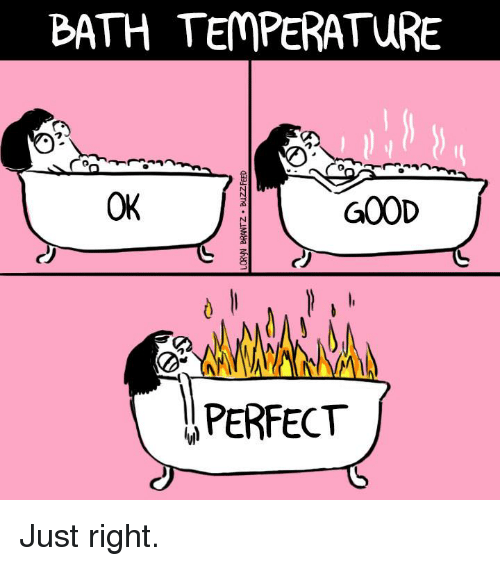 Search engine platforms have hot traffic because companies or people who need services are actively searching for an agency. Those people have high intent, making them more likely to become a client. Social media platforms have much colder traffic because no one is actively looking for the service.
What remarketing will do is warm up that traffic.  You'll be creating audiences that have had some sort of engagement with your agency. This should increase the chances of converting more clients that previously were unaware of your brand.
It's estimated that retargeted visitors are 70% more likely to convert on a website compared to ones who aren't targeted for the second time. With that high number, you could nudge non-converters in the right direction with certain ads and offers.
Let's look at some more examples of possible retargeting ideas.
All website visitors –  This is the most widely used the remarketing audience that includes all your past website visitors.
Visitors of specific website pages – To be even more granular, you can create an audience who visited specific pages of your website like your "pricing page," "review page," or "checkout page." Tailoring ads around these specific pages can grab the attention of the past visitor that was concerned about your agency's reviews.
Blog readers – If your agency is consistent with blog promotion you can remarket making sure ads are relevant to the specific articles they visited.
Downloaders of gated content – If visitors had downloaded an e-book or signed up for a webinar, you can present ads with a lower funnel sales-oriented offer.  Because they already decided to share their information you don't have to ask for their email again.
Social engagements – This audience would consist of people who have engaged on your social media pages. They would have watched a video, liked, commented or shared a one your agency's post.
All in all, retargeting helps you laser-focus your ads, attracting people who have more interest.
4. Turning strangers into customers
As mentioned earlier, the social media world is considered a cold audience, because intent isn't there.
Cold audiences are considered higher up in the marketing funnel. If you don't have a well thought out funnel that warms up your traffic, potential clients could be falling through never becoming a paying customer.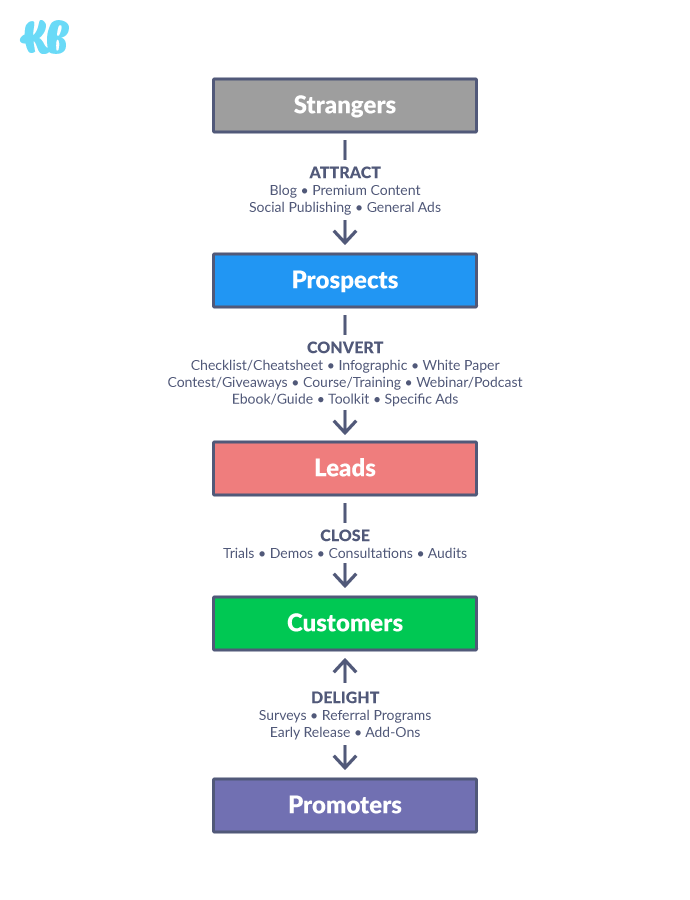 You'll want to turn strangers into eventual customers and promoters.
The Process
Turn strangers into prospects – You'll want to focus on creating brand awareness for your agency. Offering a helpful piece of content to educate and bring awareness will hopefully stir up some "need" for your agency's services.
Turning prospects into leads – At this point, people might have a small idea of who you are and may have a slight interest in trying your agency out. You can retarget these people who downloaded your piece of content from the previous point with an offer like a "Free Consultation." It's less aggresive than a "Sign-Up Now" offer that sounds aggressive while giving them some value.
Turning leads into customers – This is the more aggressive stage. Potential customers have given your agency their info for a "Free Consultation," but have yet to commit. You can try to hit them with another retargeting ad offering them the first 3 months at 20% off the normal rate.
You want to be sure that you don't leave people in the prospect stage or else all that work you did to warm up that audience will eventually cool down.
Turning customers into advocates – This stage comes with offering great service. Satisfied customers will more likely promote your business and help show your expertise.
"85% of consumers trust online reviews as much as personal recommendations." according to Bright Local.
So it's worth creating ads that offer existing customer some value – offering a referral incentive as an offer is a great way to make your existing customer feel even more valued while obtaining more leads.
5. Once upon a story telling time
Storytelling huh? Why is that so important?
This is a great way to enter the minds of your ideal customers: show them how they can benefit from your services and inspire them to take action with you.
As Uri Hasson from Princeton stated, "a story is the only way to activate parts in the brain so that a listener turns the story into their own idea and experience."
Creating a story is a great anchoring technique, where you're agency's message is linked to a past experience, prompting the audience to remember you're story. Focusing on relatability in this storytelling will allow for a much deeper connection.
Video ads are great for this!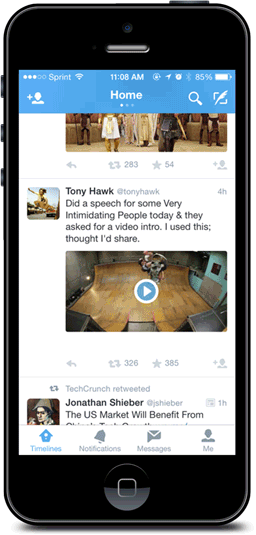 Video ads allow viewers to grab short bursts of attention while keeping interest with a story that helps them feel related to your business. Which is probably why 92% of B2B prospects consuming online video.
Over to you
So there you have it: five new tactics to improve your agency's social media performance to add to your tool belt.
Remember that the effectiveness of these tactics relies on the relationship they have to each other: how you collectively carry out all of them will determine how successful your renovation will be.
It isn't enough to implement just one. Using these collectively, you'll start to see a positive change in your social media efforts hopefully exceeding your agency's goal expectations.