How many leads have you acquired last month? Was it satisfactory? Ummm…can't say. Although, the majority of U.S. consumers are active on one or more social media platforms. (Source: Gartner)
This doesn't make sense. A majority of the crowd is willing to buy, and you haven't been getting remarkable results from your lead generation strategy, can't say you missed that!
Most businesses find lead generation challenging, including outdated marketing strategy, cold calling, inaccurate marketing data, not able to acquire enough leads, and hiring skilled individuals.
In this guide, I'm going to share practical tips and best practices to leverage social media for lead generation. Finally, a guide that works!
Using social media, you will eliminate all of the above challenges, plus it's free, and its goodwill will give your brand an edge with SEO, brand awareness, shaping your target audience and turning them into loyal customers.
But first, let's take a look at generating leads and nurturing them, is it any different?
Table of Contents:
Is lead generation and lead nurturing any different?
Yes and no. Lead generation and lead nurturing go hand-in-hand:
Lead generation is about creating and promoting content to attract new customers. Lead nurturing is about developing and strengthening the relationship with your qualified leads (the ones who have shared their contact information with you).
Consider this, would you buy an online product from a stranger in the first attempt? I won't, except when it's Apple!
Those days are gone when salespeople went from door-to-door trying to persuade a whole neighborhood of people to buy their new line of washing detergent.
Today, you need to show the worth of your product or service by curating unique content that strikes interest and value in the minds of your target audience.
Lead generation is the first act of your inbound marketing strategy. Once you have successfully received their contact information, you can nurture them at multiple stages of the buyer's journey until they make a purchase.
8 best practices to generate leads using social media
Advertise on Facebook
According to Gartner's CMO Spend Survey 2021, "CMOs spend nearly one-quarter (22%) of the marketing budget on digital advertising — including display, video or ads on social media or platforms like Amazon — and paid search."
You must have read that nearly 3 billion people are active on Facebook in 2021. Among those, 1.6 billion people are connected to small businesses worldwide. That's why Facebook is very significant for you as a marketer.
Facebook ads are very promising to your business for lead generation. With such a huge number of users around the world, your business gets an immense opportunity to learn about your customers and audience in general.
When you want to learn about your audience, you need answers. To get the right answers, you have to ask the right questions. That's exactly where Facebook lead ads come in. They're also known as lead forms.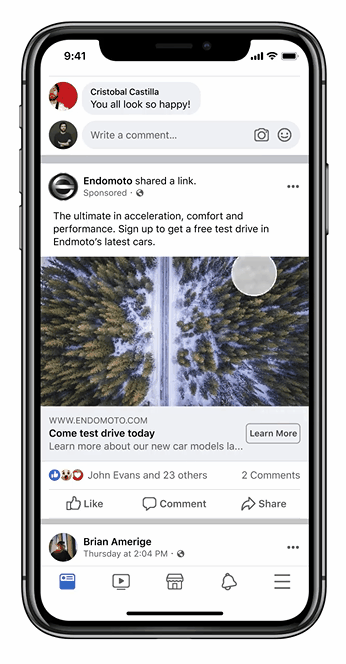 Features of Facebook lead ads:
When a user clicks on the call-to-action button on a lead ad, a pre-populated form (with the user's profile data) appears on-screen.
The user only needs to answer a few questions, select a few choices and submit the form.
Facebook has made it easy for users to share information with business pages while staying on the platform. No need to create a landing page for your ads.
You pay only when you acquire a lead.
Create social media quizzes
With more than 3.78 billion users on social media, the whole world is literally your playground. Design interactive social media quizzes to generate massive leads.
Quizzes are entertaining and attractive:
They tell you which Marvel or DC character matches your vibe.
They guess your birth month based on your favorite dessert.
Some take it up a notch and tell you about your profession in your past life.
Weird… but fun!
Why do social media quizzes work?
Quizzes are popular and powerful tools. A simple blog post, ebook, whitepaper, or checklist cannot deliver the same experience as a social media quiz.
They help you intrigue and excite your audience that something other content types cannot do.
They help you gauge your audience's pain points, personal preferences (likes and dislikes), opinions, and much more.
They educate your audience about your brand.
They're not boring and definitely not salesy.
That's why they work!
If your brand is planning to invest in quizzes and giveaway contests, go for it!
I mean, we all loved answering quizzes in school, remember? That's how our teacher knew if we understood a particular topic or not.
As a modern marketer, you can leverage quizzes to engage your audience, gather meaningful insights, and generate leads using social media. I'm going to show you exactly how, so follow me!
How do social media quizzes help you generate leads?
Social media quizzes must be a part of every modern marketer's lead generation strategy. They help you:
Gather meaningful insights with respect to your audience
Build and grow your email list
I am going to share one of my tricks that helps you surprise your boss by designing a fancy 'see how I perfectly built a lead-gen strategy and got massive leads' chart in your next meeting.
Step 1) Build an awesome quiz on Typeform.
Did you know—Typeform has ready-made interactive quiz templates that you can access for free?
Sign up and access a variety of quiz templates that you can customize uniquely to your brand's font, colors and use images or GIFs as your background to stand out from the usual.
The best thing is you don't have to design a landing page exclusively for your quiz.
Reminder: Make sure you add the fields of name, email, and maybe phone number. Without these fields, your quiz is merely a quiz and not a lead generation tool.
Step 2) Create a social media post with compelling creatives.
Great! You have designed the perfect form.
Nobody's going to open your quiz if your social media post is dull. Create compelling visuals for your post and add your Typeform link in the caption along with the right messaging.
Tip – Please make sure the images you are using for social media posts are super clear. If your pictures are too blurry, you can use an online AI Image Upscaler tool to make sharp and super-resolution images without losing quality.

Step 3) Promote the quiz, especially on Facebook.
By a rule of thumb, you must promote social posts on channels where your target audience is. But we haven't gathered any data about our target audience yet. We have to consider a scenario where we know very little about our target audience.
On the other hand, you're building a quiz campaign to learn about your target audience inherently. So going ahead, promote the quiz on every social media channel you own, and the best part is you don't have to do all the hard work.
If people find your quiz interesting, they'll surely share it with their friends and colleagues through word-of-mouth. It happens so rapidly, and you'd feel its magic.
But why Facebook specifically?
Facebook is a giant. People love to engage, and an interactive quiz is something that they'll never miss to click in their newsfeed.
Step 4) Retarget your leads
Congratulations!
People loved your quiz, and you have collected quality leads for your business. The next step is key to harnessing the real power of social media lead generation. We begin by understanding custom audiences on Facebook.
What's Facebook Custom Audiences?
A custom audience in Facebook is a database of existing leads collected and uploaded from website traffic data, mobile app, engagement data (the ones who liked or shared your post), or any customer list (the one we're going to use).
Say you run an ice-cream parlor joint in New York. And your smart social media team has built an interesting quiz that tells you which superhero character matches your vibe by asking you about your favorite ice-cream flavors and other similar questions.
Thanks to this quiz, you have collected data on the most popular ice-cream flavors and individual choices of your leads in Typeform.
When you connect Facebook Custom Audiences to Typeform, the data collected in Typeform gets segmented in your Facebook custom audience's list based on your preferences, like a list for vanilla lovers, one for butterscotch, and another one for chocolate, my fav! 🙂
Retarget these lists separately using Facebook ads with unique creatives or export them to your preferred CRM.
#ProTip: I have a neat trick to help you increase the volume of your leads 10x on Facebook. Simply create 'lookalike audiences' who share the same characteristics as your existing customers. If you don't follow me, you can refer to the Facebook ads guide.
So, what are the advantages of using automation over manual work?
You have saved a couple of hours every week and gathered massive data on your leads that you can target in your next paid ads campaign.
But here's the kicker:
You have a ready-made list of segmented target audiences.
New leads keep adding to your list without your interference.
Your social media team can focus on creative endeavors instead of wasting hours behind repetitive, time-consuming tasks.
Your ROI graph sees a sudden spike upwards.
Everyone is happy 🙂
Leverage micro-influencers
Influencers have become an integral part of social media lead generation. You can hack your way to a larger audience, and influencers help you do that!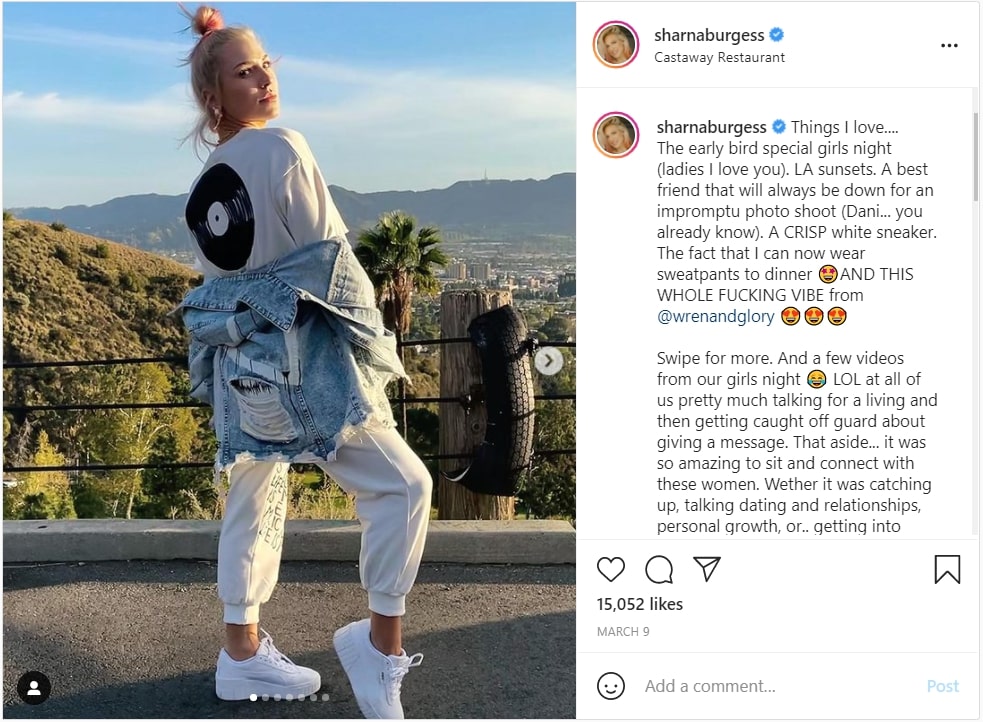 Only a small number of brands find success with influencer marketing. Why is that?
What most brands fail to understand is that they would derive more value from micro-influencers than mega-influencers. Micro-influencers have less than 100,000 followers, whereas mega-influencers have over 1 million followers.
As you can see below, successful brands partner with micro-influencers 10x more than mega-influencers. This proves the new trend in influencer marketing—the rise of micro-influencers.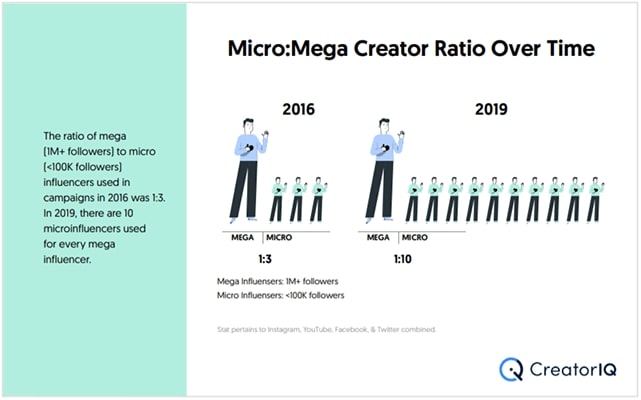 Brands seem to get more value by splitting their marketing budget among several micro-influencers than spending their whole budget on a single mega-influencer.
Micro-influencers deliver better returns as they're more frequently seen as subject-experts in their niche. They have more concentration of genuine followers.
To make the best of your social media lead generation strategy, focus your efforts on micro-influencers.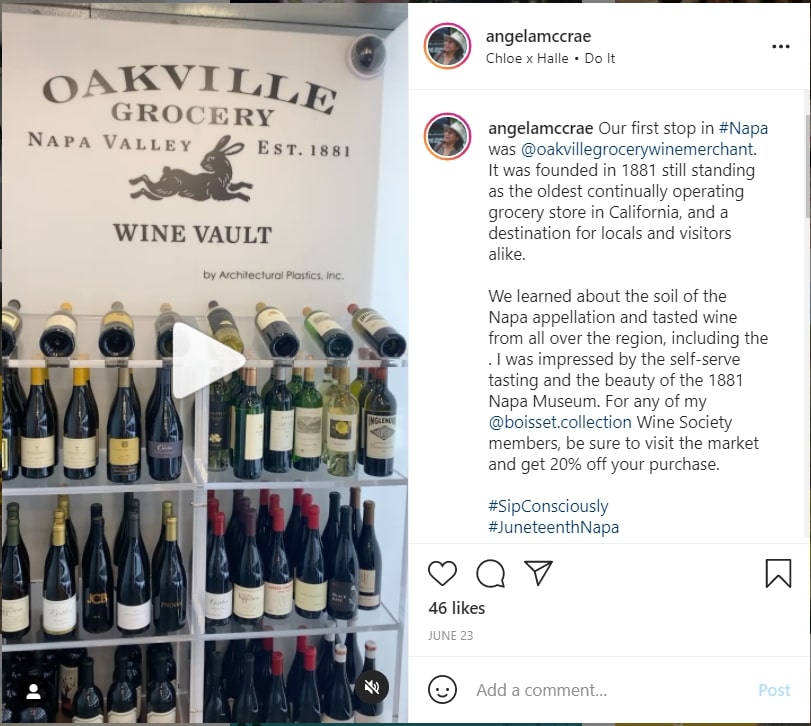 @angelamccrae is a micro-influencer. She works as a filmmaker and a digital impact strategist. She also brings quality engagement to her posts. Her love for wine has turned her passion into a business—she's the founder of @uncorkedandcultured.
Engage in social conversations
How do you know when people are talking about you? If there's a conversation happening about your brand in some corner of social media, wouldn't you like to be a part of that?
These conversations have become so critical to your business growth, and they have a name of their own—social media listening. But what many don't realize is that listening can be a great lead generation strategy. That's what we'll discuss below.
Listening is essentially monitoring social media mentions, tracking hashtags and URLs. There are hundreds of tools out there to help you listen to relevant social media conversations that help you generate leads; I prefer mention.com.
How to use social media listening to generate leads?
Effective social listening is the only way to find opportunities that generate leads. You have to build a schedule that works for you.
Here's the deal:
Help someone who's asking for a recommendation.
Address user concerns regarding your brand or product.
Set alerts for your competitor's brand-related keywords and hashtags. So, when you receive an alert about your competitor's at-risk customer as a result of bad service, you can pitch in to save the day.
Also, find prospects with high purchase-intent mentions. You can slip in a coupon or a discount offer that makes them feel special. In this way, you're not only appealing to one person but to all those who follow them.
Participate in social communities
Communities consist of relevant people who have common interests. This definition itself sums up why you should leverage communities for lead generation. If you'd like me to explain, here's why:
#1 A ready-made pool of interested individuals!
Where else would you find a niche group of people ready to be converted? You don't have to do the hard work of figuring out if the individuals are interested in your product or service.
Your primary role is:
Ask questions.
Share useful content that is not promotional. If your blog post is helpful for somebody, please share it.
If a user needs your help with an issue, try to resolve it.
#ProTip: Don't go around 'providing value' to the community. It's a term used frequently for new joiners but hasn't been clearly defined yet. If you can be helpful and polite to the community, that's more than enough.
#2 Communities share unique insights that are useful for marketing, sales, and product teams.
Ph.D. Researcher Tim Squirrel describes Reddit as: "If Facebook is people you know sharing things you don't care about, Reddit is things you care about shared by people you don't know."
There's a reason why copywriters use Reddit to find inspiration for blog topics. They call it the goldmine of unique ideas.
Reddit is completely content-driven since you only know people by their pseudo names. There's only value in content that is shared across different threads.
This content or data is valuable in the hands of the right marketer, sales, and product teams.
Small businesses usually don't have the luxury of data-driven insights. They can surely leverage Reddit to discover user pain points and suggestions for their product or service.
#3 Ask questions, discuss answers and gather feedback—all in one place.
Social media is one giant focus group. With the rise of communities, it has become even easier to access information from users quickly.
This information is tested and approved by people in the community, adding authenticity to the process. Your question may be approached by different community members in a different light, leading to a broad discussion that helps your research.
#4 Community posts have SEO value.
This is exciting! Did you know your community posts have SEO value? You may have seen Quora answers rank in the SERP.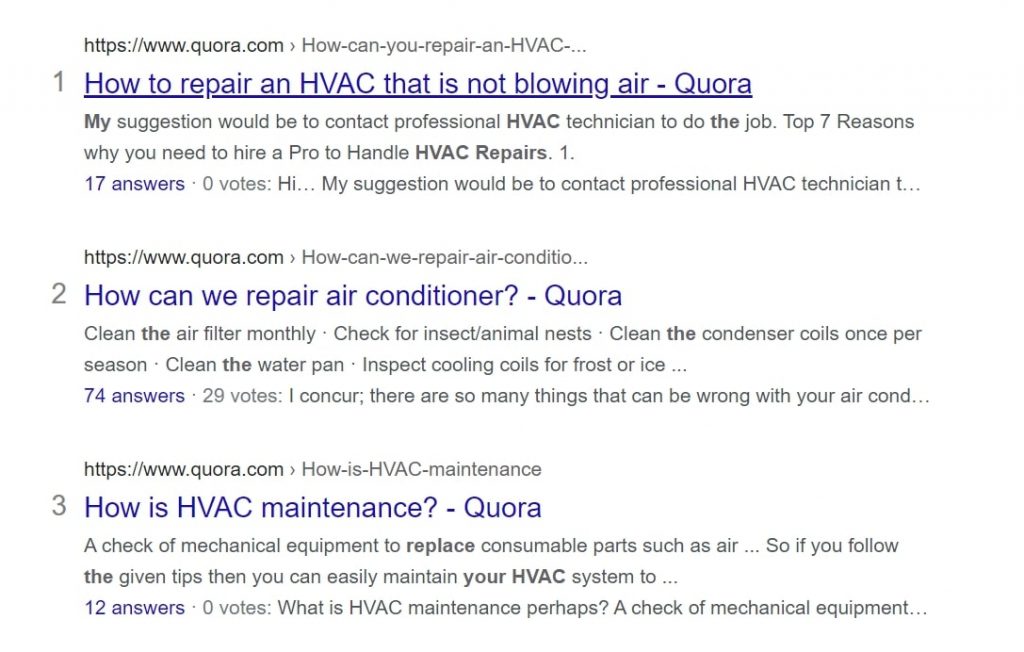 Live-stream events on social media
Live streaming makes it even more appealing for your audience to take active participation in your social media lead-generation campaign by:
Allowing users to share the link with their friends.
Allowing users to join the live stream from anywhere in the world using the social media app on their smartphone.
Allowing participants to post questions and virtually react to your content.
How can social media live-streaming help generate leads?
When Facebook announced live-streaming in 2015, it was an instant success. A new content format allowed small businesses to form deeper connections with their followers, driving higher engagement and generate leads.
Practical applications of live-streaming to generate leads:
Virtual events keep your audience engaged and informed. They are valuable to your audience due to the participation of subject-matter experts, industry speakers, and other valuable assets involved in the event.
A yoga instructor can do a live-stream session and a live Q&A to answer the doubts of prospective students one-to-one in real-time.
A real estate agent can take viewers on a live tour of a nearby listing.
I'll give you an offer that you can like, comment and share :p
Social media is a great platform to generate leads, whether organic or paid social advertising (take a look at which social advertising platform produces the greatest ROI for your business)
Social media lead generation is more about social media and less about lead generation. This is the premise. If you want to be successful with social media, you have to think beyond numbers and algorithms.
You have to think like people and communicate like one. Social media lead generation doesn't necessarily have to give you a headache. If you dedicate enough time and resources, your brand and business can definitely make a difference on socials.
As they say, there's no better social media marketing strategy than the one which isn't.
Happy socializing 🙂