No matter what business you have, whether it is an online business or a brick-and-mortar business, you can't last long in the market without some word-of-mouth advertising.
Why? Because it's more believable when a suggestion to buy or try something comes from an individual.
Word of Mouth Advertising is like a personal recommendation. People tend to listen more when someone tells them. For instance, you are most likely to get a piece of pizza from where a colleague or friend suggests, rather than from an ad on a billboard or TV commercial.
According to statistics, over 70% of individuals make purchase decisions due to word-of-mouth recommendations, while up to 90% of consumers trust recommendations from friends and family more than any other form of advertising.
Successful word-of-mouth advertising is hands down, the best kind of advertising anyone can hope to achieve. By creating great word-of-mouth (WOM), you develop a completely voluntary sales force that generates potential customers, encourages sales, and maximizes marketing investments.
Table of Contents:
What is Word of Mouth Marketing?
Word of mouth marketing (WOMM) has been around long before the dawn of modern electronic communications and long before the internet. It is the way forward-thinking companies get people talking about their products and services today. It is as effective as branding when building consumer trust and as powerful as creating an awareness campaign about your business.
The reach of word of mouth has gone beyond just family and friends. People are turning to the web to use sites like Yelp, Facebook, TripAdvisor, Twitter, etc. to make buying decisions. While reviews and testimonials are virtual, it is still word-of-mouth marketing.
Word of mouth marketing is a free way of championing your product, resulting in additional sales without you or your employees doing anything. Once a person passes the word about a particular product to their friends, they are more likely to become loyal fans and regular consumers.
Why is positive word-of-mouth advertising important for business?
Do you remember how your sibling couldn't stop talking about the new gift store down the road, and you didn't want to shop elsewhere when you needed a gift? This is essentially what word of mouth marketing does to your business.
This approach comes from sources such as a friend, colleague, spouse, social media, internet, or some other trusted channels, which makes an impressive result of 5x more sales than a paid media impression for any business. Word-of-mouth marketing is
Cost-effective;
Reliable;
Builds brand trust and loyalty;
Reveals new ways to reach potential customers.
Using it as a strategy provides a long-term benefit for your business. When a consumer's purchase is based on a prior referral, they often buy more than consumers who find products through conventional marketing. If it's not already at the top of your marketing plan, you should get started on it.
How to Create Positive Word of Mouth Advertising For Your Business
Exceeding a customer's expectation is the only outcome that builds your business. But it takes more than exceeding a customer's expectation to drive positive word-of-mouth advertising.
To become a raving fan, customers need to experience an interaction that's second to none. You must have left them walking out your door saying, "Wow, that's the best business experience I've had all week." However, without the "wow," there will be no rave review. And if you don't constantly generate positive rave reviews, you will not get enough positive word-of-mouth advertising to grow your business.
Here are nine solid ways to create positive word-of-mouth advertising that will make your business the talk of the town:
Build an excellent customer service first
How you treat your customers will determine if your business will succeed, as there can be no better advertisement than a satisfied customer. Averagely, a customer will tell up to 9 people about a good experience, and up to 16 people about poor ones, according to a survey carried out by American Express.
If you want your customers to spread great word-of-mouth (WOM), the entire customer experience consisting of the interaction, products, service, and follow-up, must be a pleasant one.
Follow these three tips to build excellent customer service:
Sell quality products: This may sound too obvious to consider, but it is perhaps the most essential factor in word-of-mouth marketing. Make sure your customers are getting what they pay for, while you assist them in every way you can. With this, you will gain loyal customers who would be willing to invite others to patronize your business.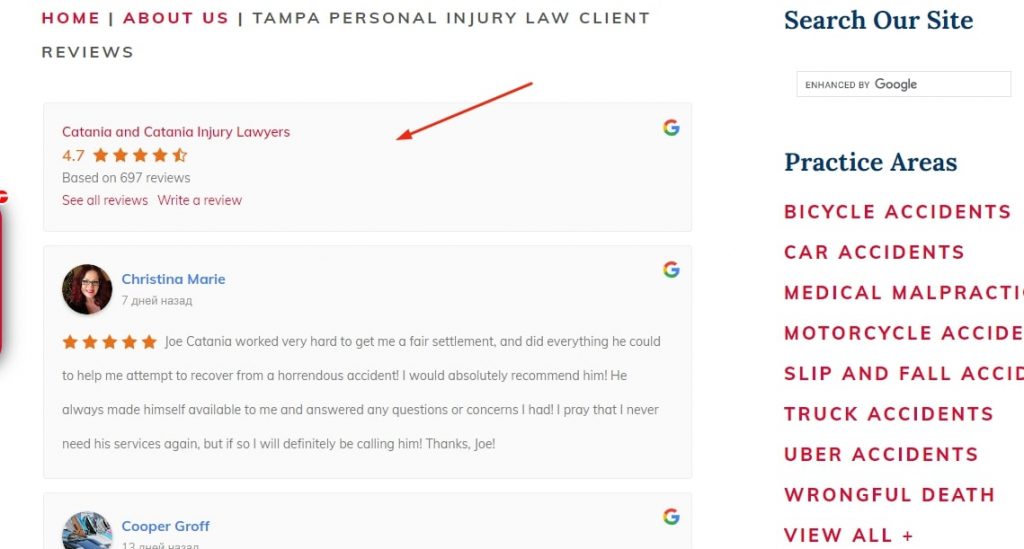 Better UX design and simple ordering process: Great UX design could increase your business conversion rates by up to 400%. Once you make your website and ordering process on all devices sleek and seamless to use, your customers will be happy to always come back.
Run a tight operation: Once a customer is dissatisfied with your operation, they will surely send the message out, and many others will read it before they even decide to purchase your product. While responding to your customers, have a process to perfectly manage your inventory, resolve customer queries, and make them feel confident.
Be it the gaming industry or logistics industry, customer service decides business success. Put your customers first — A happy customer is a potential word-of-mouth marketing source.
Inspire your employees
The single best resource that drives your organization's success is your employees. If they are driven by fear, distrust, and stress, they will be uninterested in promoting your business even if they had the opportunity to.
"The best way to motivate and build trust is to be completely transparent with your team," says Tom Siani from Scrowise. "Be direct and explain that you want to work on a business relationship, rather than being their boss."
If your employees are happy working for you, they will actively spread word-of-mouth about your products since they better understand what your company represents. It would become easy for them to spread stories to potential customers about how fantastic your business service is through their social media platforms and other channels.
Attract customers using visuals
To be frank, it's all about the visuals and appearance that help bring the wow factor and attract new customers to your brand. WOM marketing begins with a visual experience for buyers. Creating professional graphic designs is a must for your business if you want to succeed.
Fortunately, Crello can help with that. The tool creates and edits amazing designs in minutes without any special skills. Be it a social media post, a flyer, a blog header, or a billboard banner design, the tool can easily design them in Crello editor.
One of its top features is the ability to effortlessly animate any static object and access to a great library of audio files where you can add and edit a tune to any project. Moreover, you can create a team and add up to 10 members to the graphic editor to work together on your designs and projects.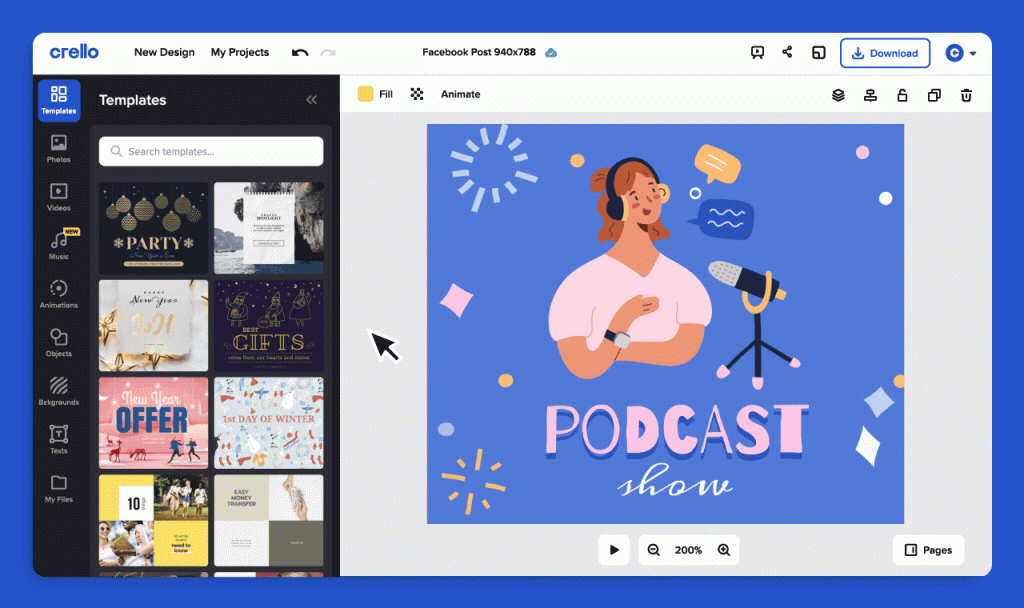 Make sure that using stunning visuals can increase the authenticity of your brand by showing how serious you are about your business and how you care about its clients enough to invest in creating professional visuals.
Create word of mouth triggers
All of this terrific word-of-mouth marketing won't do anything for you if you don't have proper triggers in place. This is what makes your business stand out from any other company in your industry.
Being different from your competitors doesn't have to be expensive or you have to reinvent the wheel completely. You could do something as easy as giving them a cookie or candy or engaging them in fun games after their purchase.
For instance, Disney creates a stunning visual experience of their theme parks that people just want to take photos of and share with other people. IKEA also used a visual trigger to create word-of-mouth marketing by embracing Augmented Reality (AR), and this created a grand buzz during their App launch.
"Triggering emotions goes hand in hand with creating value, as people are unlikely to promote anything that gives them an average experience," says Sam Meenasian, the Operations Director of USA Business Insurance. "A successful marketing campaign depends a lot on triggering the right emotions at any given time".
Ensure you create word-of-mouth triggers by giving your customers something memorable or an experience they can't get anywhere else.
Encourage user-generated content
The concept of user-generated content (UGC) is simple – get people to say good things about your products organically. The authenticity and trustworthiness of UGC work well for businesses of any size. 85% of social media users say that they trust UGC more than they trust brand content or traditional marketing.
You can achieve this by creating a contest where you ask customers to send pictures or videos of them using your product for a chance to win something from your brand or offer users incentives for promoting your brand.
Coca-cola is an example of a successful UGC brand through their 'share a coke' campaign. The idea of this campaign happened when Coke decided to print about 150 popular names on its bottles and asked people to 'share a coke' with their loved ones bearing the names. Though it started in Australia, it became a hit and was welcomed in over 80 countries worldwide, with people sharing photos with their names on Coke bottles all over social media.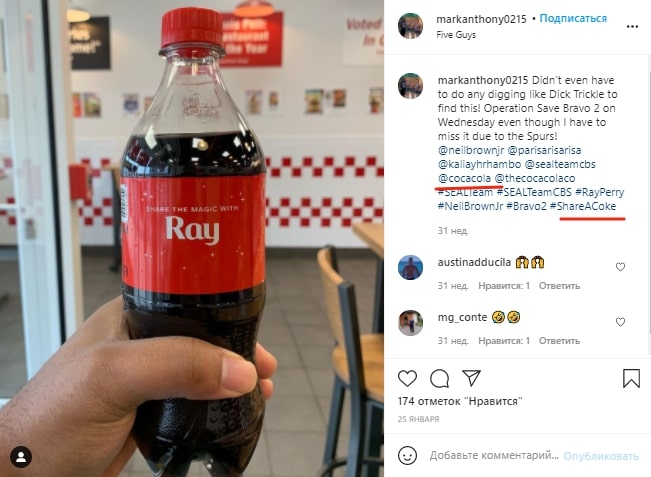 Collect and display reviews of your products
One of the things that can make people want to buy your product or patronize your business is when they can see that many people are satisfied with what you are offering. Displaying reviews from customers can also help significantly, as close to 90% of consumers trust online reviews the same way they trust organic WOM recommendations.
When you get reviews from customers, try to display them in as many places as possible, either online or offline. Anywhere you can think of. Also, don't forget to promptly thank your reviewers for their feedback. Here is a good example from LawRank that created a separate testimonial page on their website and actively shares every single review from their customers on their social media channels: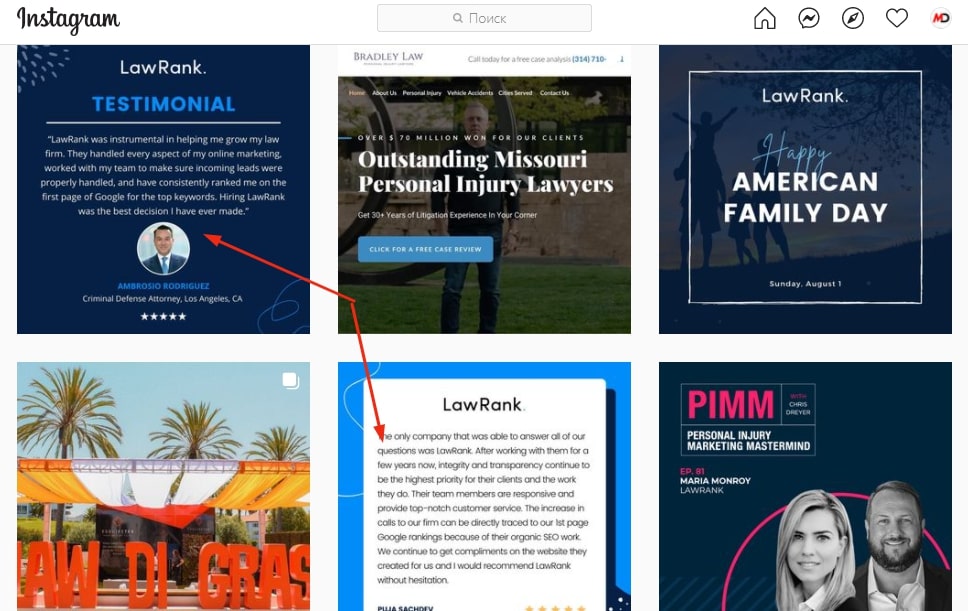 Every potential customer wants to know what existing or previous customers feel about your business. Notice before making a purchase, most people read an average of up to 7 reviews.
Be social on social media
You must have heard about a viral Wendy's tweet where Carter Wilkerson asked how many retweets he'd need to get free nuggets and Wendy's tweeted back 18 million. While he didn't reach such an astronomical number, his tweet was still the most popular tweet of all time.
On the other hand, if Carter didn't get a response from Wendy's, this WOM campaign would have never happened. This tweet resulted in a lot of free media coverage because of the nature of the tweet.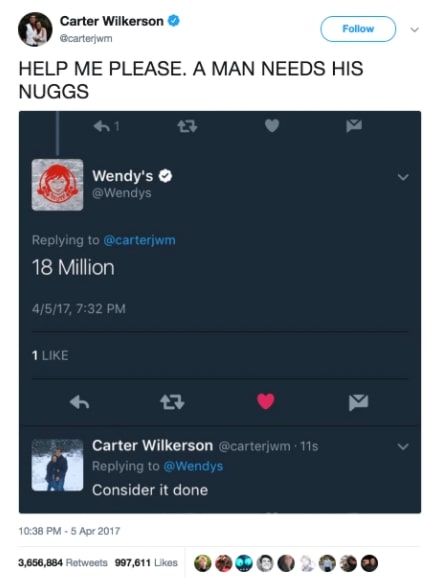 If you run your online business, you need to have countless interactions with your customers. It is important to always stay positive and active with them and create quality content for your social media presence.
Depending on your goals, you need to share aesthetically attractive images, shoppable product images, videos, and illustrations to attract your customer's attention. You know that creating perfect images can take much time and effort.
To speed up the process, you can search visuals on stock libraries like Depositphotos to find relevant media files based on your business needs. Depositphotos includes over 200 million royalty-free images, music, and video files that can be easily customized and used by your marketing team to run different social media campaigns.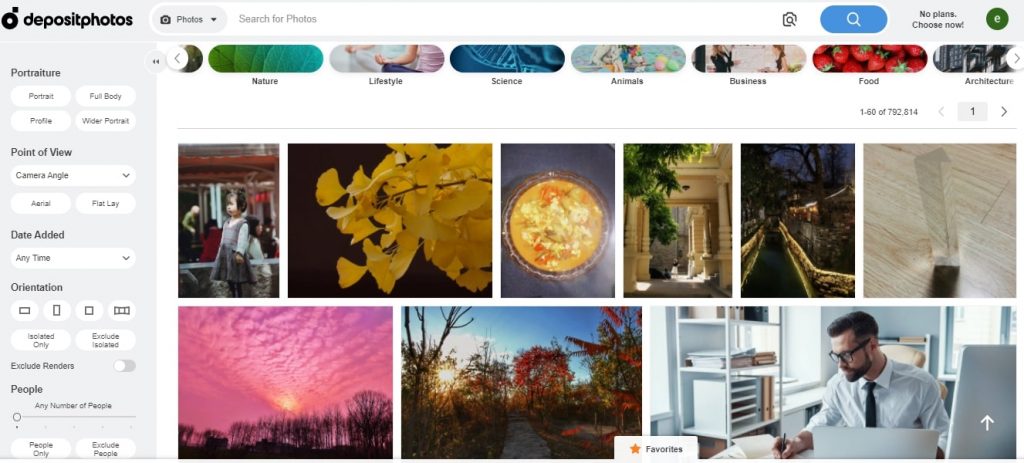 Establish a referral program
Aren't you happy when your phone rings and someone says, "My colleague Lani told me all about your skincare products, and I need to order about two packs"?
Of course, you love it.
You're glad that you have a loyal customer who is so happy with your product, and she recommended you to her associate. You feel the excitement of knowing you've got an easy sale off a customer. What's more, you're thrilled because you know you didn't have to spend a dime in marketing or ads to get this customer. This is exactly the beauty of referrals.
According to research, over 80% of satisfied customers are willing to refer people to products or services they've used, but only about 29% do. Referrals can be easy or complicated, depending on how you choose to create them. It could be anything from:
Giving Discounts;
Bonus gifts on each referral;
Cash payment for referrals;
Credit on customer's account.
Even big brands like Airbnb offer referral marketing uniquely that benefits both the referrer and potential customers. This excellent WOM strategy makes it easy for referrers to getting the right users for your product.
Spark WOM among influencers
When it comes to WOM marketing these days, not only do family and friends matter but influencers too. Now the big question is how much do influencers matter in creating word-of-mouth advertising for your business?
According to Annalect, 49% of Twitter users rely on influencers compared to 56% listening to friends. One reason is that influencers are perceived as experts in their field who share an irresistible sense of credibility among their network of followers.
To create a positive WOM through influencer marketing, find micro-influencers that share content related to your brand and its niche through an influencer management agency, social media, or even your existing followers. Get them posting and talking about your brand on their channels.
Bonus tip: Measure Your Word of Mouth Marketing
Marketing to a large audience, especially in the online world, provides a lot of opportunities to gain visibility. However, as a business owner, you need to measure the effectiveness of your word-of-mouth marketing to know where to improve.
Using a tool like Finteza to track your process makes your work super easy. Once a customer clicks your link, Finteza records it and gives you accurate data on where your sales are directly coming from. You will get detailed information on your impressions, clicks, and CTR.
For effective analysis, the tool allows you to build histograms to visualize tracked events, automatically generate conversion funnels, and save the data in the form of a report.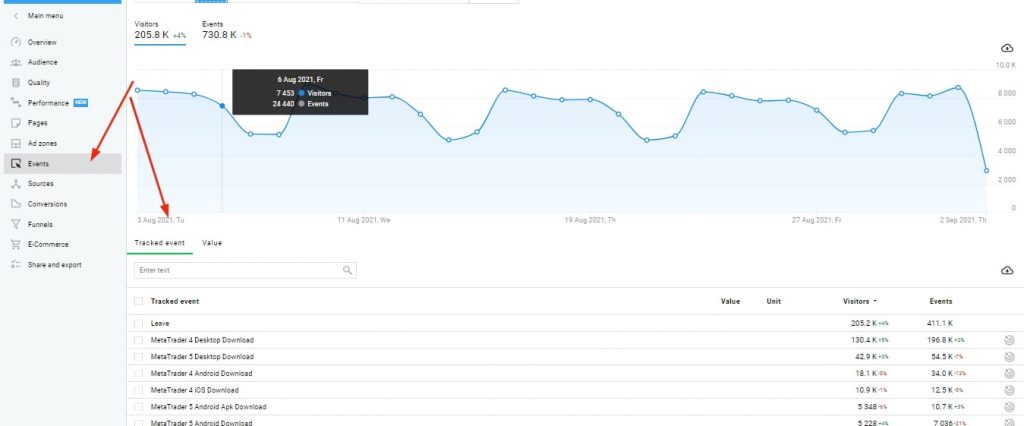 Wrapping Up
Positive word-of-mouth advertising will bring in a crushing wave of targeted traffic through the ways explained above. However, it doesn't just happen. It is about building trust and cultivating relationships. The more referrals you get from those who know and trust you, the bigger the customer base you can build.