When Apple makes a big announcement, it's usually a game-changer. iPod, iPhone, iPad, Apple Watch – they're all a part of our lives now. You may not own a single Apple product, but your friends do. And the moves the company makes shape our consumer culture.
Apple is the largest company that's ever been, with more than $245 billion just sitting in the bank. Its fans are passionate – its haters too – and anything it releases is almost guaranteed to fly off the shelves.
So on September 12, an army of tech journalists, nerds, and design aficionados descended upon Cupertino, California to see what its next big announcement would be.
As we like to do at Mention, we monitored the event to see what people said about it on social media. How much attention did it generate? And most importantly, how did customers respond?
But first, what was the event all about?
The big announcements
Before we dive into analysis, let's take a look at the big reveals from the Apple event.
Apple Watch Series 3
Not much of the social media reaction focused on the latest Apple Watch upgrades. But there is one significant change to this wearing tech: the ability to make and receive phone calls.
It'll use the same number as your iPhone, so you can have your phone with you while running, swimming, and surfing:

And, as always, The Simpsons saw this coming: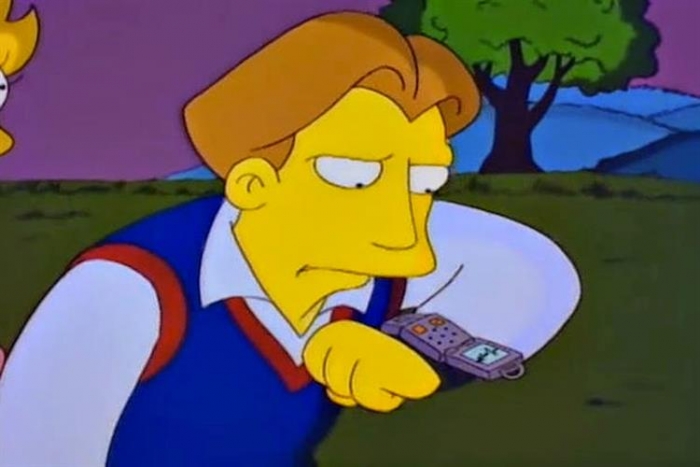 This new Apple Watch also lets you stream music, and comes with a range of bands in different colors and materials.
But perhaps the biggest Watch-related news was Tim Cook's claim that Apple is now the biggest-selling watch brand in the world. A year ago, it seemed a tall order for the tech company to overtake Rolex in the wrist-ware game, but here we are.
iPhone 8

We'll talk more about this soon, but the event (and the people tweeting about it) glossed over the iPhone 8 and 8 Plus. Apple pretty clearly wanted to get to the big reveal – the iPhone X. So the response to iPhone 8 was forgettable.
Design-wise, the changes are relatively minor. The new phone has glass all over, which lets the phone charge wirelessly. [This wouldn't have worked with an aluminium backing]. There are also a bunch of technical upgrades from the iPhone 7, including a better camera and True Tone display.
But overall, the response was a resounding "meh."
iPhone X

This was clearly the pièce de résistance. With characteristic dramatic flair, Apple CEO Tim Cook proclaimed iPhone X (pronounced "ten") "the future of the smartphone."
So what's new? The biggest talking point was the new face recognition software that lets you unlock your phone with a selfie.
The Apple New iPhone X #AppleEvent pic.twitter.com/szw272jPYG

— 9GAG (@9GAG) September 12, 2017

There's also no home button, so you'd better get used to doing everything with a swipe (Tinder must be thrilled). It's also a little bigger, and the display now goes right to the edge. And of course it has wireless charging like its sibling iPhone 8.
There's also Apple's new Animoji – animated emojis that let you put your voice and facial expressions onto emojis and send them within Messenger:

Overall, it's a considerable redesign, along with some exciting new features. And social media users were excited to talk about it, for good and bad.
So what was the response to all these announcements on social media?
Everybody was talking about Apple
We'll talk about what was said soon, but Apple has to be happy with the amount of attention it received.
In fact, there were two big news stories on September 12. The other concerned US senator Ted Cruz, Twitter, and online pornography.
If Apple is greedy, it may feel that Cruz stole its thunder. It may have wanted complete ownership of 9/12. But Twitter being Twitter, users were able to combine the two big stories of the day:
Ted Cruz isn't going to buy an iPhone X. He's waiting for the XXX.

— Leigh Ellis (@LeighEllis) September 12, 2017

Aside from this gossipy sideshow, all eyes were on Apple. We counted more than 140,000 social media mentions of iPhone 8, and more than 150,000 for iPhone X: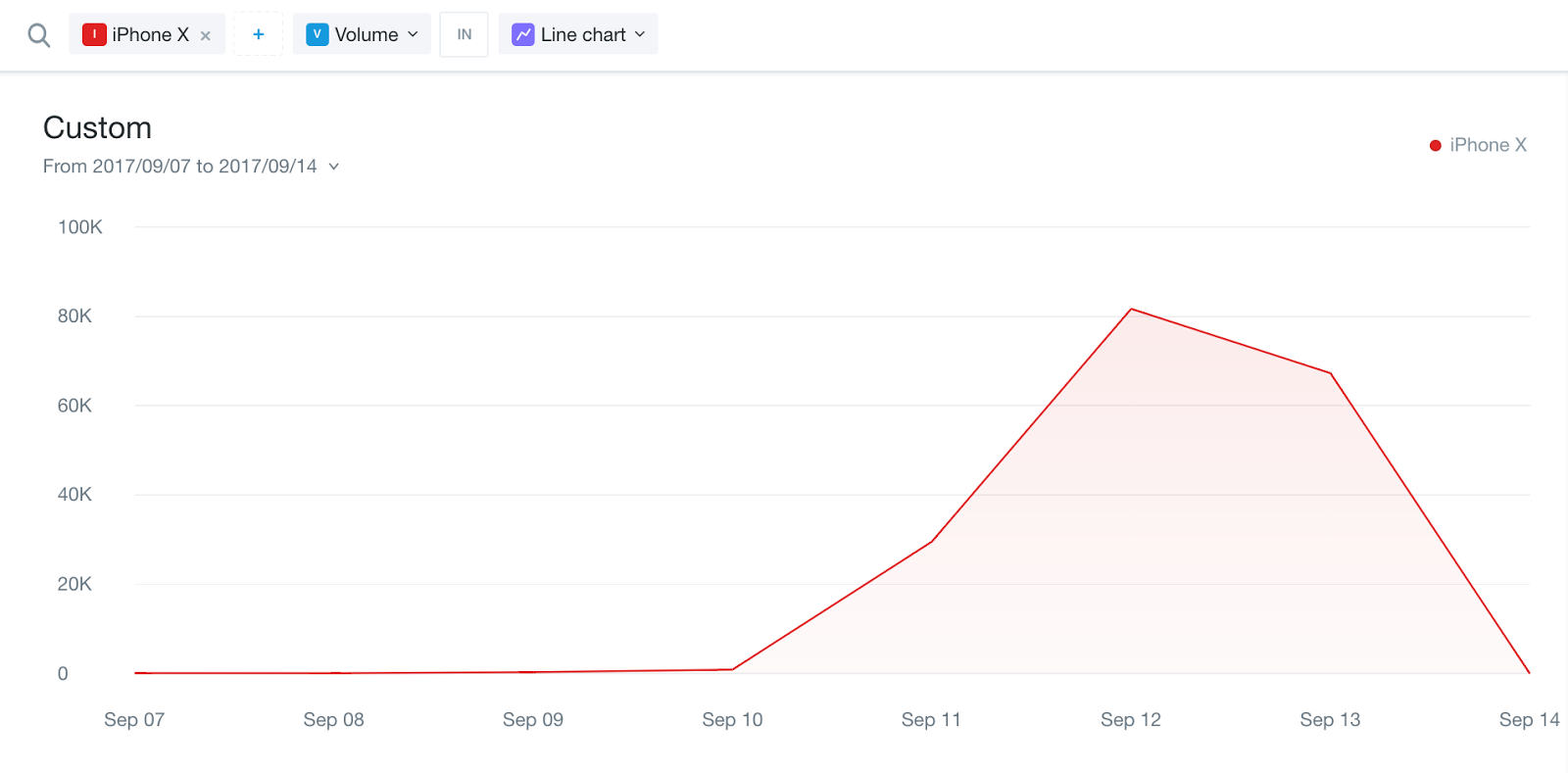 The word "Apple" was used nearly 239,000 times on September 12. Sheesh!
And it wasn't just yesterday. In fact, conversations about the event started some time ago. Speculation about the big iPhone launch has been circulating for weeks:



You'll notice that, for about a week, people were only talking about iPhone 8. At that time, we knew that there was a new iPhone coming, but we didn't have a name. Naturally, everybody assumed it would be "iPhone 8." In the end, they were half-right, and mentions of iPhone X quickly caught up.
A lot of negative social mentions about the new phones
We ran a quick sentiment analysis of all these social mentions to see whether responses to the new phones were most positive or negative. This is a quick and effective way to identify conversation trends about your brand.
Not everybody is a fan of sentiment analysis. They'll point out that individual comments can be mischaracterized as bad, when really the message was playful or used a word that isn't always negative.
But when you look at large numbers of mentions, you can quickly find trends and spikes. Then you simply need to dig into the messages themselves to see what people had to say.
Learn how to use social media sentiment analysis for your own business.
In this case, social sentiment towards the two new iPhones was overall more negative than positive: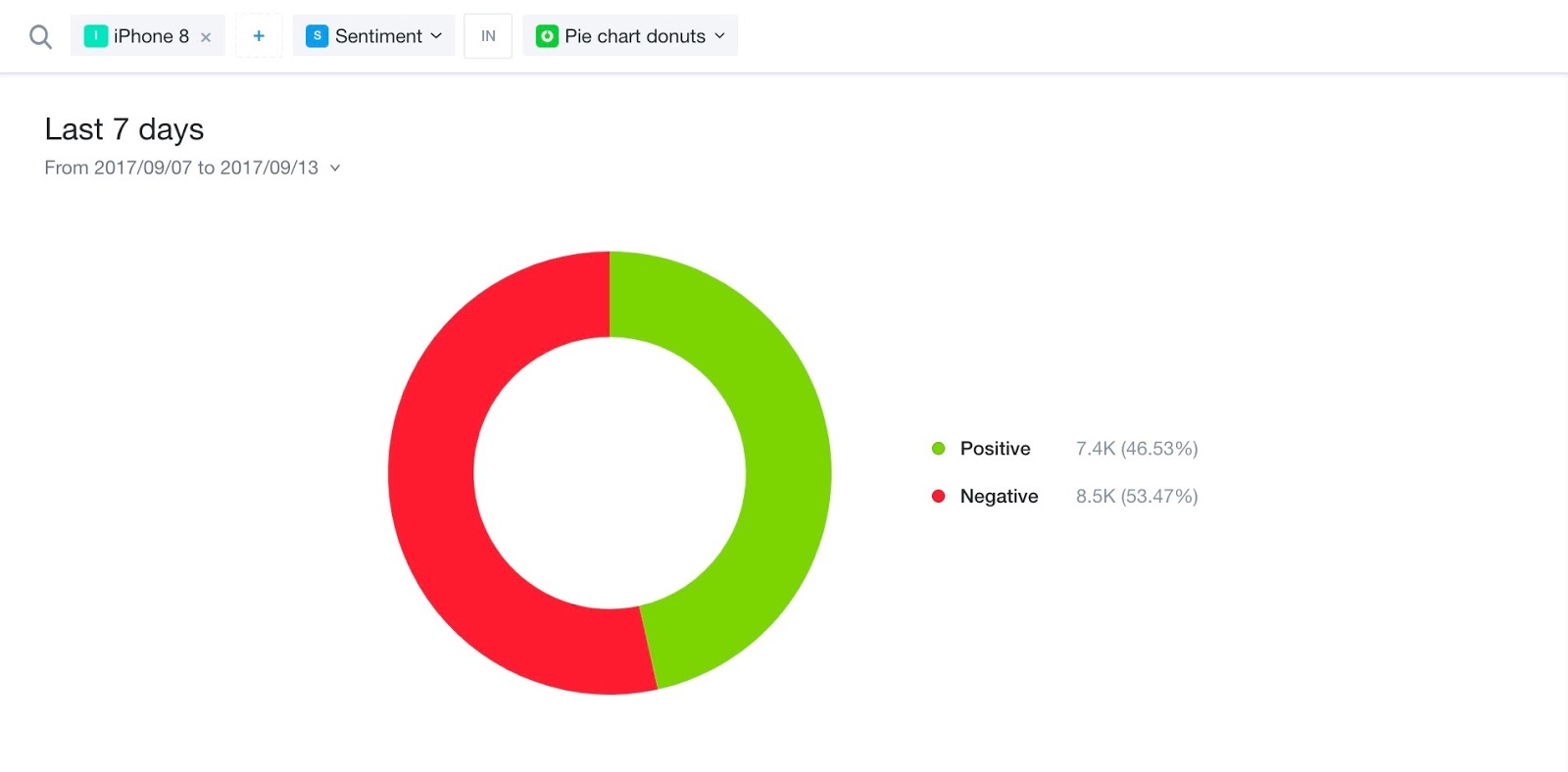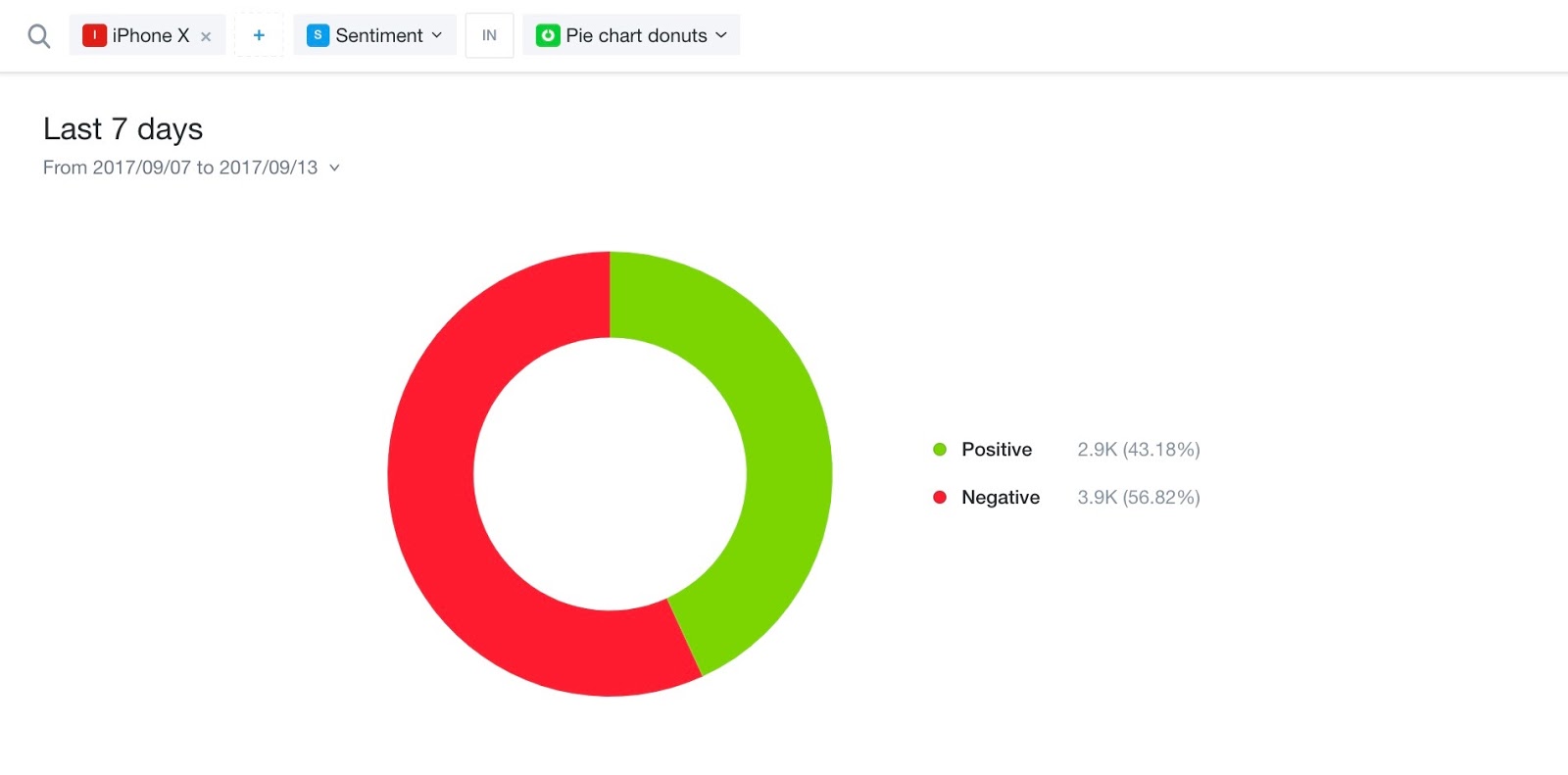 (Neutral sentiment has been removed)
Perhaps this isn't surprising – social media tends to celebrate sarcasm and snark. And when an event is this hyped-up, people are ready to be cynical.
But businesses care about this stuff. Apple built this launch up knowing that the world would be watching, and it wanted to deliver. Of course, it's true goal was to occupy headlines and generate buzz for the new products. Clearly, it succeeded.
Still, it's important that the right message gets out. And judging by sentiment, perhaps it didn't. So what were the main themes?
iPhone 8 is a lemon
To be fair, there's not much specifically wrong with the iPhone 8. It's just that it seems to be almost exactly the same as the iPhone 7. Which led to a fair few disparaging comments:
Boring products! The new 8 is literally the same iPhone 7! With higher prices…and X, where is the future? Its more like an old galaxy!

— Armin VM (@armin_vm) September 12, 2017
iPhone 8 vs iPhone X pic.twitter.com/e9l9I1XHXZ

— Zane Lowe (@zanelowe) September 12, 2017
I can't wait for tech journalists to clap like seals at the end of this boring iPhone 8 conference. #AppleEvent

— Ian Miles Cheong (@stillgray) September 12, 2017

In truth, iPhone 8 does see some improvements from the previous version. It's just that the upgrades are mostly technical, and the design hasn't really changed.
But you can now charge it wirelessly using Ikea furniture, so that's a bonus.
Too much glass
One design change for all the new phones is a glass back to go with the glass screen: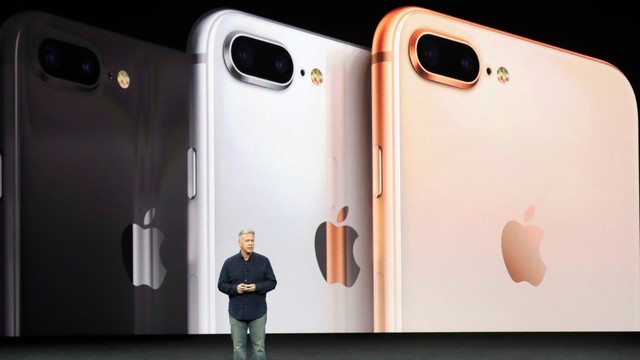 That might look good, but it comes with a cost.
You might remember iPhone 4, which also had glass all over. And every iPhone 4 I've ever seen looked like this: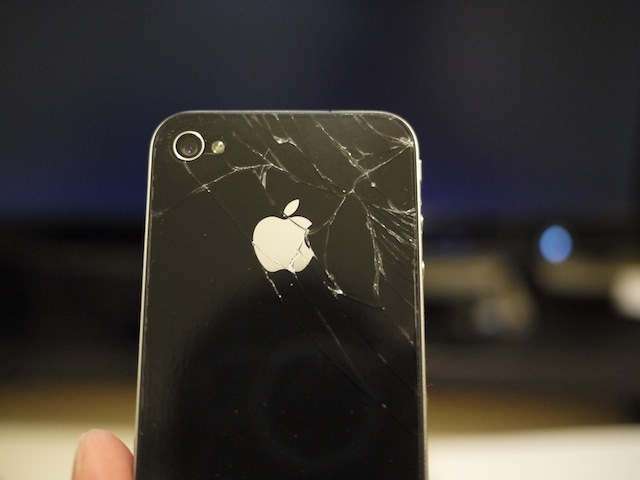 Of course, Twitter was all over this:
iPhone 8 has glass all over…iPhone X's screen is all glass front and back. So if it cracks I can be disappointed from both sides. pic.twitter.com/GrkP0xfwlm

— j (@jordandejesuss) September 13, 2017
The iPhone 8 now has glass on the back. Now I can shatter my screen on BOTH sides and stare into my reflection with disappointment twice

— Gabby (@c_gabby14) September 12, 2017

[This tweet was shared nearly 59,000 times! When we did our sentiment analysis and highlighted the negative comments, this one stood out like a sore thumb. For businesses trying to avoid bad publicity, being able to quickly identify major brand detractors and respond to them can be the difference between a small blip and a full-blown crisis.]
Whether you like the design or not, iPhone 8 and X owners now have extra incentive to pay for AppleCare+. And social media users were definitely not thrilled about the price of the new phones (more on that in a moment).
iPhone X malfunctions live
The Apple Event had a major facepalm moment when executive Craig Federighi tried to demo iPhone X's facial recognition function. The demonstration didn't exactly go to plan:

The technology is billed as a major biometric security breakthrough. But many users are actually worried about it being less secure. For instance, what happens if you're arrested? Could the police simply hold your phone in front of your face to unlock your phone?
So what do you think @just_security, @normative: Can the police compel a suspect to look into their iPhone X to unlock it?

— your favorite President (me) (@seanmurphy1661) September 12, 2017

Uncertainty about security coupled with failure on the first attempt meant that this innovative upgrade didn't quite have the "wow" factor that Apple would've liked.
That hefty pricetag
Even before the launch, rumors swirled about the possible price of the latest iPhone. People were right to be apprehensive.
iPhone X starts at $999 (and the same in British pounds), while the most expensive version will be $1,149. Prospective buyers took their frustrations out on social media:
£1000 for the iPhone 8? I hope airplane mode takes me on fucking holiday

— Ryan O'Neill (@ryan10mufc) September 12, 2017
The only #AppleEvent I can afford !! 😁😅 pic.twitter.com/Pdtiz7YpCA

— Certified आफ़त 😛 (@coolgirl_hj) September 13, 2017

Apple's sales have been down recently, and the Samsung S8 has seen strong sales. With this new iPhone almost twice the price of the S8, Apple may be hoping to appeal to high-end customers. Perhaps they're trying to make the S8 look cheap by comparison.
Or maybe it's just a money grab.
In the end, Apple wins again
Despite all of these negative comments and complaints, it's hard to imagine Apple losing any sleep. Once again, it captured the attention of the technology world, dominated conversations, and released some genuinely noteworthy upgrades.
Whether we all like it or not, this face recognition technology will soon be everywhere. More and more smartphones will get rid of the home button. And both of those developments could be irrelevant if we all start making calls from our wrists.
Apple was hoping for a little extra publicity after slower than expected iPhone 7 sales. It looks like it got it.
Of course, you can't please everyone:
The iPhone 8 is just a 7 with wireless charging and the iPhone X is ugly and horrendously overpriced. What happened, Apple? 🤦🏼‍♂️

— 𝙺𝚊𝚒 𝚆𝚛𝚒𝚐𝚑𝚝 (@iamkaiwright) September 13, 2017