Whether they are retail brands, sports teams, libraries or even restaurants, most companies are investing more and more in developing their digital brand image and online presence – financial institutions are no exception.
"Financial institutions" refers to businesses providing financial services — banking, insurance, money transfer, etc. — to their clients.
In fact, some of the fastest-growing actors in the industry are even pure players, meaning they operate 100% online.
What's more, when it comes to market trends and innovation, the financial institutions are first on the line. After all, we — people and companies — trust them to manage our money to the best of their abilities. And even more so than any other market, we demand secure, trustworthy, fast and user-friendly services.
Reaching such high expectations is not a given. To this point, banks and other financial institutions have no other choice but to have a perfect understanding of their market, their audience, and their needs. What they need to get there is a failproof online strategy.
Now, this is easier said than done considering that most well-established institutions are facing brand new challenges. Among other things, they're competing with FinTech's newcomers who are entering the market with disruptive ideas and technologies – agility that most historical players don't have, yet.
If they don't invest to provide ever better services to their customers, they will lose the battle because, as we all learned back in 2007, there's no such thing as "too big to fail".
Thanks to new technologies and capabilities of the Internet, the interest and market opportunities within the FinTech — Financial Services Technology Consortium — industry boomed over the last five years.
A quick look at Google Trends around the "FinTech" keyword says it all.
From January 2010. to January 2020., the overall interest in "FinTech" grew exponentially.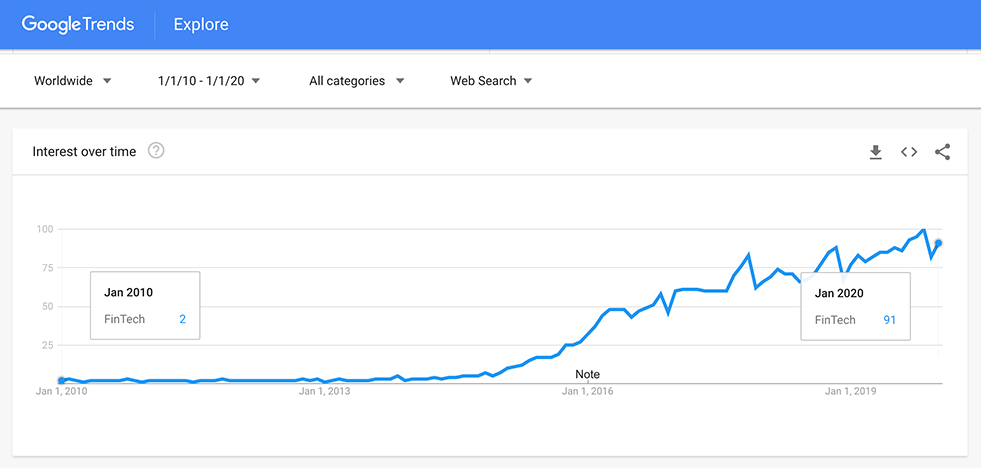 Never before has this market been so active and interesting.
To help financial institutions to make the best out of this new era, we've decided to put together a comprehensive social media management guide.
We'll go over the following points:
What to do on social media
Why is social listening important for financial institutions(and how to benefit from it)
How to use social media for crisis management
How to benefit from influencer marketing
How to deal with customers reviews
How to leverage social media for competitive analysis
How to boost your employer branding using social media.