Social media has become an integral part of our lives. We communicate, share information, and interact on social media. This makes it a potent marketing tool businesses should leverage if they want to reach as many people as possible.
However, proper social media marketing isn't as simple as posting pictures and captions. You need to monitor the effects of your social media efforts. So, if they're not yielding the results you're looking for, you can make the necessary adjustments.
In other words, you need to run a social media audit. In this article, we'll teach you how to do that. But first…
What Is a Social Media Audit?
A social media audit is the process of evaluating the effectiveness and consistency of your social media strategy across platforms.
Social media audits are essential because they allow brands to identify their strengths and weaknesses in terms of social media performance. They do this by giving you the information you need to optimize your marketing approach. This information often includes your most effective platforms, audience demographic, most engaging content, etc. Check out the sample social media audit report below: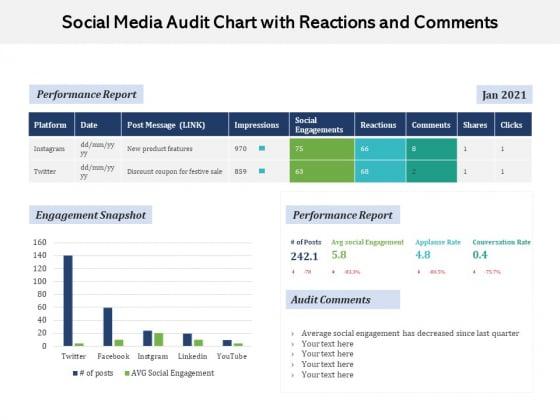 In other words, a social media audit can help you run marketing campaigns more efficiently and effectively. As such, it should be in your e-commerce, B2B or B2C, or SaaS marketing guide, whichever applies. It should be run quarterly, too.
Despite the many advantages of social media audits, it is a process that many businesses tend to neglect. They prefer to avoid it because they believe it is a tough and time-consuming task. As a result, they begin to create social media strategies without a firm grasp of their online performance.
The thing is, not performing a social media audit can be more unproductive and inefficient for businesses in the long run. Imagine posting what you thought was your best content without generating the engagement you were hoping for.
The efforts, the time and the money you spent creating and posting the content would have been wasted. But with a social media audit, the same amount of money, time and effort you exert to create and post content yield excellent results.
7 Steps to Conduct a Social Media Audit
If you are carrying out a social media audit for the first time, do not worry. Here are the steps you should follow to perform an audit that can help you improve your content engagement and social media presence over time.
Table of Contents
Round up All Your Social Media Profiles
The first step of the audit is to round up all your social profiles, both active and inactive. To do this, you need to run a search for your brand and product names on each social media platform. While this may be time-consuming, it's important because you can find fake accounts, fan pages, or old accounts you haven't logged into in years.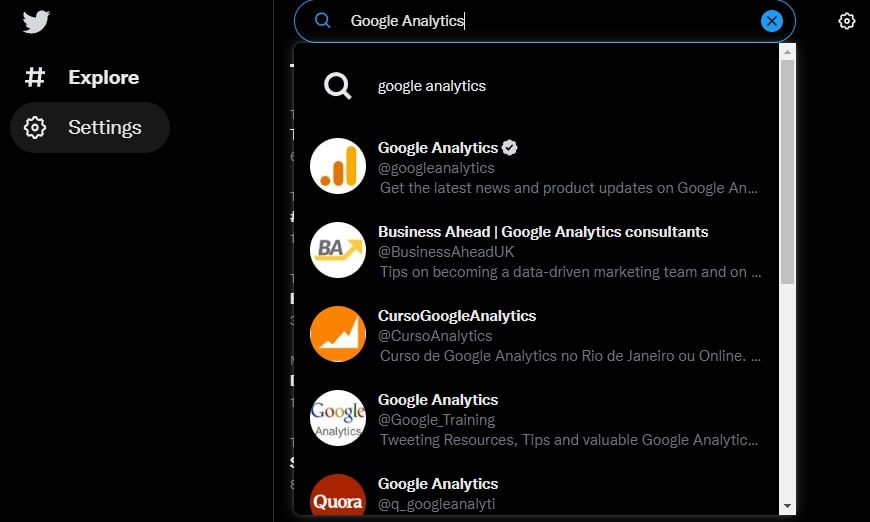 The image above, for instance, gives a quick preview of what is available on Twitter for Google Analytics.
As you track down your old social profiles, you'll need to prepare an audit spreadsheet. This is where you will record relevant information. This can include the account username, the handle URL, the number of subscribers/followers, and so on. Below is an example of a social media audit template.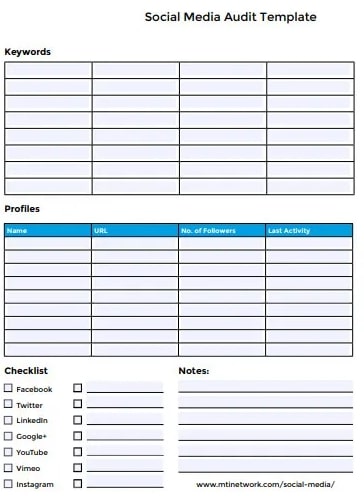 The spreadsheet in the image above is ideal because it gives you a checklist and a section where you can make notes for each platform. Overall, it helps keep your information organized.
Once you have a complete list of all the relevant social accounts, you can decide which accounts require your attention. The audit will also allow you to create new social media marketing strategies and ideas for the future. We'll talk more about these later.
Ensure Consistent Branding
Let's assume you have all your profiles listed. It's time to ensure each account matches your current brand style. The goal is to make your brand recognizable. So, when a person looks just once at your Instagram, LinkedIn Facebook and Twitter accounts, they'll automatically know they're yours.
For instance, brands like Mention are consistent with their branding on Facebook, Twitter, and Instagram, as we can see from the images below:

Notice the same logo is there. Also, the blue theme is consistent across each platform. Although the bio copy across platforms sometimes varies, the tone is the same: casual and friendly.
But the logo, the theme and the bio copy are just some of the elements you need to consider when evaluating for brand consistency. To ensure you cover every aspect, go to the customized settings on each platform, and go through each social media element listed there.
Listed below are some key elements you need to keep consistent across platforms, as much as possible:
Cover images
Username
Hashtags
Posts
Make the necessary changes to ensure brand consistency. For your hashtags and posts, though, it might be time-consuming to go back to each of those and make changes to suit your brand guidelines. So, the best thing you can do is ensure consistency going forward.
The easiest way to do this is to start reposting your content across platforms, either manually or automatically.
But even when you're doing this, make sure you take into account each platform's characteristics, too. For instance, you can't have a Tweet that has more than 280 characters. This means you'd still have to shorten your Facebook post before reposting it to Twitter.
Measure Engagement Metrics for Each Platform
Engagement metrics gauge how committed and involved an audience is with your content. Having a large audience won't mean much if your engagement rate is weak. On many of the social media platforms, your engagement rate will determine how the algorithm will treat your content. If your engagement rate is poor, your posts will appear less on your followers' feeds.
Depending on the social media platform, you can measure several KPIs like active followers, shares, likes, comments, brand mentions, and profile visits.
Measuring engagement metrics on most networks can be challenging, but there are tools you can use. For instance, Mention's Twitter Engagement Calculator helps you measure the engagement rate of your Twitter account based on average replies, Tweets, and likes.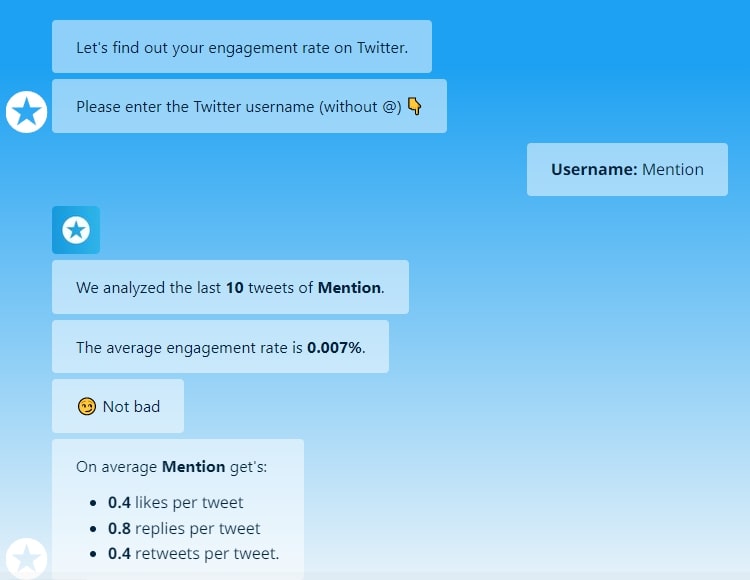 After gathering all the information you need, organize it into your spreadsheet. This will give you valuable insight into how well you are performing on each social network.
Benchmarking can come in handy at this point, too. In what ways are these figures different from where you were a year or two ago?
Since many stats and tools keep accurate records, getting the numbers to make comparisons won't be an issue. For the remaining indicators, don't forget to record them as well to ensure you have a baseline to compare your results when conducting future audits.
Figure out Top-Performing Social Media Posts
The next step in your social media audit is the content audit. Here, you go through each social media account and list all the posts that relate well with your target audience.
Since each channel employs slightly different analytics, comparing posts from several channels can be challenging. Luckily, social media analytics tools are built into every platform to help you sort and locate your top-performing posts. You can also make things easy with social media monitoring tools.
Mention's Group Mentions feature, for instance, collates similar messages and tells you how many times a message (a copy of your blog post, for example) was shared. This can give you an idea of how much engagement your content had. Also, these types of tools can help you monitor positive (and negative) mentions about your content.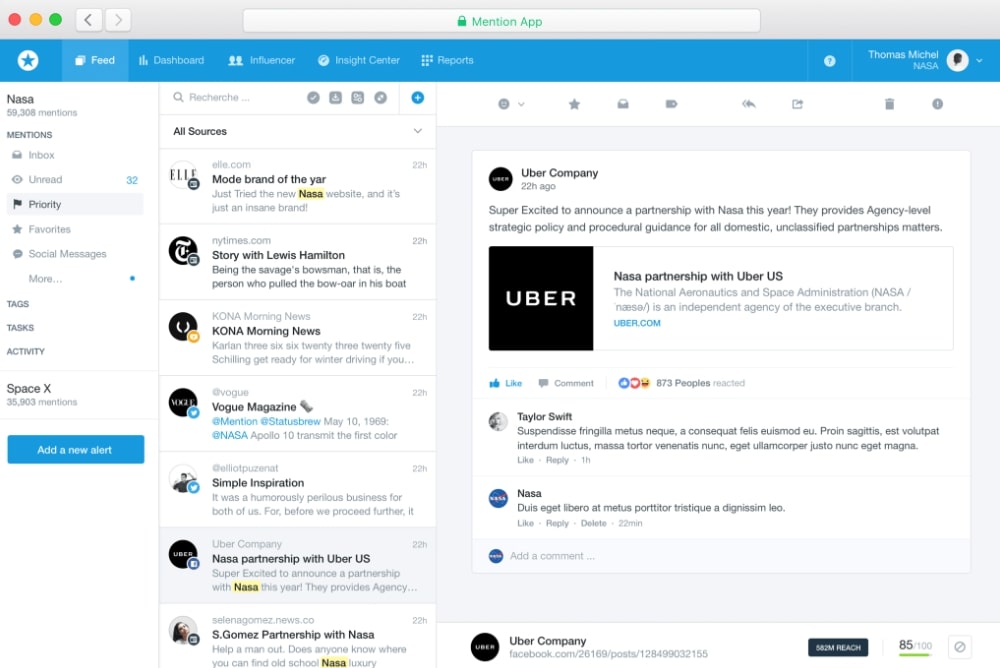 As you look through your top-performing posts, search for patterns, ask yourself:
Is the top-performing post an image, a GIF, or video?
Is it informational or entertaining content?
What type of attention is it getting (positive or negative)?
When was it posted?
This will give you a better understanding of the type of content that performs well on each channel. With this information, you can find ways to fit more of that type of content into your social media campaign. Once you determine the most popular posts for each profile, create a link to that post and place it in your audit spreadsheet.
Shut Down Unnecessary Profiles
Every social media profile needs to have a purpose. However, some of the accounts you rounded up at the start may be underperforming and unable to fulfill their purpose.
When we say underperforming, it means your social media profile is performing poorly or inadequately when compared to expectations or measured against a particular standard you set. So, your social media account could be classified as underperforming because it did not reach the number of followers you required or its content did not get your minimum number of likes, shares or comments.
In this situation, it is best to shut down these accounts and direct your efforts to areas with more potential.
You can use the data you gathered to guide your social media effort in areas where your content has the best potential for success. Closing the accounts will also ensure cybercriminals don't stumble upon sensitive information, like your personal email address, if you used this to open the account. This is information they can use to access your home address and even your social security number.
Redefine Goals for Each Platform
Once you have your surviving social media accounts, it's time to evaluate your goals for each remaining social media account.
Assess how each social platform contributes to your overall social media presence. Determine what goals need to be set anew (if you already set them before), based on what is crucial for the future of your brand. These goals may include improving community engagement, expanding your audience, driving more website traffic or brand exposure, etc. You'll use these goals to craft action plans. We'll talk about this later.
Redefining goals will also allow you to determine which new KPIs to monitor on each platform. Some important KPIs include conversion rate, cost per lead, traffic per lead, social mentions, brand recall, etc. So, if you've decided your goal with your Facebook account is to increase brand awareness, you'd monitor brand mentions, for instance. If it's to increase conversions, you'd look at the conversion rates. Monitoring these metrics will help you determine areas that require improvement, optimizing your campaigns in the process.
Create a Plan
Social media audits require extensive data collection. However, keep that focused on the objective of the audit. Remember, the social media audit's purpose is to help you decide what your brand needs to change to improve its social presence.
So, you need to use your data to craft a plan of action. Go back to all your data and ask the following questions:
What social media platforms produce the best outcomes?
What new platforms are available?
Which platforms did you overlook? Do you need them?
What type of content produces the best results?
Is your material connecting with your target audience demographic as you had anticipated?
Answer these questions in your plan of action. Include your other observations, too. For instance, if you found based on your data that using Instagram Reels to sell online courses is productive, specify in your plan of action that it should be in your marketing strategy.
You also need to go back to your redefined goals for each social media platform. From there, craft strategies that will help you achieve those new goals.
So, if you've decided your goal with your Facebook account is to increase brand awareness, and your chosen KPI is brand mention, then you might want to specify as a strategy, posting X% more engaging content every month to increase brand mentions. Just make sure your strategies are as specific as possible.
In Closing
Performing a social media audit gives you insights into the current situation of your social media strategy. It can help you identify the right platforms and content for your business to improve its social media performance.
Running a social media audit isn't as hard as it sounds. Just track down your existing social media profiles, ensure brand consistency across platforms, and measure brand engagement for each platform. Also, determine your top-performing posts, shut down any profile that is underperforming, redefine your goals for each platform, and create a plan.
Follow these steps, and you'll reap the best results in no time!