Launched more than one year ago as an answer to the already popular Snapchat, Instagram Stories marked a new step in the evolution of social media content publishing and of course, of content marketing and advertising. There was no indication at first that Stories would prove to be great for marketing but soon, as brands began to embrace this new feature, things started to change.
In just one year, Instagram Stories (IS) surpassed Snapchat, the app it was designed to kill. It now has more than 250 million users.
Marketers have also caught on, after discovering that this can make for an effective way to advertise and market a service or a product.
What are Instagram Stories?
Stories are officially described as "a way to share all the moments of your day, not just the ones you want to keep on your profile." The feature was launched in August 2016 and has been available for more than a year now.
They've received several updates so far, but at their heart, they're basically a Snapchat imitation. Not even Instagram's CEO tried to deny this fact. "This isn't about who invented something," he told TechCrunch. "This is about a format, and how you take it to a network and put your own spin on it."
Stories enable users to share multiples photos and videos in a slideshow format, apply stickers and filters, and share the complete work with friends and followers.
We'll go deeper into strategy in a moment, but here are a few important things to know before using IS:
You can see who is watching your story. How? Swipe up to see who watched every photo and video you have already integrated in your story. This is a great tool for marketers especially, as you can evaluate content quality easily.
You can add different effects to each slide. What kind of effects can you add? Besides text, live face filters and stickers, you can also use doodles and geostickers in your stories.
You can also post them to your profile. Instagram Stories content deletes itself after 24 hours. This is the main difference between IS and your standard Instagram content. You can choose however to post particular parts of your stories on your profile and save them for your followers.
You can decide whether to have your stories public or private. You can set your account to private and thus, hide the story from anybody who is not following you. You can also choose to hide specific stories even from your followers or, let it be completely public and thus, visible to everyone.
How to use Instagram Stories
Once you've made up your mind about what you want to publish, it's time to build your story.
To get started, tap the "+" icon in the top left corner of the screen or, you can just swipe left to access the "story" camera feature. Here, you can take a photo or create a short video and add some extra filters, text, and drawings to it.
There are 5 options in camera mode that will help you create the story you want. First, we have 4 camera options:
The Live option lets you make a short movie
The Normal option is your ordinary camera
Boomerang mode lets you create a short video from a burst of photos
The Rewind option displays your videos in reverse
The fifth option allows you to access the camera roll and select one of the latest pictures you have taken during the last 24 hours. Tap the "gallery" icon from the left corner of the screen in order to access the pictures menu, and select your desired image.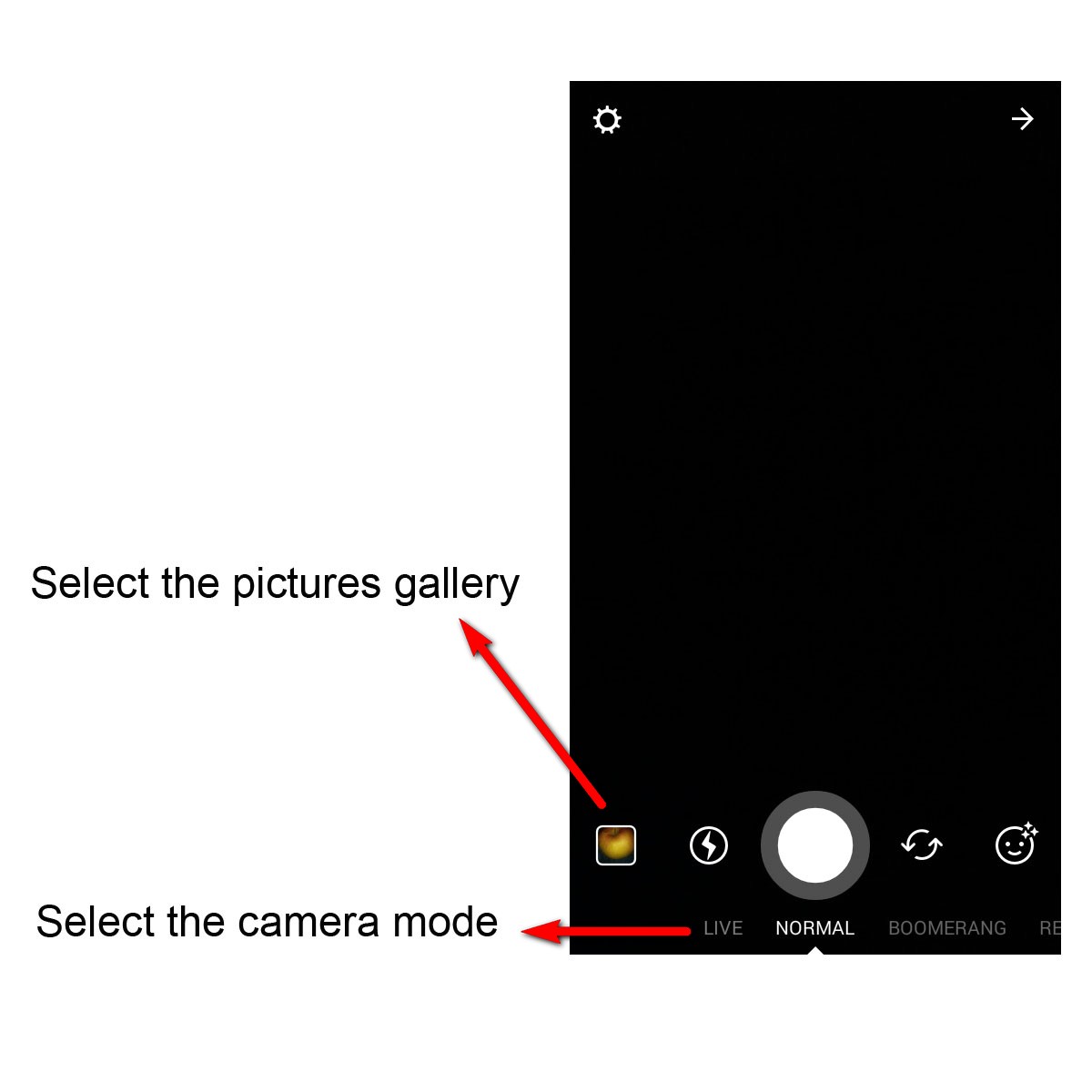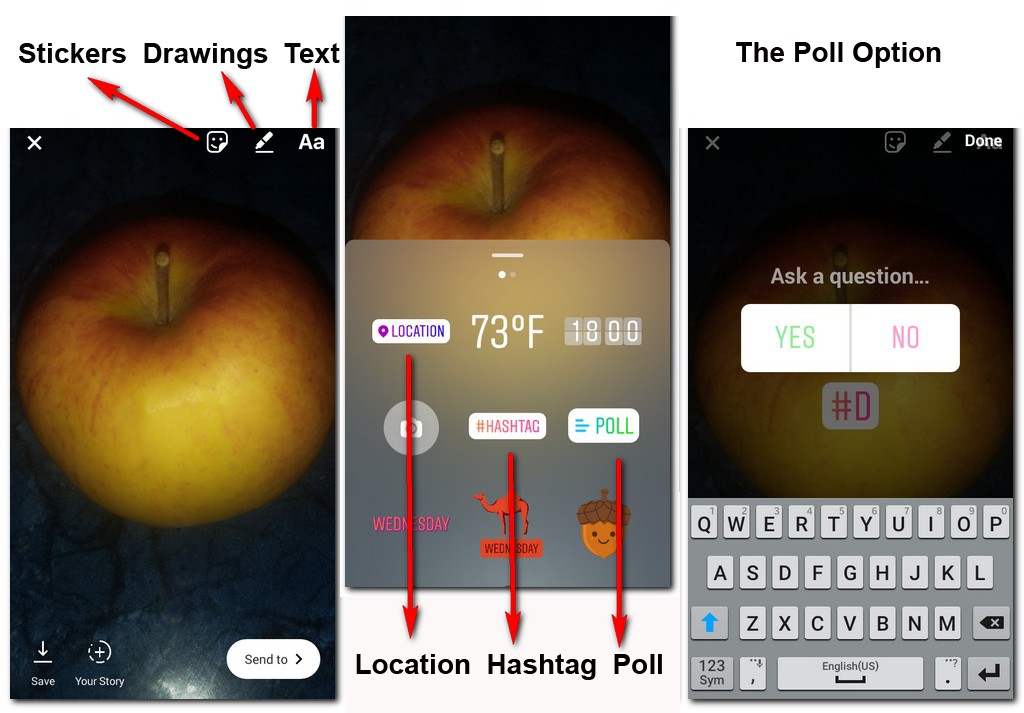 Once you've got your image, you have lots of personalization options.
Add stickers: Take a picture or load one from your gallery. Then, tap the stickers icon on the top of your screen. A new menu will appear on top of your image. Here you'll be able to select one of the many stickers Instagram provides for their "stories". All these stickers are customizable and can be placed in any area of the screen.
Add location: This is the first option in the stickers menu. Tap it to select from the available list of nearby locations.
Add hashtags: On the second row of the stickers menu, you'll find a hashtags button. It will allow you to add hashtag stickers to your story.
Add polls: On the same row, the third option available is to add a poll to your slide. Tap it and you'll automatically be able to ask a question that will have two options as an answer: yes or no. You can move this poll anywhere you want as long as it stays on the screen.
Add mentions: Choose the text option from the top of the screen and type anything you want. If you want to mention somebody, just tap @ followed by their account name.
Three smart ways to use Instagram Stories
As a marketer, there are a few key ways to use Instagram Stories:
Entertain your followers. Found something amusing? Enjoy whatever you do or see and share it with your followers. Instil the "fear of missing out" to push followers and fans to take part in your campaigns. FOMO marketing can have a powerful effect.
Build a campaign for a new product. Why not doing it as an Instagram Story? Give your customers something to talk about by offering them early bird access to a service or a new product to test before releasing it on the market.
Get to know what your followers think. What do they want? Create a great story and include a poll at the end of the day.
How is Instagram Stories different as a marketing tool?
The list of benefits of good social media marketing is endless. The same rule applies to Stories as well. But this feature also adds something entirely different to your marketing, and I'll try to explain why.
Instagram Stories comes with an entirely new concept of content publishing for a marketer: ephemeral content. What's great about posts and images that automatically delete themselves after a short period of time? Well, if you're able to come up with a compelling story, it's easier to keep your audience entertained, connected to your Instagram account, and consequently, with your brand.
They're more engaged because your ads and promotions are only available for a day. If your stories are entertaining enough to raise their interest, they'll come back for more every time you have something new to share.
Moreover, as a marketer, you feel less constrained when you create content that will only be available for 24 hours. You spend less time creating this stories and they feel more natural as a result.
Why publish ads within Instagram Stories?
We know that they can be an effective marketing tool. I's time to talk about IS as an ads publishing platform. The new feature is available through Facebook's ad-buying tools and they let advertisers reach buyers through other users' Instagram Stories.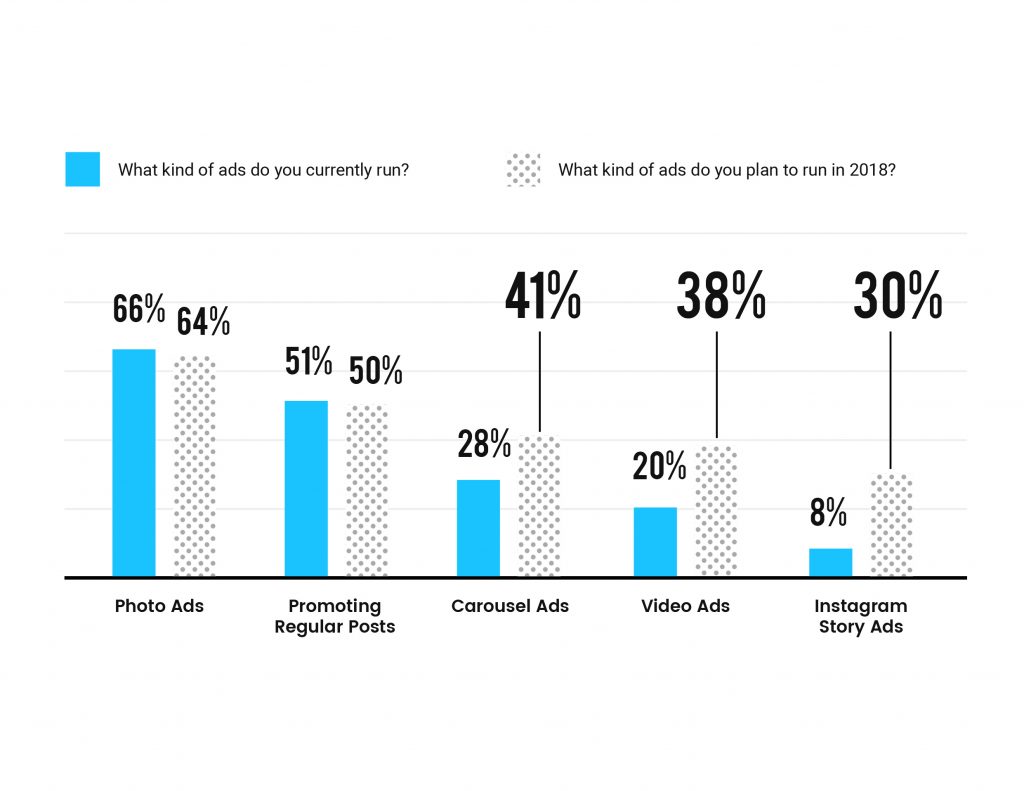 Source: The State of Instagram Marketing 2018 from Later
"Almost a month after the launch, 15 to 25 percent of the people who see a link in an Instagram Story are swiping on it, according to a handful of brands and publishers that have been experimenting with the feature," writes Marketing Land.
Instagram Stories are potentially more interactive than other social networks, and ads may feel more natural within a story.
Explore our huge Instagram Engagement Report here.
How to create your ads for Instagram stories
Before publishing your first ads, you need to design and set them up. So where to start?
Step one: Define your objectives
Your ads aren't just inserted into other people's stories and that's that. You can set objectives like whether to make people visit your website, view a video, or install an app. For example, if you have an eCommerce website, you can set up an ad that lets people add a specific product to cart and make a purchase.
As you would do with any other Instagram advertising campaign, it's important to know your goals and, right from the start, how you want your audience to respond to your banner.
"Brands can feature a single vertical photo or a vertical video that's up to 15 seconds long as their ad, and they can target the ads using Facebook's standard ad-targeting options, like people's age, gender, location, interests and purchase history." (Marketing Land)
When you access Facebook's "Create ads" feature, you'll be prompted right from the start to choose the objective of your campaign. You'll also be able to select your channel. In this case, the channel would be Instagram Stories.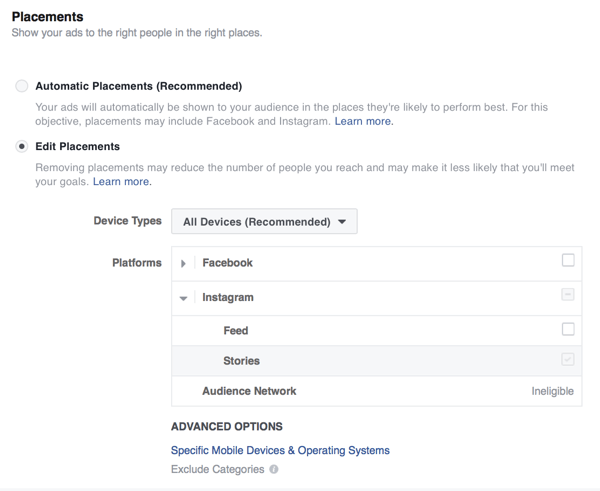 As people swipe to the images from a Story, you can insert your own advertising banner and select one of the following calls to action:
Shop Now, Download, Sign Up, Donate Now, Apply Now, Book Now, Contact Us, Watch More, Learn More, Send Message, Request Time, Start Order.
Let's see some examples:
Follow the link ad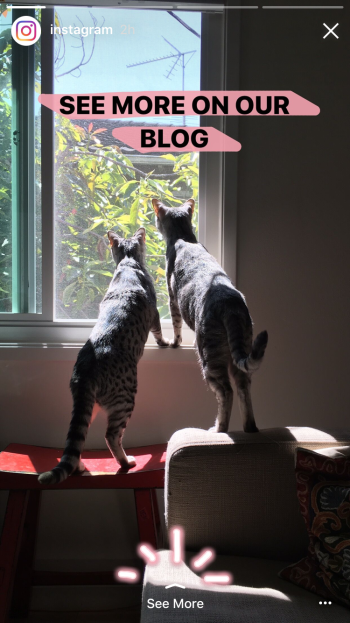 Store visits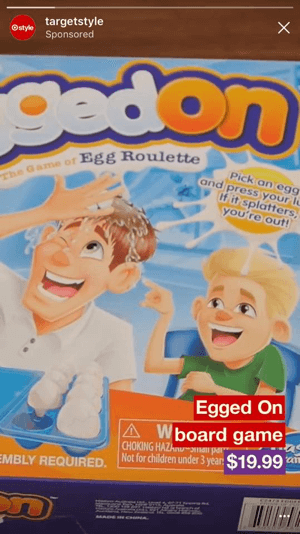 Call to action ad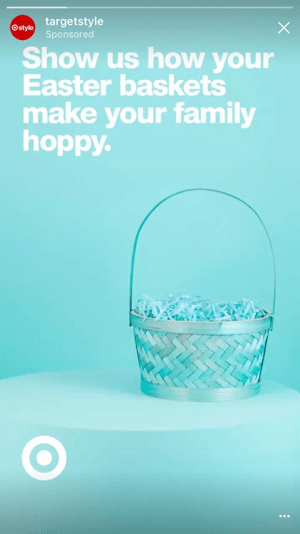 Sign up ad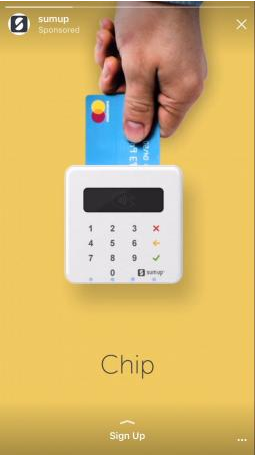 Product catalog sales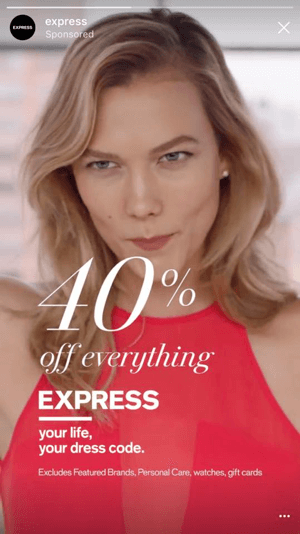 Choose a call-to-action that matches your goals, and make it as easy as possible for users to fulfil.
Step two: Study your market
The second important step in your new campaign is to study your audience. Find out what they want to see, what they want to buy, and what kinds of content they share and follow.
For this, you should also look at your competitors and their followers. See what people say about similar products or services and what do they share. As I have already stated, it's easy to set your objectives, but you need to know what call to action to use in order to make your ad really effective.
Step three: Set up a budget
You can't start an advertising campaign without a budget. While I cannot tell you how much to spend on an ad, I would advise you to test the effectiveness of your ad for at least a month or two before paying serious money.
If your stats are not what you have expected, maybe it's time to change your visuals, your calls to action, or even rethink your entire campaign.
Step four: Design your individual banners
When you publish on Instagram, the traditional way of getting your images online is by doing it directly, using your mobile phone camera. But you won't always be able to shoot your photos on the spot or, in some cases, you'll need to import additional photos.
In such cases, you need the appropriate and most suitable software programs that will allow you to create and edit your banners.
Your first choice might be a professional software such as Photoshop or InDesign. But Instagram Stories only exist for 24 hours. There's no point in spending long hours editing and customizing images that are only going to disappear. If you don't own a license for such software, Instagram Stories are not a good reason to buy one.
My recommendation would be Bannersnack. It's free, the creation process runs smoothly and most of all, they give you a full set of templates to choose from, along with all the other tools required to design a professional and appealing banner ad.
Step five: Create the story
Even if you are just publishing an ad inside a story, this ad should tell a story of its own. Think about the message, the call to action or the image you will use as background. They all should be intriguing, on-topic, and most of all, appealing to your customers.
Assuming you've already chosen you target audience based on what they like to view, buy or share, you should be able to build an appealing campaign. Try to elicit an emotional response, as they're more likely to remember you in the long run.
Conclusion
Instagram Stories is a relatively new feature. But it's already popular among marketers and users and therefore, cannot be neglected. At the same time, the ads feature integrated into Instagram Stories can provide you with a new set of channels to publish your ads.
We've covered the basics of Instagram Stories ads publishing in this article and seen some great examples of how brands use this feature for marketing.
What do you think about Instagram ads? What about Instagram Stories and Instagram Stories ads? Did you use at least one of these features? What were your results? Let me know in the comments.
Check out our massive Instagram Engagement Report and discover the best time to post on Instagram.