When we used to see ads based on our online searches, or get a newsletter that knew us by name – this used to be creepy!
But today, 81% of consumers expect brands to get to know them and understand when to approach them personally.
Personalization pops up at every corner of the web – this benefits none other than social media marketers. They can tap into a massive amount of data and information from their communities and use it to personalize their marketing efforts.
Interestingly enough, about 83% of marketers still indicate that creating personalized content is their biggest challenge.
So I collected a series of great examples of personalization in social media marketing that, even with limited resources and budgets – are very relatable and easy to try yourself!

What is personalized marketing  
Personalized marketing is the highest form of targeted marketing, where you craft specific messages for individual customers.
Businesses use audience analysis and data about demographics, interests, online searches etc. to segment their audience and tailor content that is relevant to their profile.
A great example is Spotify's "Discover Weekly" playlist, that gives you a personal list of suggested tracks, based on the music you've been listening to.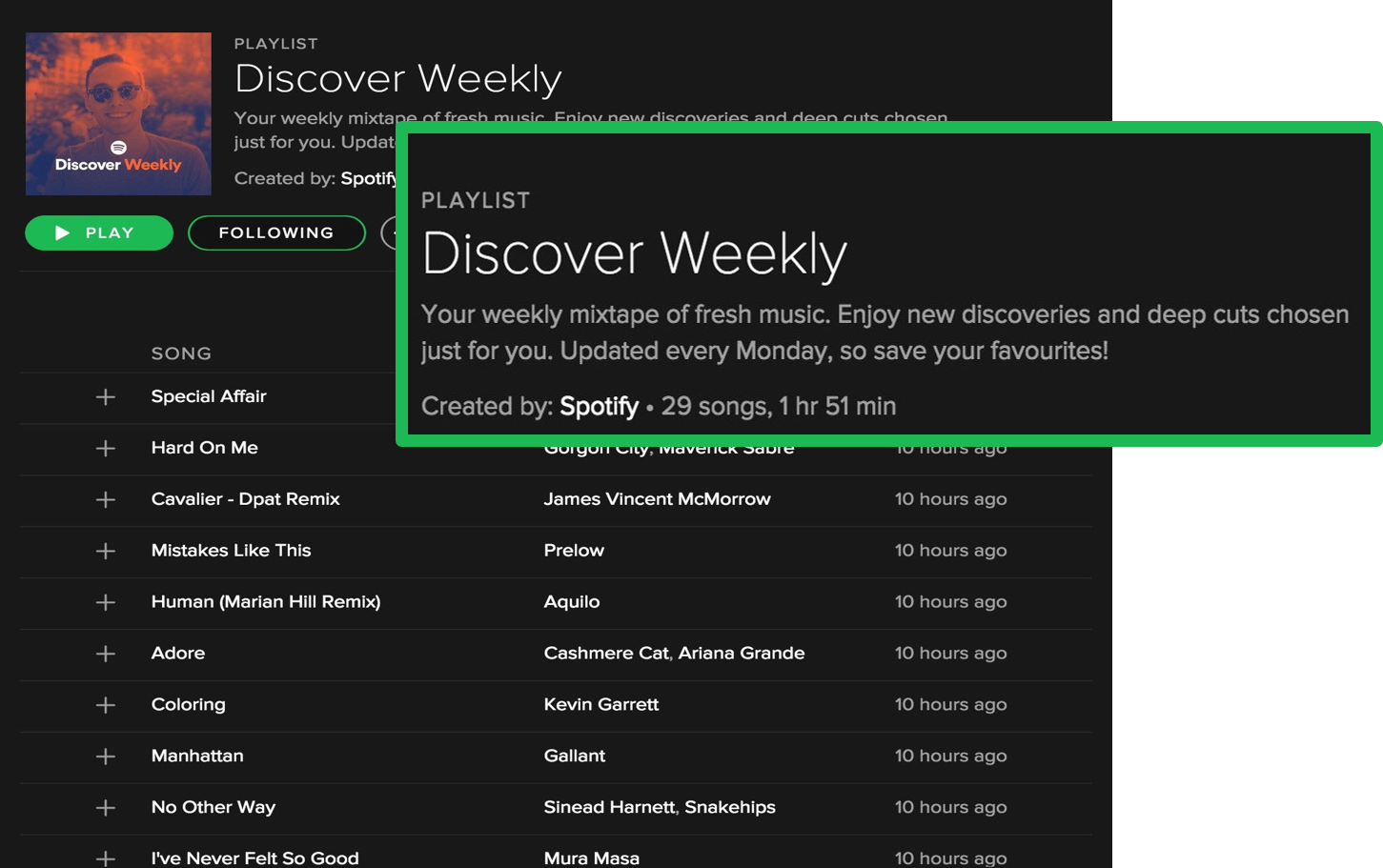 Customers expect a certain degree of personalization in many (if not all) of their purchase decisions. It's just one of the reasons why you should embrace personalization in your social media marketing tactics.
With the growing possibilities of AI and more available data than ever, 2019 will be the year for for B2B marketers to also create hyper-personalized marketing campaigns.
Some of the benefits of personalized marketing on social media that you can expect are:
A boost in social media engagement
An improvement of your Facebook relevance score and ad costs
Increase in lead generation and conversions
Strengthening of customer loyalty and brand affinity
With that said, let's dive in to look at our examples.
1. Personalized video marketing
Video might seem to be an approach only available to companies with huge marketing budgets.
This is no longer true, though. With so much (affordable) technology at hand and with "home made" videos becoming the norm, it's no longer rocket science to generate personalized videos through automation.

This beautiful example from Breast Cancer Now shows how they used personalized videos on social media to show their gratitude to donors for a successful campaign.
Targeting people who used #wearitpink or mentioned the brand received a video that included personal data such as their name, Twitter profile pic and photos from the fundraising event.
The campaign resulted in a reach of a phenomenal 77K users on social media.
2. Personalized retargeting ads via social media  
Retargeting is a type of advertising that allows customization of ads based on users data.
To put it more simply, you can serve tailored ads to your website visitors based on what interactions they did on your site. These interactions can be anything from reading a blog post, visiting a specific page, favoriting a product for their shopping cart, etc.
Expedia's Facebook campaign is the perfect example: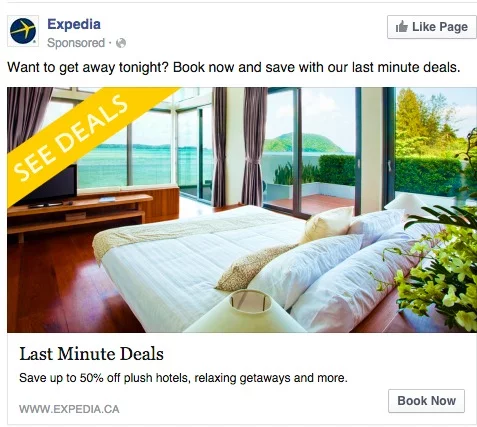 If you clicked this ad and searched for a hotel in Whistler, Canada – you'd later be retargeted with the following ad on Facebook: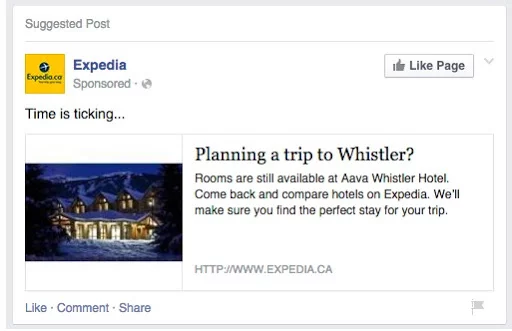 3. Personalized direct messages on Twitter
You know those typical standard messages that company pages send you when you follow them on twitter? "Hey, thanks for following us! Please check out our website!" or "Happy to connect, learn more about X here."
Over at Salesflare they decided to use this rather impersonal approach to their advantage and make a bit of fun of it. Everyone who followed founder Jeroen via Twitter received the message below: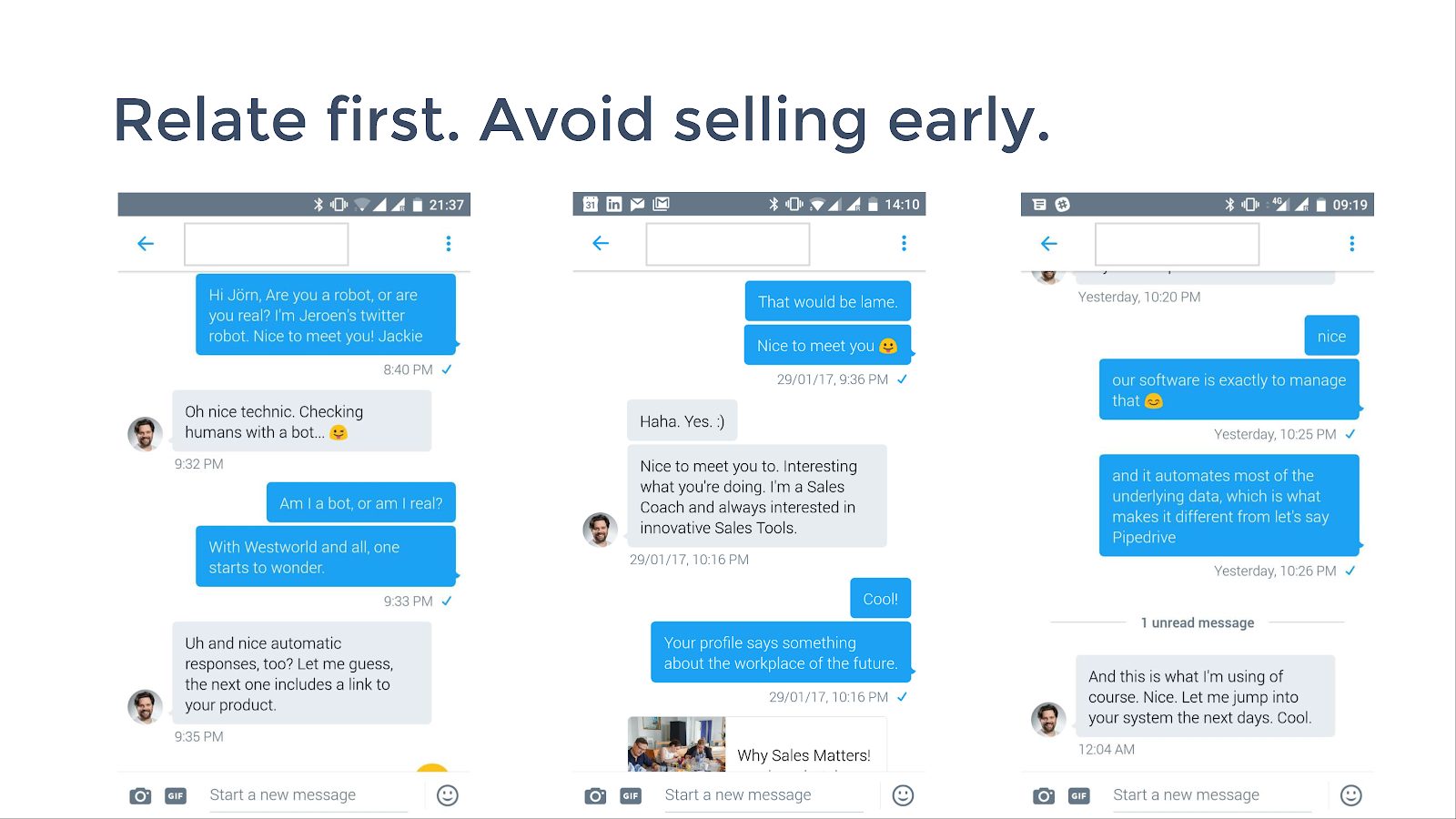 The catch is that, if the follow comes from a "bot" (which is often the case!) there would be no reply to Jeroen's automated message.
Real people who did reply though, triggered Jeroen to personally reply to them in return.
(So only the first message is an automated one!)
By not pushing the content or product he wants to sell from the start and focusing on creating an actual personal contact, 50% of people who replied actually went ahead and tried out the software.
4. Personalized questionnaires on social media
Buzzfeed really pioneered the use of quizzes on social media.
Their silly personality quizzes are among the most shared, liked and interacted with pieces of content on Facebook. But quizzes can also take on a more serious role. In B2B we see a lot of assessments and calculators for example.
These quizzes are ideal if you want your audience to engage with your brand and it helps you collect useful information about your visitors in return. And it's the type of content that is highly shareable! (The average quiz is shared up to 1,900 times.)
A great example of such a personalized quiz, that also worked on social media, was created by Eneco (energy supplier and producer). In just 6 weeks, they collected more than 1000 emails with a quiz, which was 5 times higher than they'd expected.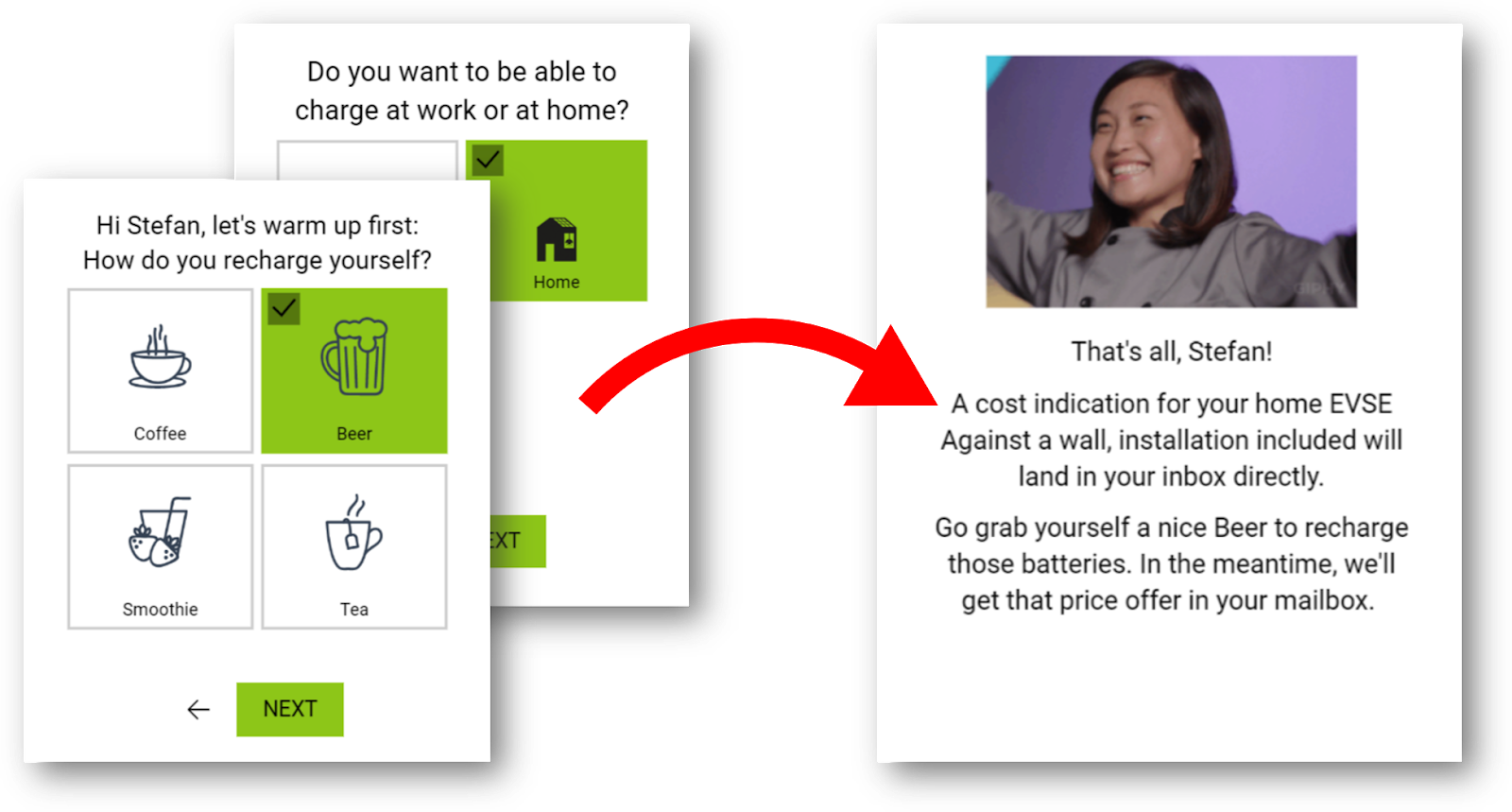 Next to the assessment, they set up a Facebook Ads and Google ADs campaign to target and retarget website visitors with their quiz.
After people took the quiz, they got a ton of information in return that they'd been looking for in the first place. Afterwards, Eneco had the liberty to reach out to them again based on the email they'd provided.
5. Personalization on support via social media
Having a distinct tone of voice when you're communicating with customers gives you a personal touch.
It's interesting to know that 73% of customers fall in love with a brand because of their friendly customer service reps. And 75% of customers desire a consistent experience regardless of how they engage a company, e.g. social media, in person by phone, etc.
For instance, SocialPilot's team does a great job in personalizing their customer support by using GIFs while replying to customers on social media.
It makes the customers think of them as their friend next door and it fits in perfectly with their brand's tone of voice which is informal and fun.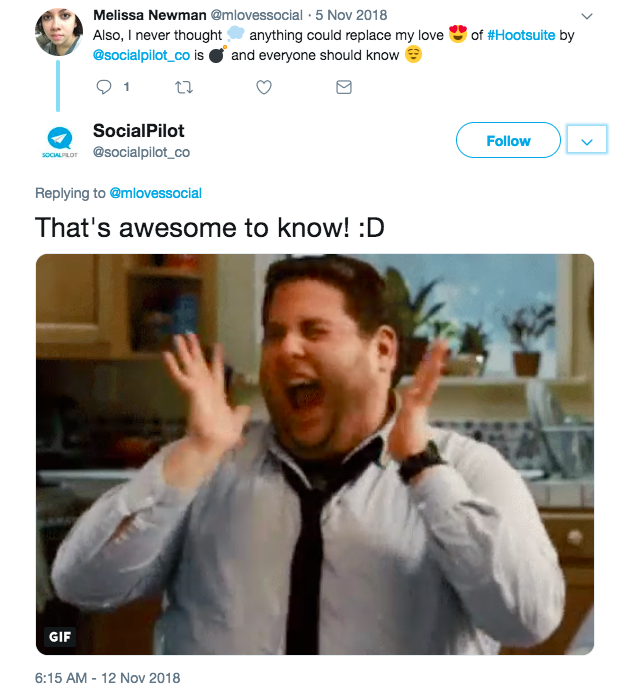 It's one of their social media marketing tips that's easy to apply and doesn't require any budget!
6. Real-life campaigns, based on social data
Just because we're talking about social media marketing, it doesn't mean you have to think only in terms of digital. In fact, "real life" connections may be even more valuable in the age of social media.
This example comes from AND CO from Fiverr, whose customer support team took it upon themselves to brighten up their users' days with "random acts of kindness", meaning they surprised them with handwritten notes, unexpected gifts or the occasional pizza delivery.
One user mentioned Jelly Beans in a support chat, so AND CO sent her a jelly bean machine with a handwritten note.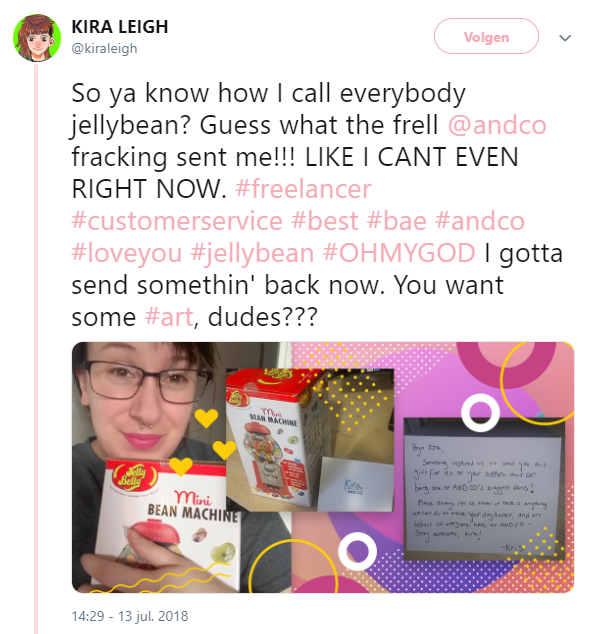 Another said he liked tacos and AND CO sent some of his favorites to his house. In return, the users took to social media to share their excitement.
Their stories quickly spread, attracting positive feedback about AND CO and their support team.
Over to you
People are no longer looking to follow company pages on social platforms.
Instead, the most valuable interactions for companies are happening in communities, groups and on pages that deliver personalized insights.
Hopefully, these examples of personalization in social media can help you. They can be applied both in B2B and B2C environments and that have a low threshold to begin with.
And a personal one to sign off with:
I recently got mentioned in an article, and to promote the article they made a social image with the profile pictures of each expert they had interviewed.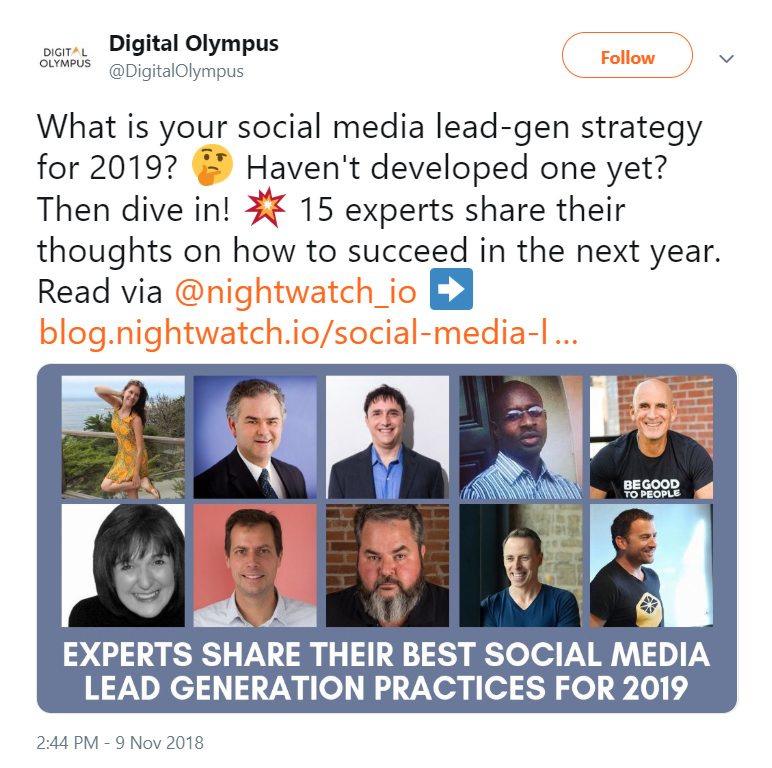 I couldn't not share this with my followers! 🙂 It's personalization at its best, and it worked.
Other examples you're dying to share? I'd love to hear about them!