Infographics are one of the most important pieces of the visual marketing cake. Many marketers struggle with designing and promoting them, which is why you probably won't see a really great infographic very often.
Whatever the type of infographic you're trying to put together, it's going to be hard work. Starting with collecting valuable data, putting it together in a great and high-quality design, uploading it to the right platform, and then starting to promote it.
I believe that the infographic design part is divided in two: the theoretical part and the practical part. You can't have one without the other.
The whole process of creating an infographic might seem difficult, but you just need to pay attention to the important steps and details. But today I want to get a little deeper and see what can a social media marketer do to promote an infographic on social media.
Where to upload it and where to share it? How to use social media to promote the infographic and get the best out of it?
Let's dive in.
To learn how to create better social visuals, watch our free webinar with Nadya Khoja!
1. Understand the anatomy
First of all, you need to understand the anatomy of an infographic.

Vertical design is a powerful trend today because we are used to navigate from up to down, not from left to right or right to left (unless you are a Tinder user). Facebook has its newsfeed in a vertical way. Vertical videos on Snapchat are the preference. And this is why most infographics are designed vertically.
So, the first step in promoting is learning which social media platforms allow you to upload large vertical images.
2. Upload it to multiple platforms
The most popular social network with popular vertical images is Pinterest. I found out that when I upload an infographic on Pinterest, it gets a lot of traction and many of my followers re-pin it and love it.
Why? Because of the anatomy of the social network. It would be resized or cropped on most other networks.
When you design an infographic and share it on your blog or website, you should be sharing it on Pinterest too. I recommend you to upload it natively to get more attention and engagement.
After you upload it, make sure that you hit the edit button to insert a link to a blog post or site page where the infographic's displayed. When users click on the infographic, they'll will be taken to your website, where you can engage and convert.
For example, Flipsnack designed an infographic about the digital publishing checklist and they included it in a blog post, but also on Pinterest to with a link to their homepage instead.
And did you know you could also promote it on SlideShare? Most people only think of it as a network for presentations, but you can upload PDF versions of infographics as well.
The same way you would upload a presentation, you can upload an infographic. Just make sure that you have the .pdf format, and the platform will take it from there.
And from SlideShare, you can share your content wherever you want. Even more, you get an embed code from SlideShare and can use it on blog posts or websites, so you don't have to use your own website space.
Then, once you've promoted your own website with the infographic on social media, you can take it to other sites.
3. Cross-promotion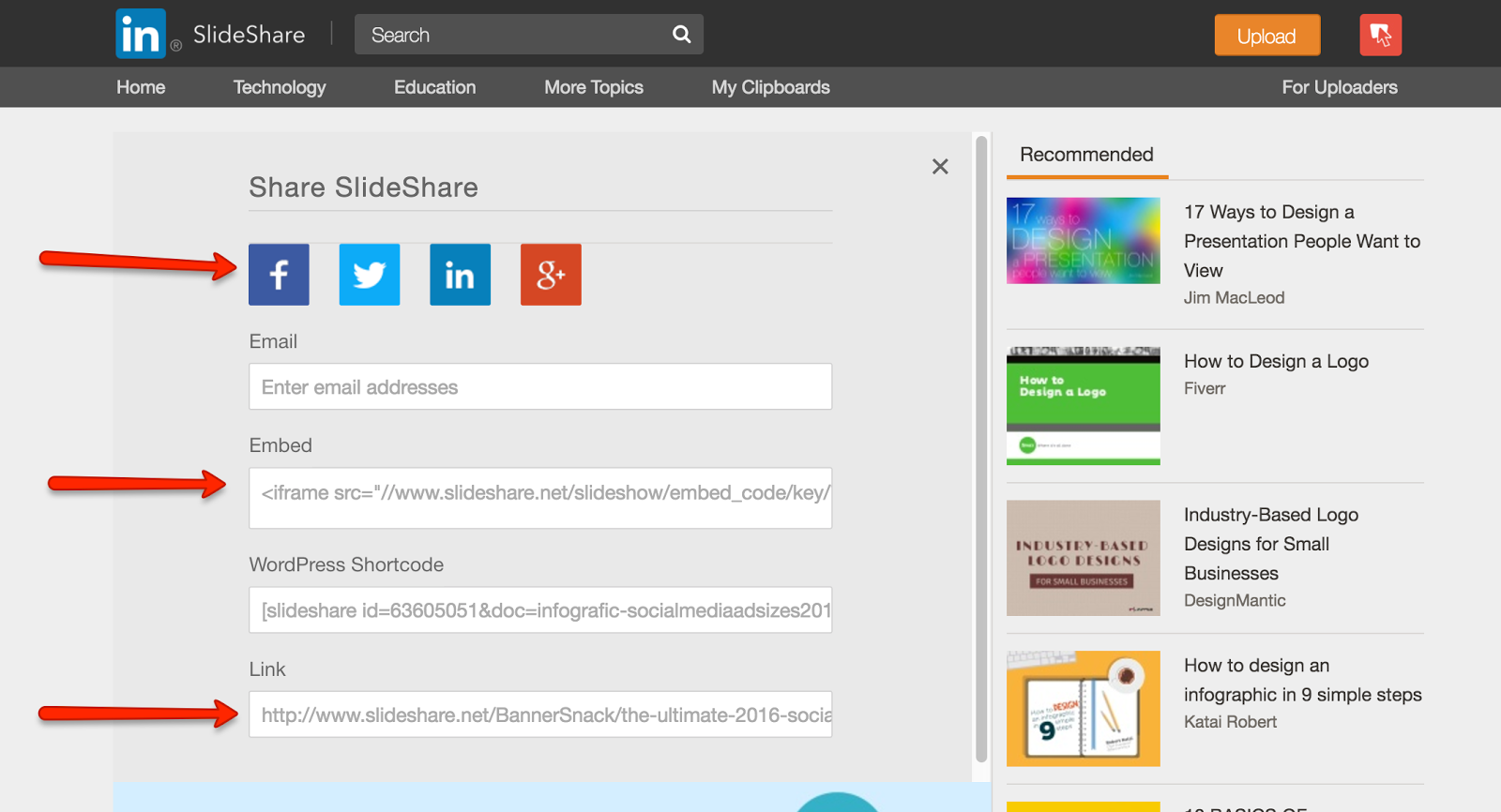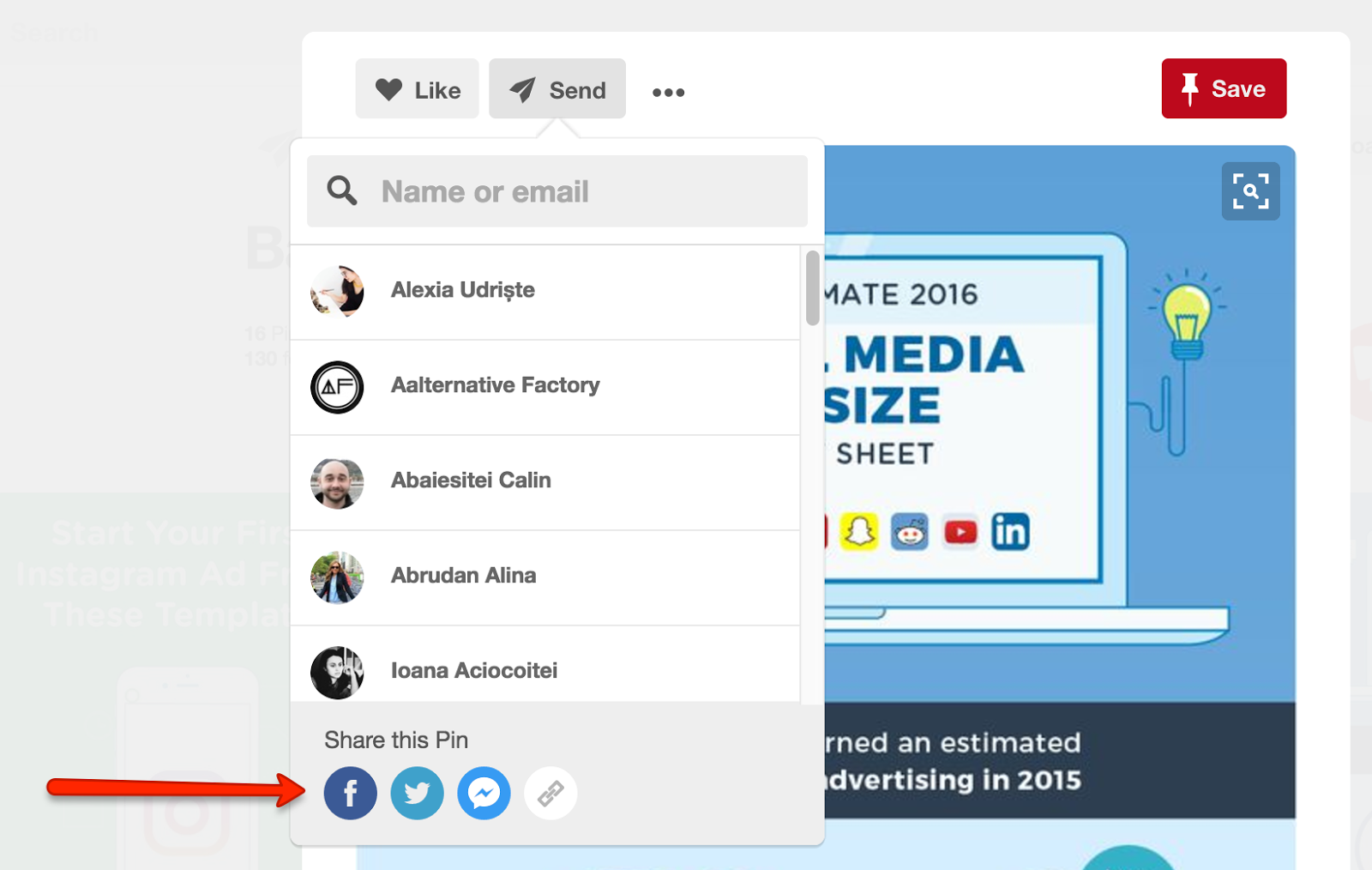 I call it cross-promotion. Who said that we should share only blog posts on social media? What if you start sharing your social media content on other social media sites?
For example, go to your SlideShare account and click on the infographic you want to share. Open it and click the share button. Let's say that you want to share it on Twitter. So you click the Twitter button and a new tab will open with Twitter. Make sure that you are logged in with the right user where you want to share this piece of content. Then hit the Tweet button and voila!
This is how easy is to share a piece of content from SlideShare. Sharing this way instead of directly to your website can help if you're trying to build a following on that platform.
On Pinterest, when you click on the infographic you want to share, it will open in a pop-up. You can share your infographic pin on Twitter, Facebook, or even Messenger by simply hitting "Send." Or you can copy the short link you get and paste it wherever you want it.
Many social media managers forget that you can easily share different content from different social media platforms. This is what you can do with Instagram posts too. It can help you convert audiences so that they're following you in multiple places.
4. Create visuals for different social channels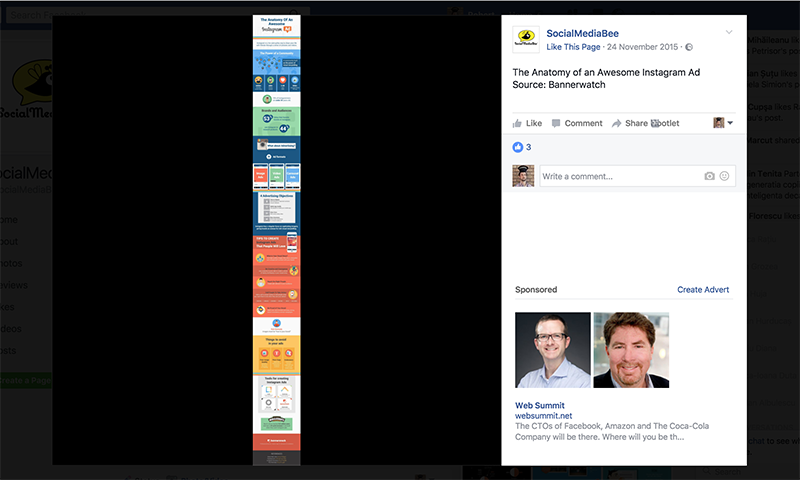 But what if you want to upload an infographic natively on Twitter or Facebook? Isn't that what every social platform wants from their users, to create native content and never make the user leave the platform? Yes.
And I realized that when I post native content on Facebook, I get more engagement than when I post a visual with a link. Why? Because Facebook doesn't like the posts that make the user click on an external link.
Instead, you can create different types of visuals for different social media platforms and link to the original infographic. It's better than uploading an entire 800 x 8000 pixel infographic on Facebook. Because even if Facebook creates a newsfeed based on scroll and vertical behavior, their content is more horizontal in layout.
And you don't want to upload an infographic where people are getting frustrated because they can't see the content.
So announce that you created an infographic for them and in order to see the whole thing, they need to click on the link. But ask them their opinion to engage right on Facebook. This way, Facebook will boost your content because people engage with it through comments.
5. Crop into multiple images
How can you re-post an infographic so you can gain more attention afterwards? You just crop a piece from your infographic, save it as a .PNG or .JPEG (but make sure that you have the right size), and then upload it on the social networks that you want.
This way you repurpose the larger piece of content into more snackable digests that can be used to promote the original but still engage people on their own.
Conclusion
It's not enough to do great things, you need to let people know about it. At least, you do if you want your content marketing to get results. So start connecting with your audience and give them the valuable content they need.
Use social media smartly – start using it not only to talk to your audience, but also to promote in multiple and unique ways.
For more great ideas, watch our webinar with Venngage: