Modern marketing is full of inscrutable jargon (what's an AIDA again?), but social listening is refreshingly self-explanatory. It's easy to figure out that it involves doing some listening at a social level. To get more specific, it's the practice of tracking mentions of your brand on social media so that you can figure out what your audience thinks about your offerings.
There are many reasons why social listening has become an inexorable feedback mechanism in the social media age. Read on to find out how you can leverage this tactic to understand your customers better and drive business growth.
Table of Contents:
What Is Social Listening?
Let's take a deeper look at social listening and figure out why it's such a powerful tool.
If you're any good at what you do, your audience is constantly talking about you online. They use social media to describe their experiences with a product; what they liked, what they didn't like, how it stacks up against a competitor, and so on. To put it succinctly, they make posts like the one below.
Now, if you were Spotify and you were doing your social listening, this post would constitute some very positive feedback. It tells you that your product is well-liked (at least by this customer) and that the subscription model is a sticky one. If you came across many posts expressing the same idea, then you'd walk away feeling quite positively about your position in the market.
Of course, you can't go through social media post by post trying to figure out how people feel about your brand. That's where social listening tools come in. They take all of that unstructured data that's out there on social media and use some nifty data analysis techniques to adjudge the general sentiment an audience has towards a brand or product.
According to a 2019 report by Sprout Social, 63% of social media marketers believed that social listening would gain significance in the succeeding year. And they weren't wrong. In March 2020 51% of marketing leaders reported that they were using social listening to get information on consumers' trends through the pandemic.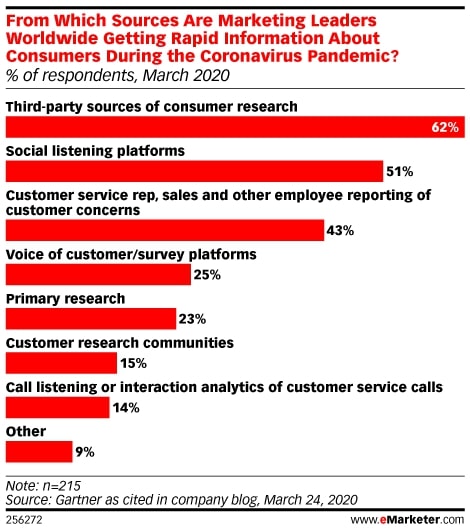 Setting Up A Social Listening Process
Like any other component of a social media strategy, you want to do your social listening in a planned, goal-driven manner. Here's a look at a framework that you can follow to make that happen.
Outline Your Goals
It all starts with your goals. What do you want to get out of your social listening undertaking? There are lots of different things that you can achieve with it, so you need to make sure that you aren't just casting a wide net and not catching what you need.
Here are a few goals that you might decide to pursue:
Getting customer feedback on your brand in general or a specific product/service you offer
Tracking brand mentions to see if you can engage with some of them and improve customer service
Identifying influencers or tastemakers in the industry who use your products or talk about your brand already
Measuring the success of a campaign based on how much chatter it generates on social media
These are just a few examples of the goals that you can assign to your social listening campaign. The important thing is that you pick just one or two of these goals and base the entire undertaking on them.
Select a Social Listening Tool
If you're a small brand, it's possible to do social listening manually at a certain scale. You can simply look yourself up on different social media and see what people are saying about you. But if you're a large brand and want to set an effective process in place, then you need to rely on a social listening tool.
Social listening tools are software that scour the Internet for the keywords that you provide them, presumably your brand name, the name of a product, or maybe even a competitor. Once given these keywords, they go off into the Internet, looking through social media sites, blogs, forums, and comment sections for them. And at the end of that process, you will see a dashboard that looks somewhat like this one.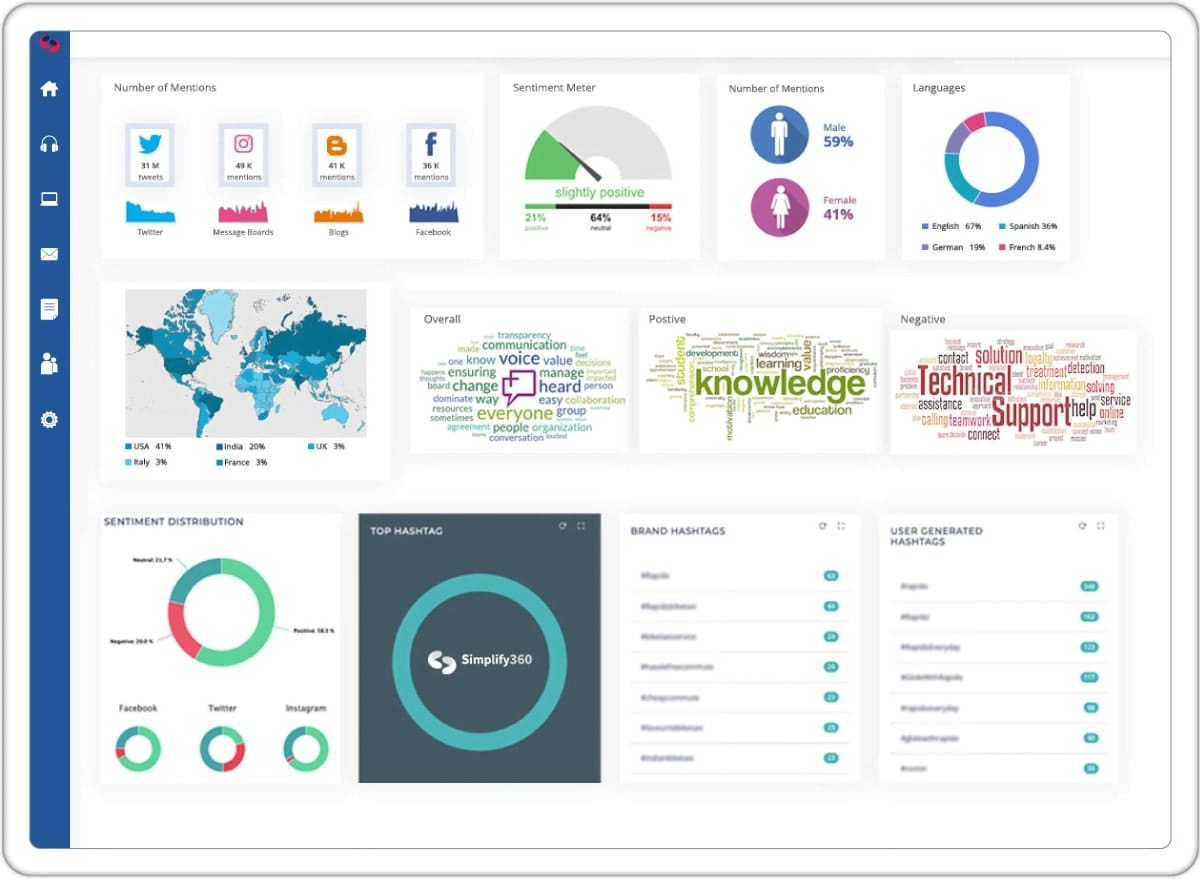 As you can see, this particular social listening tool tracks the number of brand mentions across different social media sites, sentiment towards the brand, sentiment distribution on different social media sites, and commonly used hashtags associated with your brand, among other things. There are differences in what different tools will give you, so here are a few features to keep an eye out for.
Boolean Search
Some social listening tools allow you only to enter the keywords that you want to track. But there are certain cases where you'll want to provide more specific queries so that you can refine your search and leave out certain kinds of results. A tool that supports Boolean search will allow you to do that.
Sentiment Analysis
Sentiment analysis is a hugely powerful tool to understand how your audience feels about your brand. It's a feature that analyzes comments to determine whether they express a positive, negative, or neutral emotion. Tracking sentiments can help you figure out whether the products and campaigns that you're launching are resonating with your customers.
Demographic Data
Sometimes it's tough to know exactly who your customer is. Demographic data coming from your social listening tool can help you develop a strong buyer persona. This is because these tools can tell you who's talking about your products the most and how different demographic groups feel about your offerings.
Select Keywords to Track
The keywords that you choose to track will depend on your goals. Let's say you're trying to assess how people feel about your brand in general. In that case, you would track just your brand name.
But let's say the scenario is different and you want to determine how well a particular campaign is going. The keywords in that situation would be the name of the product, the name of the campaign, and any campaign-specific hashtags.
Measure, Optimize, Repeat
Once your social listening tool starts monitoring your keywords, it's time to start assessing the results and seeing how you can improve them. For example, let's say that you see that brand mentions aren't where you want them to be. That would tell you that you need to perhaps improve your social media reach and the engagement that you have with your audience.
Remember that social listening is a continuous, iterative process and not just a one-time thing. You need to constantly enhance the keywords you use and track audience response as you tweak your marketing content and overall marketing campaigns.
How Social Listening Can Drive Business Growth
We now have a good understanding of what social listening is. Let's now take a look at how your brand can benefit from leveraging social listening as part of your larger social media strategy.
Get to Know Your Audience Better
One of the unchanging tenets of success in business is having a rock-solid understanding of your customer. It's impossible to cater to the needs of a group that you don't care to understand or evolve with.
Social listening is an important way in which you can keep in touch with your audience. It ensures that you aren't working with a conventional perception of a demographic, but are actually clued into what they're actually out there saying about your brand.
Here's an illustration of how social listening can help you understand your customer and cater to their needs better. Below, we see Sephora announcing on social media that a specific kit was back in stock. Why was that so? It was partly because the brand was listening on social media and was able to figure out that its customers wanted more of this particular product.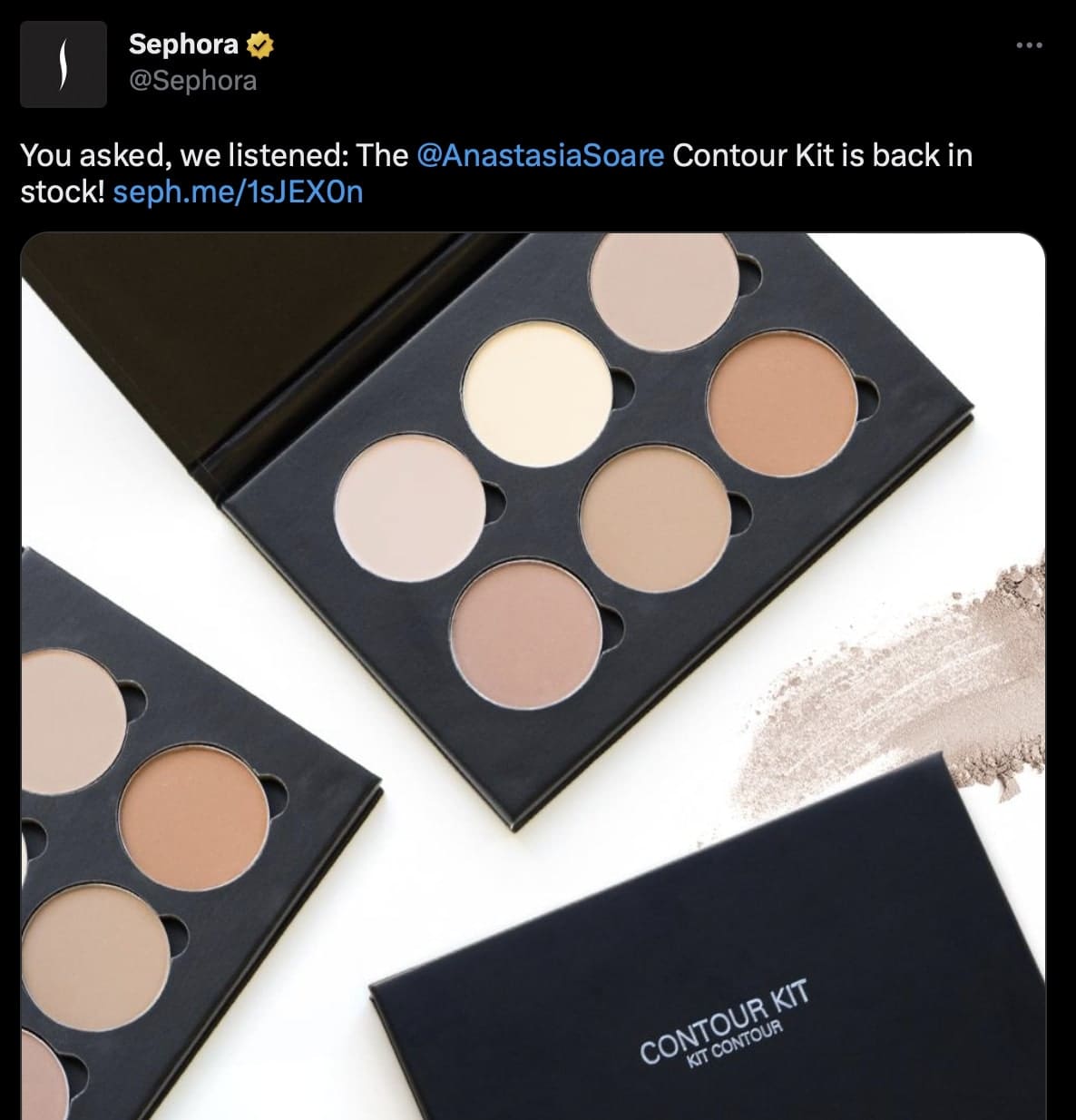 Fine-tune Your Marketing Campaigns
The insights that social listening tools provide you can serve to make your marketing campaigns more effective. How so? Let's take a look at a simple example.
Let's say that you've set up a social listening campaign to track the mentions of a particular product. The results will give you information like which geographic regions are mentioning the product at what rate, what the sentiment towards the product is like among different age groups, which social media channels your brand is more talked about on, and so on.
Now those are all things that you didn't know before you started social listening. You now have a better idea of which demographics are responding to the product and which social media you're getting more engagement on. Those are all pieces of information that you can use to get more bang for your buck out of your marketing campaigns.
This tactic is often used in tourism campaigns among various states within a country to brand individual destinations as ideal for a certain kind of traveler. Through social listening, governments can decide whether to aim their campaigns at adventure tourists, digital nomads, medical tourists, eco-tourists, or leisure tourists.
Understanding the demographic that's talking about a particular destination, and what they might be looking for, is a key aspect that tourism boards can use to further connect with the right kind of tourists.
Execute Better Influencer Marketing Campaigns
Influencer marketing is becoming a fixture of marketing campaigns in most consumer segments. One of the challenges of employing this form of marketing is that it's not always easy to find the right influencers. And picking the wrong influencer can mean not just poor results but also, potentially, bad PR.
Social listening, particularly on Twitter and Instagram, can help you negate a lot of the uncertainty that comes with trying to pull off an influencer marketing campaign. You can set up social listening tools to find Instagram influencers with a high degree of affinity with your brand. You can do so by tracking whether there are influencers already mentioning your brand or keywords that you want to target.
You might also decide to identify superfans who aren't necessarily social media influencers. These are individuals who are already big believers in your brand, and mention it positively often on social media. Identifying these individuals can help you choose brand ambassadors or find user-generated content benefits that you want to highlight on your own handles.
Sneak Up on Your Competitors
There isn't a brand in this world that doesn't want the inside scoop on its competitors. The good news is that there's a lot of information that your competitors hide in plain sight on social media. You can turn your social listening beams the other way to analyze what other brands in your industry are up to and walk away with some very valuable insights.
You would go about studying a competitor in much the same way that you would set up your own social listening process. You would start by defining the goals and identifying keywords that pertain to them. For example, you can use competitors' product names as keywords to see what people are saying about it online and what their sentiments towards it are.
The results will tell you a lot about how your competitors approach social media and what's working or not working for them. The results can tell you a lot, not just about specific competitors, but also trends in your industry at large. And if you study your competitors well enough, you'll know exactly what you say when they challenge you in public.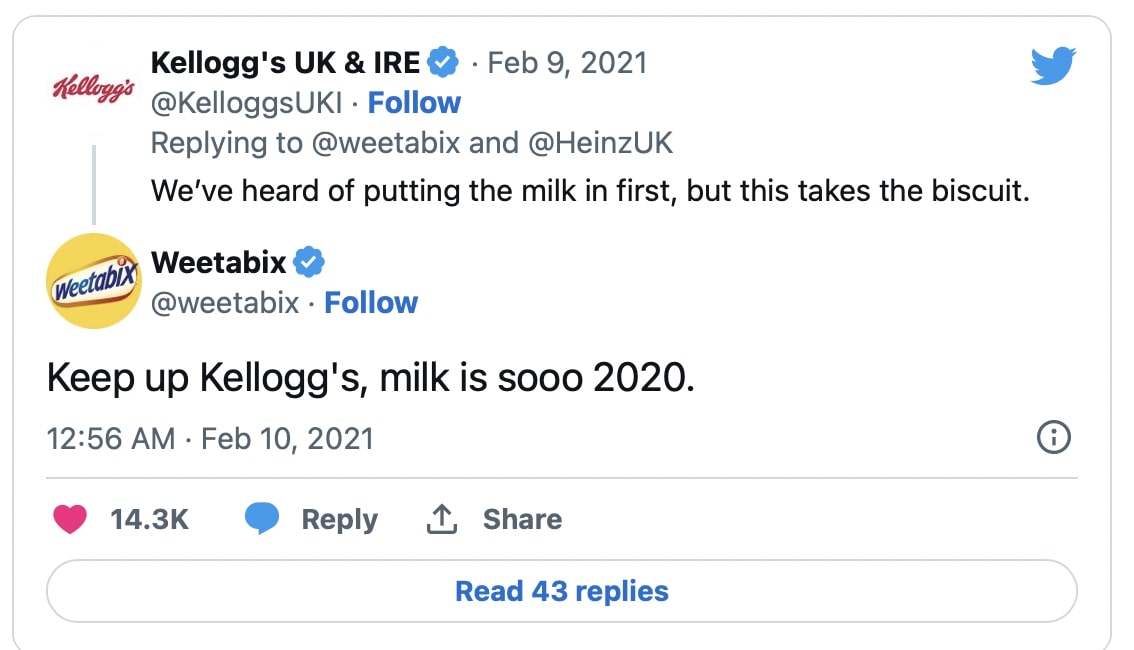 Final Thoughts – Active Social Listening
Social listening supercharges what founders and marketers have done through the ages. They've always spoken to their customers, run focus groups, and carried out surveys to find out what people feel about their brand. But now you can take things a step forward by monitoring these things in real-time and doing so while your customers are in their natural environment on social media.
The data that you receive from your social listening campaigns can be employed in myriad different ways. What matters is that you have your social listening tools ready so that you're in on the chatter on social media. The insights that you generate from the process will lead to enhanced marketing efforts, better products, and most importantly, a strong connection with your customers.