Traditionally, customer service was thought of as a post-sale activity. Marketers attract leads, sales reps close deals, and customer support reps help customers.
Nowadays, consumers expect brands to offer help way before they've decided to buy, and long after they've made the purchase.
Customer service is part of the entire buying cycle. It's customer support, but also a form of marketing, and definitely a part of sales.
The best brands know this, and take advantage of every interaction with a customer to offer value, impress, and sell.
In this blog post, I'll show you how the biggest brands go above and beyond for their customers on social, and what their successes can teach us about the importance of great social media support.
I'll also share three simple steps to get started with customer support on social at the end.
Ready? Let's get to it.
Jump straight to what matters to you most:
How 5 of our favorite brands provide great customer support on social media
1. Nike
To say that Nike's great in marketing would be an understatement.
They know that they're not selling shoes, but an attitude, a lifestyle. Hell, Nike makes sweating glamorous. (How else can they justify that price tag?).
Needless to say, they're equally good on providing support. Nike has one of the strongest customer service accounts on Twitter.
They feature a dedicated Twitter account, Team Nike, which provides support seven days a week and in seven languages (English, Spanish, French, Dutch, Italian, German & Japanese).
When a customer mentions Nike's main twitter handle, @teamnike jumps in to help.
This not only helps separate the main marketing channel from all the support and complain discussions but also shows how dedicated the brand is to solve their customers' problems.
Even though they're flooded by support requests all day long, they never lose patience.
What we really appreciate in the way @Teamnike supports customers is the time it takes for them to solve problems.
Here's is an example of a customer being clearly unhappy, and a bit panicked after one of his newly acquired shoes broke.
@Teamnike answered within 5 hours (I took the screenshot at 3PM) and Chad even thank them for that.
The main takeaway here? Be patient and make every customer feel cared for.
2. Starbucks
Like Nike, Starbucks is another brand that knows it's not about what they sell, but how they sell it.
Even though they're a huge company, Starbucks still give customers individual attention, which no doubt goes a long way toward keeping them coming back for more. (That, and their Pumpkin Spice lattes).
Their social media team is known for their quick responses and great service, making it easy for customers to ask questions about store offers, drink menus, and contests.
Now, we also like that they are jumping in and retweet random conversations about their brand.
Here's one:
Here's another one:
Also, they don't take customer feedback lightly.
Actually, not only do they listen to it, they've put together a website for it.
This encourages high customer engagement and gives them lots of feedback to improve their drinks and services.
Takeaway: go beyond solving problems, and give customers what they want before they complain
3. Skyscanner
Skyscanner is an airline search engine that compares millions of flights to find you the cheapest deal.
It's my personal go-to website for booking plane tickets.
The website is super intuitive to use, and they've consistently proven to offer the best deals out there. Apart from offering great bargains, they also provide great social media support.
Meet Jen, Skyscanner's social media manager for the U.K. and Ireland.
She became an online sensation after Skyscanner user James Lloyd noticed the site suggested he takes a 413,786-hour and 25-minute long layover on a trip from New Zealand to London.
"Just wondering what you'd recommend I do during the 47-year layover your website has suggested?" Lloyd posted on Skyscanner's Facebook page.
Instead of writing it off as a simple glitch, Jen offered some great time-killing ideas for Lloyd during his extended layover in Bangkok:
Jokes aside, Jen also offered to look into the mistake.
This hilarious response went viral quickly and prompted lots of user engagement. Most were impressed by Jen's humor, and some were even inspired to start using Skyscanner's services:
Takeaway: win customers over with creative and personalized responses.
4. Netflix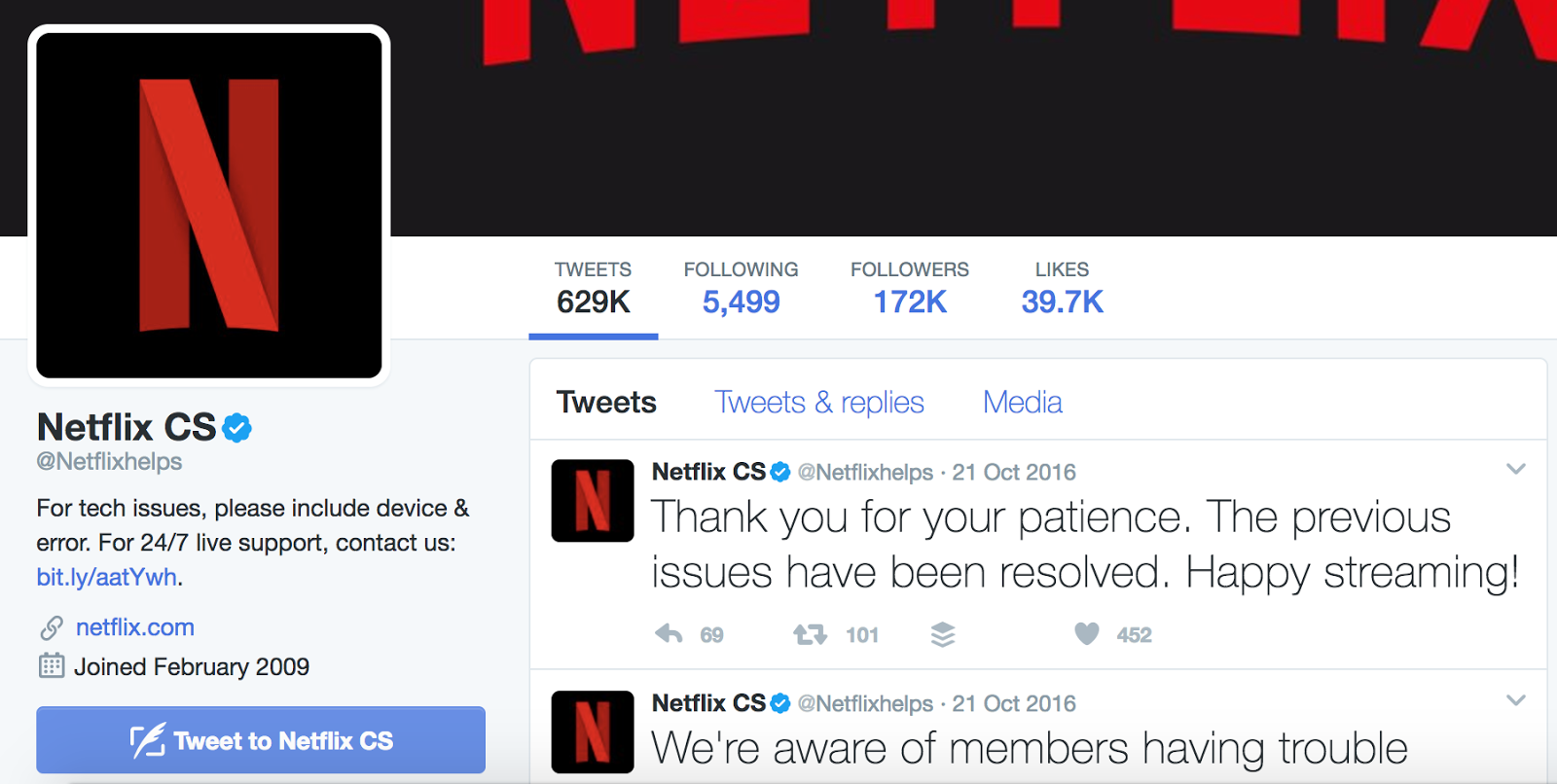 Anyone under the age of 40 would've heard of (or used) the phrase "Netflix and Chill."
Although this internet slang didn't originate from them, Netflix knows how to capitalize on this virality and speak in their audience's language:
Netflix has a great track record of customer interaction and customer care, and it does it with charisma, wit, and humor.
As an entertainment brand, they know how to stray from the typical corporate tone and have a team prepared to keep up with their casual voice.
Here's an example of the Netflix tone:
Takeaway: have fun and speak your customers' language
5. Spotify
Remember when everybody was downloading songs and you'd be considered stupid if you "paid" for music?
Now nobody downloads music and everybody streams.
Most of my friends own a Spotify premium account. It's no exaggeration to say that Spotify is behind this shift that saved the music industry from decline.
Winning a Webby Award for social media customer support, Spotify knows how to treat its customers right on social.
Apart from having a dedicated support account, Spotify gives specific instructions to customers looking for help.
"For tech queries, let us know your device/operating system. For payment queries, drop us a DM!"
This makes it simpler for customers, and speed up the processing time for their customer support team #Impressed.
They also know how to eat their own dog food. After "solving a case", Spotify Cares' team sometimes includes a link to an appropriate song.
Here's one with the Pink Panther.
As it turns out, such smart social support acumen comes from successful employee training and selection.
Spotify doesn't let any customer support agent handle their @SpotifyCares account.
In fact, Spotify support reps are trained first on email.
With emails, queries are less urgent. They are usually more payment and account-related, with a longer response time expectation; on social media, requests are more urgent (like when the app is frozen or a song isn't playing).
In this podcast, Sam Thomas, Spotify's Global Manager of Social Media Support says, "We're really protective over the tone of voice…That's something we really try to monitor very, very closely."
Potential agents must go through multiple writing tests before being considered for social media customer service (great taste in music probably helps, too).
Takeaway: train and invest in your team to deliver consistent and amazing customer support
As you can see, these giant brands understand the importance of customer-centric social media support and make it their priority to provide top-notch support.
While it might be tempting to think that only big brands can afford to dedicate so much to their social media support teams, it doesn't actually cost much. In fact, with a smart strategy, any brand can do the same.
Here's how.
How to rock social customer service in 3 steps
1. Set up a dedicated social handle for customer support
As you can see, the best brands often have a separate social media account to manage customer support requests.
This separates your marketing messages from the angry complaints and less-than-sexy bug fixes and helps your team manage your support efforts better.
If you decide to create a social account for support, be sure to include the handle in your brand's main social profile so people know where to reach out for help.
Like this:
2. Assign a social customer support lead
By now you should know that social media support is support, marketing, and sales combined, and requires a unique skill set.
So if you want to do social support properly, you need a dedicated team member who knows what they're doing and leads the rest of the team.
3. Create social support guidelines
Social support is a relatively new idea, and it keeps evolving with social media changes.
A year ago it might be enough to offer Twitter support, but now your brand might need to start answering questions on Instagram stories as well.
With so many channels and changes at hand, there will be many unique challenges that can be tricky to handle. Deciding on some guidelines on how to engage with customers will help align social support with your brand values and goals.
That document should answer questions like:
What's the response time limit for each query?
What should be done when the CS rep doesn't know the answer to a question?
When should a conversation be continued privately?
What constitutes a social media crisis and when should managers be alerted?
How personal/sassy should the CS rep be?
As you can see, the strategy itself isn't too tricky to create. But there are a few keys that'll make it even more effective.
3 keys to a killer social media customer support strategy
When I'm not happy with a brand, I don't hesitate to complain about it on social media, and when I don't get a response, I don't hesitate to switch to their competitor.
Sounds a bit extreme? Unfortunately, I'm not the only crazy one.
Companies who ignore support requests on social media has a 15% higher average churn rate than companies who don't.
Numbers don't lie. Social media support is not just a "nice-to-have." It's a must-have.
So if you want to keep your customers loyal – or simply keep your customers – you need to start taking it seriously. And you'll need a good strategy.
Here's how you should get started:
1. Define the KPIs for your social media support
Before you can do something well, you need to define what well means.
Depending on what your business goals are, you need to lay out the key metrics you want your social media or customer support team to be measuring.
Here are some suggestions:
Response rate or reaction time. Not only is this important for internal evaluation of your team's efficiency, but it's also visible to customers on some platforms, like Facebook, where you can check whether a brand is "very responsive" or not before sending them a message.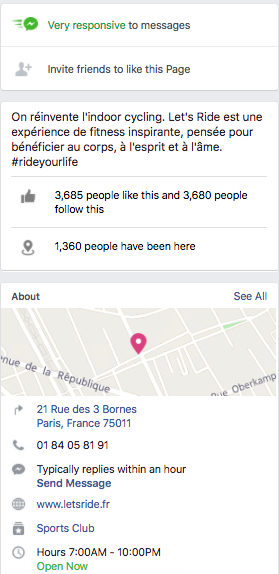 Overall brand sentiment. This helps you evaluate general customer satisfaction or perception of your brand. You can get this information via surveys, or a social media monitoring tool.
Positive vs. negative mentions ratio. This is one step up from tracking brand sentiment. Out of all your social mentions, how many percents is negative? By keeping an eye on this percentage change over time, you'll see if your team manages to improve overall customer happiness.
Churn rate. As social media becomes a key channel for customer support, you need to measure how and to what extent it affects your customer retention. Is your team succeeding in convincing frustrated customers from leaving?
Since social media moves fast and things happen quickly, it's easy to lose sight of your goals. Having clear KPIs will help your team focus on what's really important for your brand.
2. Set guidelines for each platform
After laying out all your key metrics, where and how do you begin?
To deliver awesomely consistent customer service on social, you need guidelines for your team to navigate the wild jungle of social media support. Here are some basics to start with:
Choose the right platforms
First, you need to figure out which platforms you want to provide support on. An easy way to start is to look at the top sources of your mentions. You can do so easily by looking at "sources" on Mention.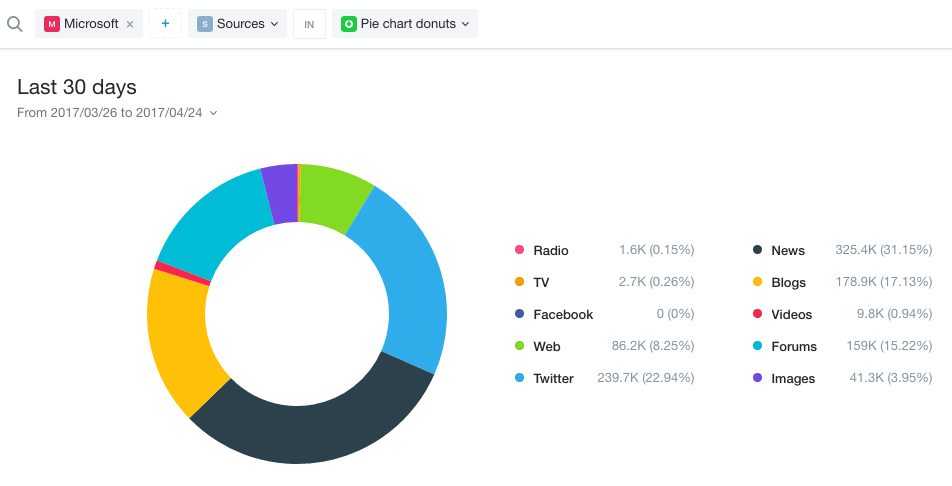 If you want to take it up a notch, you can also look at the top sources of your competitor's mentions, so that you can be present on platforms where your target audience will be.
Set the tone for each platform
Social media platforms vary a lot from one to another, and the rules are quite different. So your CS reps need to know how to adapt.
Gifs work great on Twitter, but perhaps not so much on Linkedin. How do you want your brand to sound like on each platform? Are emojis allowed? Do you use personal or the company account? Be as thorough as possible.
Where to draw the line
Not every social media complaint can be resolved in less than 140 characters, especially if the issue is technical or when the customer has many grievances to air.
It's also not great if the customer keeps a thread going, cluttering your Twitter feed with angry @replies. So it's important to know when to take a conversation from a public page to a private message, or perhaps off social media altogether.
3. Tools, tools, tools
After setting out your KPIs and guidelines, here comes the execution.
With all the notifications coming in from different platforms around the clock, coordinating social media support can be a big challenge. You need to manage multiple platforms with multiple team members and make sure everybody's happy and taken care of.
To do this well, you need some cool tools.
Built-in customer support tools on social
Social media platforms are upping their game in social support, so a few of them have got pretty good built-in tools that'll help make your customer support efforts easier.
If you have a business page on Facebook, for example, you can manage your inquiries by adding labels and notes.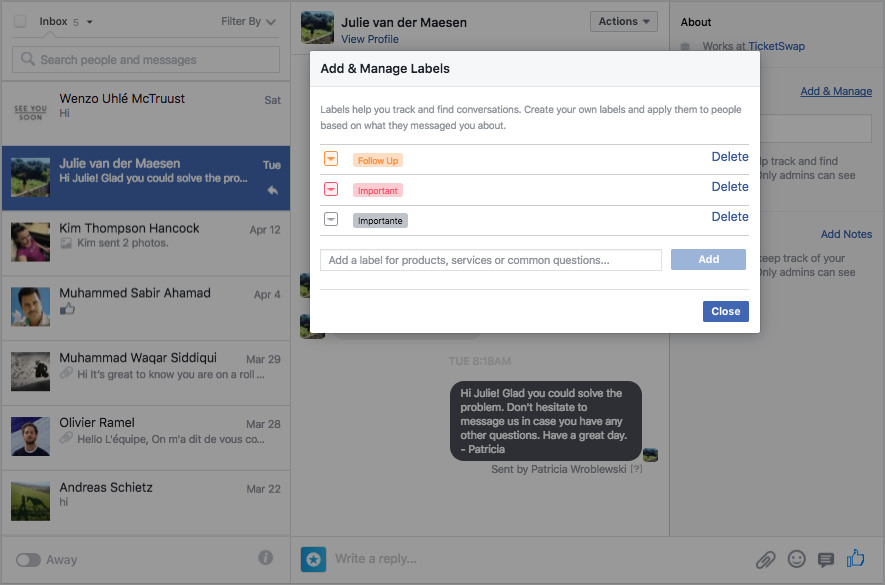 Twitter has a featured called Customer Feedback that enables people to privately share their opinions with a business after a service interaction.
With this feature, businesses will be able to use two industry-standard question formats: Net Promoter Score (NPS®) and Customer Satisfaction (CSAT).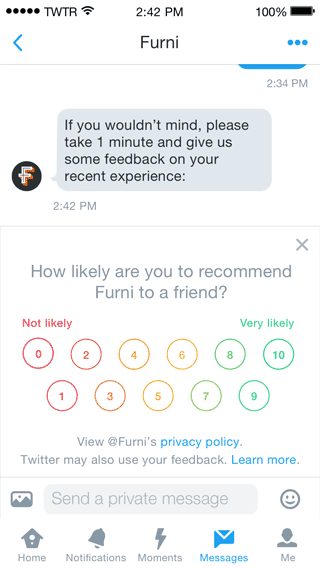 So if you're just starting out on social media support, check if you're making the most of what your social platforms are already offering before investing in another tool.
Social media monitoring platforms
If your brand is active on more than a few platforms and serious about providing spectacular social media support, investing in a good social media monitoring tool could save you a ton of time, and give you helpful insights to improve your strategy.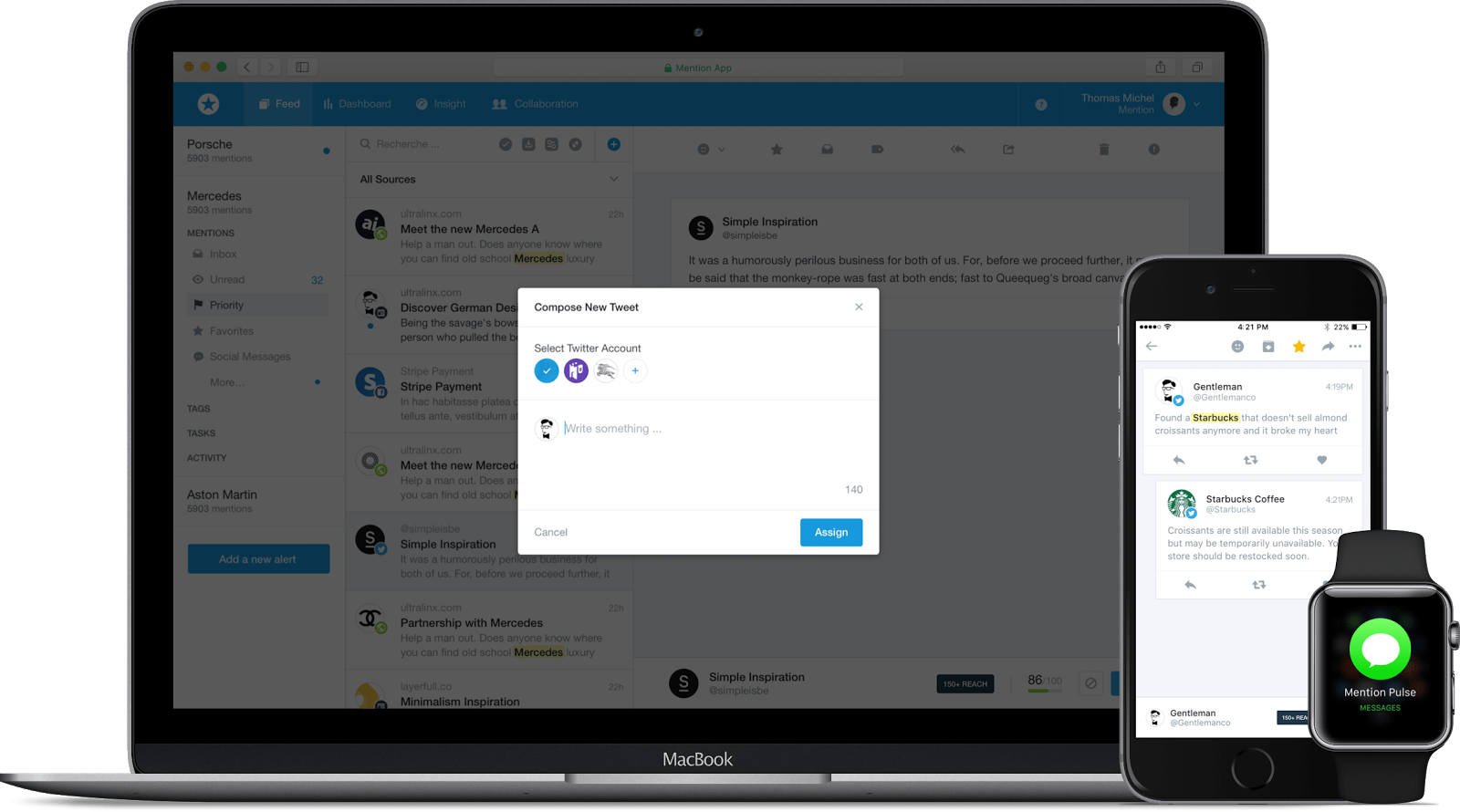 Having a monitoring tool allows you to pull in mentions from all platforms in one app so that you can:
Receive all notifications, respond and engage directly from one place
Get alerted even when people don't tag or @mention you
Discover new channels where people are talking about you
Filter negative/positive mentions and analyze brand sentiment
The best thing about using a monitoring tool is that you don't have to go look for these messages.
They're brought to you with no fuss. You'll also be able to do analysis on your overall brand sentiment and compare it against your competitors.
Chatbots
As more customers turn to social media to engage with brands, chatbots are becoming a popular choice for companies who want to increase their responsiveness.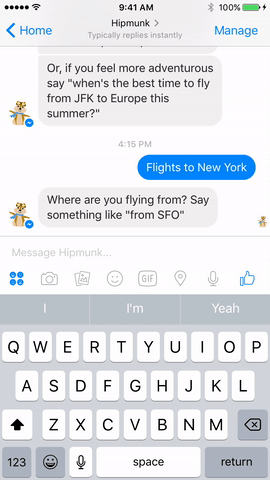 Chatbots are great for answering frequently asked questions or to provide immediate information on a product or service.
Social media is changing constantly. New features and platforms pop up every six seconds.
That's why the last key to a successful social support strategy is to keep up with the updates and adjust your strategy regularly to ensure that you're present in all the channels you need to be on.
At Mention, we have alerts set up for major social media channels and industry blogs to catch all the latest 411 on social. Snapchat got new filters? Got it. Instagram ripped that off? Got that too.
If you're not there to listen and engage with your customers, your competitors will surely be.
Over to you
Have you had an amazing customer service experience via social media? How are you using social media to provide customer service? Let us know in the comments.
Need more help with creating a great customer experience? Download our ultimate guide to customer loyalty: