As the finance industry is going through a digital transformation, social media has become an important topic in finance companies.
They know they should be on it, but it's not always easy for a traditional industry to know how to adapt to emerging trends quickly.
In order to be successful at social media adoption, finance companies need to learn about their audience and understand what they expect from them on social media.
Before social media, one of the few ways financial institutions could
learn about their audience through conducting surveys or soliciting them directly through email. While this proved to be an effective method, it was also extremely time-consuming.
Nowadays, while you can still rely on surveys, using social listening to learn about your audience online can paint a much clearer picture, for a lot less effort.
But social media allows companies to do so much more than just learn about their customers. Without further ado, here are 10 ways financial institutions can use social media:
1. Use social media to better understand your market
One of the best things about using social media to learn about your audience is that people give unsolicited opinions. They speak their mind and share their thoughts candidly – this is the key to help any business to learn about themselves.
They get to analyze their audience's challenges and goals without having to ask them directly or serve them time-consuming surveys and polls. What's more, we strongly believe here at Mention that you can only learn if you listen.
2. Track trends and innovations
Smart financial brands are paving the way by being innovative in how they provide their services. This means that they invest heavily in transformational projects and technology. But this is the visible part of the iceberg.
What financial institutions need to do, at first, is to identify key innovations to integrate to their ecosystem, to inspire the market, and to build and maintain trust. Nowadays, inspiration often starts with the ability to deliver a painless customer experience. For financial institutions, this also means mastering the latest technologies to guarantee that their clients are protected.
This is a challenge that brick and mortar institutions face today when younger, innovative pure players completely disrupt the established industry. Using a monitoring tool, you could be alerted in real-time to stay on top of trends and topics that matter to you. Here's an example of an alert you could set up to keep an eye on the latest cybersecurity and data breach trends. To some extent, this could give you a significant advantage over your competition.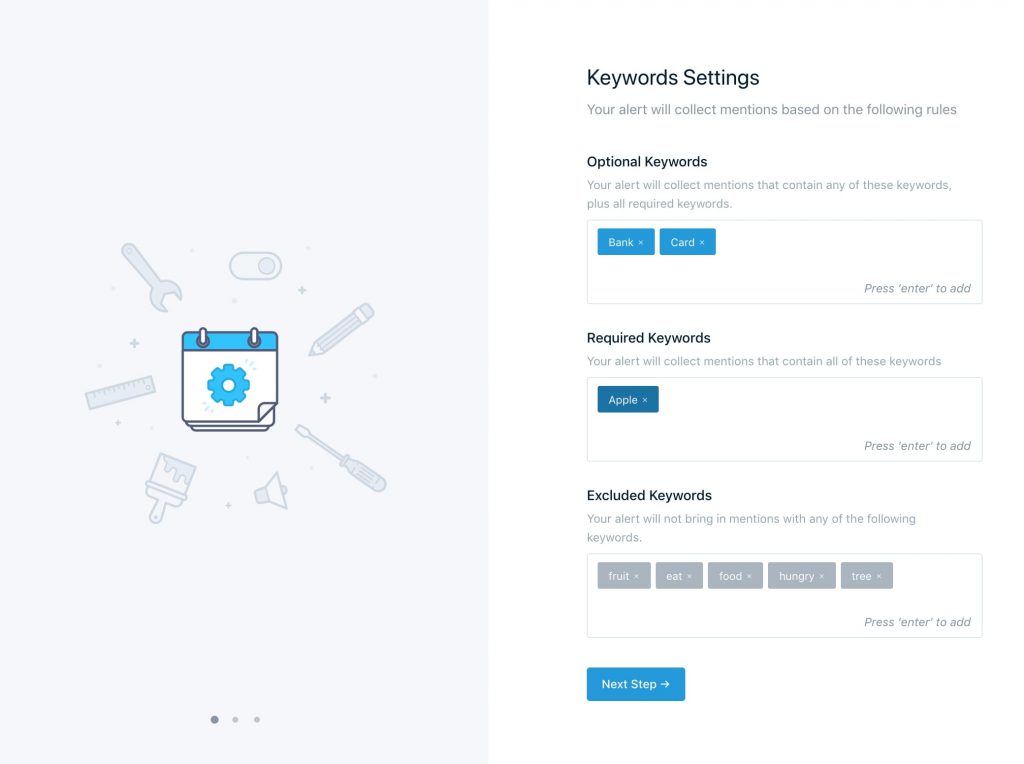 3. Identify (and measure) awareness opportunities before the competition
Sponsoring events is one of the best ways to generate awareness around a brand, especially for FinTech brands. However, you need to make sure that you're investing your money in the right events, targeting the right audiences.
One way to do it is to target those that your competitors have already sponsored in the past. Another way to do it is to measure the impact of events that could be of interest to you and analyze their online impact. Do they resonate with your values? Are they targeted at your core audience?
With a monitoring tool, you'll also be able to identify key events before your competition does, giving you a heads up to reach out and establish a relationship with the organizers.
4. Reach your audience
Investing thousands of dollars in a TikTok promotional campaign just because it's trendy doesn't make sense if people don't care about what you have to say in the first place.
You need to be where your audience is.
To do this, you can either spend a lot of time and investigate manually (and risk missing important data), or automate the process using a social listening tool. A social listening tool will help you to view your market as a whole and identify where the key conversations are happening — and, therefore, where you should be. What's more, you will never miss any relevant mention of your institutions, products, services, or competitors.
5. Share content with your audience
Once you know where your audiences are and what keeps them up at night, you can start sharing content that is relevant to them. A few examples include:
Service updates
Security updates
Temporary promotions
Industry news
Corporate news
Fun facts
What matters is that you only share what matches your audience's needs and interests. If something is only of interest to you, it won't be valuable to them.
6. Interact with your audience
Social media is a two-way street and you need to be interacting with your audience.
An IAB study (2013) revealed that 90% of consumers are likely to buy from a brand following a positive interaction on social media. Having regular interaction with your customers will have multiple beneficial effects on your institution including:
Build an emotional connection: your clients trust you with their money. Given that changing banks, for example, has never been so easy, if you don't work on building stronger, human connections with your customers, they'll eventually leave you for another institution willing to do so. Having positive and regular interaction on social media with potential clients will put you on their radar and contribute to building long-lasting relationships with them.
Be seen as a thought leader: lastly, interacting with your community on social media will show that you care. Be helpful, transparent, and respond promptly, and you will score precious online reputation points.
7. Leverage influencer marketing
Influencers are social media content creators who are often dedicated to a niche market. They are usually compensated by money or other benefits to promote a brand. Many financial institutions are already leveraging influencer marketing. It's an efficient strategy to:
Build trust and gain credibility
Reach out to new audiences
Share engaging stories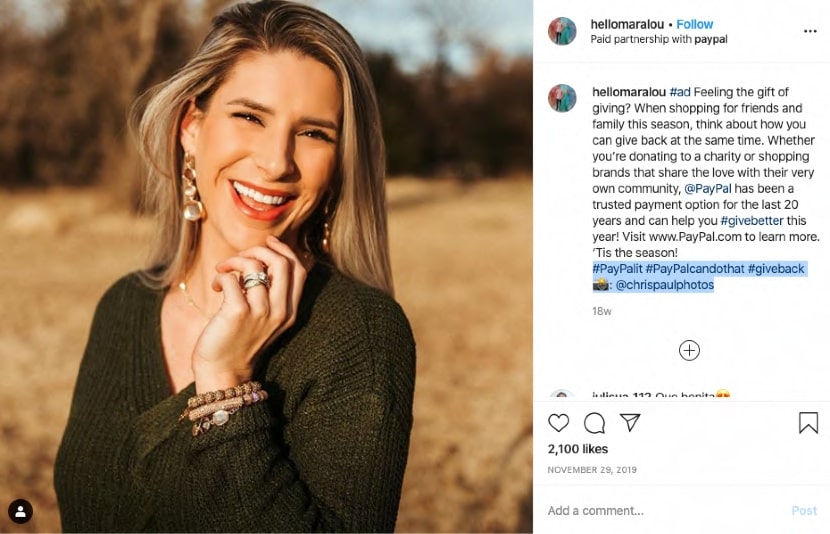 What's more, brands using it right see, on average, a 7 fold increase in their ROI. In 2019 alone, it's estimated that brands spent over 8 billion dollars to have influencers advertising their products and services online (it is predicted to reach $15B by 2022). Now, we believe here at Mention that bigger isn't always better. More often than not, working with smaller influencers is more interesting as they have more focused audiences. Besides, they often are more involved with and dedicated to the brands they work with.
8. Provide excellent customer service
Banks, payment and insurance companies need to appeal to all types of customers. Part of this implies to have a comprehensive strategy — especially on social media.
Like it or not, social media isn't just for chatting with friends anymore. People use it to talk with the brands and companies they use. For instance, 80% of Instagram active users say they follow brands on the platform.
For brands, it's a premium channel to reach out and share valuable information. On the other hand, it opens a new public complaints Channel.
Eventually, this means that your institution needs to be aware of all key conversations, be available to answer customers, and stay connected around the clock, no matter what.
Financial institutions cannot afford to make compromises when it comes to customer experience and satisfaction levels. They need to earn and keep the trust customers place in their brand and services.
Another challenge that brands of all types currently face is the digitalization of customer service. After all, everybody's now talking online – and some of those conversations could very well be about you. Here are two scenarios that brands meet most of the time.
9. Leverage online reviews
94% of consumers check online reviews before they decide to buy something or subscribe to a service. They need what we call social proof. It says that the more people say they use your service, the more it will look like a good service. In short, you need to show how happy people are using your service. But not all online reviews are positive.
Having said that, we find that financial institutions shouldn't ignore negative reviews. Instead, they should take the bull by the horns and turn them to their advantage:
Always respond to relevant complaints (and as fast a possible)
Take responsibility for what happened
Be helpful
…and ignore trolls
Here's an example from Bank of America:
1. They are directly @mentioned on social media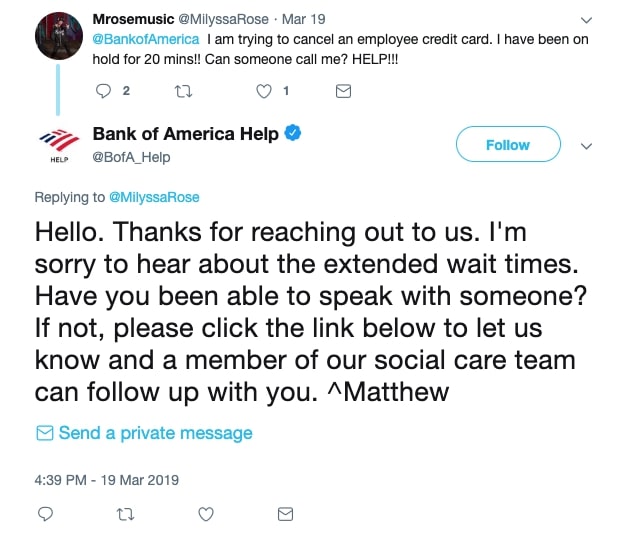 In this situation, brands are obviously expected to answer – and as fast as possible.
2. They aren't directly @mentioned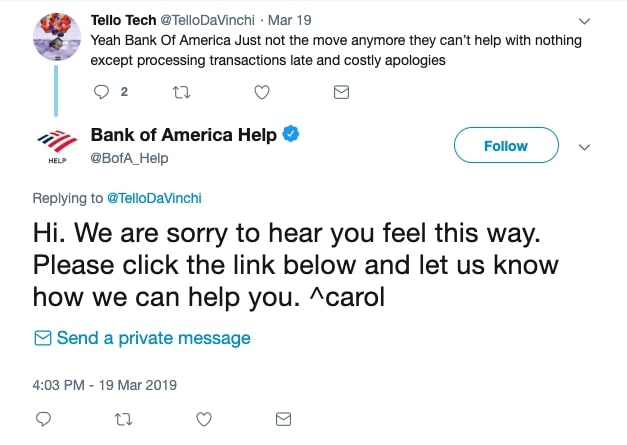 No one expected Bank of America to jump on this conversation in which they aren't even tagged. And yet, they did. Chances are that, just like Bank of America, there are whole conversations taking place on social media about your brand, with nobody tagging you directly.
Can you identify posts like these today?
In some situations, people will talk about your institution in conversations that have little value for your brand. In other cases, they will ask for your immediate help or, worse, start rants about your brand.
By identifying these messages and acting quickly on it, you will potentially turn angry whistleblowers into loyal customers and, therefore, increase your retention rate.
After all, it all comes down to one thing: being able to provide the best service possible to keep your customers happy and prevent them from knocking on your competitors' doors.
10. Use social media to learn from your competition
Over the last two decades, a marketer's daily life has greatly evolved. Most importantly, we now can measure everything we do, including the consequences of our actions on our business. Having said that, you can't evaluate how well you're doing without comparing against others. Truth is that 77% of businesses rely on social listening to keep an eye on their competitors. What this means is that 4 in 5 of your direct competitors are likely watching each and every single step you take. And you should do the same.
Over to you
Digital transformation for companies is no easy task, especially when it comes to traditional industries like finance.
In order for finance companies to create a winning social media strategy, they must include social listening into their arsenal. With the right social listening tool, then can accomplish so much more than just have a social media presence.