There are millions of brands fighting for the ever dwindling attention of their followers.
And that doesn't even take into account the billions of topics your shares are going to have to compete with on Twitter – politics, cryptocurrency, sports, celebrity babies.
That means the things that you did in the past are not going to work in 2023., especially when it comes to creating the visuals that accompany your tweets.
Back in the day you could rely on the strength of your following to make sure your content is seen. But now, to stand out from the crowd, you are going to have to use those graphics and images like a pro. Because a great visual will help your share or content rise above all that noise on Twitter.
Don't let that great content go to waste because you used a poor visual. That's a rookie mistake.
Instead, invest the same effort that you did in that content when it's time to design the visual. In this article, I'm going to show you exactly how to do that. Let's get started.
Let Templates Do The Heavy Lifting
You shouldn't have to reinvent the wheel every time you want to share a visual or graphic on social media.
And take it from a design-focused marketer, there is not enough time in the day to create wholly unique visuals for each tweet. Especially if you have a small marketing team, with an overworked designer.
That is why I'm a big fan of using branded templates to create your unique social media visuals. I know using templates to create custom visuals sounds a little paradoxical, but stay with me.
They will not only help you create better visuals, but also keep your visual brand consistent. And consistency is huge in 2023.
Take a look at what Quuu uses for their shares: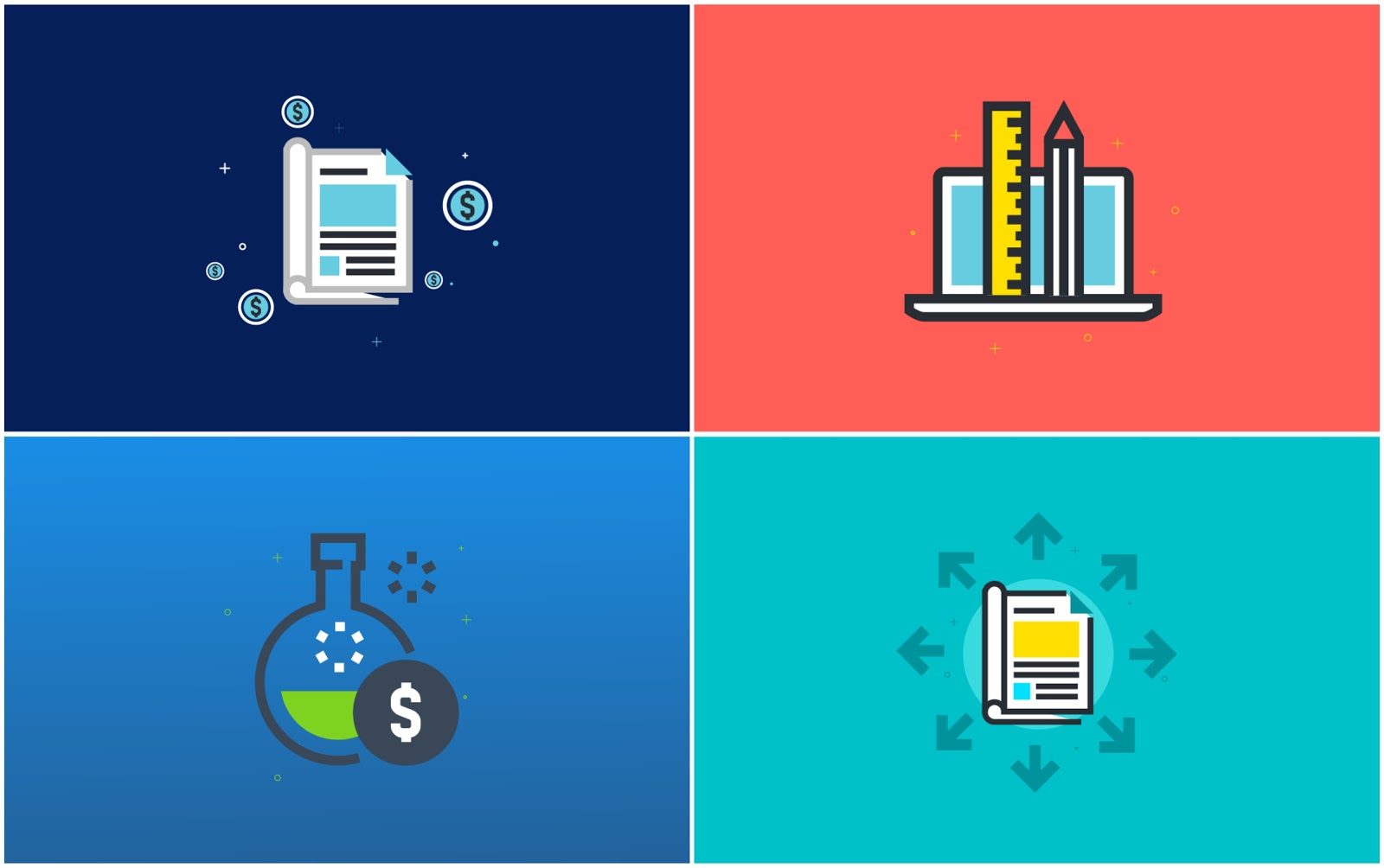 Now, as you saw in these examples, consistent design doesn't mean just using your brand colors or logos in all of them.
Instead, the visuals should all feel the same, almost like they came from one single designer. Even if you have a team of designers working for your company.
You want your audience to immediately recognize your shares based on the visuals.
And templates can help you do that in a big way. Venngage uses the same general format in all of their social media graphics: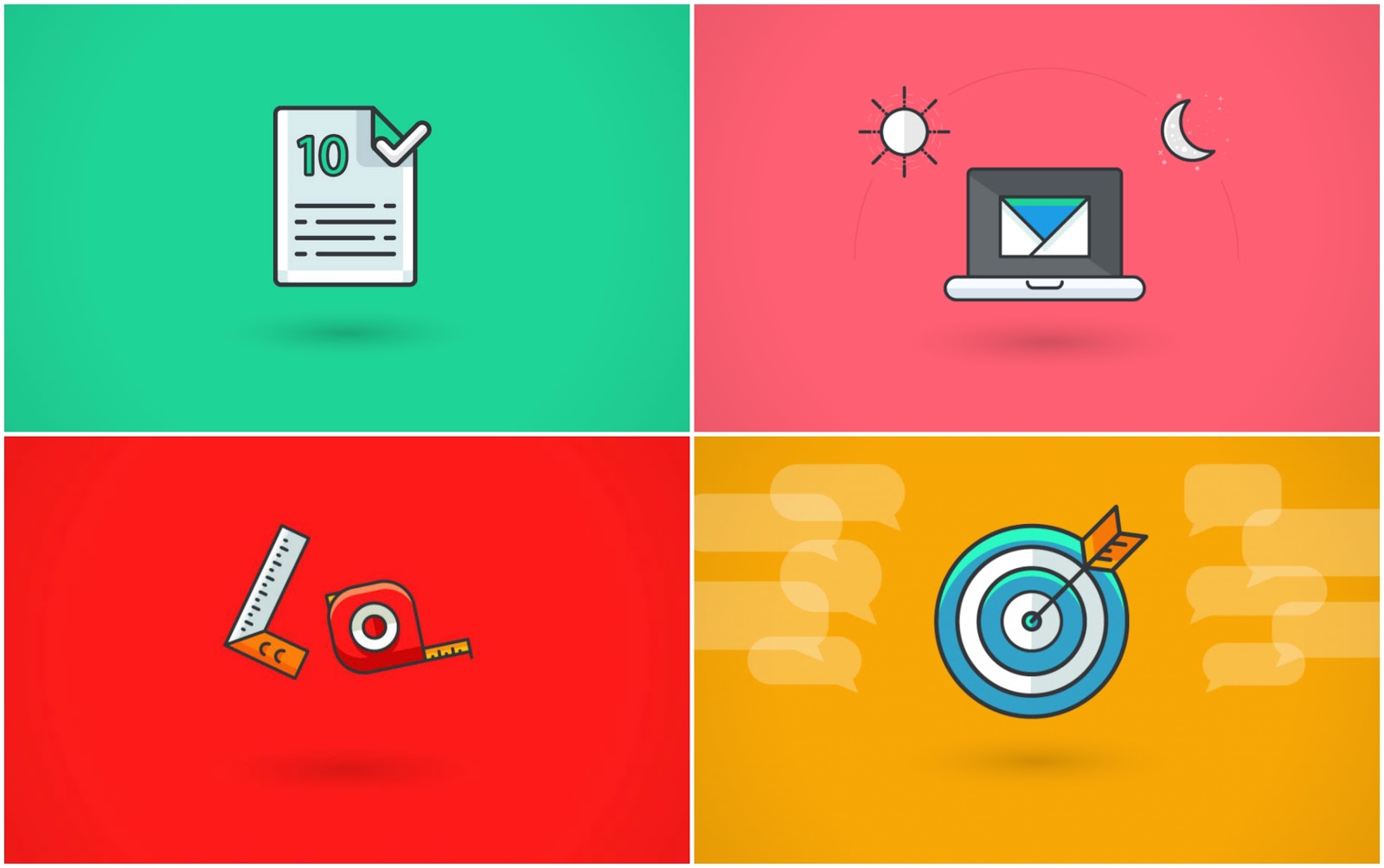 The icon and background color obviously changes, but it all feels the same. That helps them create a strong visual brand, where people recognize their content almost immediately. Each icon or illustration also helps them add a little bit of instant context to the share.
Now, as you just saw with the previous example, not every template you create has to be icon centric. You can mix in some text or titles, just like Moz does for most of their content shares: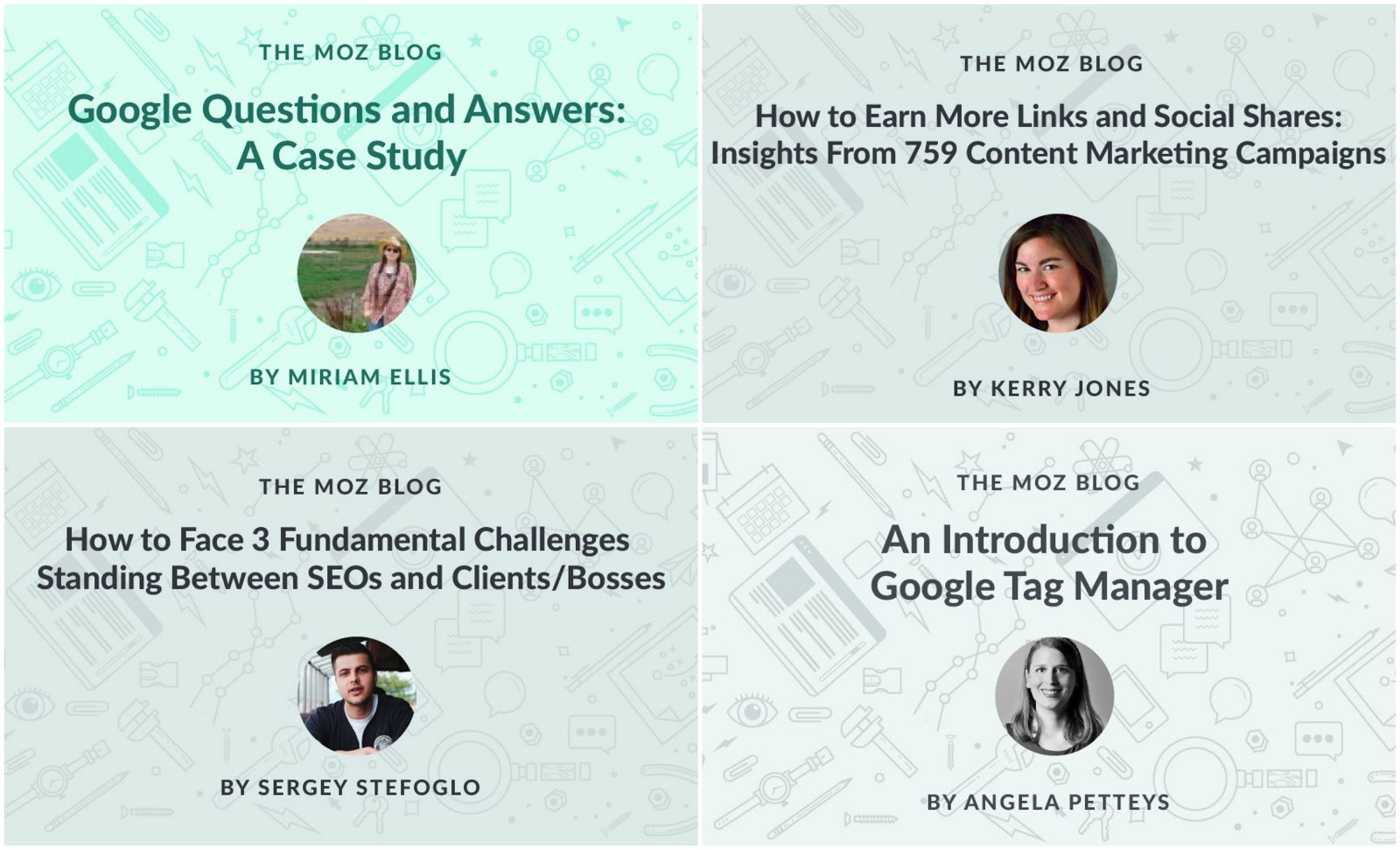 They might not have as much color as the previous examples but they are still terrific social media visuals. Plus, you know a tweet came from Moz from a mile away based on these templates.
And best of all, their designers can create a template that anyone can use.
Stop Using Boring Stock Photos
One of the quickest ways you can completely overhaul your social media visuals is to get rid of all the stock photos. Take that folder you have sitting on your desktop, and drag it to the trash. Get rid of all of these: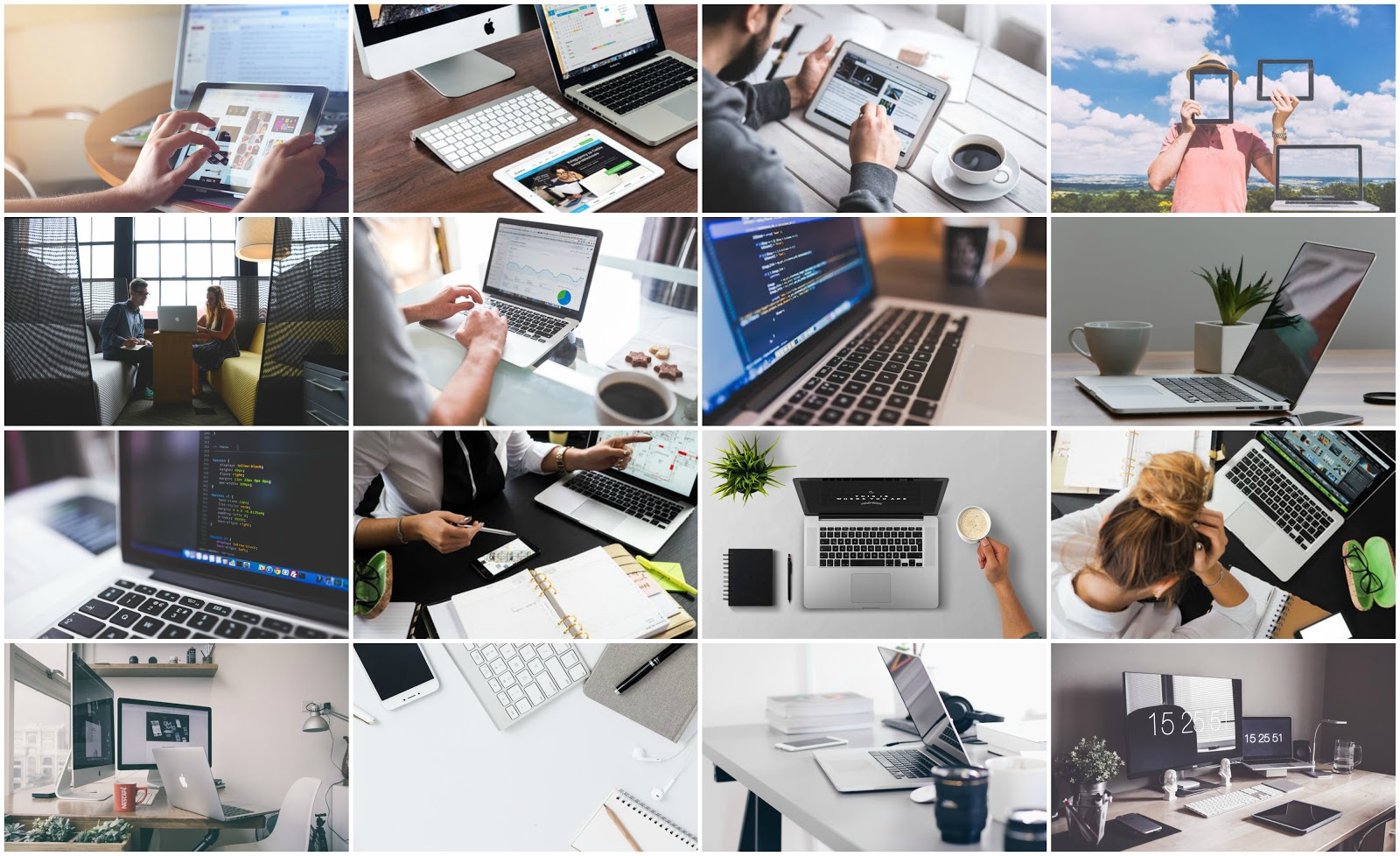 And boom your visuals are already going to be better.
But really, they are the easiest way to spot a lazy content creator. You spent hours crafting a great piece of content, and now you slap a vague stock image on it.
Just like the hundreds of other people doing that across the globe.
This is how many times some of these images from Unsplash have been used:



Stock images like this were created to appeal to as many people as possible, and to be used on hundreds of different types of content.
Because these images have been used so much and are so unimaginative, people usually scroll right past the shares that they accompany.
They then become part of the background noise, instead of helping your content stand above that noise on Twitter. Stock photos may have a place in your design plan, but they aren't worth using on social media.
You should be taking the same care that you did to produce that content when it comes to making your Twitter visuals.
The designers at Slack take this idea to heart when creating their social images: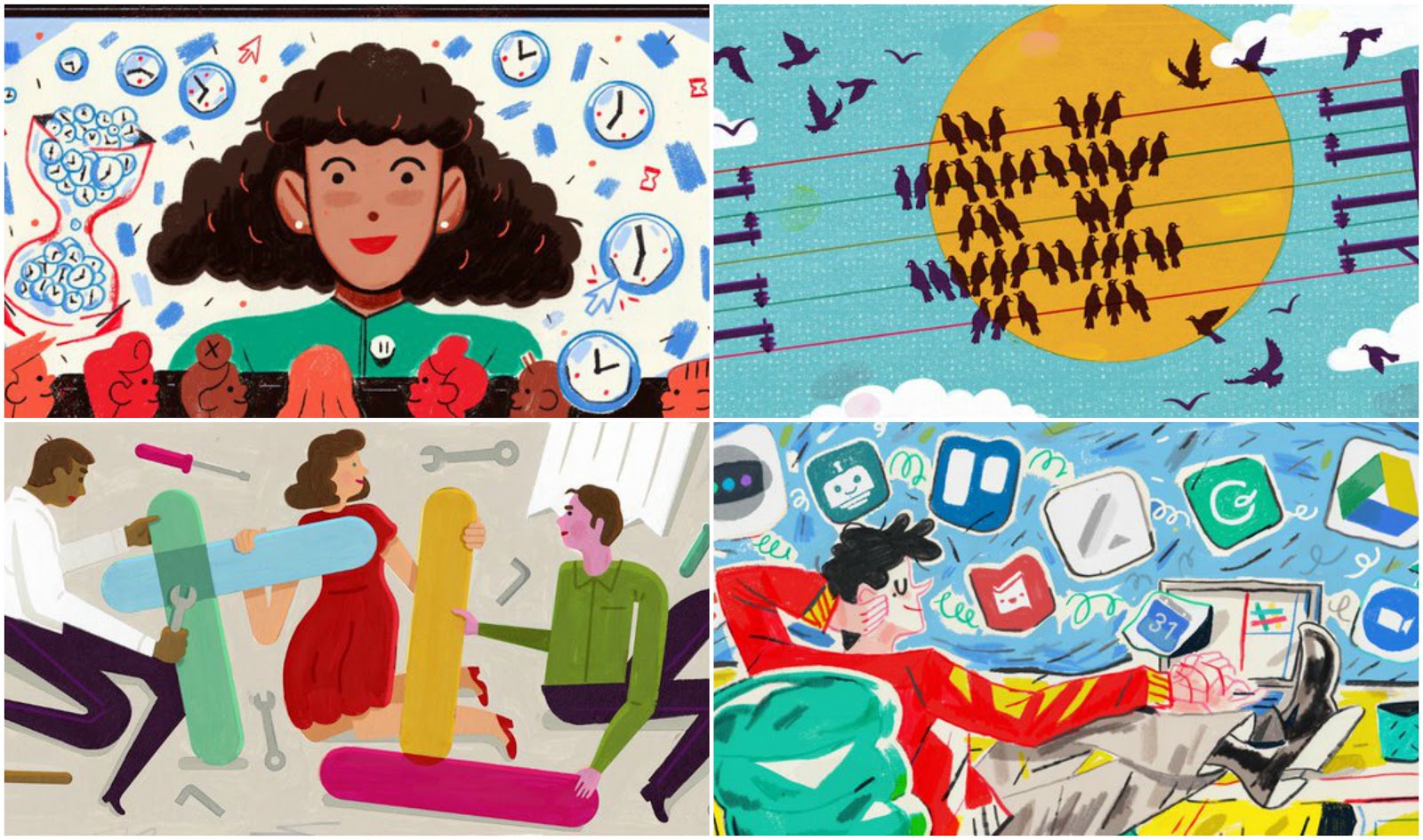 The visuals are so interesting, colorful and, really, one-of-a-kind, that I couldn't imagine scrolling past these tweets.
Additionally, you know that each piece of content -or tweet- that feature these images is going to be a must read.

I know not everyone can dedicate that much time to each of their visuals, but they can emulate what CoSchedule has done: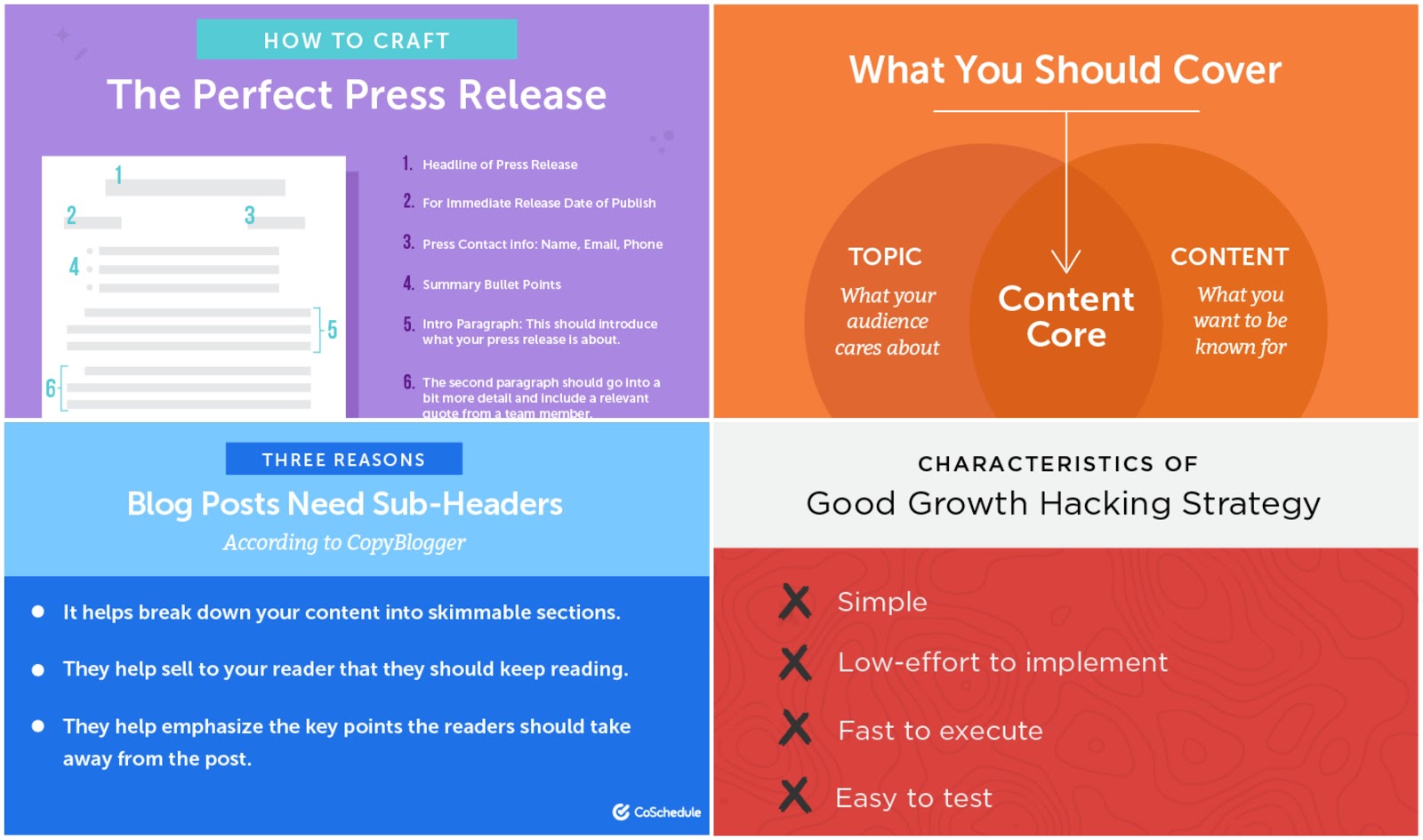 As you can see each, of their images give a little summary of the post they are about to click on. By doing so, the follower knows exactly what they are getting into from the start.
Based on some of the titles, they too could have taken the easy way out and use a vague tech photo. But they took the time to create something that gives each of their followers some extra value as soon as they see the image.
Even if they don't click through to the full piece of content, the reader still gets a few tips that they can use. And, just like in the examples from Slack, if they took the time to create a bunch of helpful visuals, the written content is probably going to pretty special.
Embrace Bold Colors
If you have been following along closely to each of the examples I have picked so far, you may have noticed they share a common theme. They all use bold and bright colors.
This is no accident, especially on social media, where the white backgrounds make bold colors really pop.
You have to remember that your content is not the only thing out there fighting for attention on Twitter. And a boring or soft color scheme, will make it fade into the background.
To stand out, you need to embrace bold or bright colors across all your shares.
You may be asking: what is a bold color exactly? And I would say, in this case, a bold color is one that jumps off the screen and punches your audience in the mouth.
Something that would almost feel like a home in the 80's did. Or a color scheme that they can't scroll past without taking notice of. Does that make sense?
One company that has let bold colors take over their feed, and their whole brand, is eBay: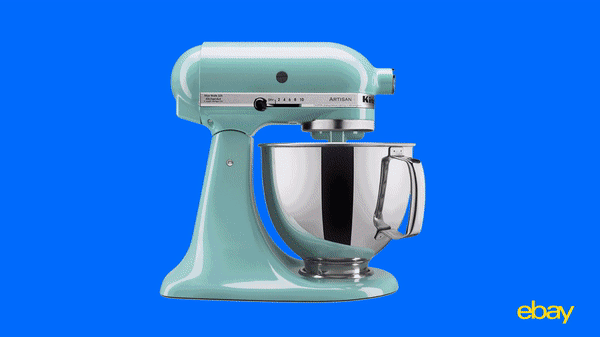 They took a big risk by incorporating these colors, but I think it has been a overall success.
Anytime I see a share or Tweet that uses bold colors in that way, I automatically know it came from eBay now. Plus, they have been able to unify millions of different products under a single visual brand.
The product visuals may not share exactly the same colors, but they all have a similar feeling. And eBay has, in one short year, used bold colors to completely rethink and revitalize their brand. Honestly, I think it is one of the best rebrands I have seen in a long time.
Dropbox is another brand that has used bold colors to completely rebrand recently.
You can see the massive change on Twitter pretty easily through the years, as they went from this: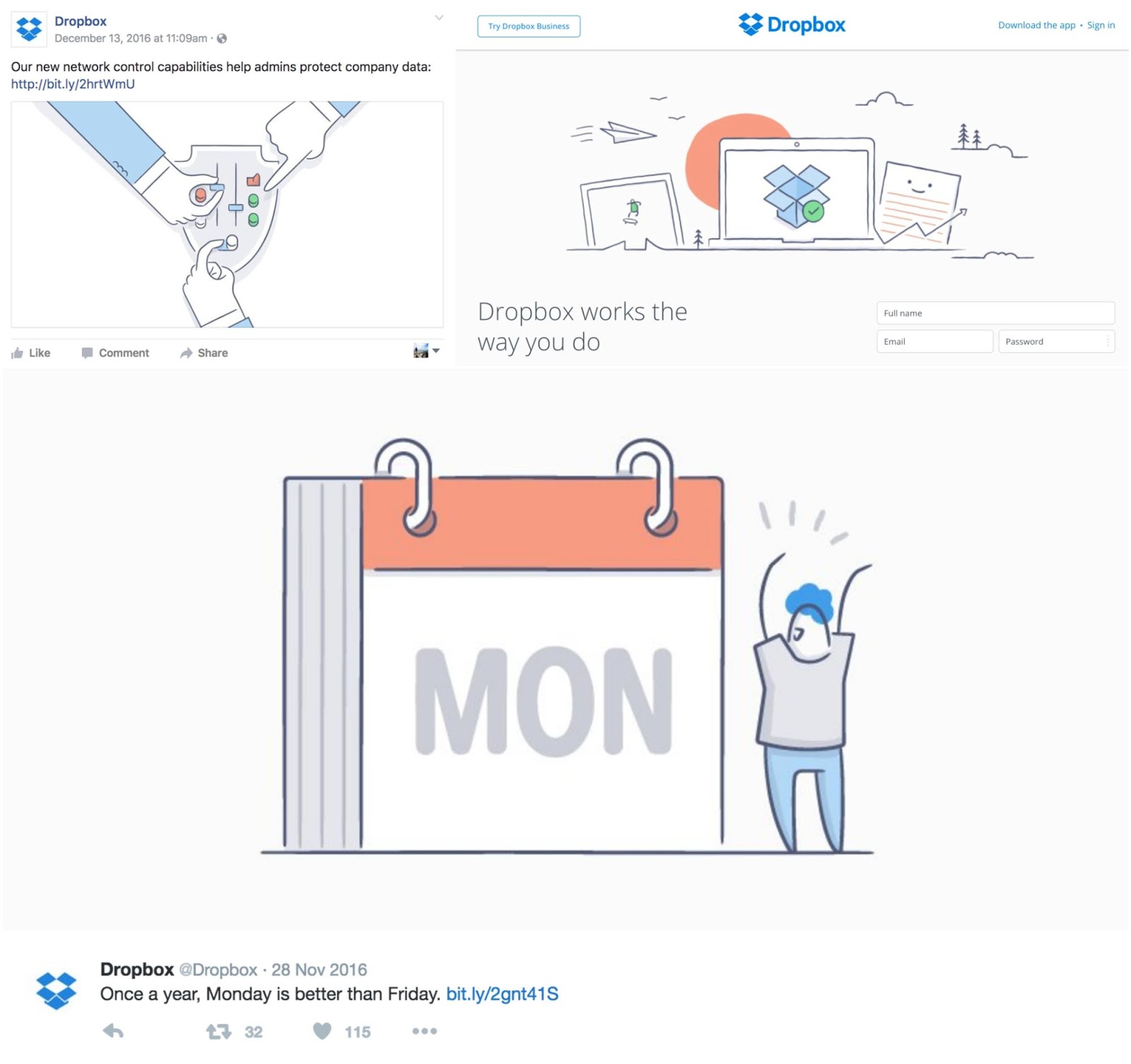 To this: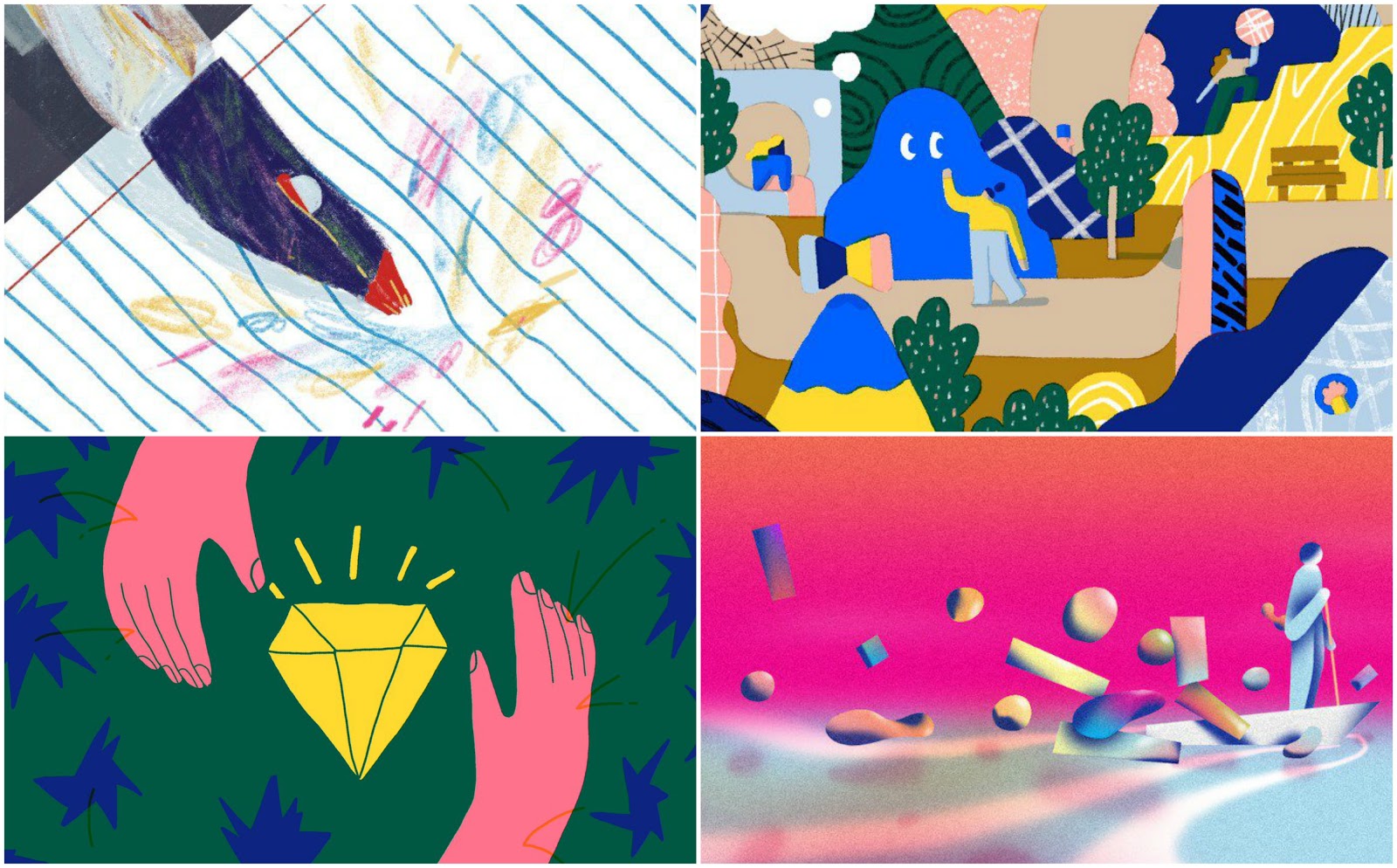 This was a top to bottom rebrand for Dropbox, and fits exactly with what they want to do in the future: connect the world.
But to truly connect the creatives of the world, and break down industry barriers, they need to be bold and flexible. That goal is something that their new brand colors can definitely help with.
However, using bold colors in your shares doesn't have to be preceded by a whole rebrand. You can just start using them on your shares, and then go from there!
What is the worst that can happen? Your brand ends up as an example in one of my articles? Things could be worse.
Add a Gradient Or Two
Gradients have always had a special place in my heart, because they invoke a little bit of nostalgia everytime I see them.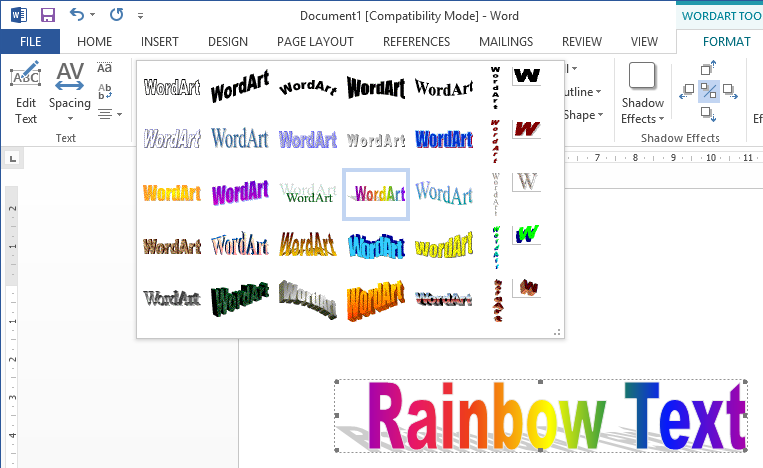 They were the best thing a 90's kid could do to make his project on Abraham Lincoln look professional. However, I never expected them to come back into the design world in 2023. Or really anytime soon. As more brands look to differentiate themselves on social media, the timing makes sense.
And the explosion of color across design has helped bring gradients back into the spotlight. A simple example of brands using gradients on Twitter comes from Fast Company: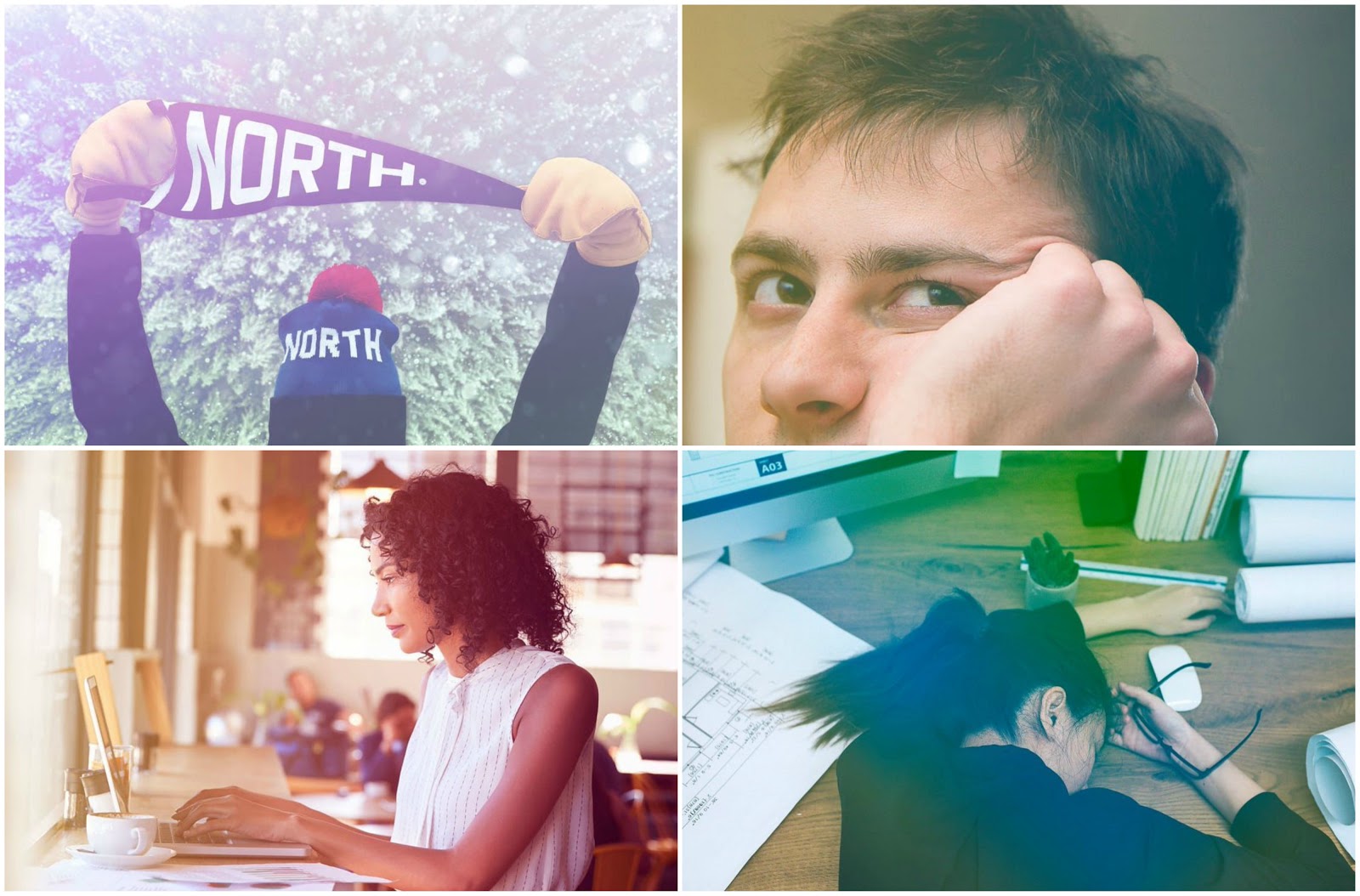 They use transparent gradient overlays to upgrade otherwise boring stock images for each of their shares. It may not seem like much, but with a small infusion of color, the visuals are now actually eye-catching.
In a busy industry, like the news, that uniqueness is hard to come by. And as they continue to consistently use gradients like this, it will become part of their visual brand.
Next, we can take a look at what Asana is sharing for a little more complex example of gradients: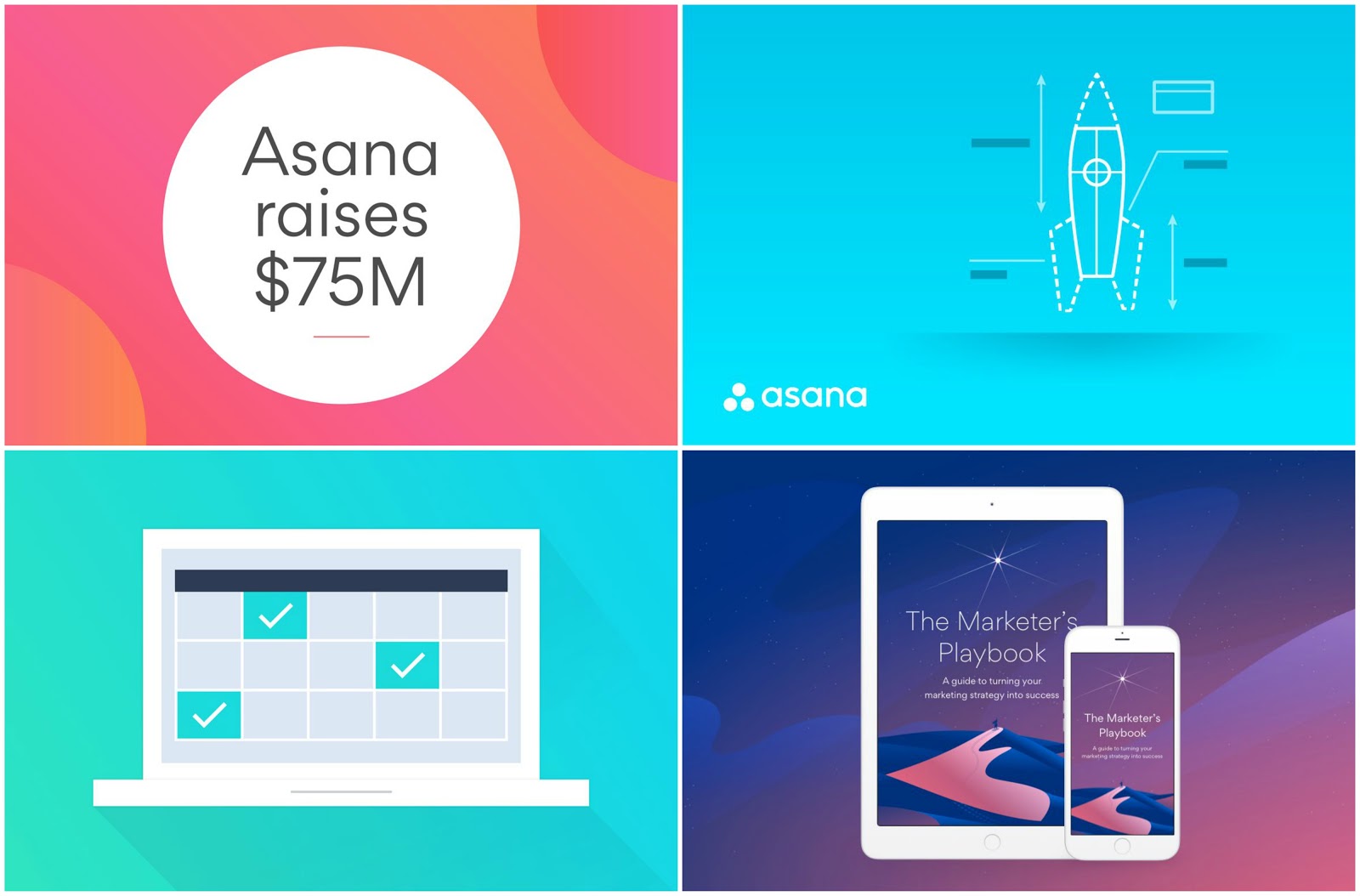 Each example uses a gradient to make the background a lot more compelling and impactful.
If you want to create something like this, you may need to bring a designer into the mix. These visuals are a lot more complicated than the ones we saw from Fast Company. However, I definitely think it is worth the extra effort and time.
Conclusion
To sum up, Twitter remains a potent platform for individuals, businesses, and brands to connect with their audiences and boost their online visibility.
Keeping up with the constantly evolving social media landscape is crucial, and upgrading your Twitter visuals for 2023 can help you differentiate yourself from competitors, and establish a more engaging and memorable online presence.
Adopting the 4 tips mentioned in this article can help you improve your Twitter visuals and increase your followers, engagement, and ultimately, achieve your social media objectives.
It's essential to maintain a creative, consistent, and genuine approach to social media, which can lead to success on Twitter and beyond.