A brand's just like a baby, you have to constantly monitor it. And like any infant, your brand's Twitter needs a baby monitor — your monitoring tools.
Monitoring Twitter is crucial to understand your audience, competitors, and industry. It's how you discover new trends and important discussions. It tells you what your audience cares about. You can see how your competitors are doing.
By doing this, you'll know what works for your audience.
Choosing a tool can be difficult. With so many options, you can end up overwhelmed by the different types available. Some focus on analytics, others on discovering new content.
And, of course, there are tools that nobody really gets, but I'll leave those out. After reading this, you'll be able to choose the right Twitter monitoring tool for you.
3 reasons to track your brand on Twitter
Tracking your brand and industry in the Twitter world can be helpful for a few reasons:
Brand monitoring: you'll be able to see when and how people are engaging with. Learn when to share content and which content works best with your audience.
Crisis management: monitoring your brand on Twitter won't predict a crisis, but it can help you control one. Watching social media will help you find negative things people have said.
Industry analysis: find out what your industry is talking about. This can help you figure out what content you should create.
If you're not too sure what exactly you should be tracking, here are a few ideas:
Your company
Your industry
People that are relevant to your company
You competitors
Topics relevant to your brand
Hashtags relevant to your brand
8 Twitter monitoring tools to track your brand better
1. Mentionmapp – discover new people and hashtags

Mentionmapp is a unique platform that creates a map of users and hashtags based on your search. You can search by username or hashtag.
You can use the tool to discover new people and hashtags connected to your brand. There's so much data, it's easy to fall down a rabbit hole. Luckily, there's a feed to remind you what you're researching. It also goes through all the tweets related to the hashtag or user you clicked on.
This is possibly one of the best ways to find new hashtags and followers that you might have missed otherwise.
Price: free
2. Warble – receive tweets by topic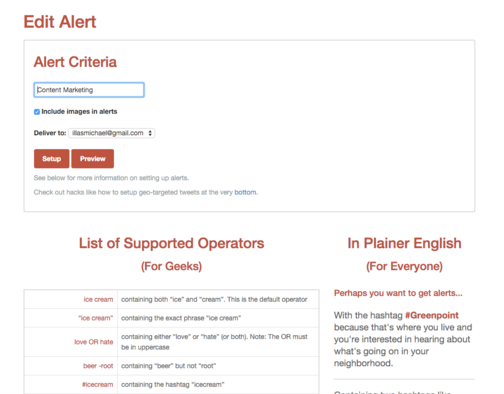 Warble emails you tweets based on search criteria you set. You'll stay up-to-date with anything you'd like to.
Its clean interface lets you easily navigate through the dashboard, allowing you to see all the active alerts. You can adjust settings to filter alerts based on location and language, or exclude retweets from results.
If you're not familiar with search operators, setting up notifications might be confusing at first . But it's still pretty efficient.
Price: free
3. Tweetreach – see real-time stats for any search term

Tweetreach is a data-driven analytics tool that tracks any search term in real time. With these stats, you'll be able to understand who your most valuable followers are, and what content they respond to.
It doesn't matter if you're looking for a username, hashtag, or keyword, Tweetreach finds the most important metrics. Their reports are clean and easy to understand, and will make recommendations based on past performance.
Price: starting at $99/month
4. Twilert – receive filtered tweets in your inbox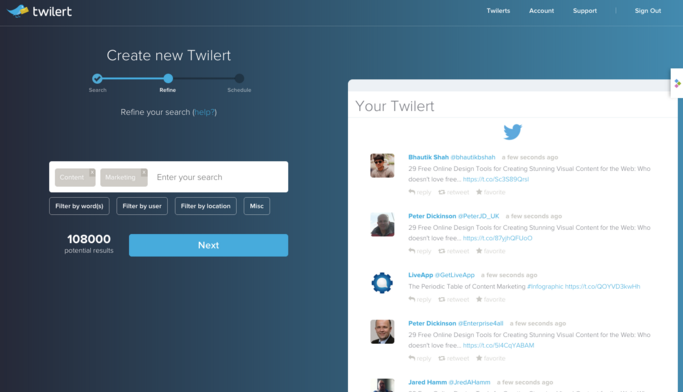 Twilert is a tool that, like Warble, emails you tweets based on search terms. You'll get real-time emails with tweets about about your brand, competitors, hashtags, or any search term you provide.
What separates them is the thorough search options, allowing you to only receive negative tweets, positive tweets, verified tweets, etc. You can also choose how often you'd like to receive emails to avoid inbox overload.
Price: starting at $9/month
5. Twitter Counter – track Twitter engagement and growth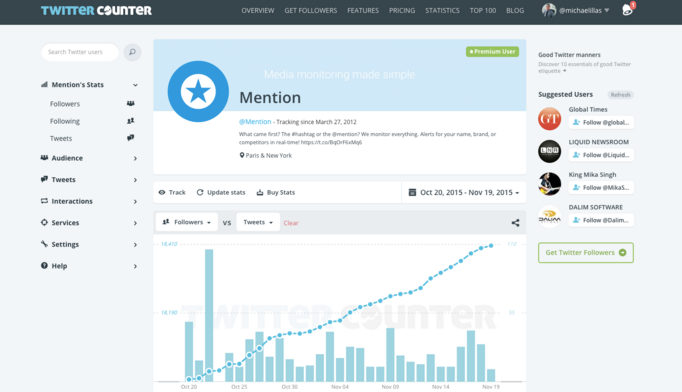 Twitter Counter is an analytics tool that tracks valuable data about your audience, tweets, and interactions. Based on previous engagement, it also predicts audience growth.
Search is limited to users, but is great for important data about your brand, competitors, and influencers. Its graphs allow you to measure your true community and growth by cross-checking your followers with who you're following.
Monitoring your competitors is really easy. You'll be able to compare and contrast. It also tracks your audience, giving you the power to take action with replying and following features.
Price: starting at $8/month
6. TweetDeck – manage multiple streams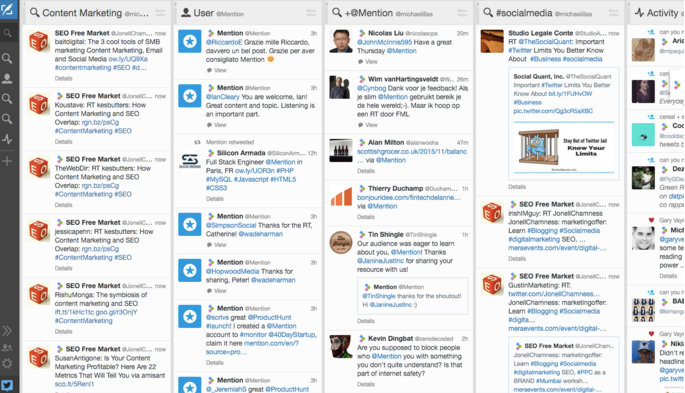 Out of all the tools on this list, TweetDeck is the only one owned by Twitter. It might not have advanced features or statistics, but it's great for managing multiple feeds. If you need something simple, this is it.
In terms of monitoring, TweetDeck creates long-term streams that update each time you log in, and filters searches based on criteria like usernames, keywords, lists, and so on. On the engagement side, you can like, reply, retweet, schedule posts, and shorten links.
TweetDeck is available as a Mac App or Chrome extension.
Price: free
7. Hootsuite – all-in-one social media management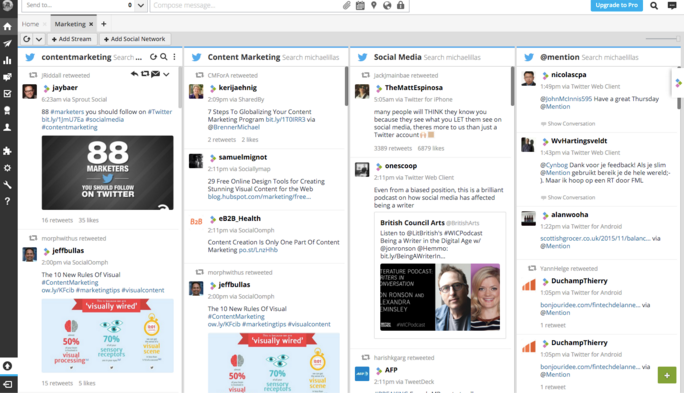 Hootsuite is one of the most popular social media management suites out there. Like TweetDeck, you can oversee and manage multiple feeds easily. Since it's an all-in-one suite, there's also advanced features like collaboration, custom reports, and integrations.
Hootsuite's platform lets teams message and assign tasks to one another. If you're worried about duplicate replies, it sends everyone a notification when a task is completed.
This tool is a great option if you have to manage multiple branches of your company's social strategy. There's also a large directory of free and paid add-ons and integrations.
Hootsuite is available on the web, iOS, and Google Play.
Price: free, paid plans starting at $8.99/month
8. Mention – track mentions, find influencers, and manage your Twitter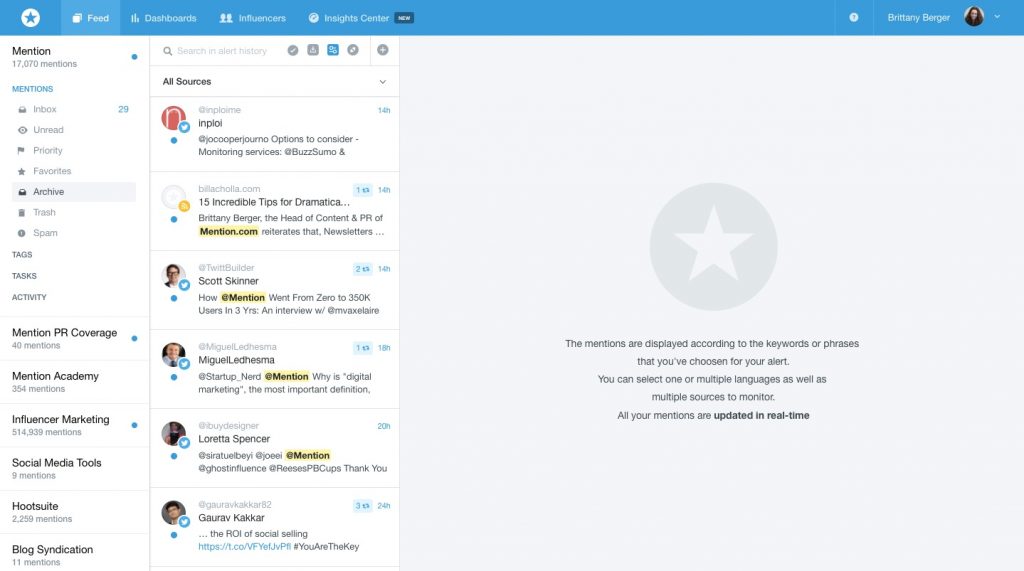 Including ourselves might seem biased, but you'll see why the app could make the list on its own.
Mention can monitor any keyword in real time. Take actions within the app by assigning tweets to a team member or tagging them. You can also engage directly from the app by liking, replying, or retweeting.
You can track tweets while filtering them by sentiment, language, or location.
When you create alerts, you can add up to five keywords to narrow down your results, giving you the most relevant mentions. You can also block all mentions from unwanted source.
Mention provides helpful data like reach and shares, and influencer dashboards to identify the top people talking about your keywords. And if you don't have enough time to check Mention every day, you can receive email digests with top mentions.
Price: free, paid plan starting at $29/month
Conclusion
Not only do Twitter monitoring tools help you track your brand, they also let you to track any keyword or topic. How well your competitors are doing, what your audience likes, and which posts generate more traffic.
Treat your brand like a child and monitor it constantly. You'll learn more about it and make better, more informed decisions.
How do you use monitoring to improve your Twitter marketing strategy? Let us know in the comments down below.
Want to discover the best tools for effective social media marketing? Get our ebook.