Hashtags are omnipresent on social media now, but most people still associate them with Twitter.
They're one of the foundations of the social media platform, and using the right Twitter hashtag is very important for your marketing strategy.
Often, hashtags are a way of sharing your opinion on trending topics, as seen during this year's Super Bowl hashtag activity on Twitter.
But like every other part of your marketing campaigns, your hashtag campaign needs to be strategically planned, executed, and measured.
What Is a Twitter Hashtag Tracker
A Twitter Hashtag tracking tool is a software or online service that allows you to monitor and analyze the performance of specific hashtags on Twitter.
Hashtags are used on Twitter to categorize and organize tweets around a particular topic or theme. Hashtag tracking tools allow you to see how many times a hashtag has been used, who has used it, and how the hashtag is performing over time.
These tools can help you to understand how your brand or topic is being discussed on Twitter, track the effectiveness of your social media campaigns, and monitor your competition.
They also allow you to identify influencers and trending topics, and analyze the sentiment of tweets containing a particular hashtag.
Why You Need a Twitter Hashtag Tracker
Overall, a hashtag tracking tool can help you gain valuable insights into your audience and the conversations happening on Twitter, which can ultimately help you improve your social media strategy and reach your business goals.
It also lets you in on any industry's trending hashtag.
Here are a few things you'll be able to do with the hashtag tracking tools mentioned later on in this article:
Track hashtag usage: A hashtag tracker allows you to monitor how often a specific hashtag is being used on Twitter. You can see how many times the hashtag has been used, by whom, and when.
Monitor engagement: Hashtag trackers can track the engagement of a hashtag. This includes metrics like likes, retweets, and replies, giving you insights into how people are interacting with the hashtag.
Analyze sentiment: Hashtag trackers can analyze the sentiment of tweets containing a specific hashtag. You can see how people are reacting to a topic or brand, whether their sentiment is positive, negative, or neutral.
Identify influencers: Hashtag tracking tools can help you identify influencers who are using a particular hashtag. You can see who has the most engagement and reach, making it easier for you to identify potential collaborators or target your campaigns.
Measure campaign performance: Hashtag trackers can help you measure the performance of a social media campaign by tracking the engagement and reach of campaign hashtags.
Discover new topics and trends: Hashtag trackers can help you discover new topics and trends, by identifying popular hashtags in your industry or niche.
How to Choose What to Track
If you're not sure which hashtags to start with, here are a few ideas:
Your brand name
Industry topics/keywords
Industry Twitter chats
Competitor names
Your campaign hashtags
Competitor campaign hashtags
Events you're attending (or want to)
4 Tools to Make Hashtag Marketing Easier
Mention monitors Twitter data in real-time, allowing you to see you industry's trending hashtags. By setting up your own alerts, you can personnalize the hashtags your wish to track, and their sentiment analysis helps you easily identify the tone of each tweet.
You can also engage with tweets directly from your dashboard, making this process a whole lot quicker – which can be crucial when dealing with a crisis.
Pricing: starting from $41/month.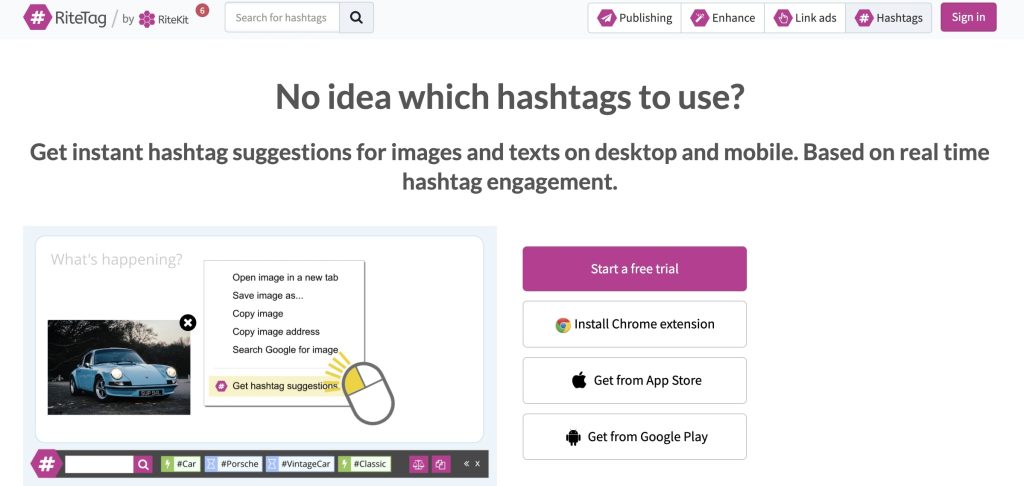 RiteTag helps you discover new keywords. It measures the popularity of a hashtag, but by engagement instead of frequency. That means it recommends hashtags that get the most likes, clicks and retweets – not just ones that get used a lot.
It also looks at whether it's overused, underused, or has the right balance of volume and competition – which sounds a lot like SEO keyword research tools.
You can also download the Chrome extension, so that as you're typing, it will look at the hashtags you're using and analyze them as you go.
Pricing: starts at $15/month.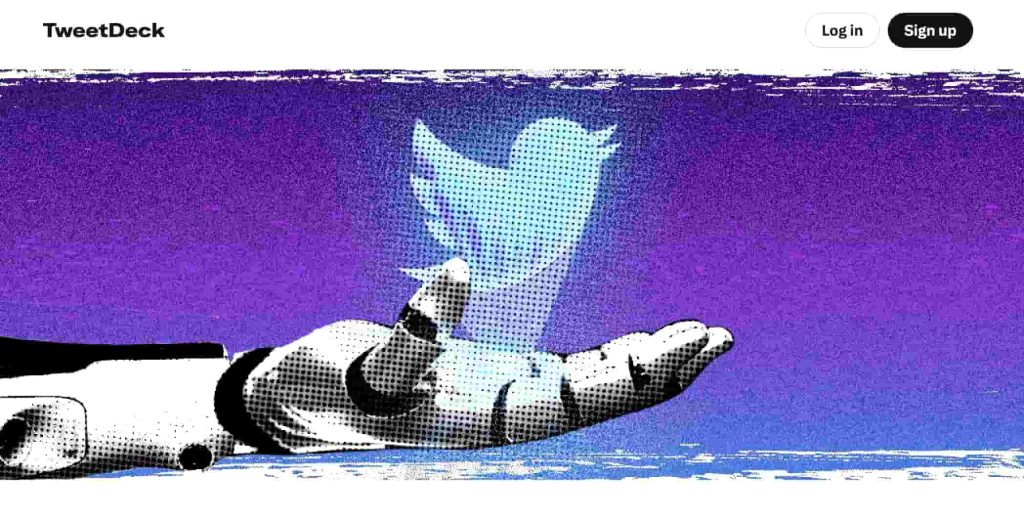 This one keeps things simple. TweetDeck will be best if you're only finding out and engaging with hashtags, but don't necessarily need advanced features or statistics.
It creates long-term streams that will be there waiting for you, updated each time you log in.
This make it better for when you're not only monitoring in real time. For example, if you're watching topic hashtags to find reading material, a simple TweetDeck stream will do just fine.
It's also the tool to use if you want to create and embed custom Twitter timelines.
Pricing: free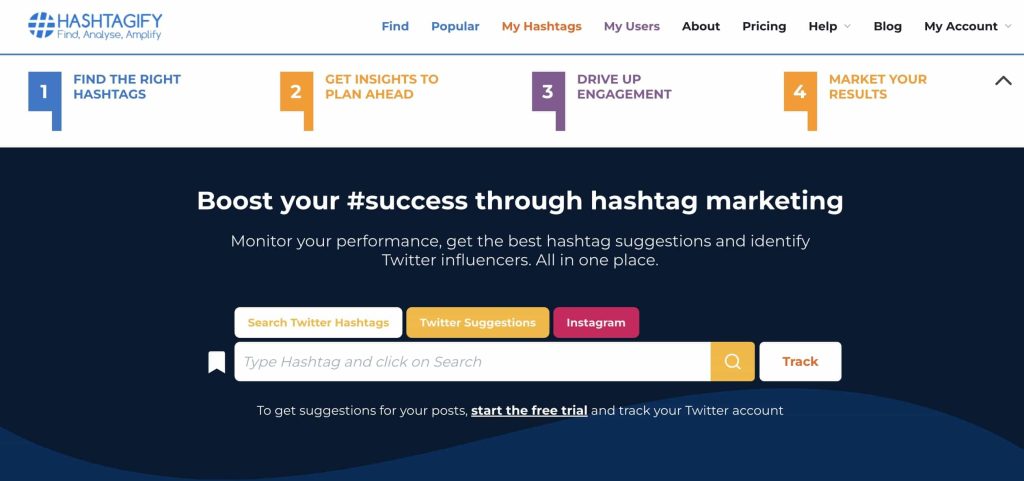 Hashtagify builds a sort of profile for any given hashtag, allowing you to see top related hashtags (and how closely they're related), top tweets using them, study usage patterns, and even get definitions of the hashtag submitted by users.
The focus on related hashtags, correlation, and popularity makes it really great for discovering new opportunities and ways to tag your tweets. The ability to filter out tags with a lot of spam also lets you focus on quality.
Another cool activity is that you can measure your own influence within a hashtag's stream, and get suggestions on new ones to use in your marketing.
Pricing: starts at $10/month.
Conclusion
Using a Twitter hashtag tracker can be a powerful tool for businesses and individuals looking to monitor social media conversations and track the performance of their own hashtags. By using a hashtag tracker, you can gain valuable insights into who is using your hashtag, what they are saying, and how your hashtag is performing over time.
Hashtag trackers can also help you identify influencers and key opinion leaders in your industry, as well as competitors who are using similar hashtags. This information can be used to refine your social media strategy and improve the effectiveness of your marketing campaigns.
However, it's important to keep in mind that hashtag trackers are just one tool in your social media toolkit. They should be used in conjunction with other analytics tools and social media management platforms to get a complete picture of your social media presence, and the impact of your marketing efforts.
Overall, using a Twitter hashtag tracker can be a valuable addition to your social media strategy, helping you stay on top of the conversations that matter to you and your brand.