Social media is one of the most, if not the most, effective way to increase brand exposure. It's the holy grail for marketers.
In fact, social media plays a central role in terms of decision making for your customers.
According to the Local Consumer Review Survey (Bright Local, 2019), 91% of 18-34 years old consumers say they trust online reviews as much as personal recommendations before they buy or consume something. What's more, an IAB study (2013) revealed that 90% of consumers are likely to buy from a brand following a positive interaction on social media. And, finally, a study relayed by Sprout Social says 86% of social media users follow a brand.
This is big.


In this blog post, you'll learn tips and tricks to trigger more engagement towards your posts on social media.
Engagement is a two-way street. Now if you want your audience to react and interact with the content you share on social media, you need to feed them something they like and understand. To do that and start a relevant dialogue you need to listen to what they are saying and sharing. Only that way you'll be able to pin-point the type of content you should deliver.
1. Pay attention to your audience
We learn more from each other than from the sound of our own voices. The more we listen, the more we learn — at least this is what we like to believe at Mention. The good news is that there are many tools to help you listen to your core audience is saying on social media, may it be about your, your competition, or your market as a whole.
What you can do:
Use a social listening tool. That way, you'll be notified if and when someone mentions whatever you are monitoring.
To get the best results, you should set up alerts for your brand and services/products:
Jump in relevant conversations to appear as an industry leader. Answer questions, ask for your audience's opinion, share yours in conversations that attract a lot of attention.
Share your audience's posts, if in line with your objectives. This will help you get on their radar next time they'll be looking for information, or advice.
Identify market trends early on. A key advantage of a social listening tool is they ability to see the big picture of a market. What are the emerging trends you should consider integrating to your social media content strategy? What are your potential customers' expectations, problems, fears and/or demands?
Run a sentiment analysis to get unbiased feedback and insights from your audience without having to go through costly polls.
Listen to your competition and market
Building your brand on social media is a tough job. Now, it's highly likely that your competition is facing the same challenges, trying to reach the same sets of eyes and ears. This is true, whether you're a global brand with millions of customers, or are running a corner store with a teeny tiny audience.
What you can do:
Analyze their level of engagement and compare it to your own. This first step will tell you whether you should spend time analyzing their strategy … or not. If they trigger more engagement than you, there's probably something to learn from them.
Monitor your competitors' brands, products and services. This will help you understand how people talk about your competition and what they expect from it. Also, this is a great way to identify relevant conversations to jump into. A client of a competitor is complaining about something? A partner brand is mentioning you? Jump in! This tweet from @MoonPie6, answering @Hostess_Snacks, says it all.
Lol ok https://t.co/lobyuNOkee

— MoonPie (@MoonPie) August 21, 2017

Benchmark your social media presence with theirs. Which platforms are they using the most? Where are they popular? Where do you think they are lagging behind? And why? Benchmarking your performance will tell you where your competition leads, and where there are opportunities for you to make a ties.
Engage with the influencers who work with them or @mention them. If an influencer works with your competition, you can assume that they believe in the market you're in. They're already interested in your industry. You should try to get under their radar by interacting with their content (likes, shares, comments) and, eventually, get in touch with them. All you have to do, once you get their attention, is show them how your product is better than your competitors'.
Bottom line, learn from what seems to resonate well with their community and adapt it to match your own audience. What's more, you can identify key conversations you can jump in to appear as an alternative offer if and when your competitors' clients raise issues.
Only share content that you would consume yourself
Never share something just to say something.
There are millions, if not hundreds of millions of new pieces of content uploaded each day on the Internet. Essentially, this means that if your content doesn't stand out in any way, you will not catch anyone's attention.
In fact, you should never create or share any content that you would not enjoy consuming yourself.
Now, if you're using a social listening tool and are listening to your audience's interests, needs and problems, you should be able to create and share content that resonates with them.
Besides, successful content always answers someone's question. People will engage with it because it's helpful and, if they think it's worth it, they'll share it with their social communities to build their personal brand. A win-win situation.
Now, how do you create great content?
Distilled7 created a content matrix to help marketers and communication professional to better plan their content strategy.
Depending on what you're trying to achieve, you need to create and share different types of content.
4 types of content to keep in mind
Content to entertain: This has an emotional, rather than rational, appeal. It's the most fun, shareable type (think BuzzFeed and Upworthy). It may not be directly related to your business, but it should strike a chord with your audience.
Content to educate: This content teaches your audience and solves a problem. It should be related to your niche to generate interest for your service or product.
Content to persuade: To move people through your sales funnel, this type of content often appeals to emotions rather than reason.
Content to convert: Here's where you seal the deal. Conversion can be anything from a form completion to an actual purchase.
Ideally, your social media content strategy should balance all 4 to support each stage of your buyer's journey.
Regardless, here are things to define prior to creating your content:
Purpose: what are you trying to achieve? will it entertain, educate, persuade, or convert?
Persona: who is it addressed to? What interests a customer success manager won't necessarily interest a sales director.
Topic: what problems/pain points are you addressing?
Format: what would be the most suitable format to share what you have to say? Video, blogs, vlogs, ebooks, case studies … They all have a specific purpose and perks.
Schedule your posts in advance
You're probably familiar with (and tired of hearing) the following merchandising rule:
The right place
The right quantity
The right time
The right quality
The right price
While price doesn't really apply, and quality is obviously a given, place, quantity, and time are of the essence when thinking of scheduling your social media posts. Here's what you need to know before you post.
Post at the right place
If you speak where there's no one to listen to what you have to say, you'll waste your time and money. Yet another critical point social listening will help you with. An advanced listening tool should be able to tell you where the conversations around the alerts you're creating are taking place.
Below is an example of where the conversations about the Deutsche Bank are taking place.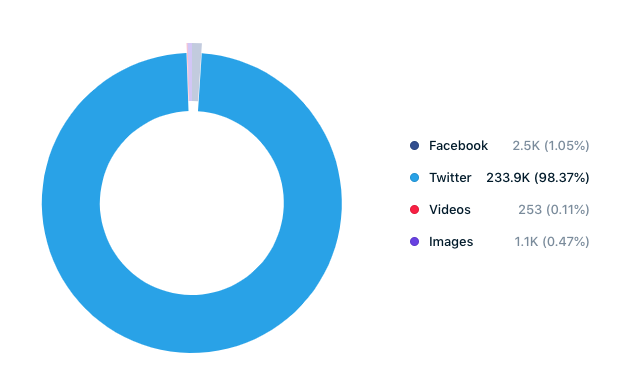 With 98.37% of the social conversations taking place on Twitter, the Deutsche Bank should definitely be focusing on this platform. That being said, Facebook (2.5K mentions) and Instagram (1.1K) also host thousands of conversations about them. This means there's an audience ready to listen and consume their content. Now, this type of analysis becomes very interesting in the event where you discover that people are talking about your brand on a platform where you're not even active.
Post in the right quantities
Do you know how many posts you should post each day? The answer is … it depends of the social media platform you're planning to post on. Each network has specific audiences and specific usages.
On Twitter, we recommend that you publish a lot. More than on any other platform, Twitter's content is very ephemeral. If no one pays attention to one of your tweets an hour after you posted it, don't expect anything from it. This means you can and should post more than on any other platform. Based on a study from Hubspot, we recommend that you post 5 to 8 times a day on Twitter. Beyond, all seems to indicate that the level of engagement you'll trigger per post is decreasing.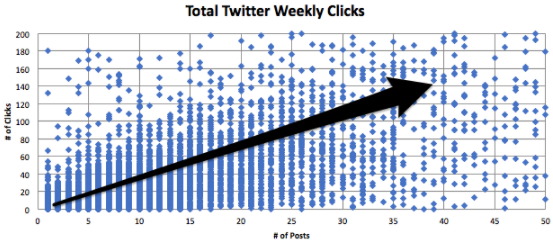 On Facebook, more is definitely not a synonym of better performance. On the social network, only the best in-class content seems to be generating engagement. Again, based on Hubspot's analysis, we recommend that you stick to 1 to 2 posts a day on Facebook.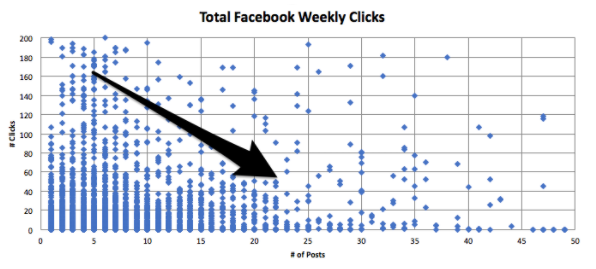 Same directive on Linkedin. If your content is mediocre, expect very little, if no engagement. Now, if your content is great, smart and timely, it's highly likely that you'll trigger engagement from your core audience and community. Once again, Hubspot's data confirms this and we recommend you also stick to 1 to 2 posts a day.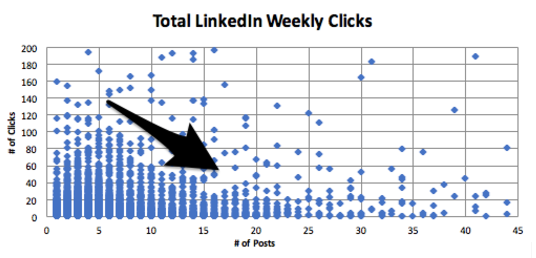 Last but not least, Instagram. If you're looking for a platform to generate engagement, we believe you're looking for Instagram. Early 2019, Instagram revendicates over a billion active users and revealed that 80% of them follow at least one brand on the platform. This is a great opportunity for you to reach out to them. Now, our recent study (2019) revealed that quality and relevance are key to generate any engagement on Instagram. This means that you can afford to post once a day, or even once every two days if your content is qualitative.
Side note: More ≠ Better on Instagram
The Instagram Engagement Report (2019) revealed two things that remind us once again that relevant is key. Not quantity.
1. Tagging Users Doesn't Generate Engagement
When you tag someone on Instagram, they receive an instant notification, increasing —in theory— your chances of them getting involved with your content. But that's only theory. In reality, we found that posts with over 5 users tagged generate very little engagement.
2. Less hashtags = more engagement
Our analysis indicates that the more hashtags Instagram users display in their posts, the less engagement they manage to generate. We recommend you stick to very specific hashtags and use no more than 5 per post.
Post at the right time
Since social media content is ephemeral, if you want your audience to interact with your content on social media, you need to post when they are listening.
We compiled our data and fine-tuned it with key findings from CoSchedule and Hubspot and are now able to share with you the best times times to post on Twitter, Facebook, Linkedin and Instagram to trigger more engagement on social media. Find all there's to know in our ebook: How to Increase Engagement With Your Brand on Social Media.

Make your voice heard
If you follow these tips, you should be able to radically increase the performance of your social media strategy. Now, this doesn't guarantee you'll receive hundreds of comments, likes and shares on the posts you share. Your chances of getting them, however, will be higher. Data never lies.
Tell us what you think in the comments area. Are these working for you? Do you have any other tips to share with us?