Twitter is a wonderful place for fans. No matter your passions, you're almost guaranteed to find like-minded people wanting to share thoughts, ideas, and memories.
If you had to guess, which musical artist do you think would have the most committed fans on Twitter?
For me, the list would look something like this:
Katy Perry
Justin Bieber
One Direction
Rihanna
Katy Perry and Justin Bieber have the most followers on the platform, and Rihanna isn't far behind. So they'd probably be good first guesses. Plus, their fans tend to be young and grew up with social media.
If I was thinking of smaller, more passionate fan bases, I might consider Insane Clown Posse, or more modern artists like Cody Simpson, Migos, or Cardi B.
None of those is the most rabid fan base on Twitter. In fact, if you're reading this from somewhere in the western hemisphere, you may never even have heard of the right answer.
The top Twitter fan base, from our study of more than 700 million tweets, is the followers of these guys: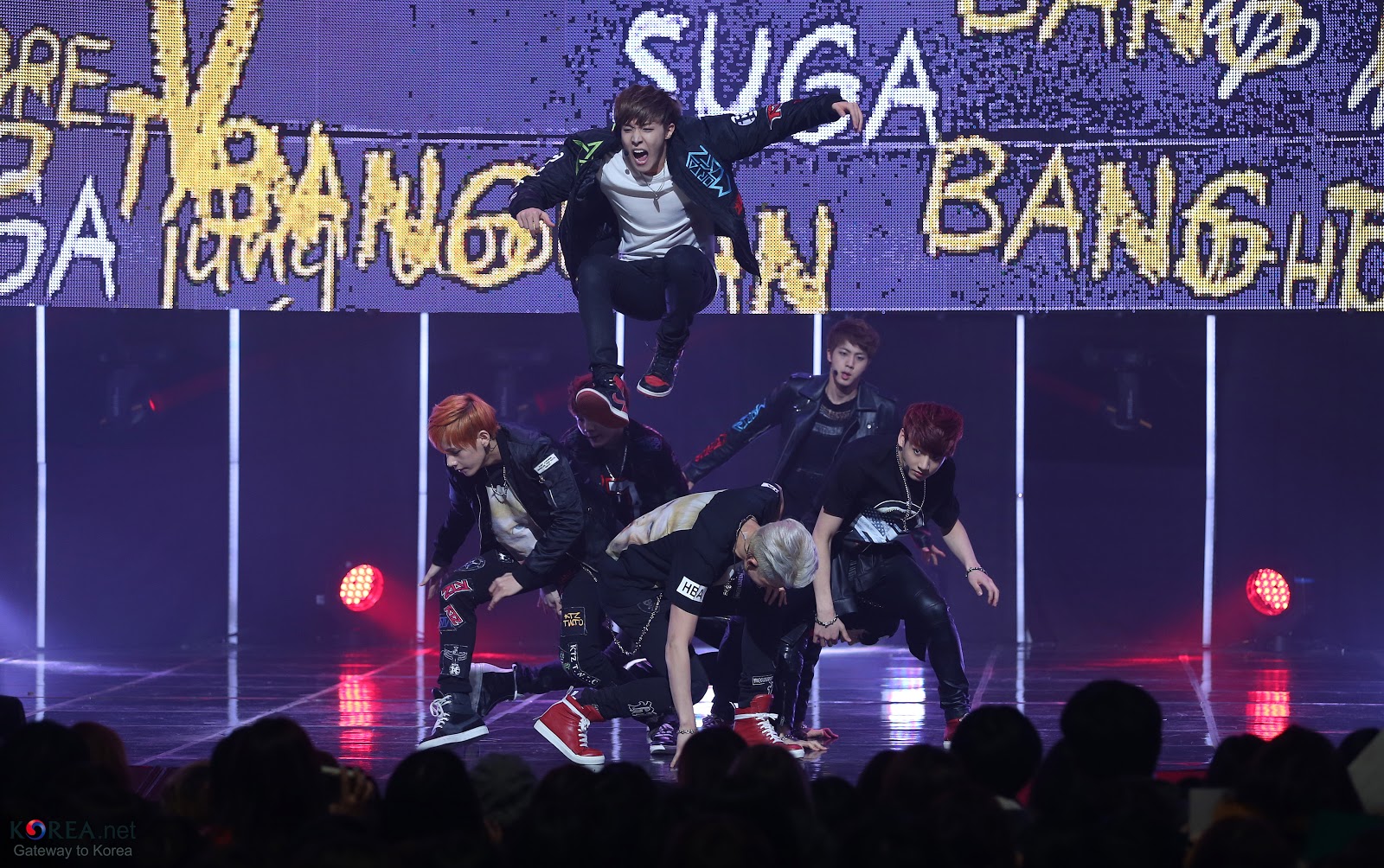 That's BTS (aka the Bangtan Boys), one of the most popular K-pop groups in the world. K-pop comes from South Korea, and is generally a mix of pop, hip hop, and R&B.
The Bangtan Boys regularly top the K-pop charts, and have built a following dedicated to their music and the individual personalities in the group.
But in 2017, they managed to achieve mainstream music fame, even in the West:

Many Korean pop groups took to touring the United States in 2017, and BTS even performed at the American Music Awards. Apparently, a major reason for this shift is China's disapproval of an American missile defence system in South Korea. Fun fact, but not important.
BTS is at the top of an evolving market for Korean pop music. But that's not what makes them so interesting to us. We're fascinated in them because of the following statistics.
Editor's note: When this post was first published, there was a significant response from members of the BTS fanbase who felt it was inaccurate or misrepresented the band and its fans. We have incorporated these responses into the article below to give balance, and we thank these individuals for their feedback.
Read our full Twitter Report here:

The most engaging Twitter hashtags of 2017
As part of our big report, we looked to find the most engaging hashtags from last year. These have the highest average rates of likes and retweets combined. And the results were astonishing!
Average Twitter hashtag engagement rate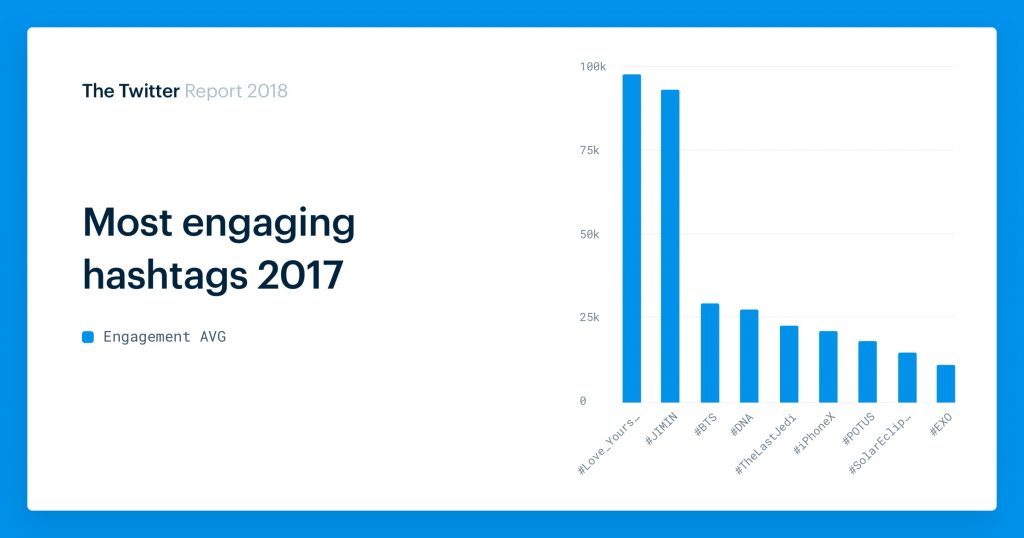 The above shows the average number of engagements per tweet featuring each hashtag.
See number 3? That's BTS! Not bad for a pop group group to have the third most engaging hashtag as its band name.
But here's the thing: it's not just #BTS that relates to the group. The top four are all BTS-related hashtags!
Let's break them down quickly to add some context.
#LOVE_YOURSELF
Love Yourself: Her is an EP by BTS, released in September 2017. It's already the 9th biggest-selling album in South Korea, and made it to number 7 on the Billboard 200.
In the build-up to its release, the album received more than 1 million pre-orders. It's hard to compare album sales nowadays, with downloads, streams, and physical sales. But know this: that's a lot!
More importantly for our purposes, the hashtag around its release averaged nearly 100,000 engagements.
In other words, if your tweet included #LOVE_YOURSELF in 2017, you could expect nearly 100,000 combined retweets and likes!
Update: The single itself was also used by BTS (in partnership with UNICEF) to campaign against violence towards children and young people. 3% of proceeds from the album, along with sales of campaign merchandise, were donated by the band to the campaign. Naturally, this was likely a significant influence on the popularity of the hashtag.
#JIMIN
Park Ji-min (aka Jimin) is one of the lead singers and most prominent dancers in the group.


#JIMIN was the second-most engaging hashtag of 2017. Which is incredible, and I'm having a hard time explaining it. By all accounts, Jimin is not necessarily the most popular in the group, at least according to my Google deep dive: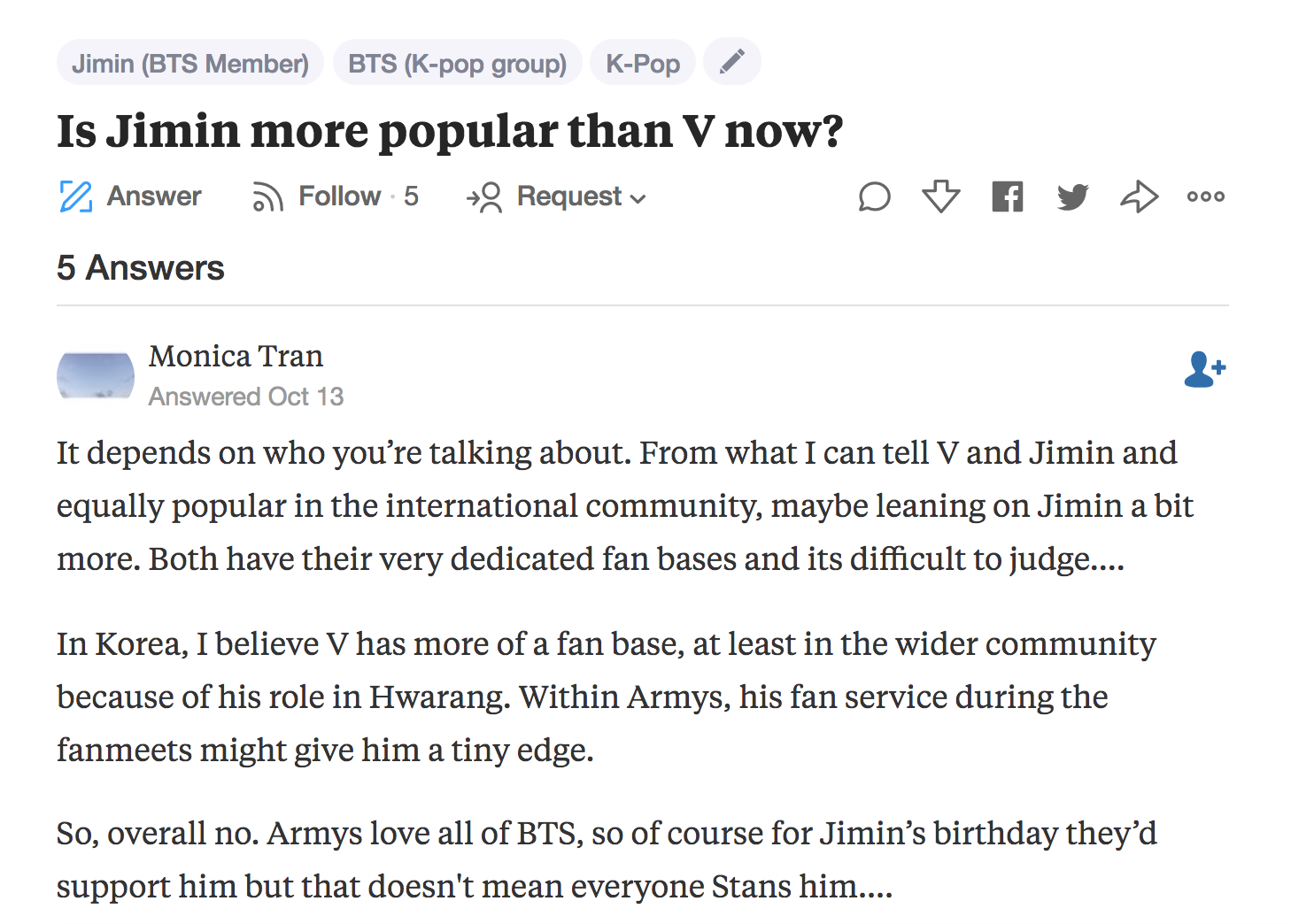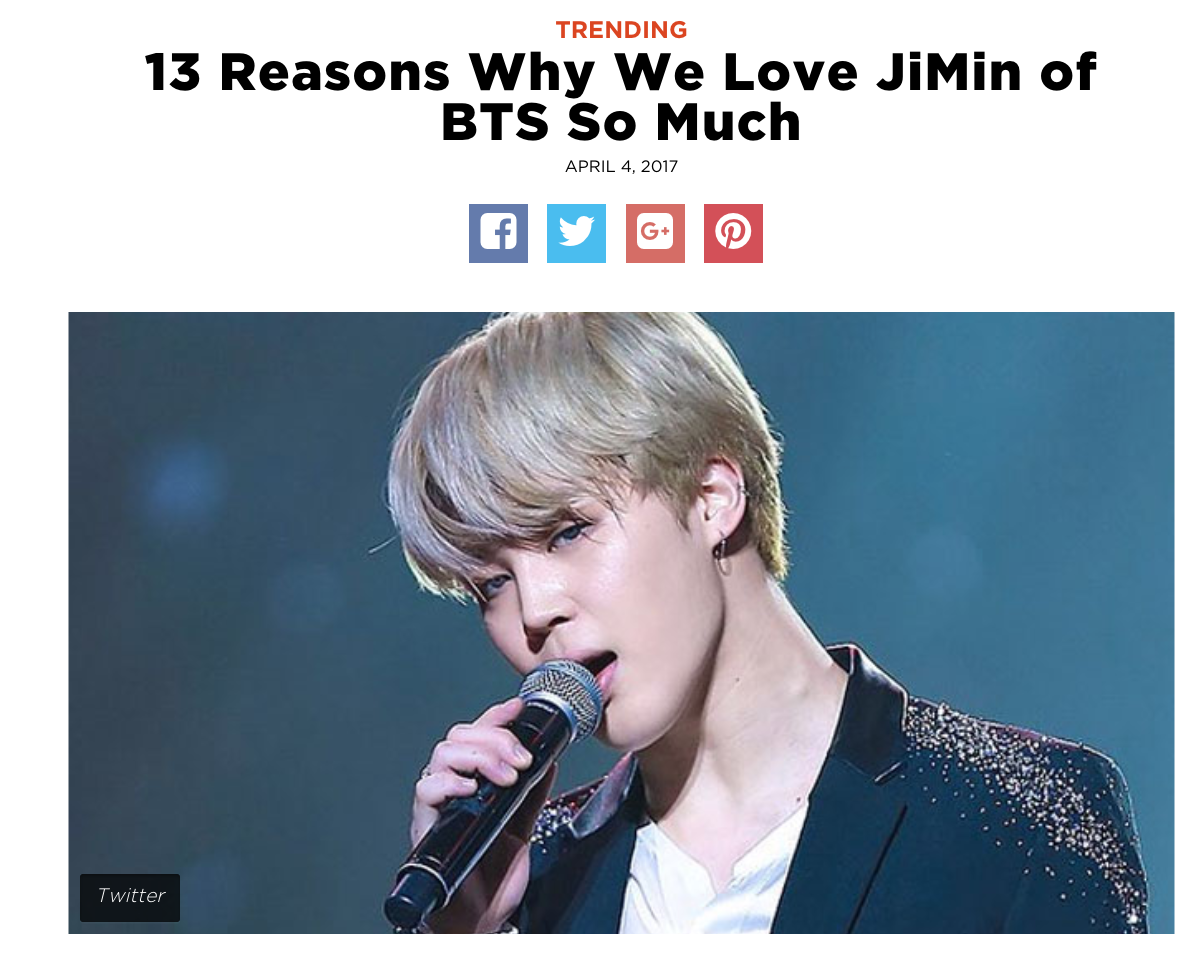 But as it turns out, he was also a Twitter star in 2016. Jimin was second among the top 10 trending artists that year, ahead of Prince, David Bowie, and Justin Bieber.
Jimin seems to do a great job interacting with fans on Twitter, and they respond in kind.
#BTS
This one doesn't need too much explanation. The group is well-known for its social media success. In fact, it's the first South Korean musical act to reach 10 million followers on Twitter.
It has made social media interactions a real focus for promotion, and prizes fan engagement on Twitter.
#DNA

DNA is the lead single off Love Yourself: Her.
And yes, it's true that "DNA" is also used in everyday English and could refer to other subjects. But seriously, do you think it's a coincidence that the top three were all BTS-related, and DNA is a single by BTS?
DNA sold more than a million copies, and topped iTunes' Top Songs Chart in 29 countries.
Is it only Twitter?
Nope! We did the same exercise for Instagram hashtags, and a familiar three-letter combination made that list too: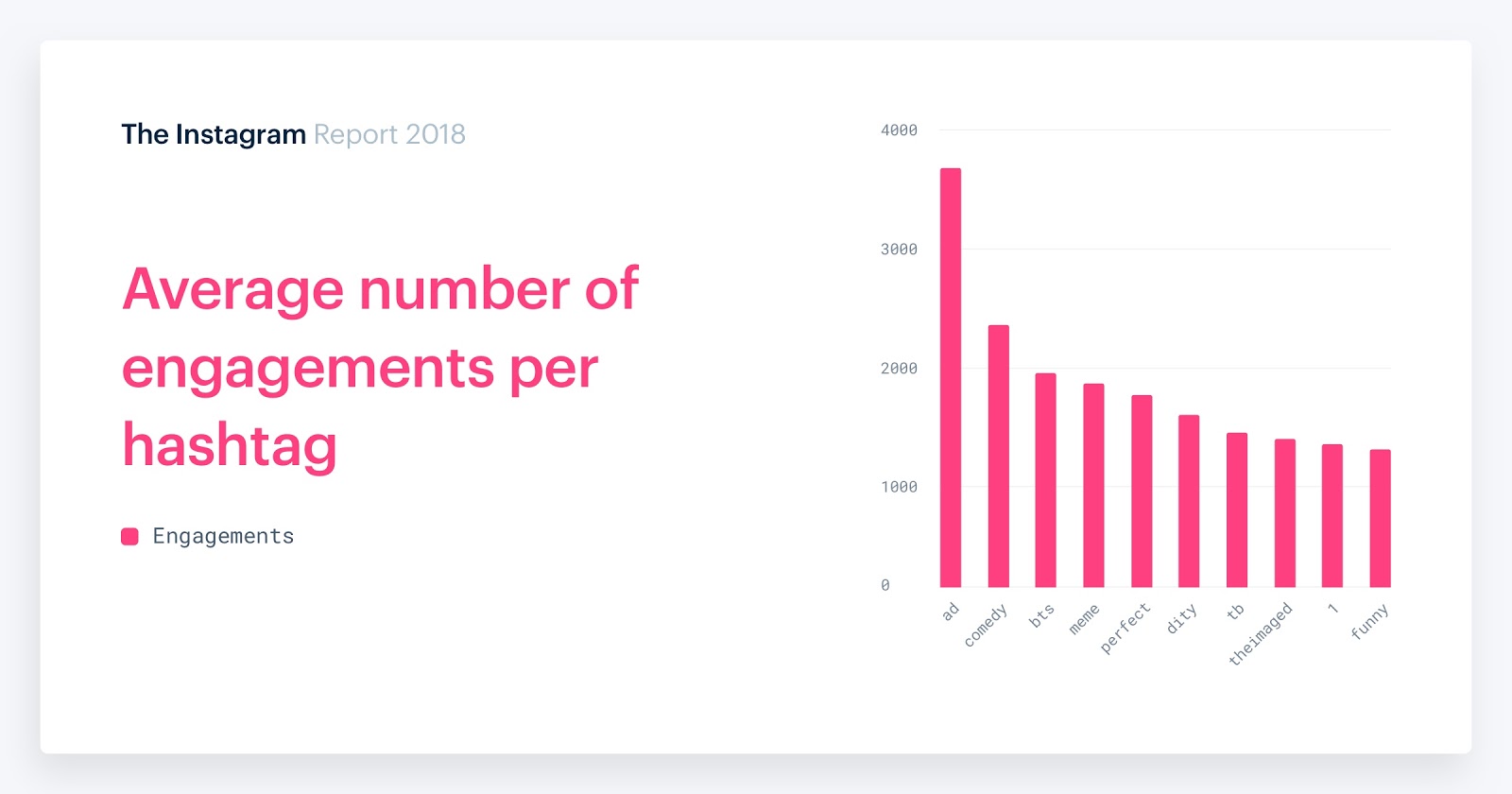 But whereas the Bangtan Boys clearly have strong followings on Instagram (10.4m) and Facebook (6.5m), they dominate Twitter.
Which leads us to a question that may prove tricky to answer:
What makes BTS fans so passionate on social media?
The group is currently number 1 on the Billboard Social 50 – a chart measuring social media reach – and has been since July 29, 2017. Justin Bieber, Selena Gomez, and Nicki Minaj have all changed places beneath them, but BTS has stayed steady.
It was also the most retweeted artist of 2016. In fact, BTS is set to enter the Guinness Book of Records as the most retweeted artist of all time. The band's tweets receive 252,200 retweets on average, which is astonishing.
It's hard to pinpoint any one factor that pushes BTS to the top of the Twitter pile, just as it's always hard to figure out why things are popular. But here are a few to consider:
K-pop fans are passionate by nature
Passionate is probably not even a strong enough word; obsessive may be more accurate. According to Vox, it's the emphasis on live performance that makes K-pop fans different from other genres:
"K-pop fans have perfected the art of the fan chant, in which fans in live studio audiences and live performances will shout alternate fan chants over the musical intros to songs, and sometimes as a counterpoint to choruses, as a show of unity and support.
"This collectivity has helped ensure that K-pop fan bases both at home and abroad are absolutely massive, and intense to a degree that's hard to overstate. Fans intensely support their favorite group members, and many fans go out of their way to make sure their favorite idols look and dress the part of world-class performers."
K-pop fans are expected to participate, both during live performances and on social media.
And BTS is no ordinary K-pop band
Traditionally, K-pop bands are thought of as hand-picked, manufactured, styled, and choreographed. From the The Birth of Korean Cool: "Bands are treated like consumer products from the beginning. Producers design the band they want—down to the precise look, sound, and marketing campaign—before they even audition members."
But BTS ARMY members (the collective name for fans) feel that their group doesn't fit this generalization:
before they even audition members."
That's precisely why BTS stands out from the rest! Their agency and their fans do not consider them as consumer products (unlike the group EXO). (1,5/2)

— Ellana Caldin (@Naliwe99) May 24, 2018

While most K-pop acts are signed to one of a handful of major record labels, BTS belongs to the small Bit Hit Entertainment which boasts only one other artist. This gives them an enduring underdog reputation, and fans are clearly proud to support a band with a different path to stardom than most others.
Update: This section previously carried the heading "BTS is a brand." Many fans took exception to this heading, and it has since been changed.
Both fans and artists emphasize social media engagement
A key aspect of being a BTS fan is social media engagement itself. Fans rally one another to promote the group on social networks, and get excited at the chance to make a hashtag go viral:




And BTS rewards these fans by giving them new ways to interact. These can be simple things like competitions and dedicated hashtags. But the band also went as far as creating its own line of emojis – which in turn became merchandise and a video game – designed by each member and including their own backstories and mannerisms:

These give fans yet another way to interact around BTS on social media, which helps to build even more loyalty for the act.
Update: ARMY members are also quick to object to less-than-flattering tweets and blog posts, as this writer discovered. Here is the tweet that most caused offense, including the replies from fans explaining their grievances: 
Do you know the most engaging Twitter hashtags from 2017? The top FOUR all related to one group: @bts_twt#LOVE_YOURSELF#JIMIN#BTS#DNA

Read all about it here: https://t.co/bpGLfzZOL6@hellokpop @KpopChartNet

— Mention (@Mention) May 23, 2018
Key takeaways
It's hard to really figure out what makes BTS different from other K-pop acts, other than they're simply more popular right now. But in general, there are a few things we can learn from the way they've become a worldwide social phenomenon:
Authentic social media engagement is still very important. Especially for B2C brands and others trying to attract "fans" as well as customers. Social media users love to be heard, and savor every personal connection.
It pays to have a clearly defined brand. In fact, that's true of each individual member of the group. Fans are drawn to this as it lets them feel they know the band intimately. If your customers can easily explain what your business represents and why it suits their needs, this can only be a good thing.
Let followers behind the curtain sometimes. This is certainly a big part of BTS' social presence. A video of member Jungkook sleeping was named the 2017 "Golden Tweet," with more than a million engagements. While this sort of video probably isn't right for your brand, you can find good behind-the-scenes content that adds some humanity. That's what social media's for.
Offline performance matters. Our main focus is on social media. But the K-pop fan experience begins with live performance (televised and in-person), and social media works nicely to complement this. And while you're likely not a musical act, you can aim to have a consistent aesthetic and brand attitude that applies right through the buyer's journey.
We never expected to write this post. But as we dug through Twitter data for our report, we were stunned to find that so many of the most engaging hashtags related to BTS.
And even if you're not remotely interested in the fascinating world of K-pop, hopefully there are still some useful insights to can learn from this.
Here's that Golden Tweet, by the way:
웃음참느라 진짜 힘들었다 후하후하 pic.twitter.com/OYw2sIfTIv

— 방탄소년단 (@BTS_twt) July 10, 2017

Get more insights into the top Twitter hashtags, emojis, and engagement rate data in our massive Twitter Report:



Are you a BTS fan? What do you agree or disagree with in this post? Leave a comment down below.