Account-based marketing (ABM) has proven itself as an effective strategy for B2B businesses.
However, the combination of marketing technology now available, and your customers' buying behaviors continuously changing has made competition fiercer among companies.
If you want to succeed and take your business to the next level, you need to think outside the box and get creative.
Forging alliances with other brands through a co-marketing campaign is one way to achieve this.
Co-marketing defined
Co-marketing is a cost-effective strategy that helps you get in front of your target audience by partnering with companies that complement your own.
The logic behind this marketing strategy is simple: there are businesses out there with whom you share similar customer demographics and traits but aren't your competitors.
In fact, many of them provide products and services that will further enhance your what you're offering and vice-versa.
Launching a co-marketing campaign will help you (and your partner company) give more value to your shared customers and enhance their experience using your products.
This is very different from co-branding, which involves two companies combining their products to create a brand new one.
An example of this is the co-branding campaign done by Betty Crocker and Hershey's.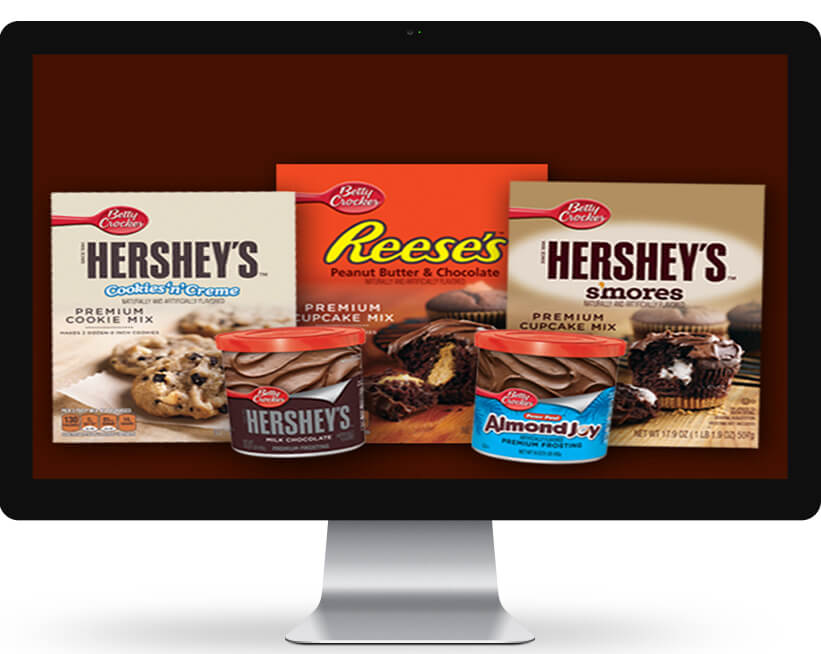 What does this mean for your ABM strategy?
Get more qualified leads.
By launching a co-marketing campaign, you're getting your brand and products in front of people that are looking for related products or services.
Since they trust the company you've partnered with, they're more likely to be willing to check out your website and even subscribe as a lead.
One of the best examples is the co-marketing campaign launched by Airbnb and Flipboard.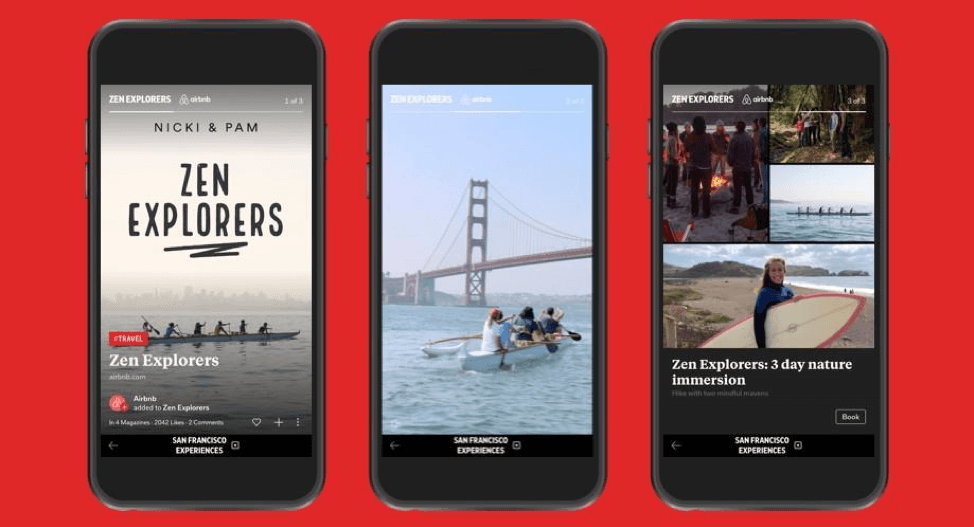 Source: Medium
Flipboard generated 39 million impressions, and 4.2 page flips from their viewers. At the same time, Airbnb generated 29,000 followers on Flipboard.
That's 29,000 more leads that Airbnb can now nurture and convert into potential customers.
Cut back on expenses.
When you launch a co-marketing campaign with a partner company, you now have someone to share the expenses you incur in developing and promoting a campaign.
Lowering your costs means that your profit margins for both of you.
Opportunity for more partnerships.
Once other companies see how successful the co-marketing campaign you've launched was, they'll now be the ones to reach out to you and invite you to collaborate with them. This will lead to more opportunities for you to further widen your reach, generate more leads, and increase your revenue.
Build your credibility
When your target accounts see your co-marketing campaign, they associate your credibility and reputation with the company you're partnering with.
This is crucial since your brand's reputation is one of the critical factors that influence the buying decision of your target customers.

Steps to launching a co-marketing campaign
Step #1: Review your ideal customer profile.
If you want your co-marketing campaign to be a roaring success, you need to make sure that you partner with a company that offers complementary products or services your customers are clamoring for.
One way to find out what will appeal to your target accounts is to send them a survey in their email. Ask them questions like:
"What would help heighten your experience using [your product/service]?"
"What's the biggest challenge you are currently facing?"
Their answers will give you insight on which companies you should be connecting with and invite to do a co-marketing campaign with you.
Another is by joining industry conferences and networking events.
Here, you'll find some attendees from those businesses you're targeting to become your clients.
Chat with them about the current needs and challenges of their business, and take down notes.
Step #2: Choose the right co-marketing partner.
This is perhaps the most critical step when launching a co-marketing campaign because it's not enough that you choose a partnering company with a similar—if not higher—domain authority as yours.
You both need to be able to work harmoniously with each other.
Otherwise, your campaign would have failed before it even started.
Consider the following when choosing which company to partner with:
Their brand values and principles. When you and the company you want to partner with share the same values and beliefs, it's going to be easier to work with them. At the same time, the co-marketing campaign will make perfect sense to your target customers and your partner company's.
Their online reputation. The last thing you'd want is to partner with a company whose reputation with their current customers is anything but positive. You can use a social listening tool to see what people are saying about the company you're planning to partner with.
Previous collaborations. Has the company done co-marketing campaigns before? If so, try to get in touch with these companies and ask what's it like working with them, were there any challenges they encountered, and the overall results of the co-marketing campaign they launched. This would help you decide whether or not it'll be worth partnering with them.
Step #3: Go into detail on your roles and expectations.
Now that you've chosen your co-marketing partner company, and they've agreed to collaborate with you, the next step is to make sure that you clearly specify who's responsible for handling specific tasks.
These include things like:
What type of co-marketing campaign will you launch?
Who'll create the offer or host it (if you're planning on doing a webinar)?
When will you launch this?
How do you intend to promote this?
Who'll design the shared landing page?
At the same time, you'll also need to agree which key performance indicators (KPIs) you and your co-marketing partner will monitor during the course of the co-marketing campaign.
Here are some of the common metrics tracked during and immediately after a co-marketing campaign:
Number of leads generated
The number of leads qualified and sent to your sales team
Lead-to-customer ratio
Site traffic volumes
Of course, the metrics you'll end up using will be based on what goals you and your partner company set at the start.
For example, if your shared goal is to increase sales towards a specific product, then metrics like site traffic volume would not be something you'll need to monitor closely.
Step #4: Developing your co-marketing offer.
As with any account-based marketing campaign, you'll need to give something to your shared target audience that's enticing enough for them to take the action you want them to.
Some of the most common offers used in co-marketing campaigns are:
eBooks;
Blog posts;
White papers, and;
Webinars
When choosing which offer to use for your co-marketing campaign, you'll need to review the wants not just of your target accounts, but that of your co-marketing partner's as well.
The best co-marketing offers are those that fall in that "sweet spot" shared by both your target accounts.
Also, make sure that when you create your co-marketing offer, you include both your brand and your co-marketing partner's.
Step #5: Create your shared landing page.
Next, you'll need to create a shared landing page for your co-marketing content offer.
Just like your content offer, your shared landing page should obviously reflect your collaboration.
Include your partner's logo right beside yours in a place where they're quickly seen. Choose a landing page template that's neutral.
That way, visitors that view your shared landing page, the focus on the details here.
And make sure that you optimize your shared landing page so that it gets the results that you and your partner are aiming for.
Include the keywords you're targeting in your landing page's copy and add them to your landing page's metadata, especially if you and your partner company are targeting visitors living in specific areas.
Since you and your partner company will be sharing this landing page, make sure to consult your lawyer or legal team on how to write the disclaimer to include in the shared landing page.
It should clearly spell out you're doing a co-marketing campaign with the partner company featured in the landing page.
This way, the leads you generate from this shared landing page won't be shocked when they receive emails from your co-marketing partner.
The second thing you'll need to do is to create a unique tracking code for both you and your co-marketing partner to attach on the shared landing page.
Not only will this help you and your partner company differentiate this from the other landing pages you use in your ABM strategy, but also make it easy for you to monitor your performance and your co-marketing partner's.
Lastly, be sure to monitor your target accounts sentiments towards your co-marketing campaign.
Social monitoring tools help streamline the process by collecting and tagging mentions about your brand and your co-marketing partner's before filing them, making it easier for you to store and review these sentiments.
Step #6: Promote your co-marketing offer.
Since you're working with a partner company, you got more resources you can use to promote your co-marketing offer.
Still, you need to plan this out with your partner company carefully.
First, decide on what date you'll launch your co-marketing campaign.
That way, those on your team and your co-marketing partner can create and properly schedule all the promotional content so that they go out accordingly.
After that, you'll need to decide what tactics you'll use to promote your content about your co-marketing campaign.
The most common is creating a "launch post" – a blog post that's specifically written to talk about your co-marketing offer.
This is how Growth Marketer Kevin Payne promoted the content offered in the co-marketing campaign he did with influencer platform Rep.io.
Creating your own hashtag and sending out emails are other effective tactics you can use to promote your co-marketing offer.
Step #7: Periodically review your co-marketing campaign's performance.
You don't have to wait for your co-marketing campaign to end before you review its performance.
In fact, you should take time to evaluate whether or not you're hitting your goals while it's still taking place.
If you are, great! If not, then at least you still got time to make adjustments to it so you can hit your goals.
Be sure also to evaluate how your working relationship with your co-marketing partner has been going so far by asking the following questions:
Did you encounter any problems working with them?
How was the quality of the content they provided?
Step #8: Keep in touch with your co-marketing partner.
Make sure that you and your co-marketing partner have the complete list of all the leads generated by your co-marketing campaign.
That means if you hosted your shared landing page on your website, make it a point to the CSV file containing the leads' contact details to you co-marketing partner and vice-versa.
More importantly, don't stop communicating with your co-marketing partner after the end of the campaign, regardless of how it turns out.
After all, co-marketing isn't the only way to collaborate with them to provide your target accounts with valuable resources and enhance your ABM strategy.