Any business wants to improve its visibility on Google searches, and it requires optimizing a website, Google Ads and a Google Business Profile (formerly Google My Business).
Having a well-optimized Business Profile on Google helps customers quickly find, learn more, and engage with your company. The best part of it is that the service is completely free.
According to BrightLocal, the average Google Business Profile generates 1,009 searches each month, where 84% come from discovery searches and 16% from direct.
The problem is that many companies don't make maximum use of its powerful features and don't complete, claim and optimize their business profiles on Google.
Let's get into Google My Business and its best optimization strategies.
Table of Contents:
What is Google My Business?
Google My Business – a sub product of Google – is a free platform designed for businesses of all sizes to show all the relevant information in your local area. It gives you a competitive advantage to maintain your online presence and reach more target customers interested in your business.
The main goal of Google My Business is to add important business information and showcase your company in the search, the map pack, and other Google services to online users. However, your business needs a physical location to create a profile and provide assistance in person.
What Are the Benefits of Google My Business
With Google My Business, you can quickly reach a wider audience online. Let's learn other essential reasons why you need a GMB profile:
Increase your local rankings and search visibility
Google considers the relevance and proximity of Business Profiles and the activity and quality of information. A well-optimized profile will signal Google to rank you higher in local search results. The higher your rank, the more engagement and visibility your business will get.
Take full advantage of Google My Business. People will easily find you by using relevant keywords, visiting your website, calling you, booking an appointment, asking a question, and more. Using Google Analytics, you can track the total number of clicks to your website, social media profiles or reservation button.
Increase your customer support
You can instantly respond to questions and comments about your services and products and manage your online reputation. Customers like to deal with companies that quickly contact them and provide all the necessary information.
Improve your brand awareness
If you have a lot of positive reviews and quickly respond to negative reviews, your business will be more appealing to potential customers. For example, a 4.5-star rating shows that your company is a great establishment and people will want to give you a visit or buy from you.
How to Verify Your Google My Business Profile
Once your GMB profile is up and running, you need to verify it. Fortunately, you don't need any special skills to do so.
In most cases, Google will send a postcard with a verification code to your physical address within five days. Once you get it, return to your profile and enter the code to verify your business.
Google also offers a phone verification method. If you're eligible, you can use this option to verify your business and get an automated call with a verification code to enter into your profile.
If you didn't get the postcard, tweet @GoogleMyBiz to the GMB support team to fix your problem. If your business provides services and doesn't have a physical address, you can also contact Google support and ask for verification.
After verifying your account, you can respond to reviews, check out analytics, and edit your business information.
Best Practices for Google My Business
Now it's time to optimize your Google My Business account to earn higher rankings in local searches and appear in the local pack.
Complete Your GMB Profile
Adding relevant details about your business on your GMB profile is essential. I've researched different sources and figured out the most important sections to complete immediately.
You must provide all information about your business' name, address, website links, phone number, working hours and services you offer. Some fields take time and thought, including business descriptions, categories, products, questions and answers.
Let's point out a few things about business descriptions. You can find a brief description under your business name which, unfortunately, you can not control.

That being said, you can control and optimize the "from the business" section under the reviews section.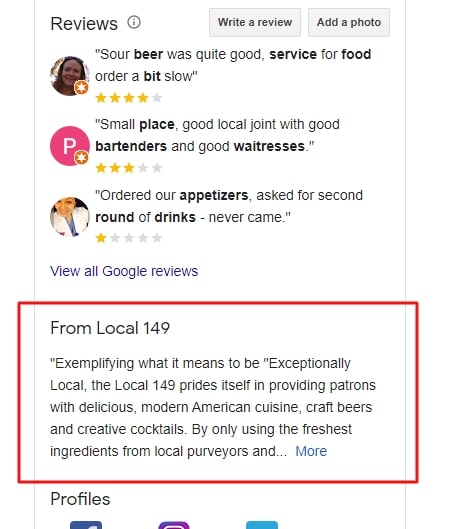 Here are some tips to optimize the "from the business" section of your GMB profile:
Don't exceed 750 characters in the description field and include the key information in the first 250 characters
Include keywords your target audience will use to find your business
Avoid adding any URLs or HTML code
Talk about your offers, values, history, what sets you apart from competitors and anything else you deem valuable to your customers.
You must also consider ongoing sections like reviews, posts, and questions & answers.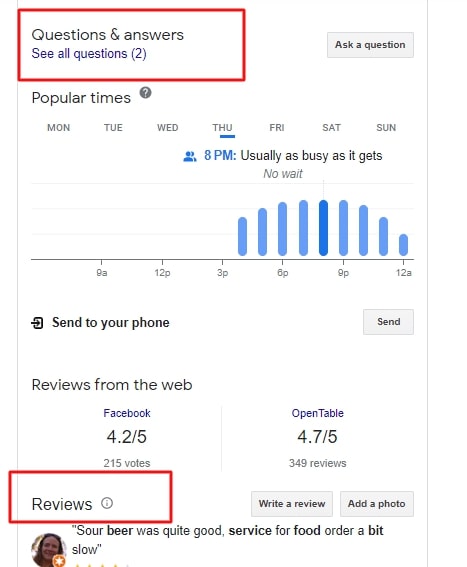 Another advice would be to double down on the contact information of your Google Business Profile with the different areas you are present in and local phone numbers with the area code of your location, as it signals Google to rank your business in local search.
Include regular and holiday working hours to encourage customers to visit your store.
Additionally, adding keywords or city names to your business name (unless it's in your brand name) is not allowed per Google My Business.
Review Your NAP Consistency
Today, it is necessary to add information about your company to your Google My Business profile. Ensure the most critical data is accurate and identical to what you use in the real world.
You must review your NAP consistency – name, address, and phone. Ensure your business name is listed correctly and matches your physical location. Next, check and update your address if you need corrections. You can also hide your address if you select the proper industry.
Add the correct phone number and make it the primary one. If you have several phone numbers, include the direct phone number for your front office.
One tip Ben Cloward recommended is consistency with all the major local directories on the web. "If Google reveals that your phone number or name isn't the same on your website and your GMB profile, you are more likely to get a penalty. Keep your information accurate and up-to-date for all business location pages you serve."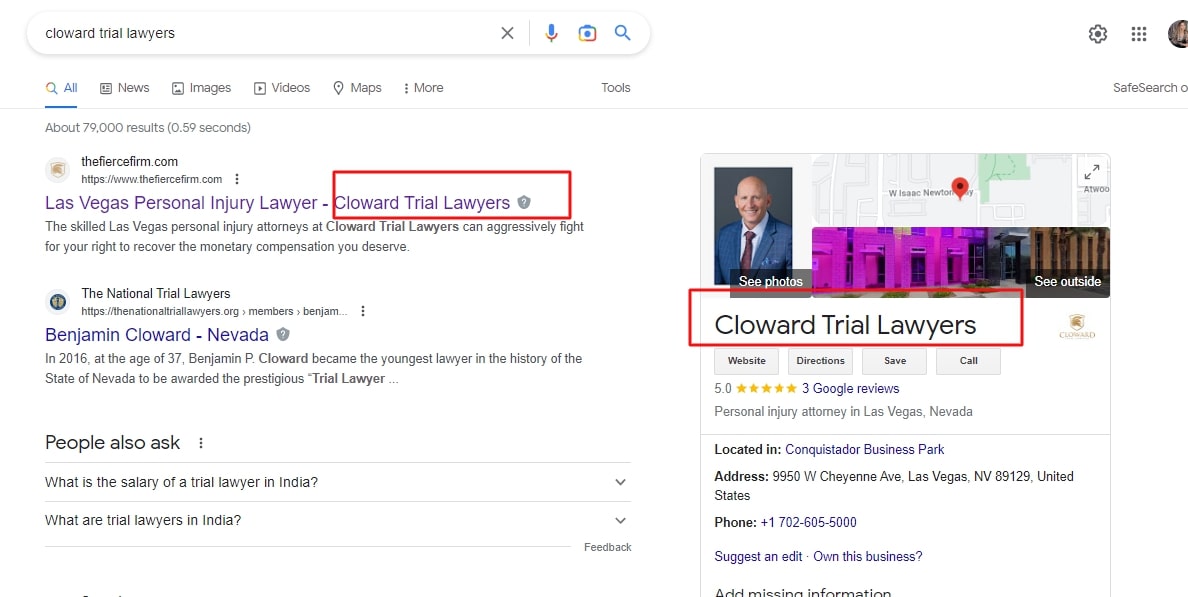 Pick Primary and Secondary Categories
Choosing the right category for your business is a must because Google provides access to your category-specific features to make your profile more effective and attractive. For instance, hotels can have a reservation button or check availability button that helps customers choose your business over competitors.
Google allows you to choose one primary category and nine secondary ones. The best way to guess your category is to search for target keywords, expand the local pack, and check out the preferred category that appeared for your industry.
If you provide auto repair services, I don't recommend setting a primary category like "auto repair shop." That could be anything from "diesel engine repair service" or " truck repair shop." Instead, use "electrical repair," "oil change," or "vehicle engine diagnostic." Once you start typing, you will see a drop-down list of categories to choose from.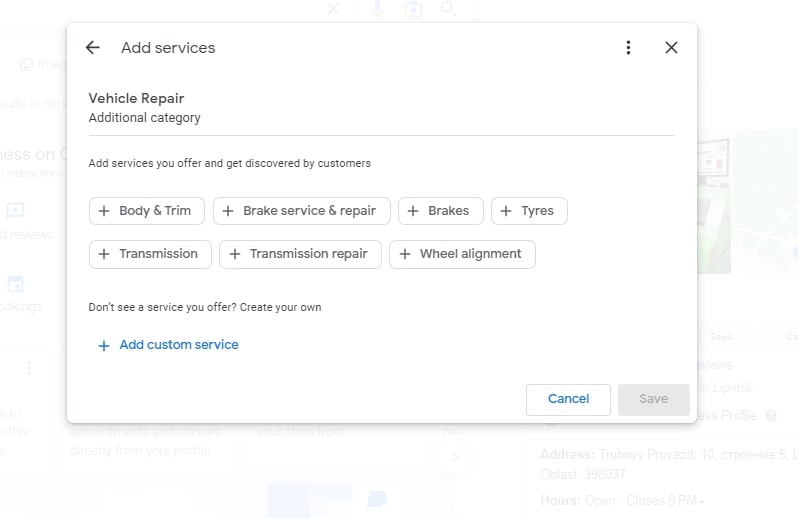 Notice that the right service category can affect whether or not your local business will appear in the organic search.
Get More Reviews
Google considers that reviews significantly impact the customer buying decision. That's why it is one of the key ranking factors that helps increase your profile ranking on Google Maps and the search engines, as well as increase your CTR. You may have noticed that Google shows the first three local results with high ratings and multiple reviews.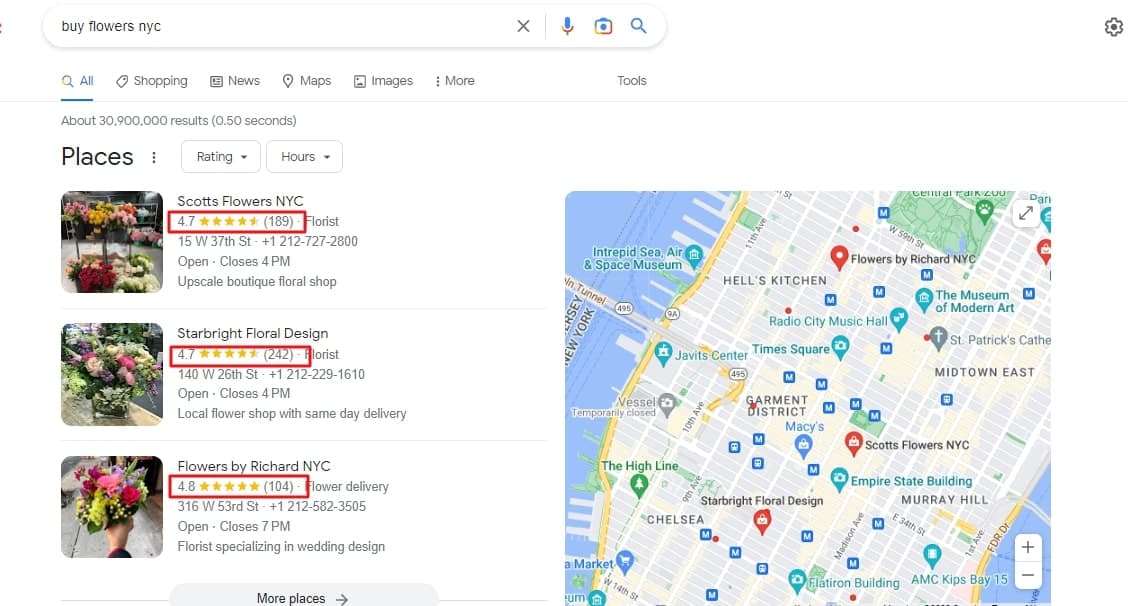 Here are some things to optimize your Google Business profile with reviews:
Respond to your reviews. It's an excellent way to show you care for your customer's experience. Bad reviews give a great opportunity to become a better business. Engaging with unhappy customers makes them more likely to return to your business.
Avoid fake reviews. Ensure your reviews are trustworthy and legitimate. Google wants customers to rate you naturally and will eliminate spammers. Do your best to simplify the process of getting reviews.
Focus on quality instead of quantity.
Create a "Customer Reviews" page on your website with a clear CTA to encourage customers to leave one.
Use Special Attributes
With the growth of Google My Business, you can find new features and elements for accuracy and user accessibility. As I mentioned, once you choose a particular category, Google will give you a list of attributes to better represent your business on your Google Business profile.
In other words, attributes are unique features that potential customers can look for, like "free wi-fi," "pet-friendly," "play area for kids," or "outdoor seating." Using attributes is a great way to provide specific information and attract a particular audience to your business.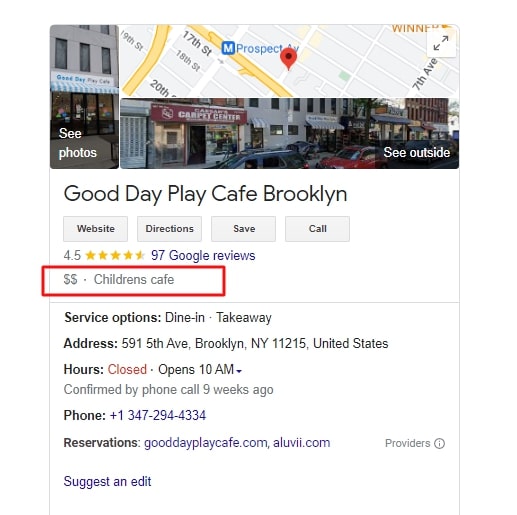 Add High-Quality Photos
Having relevant pictures is one of the most important and underrated aspects of Google My Business. If you regularly add photos, Google will consider that your profile is active and will positively affect your rankings. Uploading high-quality photos also shows that your business is legitimate.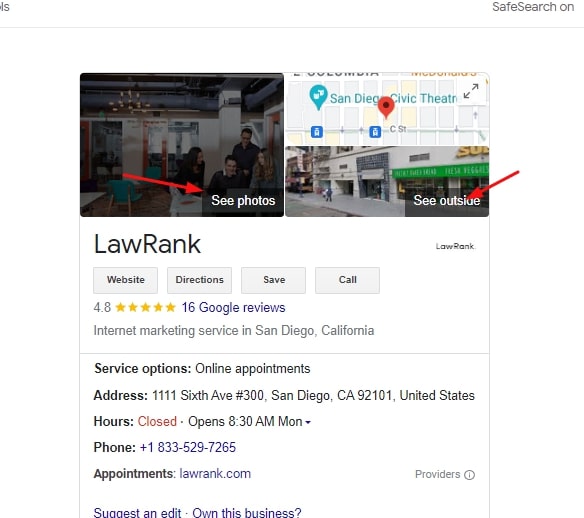 Follow these tips to implement photos on your GMB profile:
Upload high-quality photos and explainer videos of your office, team, and business outside and inside. That will attract more people to visit your company and build the human aspect.
Select your cover photo to represent your company with the size 1024 x 576 pixels.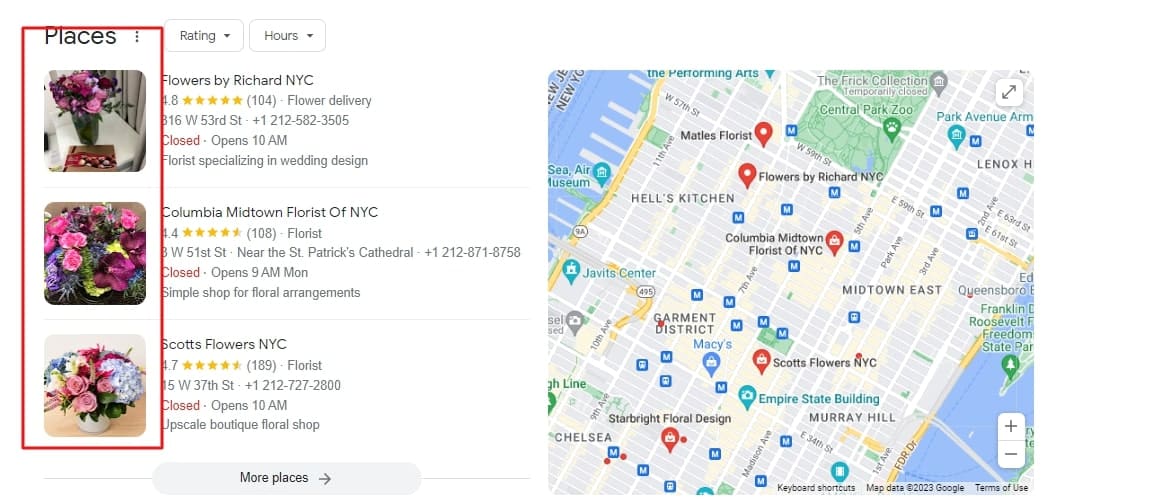 Upload your logo for your thumbnail photo with a pixel size of 250 x 250.
Don't use stock images – instead, focus on quality.
Add at least one new picture every seven days.
Add 360º photos with Google's Street View to your GMB profile.
Optimize your images. Include alt text, titles, captions, and geotagging into your pictures to better rank for local results.
Make the Most Out of Google Posts
Google My Business helps businesses create posts that appear in search results. It is a great way to increase user engagement and get more traffic to your website.
Google places these posts at the bottom of your profile on the desktop and in a dedicated tab menu in the Google Maps app. You can choose any of the four post templates to create your own. The amount of text visible in the thumbnail view depends on the template you select and whether you want to use a call-to-action.
If you want to host an event or share information, you can use Event Posts. Ensure to include an event title and the specific dates and times for your events. Without a CTA button, you will have four lines of text (about 100 characters). With the button, you will get only 1.
Google New Posts provide the most visible text in your thumbnail. Like Event Posts, you will get four lines of text without a CTA button and only three lines if you include a button.
Product Posts allow adding a product name and a price range. Including a CTA button gives you the only line of text.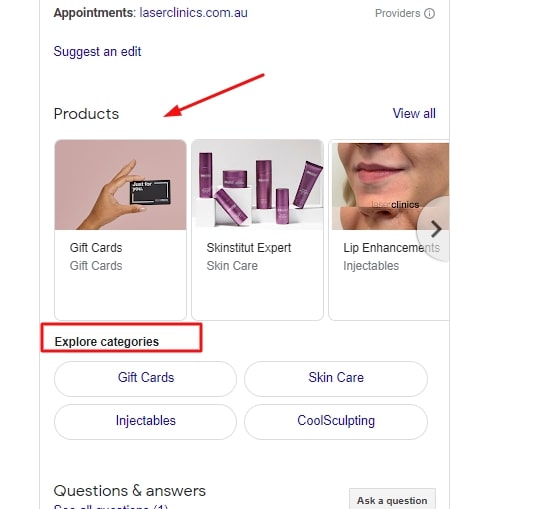 Offer Posts help businesses promote special deals or sales, and encourage more people to visit your website or store. It includes an offer name, start and end dates, and redemption methods such as coupons or promo codes. If you want to add a CTA at the end, you will only get one line of your description.
Here are some tips for creating Google Posts on your GMB profile:
Post regularly because certain post types only stay live for seven days.
Include CTAs and links in every post.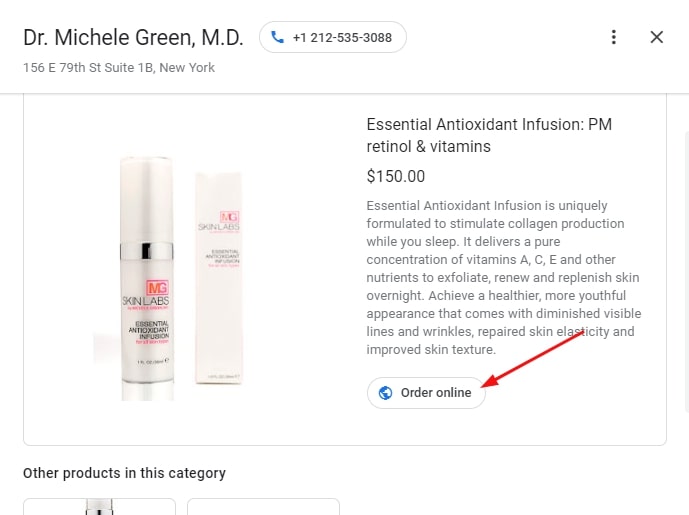 Include eye-catching images.
Publish content that is up-to-date and consistent with the season.
Stick with 80-100 words per post and include target keywords that you want to show up in search results.
Ask and Answer Questions
The questions & answers section is an important "community" feature. It allows anyone who uses Google to ask and answer questions about your business on Google My Business.
If a question or answer gets at least three likes, it will appear in your GMB profile as the standard. Monitoring and seeding your Q&A section to highlight your best features and provide the most accurate information is essential.
Here are some ways to optimize your GMB profile with questions and answers:
Set up notifications once someone posts to your profile
Consider keywords when answering questions, as it can help increase your search rankings for these keywords
Create your own Q&A section about your business. You can ask, answer, and even upvote your answers on your GMB profile, as it is not against Google's rules
Set Up the Chat Feature
Google makes its chat feature available on Google My Business. It allows customers to text your phone directly from your GMB profile. It is a great chance to keep in touch with a target audience and meet their demands.
"People demand real-time communication with the brands they want to deal with. More and more customers prefer using online methods, like chat, to connect with companies. If you don't meet their needs, they will find other online businesses in your niche." says WeTest.
A few notes about Google My Business messaging:
The "chat" and "messages" features are the same product – Google is now trying to make them more consistent.
To set up this feature, choose "Messages" in your GMB dashboard and click "Turn on chat."

Set up notifications on your device to receive chat messages. Choose "Notifications" and turn on "Customer messages."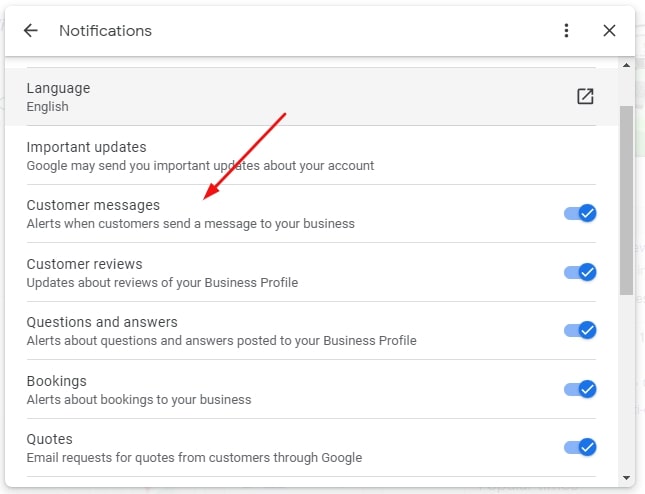 The chat feature includes setting welcome messages, text, photo attachments, read receipts, smart replies and typing indicators.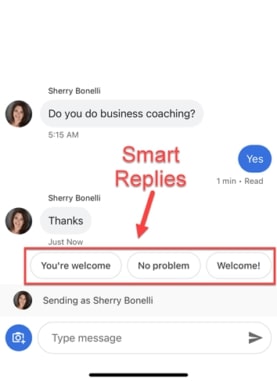 Maximize Your Google Business Profile
Google My Business is not a one-time marketing task, and this local tool requires ongoing action to attract more customers and improve your online presence.
Here are valuable tips to maximize the benefits of your GMB account:
Regularly publish new posts and photos
Update your business information once any minor change happens. For example, update your holiday hours and business name after rebranding or listing hours for different locations
Encourage reviews and immediately respond to them
Keep up with new features to improve your local rankings and use Google My Business to its fullest potential
Monitor your key business performance metrics, including views, searchers, sources and devices and actions taken on your profile, such as calls, messages, bookings, website clicks, and directions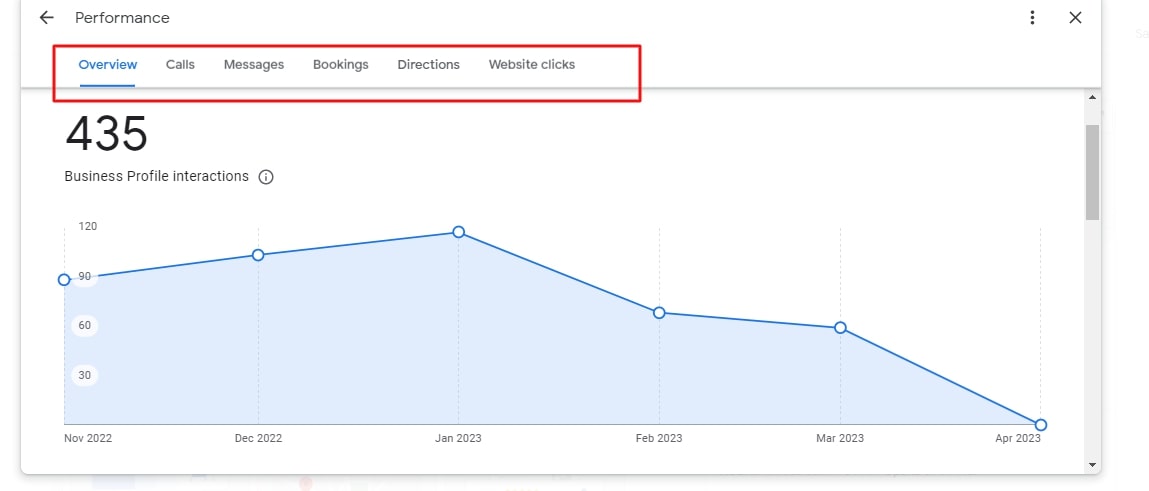 Bottom Line
From adding photos of your products, to messaging with potential customers, Google My Business has become a game changer for all business owners. A well-optimized Google Business Profile gives a competitive edge in search results and grows your business online.
Ensure you provide as much quality information and media files as possible about your company to bring it to the next level.
We hope the above mentioned tips will help you reach new customers and opportunities!