Online shopping has experienced tremendous growth since the COVID-19 pandemic. Lockdowns worldwide made customers use online digital platforms for online shopping, which increased e-commerce in the United States by $183 billion.
The e-commerce industry is incredibly profitable for sellers. With a wide range of online platforms like Shopify, Magento, and Woocommerce, it has become easier to set up an online store. However, it could be hard to stand out because of many online businesses and the bulk information available regarding creating a successful store.
To make it easier for you, I've put together a list of free marketing tools for e-commerce that will help you grow your business online. Some are free, while others provide a more limited set of features with the option to upgrade your current plan. You will find different tools to help with SEO, analytics, design, marketing, and research.
Let's get started.
Free marketing tools:
Free marketing tool for website traffic analysis
Google Analytics is one of the top tools with tons of functionality to track the performance of your e-commerce products, content, and marketing efforts. It provides real-time reports, along with wide-ranging insights into many aspects of how visitors interact with your website.
With Google Analytics, you can make smart changes to your website, content, layout, and promotion approach. It gives excessive information on visitors' demographics, average session duration, traffic information, which pages are the most popular, and which ones require some improvement.

The best thing about Google Analytics is the option to automatically generate reports on your website performance by saving you a lot of time and manual labor. It is a free tool, but if you want to get the most out of Analytics 360, you should get in touch with their sales team.
Free marketing tool for SEO audit
WebCEO is a great SEO solution for e-commerce websites that combines all your SEO data into a straightforward dashboard. It provides powerful tools for keyword research, SEO audits, rank tracking, backlink checking, domain analysis, and competitor monitoring. With its easy-to-use interface and DIY SEO Checklist, you can optimize an e-commerce website yourself.
WebCEO helps you quickly appear in search results by creating a free sitemap within one dashboard. You can also run a test on your website for mobile optimization and check out how well you're doing. Moreover, you can find all possible errors ranking from server malfunction to broken links and instantly make changes whenever something breaks on your e-commerce site.
If you provide marketing services and work with clients, you can benefit from white label SEO report tools. So you can produce reports without any reference to WebCEO and look like they come directly from your company. The tool provides a 14-day trial to test different features and find the right ones for your needs. You can upgrade your plan anytime to gain access to advanced tools.
Free marketing tool for trends analysis
Google Trends is a fantastic tool that helps online marketers validate demand for trending topics or try to evaluate the overall consumer interest in your industry. Google Trends is great for finding interesting topics, inspiring your creativity, and seeing what your audience wants to see.
You can identify and leverage seasonal trends if you run a business or offer seasonal services. It will help e-commerce owners when it's time to start launching their marketing campaigns to get good results.
You can also get new and exciting ideas for blog posts and social media campaigns (LinkedIn, Facebook, or Twitter). The tool shows trending keywords and phrases around your topic you should capitalize on. Using Google Trends is an excellent way to improve your e-commerce SEO.
Free marketing tool for IP geolocation
If you want to deliver the right content to the right users based on the user's location, using IP geolocation API can help you create relevant options for website visitors. One such option is IPWhoIs, free for small projects that need up to 10 000 requests per month.
IPWhoIs determines IP addresses by sending GET requests and processing them. It can filter traffic, customize the content, auto-complete forms and other tasks based on your site needs, and show full country names. The service provides real-time IP data updates thanks to a multi-channel integration structure.
You don't need special skills for installation. The tool will add usability and functionality to your website design and currency personalization to increase conversions and multilingual response options. IPWhoIs offers free and commercial plans to fit your exact website needs.
Free marketing tool for e-commerce analytics
Conversific is a powerful e-commerce analytics tool for Shopify and WooCommerce that allows optimizing your traffic and conversions, collecting comprehensive data, and increasing online sales. The tool provides a detailed view of each customer's actions, revenue, contact details, and product interaction.
You can get clear insights and actionable tips on improving your online store based on the results. The tool easily integrates with Google Analytics to receive better customer insights, and you will better understand your business atmosphere within one dashboard.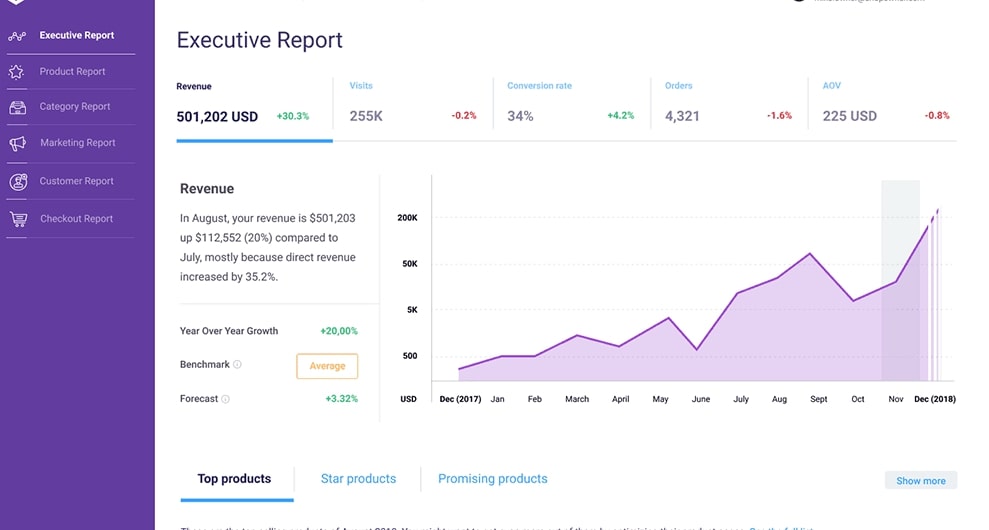 You will find out which products you should focus on, where your business is losing money, and which categories of products are in the doldrums. Conversific has the free version to manage one store for 1500 orders and access up to 5 reports with the last month's date range.
Free marketing tool for stock photography
Depositphotos is a royalty-free, license-driven stock content marketplace that you can use to create awesome pages for your e-commerce store. It includes an extensive collection of photos, music files, videos, illustrations, and vectors for every style and budget.
Advanced search filters enable you to search visuals by color palettes, image, location, season, orientations, and more. Its smart suggestion algorithms help you quickly find what you're looking for and get more content options for your needs.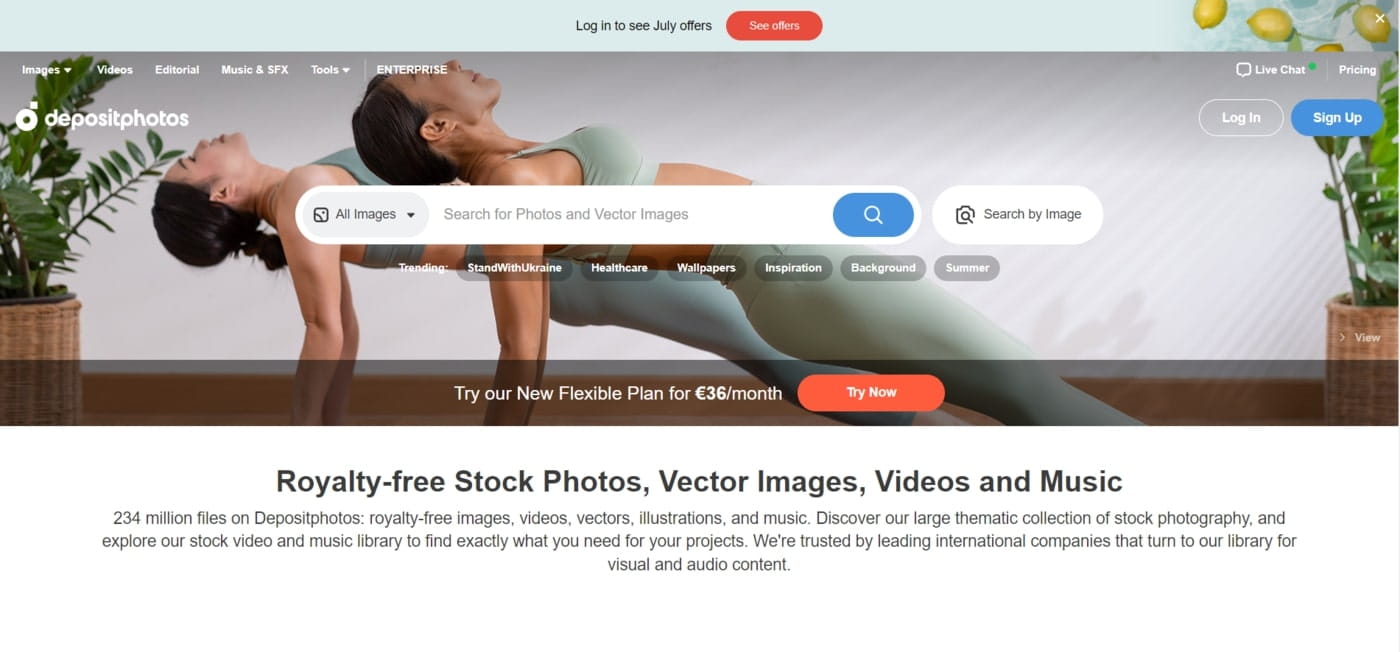 Depositphotos is easy to use and provides different videos and image sizes to fit your needs. You can download free watermark images to check the quality of the photos. Use this Depositphotos promo code "Mention" to get five free high-quality images.
Free marketing tool for email automation
AWeber is the undisputed leader in email marketing tools for online businesses. The easy-to-use platform lets you automate email marketing campaigns, quickly create responsive landing pages, send attractive emails, connect with your audiences, and analyze results. It also sends notifications to customers who have abandoned their shopping carts.
AWeber is an excellent e-commerce solution that includes all the essentials and does it well. The tool has over 1000 software integrations, including PayPal, Shopify, WordPress, Facebook, WooCommerce, etc. So you can easily integrate with your current tools and get the most out of your email marketing campaign.
For those who just started in the e-commerce industry, AWeber offers a free plan for up to 500 subscribers and 3000 email sends per month. If your mailing list is over 500, you can opt for the Pro plan, depending on the number of subscribers you have.
Free marketing tool for social media publishing and listening
Mention is a great tool for monitoring social media, enabling you to keep an eye on everything mentioned on the web. You can add any branded or non-branded keywords to the tracker and monitor what is being said online about your business. You will have an inbox that shows you all daily notifications to different websites where someone mentioned your business.
Mention helps you manage any negative web PR and quickly resolve customer issues. Moreover, it gives a cross-platform solution to evaluate a brand's or product's sentiment and understand audience perception through the web and social media.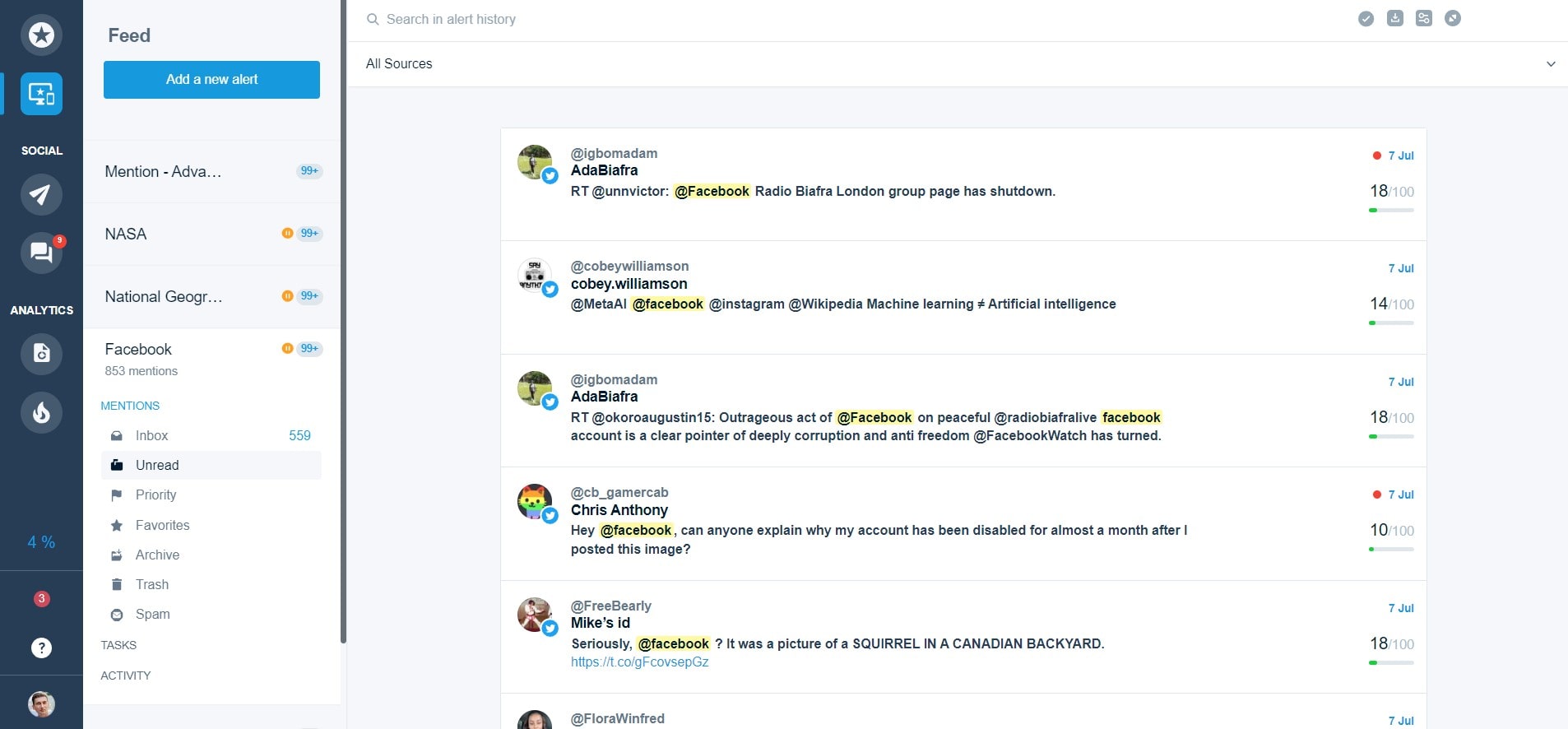 The best thing about this tool is the ability to get comprehensive analytics in your industry and measure your marketing and PR activities. Mention offers a free version with limited features, including 1000 mentions, three social accounts, one alert, and one user. You can get more advanced options when you increase your budget.
Mention also allows you to schedule and manage social media posts. With Facebook, Instagram, Twitter, and LinkedIn integration, you can schedule your posts in advance and choose when you want to post.
Free marketing tool for call center solutions
CloudTalk is a robust cloud-based call center software for support and sales teams to improve customer experiences and team performance. With this software, you can see flexible analytics and know exactly what's happening in your contact center. You can quickly contact your clients, coordinate shipping, delivery, returns, cancellations, and meetups, and get an immediate response.
You can use CloudTalk on any phone as a regular line, which means you can make and receive calls anywhere in the world with good connectivity. They provide phone numbers from 160+ countries and help with portability if you already have a local phone number. Moreover, it offers native integrations with different platforms. For example, the HubSpot integration improves lead tracking via call data.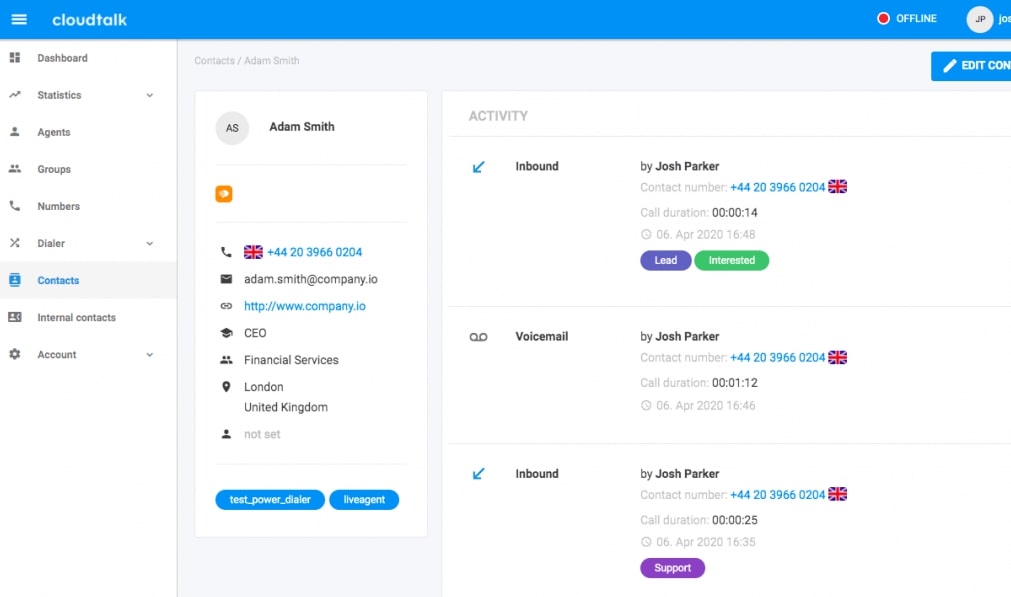 CloudTalk includes advanced features to manage customer interactions with ease. The features like call recordings, emotion analytics, and call notes will help your team better understand your audience and efficiently handle them in the future. You can start calling for 14 days free of charge with limited features.
Free marketing tool for Shopify users
If you run a Shopify business, you can use a set of valuable tools released by Shopify to increase your conversions and sales. Although the platform isn't free, it provides many free tools, including a business name generator, logo generator, privacy policy generator, image resizer, CPM calculator, purchase order template, and many more.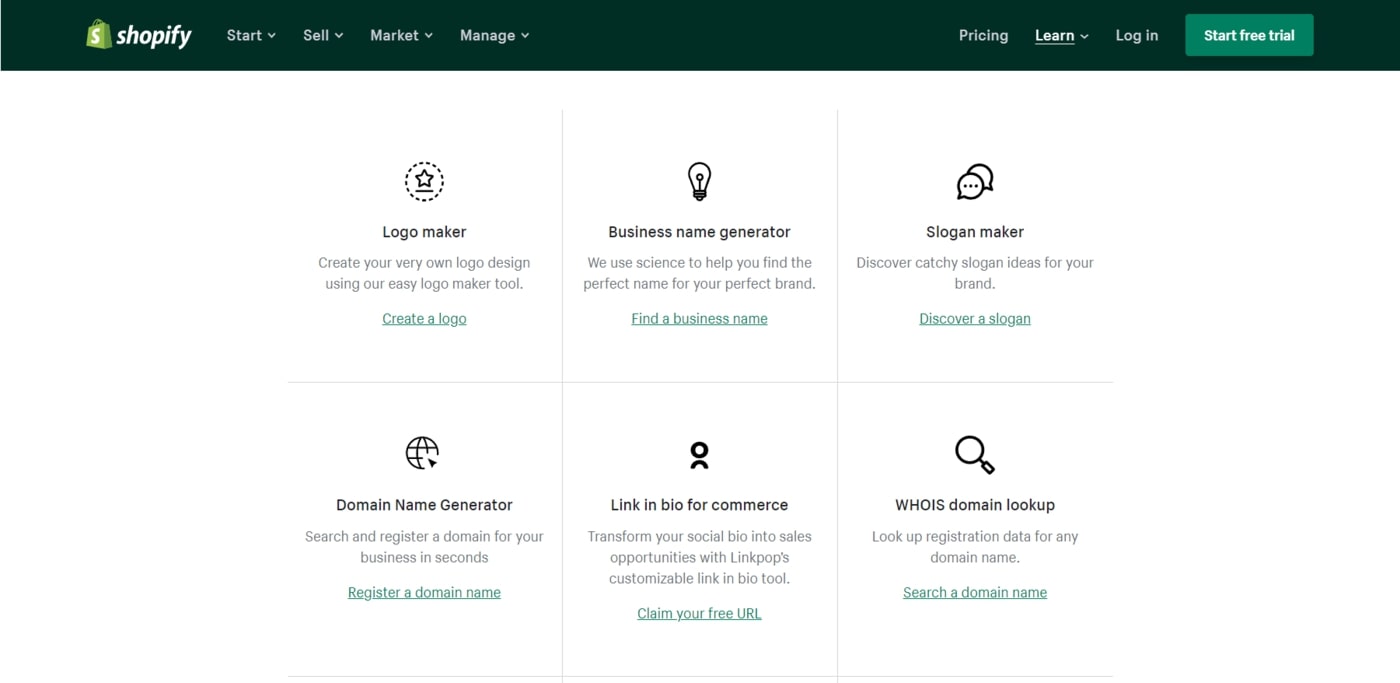 You have everything at your disposal to sell and grow your retail business in the early stages. From managing orders and streamlining shipping to handling billing and invoicing, they are doing all so that merchants can run their online stores with great ease.
Bottom Line
While customers demand convenience in their lives more than ever, e-commerce will continue to accelerate over the coming decade. Therefore, building and running online can become a challenging task. But being equipped with the right tools can help you increase your business without spending a dime and stay ahead of the competition.
Thanks to the following ten free e-commerce tools, you can build an online store without heavy spending. They offer essential features to get started. However, once your business has a good run, you need to use these tools by switching to paid versions later.