For small business owners, finding the time to do communications is tough.
You're so busy managing your business that marketing and communications can land up being the last thing on your mind.
However, you know that if you don't spend time publicizing your business, customers won't just come knocking at your door. And we're all aware that nobody can survive in a vacuum.
Thus, building relationships should be crucial for you, and the primary way to do that is by being an excellent communicator.
As a result, you need to work actively with it.
*This is part of a ongoing PR series, courtesy of our friends at Mynewsdesk, the leading PR management tool in the Nordics.

However, not only do small business owners lack the time to do communications, they also don't have the budget or resources – they need all the free help they can get.
And this is why templates can become your best friends.
Templates are huge time-savers. They map out exactly 'how' to do something – all you have to do is fill in the 'what'. For this reason, we created 5 practical templates to help you kickstart your communications.
From writing a press release to creating and measuring your communication efforts, this template kit will set you up for a successful strategy.
Check out the communication kit below.

Plan, execute, and measure your communications with one kit
Being one in the team in charge of content for Mynewsdesk, I've become aware of what our customers are looking for and in what areas they need help in.
With that aim, I've compiled some of our most popular and most useful templates and infographics all in one place.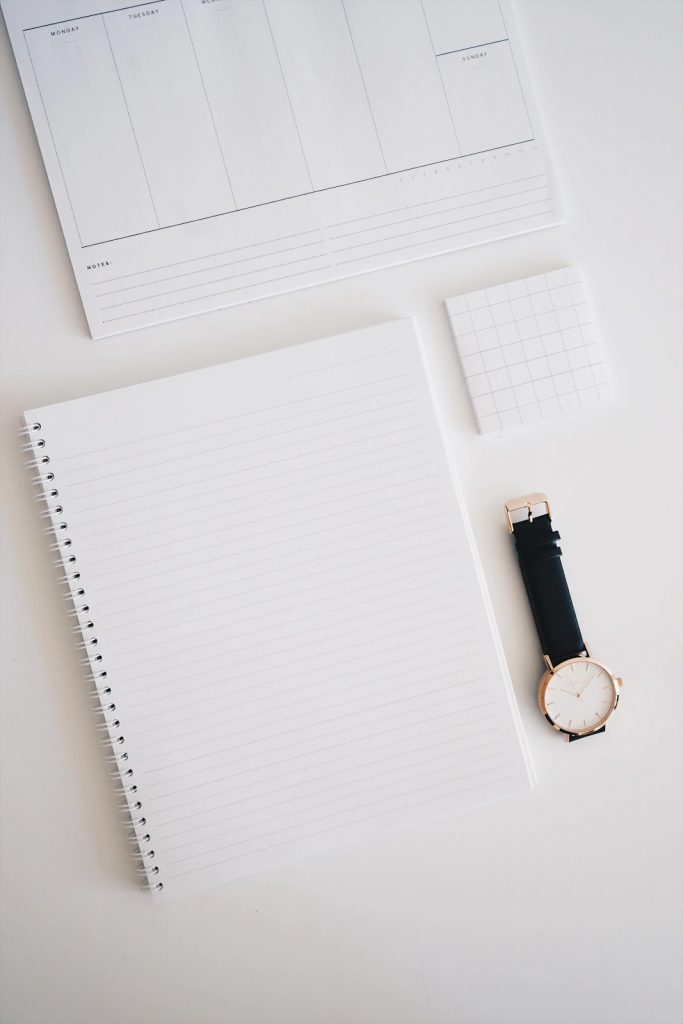 Whether you are a business owner looking to grow your business or a one-person-band in a small organization in charge of marketing and PR, this communication kit can help you start off on the right foot.
You will learn in the kit:
1. How to write a press release with an easy-to-use template
From our own research, we know that 9 of 10 journalists still use press releases to source their stories. And we're not just saying that because we are a news and PR distribution platform. Use email if you like, but don't stop creating and distributing press releases, please.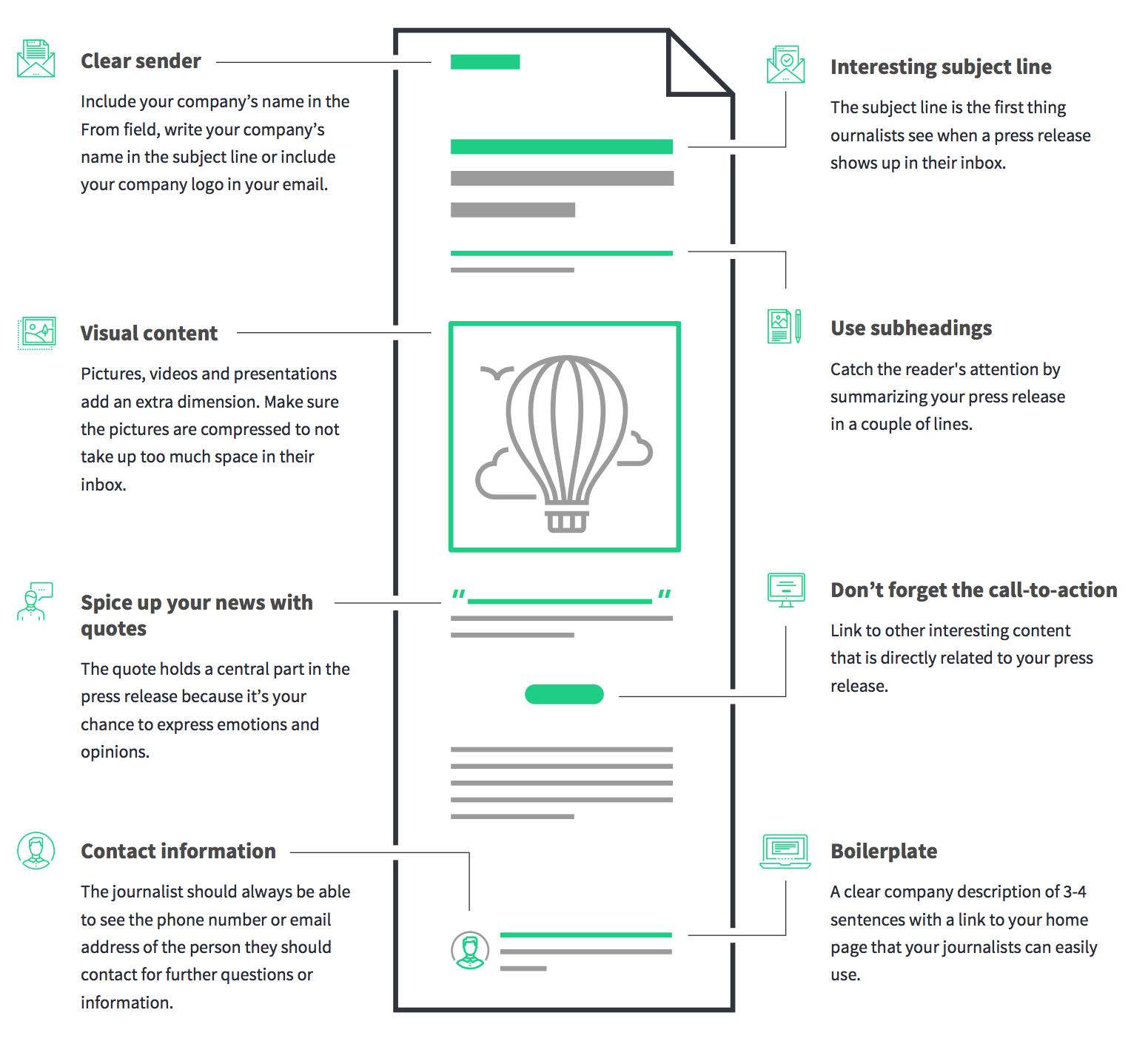 Our press release template covers the essential parts of the press release, providing three quick tips and a checklist too of what you need to think about for every time you write one.
By using this template in the beginning, writing press releases will become second nature.
 In short, practice makes perfect and you will soon be rolling them out in no time.
2. How to create a solid PR and Communication plan
A simple truth: Communicators who plan are more effective than those that don't.
Recently I held a webinar on brand storytelling and discovered that many of our participants said they need support in this area. I wasn't surprised as I find it difficult myself to find the time to think ahead.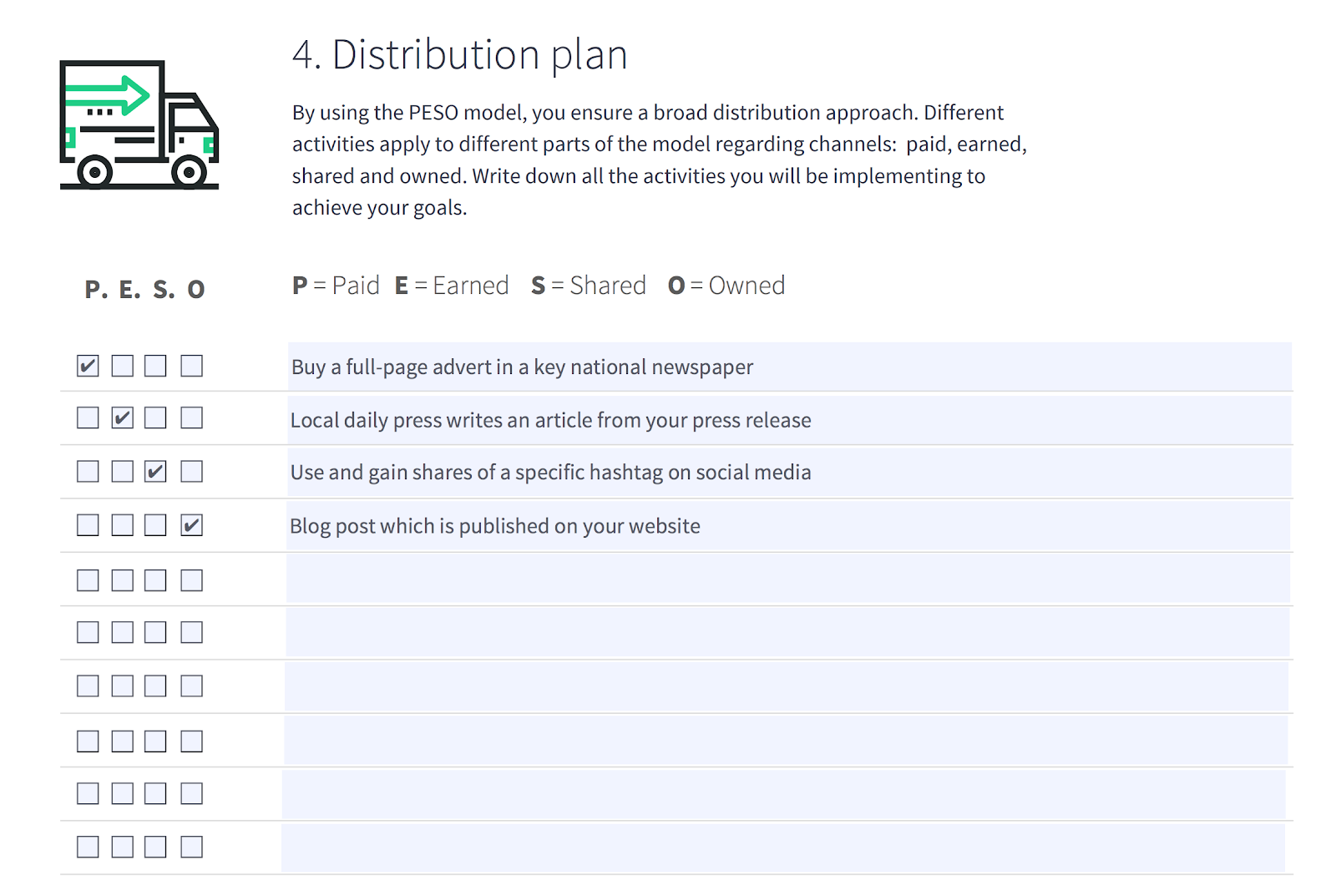 Anyhow, we have created a simple template that should help you cover all the things you need to execute. Because let's face it, planning is usually the most difficult part of your strategy – executing it is easy.
In this PR plan template,  we take you through:
Who is in your target group?
Goals
Key topics
Key messages
An editorial calendar
A distribution plan
And more
With this, you'll be able to plan out step-by-step who you plan on sending your messages to, and how.
3. How to to measure your communications effectively with a framework

Most communicators struggle with analyzing the effects of their activities, but it doesn't have to be that way.
Using a simplified framework to measure your PR and comms can help you evaluate your results quickly.
The infographic covers:
The three main Key Performance Indicators
Steps to take to start measuring
The necessary analytics tools and features
Once you know your campaigns are progressing, you'll be able to make changes on the fly, iterate, and improve.
4. How to write a creative brief when outsourcing projects to freelancers
Don't have time to do something? Don't worry, outsource it.
Use this creative brief template to provide either a freelancer or someone you're delegating a project to all the details.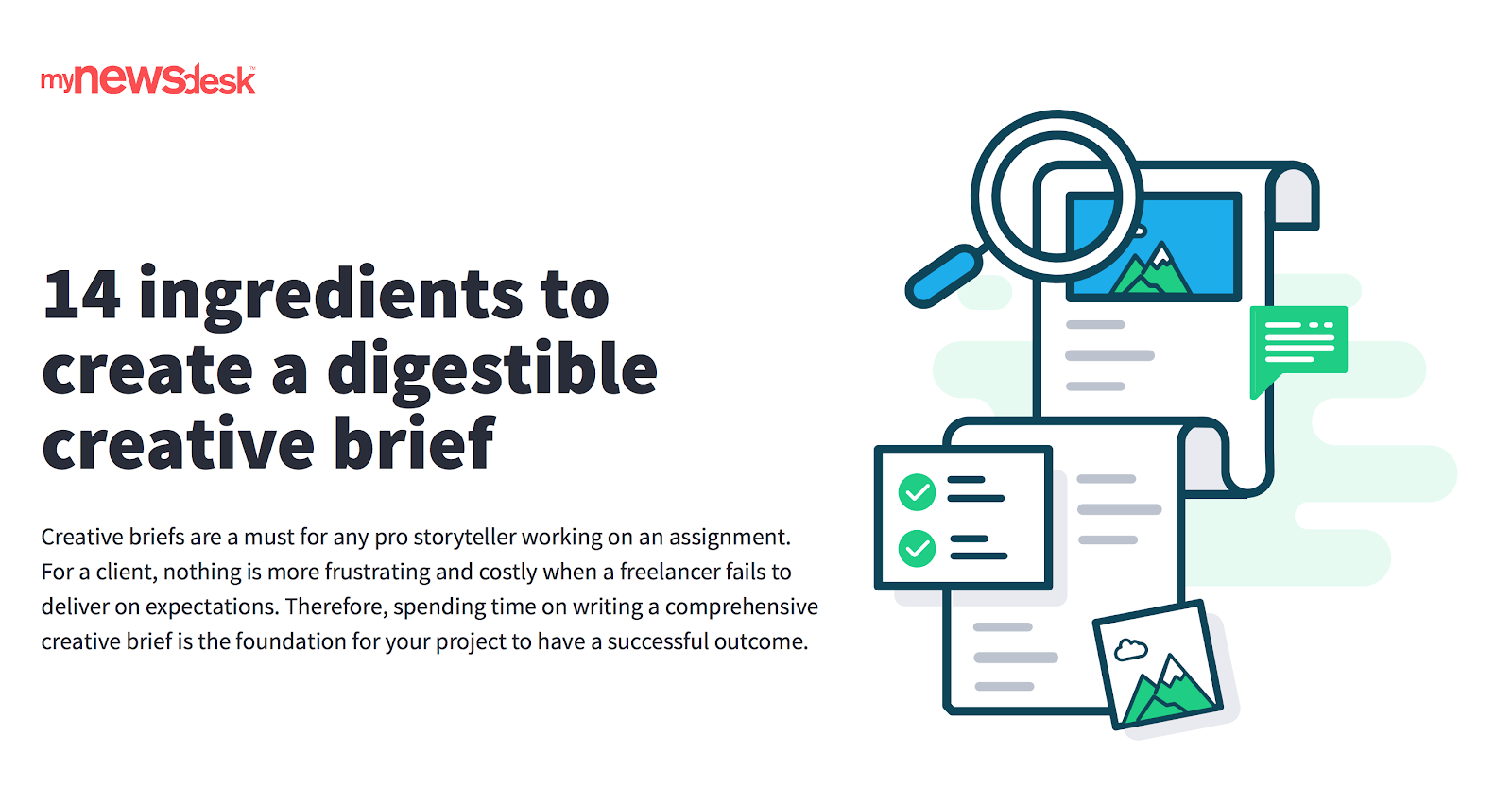 The creative brief template will help you:
Create a description of your company, industry, products, and audience
Draft brand voice guidelines
And more
If you haven't outsourced work to freelancers before, trust me, it's an absolute life-saver.
5. How to integrate SEO into your PR and communications
How can you think and work with SEO when doing PR? With this guide of course.
Our guide isn't a detailed explanation on how to SEO optimize your website, but more an overview of how your communication can help support and increase your online visibility for relevant search terms.
Not being an SEO whizz myself, we asked some SEO experts and put together the most essential information you as a communicator should know.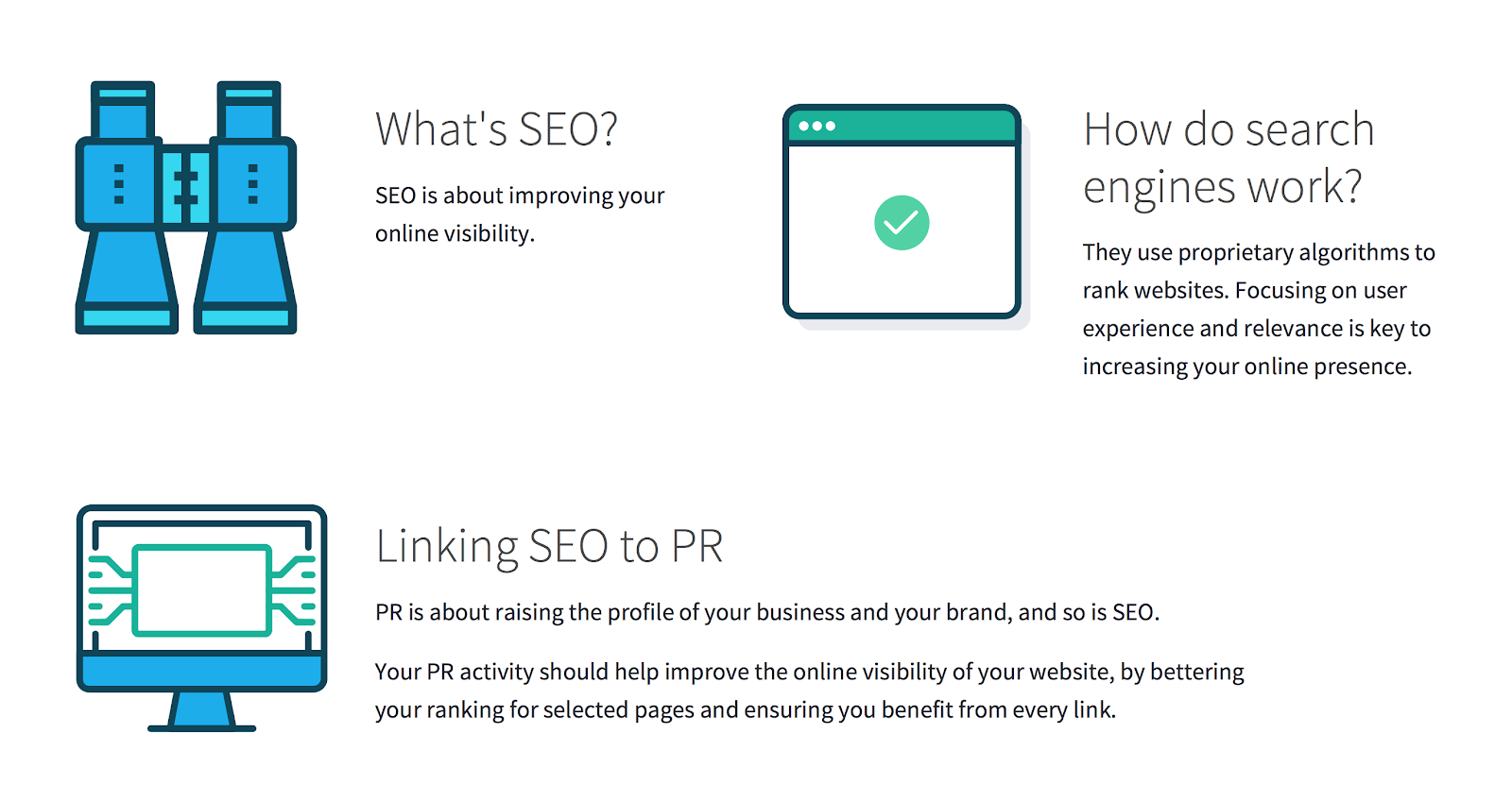 Take PR into your own hands
Having done many courses and having held many presentations on communications and marketing, I know the time constraints and increased pressure many business owners, and professionals like myself face.
Therefore, we thought this communication kit would help solve many of our biggest challenges as everyday communicators.  Let me know what you think of it!
Download the comms kit below.