Thanks to the web, customers can search and find out everything they need to know before making a purchase. Whether it be comparing customer reviews, following the recommendations of friends, or scrolling social media to get a sense of the overall experience — customers are more empowered and informed than ever before.
This means that marketing is no longer just flashy ads and catchy slogans.
Instead, marketing is now centered around the customer and is a key factor in boosting retention, engagement, advocacy, and ultimately growth. In this article, we'll cover what customer marketing is and customer marketing strategies you can use for your business.
What is customer marketing?
Typically, we think of marketing as what you do to bring new customers in. Customer marketing takes it a step further.
It goes beyond these initial customer acquisition efforts, by focusing on the customers you already have. This includes marketing strategies that engage with your existing customers, improve customer retention, and encourage customer advocacy.
The aim is to use marketing not only to acquire new customers, but also to keep them as customers, and eventually advocates for your business.
Benefits of customer marketing
There's a lot to gain by focusing your marketing efforts on existing customers. Here are some of the benefits of customer marketing:
Customer Retention
It's no secret that it costs more to acquire a new customer than retain your existing ones. In fact, it can be 5x more costly.
Next to that, customer retention is a key indicator of your overall business. High retention rates show that your business is doing something right, and customers are happy.
Brand Awareness
It's essential for your business to have a strong online presence. So much so, one study found that 87% of buying decisions begin with research conducted online before the purchase is made.
Having loyal customers that write positive reviews, follow you on social media, and are open to sharing their customer experience helps build brand awareness and makes your business more recognizable among your target audiences.
Social Proof
Along with building brand awareness, customers provide social proof for your business.
Think about your everyday life. Are you more likely to go to the restaurant with the line out the door or the one that is empty? Would you rather go see a movie that critics are raving about or the one with the terrible reviews? It's a no brainer.
Every positive customer review, testimonial, recommendation is social proof that can help increase conversions. After all, if everyone is saying it is great then it must be great.
Word-of-Mouth
Your customers can be your best marketers, and have the ability to help grow your business through referrals and recommendations.
People care what other customers have to say. 83% of Americans say that a word-of-mouth recommendation from a friend or family member makes them more likely to purchase that product or service.
Increase Growth
With customer marketing, you'll develop better relationships with your customers that will in turn be better for your business overall.
Having customers as brand advocates improve your marketing. Working with returning customers that are already familiar with your products means less time and resources from customer support. And including customer feedback in business development leads products and services that better fit your customer's needs.
All this — along with the increased revenue and profits from returning customers — can be a game-changer for your business.
Customer marketing strategies
From retention to advocacy, there's a range of tactics and activities that can be used to reach and engage your existing customers.
Here are 8 customer marketing strategies you can use to improve retention and growth.
1. Personalize the customer experience
As we said before, customer marketing goes far beyond the initial acquisition.
Right from the get go, seek out ways to connect and engage with your new customers. This could be a welcome email, onboarding steps, or working directly with your customer success team.
In these efforts, personalization is key.
71% of customers say they are frustrated by impersonal experiences, while 44% say they're more likely to become a repeat customer after having a personalized experience.
There's plenty of ways to personalize the experience — from curated email content that fits the customer's interests, to customized onboarding training that aligns with the customer's skill level.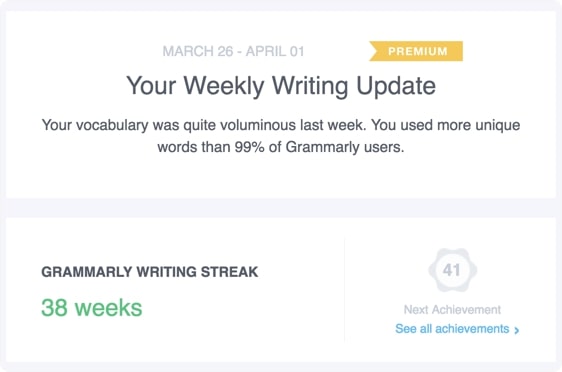 One great example of personalization comes from Grammarly, a free online writing app. Grammarly begins their customer marketing with a welcome email, onboarding resources for how to use their software, and preference settings for future communications.
After that, they continue to engage customers through personalized "weekly digest" emails that recap the users' stats including productivity, vocabulary, and mastery in writing.
2. Spotlight customers with user generated content
An important factor in successful customer marketing is building relationships. One of the best ways to do this is by spotlighting your customers with user generated content.
User-generated content (UGC) is any content that is created and shared organically by your customers. This could be pictures, posts, tweets, live streams, videos, etc. UGC can be included in your website content, on social media pages or in other marketing materials such as display or banner ads.
With this strategy, you'll engage with your customers, and it's likely that they will feel more connected to your business, resulting in ongoing brand loyalty.
This is a great marketing tool to reach new customers. Featuring UGC builds trust, adds credibility and influences customers ' buying decisions. 85% of customers say they prefer UGC more than branded content.
Provide opportunities for customers to share content across multiple channels. This could include:
Featuring UGC on your website with a dedicated section
Reposting & resharing UGC on social media pages
Creating social media challenges around your brand's product/services
Promoting brand-specific hashtags and taglines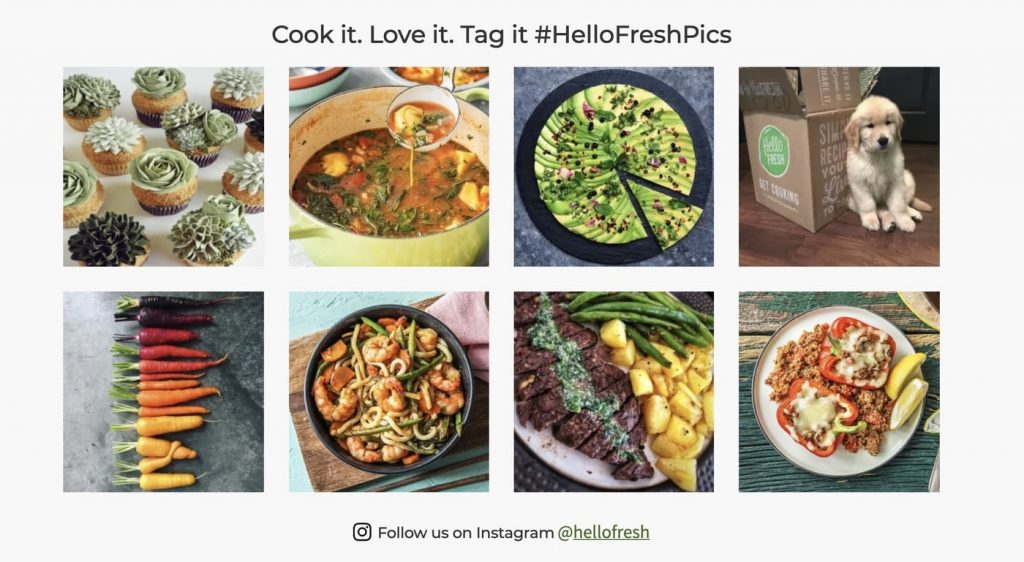 For example, mealbox brand HelloFresh encourages UGC on both social media and its website by promoting "Cook it. Love it. Tag it #HelloFreshPics". Over 200,000 posts have been shared on just Instagram, and HelloFresh includes the submissions as part of their homepage content.
Ease and accessibility are key to any UGC strategy. You'll want your customers to not only feel open to sharing your business with others but also excited.
Some tips for using UGC include:
Make submitting UGC easy and straightforward
Have a strong CTA for submitting
Be transparent about how and where the content will be used
Provide clear brand guidelines, submission deadlines, and content policies
Use branded hashtags consistently across all channels
Include examples from other submissions for reference
3. Engage on social media
Social media is an essential part of the overall customer experience. It's a way for customers to interact with your brand — whether that be as a customer support channel, through user generated content sharing or simply as a source of keeping up with your business.
Start by finding out where your customers are and what they are saying.
With Mention, you can easily see who is talking about your business, what they are saying, and where they are sharing it. This is especially useful as you'll be notified anytime your business is mentioned anywhere online, instead of only knowing when you are directly tagged.
Once you have an understanding of where your audience is, you can start determining how and where to interact with customers.
Generally speaking, it is useful for most businesses to have a Facebook page. Being the most popular social media, Facebook is essentially an extension of your website. It gives important information about your business, acts as a customer service channel, and is useful for communicating recent announcements and updates.
Beyond that, how you use social media for customer marketing will depend on your business. For example, if you plan to share a lot of UGC then focus on visually-centric platforms like Instagram. Or if you want to create product tutorials, consider creating a YouTube channel.
Ways to use social media for customer marketing include:
Being active and responsive on all your social media accounts
Retweeting or reposting customer mentions
Providing FAQs to common questions
Keeping customers up-to-date with any service interruptions or new updates
Creating customer-centric content like Q&A sessions and tutorial videos
Holding social media challenges
Posting conversation topics to start discussions
Much like user-generated content, it's important that customers feel welcome to interact with your business on social media.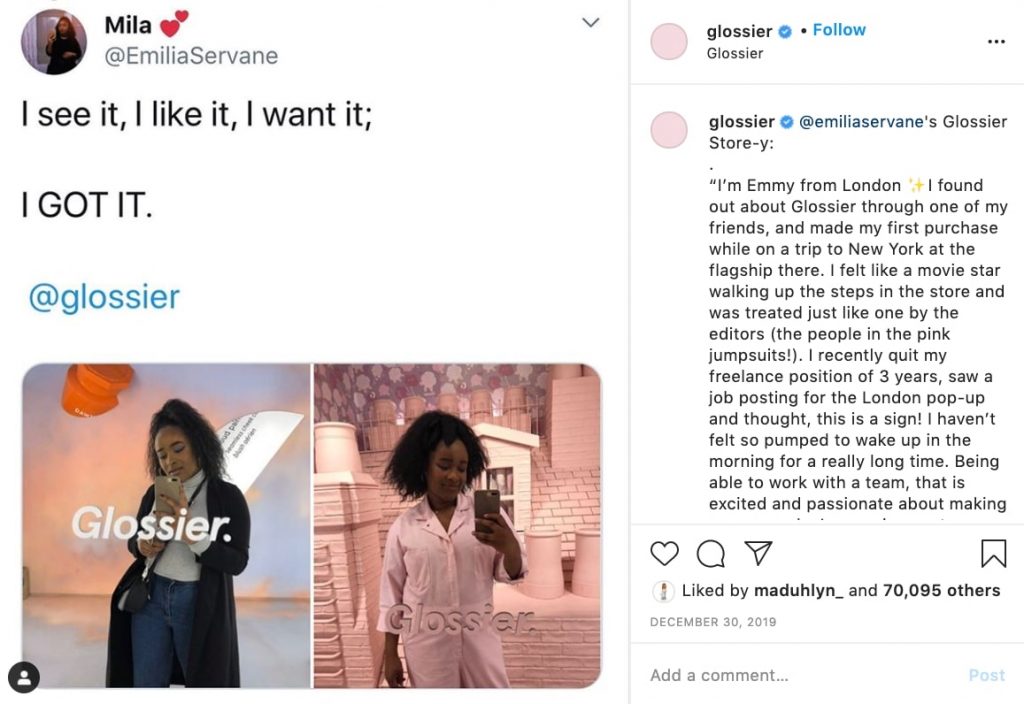 Cosmetic brand Glossier does a great job of this, as they have created a cult-like social media personality that their customers want to be part of. Their strategy involves actively resharing UGC, running weekly social media challenges around specific themes, and appealing to the aesthetic of their customer base so that sharing Glossier products is something that's trendy and cool.
4. Create a community
People enjoy being part of something bigger than themselves, so by working to create a community tied to your business you can increase retention, satisfaction, and loyalty.
Before we get ahead of ourselves, it's important to clarify that this doesn't necessarily mean that your community needs to be exclusively about your business. For example, if you sell running shoes, you shouldn't build a community around only your specific running shoes. Instead, it could be about running in general — such as listings for different marathons, guides for how to train, tips on ways to stretch, info for running groups, etc.
You can create a community both online and in-person with:
Forums and discussions boards
Online groups (Facebook, LinkedIn)
Workshops and classes
Local events and meetups
Conferences and retreats
Outdoor retailer REI has successfully done this by creating a community where customers "can connect, learn, share, and inspire each other to get outside". This includes a forum board with topics about outdoor life and local happenings. On top of that, the retailer provides adventure travel experiences, in-person events, and workshops, and outdoor activity themed classes.
This is also a good opportunity to share insider info and perks to your most loyal customers, such as member-only discount codes or early access to sales.
5. Encourage customer advocacy
Are you more likely to make a purchase from somewhere with many reviews and high ratings, or from somewhere that has no reviews or low ratings? The choice is easy. And you're not alone, 97% of consumers say online reviews impact their purchasing decisions.
Your customers play a vital role in your brand's reputation — especially when it comes to reviews and testimonials.
Work on turning any positive customer experience into favorable reviews. This could include:
Sending an email following a completed purchase
Asking for reviews after a positive customer support interaction
Responding to social media mentions with a review link
Running review campaigns aimed at loyal, returning customers
Popular review sites include Google, Yelp, TrustPilot, as well as many niche review sites for specific industries. Having strong reviews on these sites will help your business appear at top of search results, as well as build credibility and brand awareness.
This can also be great promotional material for your website's homepage and product pages, as well as for email campaigns and display ads.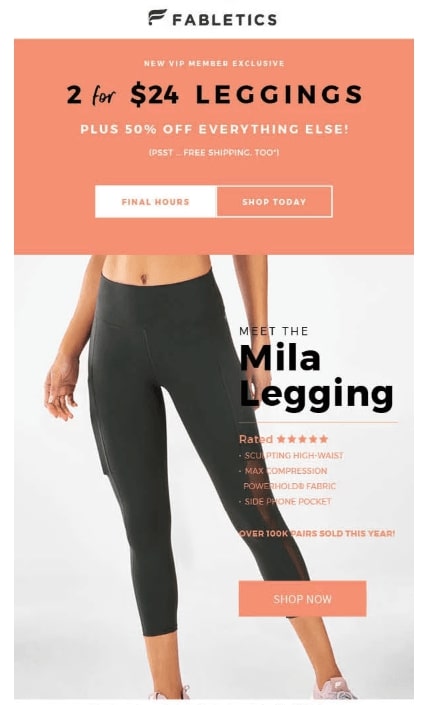 Athletic retailer Fabletics uses reviews and ratings throughout the customer journey. This includes promoting their "5-Star Rated" products in email campaigns and on their homepage.
Next to that, they feature customer reviews on each product page, earning them invaluable promotions with comments saying "Best leggings I own" or "I bought these in every color".
Additionally, customer testimonials can also be very powerful. Testimonials can be quotes, success stories, or videos — each sharing the customer experience firsthand, and giving a customer stamp-of-approval for your business.
Display testimonials prominently on your homepage, landing pages, or in a dedicated section of your website. Be sure to include photos and logos with the text., and if possible feature more recognizable brands and people.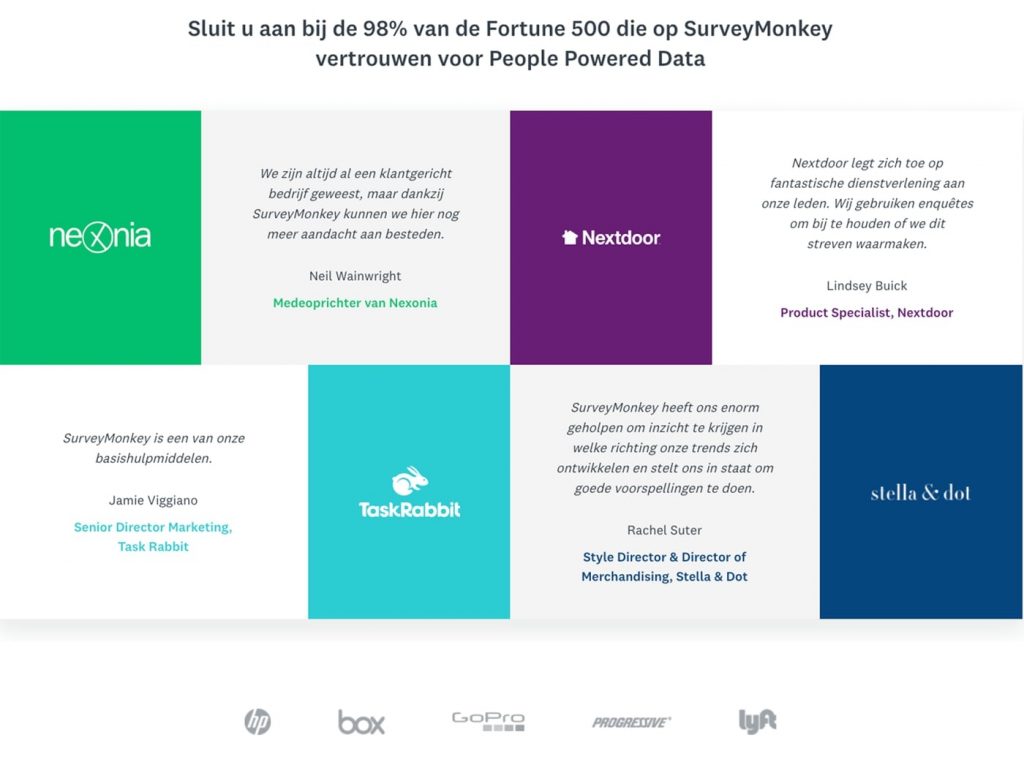 For example, Survey Monkey's testimonial section begins by mentioning "Fortune 500" for validity. It then features quotes from brand founders & company directors, as well as displaying logos of well-known brands like GoPro and Lyft.
Generally, your loyal customers will be happy to help with this. And as an added bonus, they will receive free promotion and exposure from being featured on your site.
6. Reward with referral programs
Referrals are another effective customer marketing strategy. With 92% of consumers believing suggestions from friends and family more than advertising, recommendations from customers can be very valuable.
Using tools like Tapfiliate, you can easily start your own affiliate and referral marketing programs to incentivize customers to share your brand.
Customers can promote via websites, social media, and blogs and use referral links to send traffic to your site. In exchange for their promotion, customers earn a commission for every successful referral — this is typically for when their referrals end up making a purchase or signing up for a service.
This is a win-win.
Your customers are able to get rewards for recommending the products and services they already love. And your business will be promoted by trusted sources and receive targeted traffic. Plus, the pay-for-performance model makes this a low-risk marketing effort.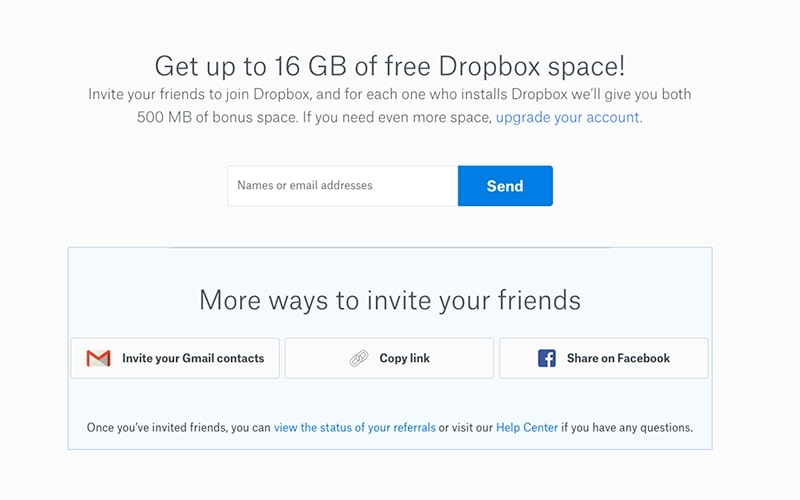 One of the best examples of successful referral marketing is Dropbox. They used a referral program to get people talking about their product, and rewarded any successful referrals with free cloud storage. It proved successful, as Dropbox was able to grow from 100k users to over 4 million in just a couple of years.
Have referral links be readily available and convenient to share so customers can effortlessly promote your business. Include shareable referral links in email confirmations, on checkout pages, and as part of user accounts and dashboards.
7. Leverage customer-driven content
Customer marketing is about listening to your customers and working towards providing the best experience possible. And customer-driven content is a great way to achieve this.
What do your customers like? What do they struggle with? What keeps them as customers? What are the pain points?
Through connecting with your customers — such as customer support interactions, social media surveys, and reviews — you can gain valuable insights that will help you create useful, relevant content.
This can be content that both empowers your existing customers, as well as content to attract new ones. This can include:
Blog posts
Company updates and announcements
Industry trend reports
Ebooks and whitepapers
FAQs
Support documents
Case studies and Success stories
Video tutorials
Online training courses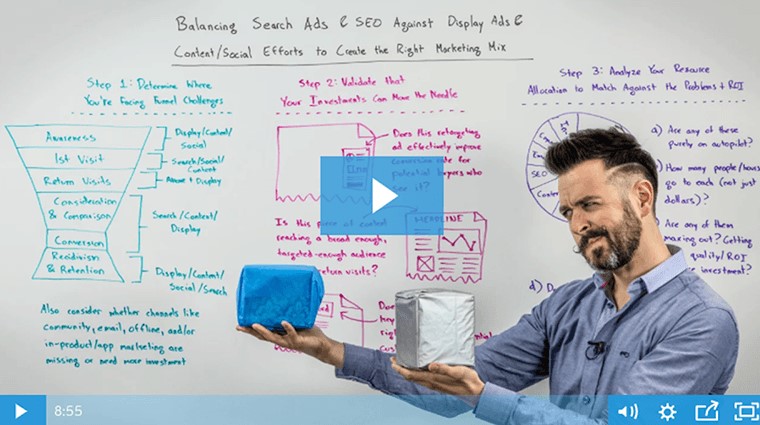 A great example of this comes from Moz, an SEO software company. Moz has an abundance of content to offer —from beginner's guides for potential customers interested in learning about SEO, all the way to weekly Whiteboard videos for more experienced marketers who are already using their software. The content they make can be used throughout the customer lifecycle, from marketing, to onboarding, to customer support, and further customer success.
8. Keep customers in the loop
Bringing in new customers and making a solid first impression is just the start, but the work doesn't stop there.
Customer marketing involves keeping your customer engaged and your brand relevant among audiences. Some ways to keep your customers in the loop include:
Special offerings or discounts
Sale and holiday announcements
New product releases or updates
Relevant industry articles, advice or tips
Human-interest stories involving your company
Awards or mentions in the media
Newsletters with timely company information
This content can be shared via email, social media, online forums, in-app messages, or even through individual communications like a letter or phone call if you want to add a more personal touch.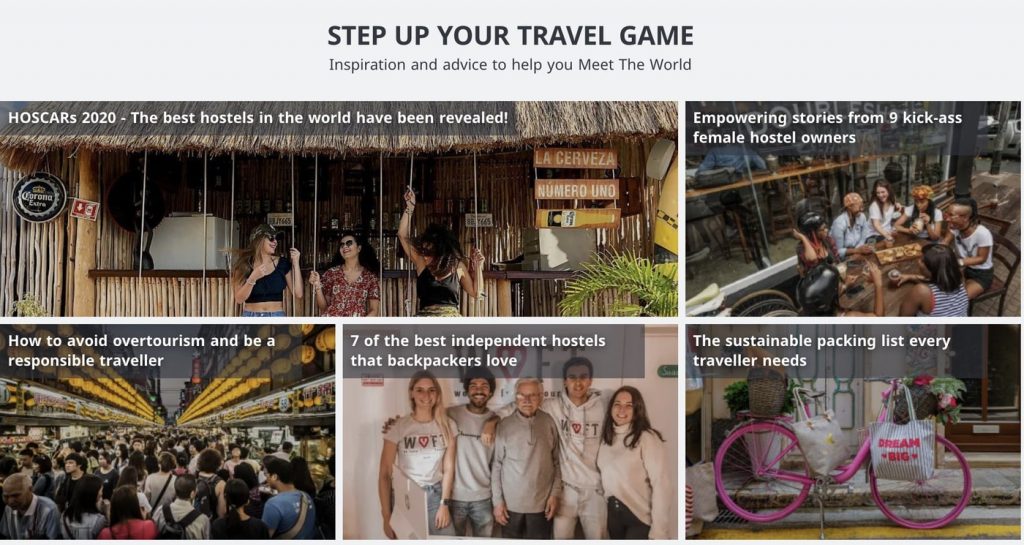 Hostelworld has mastered this customer marketing strategy. The travel company regularly sends emails to customers ranging from accommodation deals, city guides, and blog posts like 10 Places to Visit to Empower Women. By having a variety of content, customers are drawn in and engaged, rather than feeling bombarded with hundreds of irrelevant emails.
Wrap Up
By seamlessly bringing together your marketing efforts with the customer experience, you'll find ways to not only keep your existing customers, but also attract new ones. Customer marketing key to improving retention, encouraging advocacy, and overall growth for your business.