Instagram can be both a consumer's dream and a marketer's nightmare.
From the consumer perspective, Instagram is an endless feed of aesthetically pleasing, perfectly curated content, tailored to their interests.
But for marketers, it's not all rainbows and pretty filters. In fact, they can feel like they're constantly solving a Rubix cube in getting their brand in front of the right audience  – nevermind converting them.
The reason for this difficulty is because at the end of the day, most marketers aren't just after engagement and brand awareness – they're after conversion.
This presents a dilemma as on Instagram, there are only three places that you can share clickable links: in the Bio, in advertisements, and in the Stories feature (with limitations), whereas on other social networks, it's a more direct process. So to get the user to the desired website, there are many more hoops to jump through, that if not addressed can break the experience and disrupt conversion.
But as Instagram is the current social media powerhouse, brands can't afford to be inactive on the platform. Although, some wonder if their efforts will even pay off, as it can be a challenge to get traffic out of the platform and back to their site. Let's look into ways to combat this challenge, by breaking apart each Instagram feature.


We all know Instagram is made up of 4 main features, Bios, Posts, Stories, and Advertisements, but how do they connect and differ, and how can they work for your brand to convert your audience?
Bio – The first and last line of defense for your brand
 Posts – The bread and butter of your Instagram efforts
 Stories – Your audience's direct line to the personality of your business
 Advertisements – Your foot in the door to new audience's feeds
Let's call this "The Instagram Ecosystem."
Instagram Bio
The mainstay of your Instagram profile is the bio. It tells current and prospective followers what you're all about, why they should follow you, and encourages them to take the next step and interact with your brand. It also could be the last place a perspective follower goes to learn more about your brand after seeing a post, story, or ad.
To increase conversions through your bio, it's important to understand its purpose as the first and last place a user goes to decide on your brand. Make the most of your bio with these steps.
1. Be found
Just like you conduct SEO research for your blog, put yourself in your audience's shoes when writing your bio. If your brand has a more ambiguous name, consider including what your product does as well.
A strategically placed keyword in the title section of the bio can boost your chances of being discovered by a wider audience. This a particularly good idea if there is a word that is closely associated with your brand, or your brand, is not yet well recognized.
Fitness brand, Naked, explains the premise of their product in their title on Instagram to better direct potential customers that are looking for this type of product to their page. This way, Naked will appear in searches for 'fitness tracker' as well as in searches for its brand name.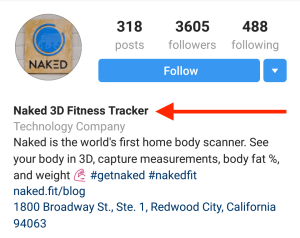 2. Be connected
How are you supposed to get any traffic back to your website if you have a poorly optimized link in your Instagram bio? This is the only permanent, clickable link on your profile. You want to ensure that this link is fully optimized to direct your Instagram audience to the site you're linking to.
Note: If you have a business account on Instagram with at least 10,000 followers, you're also able to add clickable links to stories. However, the bio link is still the most important as it is both the first and last line of defense for your brand on Instagram – you can still have high Instagram conversion rates with a well-optimized link in your bio!
In your Instagram bio, the url contributes to your bio's character limit of 150 characters. There are a variety of ways to shorten urls in order to keep this character count low. To make the most of these characters, it's better to use a custom short link, or branded link that features your brand name.
Branded links are memorable and create trust with your audience. This trust means that branded links can increase click-through rates by up to 39% when compared to generic short urls. More click-throughs from your Instagram bio link = more website traffic!
The best thing about using a branded link in your Instagram bio is that it also acts as a call to action. Since space is so limited, this is a nice hack that also brings traffic to your website from Instagram.
The Dallas Cowboys pro shop encourages its audience to shop, and PandaExpress gets their audience's stomach's grumbling by prompting, 'Order Now'. These clickable call to actions are the one-two punch that can drive more traffic to your website.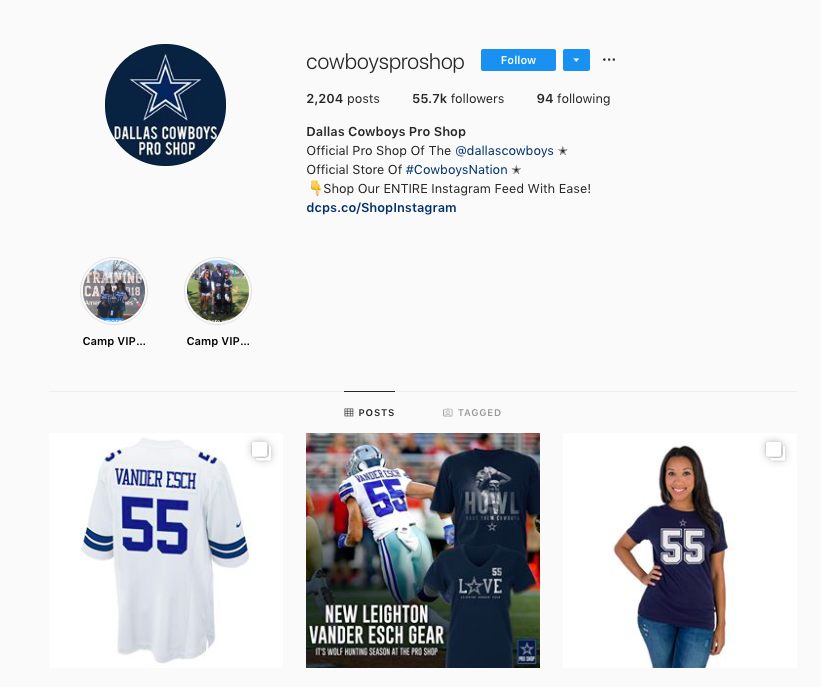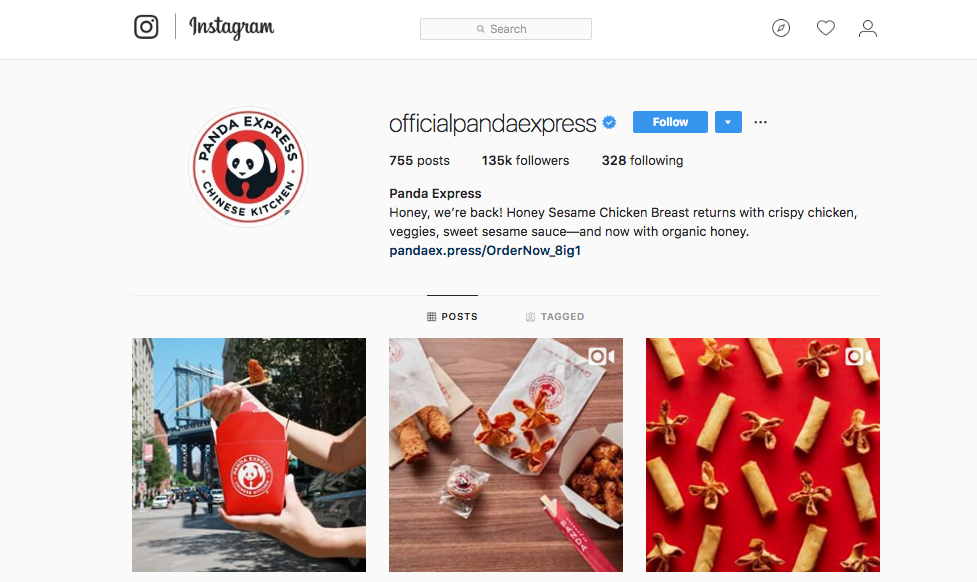 Since you're putting all this effort in on converting Instagram traffic to your website, you'll want to be able to track your successes or where you can improve.
Perhaps you'll find that your audience wants to be directed to a page with more information about what your brand does rather than your home page, or to your newest feature or product – rather than the entire catalog.
You can easily track the engagement of your Instagram bio link to make better marketing decisions, and if it comes time to update this link (but you love the branded CTA, or don't feel like logging into Instagram and doing it manually) just update the destination of the link (or where it goes in a link management platform).
TLDR:  Your brand's Instagram bio is prime real estate, and should be treated as such. Ensure you're making the most of it by using relevant, searchable keywords in your title for your audience to find, as well as a branded link to save space and reinforce your desired CTA.
Instagram Posts
The pièce de la résistance of your Instagram marketing efforts -they are very important in building brand consistency and trust.
If you want to drive more traffic to your website, you need to prove to your audience WHY they should leave the app to learn more about you.
It is always beneficial to keep posts and the actions that you're prompting to your audience in the caption as simple as possible to avoid confusion. A common mistake that can deter your audience from leaving Instagram to go to your site is sharing a post with the caption reading "see link in bio for more information" and the link in bio leads to your YouTube page, for example, rather than the page that the post was referring to. If you're using the "link in bio" tactic, ensure your link is always being updated either within Instagram or in your link management platform.
Topshop uses the "link in bio" tactic along with emojis to promote their beauty line and directs their audience to their bio.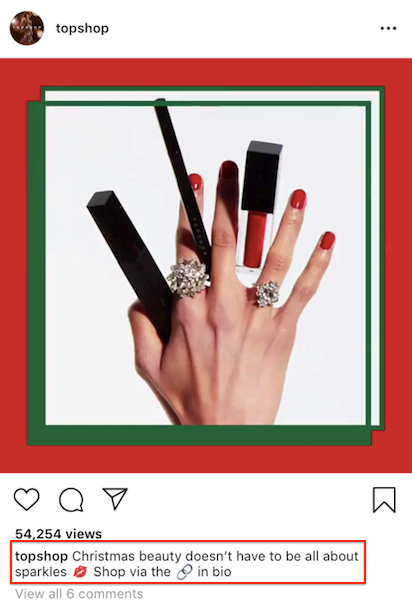 The most important part of the Instagram post isn't about the number of hashtags or prompts to visit your bio, it's the influence and branding you can show through your images and videos.
Recognize your audience and pinpoint what they are looking to learn and receive from your brand on Instagram. This often begins with some form of emotion. Is it humor? Or empathy? Is your brand aspirational or real? Think of all of these things when framing your posts.
It's a fact that younger audiences scroll through Instagram 2.5 times faster than people in their 60s, meaning consistency in posting is extremely important. It ensures that when these speed scrollers are flicking through their feeds, they will know it's your brand and pause. This type of immediate recognition builds trust and recognition, which in turn helps answer the question, "WHY should I leave Instagram to go to your website?!"
TLDR: Use Instagram posts to paint your brand's picture. This will act as the foundation for most traffic to your website from Instagram. Focus on your brand and telling your story rather than selling here, that's what the bio, your story, and advertising are for.
Instagram Stories
The launch of the Stories features opened the door for marketers to create a smoother customer experience and direct users to their site, bypassing the bio link. To those of you still learning about this social media secret weapon, Instagram Stories are currently only available for business accounts with over 10,000 followers .
These accounts can embed a link directly into the shared image or video, which can be viewed for 24 hours or be saved to their profile's highlights.
This format works best for quirky, spontaneous, or time-sensitive content. Since the content disappears after 24 hours, it gives users a feeling of "FOMO" (or fear of missing out). This creates a powerful system for brands looking to boost engagement with both current and potential audiences.
As you rotate through the Instagram stories at the top of the home screen, you'll come across ones that have the option to "See More." There are a few ways that you can use this "See More" feature within stories to drive traffic from Instagram to your website:
1. Post a story that's solely focused on getting the audience to swipe up
Burberry compliments their new arrivals with an image and the "swipe up" prompt, whereas Vox uses this technique to drive its Instagram Story viewers to a landing page around one main topic, solely focused on swiping up.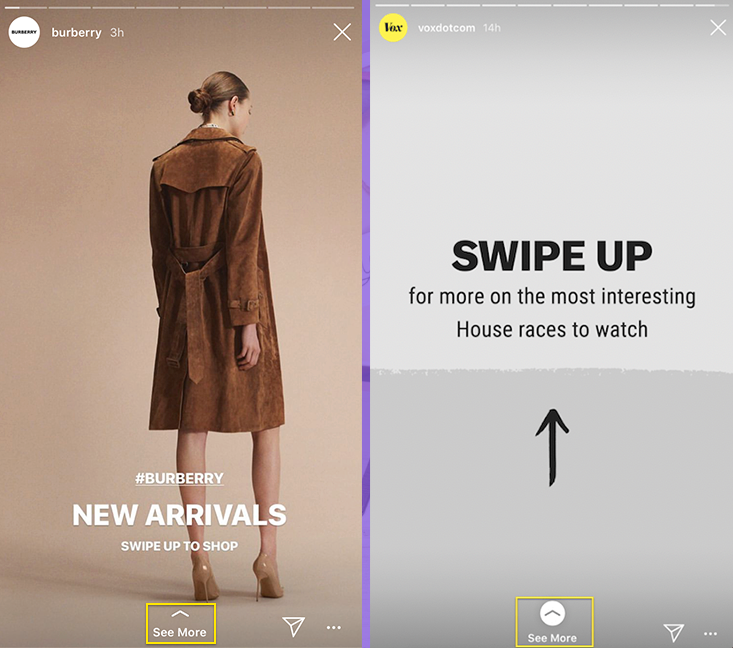 2. Share an image that directly points to one specific product or article 
Brands can also simply share a product or article that directs audiences that hints at the product they're highlighting. Starbucks did this during the holiday season.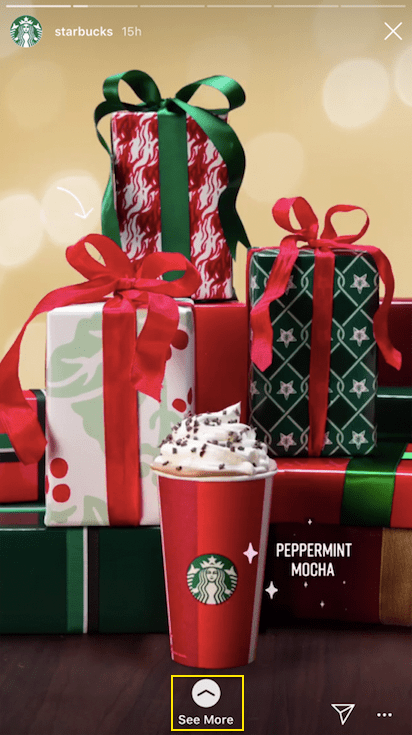 3. Share multiple posts that tell a story…within your story
Cooking site, Delish chose this route prompting its audience to get back into shape. It's clear they really understand their audience and their pain points and offer solutions to solve them through a series of back-to-back stories.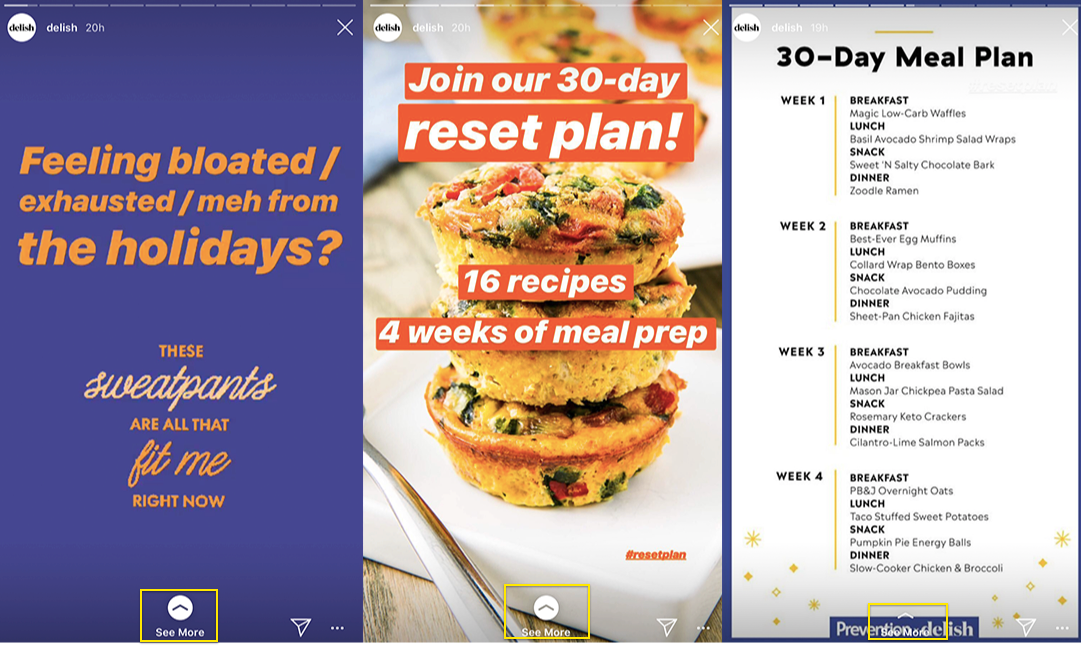 Notice that the CTA in every case is "see more." This creates a more direct connection between your brand and your customer, not to mention carving a clearer customer journey in bypassing the link in bio tactic and creating fewer touchpoints to get more traffic to your website from Instagram.
The Instagram Stories feature also offers a new feature that turns the physical storefront digital. This gives your audience quick access to product details and pricing, with a direct link back to where to purchase. This feature is both available to use in Stories and in posts, with the ability to tag up to 5 items. A new update to this feature is the ability to save products from these shopping posts to collections to browse later, making the experience even more seamless and creates a direct way to move your audience back to your website.
Instagram also just launched the new shopping function through the Explore channel. Although it's still in testing, the feature is available to users who have already expressed interest in browsing products. The key thing to note about this new feature is that your brand has the potential to be seen by people that don't follow your brand.
DKNY makes great use of the shopping feature by showcasing its products in its stories.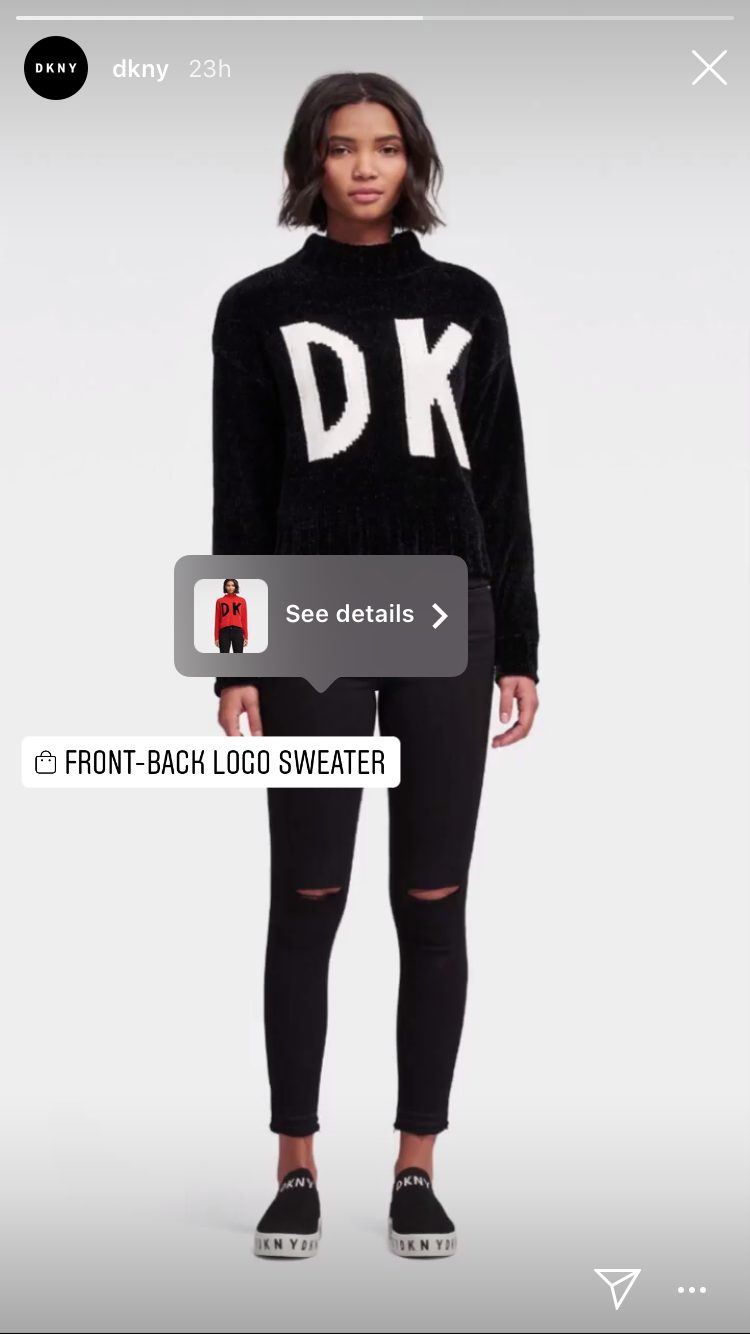 We've talked a lot about direct traffic from the Instagram Stories feature in this section, however, it should be noted that Stories also showcase a different side to your brand than posts do.
Just as the story is fleeting by means of time, your posts should also mimic this mood. This means: don't aim to be perfect here. Audiences are pretty good at cutting through marketing clutter today – don't give them glitz and glamour as you would in an Instagram post.
Feel free to relax a bit more, like it's casual Friday at the office. This type of transparency with your audience helps you build a better connection with them, increasing trust, which all work together to increase traffic from Instagram to your website.
TLDR: The swipe up to see more feature in Instagram Stories and Stories for Shopping opens the floodgates for traffic from Instagram to your website. But, don't get too excited by all this new traffic and miss the opportunity to build a stronger brand and interact with your audience more regularly.
Instagram Advertisements
With 2 million advertisers already active on the platform – it's worth dipping your toes in the advertising pool on Instagram.
Instagram ads flow nearly seamlessly into both the timeline and the Stories flow. They come in a variety of mediums, from video, to carousels, to stories, to photos.
Instagram ads act as the foot in the door to new audiences. If you're already mastering the organic side of Instagram, ads offer you the perfect opportunity to share your content with more people. Since Instagram ads are integrated with Facebook Ads Manager, it's simple to target and track your audience.
The most important thing about using an ad on Instagram and looking to move traffic to your site is to truly understand your audience and know your objective.
If you've done your research and worked to complete your profile, this shouldn't be difficult. You want to ensure that everything you're investing is targeted towards the right group, with the right focus. There are objectives that you can select in Facebook Ads Manager that range from brand awareness to conversions to set up your campaigns.
There are a few mistakes that are made when advertising on Instagram. The first is when brands create an ad, they skew away from their profile style. Keep the visuals and caption in the same tone (both with words and imagery) as your own profile. The second is brands that run the same ad for too long. Think, would you post the same thing twice? No. Your audience would recognize its familiarity and repetition and most likely unfollow. The same goes for advertisements. Switch the rotation every few weeks to keep audiences engaged and focused.
With sponsored posts on Instagram, there is more freedom with CTA options that prompt audiences and drive traffic back to your website. It depends if you're sharing a video, post, or a Story, but here are some of the most popular ones:
Apply Now
Sign Up
Book Now
Contact Us
Call Now
Learn More
When deciding which CTA to use, go back and consider your audience as well as the objective of your advertising campaign. Nintendo UK and Betfair choose different CTAs to best address their audiences' wants and the campaign objective.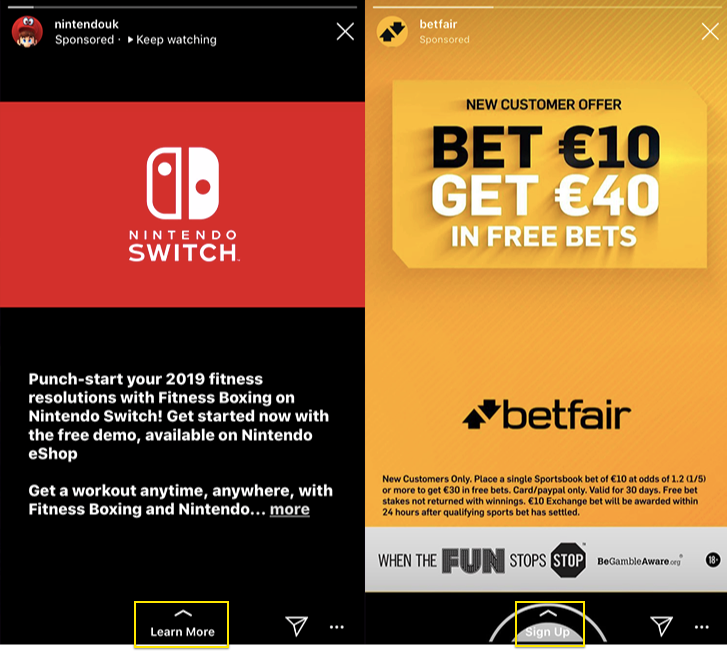 TLDR: Move traffic from Instagram ads to your website with fresh content targeted towards a well planned and researched audience and objective.
Over to you
Instagram has morphed from a small photo sharing network to a social media powerhouse  with over a billion users.
As it's popularity has risen, so have the number of marketers and brands using the platform. As the marketers rolled in, they questioned, is this even worth it, how does this platform lead to increased traffic? When you think about the entire platform as a whole, rather than just one feature, or meeting one engagement goal – driving traffic from Instagram to your website is intuitive.
Have you increased traffic to your website from Instagram? If so, how?! We would love to learn even more about your experiences in the comments!