Whether you're a creator working hard to cultivate your following and score sponsorship deals, or a marketer seeking to boost awareness and capture leads for your brand, social media is your battlefield, and visual content is your weapon of choice.
The old saying "a picture is worth a thousand words" has been reinforced by social media. Our brains can absorb the information in a photo or a meme far faster than when we have to read a text-based post, even if it's just 280 characters, and an image stays with us for longer than words.
Text posts and longform blog content still have their place, but when it comes to going viral or scoring solid engagement, visuals win hands down. Memes, photos, and infographics are the best way to communicate trends, information, or commentary on social media.
Visually-oriented social media apps like Instagram, Snapchat, and Pinterest are highly popular marketing platforms, which is why 64% of marketers say they'll be increasing organic activities there. But marketers don't yet feel they've mastered Instagram, having named it as the top platform that they want to learn more about.
Scroll-stopping visuals, at scale
The success of visual content creates a new challenge: how to stand out.
Agency marketers, independent content creators, and in-house marketing teams alike are all struggling to produce high quality-content in a shorter space of time. Creators are fighting for views among the approximately 46.7 million amateur and 2 million professional (full-time) creators. And marketers say that visual content creation is sucking up too much of their time, with 28% of marketers spending up to five hours per week crafting visual content. For another 29%, it takes ten hours or more.
It's clear that content creators of all stripes need shortcuts to top quality visuals. Photoshop is the grandfather of photo editing tools, but it's also highly expensive, heavy on computing resources, and for many of us, offers too many features that are too hard to use.
Perhaps recognizing that its market share is slipping as a result of these drawbacks, the Adobe team has been experimenting with scaled-down, web-friendly, freemium versions of Photoshop, but no product has emerged yet as the company's flagship in this regard.
Popular template-based tools like Canva and PromoRepublic are great, but they aren't really viable Photoshop alternatives – while they're awesome for many graphic design needs, they were never intended for photo manipulation and editing, and they simply don't have the versatility of Photoshop and its rivals.
Thankfully, today there are plenty more free Photoshop alternatives that help you roll out new, engaging visual content much faster, including powerful mobile apps, web apps and feature-rich desktop tools. Here are six top alternatives to Photoshop.
1. Photoleap
Photoleap, an iOS-only app by Lightricks, is a free photoshop alternative that makes it simple to transform ordinary photos into stunning works of art. It's ideal for beginners who have grand visions, but don't have the artistic or tech training to make them a reality, because it has automated photo editing that adjusts light, contrast, color, etc. to perfect the balance of a photo, as well as removing blemishes and redeye.
Visual experts can also use the app to create surreal images that use artistic effects to blend together elements from multiple source files.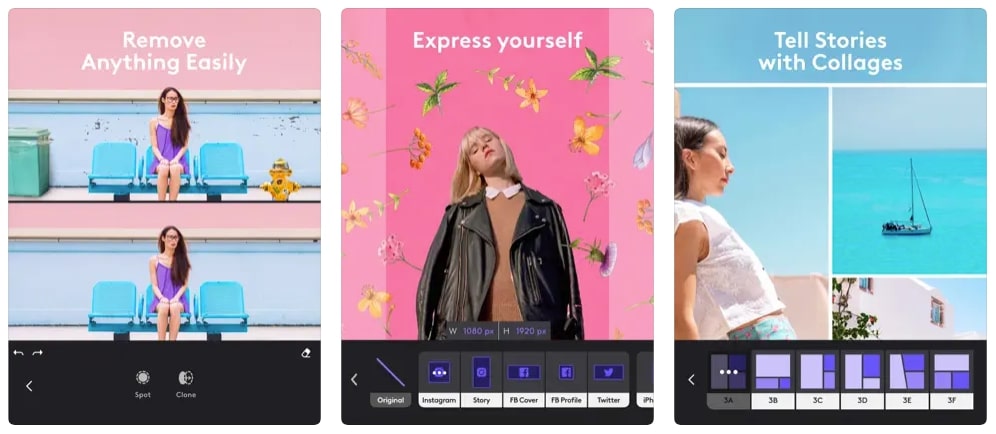 Use Photoleap to add stickers and apply brushes, cutout tools, and filters to make precision changes. The app allows you to edit in layers, which is vital for impressive effects, and you can apply a number of effects in a single click.
You'll also find a massive library of filters, stickers, texts, and backgrounds that enhance your images, and finally, a powerful eraser tool lets you wipe out mistakes, restore them at any time, and keep multiple layers active.
While the lack of desktop options here will be a drawback for some, digital natives and content creators are often used to doing everything on their phones, and Photoleap certainly provides all of the features that you might need.
2. Picsart
One of the key distinctive aspects of the Piscart app is its huge photo sharing community, where you can also invite others to collaborate on your images as "challenges." Picsart users can take other people's images and blend and remix them with their own images to create something new and delightful.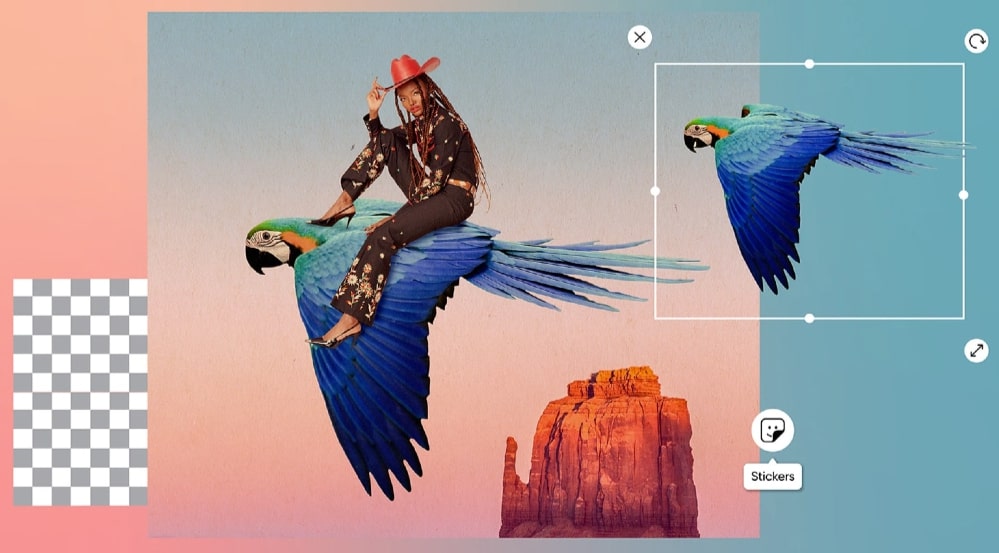 The app offers extensive libraries of event invitation templates, making it an especially good fit for local business marketers. Picsart is likewise useful for more advanced photo artists who are looking for precision art editing tools.
Features include fine art filters that let you turn your image into pictures in the style of Mondrian or Picasso, plus you can take a blank canvas and draw freestyle to build your own images for layering onto photos.
Picsart is a popular photoshop alternative that works on iOS, Android, and web-based platforms, allowing users to easily edit photos.
3. Prequel
Prequel was designed with Instagram Stories in mind, and the interface here is highly intuitive. The app comes loaded with filters and special effects, and you can vary the intensity of those effects. There are even some basic video templates included.
However, users complain that there's no option to erase specific steps, or wipe effects from only one part of an image.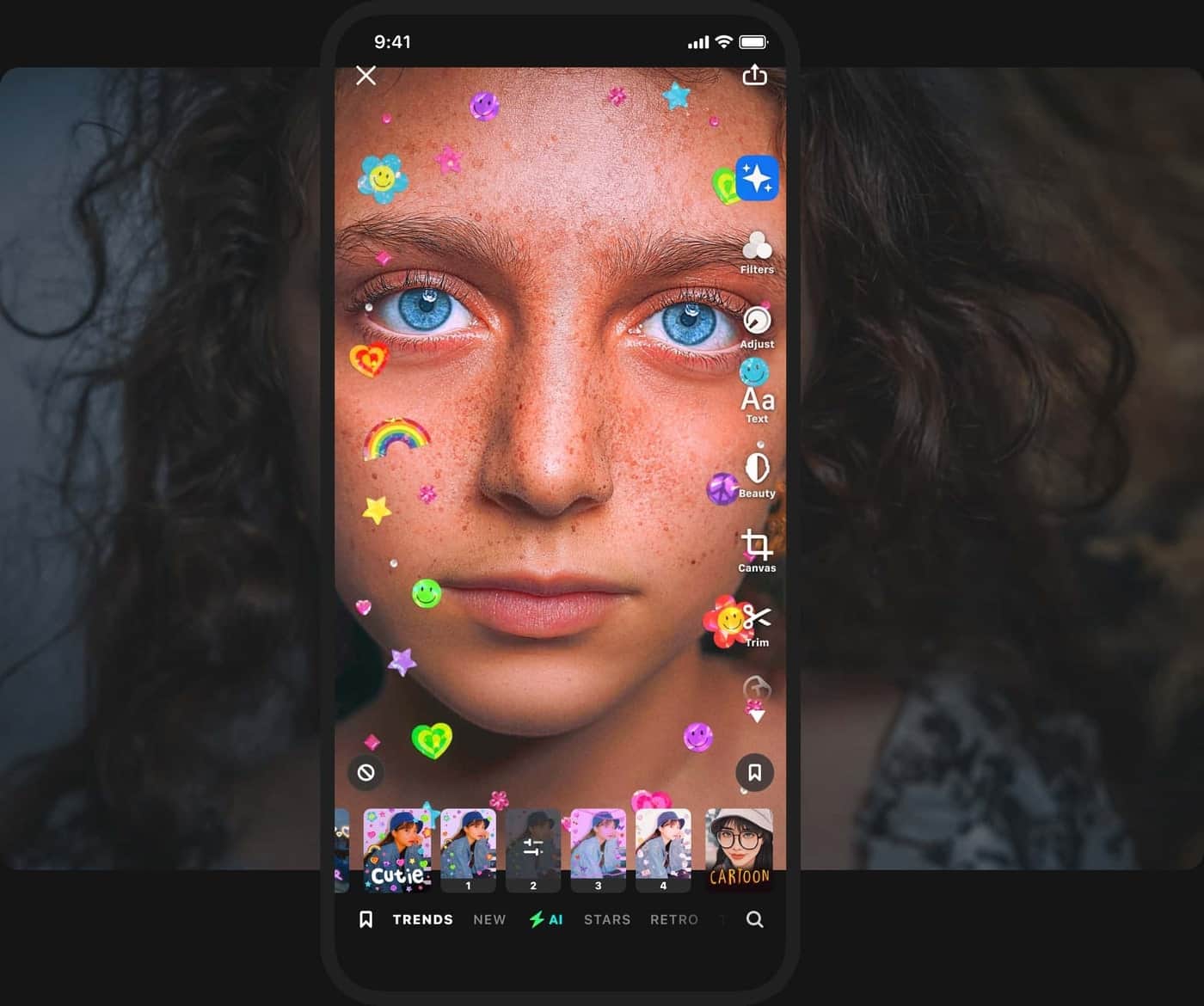 Prequel makes it quick and easy to edit images for Instagram on either iOS or Android phones, but because of the visual social media emphasis, it lacks the more powerful editing functionalities that Photoshop offers. As a result, advanced artists and designers might find themselves getting frustrating fast.
The Prequel video editing app is a great Photoshop free alternative for both iOS and Android devices.
4. GIMP
GIMP (GNU Image Manipulation Program) is an open-source photo editing tool that's suitable for Windows, Mac OS, and Linux, and is a great Adobe Photoshop free alternative. Because it's open source, it's completely free, plus community members keep adding new features to make it more powerful.
While the app might not have the same polished feel or array of features as a for-profit product, it's well-supported, and the vibrant community of code contributors rolls out new builds multiple times each month.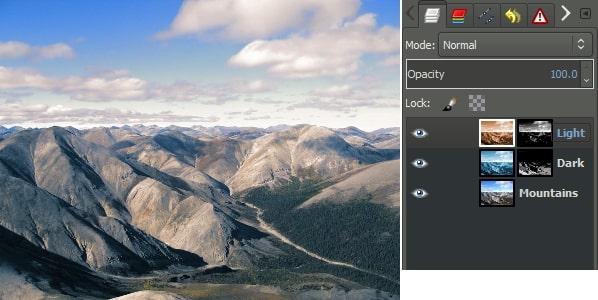 Designed to be a Photoshop killer and nothing more, the customizable interface means you can reorganize the tools you use most often to keep them within easy reach. One of the Photoshop features that professional designers like most is its ecosystem of third-party plugins for filters and other processes. While not as active as Adobe's community, GIMP offers this as well, and some Photoshop plugins even work with GIMP.
GIMP's high functionality makes it ideal for people who are heavily into image editing and are looking for a full toolbox of features and tools, but you need a level of tech expertise to really make the most of it. One drawback is that it doesn't offer full functionality when editing native PSD Photoshop files, but as long as you stick to RAW, you'll be fine.
5. Photoscape X
Photoscape X is desktop-based editing software that's suitable for Mac and Windows. It's an easy-to-use image editor that's designed with social media in mind, with particularly good tools for editing people-focused photos. The standard version is free, and you'll pay $40 for the Pro version with better text and more powerful features.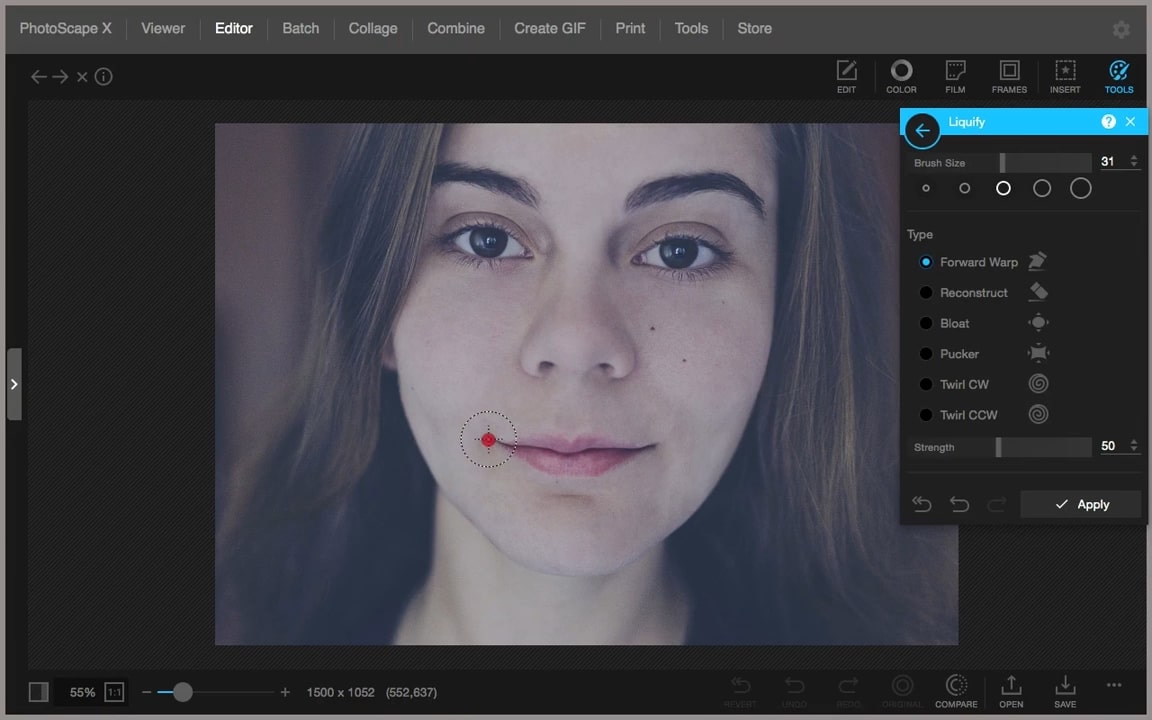 Photoscape X offers both a batch editor and a GIF creator, so you can refine your images and post them onto your chosen social media platform as quickly as possible, but it might seem a bit simplistic if you're an image editing expert.
Some users may consider the lack of mobile compatibility here to be a deal breaker, while others have mentioned that the interface feels dated.
6. Photopea
Photopea is another web-based photo editing platform. One of its biggest advantages is that it's directly based on Photoshop, so if you've already got Photoshop experience, Photopea will feel familiar, and you'll be able to hit the ground running.
Photopea supports PSD files, plus you can export them in more universal formats like PNG, and you can work in layers for complex editing. The developers have also invested significantly in making the web app compatible with as many file types as possible, so that today you can use it to work relatively seamlessly with Figma, Sketch, Illustrator, PDF, InDesign, SVG and more.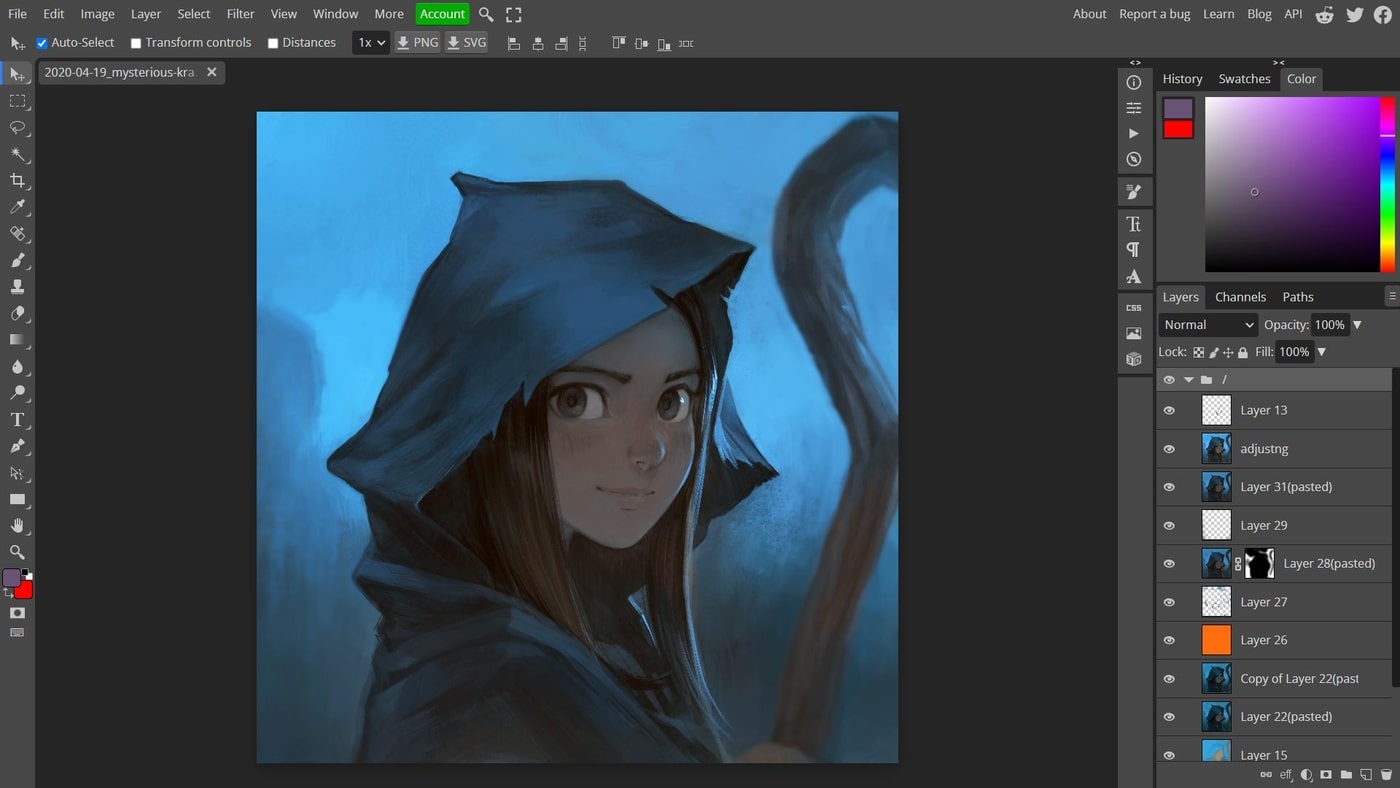 The downside is that because it's strictly web-based, Photopea is not quite as powerful as client-side tools. When your image edits are processed in the cloud, you may experience some delays, but as long as you're creating visuals for digital media only and have a solid connection, this shouldn't represent too much of a bottleneck.
However, if you stick to the free version you'll have to put up with banner ads in the sidebar, which can sometimes be distracting. Photopea also only stores your work for a few days, but you can get around that by saving files to your computer or Google Drive.
Photopea is a great Photoshop online free solution.
There's more to image editing than Photoshop
For content creators and marketers, Photoshop can help cut their workload and speed up the process of producing visual content. But Photoshop isn't the only image editing tool on the block.
By choosing the right visual editing tools for your use case needs, skillset, and preferred device, you can roll out top quality images and photos in a shorter space of time and grow your following even more.