For most marketers, when you hear the word "optimization", you're most likely inclined to think of SEO and the technicalities that come with it. However, at its core, the idea behind optimization is really quite simple: It's making the best of anything.
It's about taking what you already have and then — through experimenting and measuring — figuring out ways to make it even better.
So in reality, optimization can (and should) be applied to all your marketing efforts, including your social media marketing. To help you make the best of your social media profiles, below are a few easy ways to ensure you're optimizing your social media channels for optimal results.
Once you grow your following, you need to turn followers into leads. Learn how with this free ebook!
5 ways to optimize your social media profiles
1. Create consistent branded URLs
For optimization purposes, it's best to keep all usernames consistent across all social media channels to help increase brand recognition.
If your brand name isn't available on a given platform, try to stay as close to it as possible while still being easy to remember and market. For example, using "mentionapp" when "mention" isn't available.
Here's how you can customize your profile's URL on different platforms:
Facebook: To create a branded URL for your Facebook Business page, you need to create a username. Dive into your "About" section, and you can easily create or edit your branded username by hovering over that section:

Twitter: Similar to Facebook, Twitter will automatically create a URL based on the username, or @handle, that you choose.

LinkedIn company pages: Because LinkedIn creates URL slugs in the form of: http://www.linkedin.com/company/companyname, it's best to use your company name as the username for your Business Page. Not only will it help with consistency, it will allow users who are searching for you to find you in search results.
Unoptimized:

Optimized: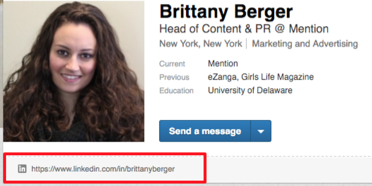 Check out our free Username Generators – they make it quick and easy to create unique usernames across Facebook, Instagram, TikTok, Twitter, Twitch, Snapchat, YouTube, and Reddit.
2. Create custom apps on your Facebook page
Social media has the ability to drive tremendous amount of traffic to your website, blog and other social media channels – but only if you promote them!
Because each network has their own unique capabilities, and most only allow one link to be included in your "About" section, Facebook allows for companies to include customized apps that can be used for just about anything!
At emagine, we promote our website URL in our About section and created custom apps to promote our blog, LinkedIn, and Twitter accounts.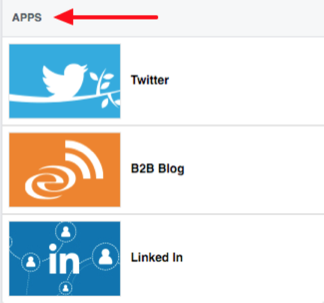 While mention utilizes it to showcase their open job opportunities: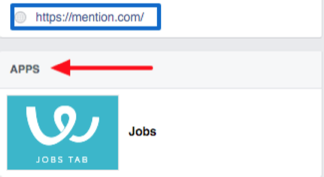 3. Fully complete your social media profiles
Complete each and every field in your About section, with detail. Your social media channels may be the first place prospects find and learn about you.
With such a high demand for immediate information, it's crucial to consider your social networks as a second website for users. Include a detailed description of your company (using targeted keywords and phrases when appropriate), the services you offer, office locations, hours of operation, links to your website, and an active email that users can use to reach out to you for more information.
With search engines indexing social media content now, the more detailed you can get, the better! You can even repurpose and summarize your website content to keep your brand messaging consistent across channels.
"What's the secret to great SEO? Maintaining the mindset that every piece of content that you create is an optimization opportunity." – Alicia Hale; @aliciahalevp
4. "Pin" important content to your profiles
Do you have an event or webinar coming up? Did you just create an awesome piece of content for lead generation? Or maybe you want to simply drive more traffic to your website.
One of the easiest ways to increase the shelf life of your promotion is by "pinning" it to the top of your page. This can easily be done on Facebook, LinkedIn, and Twitter, like so:
Facebook:

Twitter: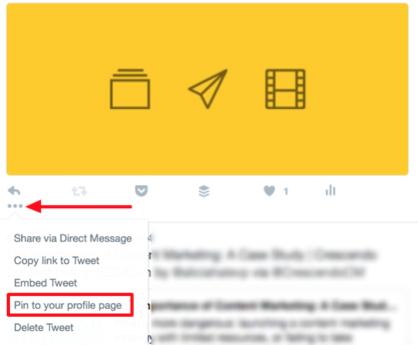 5. Use strong calls-to-action to increase engagement
As mentioned before, a company's social media profile is often the first impression a user gets. Just like your website, your social media profiles should utilize CTAs as much as possible to direct users to the next step in their journey – whether that's to read a blog post, view your updated portfolio, apply for a job, or even just visiting your website for more information.
Facebook recently added a new CTA feature right on your cover photo to help your audience interact with your business.
Mention takes full advantage of this feature by using their CTA button to encourage users to try out their app: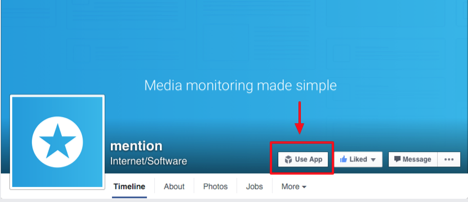 One final tidbit to help increase your social media optimization efforts:
Include images! The power of visual content is increasing every year. In fact, research shows that by including relevant images in your social media content, generated 94% more views than those without.
So there you have it! Optimizing your social media profiles may take a little extra time and effort, but when done correctly, the results will speak for themselves.
How do you make sure your profiles are up to snuff? Share in the comments below!