When it comes to social media reach, Facebook is always the first platform to come up in conversation. Interestingly enough, it's also the first platform to come up when talking about the decline of organic reach on social media.
What about reach on platforms like Twitter and LinkedIn?
Everywhere you look, organic reach is plummeting. Today we're going to look at why and what you can do to change it.
For small businesses, it's not always reasonable to pay for marketing on social media. For others, it's about balancing the paid reach with organic.
Today, I'll help you find that balance and maximize your potential on social media.
All about the money? Why organic social media reach has plummeted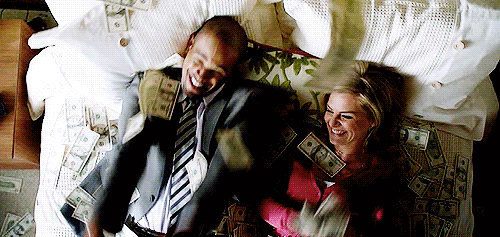 Before you can combat the fall of organic reach on platforms like Facebook, you have to understand why it happened. After all, you can't fix it without understanding how it broke.
The first thing most people will tell you is that Facebook, Twitter, and LinkedIn just want to make money.
Well, yeah, they're a business. As we all know, a business has to make money somehow.
But it's not all about the money.
Reddit user Brian Cristiano wrote an excellent post where he explained the complex motivations behind this change.
While he addressed the main point about Facebook pushing its own paid advertising, he also explained that this change is more in line with Mark Zuckerberg's vision for the platform. In short, he wants to "engage users on the platform."
Facebook (and every other social media platform) wants to show users only the content that is most engaging, and drop everything else. Known as the News Feed Algorithm, it brings to mind another particular algorithm. Yep you guessed it:
Social media algorithms mirror Google's.
Social media is adopting its own form of SEO in a way that promotes a positive user experience. The way this algorithm works is by putting your posts in a pool as small as one percent of your followers. If those people engage with the content, then it gets introduced into a larger pool. Slowly but surely, more and more people see it, but only if it's engaging.
This is huge information, but it doesn't help you because you don't know what Facebook and social media considers engaging.
Today's ten tips are going to cover several platforms and help you define what it means to create shareable content people will engage with, and ultimately help you spread on your platforms of choice.
Need more social media help? Build a strategy in one week with our free email course.
10 ways to increase your organic reach on social media
1. Focus your efforts on the right places
Most businesses will assume that they need to have a presence on everything from Facebook to Pinterest, but that's not necessarily the case.
Your audience may not have a presence on every social media platform, so why waste energy? Choosing which network to focus on is easier than you think.
Here are some quick ways to help you decide which platform is worthy of your time:
Simply ask
The best way to get accurate info about your audience is to simply ask them. Try using a survey, put it in an email, or even give some of your best customers a quick call to see how they're doing. While you're getting caught up, ask them which social platforms they use for business and personal purposes.
Look at your share counts
If you have a blog, then you should be using share buttons already. Many of these tools will provide analytics that show who's sharing your content and more importantly, where they're sharing it. Follow these numbers to figure out which platforms to focus on.
Look for your competitors
Lastly, take a look at your competitors. Where are others in your industry posting? If you don't see them anywhere on the platform, odds are you shouldn't be there either.
2. Optimize your social media profiles
Earlier I drew a connection between social media algorithms and the ones used by search engines like Google. When we create content for those engines, we optimize it with all kinds of on-page SEO tactics.
Well, turns out social media is the same way.
Every aspect of your social media profile can be tweaked for better visibility and optimization. If you want to be a social media rockstar, you need to know the ins and outs of these elements.
Many of the tactics you know and love work here, too:
An easy to remember username
A recognizable photo/brand logo
Keyword-rich descriptions (that still sound natural)
A trackable link back to your website
When posting, use these same factors to decide which images you use, what keywords you include, and how you phrase your call-to-action. This applies to any and all social media platforms.
Enhance your social media profile's visibility and optimization with our free Username Generators for Facebook, Instagram, TikTok, Twitter, Twitch, Snapchat, YouTube and Reddit.
3. Post evergreen content
"Create evergreen content" is one of those things that's easier said than done. A typical post on social media, especially on giants like Twitter or Facebook, can have a widely varied lifespan.
These posts also need to be engaging. You may, work in a boring or dry industry, but you can still find a way to make your posts stand out despite the subject matter.
The bottom line is this:
Don't publish content with an expiration date.
Consider solving common and persistent problems in your industry. Even better, try to post something educational and funny. Humor, shock, or awe are great emotions to target with evergreen content.
People will always share positive posts more than negative ones.
4. Work smarter, not harder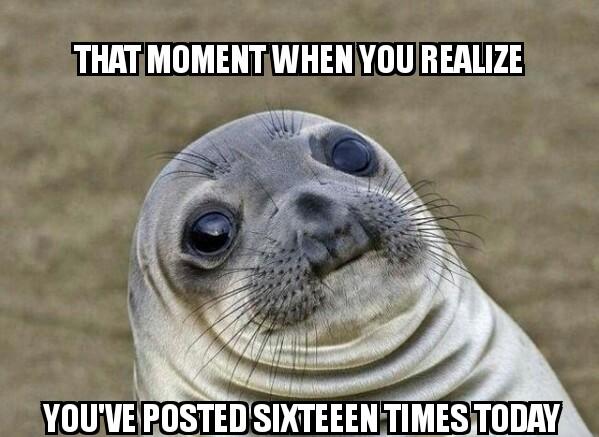 Facebook themselves have said that the average user is subjected to over 1,500 stories per day. To increase engagement, the news feed only displays about 300 of these – those that are most relevant to the user.
With this knowledge in hand, we now know that posting more isn't the answer.
No, instead we need to focus on posting high-quality, relevant content. In this case, it's literally quality over quantity. Posting less with higher quality will increase organic reach more than spamming your page with everything you can get your hands on.
While there's no exact science to this, the Buffer blog suggests you post twice per day. Always remember that your business is unique, so don't be afraid to experiment with different frequencies.
5. Use targeting to maximize organic potential
This tactic will vary from platform to platform, but tweaking the settings of your posts to target specific members of your audience can give you a boost in organic potential. For Facebook, you can use organic post targeting to tweak who will see it.
There are eight options on Facebook you can use:
Gender
Relationship
Status
Education level
Age
Location
Language
Interests
Post end date
The same type of options are available on Twitter. For example, with their use hashtags, which allow you to categorize your posts. Take any opportunity you can to better target your audience so the right people see your posts.
6. Post during slow hours
Another misconception is that you should post when everyone is online, but that's just going to throw your content into the hurricane of posts that people are seeing. If you wait until non-peak hours to post, you're less likely to get drowned in all the noise.
Looking at research data, these are generally the best times you should be posting:
Facebook – (Thursdays/Fridays) between 1pm and 3pm
Twitter – (weekdays) between 12pm and 6pm
LinkedIn – (Tuesday – Thursday) between 7am/8am and 5pm/6pm
Of course, you should look into data for your own audience, if you can.
7. Post the right types of content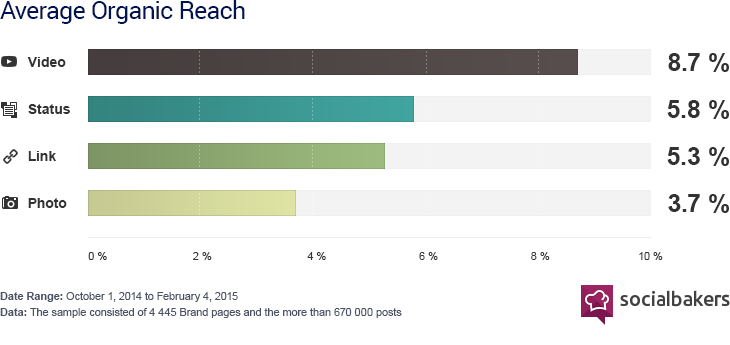 An interesting study done by Socialbakers revealed that certain types of content can give you a huge boost in organic reach.
The results of their study showed that videos had the highest organic reach on Facebook by a margin of almost 3%, which is huge given that average organic reach has dropped to 1% or less.
Check out this comparison from their study:
Of course, you shouldn't assume that videos will work for you as well, but it does tell you that you probably want to experiment with it.
Not only should you vary up the mix of images, status updates, links, and videos that you post, but also use tools like Facebook Insights to track your posts and see which types are performing best.
8. Promote your profiles everywhere
Every place that your business has a presence should also showcase your social media platforms. On your website, your storefront, your business cards, the signature on your emails, anywhere you can think of.
You should also consider adding follow buttons on your website so users to instantly follow or "like" your page, without having to leave your company's blog or website.
Don't forget, you can also cross-promote your social media profiles. Turn your Facebook likes into Twitter followers and vice-versa. You want your presence to be known everywhere which will ultimately grow your organic reach immensely.
9. Post the right balance of promotional/useful content
This one is tough, because you immediately want to promote your product or service on social media. But you can't always think about yourself when it comes to these things.
Users expect to find content that's useful to them, as well.
Sharing valuable content (how-to guides, articles, new posts, etc.) grows a user's trust in your brand. They come to know you as an authority in the industry and will therefore trust you when you recommend a product or service.
The rule to master here is the 80/20 balance. Eighty percent of your content should be useful and helpful, while 20% can promote your brand or its products. That eighty percent will bring new followers and build trust, they'll then see the twenty percent and buy into what you're selling.
Don't forget that this variety should also include a mixture of videos, images, and other engaging content types.
10. Interact with and engage your followers
Organic social media reach is never easier than when people come directly to your page.
If you properly engage with people and reply to their comments, you're going to build a great reputation that will spread. People will look for your posts because they'll be genuinely interested in what you're doing.
Forging that kind of bond is important for all aspects of your business, but it can create a viral effect for your organic reach. Word-of-mouth will spread across new members of your audience and they will in turn come and see what your company has to offer.
Final thoughts
The secret to organic social media reach is the same as the secret to ranking well on search engines. It's all about optimization, user experience, and high-quality content. If you start thinking about your social media management efforts in the same way you think about your SEO work, you'll see the pieces fall into place.