Most marketing newsletters are boring AF, I'll be the first to say it.
As busy marketers, we try not to spend all of our time scouring the internet for useful information.
Our inbox was supposed to be a place we turn to for quick, digestible communication from companies.
Instead, we are now constantly flooded with marketing newsletters that provide very little value to us.
Why do most marketing newsletters suck?
Most marketing newsletters try to do too many things at once.
From product updates to event invites to random blog posts, emails are supporting every single aspect of your business.
What's more, whether it's a newsletter or not, any email that you send needs to focus on one message if you want it to deliver.
While a lot of us think that email newsletters can kill many birds with one stone, it can't.
The focus and intent of a marketing newsletter need to be clear as soon as the reader takes the first glance.
It also needs to provide readers with something they cannot get from your other marketing channels.
But do people even care about newsletters anymore? Perhaps we should forget about marketing newsletters altogether?
Eeeh, not so fast.
Why we still need to care about marketing newsletters
Even though so many new marketing strategies have surfaced since emails, it's still considered one of the most effective types of marketing.
According to Chief Marketer, "email marketing outperforms other tactics for lead generation", Campaign Monitor tells us that 89% of marketers consider that their email marketing strategy is a success, and HubSpot says it clearly contributes to improving sales.
It's personal, it's targeted and it's meant to be consistent.
"Email may be old-school, but having the most relevant pieces of news handed over to you in a digital package is still extremely valuable" (Contently).
We shouldn't forego email newsletters altogether, but if your current program isn't giving any result, take a step back and evaluate what you're doing.
New year, new newsletter
Don't be afraid to shuffle the cards from time to time.
Here at Mention, we recently decided to revamp how we did our marketing newsletter (again).
Why?
Because it was something we wouldn't want to read ourselves anymore.
More importantly, it wasn't helping our company get closer to our objectives such as generating new leads and growing a large and engaged email list.
So, to improve this, we had to take a good hard look at our old newsletters and ask ourselves:
Why are we creating an email newsletter?
What do we want to get out of it?
Are we providing value to our readers?
How much time, resources and which tools do we need?
How will we promote it?
How will we measure the progress?
These are must-ask questions that every marketer should ask themselves before creating an email newsletter strategy.
We also decided to focus our newsletter on one topic and incorporate — when relevant — related articles from other companies.
The result?
Our readers are already raving about the look and content of our new newsletter. The best part is that we're seeing a 20% increase — on average — on our open rates, compared to our previous version.
Now, this is not something we just came up with out of the blue.
There are actually several awesome newsletters out there that inspired us to revamp ours – here are some you should sign up for immediately.
Starting with our dearest Mention Memo.
1. The Mention Memo
Every week, you'll get a hot little newsletter filled with cool gifs, valuable free resources, and insightful commentary around a trending marketing topic such as Instagram Stories, big tech trends from CES and Facebook marketing. You'll also get practical tips, tricks, and free resources you can use for your own marketing strategy.
Why we like it
Not to toot our own horn but it's visually appealing and stands out from a lot of the other newsletters we get in our inbox.
Secondly, we hear that it's actually interesting and valuable to marketers.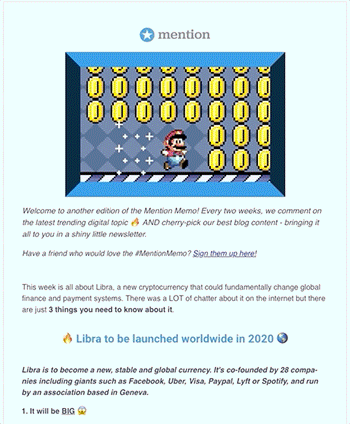 2. Growthnotes
Growthnotes is a weekly newsletter by the influencer experts over at Inbeat promising to deliver deep marketing insights.
If you're looking to deepen your marketing knowledge and inspire your own strategy with hand-picked, thoroughly analyzed case-studies, Growthnotes is the newsletter for you.
Why we like it
It's very refreshing to see that they take one or two themes and dive into the details rather than try to cover everything that's going on at the same time. Having a resource like this in my inbox really adds an extra layer to my marketing knowledge.
Whether you've been in the game for 5 minutes or 5 years, there's always something new to learn!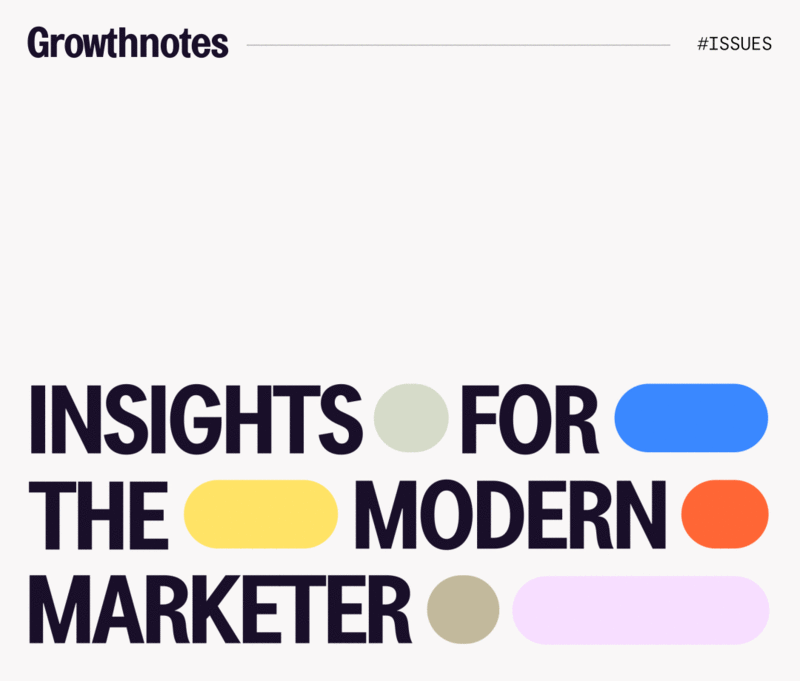 3. Ariyh
With hundreds and thousands of marketing tips and tricks floating around the internet, often conflicting each other, it's hard to know which ones are worth trying.
In an ideal world, we should A/B test and track everything. In the real world – especially for smaller teams – we don't have time for that.
Enter: Ariyh (pronounced "A-ree", as confirmed by founder Thomas McKinlay).
This weekly newsletter follows a unique, simple, but effective format. Each week you'll receive a new evidence-based marketing tip that comes from unbiased, peer-reviewed, scientific research done by the world's best business schools.
Why we like it
Ariyh is a personal favourite of mine that speaks to my inner marketing psychology geek.
There's absolutely zero fluff involved as each tip is thoroughly explained and backed up with an academically-sound study. In less than 3 minutes, you'll learn what to do, why you should do it, who it works best for and examples of how it's worked for other brands.
Sign up and check out all of Ariyh's previous tips here.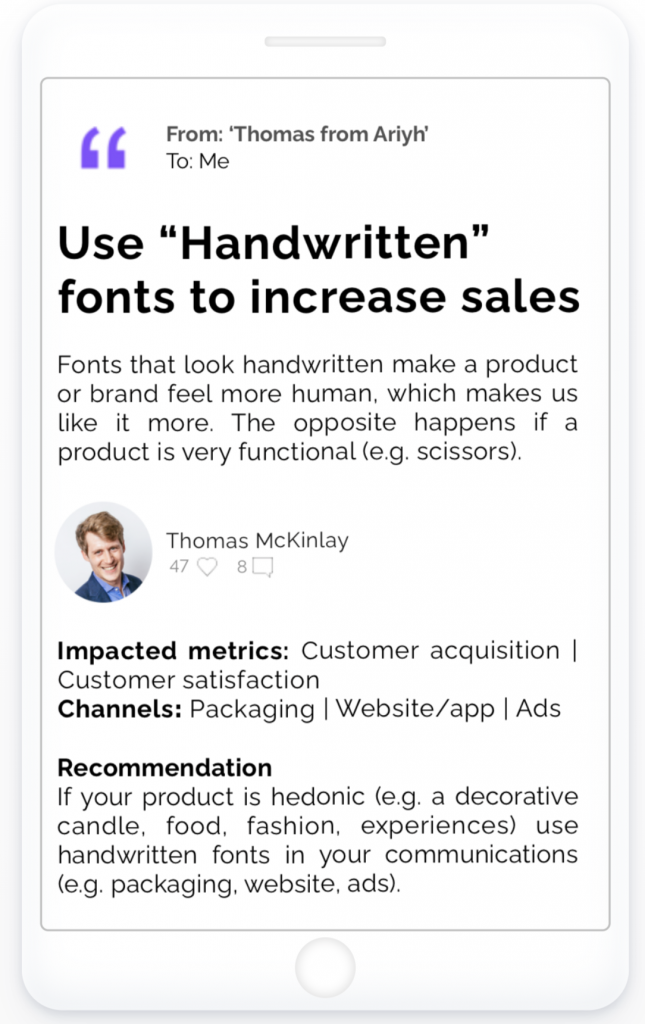 4. Geekout Newsletter by Matt Navarra
If you do any sort of social media marketing or community management, Geekout is a must to subscribe to.
This popular free weekly newsletter curates all the latest social media platform news, tips, tricks, tools and new features.
Why we like it
Trying to keep updated on all the latest social media features and platform changes is hard work. Geekout is one of the most complete, up-to-date summaries of literally everything you might need to know, saving us hours each week on research.
We're a big fan of the "Quick hits" snippets. Geekout cuts out all the BS and gives you the lowdown on the latest trends in a single sentence.
Sign up for the newsletter, and check out previous editions here.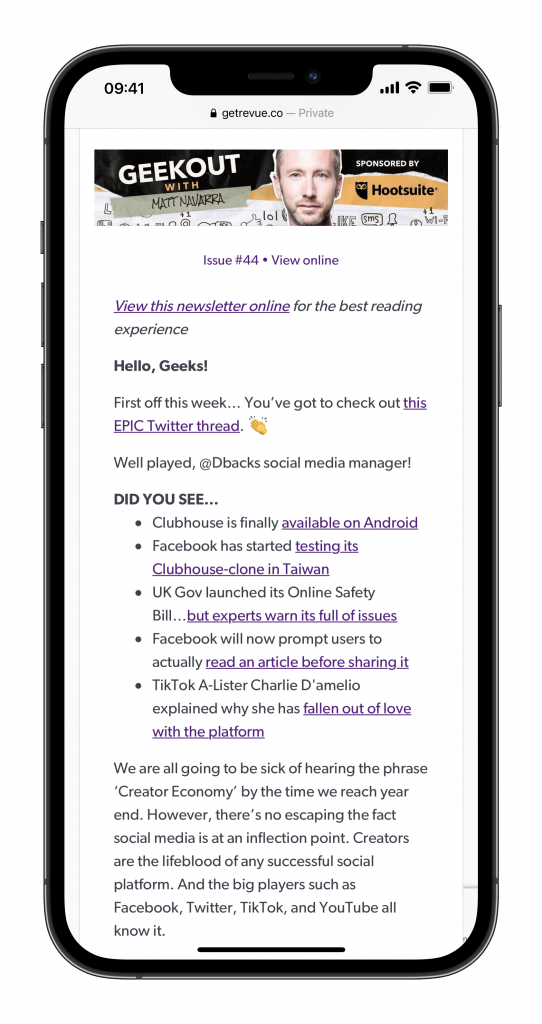 5. Please Advise
Please Advise is a daily marketing newsletter curated by the folks at Top Hat. Consider Please Advise your daily call-to-action.
It's broken into 3 simple sections. LOOK, DO and TRY. The best part? It's packed with information you'll actually use and you can read it with a quick swipe.
Why we like it
If you're in marketing, Please Advise is a no-brainer. It's a well designed, quick read that you'll enjoy opening up everyday.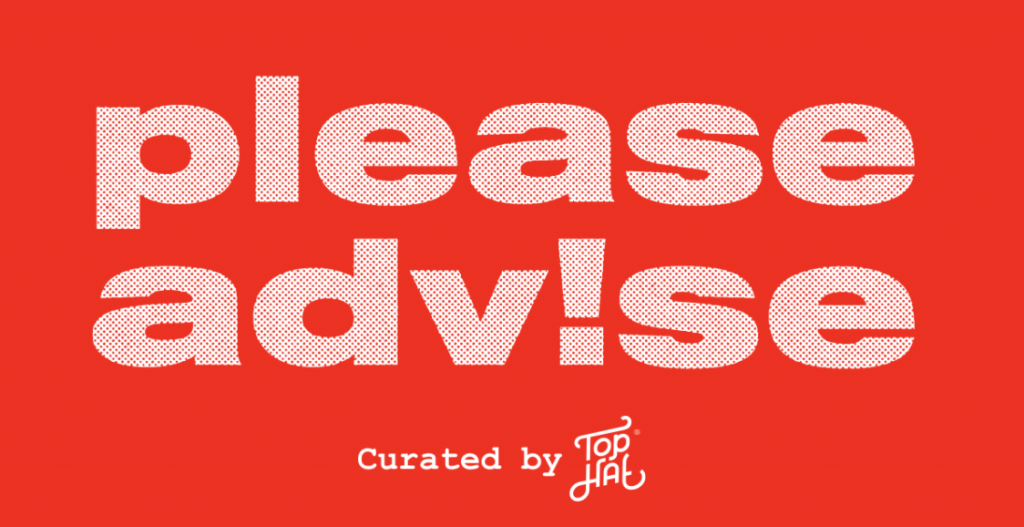 6. @MarketingMax's Growth Hacks Weekly
This newsletter indeed lives up to its name: providing top quality, actionable growth marketing hacks on a weekly basis. MarketingMax also shares interesting marketing news and bonus resources – including those from his own TikTok account (who said TikTok doesn't work for B2B?).
Why we like it
You won't find any overly-complicated, messy growth hacks that'll take months to set up. You'll also struggle to find these hacks elsewhere on the web. Instead, Max's super original, tried and tested hacks are easy to set up, explained in layman's terms, and therefore actually actionable.
Get the growth hacks here.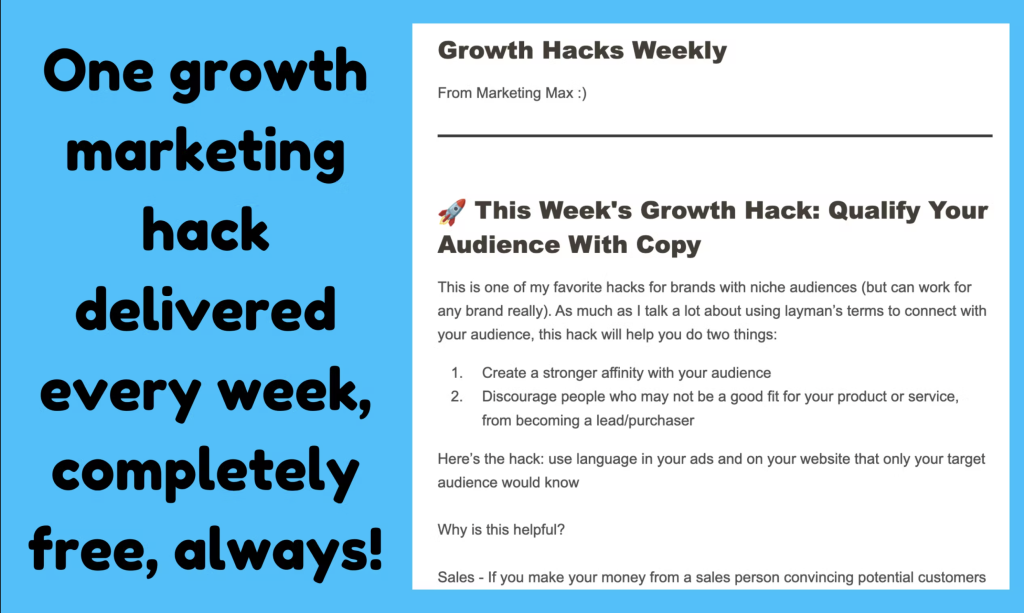 7. The Hustle
The Hustle founder Sam Parr came across the idea of a daily newsletter for millennials while trying to promote HustleCon, a startup conference he was organizing.
As a result, he got an overwhelming response for his newsletter which helped him eventually grow to a 300k+ subscriber base.
According to Digiday, "Parr hopes to carve out a niche by bringing a conversational tone to culture and tech coverage"…
With informal language like "dude" and "insane", the site has a "bro voice".
The newsletter includes stories with provocative titles like Soylent: What happened when I went 30 days Without Food and The Rebranding of The Trailer Park.
Why we like it
Interesting topics presented in casual, millennial bro speak.
Sign up for it here.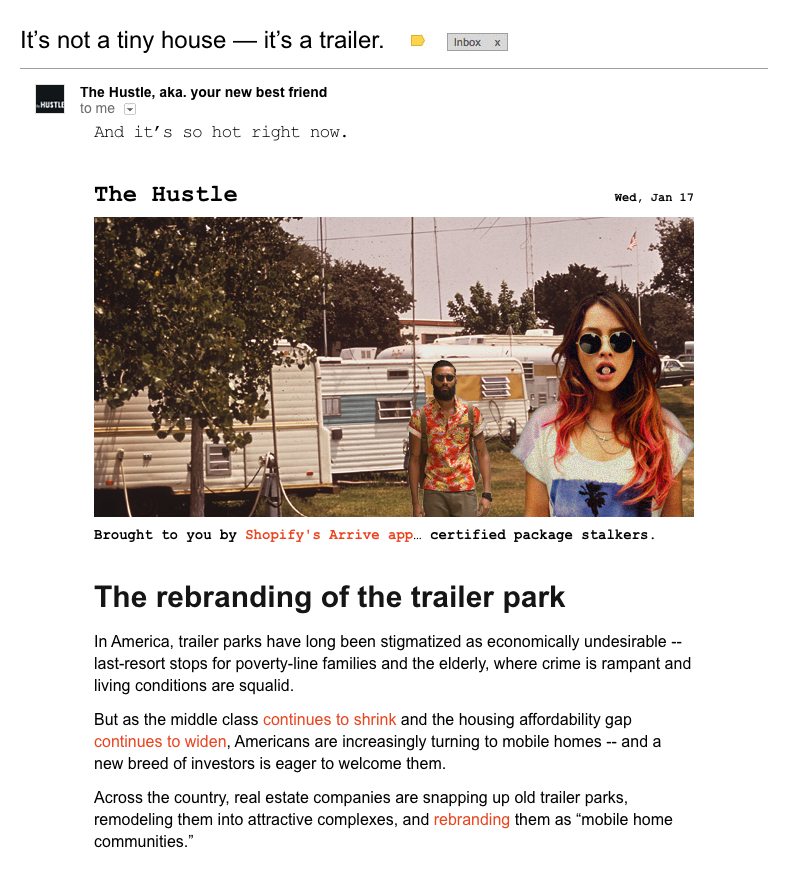 8. TL;DR Marketing
If you're looking for a minimalist, no-fuss format to keep you up to date with the latest news without getting distracted, TL;DR is the newsletter for you.
TL;DR provides a really succinct overview of the essentials, including the latest updates on social media, SEO, paid media marketing and more. This daily newsletter comes highly recommended if you're looking to protect your focus while still wanting to keep on top of the latest industry trends and changes.
Why we like it
This is our go-to newsletter for when we're strapped for time (which is… often). The TL;DR newsfeed mini-site with web-stories is really nicely designed too in the same minimalist style as the newsletter.
Sign up for it here.
9. Marketing Brew
Marketing Brew is a tri-weekly marketing newsletter highlighting the best of the best marketing tips, think-pieces and industry updates. If you liked The Hustle, you'll also love Marketing Brew.
Why we like it
The newsletter is really well written and includes interesting articles and tid-bits that you'll actually want to read. They're also extremely selective with which marketing tips get included, so you know they're not including fluff for the sake of it.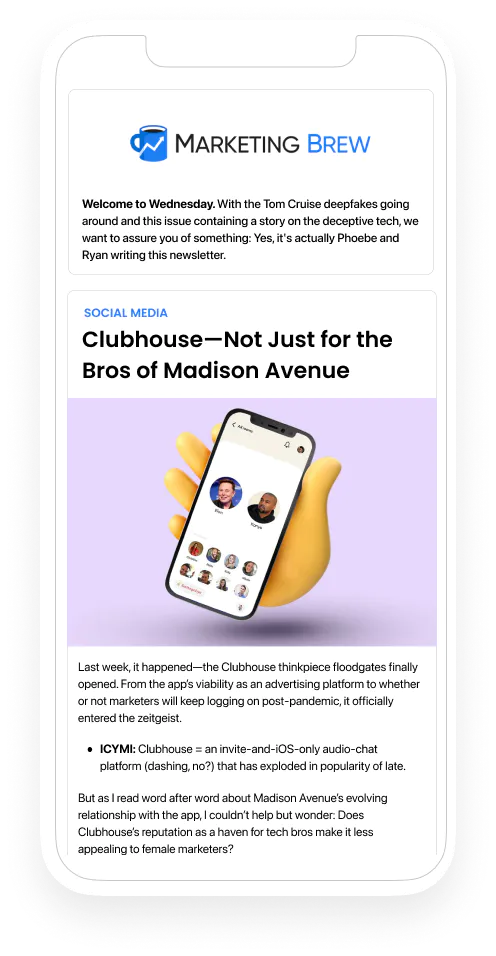 10. The Daily Carnage
Carney+Co. is a full-service agency specializing in design and development for the browser, desktop, and mobile platforms.
The agency is empowering marketing pros with great knowledge, best practices, and latest industry trends through its "Daily Carnage", a hand-picked list of the best marketing content delivered to your inbox daily.
Why we like it
Exactly this: "There has been a gap to focus on online marketing in a fun, relevant way. I LOVE the Daily Carnage."
Sign up for it here.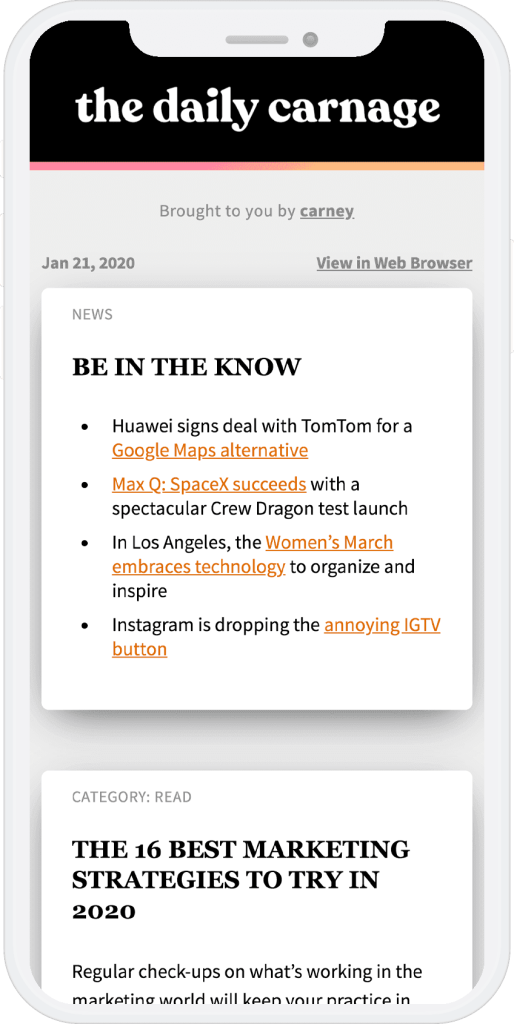 So this last newsletter is by no means related to marketing, but it's brilliant so I had to include it. You can expect in This Week in Cats: top-quality photos of cats, stories of cats and the highly-anticipated Cat of the Week.
Need I say more?
I can't believe I've only just discovered it. Thank you internet.
Why we like it
Very niche topic. Informative and entertaining.
Sign up here.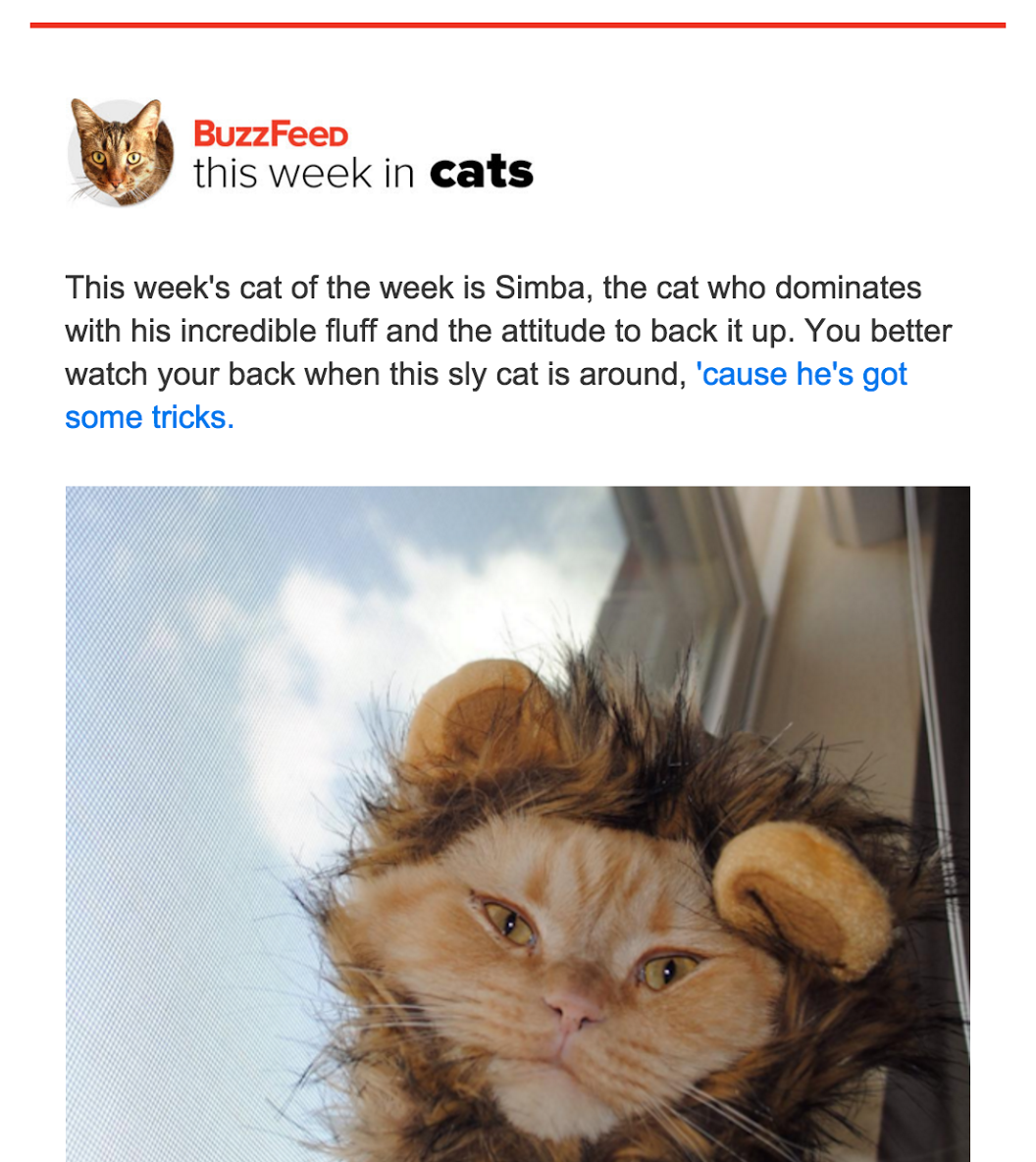 Did we miss any?
We're always looking for interesting marketing newsletters we can draw inspiration from. What are your favorite ones? Let us know on Twitter @mention.