Email marketing is one of the most powerful ways of reaching out to your audience. Unlike any other platforms in email marketing, you don't have to depend on a third party to send out your emails.
When you depend on any third-party platform like social media to market your business, you have to depend on them for your campaigns as well. Your followers will see your content as long as the social media platform decides to display it to them.
If someday they decide to close down, you will have no access to your content or your profile for that matter. You'll even lose the contact details of your followers.
This means all your hard work and results you have got from your marketing efforts will disappear in one go. It is not the same with email marketing.
Here, whatever contact details you collect is solely yours. Once you have collected them, you can start sending out your emails directly to your leads.
People check their emails multiple times during the day. So by landing on their inbox, you get the chance to appear in front of them on a regular basis. This creates brand recognition and makes you more memorable.
Since you have direct access to their email addresses, you can have a one-on-one conversation with them. This makes your communication more direct and effective.
But to make your email marketing campaign more effective, you need to constantly update and clean your email list. In this post, we'll discuss how to do that. So let's get started.
How to Keep Your Email List Clean
If you really want your email campaigns to be successful, you need to keep your email list clean. One major reason why you should do that is because it will help you improve your email deliverability by ensuring that you have relevant leads in your list only.
If your list isn't relevant, you might have the chances of getting marked as spam. This can massively impact your marketing efforts. But by keeping your list clean and updated, you can ensure that this doesn't happen.
But how do you keep your list clean? Let's find out.
1. Make It Easy For Your Users To Unsubscribe
One of the easiest ways to clean your email list is to make it easy and simple to unsubscribe from your newsletters. This will not only help you clean your list more easily, but will also demonstrate that you respect your user's preferences.
You don't want to create a frustrating situation for your subscribers by forcing them to stay against their wishes. So offer a hassle-free and easy option for them to unsubscribe. This will help you build a positive brand image and build trust amongst your users.
Just make sure that you ask for their feedback when they are unsubscribing to your email. This will help you understand why they chose to do it. It will also give you an insight into how to improve your user's experience and make it more profitable.
2. Remove Invalid Emails
The next effective way of keeping your email list clean is to remove all invalid emails from your list. When you run your email campaign, you'll notice that your mail doesn't get delivered to some addresses and bounces back.
This happens because of the invalid emails in your list. There is no point having them on your list. Firstly, your mails aren't reaching out to anyone. So your marketing efforts are only going to waste. Second, it is unnecessarily making your list more crowded.
Sending out your emails to such addresses can only affect your deliverability by bouncing back your emails. So it's best that you get them removed. By doing so, you can ensure that your list is more relevant and that you're getting results from your efforts.
Damian Grabarczyk, the co-founder of PetLab Co says :
"Removing invalid emails from a mailing list is essential for maintaining the health and efficacy of our email campaigns. By purging outdated or incorrect addresses, we ensure our communications reach the right audience, reducing bounce rates and preserving the sender's reputation.
This needed process streamlines our efforts, enabling more accurate performance metrics and enhancing campaign effectiveness. A clean and updated mailing list can help enhance deliverability, engagement, and ultimately, our brand's credibility, resulting in more efficient and impactful email sends."
3. Use Email List Segmentation Tool
The next effective way of updating and keeping your email list clean is to use a solid list segmenting tool. Email segmenting tools allow you to categorize your email list into smaller lists. These lists are generally based on specific criteria like user preference, gender, location, etc.
When you use these tools, it becomes easier for you to tailor your content and personalize them based on these criteria. For example, if a user is looking for a certain product, and it's not available with you. You can notify them when the product is back in stock.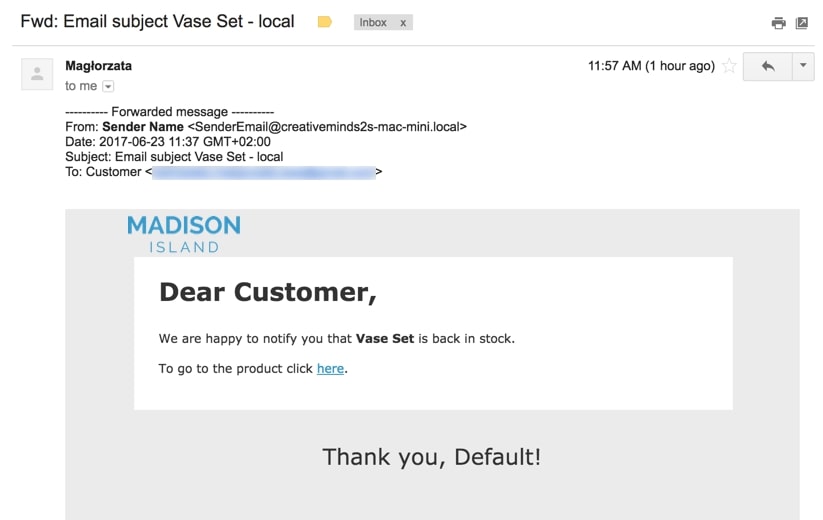 By doing that, you can make your users feel valued. It's also a great way to re-engage your users with your business. This means you can have a higher engagement rate and better user satisfaction.
4. Remove Bounced Addresses
Removing bounced addresses is another very important point to consider when you're updating and cleaning your email list. When you have too many bounced addresses, your email marketing campaign gets negatively affected.
That's because you're spending your energy in emailing people who are actually not receiving your emails. But this problem can be solved if you identify your bounced addresses based on their categories.
There are two types of bounced addresses. One is hard bounce and the other is soft bounce. Hard bounce usually happens for emails that permanently don't exist or are invalid. Soft bounce on the other hand, occurs due to temporary reasons. For example, it might happen due to server failure.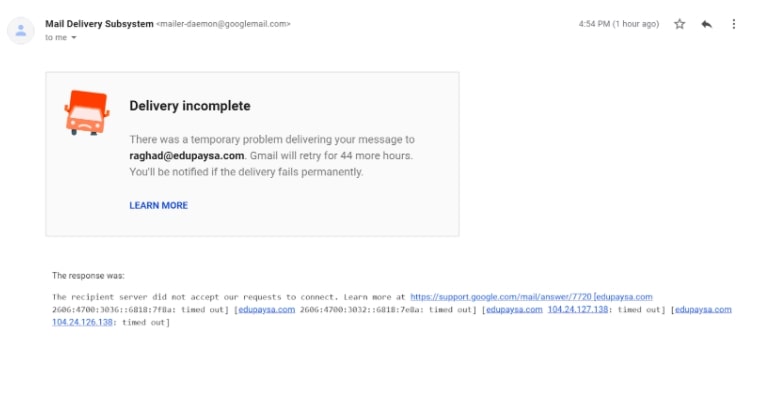 The good thing is that you can easily fix issues with the soft bounced addresses. But it's only a wise decision to remove your soft bounced addresses. This is because these emails are usually invalid, or they don't exist.
So keep an eye on your soft and hard bounces. And get your hard bounced addresses removed at the earliest.
5. Remove Duplicate Addresses
Another major point to remember when updating and cleaning your email list is to remove duplicate email addresses. This will help you ensure that you're not sending the same message repeatedly to the same set of audience.
When you send the same email to a user multiple times, they start losing interest in your emails and begin to ignore you. This will reduce your engagement by massively decreasing your open rates.
If you continue to do this, some users might even want to unsubscribe from your list. But we don't want that to happen.
By deleting your duplicate email addresses, you can make your email marketing campaign more efficient. It will also ensure that your messages reach out to a more dynamic set of audience. Besides, it will keep your list more relevant.
6. Automatically Add New Users to Your List
It may not always be possible for you to manually add your new subscribers to your email list. But not adding them isn't an option. People who subscribe to your list are genuinely interested in hearing from you. And they might even turn into potential customers in the future.
So you should not only add them to your list but nurture them as well. However, adding them manually to your list might not be the most convenient thing. Luckily, there are several powerful tools available in the market that lets you add your new users automatically to your existing list.
Do your research well and identify which tool will best suit your requirements. Then go ahead and start using it to keep your list updated.
7. Use Double Opt-in Process
Sometimes when users add their email addresses, they might mistakenly type in wrong email addresses. As mentioned before, having invalid email addresses can negatively impact your marketing campaign. So you need to ensure that whatever email addresses you collect are valid and correct.
Using the double opt-in process can help you ensure this. By using this process, you make sure that your users have entered the correct email address before they hit the submit button.
Another major benefit of using the double opt-in process is that it lets your users know that you respect their preferences of what email they want or don't want to receive. It's a very strong way of building a positive brand reputation and building trust amongst your users.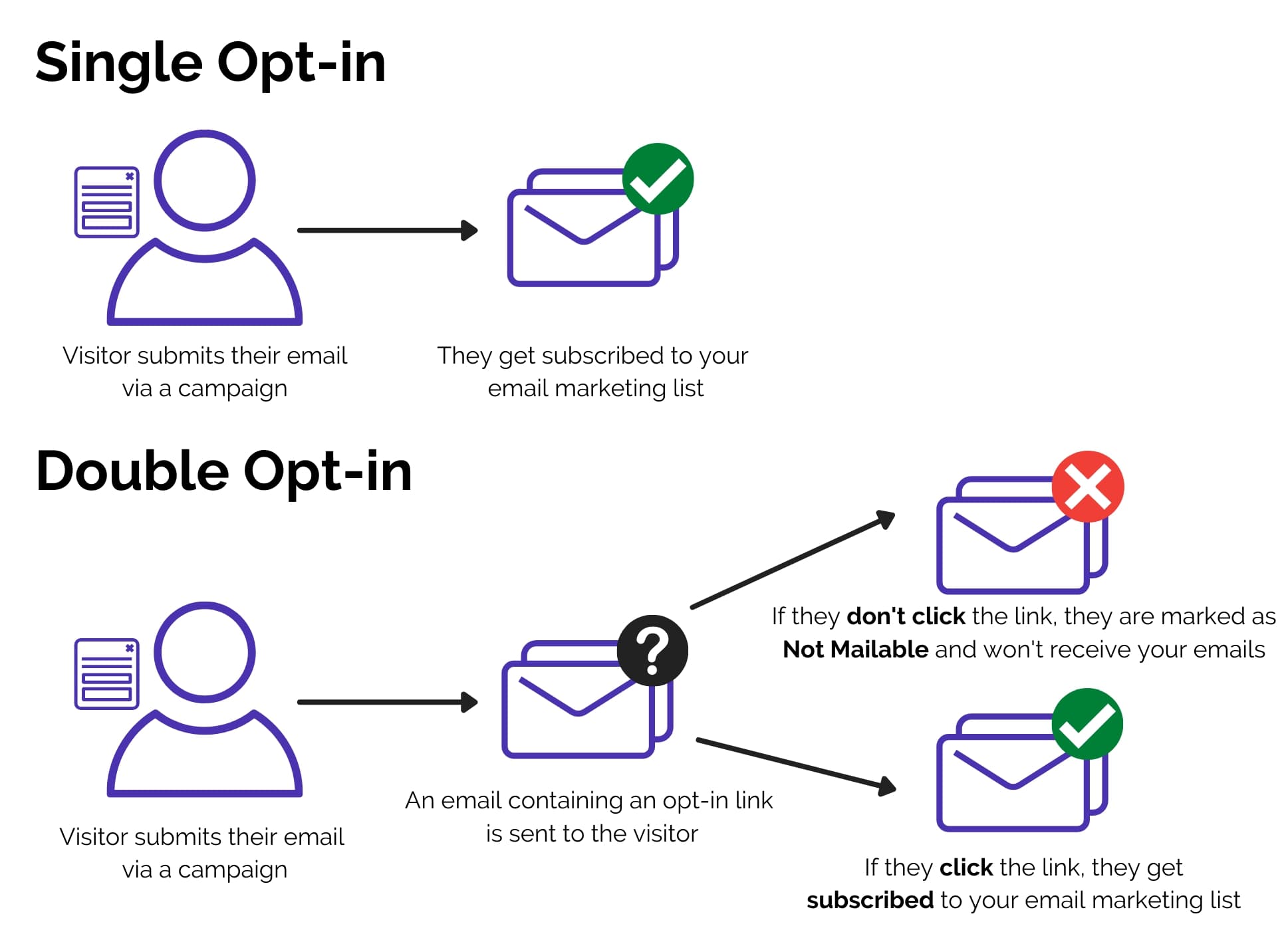 8. Ask Your Subscribers
Sometimes, you might notice a lower engagement rate in your email marketing campaigns. If this happens, you need to identify the reason behind it. Many marketers resort to guessing the reason behind lower engagements. But that's not the right thing to do if you want to get results from your marketing campaigns.
So what do you do? You ask your audience about it. This will help you understand the real reason behind the low engagement. Knowing this will also help you identify how you can improve your campaign to boost your engagements.
Some powerful and effective way of asking your audience about it is to run a subscriber's poll. Just make sure that the query in the poll is relevant. Another way you can do this is to request customer feedback for your recent activities.
This will help you know your audiences better and know your marketing campaign more effectively.
9. Send Re-engagement Email Campaigns
There are times when your users stop engaging with your emails. This is not a good sign for your business. If anything of this sort happens, you need to think of ways to re-engage your audiences. One way of doing that is to send out re-engagement emails to your users.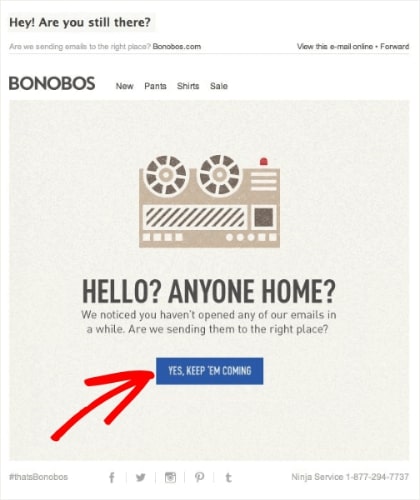 Send your audience gifts and incentives. Everyone loves freebies, gifts, and offers. So why not use it to your advantage to re-engage your users.
Also, send out gift coupons, special offers, and other such content to ensure that your users start re-engaging with your emails.
Another way to ensure re-engagement is to ask them their content preferences. By understanding what your users want to read in your emails, you can create better content that truly interests them. It's a good way to ensure that people like your emails and that it is adding value to their lives.
10. Correct Obvious Typos
When you have a large email list, you can expect them to come with common and obvious errors. These errors can be easily fixed manually.
It might be tedious to go through your email list and spot such errors, but doing that is important to ensure that your list is clean and updated. Such errors might often make the email address look strange. But these errors don't necessarily mean that they are invalid. Sometimes it might just be a typing error.
For example, you can easily spot the mistake in the following email – abc123@gmali.com. You can easily rectify it by correcting the spelling of Gmail in it. This is just an example. There can be many common errors that you can easily fix.
Conclusion
Email marketing is a very significant digital marketing strategy. And it can massively help big and small organizations achieve their business goals. The reason is obvious. It allows you direct communication with your users.
This makes your message delivery more efficient, which means you can easily communicate your marketing message to make a better impact.
But the best results can come only when you know that your marketing campaign is going in the right direction. One way of doing that is to ensure that you have a clean and updated email list.
Cleaning your email list too often may not be possible. But you have to make it a habit to clean your list frequently to keep it relevant. The above points are a few ways to make that happen. So if you haven't focused on cleaning your email list before, start doing it now.
Keeping it relevant is the only way to make your email marketing efforts successful. We hope you found this post helpful.