Calling launch day a big deal is like calling the Atlantic Ocean a big puddle. It's actually pretty ginormous. Launch days are always some of the most important for your business. You've spent weeks, months, or even more building a product. Now you've sent the link over to your favorite Hunter and are about to see what Product Hunt (and the rest of the internet) thinks of your work.
No pressure or anything.
It might be tempting to cover your ears and tell yourself everyone loves it, but you can't. You need to listen. Media monitoring is one of the best and easiest ways to get product feedback. Your users are going to talk about your product anyway. Why not find those conversations and take advantage of the information to serve them better?
And listening to feedback on launch day is even more beneficial. Both because it'll be your first feedback from the public, and because the Product Hunt community is insanely smart, and will have great suggestions for you.
Launching on Product Hunt
We recently announced Battle of the Brands with a Product Hunt launch. It was my first time doing anything like that, and I learned a lot really quickly. Partly through research and feedback, and partly through learning from my own mistakes. I should really share that knowledge around, shouldn't I? Keeping it to myself feels selfish!
I'm not going to tell you how to launch on Product Hunt – there are much more experienced people to do that (I'm looking at you, Kiki Schirr). But I do know a bit about media monitoring and social listening. I mean, look at where I work. 🙂
So today, I'm focusing on that aspect of launching on Product Hunt: how you can use a media monitoring tool like Mention to get real-time feedback on your product, get press coverage, and join in on conversations happening around your hunt.
Why you need to be monitoring
If you're not listening online, you're missing out lots of ways to grow your business. Here are just a few ways businesses can use monitoring:
Market research: Monitor your industry's buzzwords to see what consumers are talking about and what your competitors are doing about that. This will help you determine current and future trends, to make sure your company aligns with that. It can also help you identify angles for marketing your product.
Competitive analysis: Listen for what people are saying about your competitors. Finding out what their customers are unhappy with, especially, is a huge opportunity for insight as well as new sales.
Product feedback: People will talk about your product. Not all of it will be good. Fortunately, when you know what people are unhappy with, you can work towards a solution for them. But you wouldn't have that info without monitoring.
Customer support: When people voice unhappiness with your product, not only can you collect that info for feedback, you can respond to and help them in real-time. And remember, happy customers, make powerful advocates.
Community engagement: No company wants a passive community. Monitoring can identify members of your community to start conversations with.
So, ready to get started? Awesome! But you can't wait until the morning of launch day to start.
Prep work: Set up some alerts
Start setting up your monitoring dashboard a few days prior to launch. That way, everything will be set and ready to go on the big day. Additionally, monitoring your broader industry or community ahead of time helps with any outreach you do. You can identify your target contacts in advance so that you already have a list of people to contact as soon as the hunt is live.

So, what do you monitor?
If you aren't already looking at who's talking about your company name, definitely set up an alert for that, and keep it forever and ever. It's a biggie.
Other suggestions for keywords to monitor include:
The name of the product being hunted
Product name + "Product Hunt"
Product name + "ProductHunt.com
Company name + "Product Hunt"
Maker's name + "Product Hunt"
Your hunt's URL (or part of it, if it's longer than 40 characters)
Product page URL (or part of it, again)
The product or campaign's branded hashtag, if you're using one
Related keywords and descriptors (to find users who might be interested in your product)

The best thing about good monitoring tools is that you also add a lot of customization to your alert so that it pulls in exactly what you're looking for, and nothing else.
Here are the keywords we chose to monitor specifically for launch day of Mention Academy:

We also used alerts we already had set up, like those for our brand name, "media monitoring," and "social listening," to help with listening and outreach.
You'll want to monitor as many sources as possible for this. While you may think most of the conversation will be happening on Twitter or Product Hunt itself, you'd be surprised.

Not only are hunted products discussed on PH and social, but they frequently get picked up by other places.
For example, the press might pick up news of your launch and cover it. People might also post your product in other forums like Reddit or niche communities. Just because you're not talking about your launch on a given channel, doesn't mean other people aren't. Be on the lookout for mentions in blog posts, news articles, forums, etc.
Since you've set that all up in advanced, conversations and insight will be there waiting for you as soon as you wake up on launch day (unless you didn't go to bed – but they'd still be there waiting for you).
Now fast forward to right after your product has gone live on PH.
Here's how monitoring will help you have a more successful Product Hunt launch:
#1. Get real-time notifications

Launches are chaos. Even if everything's going according to plan, there's a thousand things going on. Something like clicking "refresh" on your Product Hunt page to load new comments, or checking your Twitter mentions, can easily fall to the wayside. But engaging with your earliest supporters should be a top priority.
Use your monitoring tool's notification features as a reminder to engage. That way you'll know when someone's commented on PH or has shared about your product. For example, Mention offers both emails and push notifications on desktop and mobile. You can also customize them to pop up more frequently on launch day than you normally would, so you don't miss anything:

You won't receive a notification at the due time if you haven't received any new mentions, so no need to worry about it becoming too distracting. But let's assume people are talking about you like crazy. 😉
Bonus benefit: since almost 31% of brand mentions don't include the company's Twitter handle, you'll find more conversations this way than if you were relying on Twitter notifications!

Action steps:
Acknowledge every single mention. Whether that's through a reply, retweet, favorite, or box of cookies mailed to them. These are your product's earliest advocates – an important relationship to maintain.
Curate the most flattering mentions. You can use them as social proof in your future marketing. And if you're pitching more traditional press, this social proof shows your relevance.
Continue conversations. You want interactions to last as long as possible. Instead of just saying "thanks," ask questions to learn more about your audience and build the relationships further.
#2. Identify potential audiences
Product Hunt's own audience is part of the reason launches there go so well, but that doesn't mean you shouldn't be out in the trenches, marketing everywhere you can.

In fact,
marketing elsewhere can even help your performance on PH.
Since
you can't ask for upvotes
, a lot of makers question how to draw visibility and votes to their product. During any launch day promotion, link straight to your PH page for more information. It links back to the actual product page, and should have all the most important info there, anyway. And if people you reach out to have accounts already, they may upvote while they're there.
But how do you find those people to reach out to in the first place? That's where monitoring descriptors and keywords come in, with the help of
influencer scores
.
When you optimize your alerts so they're very specific, you can easily identify people that are pretty likely to be interested in your new product. Even if they don't say "shut up and take my money," there's a good chance it's relevant enough to take a minute to check out.
So log into your
favorite influencer outreach tool
, and start spreading the word to a targeted,
well-researched outreach list
. But remember to
ask them to check out (not upvote) your Product Hunt page
instead of the product page on your own website, at least for today.
Bonus tip:
You can even set up an alert to monitor Product Hunt to find active and interested hunters. 😉
Action steps:
Build an outreach list. Use monitoring to find people talking about your niche (example: for us that could mean setting up an alert for "social listening tool").
Promote your PH link. Whether it's when reaching out to that list you just made, pitching more traditional press, or making announcement on channels like social media, email, and your blog.
Don't ask for upvotes. Not only is it spammy and kind of desperate-looking, it's against the rules. Instead ask for an opinion, some feedback, or a simply taking a look.
#3. Find press coverage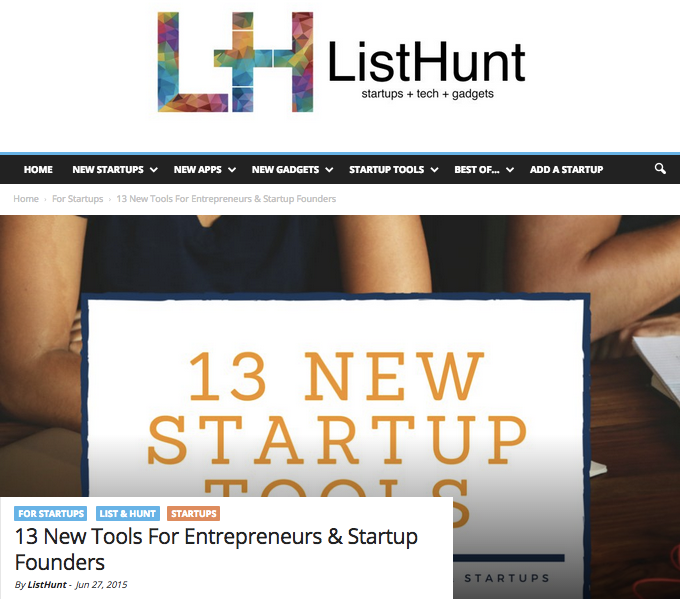 Lastly, you can use monitoring and social listening to find any press coverage you've gotten as a result of your Product Hunt launch. A lot of publications, whether they're online magazines, Twitter accounts, or newsletters, use Product Hunt as a research tool to scout prospective stories. So when you launch, there's an excellent chance you'll get some coverage.
When using a listening tool like Mention that monitors more than just social media, you can easily find websites, blogs, etc. talking about you. You can also filter your new mentions on a topic or industry alert so it only displays websites and news outlets writing about your niche. That will help you find places that haven't covered your launch yet, but might want to.
Acknowledge and keep a list of all the articles mentioning your launch. You can comment on the article, share it on social, email the author with a "thank you," or all of the above. It's a great way to
start building relationships before you need them
.
For example, as a result of our Product Hunt launch, Mention Academy was discovered by
ListHunt
, who then included it in their newsletter and a blog post:
Action steps:
Acknowledge every piece of coverage. You can thank the author by emailing them, commenting on the piece, and sharing it on social media.
Keep track of coverage for the future. If people have written about you once, they're likely to again. So keep the list of coverage so you can reach out for future PR campaigns or product launches.
Identify new press to pitch. Use your industry alerts to find important industry publications that aren't talking about your launch yet. You can try pitching them traditionally.
To the hunt!
You're now prepared for your next product launch. You'll be able to see, and join, all of the conversations happening around your launch, whether they're happening on Product Hunt, social media, or elsewhere. And even better, you'll be able to use those conversations – the people, the insight gleamed – to better your product and its launch campaign.