Your reputation can be a hard thing to define. As an executive, you like to think you know what your company stands for. You also like to hope that your customers and prospects have feel the same way.
But what you want isn't always what's true.
Your brand's reputation is constantly evolving. With every social media comment, review, and blog post, new people discover your business. And what they think about you is colored by this content.
If a review is good, you look good in the eyes of the reader. If a blog post says that you're an evil corporation out to destroy us all, that can't be good.
In this post, we're going to discuss what marketing execs need to know about online reputation management. How you can monitor it online, and where to invest time and resources to make necessary improvements.
But first, what is it?
What is online reputation management?
As stated above, your company's reputation is fluid. In the past you could claim that your brand is beloved, and who would argue? As long as sales were strong, you could assume that your reputation was too.
But today, everything is online, which means everything is public. One disgruntled customer can cause a serious dent to your reputation.
And trust me, if your reputation takes a big enough hit, sales won't be far behind.
Just look at Uber. The ubiquitous ride-sharing company had basically achieved the Holy Grail – their brand name was becoming a verb: "Let's Uber home."
But a range of allegations involving sexual harassment, plus a tenuous relationship between its (former) CEO and the board have meant that the name "Uber" now carries significant baggage.
Meanwhile, its chief competitor has been growing steadily:
Your company isn't Uber. You won't have anything nearly as controversial in your history. But your reputation is also precious. One bad review can turn customers away, and a nasty rumor can do the same.
On the other hand, a good reputation can be your biggest asset, and there are practical steps you can take to strengthen it online. But first you need to know what your reputation is.
Where does your brand's reputation live online? And how can you monitor it?
We're going to look at the key sources one-by-one, and discuss what to watch for.
Review sites
We're starting with the clearest source. Review sites exist to let people give their opinion on brands and products. When one customer tells others what they think – based on experience – that can be very persuasive.
It's safe to say that a restaurant with hundreds of 5-star reviews has a strong reputation. And each positive review adds to its strength.
This is especially powerful because people who visit review sites are looking for reviews. They specifically want to know what others think of your product, likely because they're thinking of buying it.
They will buy based on your reputation.
There are plenty of things that can make your brand more appealing to potential customers, but a good review is right at the top of the list.
What you need to do
Monitor review sites closely, especially if you're in retail, the restaurant business, or other industries with physical locations.
Keep a close eye on the big names: Yelp, TripAdvisor, Google, and the rest. But also look for review sites that your customers use. This is where you'll find more people just like them.
This is simplest with a tool like Reputology, which lets you monitor all the major sites from a single place. You can also claim any listings that already exist for your stores.
Ensure that your listings include:
Accurate, up-to-date contact information
Attractive pictures that feel welcoming to customers
Polite responses from your business to any complaints
Most important is to make sure that your brand is represented the way that it should be. Make sure that others get the right first impression when they stumble upon your business.
Social media
You should already be using social media for communications and customer support. This is where your customers spend time, and you need to be there with them.
These platforms are also becoming go-to destinations for reviews. Have you noticed that businesses now have star ratings on their Facebook pages?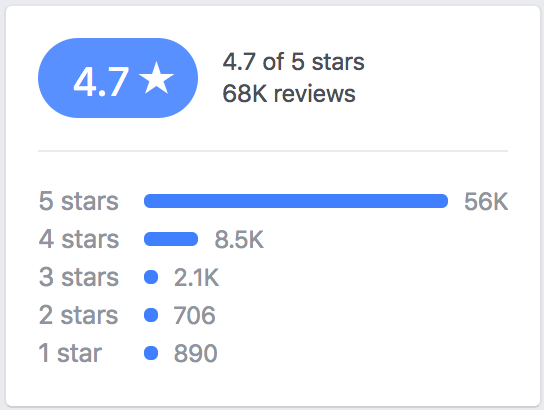 Perhaps you're not worried about the standard review sites we talked about above. Not every business is on TripAdvisor, and it's not the sort of place that people go for software reviews or to find an agency.
But everyone is on Facebook, all the time. And gradually, reviews are appearing for everything from law firms to modeling agencies:

And it's not just social media reviews that impact your reputation. Comments and conversations can appear all over social media, not only on your brand's page.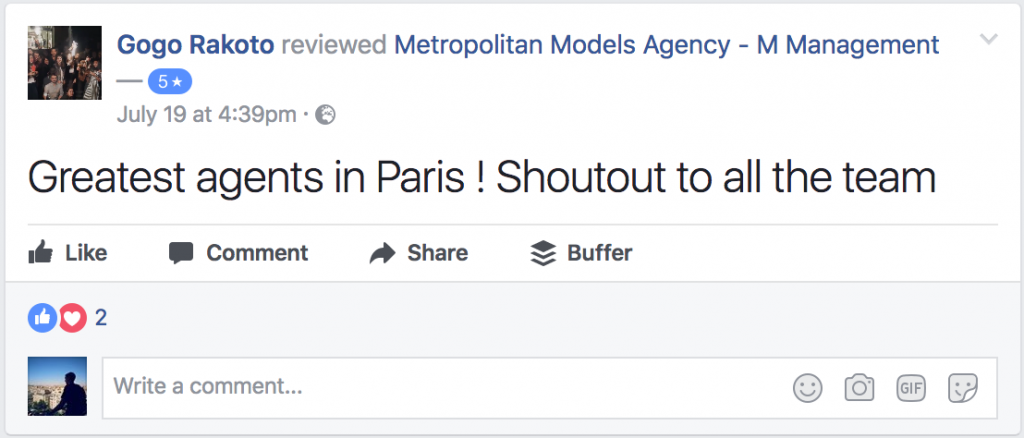 While they can be harder to track, these comments still have a huge impact on your reputation. When an Instagram user shares a lousy photo of your products, they want other people to see it.
Even if they don't go viral, social media posts are important to monitor, to make sure that your brand has a healthy image.
What you need to do
First, let's deal with social media reviews. You can activate Facebook reviews for your business, so that people can leave their feedback. If you're confident that your customers are happy, this is a good way to promote yourself using their words.
To track social media comments that aren't left directly on your page, you'll need a monitoring tool. These let you track keywords wherever they appear on social media. So if a user mentions your brand name – or even your competitor's – you'll know about it.
Monitor these social media comments to ensure that your brand is represented the way you want it to be, and to prevent false information from spreading. You can also reach out and help customers who have issues with your service, proving that you'll go the extra mile.
Need help choosing the right monitoring tool? Here's our quick guide.
News sites
One source you probably do watch closely is the news. Having your brand name appear in The New York Times or The Wall Street Journal is incredibly exciting. These media have the ability to take a business into the mainstream spotlight with a positive story.
And then there's bad news.
A scandal or product recall can be tough enough to manage in private. When they're on the front page of every news site, it's a whole different ball game.
Plus, news and reviews are often inextricably linked.
For example, when Chipotle suffered some high profile food poisoning outbreaks, Business Insider reported that review scores reached historic lows.
The nature of Chipotle's reviews changed too. Instead of complaints about long lines (which are often a good sign), reviews focused on the food itself, especially hygiene.
All of this is to say that news (both digital and otherwise) still has a powerful sway on the public. And it can also affect your reputation profoundly.
What you need to do
Again, the first step is to know what's being written about you. Many businesses hire a PR agency to manage their message, and this service often includes monitoring press clippings.
You can also do this yourself. Many CMOs will be familiar with Google Alerts – a service that shows you where you've been mentioned in the past day.
There are more accurate, real-time services like Mention which alert you the moment you've been mentioned. You can even sort your results by the influence of the site writing about you, to see just the biggest sources in your industry.
It's important to track initial reports, but also to see how far the news has spread. If it's limited to a few local outlets, you may be able to influence the story and improve your reputation.
Finally, put a crisis management plan in place. If you find yourself in an Uber- or Chipotle-style situation, you'll be glad that you thought of this in advance.
Blogs
These days, it's not just established news sources that you need to think about. Many blogs receive just as much traffic, and have just as much influence over their readers.
And some have gone from "just blogs," to brands, including TechCrunch and Mashable.
There are also industry blogs that hold a special place for their readers. People flock to Nice Kicks for the latest sneaker reviews, or to Pitchfork for the best new indie music. These can hold even more sway over their readers because they have this niche.
Whatever your industry, there are doubtless a range of influential blogs. And whatever they say about your brand can change drastically the way that potential buyers see you.
So it's important to know what they say about you, and you can even work with them to promote your brand.
Here's how.
What you need to do
Identify key blogs in your industry and monitor what they say about you. It's not drastically different from tracking more traditional news sites.
Then, build credibility and reach new audiences by partnering with established blogs. This might include:
Contributing a guest blog post or quote for a story
Asking them to review your products
Paying to have them promote your brand
Sharing their content with your audience, and asking them to do the same
Some blogs have become empires, and are probably out of reach. But if you can identify those still building, or with small but loyal fan bases, these can be open to working together for you benefit and theirs.
Influencer marketing in this way helps to build awareness about your brand, and aligns you with people that make your brand look good.
Forums
Our final source is perhaps lesser-known. Forums may not mean much to you, but for some they're a part of daily life.
Here, dedicated fans meet to discuss news and products that matter to them. They're informed and they care, which makes these groups very influential.
For example, The Techist, a forum you may never have heard of, has more than 85,000 members. It's full of technology, computers, and software enthusiasts.
Suppose your latest software product becomes a topic of interest. Suddenly, this forum is driving traffic (and sales) right to you, without you spending a cent on advertising.
You probably do know about Reddit, perhaps the most popular web forum of all time. If there's anything interesting to say about your brand at all, someone's probably said it here.
The point of all this is that you need to care about forums if you want to keep control of your brand's reputation.
What you need to do
First, find out what forums exist in your industry. Often a simple Google search is enough to bring the big ones to light.
But look carefully. There are plenty of smaller forums with equally passionate users. These may deal specifically with your niche, and you can find more interesting and educated comments there.
An easier way to do all of this is with a monitoring tool. These look for your keywords wherever they appear online, including in forums.
Not only will you find forums you'd otherwise surely have missed, but you'll also see the comments in them directly. No need to create an account and check back regularly.
Use the information you gather to address issues head-on. If forum users are unhappy with certain aspects of your latest product, make an effort to improve them.
And while diving into forums and joining conversations yourself can be risky, there are great stories of businesses that have earned massive PR wins with this strategy.
Forum comments may be less public than social media or review sites, they can still alter public perception about brands. So you have to work to make sure it's for the better.
Devise a response plan
Those were the key sources to look at as you manage your online reputation. As a discerning CMO, you need to take an interest in all of them, to ensure that your brand's reputation is safe and sound.
Now that you know what to watch for, the next step is to make a plan of attack. Improving and protecting your reputation should be a priority, and there are practical things you can do to achieve this.
We talked to Reputology Founder Jack Yu to learn his secrets to a better online reputation. Watch the short webinar here, any time you like.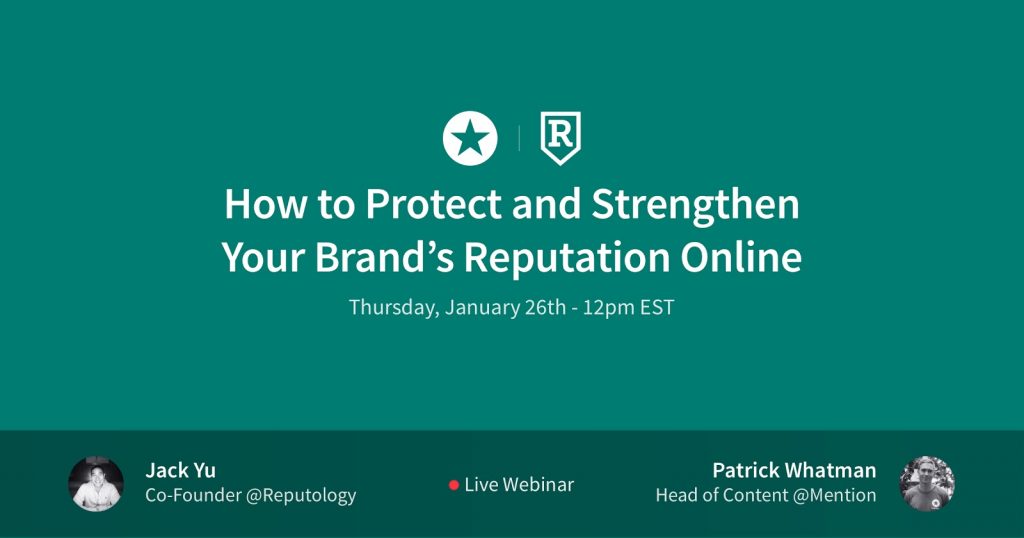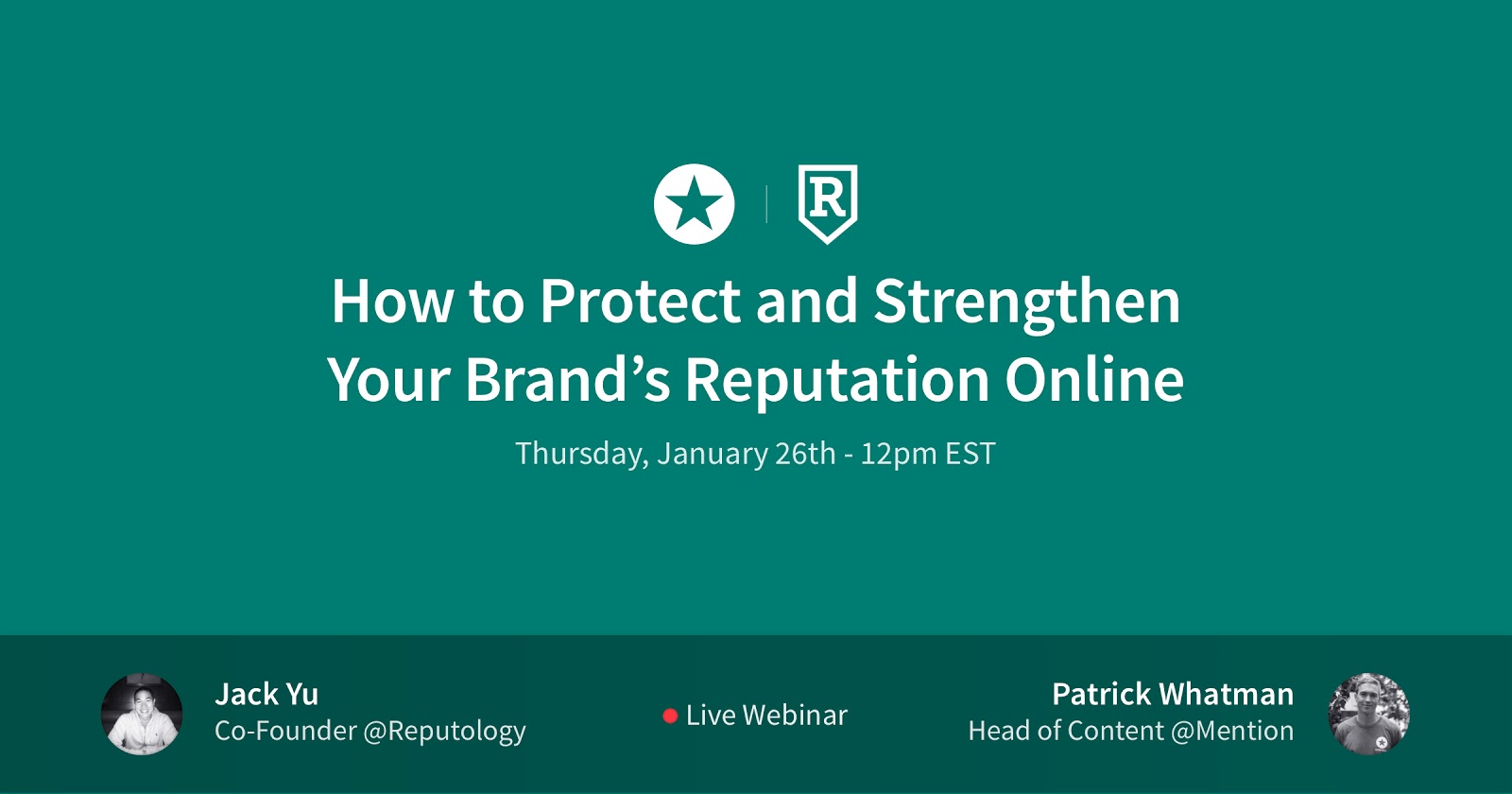 It doesn't have to take much to manage and improve your reputation online. But as a marketing executive, you do at least have to care.