November was one of the highest grossing months in terms of revenue for many retailers in 2018.
It's no surprise, as Black Friday and Cyber Monday online sales respectively generated $6.2 and $7.9 billion dollars (according to TechCrunch) in the US alone. What's more, Amazon has announced it broke new sales records during that time.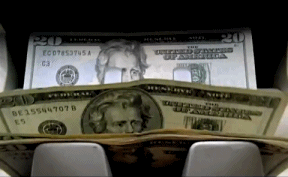 If you are a regular on our blog, you know we love studies, numbers, reports and comparisons.
So naturally, we had to dig deeper into the numbers.
Once again, we used Mention to monitor the millions of conversations generated by the most important shopping week of the year. And boy, did we learn a few valuable things from this global sales event that could really help retail brands step up their game.
Today, we share 5 marketing lessons that all retailers should apply to their strategy in 2019.
*Note: The data you will find in this blog post is coming from an analysis we ran for 14 days, from 11/16/2018 to 11/28/2018.
Check out our latest data report on the retail industry:

1. Amp up your e-commerce experience
E-commerce now account for 11,5 % of total retail sales. This includes every single retail transaction (whether it's buying a TV, an apple or a t-shirt).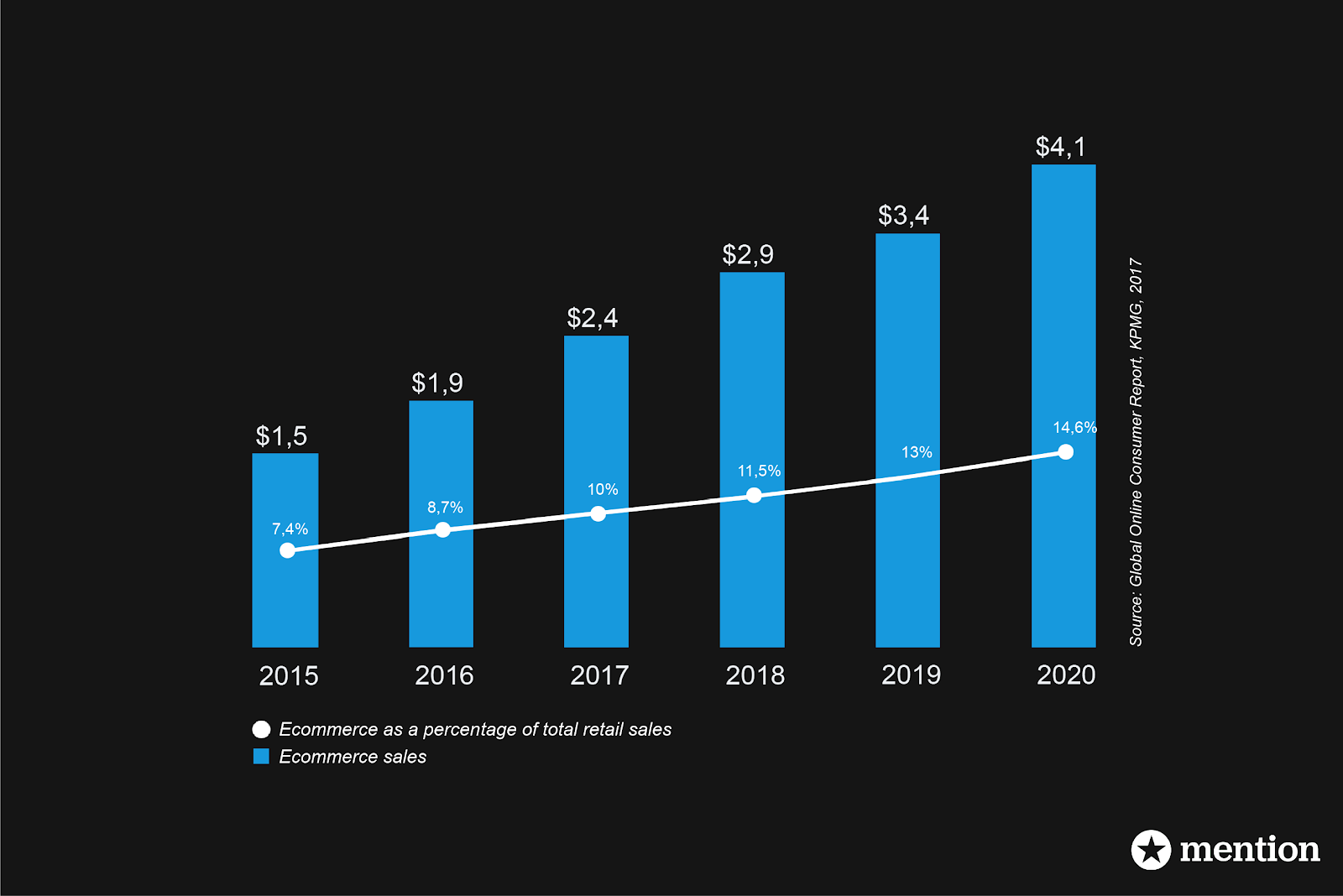 Now, during the Black Friday Week, we shop differently.
At the end of November 2018, the National Retail Federation (NRF) reported that 165 million people shopped either online or in-stores or both during the Black Friday weekend, in the U.S.
But what's really interesting here is the behavioral breakdown:
21% shopped in-store only.
25% shopped online only.
54% shopped both online and in-store.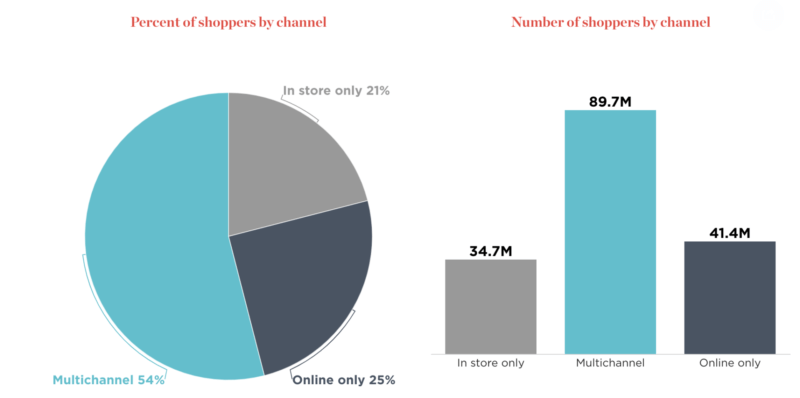 What this means is that 79% of the Black Friday shoppers shopped online at least once during Black Friday.
It seems people finally got tired of lining-up outside stores to fight for the best deals. According to Ray Hartjen, a retail analytics expert at RetailNext:
"Ten years ago, you had people camping out for two or three days in advance…before the internet came around and changed the nature of shopping, brick-and-mortar — well, it was all brick-and-mortar back then — had to have these great sales to get people in the store. The more foot traffic, the better."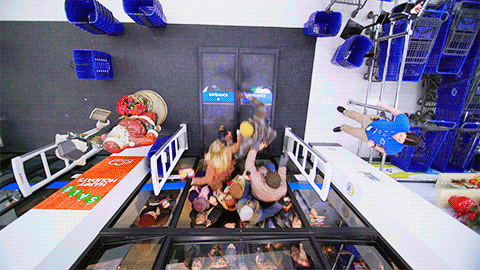 Now the internet allows us to shop comfortably from our own home, or anywhere we want – this would also explain why the event resonated so well this year.
So the lesson is simply this: be sure to offer as good of an online shopping experience as in a physical store. Invest in designing better user experience and understand your customers better by monitoring what they're saying about your brand online.
2. Extend your online sales events
The social analysis we ran last year revealed a sudden peak of mentions exactly on Black Friday.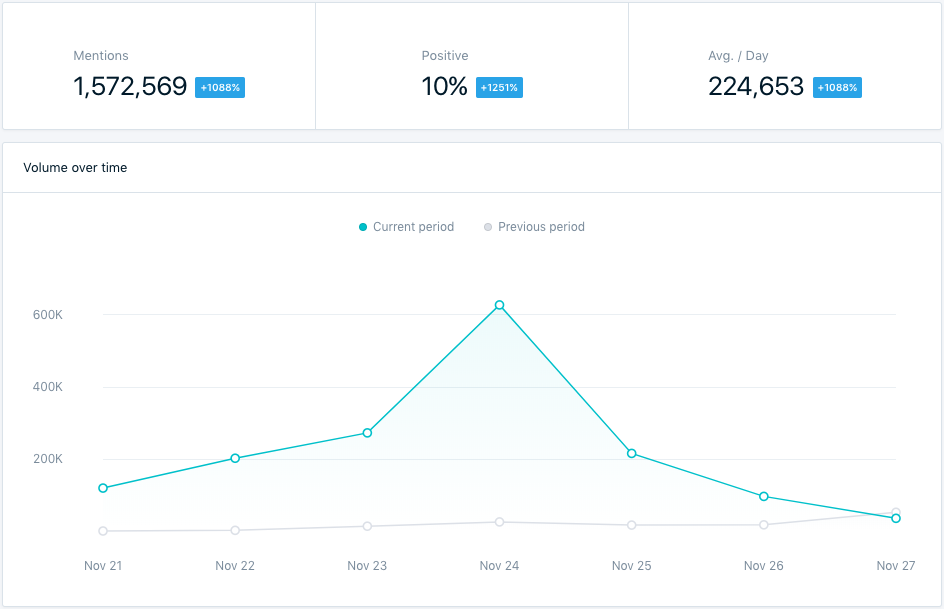 On the contrary, we observed a stable number of Black Friday related conversations all week long (averaging 300k mentions per day) this year.


How come?
Well, this year, retailers started to push their best Black Friday deals on November 19th… which obviously kickstarted thousands of conversations involving customers, manufacturers, and retailers.

Another thing we learned this year is that people talk a lot more about Black Friday than Cyber Monday. But when it comes to spending their money, they chose Cyber Monday.
People waited for the Cyber Monday deals
Maybe you've already heard the news from the Mention Memo, but Amazon announced it had its biggest shopping day ever on Cyber Monday 2018.
I was surprised at first, but this actually makes sense.
According to Adam Smith's invisible hand, the homo æconomicus (or the average consumer) will not buy if they know for a fact that prices can go lower.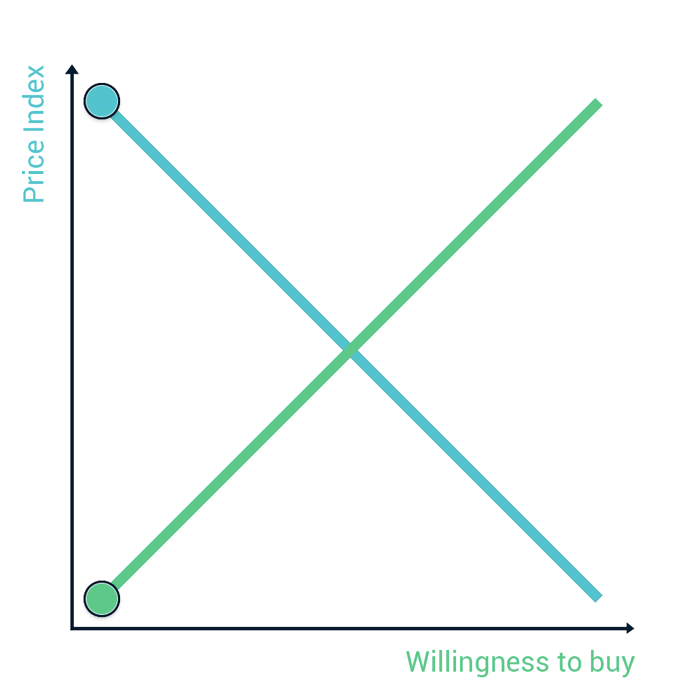 This tells us that people may start shopping around and comparing prices on Black Friday, but wouldn't actually buy until Monday.
With deals going from November 19th to November 26th, it's fair to assume that many consumers waited till the very last minutes to shop, resulting in a peak of sales during the Cyber Monday.
It makes sense: why would you buy something right away if you knew had an entire weekend to get the deal?
For this reason, it's a good idea to extend your sales events:
1) Create content to tease your customers with the potential offers leading up to the sales event
2) Encourage them with even more discounts or special deals on the last day to motivate their purchase
3. Understand what is being said online around your sales events
While every retailer should be aware of what's being said about their brand regularly throughout the year – it's even more crucial to track the conversations taking place online during your sales events. 
Why? Because you'll not only be able to stay on top of which of your offerings are the most effective, but you'll get unsolicited, real-time feedback about your sales event. 
However, digging through the noise sometimes requires a bit of manual work. To better understand what happened during the Black Friday, we created tags.
With Mention, tags are the easiest way to identify conversations containing specific terms within the alerts you already created alerts.
Each of the following tag represents groups of specific keywords, or topic clusters.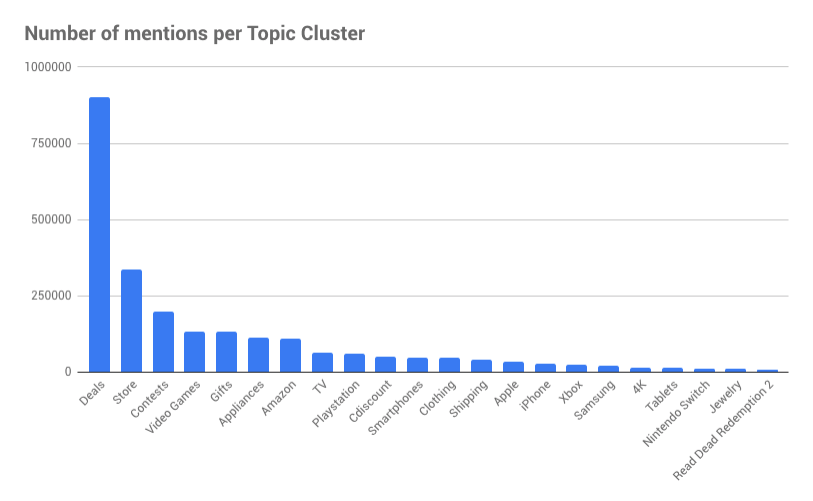 Example: the term "Deals", first on the list, contains all the mentions including keywords such as "deal", "deals", "offers", "sales", "discounts".
By tagging the most mentioned keywords around your sales events, you would learn which of them has the most impact and take that into consideration for your next event.
Knowing how you stacked up to your competitors
If you're having a sales event or participating in one at the same time as your competitors, it's important to know how you measured up against them.
According to our analysis 5 brands clearly stood out of the crowd during the Black Friday & Cyber Monday.
Amazon: not surprising to see the retailer mentioned so much when most of the total deals came from it.
PlayStation: Sony worked together with most of the main retailers to sell bundles including their Playstation 4 and many popular games.
Cdiscount: Cdiscount is the biggest French retailer. No numbers to share with you, but looking at the heatmap, Black Friday was a success for them.
Xbox: just as their direct competitor did with their Playstation 4, Microsoft was selling Xbox Bundles including the console and popular games at an attractive price.
iPhone: this year's Black Friday was ideal for Apple fans in need of a new smartphone with iPhone 6S selling as low as $49.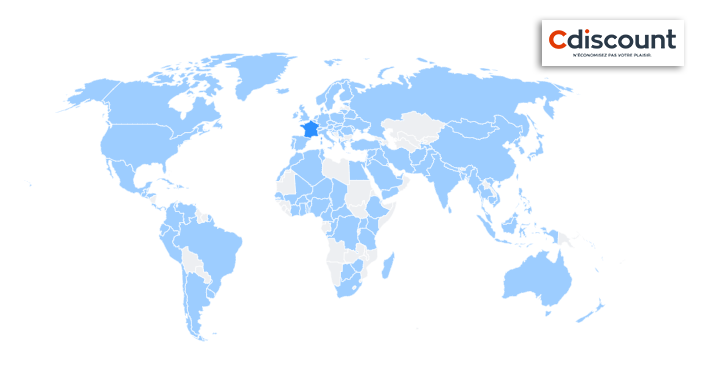 What were the most wanted products?
During a massive global sales event like Black Friday, it's important for big box retailers to know what were the best selling items. This year, the video game industry was a big hit.
Video Games: 134K
TVs: 65K
Smartphones: 48K
Clothing: 46K
Tablets: 13K
Jewelry: 11K
Cameras: 6K
I decided to investigate the noise generated by the gamers.
Starting with a sentiment analysis of 3 industry leaders.


Even though Playstation won the race in terms of volume, Nintendo gathered an incredible amount of positive mentions throughout the entirety of the sales holiday.
I kept investigating and identified to the most popular games.
If you're familiar with the industry, you won't be surprised to see that Red Dead Redemption 2 gathered the most mentions.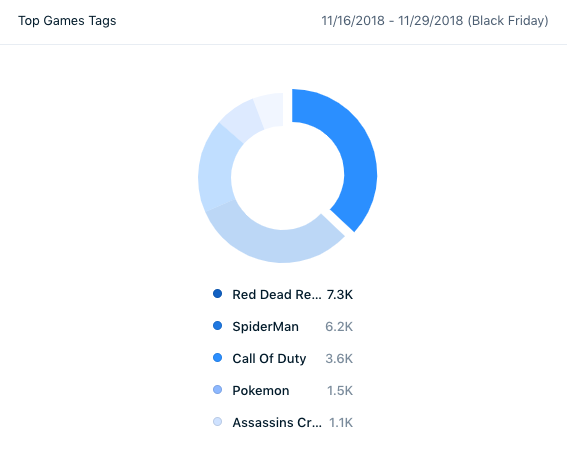 note: this analysis only takes into account the messages mentioning both the games and the term "Black Friday".
Last, but not least, mobile. This year was a major leap forward for mobile devices and e-commerce.
4. Think mobile first
Our shopping habits are evolving.
The National Retail Federation (NRF) revealed that online shopping on Mobile saw a 18.3% y/o/y increase, accounting for 54.3% (46.6% on smartphones, 7.7% on tablets) of total retail traffic, and for 35,9% of the revenue generated online in the U.S. during the Black Friday Week.
This is a breakthrough in terms of consumer behavior as we usually observe that only 20% of the revenue is generated from mobile devices.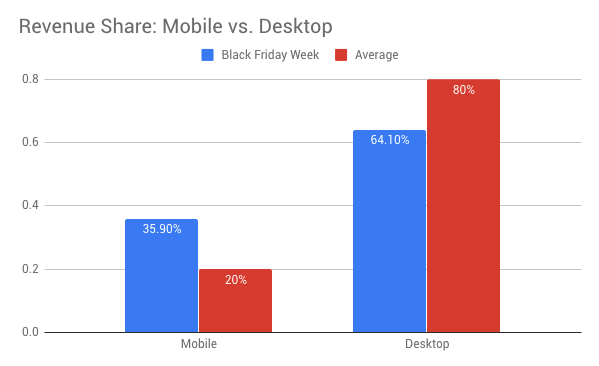 Why is mobile still lacking behind in the first place? It's a matter of trust.
Adobe says that while consumers tend to turn more and more to their mobile devices to shop online, they still use them in priority for browsing, especially if they are browsing through smaller e-commerce websites. Larger merchants (those generating over $1 billion in annual sales) have more sophisticated technology in place to convert browsers into buyers. At the end of the day, smaller merchants receive proportionally more sales from desktops users.
For this reason, retail brands will definitely want to amp up their mobile shopping experience in 2019. This means not only placing a focus on your mobile site, but making sure that everything that goes with it such as marketing content – are mobile friendly. 
According to Aaron Orendorff, B2B Content Strategist and former Editor-in-chief of Shopify Plus:
"It's no secret that mobile dominates desktop as per traffic. Unfortunately, conversion rates on mobile still lag behind their full-screen counterparts by over 2x: 1.73% on mobile versus 4.02% on desktop. Bridging that gap demands:
1. Front-loading mobile-first payments within product pages to bypass traditional checkouts
2. Enabling checkout entry through (1) payment gateways, (2) social profiles, (3) guest options, and then (4) email addresses for new accounts
3. Above all, testing mobile and desktop separately; namely, product-page content as well as banners and status bars across the funnel."
Before you go, take a look at our compilation of the Good, the Bad and the Ugly highlights we discovered during this Black Friday 2018.
5. Knowing the Good, Bad, and the Ugly across your industry
It definitely pays for retailers to know what's trending in their industry, especially during big global sales periods like Black Friday.
Staying on top of this could help them adjust and improve their marketing strategy. Or even more importantly, stay away from trends that could cause PR crises.
Here are some of the most interesting things we observed during this Black Friday:
The Good
Cards Against Humanity and its crazy PR Stunts
Once in a while, there's a brand doing something crazy enough to break the internet.
Cards Against Humanity is definitely one of them.
Cards Against Humanity is – as they call it themselves – a party game for horrible people.
They don't lack a sense of humor and it seems they have no limit.
After digging a hole during Black Friday in 2016, they held a 99% Off discount campaign in 2018.
You read that right: 99% off.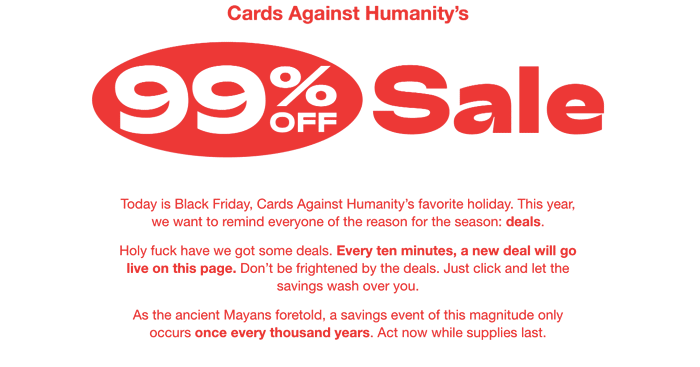 As one could expect, this resulted in a sudden increase of mentions around "Cards Against Humanity" (most of it coming from Twitter).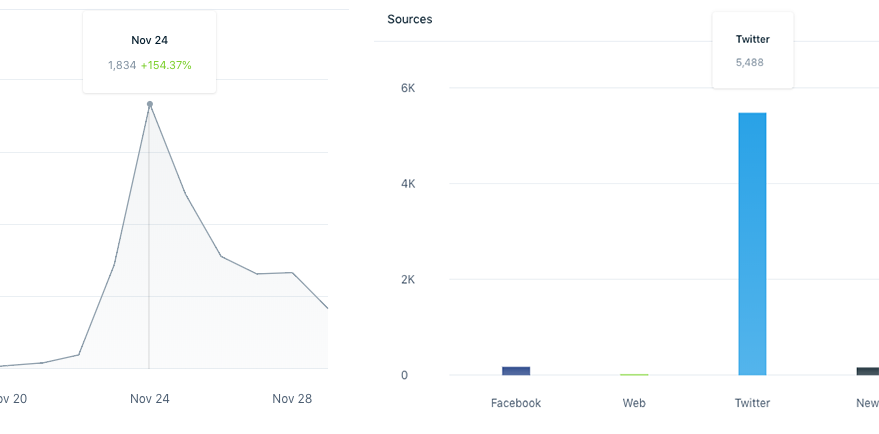 Well played.
The New York Public Library surprisingly rocking #BlackFriday
Making noise during the Black Friday is not a given, especially for non-retail brands.
But that's not enough to discourage NYPL's communication team.
They came up with the idea to advertise what they do best: a 100% off discount. Forever.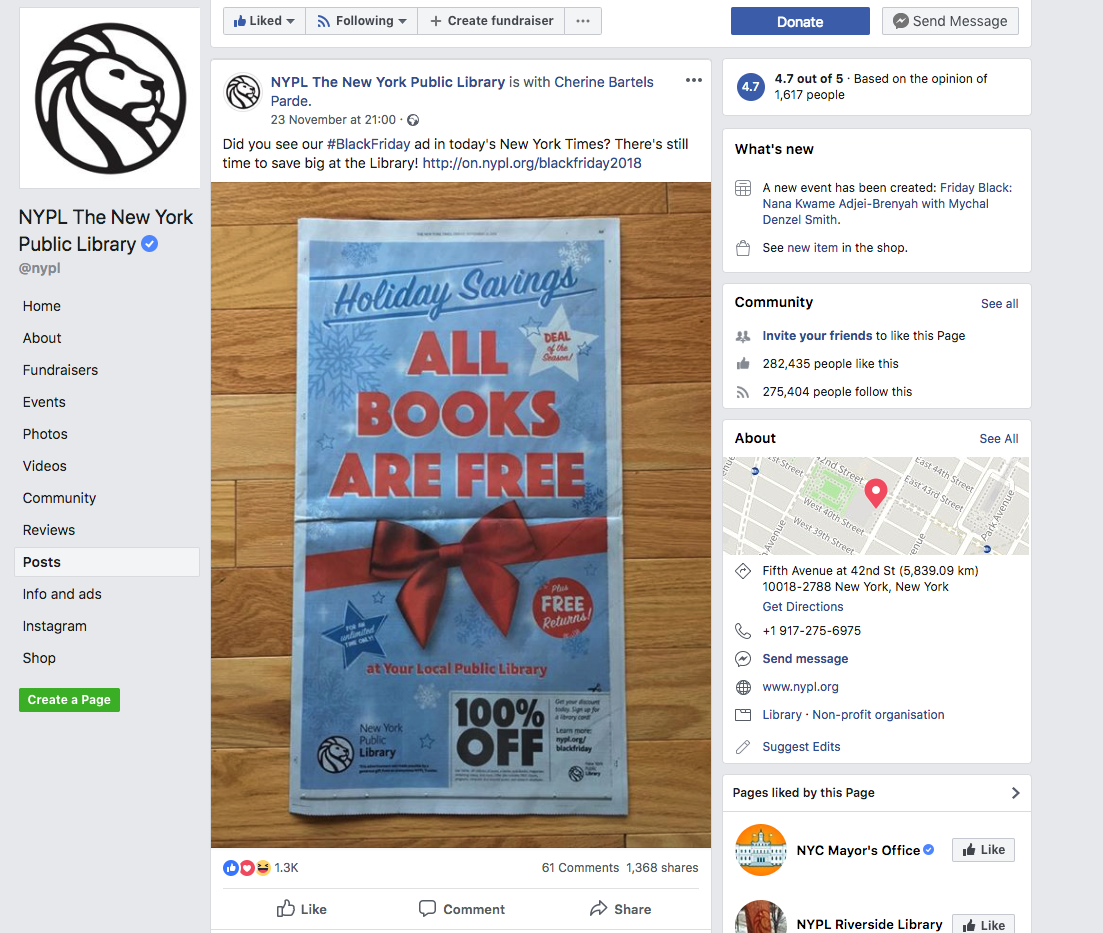 If only all trolls could be as fun as them..
Now, let's take a look at a couple of things that didn't not run as smoothly as what we just saw.
The Bad
A "Website down" in the middle of Black Friday …
… is not the best way to generate revenue.
Yet, it seems some retailers did not anticipate the sudden waves of curious customers looking for interesting deals.
Here are two examples I found.
Lowe's.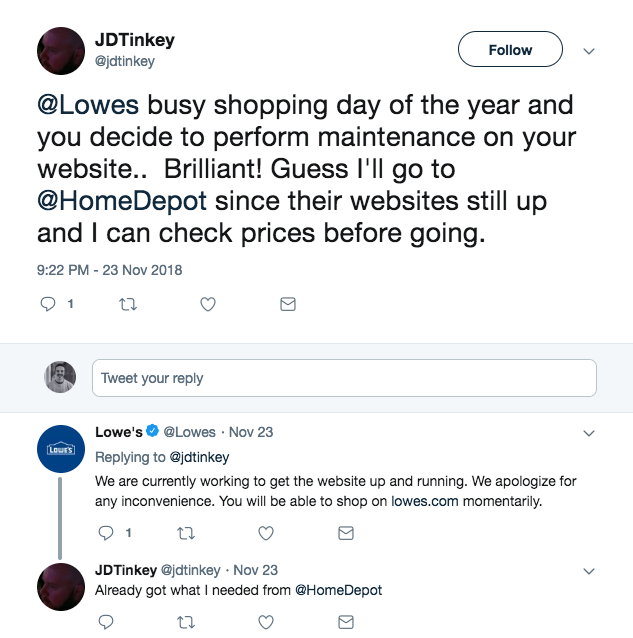 And J.Crew.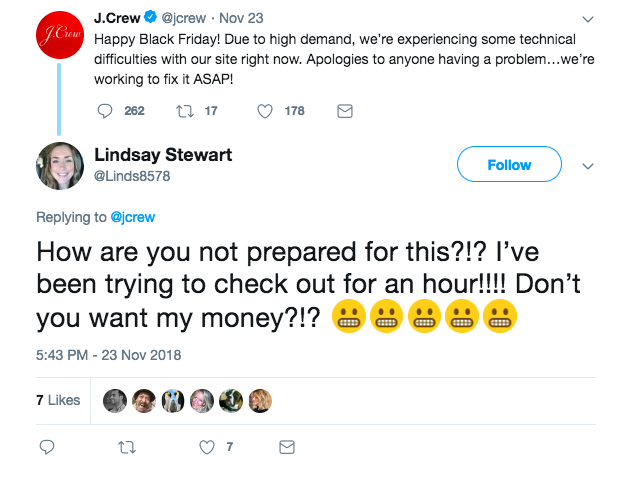 While this should never happen any other day in the first place, the Black Friday week is definitely the worst time ever to schedule updates on your website.
A website down, even for a couple of minutes, will cost you thousands, if not hundreds of thousands of dollars.
After all, if your visitors can't buy from your website, they'll go somewhere else.
And if the Bad wasn't enough to your taste, here's an ugly example no one should ever have to go through, ever again.
The Ugly
Even though the law forbids this in most countries, some retailers like to play with their prices … and try to fool their customers
Here's one of them: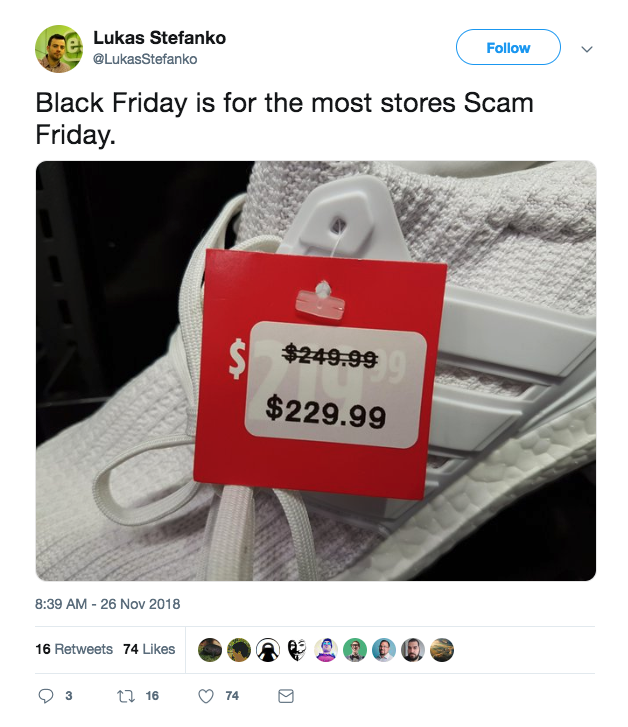 And from what I understood, this is not even a joke!
I couldn't track down the retail brand hiding behind this great deal, but I'll keep investigating.
Put these lessons into action for 2019
So there you have it. There were many valuable marketing lessons for retailers to learn from this year's biggest retail event.
By considering these tips for your 2019 marketing strategy, you could increase your understanding about your customers, improve your website conversions, and hit your next sales campaign out of the park.
Anything you'd like to share with us? Also, feel free to leave a comment to share your thoughts on this blog post and to share it with your friends and colleagues!
Check out our latest data report on the retail industry: