Social media is fast becoming fertile ground for businesses to build their brands, generate leads, and increase their sales. Just take a look at these stats from a study done by the Influencer Orchestration Network:
70% of teenagers trust Youtube influencers' opinions and recommendations more than classic celebrities.
71% adult consumers base their buying decisions on recommendations and insights they got from social media.
86% women make purchases based on what they see is trending on social media
Additionally, a research done by Marketing Sherpa shows that 58% of adult consumers in the US follow brands on social media to learn more about their latest promotions and to find out more on a product or service they want to purchase.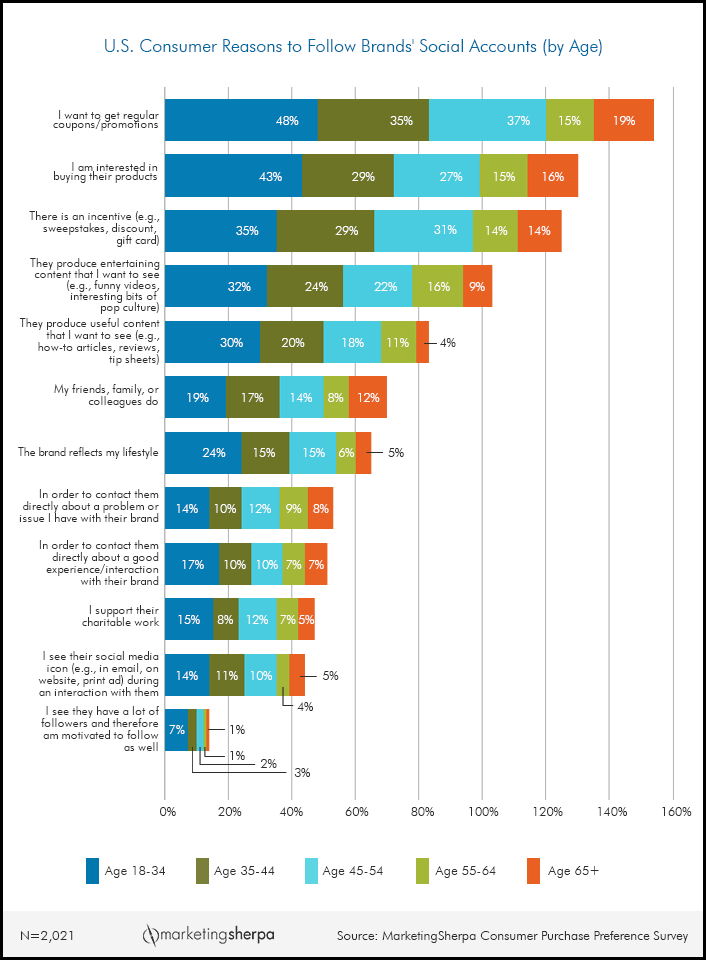 Source: Marketing Sherpa
Indeed, there's no denying the fact that social media has now become a vital part of most marketing campaigns. I say most because, surprisingly, not all companies incorporate this into their marketing strategy.
The reason for this is that social media marketing is not a straightforward strategy to implement and monitor. In fact, 50% of businesses consider social media marketing one of the most difficult strategies to execute because it requires a considerable amount of time and resources (human and finances).
Enter social media automation.
As its name suggests, social media automation is the process where you automate several processes within your social media campaign using software tools and platforms.
Social media automation provides a host of benefits for startups and small businesses. Perhaps the most significant is its ability to allow you and your team to focus on other business matters essential for your brand to profit and scale.
However, if you are not careful, automation tools can leaf to disaster. Coca-Cola's mishap with its #MakeItHappy campaign on Twitter is just one of the many examples of how deadly social media automation can be for your brand's reputation if not done right.
According to Eric Ritter, Founder & CEO of Digital Neighbor, the issues brands experience with social media automation is not on the technology or principle, but on the user.
"Marketers tend to be extreme when automating their social media marketing campaigns," he explained. "Either they go overboard by automating everything they can automate, or they avoid it altogether because of the misconception that automation tools are the lazy way to do things. Balance is the key to automate your social media marketing campaign correctly. You need to know what you can automate, and what you must never automate."
With that, here are 12 successful entrepreneurs and leaders from the digital marketing industry sharing their secrets on how to successfully automate your social media campaign.
12 social media marketing automation tips for small business
1. Know your goals
You may think goals have nothing to do with social media marketing automation. Quite the opposite. It's got everything to do with it.
For starters, the social media automation software you use needs to be robust enough to let you automate processes now and in the future.
Also, your goals will help you decide what types of posts you'll be scheduling, how often should they be coming out, and where they'll be coming out.
Be very clear on your social media marketing goals before you go ahead and start automating your processes. Don't merely focus on your immediate goals. Look into the next five to ten years. What do you want your followers first to think when they hear your brand name? That's what you work on today so that you have something to build upon as your startup scales.
– Adam Steele, Founder, Loganix Citation Building
2. Set your KPIs
You need to know what are the specific social media marketing key performance indicators (KPIs) you and your team need to monitor to make sure that your campaign's on the right track.
When setting your KPIs, go back to the primary purpose and goal of your social media marketing campaign. Likes, shares on your posts, and growth of your follower base are useful metrics to watch if your goal is to promote your business. But if your goal is generating leads, focus on metrics like click-through rates.
Also, make sure that you set a benchmark for each metric. This figure will serve as your indicator to know how your campaign is doing. If the numbers you get are above this baseline, great! If not, then you'll need to make adjustments.
–  Ariel Chiu, Principal Planner, Wonderstruck Events
3. Don't be afraid to share others' content
Surprisingly, lots of marketing managers and even business owners consider it a mortal sin to share content they didn't create on their social media websites. Their reason is that they're afraid that the only one who'll benefit from all of this is the site that originally created the content.
This presumption is them looking at this from a very narrow perspective. As a result, these businesses miss out on the chance to start connecting with influencers within their niche and slowly beginning to build a connection. Instead, they end up taking the long and hard route of sending out cold emails and calls to these influencers and wonder why it's so hard to get them to pay attention.
Also, publishing relevant content from reputable sites and key influencers within your niche also helps you generate quality content that your target audience will appreciate. I'll be the first to admit that writing high-quality content on a regular basis can be challenging at times, especially in our niche. Curating content helps you fill in those gaps while you're in the process of producing your original content.
– Stephen Young, Digital Marketing Manager, Blinds Direct
4. Schedule specific types of content on specific days
If you're using social media as a way to establish yourself as a leading authority in your industry, opt to schedule specific types of content on certain days.
For example, you can schedule one day when you focus on the content surrounding your latest blog post, and another day to upload a Q&A video on Youtube. Not only will this help guide you on what types of content to create, but it will also get your target audience something to always look forward to, encouraging them to keep coming back to your account.
– Ian Howells, Partner, Traffic Think Tank
5. Upload RSS feeds to your social media automation platforms
When choosing a social media automation tool for scheduling your posts, I recommend getting one that allows you to upload RSS feeds, both from your blog and curated sites. That way, when your blog posts get published, or your favorite site for curated content publishes a post relevant to your brand and niche, it's immediately shared with your different social media channels, so you don't have to worry about having to do this manually.
– Immanuel Debeer, Digital Marketing Manager, Flight Hacks
6. Customize your messages
One of the mistakes I see among marketers when using social media automation tools to schedule their posts is that they share these to their different social media accounts using the same message.
This may be convenient, especially if Twitter is one of the channels on their list. After all, Twitter's got the smallest character limit, so they assume that if it's good for Twitter, it must be good for the rest.
The problem with this is that each social media network not only has its own character limit, but each caters to a specific set of audience. What resonates with Twitter audiences may not necessarily work on Facebook since the posts frequently shared here tend to be more personal.
Take a moment to study how users in one social media channel are crafting their messages. Look at the different features that each social media offers. Do they allow you to post links? How about tagging other people to your posts? Use these to your advantage.
– George Brown, VP Sales & Marketing, Jet Reports
7. Spread out your content
Just because some marketing automation platforms give you an unlimited number of posts you can schedule in a day means that you do so. That's the social media's version of taking a machine gun and firing to your target audience.
Scheduling your posts too close to each can turn off your followers quickly, even on Twitter. Many even consider this as a reason not only to hit that nasty unfollow button but also encourage their friend to do likewise.
When scheduling your posts in advance, spread them out so that they publish every 2-3 hours. That's about 7 to 10 posts carefully spread out throughout the day.
By giving your followers a bit of breathing space in between posts, you give them time to digest the most recent one, and even share this to their network.
– David Baddeley, CEO, Finance
8. Never automate engagement
You can automate all of the different processes involved in launching and implementing a social media campaign, except one: engagement.
For me, automating any process that requires communication with your followers is the worst thing you can do to your social media campaign.
Social media is all about relationships. It's the hub where people can go and stay in touch with friends and family, and build new connections as well. It's this ability to connect and build relationships that can help you win the trust and loyalty of your followers, transforming them into customers.
That said, you need to make your target audience feel there's a human being on the other side of the screen with whom they can build a relationship with, whether it's replying to a comment or responding to a direct message. The moment they sense they're talking to a machine, their walls go up, and you lose the chance for conversion.
– Aaron Haynes, Founder, Fenix Pro
9. Analyze your results
If you're running a small business, you're wearing lots of hats. It's very likely that there will be some things that you'll forget to do. Checking your social media marketing analytics is one of them.
Ironically, this is one of the most critical tasks you need to do when running a social media campaign. These campaigns may not cost as much as other marketing strategies financially, but they require significant investment in time and effort from you and your team. So, you need to make sure that your investment is well-placed.
One way to make sure that you regularly check this is to set your marketing automation platform to send you the analytics of your KPIs on a weekly basis. That way, you can keep a close eye on how things are going, and make the necessary adjustments ASAP if things are not working as you'd expect.
– Zulay Suarez, Editor-in-Chief, Scottish Trust Deed
10. Don't schedule too far in advance
Scheduling your entire social media calendar for the month in one sitting is tempting. However, this is something I wouldn't recommend you do.
Instead, schedule your posts on a weekly basis. That way, you free up the entire week to focus on other important matters. At the same time, it gives you the flexibility to make necessary adjustments based on the results you're getting from your efforts as well as incorporate posts relating to breaking news and events happening around you.
– Andrej Ilisin, CEO, Outdoorser
11. Schedule important dates and holidays in advance
The days leading up to holidays are often the busiest, and funny as it may seem, it's quite easy to forget to post to greet your followers during the different holidays and events throughout the year.
Since it's quite easy to get a schedule of when the dates of major holidays like Christmas, Thanksgiving, and Independence Day, you'd be better off scheduling posts for these right at the start of the year to make sure that you don't forget.
Also, it would be a good idea to schedule posts for important holidays and events happening in countries from where the top three largest demographics in your followers are from. This helps give that personal touch your followers are yearning to receive from your brand.
– Ken McDonald, Chief Growth Officer, TeamSnap
12. Try to keep your finger on the pulse
Social media automation is great! Being able to schedule ahead and post makes everyone's life easier. But the best engagement rates and shares will always come when your posts are fresh and timely.
Set aside a little time each day (or week) to watch what's being said on social media and craft a clever response. Even if 90% of your posts are automated (and what a timesaver that is!), a few well-timed interactions will help you make more of an impact.
I would actually try to come up with an overall ratio that incorporates this. And most of it will be automated. Something like:
30% new stuff you want to promote this week
20% evergreen content
20% promotional (offers or gated content)
10% content from other people (see tip 3 above)
10% quotes and testimonials from customers
10% real-time content you post yourself
It's a little extra effort, but it guarantees you're paying attention to your audience and forging stronger social connections.
– Sandra Chung, Content & Social Media Marketer, Mention
Key Takeaways
A startup's first few years are the most exciting, and the busiest. Using a social media automation tool to do a social media marketing campaign can significantly help your start reach your goals faster, even if you have a tiny team.
As we have seen from the different tips shared in this article, balance is the key to using social media marketing automation efficiently. Not all processes can be automated. You still need to jump into your social media accounts and personally engage with your followers by responding to their comments and messages. This is, after all, what sets social media apart from other platforms: the ability for you to reach out and build real, lasting relationships within the world wide web.
How has automation tools helped with your social media marketing campaigns? Share it with us in the comments below.