Great marketing requires good data. You can't know whether you're making smart decisions and using the right strategies unless you measure your performance.
It's true for most marketing styles, and it's definitely true for social media.
As a marketer, we need to constantly prove your value. You need to show that your company needs you as much any salesperson or business analyst.
You know you're good, and it's time to show that to everyone else.
To help you, we asked Klipfolio's Valerie Hamilton to give us her top 10 social media management metrics, to prove your return on investment (ROI).
We're going to break down all of these metrics below, to show you how they help. If you'd rather hear it in Valerie's own words, watch the webinar here.
But first…
Why is social media ROI important?
Chances are, your business uses social media already. Whether or not you have a fully-fledged social marketing program, you probably share tweets and image updates and answer customer service questions.
And you should be. Regardless of what kind of business you are, your customers are on social media. So if you want to reach them, you don't really have a choice.
The problem: Not all social media marketing is equal, and not every strategy will work for you. That means you need a way to track your progress, identify the good and the bad, and measure ROI.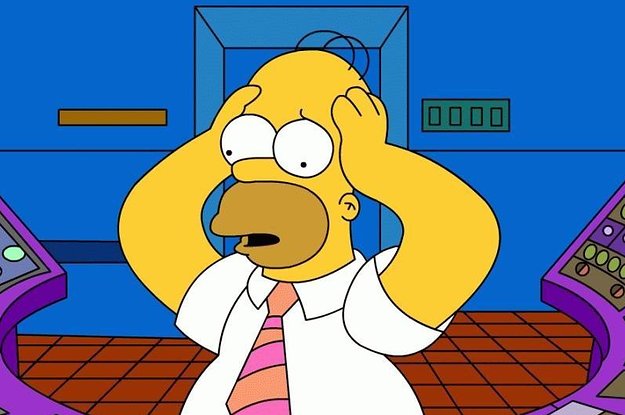 Without this, you're just guessing.
That's why it's so important to start tracking social media metrics that matter. With these, you can measure the ROI of your marketing efforts (what you actually get back), and make smarter decisions for the future.
Forget reading. Watch the webinar in full!
The top 10 social media metrics
One quick note before we dive in. While all of these metrics are interesting, they may not all be important for you. First, you need to figure out why you're using social media, and what you're hoping to get back.
Your goals might include:
Driving traffic to your website
Generating buzz about your brand
Increasing your network of followers and advocates
Finding leads and making sales
And you may have other goals entirely. It's key to figure this out for your brand, so you're able to assess whether social media marketing is paying off.
And now for number 1…
1. Social media followers
Many marketers dismiss this as purely a vanity metric. How many followers you have isn't as important as how engaged your followers are.
That may be true. But if your goals include extending your network and increasing your reach, your follower count plays a role. Especially if you're marketing across several social media channels: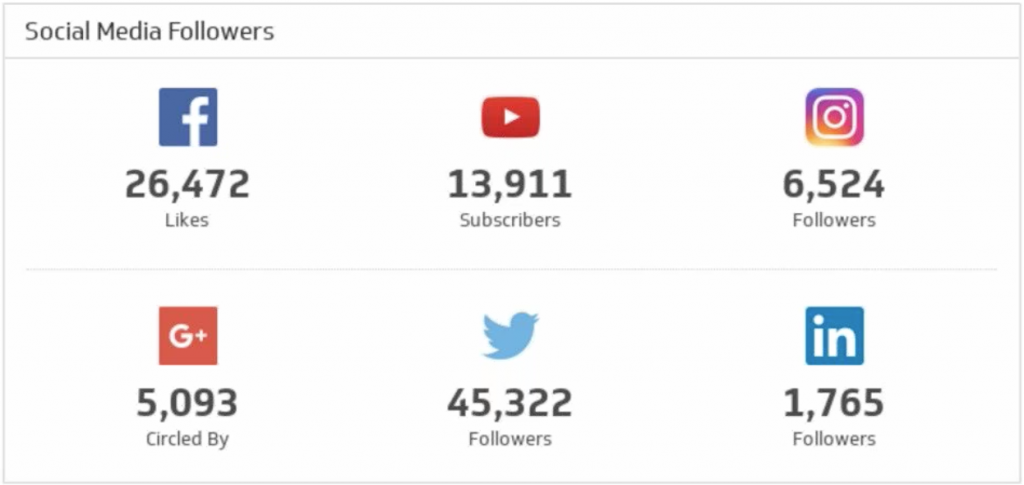 If one of these profiles is new, it makes sense that you don't have many followers yet. But what if you've worked to build audiences on Twitter, YouTube, and LinkedIn for the past six months?
You may discover quickly that your YouTube profile is far more popular than your LinkedIn page, and this is a great opportunity to double down on your efforts there. This may also be a sign that your LinkedIn presence isn't growing, and maybe it's best to forget about it.
2. Follower growth
Another way to approach the follower count is to look at growth. This shows you whether you're trending up (and fast), or if sadly, your followers are leaving you.
If increasing your follower numbers is a key metric, then the growth rate should be too. If you can show consistent growth over several months, you can justify the effort and dedication you've put in.
Again, you can also single out faster-growing profiles and put extra effort in those. If you've put some time into Pinterest, for example, and the rate of growth is stagnant, there's simply no reason to keep slaving away.
In this case, you may want to cut the cord.
Luckily, monitoring follower growth is incredibly easy. You can happily do it with a simple spreadsheet, updated each month. Or, there are plenty of social media tools to use, so you barely have to lift a finger.
3. Social media mentions
As Valerie explained, mentions are a useful way to measure brand awareness and find out who's really talking about you online.
Closely tracking mentions shows you:
How engaged users are with your content
The best days and times to share on social
Whether users like your product or service
And you shouldn't just measure your own mentions. By tracking competitors' social media mentions, you can compare your own performance against theirs. If your goal is to eat into their market share – or even to attract some of their customers – monitoring their mentions is a must.
This is also perfect for product launches. Valerie explained how she tracks mentions closely after a new Klipfolio product is released, to see whether their promotional efforts are paying off.
It's a way to make sure that you're having an impact, rather than just going through the marketing motions.
4. Brand sentiment
Sentiment analysis is a useful tool to quickly understand what people think about your brand online. Each tweet, Facebook post, or forum mention is assigned a positive, negative, or neutral sentiment:
For many brands, the most important thing to track is negative mentions. We all want to believe that our businesses are popular and well-liked, but unflattering comments can pop up at any time. That's why it pays to keep track.
As Valerie says, "if you're getting a lot of negative mentions, and you're not handling them on your social channels, they're going to keep climbing."
Positive tweets also offer opportunities. Be sure to reach out to happy customers and brand advocates, and encourage them to continue spreading the word.
Again, this is great for product launches. You can monitor the name of a new product to see whether the reception is generally positive, or if you need to act quickly to make changes.
5. Top influencers
We talk about influencer marketing a lot at Mention. We know that influencers can help you grow your audience quickly, and they usually come a lot cheaper than advertising. Often, they're free!
Monitor the influence of the people talking about you online. Increases in influence usually mean that you're being written about in industry news publications, or talked about by important people on social media. And that's definitely a good thing!
Plus, it's very easy. Good social listening tools come with influence scores: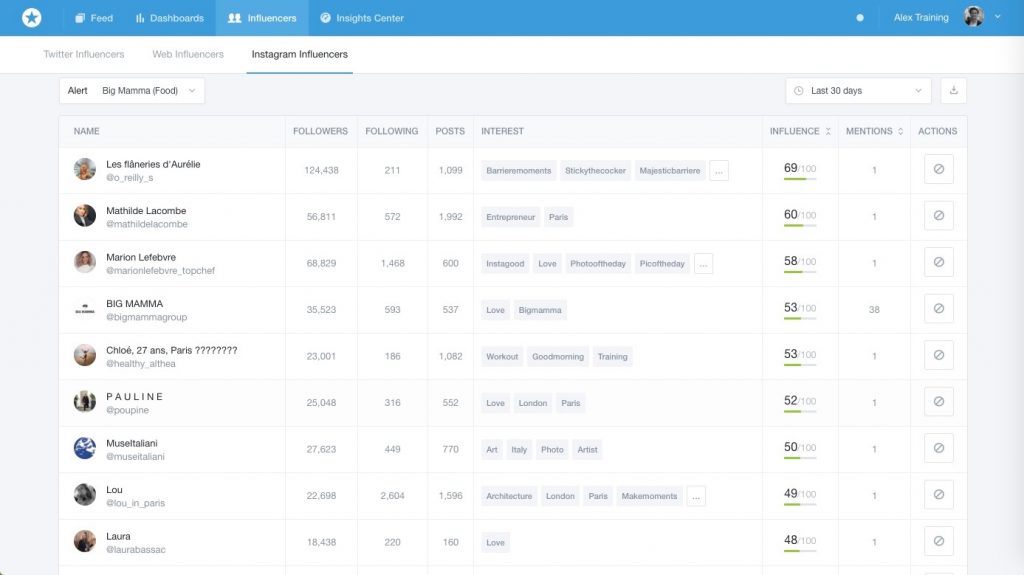 Find out who your most valuable supporters are, and encourage them to keep up the good work.
Tracking your top influencers can also lead to memorable and effective marketing campaigns. We worked with influencers in our Real Smart Marketing series, where we asked well-known marketers to share their secrets. They kindly agreed:
These videos have been shared far more than any of our others, and a lot of people seem to enjoy them. That's always a good thing.
This post is long. Watch the webinar instead!
6. Top engaging social channels
This next metric is a little more complex, but that's not a reason to shy away. We want to prove that social media marketing leads to engagement. But we're not talking here about likes and retweets – we're talking about engagement on your website, which is very valuable.
If your goals for social media include driving traffic to your website, then, of course, you should track this. But, beyond simple traffic, it's valuable to see what those social users are doing once they arrive on your site. Are they engaging with your content, or leaving straight away?
At Klipfolio, Valerie tracks social referral traffic in Google Analytics, and then compares this with the average time users spend on a page:

Valerie recommends you look for users with an average time on your site longer than 60 seconds. Logically, users that spend more time on your site are also the most engaged, and you have the best chance of getting them to sign up or buy something.
And for any business, the primary goal for web traffic should be conversions. There's no point in bringing in large numbers of viewers if they don't convert in the end.
7. Top referring social channels
Similar to our last metric, if your chief goal for social media is to drive website traffic, you need to know which platforms perform best. So find out which social networks bring the most visitors.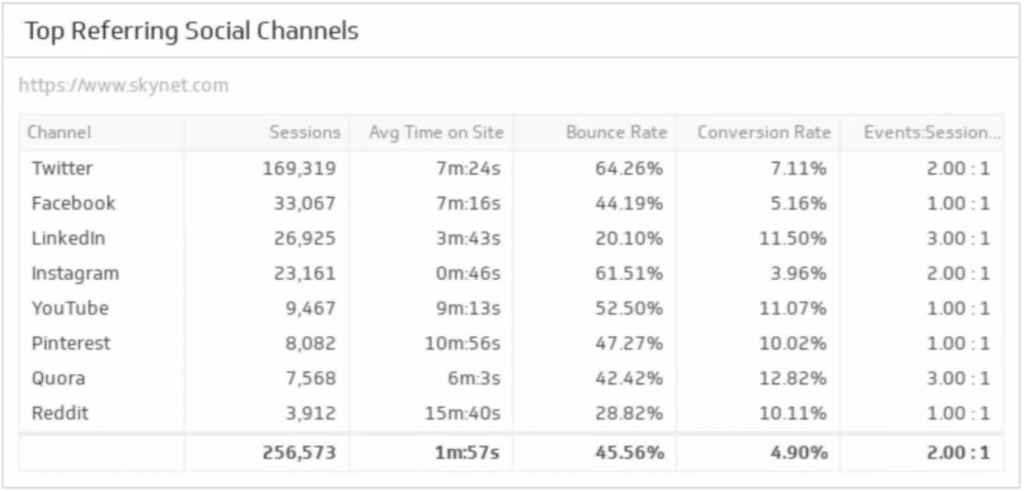 But, as you can see, you're not just limited to the raw number of unique visitors or sessions. Your analysis should include factors like bounce rate (whether your visitors leave soon after arriving), conversion rate (whether they sign up for a service, or even buy), and their average time on site.
For example, it might be tempting to look at that screenshot above and declare Twitter the undisputed king of site traffic. Certainly, vastly more sessions came from Twitter than anywhere else.
But look closely at the supporting statistics. The bounce rate is the highest for any of the sources measured. Nearly 65% of visitors arrive at the site and then leave without doing anything of value. The conversion rate is also lower than other traffic sources.
By contrast, LinkedIn appears to send much higher-quality traffic, as does Quora. With this information, you're able to ask questions like:
Do we commit enough effort to LinkedIn, Quora, and Pinterest?
How do we drive so much traffic from Twitter, and can we use similar tactics on the other platforms?
Which social networks take too much marketing time, and provide too little return?
How can we possibly drive more traffic from Reddit? Traffic from Reddit appears to be the best.
This exercise shows just how powerful monitoring social media ROI can be. You no longer have to assume you know what works – you have proof.
8. Top converting social channels
If the last two metrics were hits, this one is a home run. If you can prove that social media marketing leads directly to conversions (especially sales), you have a demonstrable return on investment.
As Valerie says, this is "the best way to actually sell your social media efforts to the rest of your team." If anyone around you doubts what you bring to the business, they won't once you show conversions.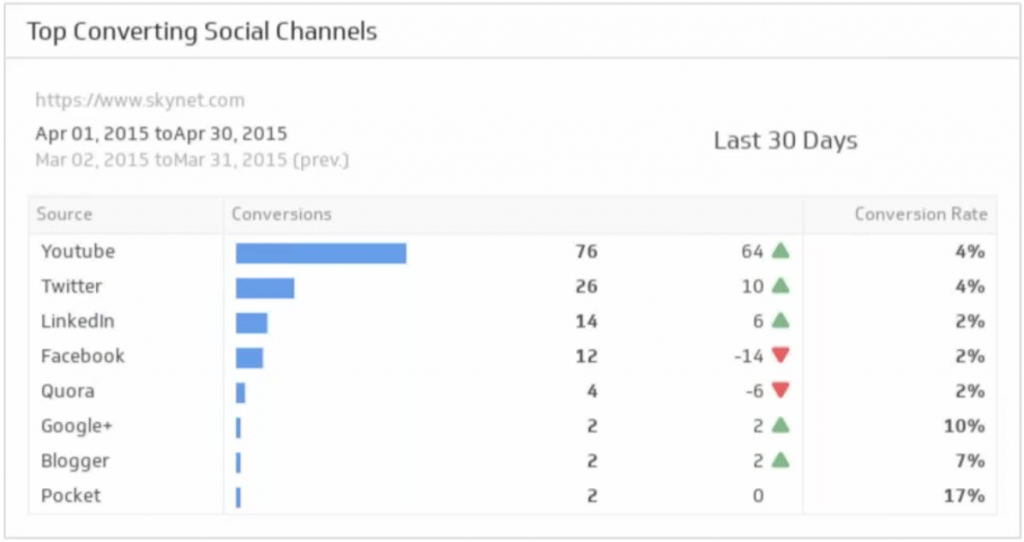 Again, the goal here is to identify what works and increase your commitment to it. Likewise, if a channel brings you nothing, ditch it. There's no reason to spend time and energy on social platforms that don't bring you business.
Find your social channels that convert and "post your top content to that channel. Content with great CTAs (calls-to-action), landing pages that you know convert – post them as much as you can to those channels."
9. Total social media conversions
This metric pulls all social media conversions together, rather than separating them by channel. Your marketing team likely has monthly or quarterly targets, and you need to know how social media contributes to these.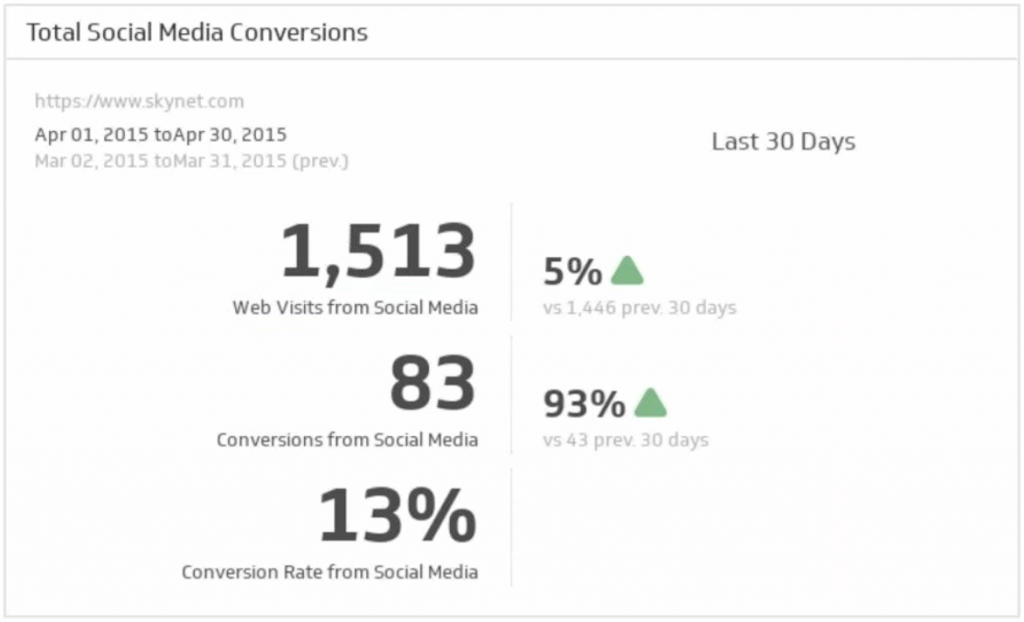 Total conversions are again a great way to prove the value of social media marketing. If you can show that social media is a consistent source of website conversions, you'll know that what you're doing works.
Even better, monitor trends in conversions over time. You can see in the above screenshot green arrows showing an improvement versus the previous 30 days. This might be due to a new campaign, some exceptional social content, or simply a little extra effort. Whatever the case, this increase in conversions shows that something's working.
You want to achieve consistent growth, month over month. You also want to watch out for major dips in conversions, especially if these follow a change a strategy. If you've decided to try something different, and you see conversions fall away sharply, you may have bet on the wrong approach.
10. Revenue from social channels
Without a doubt, this is the metric that makes company executives take notice. Sure, they probably care about site traffic, social followers, and some of the others. But what matters most is the bottom line.
If you can draw a straight line from your social media marketing to money in the bank, you can confidently assess your social media ROI. Revenue isn't the only thing that matters – if it was, we'd have cut this list by nine. But it definitely makes others pay attention.
Google Analytics lets you set website goals for each conversion point. From this, you can add a dollar value to each conversion. So if you know the source of each conversion (that was metric number eight), you can easily calculate the revenue generated by source: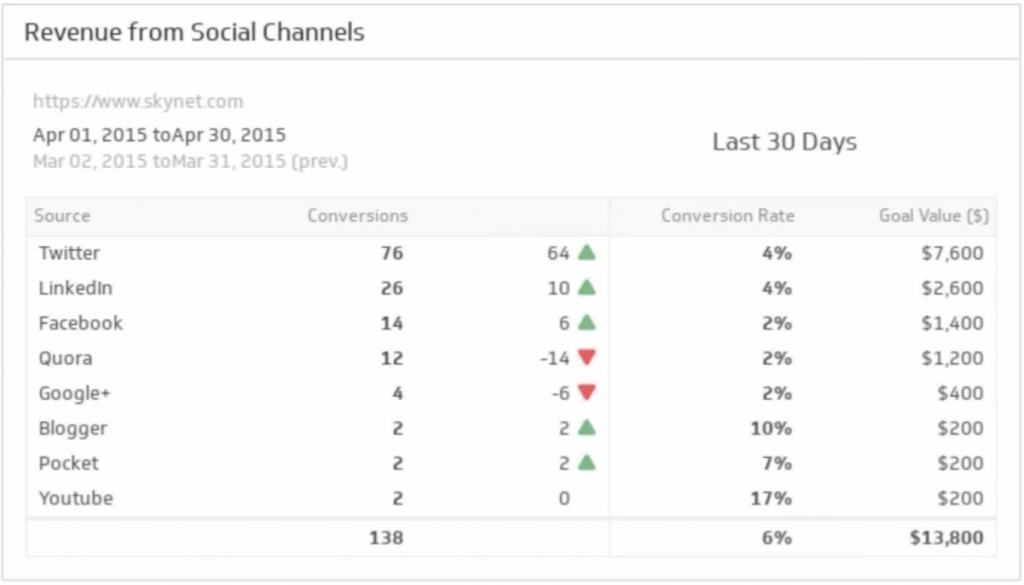 This is dead simple for eCommerce sites. You have a product with a set value, so every time a user buys that product, you know how much revenue it brings in.
But even if you sell a service offline, you can still accurately assign a value to your website conversions. For instance, if you know that 2% of your blog subscribers eventually become customers, and you know what your average customer pays, you can see what a blog subscription is worth.
There are also great tools like Marketo and Kissmetrics that will track your customer's journey from that first conversion. This lets you tie that eventual customer to the social media link they clicked. So if you know that customer pays $10,000 per year, you can thank social media marketing for that revenue.
Whether you choose to go for averages or track your customers on an individual basis, monitoring the revenue generated from social media can be hugely satisfying.
Conclusion
In the end, it always comes back to your goals. Of our 10 social media metrics above, you might only prioritize a few. And that's normal.
After all, the point is to make more informed decisions for your business.
You may realize that social media marketing just doesn't make sense for you. If it's not building an audience, increasing brand awareness, or converting customers, then it's probably time to pack it in.
You may also discover that you're missing opportunities, and double down on specific social channels. It will all depend on your goals.
If you're still not sure, watch the webinar. It contains questions, ideas, and strategies we couldn't fit in this post. Plus, videos are more fun.