Social media has become an increasingly vital component of any business's online presence.
As far as digital visibility goes, social media activity and interactions are pivotal in how a company can reach a wider audience, engage with potential customers, promote its products or services, and generate vital brand awareness.
Collectively, these strategies help business owners ‌scale and grow their companies in the long run, while managing their reputations and creating new revenue streams.
Table of Contents:
Managing Your Social Media Marketing Budget Effectively
Social media advertising has become a crucial piece of the ever-evolving marketing puzzle. Boasting a huge array of versatile platforms (Facebook, Instagram, and Snapchat, to name just a few) to run lead-generating and brand awareness marketing campaigns, social media marketing has become a difficult ship to steer for many.
Not only is there the responsibility to manage each platform responsibly, but there is also the challenge of running specific targeted marketing campaigns, analyzing the metrics behind each campaign, assessing what has worked and what hasn't and, the topic of this article, effective advertising budget management.
It's unsurprising why many companies entrust experienced professionals or marketing agencies to oversee platform and campaign management. Consequently, it's also hardly shocking why many content creators take a leap of faith in the world of social media, as it can boast tremendous opportunities for creators to earn a decent living and become widely influential, partnering with businesses all over the world.
While it's no secret that social media can generate plenty of positive results for businesses, financially and reputationally, there is far more involved than simply creating company profiles on each platform. Leads and enquiries won't magically start flooding in without some effective advertising strategies that are designed to improve the quality of your leads and boost your online visibility. All of this relies heavily on understanding each platform's nuances and unique features and how to allocate a sensible budget towards your greater social media activity.
Many firms may find success on specific platforms and less so on others, while certain businesses may fare better by adopting a consistent, streamlined approach to their social media activity. Whichever platform you utilize, you need to ensure that you are getting the most out of your marketing budget, because as the old saying goes, money doesn't grow on trees. However, with effective planning and management, you can use social media to achieve a steady stream of leads and conversions that justify your expenditure, in turn, giving you more budget to spend on optimized, engaging campaigns for your target audience.
How Much Should You Spend on Social Media Advertising?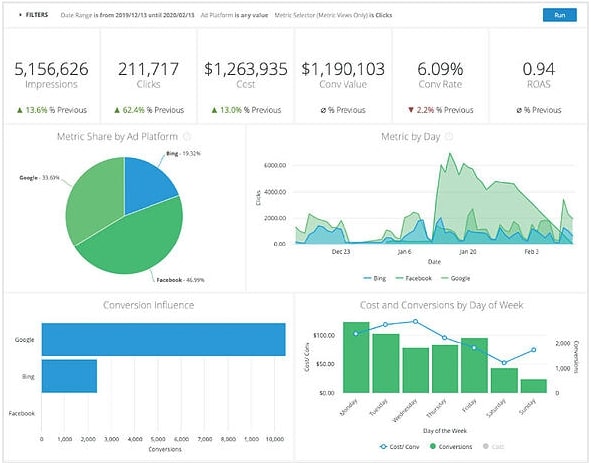 As a marketer, you may be asking yourself how much you should spend on a social media campaign.
Marketing will comprise roughly 13.6% of a company's annual budget in 2023, according to Deloitte's Annual CMO Survey. Much of this gets invested in paid media, which includes advertising channels like PPC (pay-per-click) advertising and social media ads. Whether you decide to calculate this as a daily allowance or a monthly budget, this is a good benchmark figure to identify.
However, more importantly, you should assess your digital marketing goals and whether you will be using any other advertising channels. Also, if you have run social media campaigns before, determine your ROI (Return on Investment) to decide how much you should invest into your new campaigns.
Your budget should account for the costs associated with:
Sponsored posts
Advertisements
Content creation
Graphic design
Management or scheduling tools
Influencer fees (if relevant)
Analytics and reporting tools
Having a social media budget can help you set the right objectives, expectations and KPIs for your marketing team. You can use your budget to determine exactly how much your company can afford to do, creating a long-term plan to understand what you can potentially make back in returns. Depending on your campaign goals – whether it's brand awareness, conversions or engagement – you'll be able to ascertain how to use your budget more wisely, with time.
How Much Should You Spend on Your Social Media Efforts?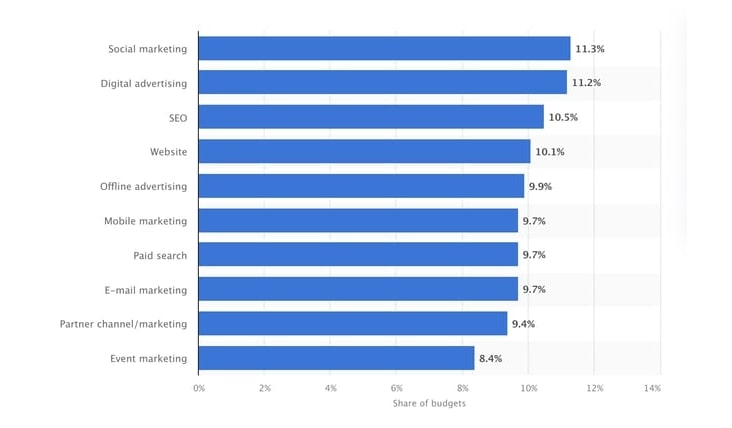 The size of your social media budget should depend on several factors that align closely with your top-level social media strategy, objectives and your target audience.
If you need to clarify how much you should allocate, consider asking yourself the below questions:
How does your target customer usually buy or convert?
What channels are they most likely to use?
Which social media channels do you want to grow (and by how much)?
How often could you commit to posting on social media?
What type of content do you feel would best suit your audience?
How well are your currently active social media platforms performing?
Which tools would you need to help make campaign management easier?
How many external freelancers or influencers would you consider working with?
How will you measure and track your goals and campaign performance?
How will you ensure you stand out from your competition?
How to Use Your Social Media Marketing Budget Wisely
Set clear goals. What do you want to achieve with your social media marketing? Do you want to increase brand awareness, generate leads, or grow your audience base? Once you know your goals, you can tailor your social media strategy accordingly.
Choose the right platforms. Not all social media platforms are created equal. Some platforms are better suited for certain businesses than others. For example, if you're a B2B company, LinkedIn is a great platform to reach influential decision-makers within a company. If you're a retail company, Instagram and Pinterest are great platforms to showcase your products.
Understand your target market. Research your target audience demographics to help you narrow down exactly the types of people to reach via your chosen platforms. When you spend your hard-earned budget on social media sites, you want to make sure that you're standing out to the right types of people who'll see and respond to your content.
Create high-quality content. The key to success on social media is creating content that your target audience will find valuable and engaging. This could include blog posts, infographics, external industry news, videos, or even just funny memes and content. The more interesting and relevant your content is, the more likely people are to engage with it. Consider its relevance in terms of your overarching goal(s).
Use unique social media ads. Social media ads can be a great way to reach a wider audience and boost your social media marketing efforts. When you advertise on social media, you need to create an ad that's immediately engaging to your audience, forcing them to stop and interact with your ad.

Remember that people use different social media platforms for unique experiences; for example, Instagram is more visual whereas LinkedIn is more text-dominated. Using unique ads for each platform may stretch your budget slightly further, but doing so will likely generate improved results.
Run A/B tests. Launching a campaign does not mean the job is done. If your ads are low performing, they'll stay that way unless you tweak and optimize them. Experiment with your different ads and their metadata, such as descriptions, titles, imagery, CTAs (calls-to-action), and so on. You can gain valuable insight into what generates a response from your audience and what drives them to interact. From this, you can create even better ads in the future.
Track your results. It's important to track your results so you can see what's working and what's not. This will help you make adjustments to your strategy as needed.
How to Advertise Your Business on Social Media
Facebook Ads
Facebook is the most widely used social media platform with over 2.95 billion monthly active users.
Facebook Ads offers a wide range of ad types and formats, including:
Image
Video
Poll
Collection
Carousel
Slideshow
Stories
In-Feed sponsored posts.
Facebook's audience targeting allows marketers to create ads that appear to the people they want to target, which can be done broadly (relying on Facebook's built-in delivery system) or specifically (with lookalike or custom audiences).
To get the most out of your Facebook advertising budget, focus on targeting a specific audience with relevant content. Use high-quality visuals or videos and engaging copy to capture the attention of your audience, as this will attract more attention than static text alone. Test different ad formats and bidding strategies to find what works best for your business and reach those that are potentially interested in your products or services.
Instagram Ads
Instagram, which is owned by Meta, the parent company of Facebook, has over 2.35 billion monthly active users and is a visual platform for sharing photos and videos. There are quite a lot of similarities between Facebook and Instagram that make it easier to streamline ads across both platforms.
Instagram Ads offers various ad formats such as:
Story,
Explore
Collection
Video
Image
Reels
Marketers can target audiences based on demographics, interests, behaviors, and location.
To get the most out of your budget, use high-quality visuals, hashtags and location tagging to capture the attention of your audience, and also effective CTAs to encourage interactions from your viewers. Define your Instagram target audience by establishing buyer personas, studying your competition's Instagram post performance and audience interaction and collective demographics data. Consider reading this article for developing an effective Instagram marketing strategy.
Twitter Ads
Twitter has over 450 million monthly active users and is a platform for real-time conversations.
Twitter Ads come in many forms, including:
Dynamic Product
Promoted tweets, accounts and trends
Twitter Takeover
Twitter Live
Marketers can use strategies such as keyword targeting, conversation targeting, event targeting and customised audiences.
To get the most out of your budget, keep your visuals eye-catching and ad copy simple, and remember the 280-character limit can often be too long. Twitter isn't a place for fluff, so make sure it's concise and to the point, and obviously, ensure your CTA is bang on the money. Keep hashtags to a minimum to avoid looking spammy.
LinkedIn Ads
The professional networking platform LinkedIn has over 875 million members and presents great opportunities to reach like-minded business leaders and entrepreneurs.
Marketing on LinkedIn helps you engage with different communities of professionals, and you can do this via:
Single Image ads
Document Ads
Sponsored Messaging
Carousel Image Ads
Video Ads
Marketers can target professionals based on their location, job title, industry, skills, and experience. Building up your identity on LinkedIn can take time, but is worth it in the long run.
Depending on your ad objective, you can potentially foster excellent client or supplier relationships through carefully-written copy and engaging visuals. Whatever your goal, be it video views, lead generation, brand awareness, website visits, jobseekers, or engagement, make sure your ad format and audience targeting methods are aligned.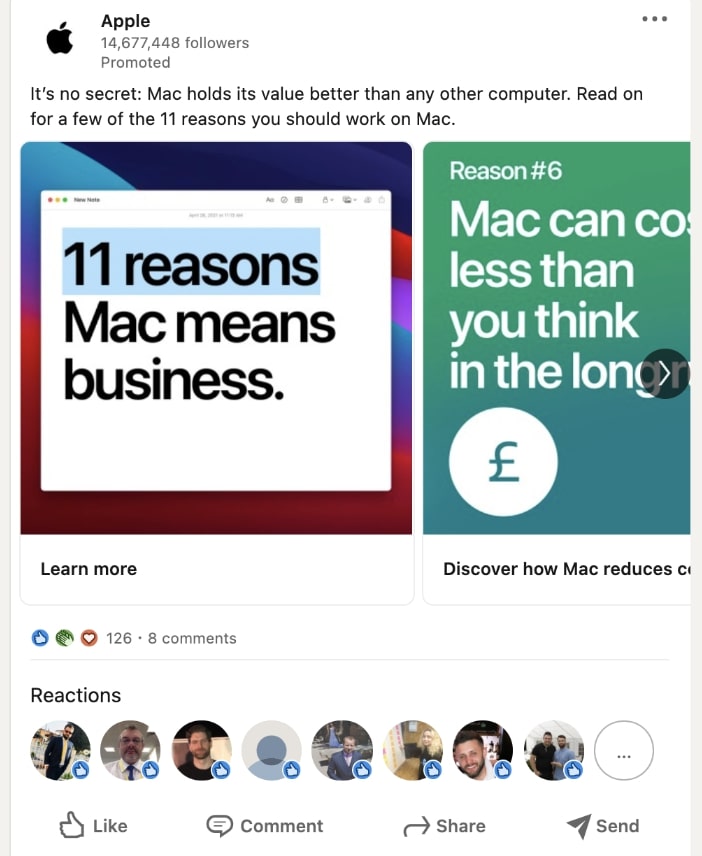 TikTok Ads
TikTok, the video-sharing platform has over 1.60 billion users and has influenced how users digest short-form video content.
TikTok ads come in many formats, including
TopView
Spark
In-Feed
Branded takeovers, hashtags and effects, usually involving influencers
When investing in TikTok advertising, your ad goals need to be clear-cut, whether that's increasing view metrics or follower counts, driving engagement and CTR (click-through rates), and conversions.
To get the most out of your budget, use engaging and emotive visuals, ensuring that your short and snappy video content is relatable and evokes an emotional response. Most content involves a blend of humor and creative undertones, with sales messages geared towards educating users on how they could benefit from using the sponsored or branded product. Ensure your messaging is captivating and engaging, while not being an exact replica of another company's strategy.
Snapchat Ads
Snapchat has, according to TechCrunch, over 750 million monthly active users and is a mobile app for sharing photos and videos. In comparison to leading social media platforms, Snapchat offers a smaller audience pool but offers diverse targeting options and ad types.
The types of sponsored imagery and videos that marketers can create involve,
Snap ads
Filters
Commercial ads
Collections
Stories
You can target users based on specific demographics, location, income and even marital status. Similar to Instagram and TikTok, Snapchat is widely used by younger adults in the 18-24 age range, which is handy to know when curating original Snapchat ad campaigns.
Takeaway
To get the most out of your budget, spend time creating predefined and customised audiences by understanding their purchasing behaviors and engagement statistics. Use the Audience Insights tool to gather important data and use this to influence your ad objectives, which should be aligned with what you want to achieve. The recommended time to let your ad run is about 15 days, so you can understand your metrics ‌and optimize your campaign from there.
While you'll likely need to think carefully about how you utilize your social media campaign budget, it's hopefully clear to see that creating unique ads for specific platforms can work wonders at helping you achieve your business goals. While original and engaging ads will take time to piece together and generate revenue, in good time, your budget will be well spent, and you'll be in the green if you adopt the right strategy from the outset.