One reason digital marketing degrees are becoming more prominent and in-demand is because of the rise of digital marketing platforms and strategies that continue to revolutionize the industry.
And for social media marketers, there seems to be no end to the ever-changing landscape as new changes and features from every player emerges nearly every week. So if you're starting to plan out your 2020 marketing strategy, we recommend being the first to adopt the latest trends that are currently changing the game.
Read on to see the top 7 social media marketing trends that will change the way you do business in 2020.
Social media marketing trends for 2020
User-generated content will become more prevalent
One of the most important marketing trends to look for in 2020 is the rise of UGC — or content that is created by consumers of your brand to help you market it.
This is slightly different from influencer marketing because, while both rely on other people to talk about your brand, user-generated content can come from just anybody – even without a large following.
One leader in using user-generated content to market their business is GoPro. On their YouTube channel, they regularly post content from their consumers who use their products to create interesting and exciting content.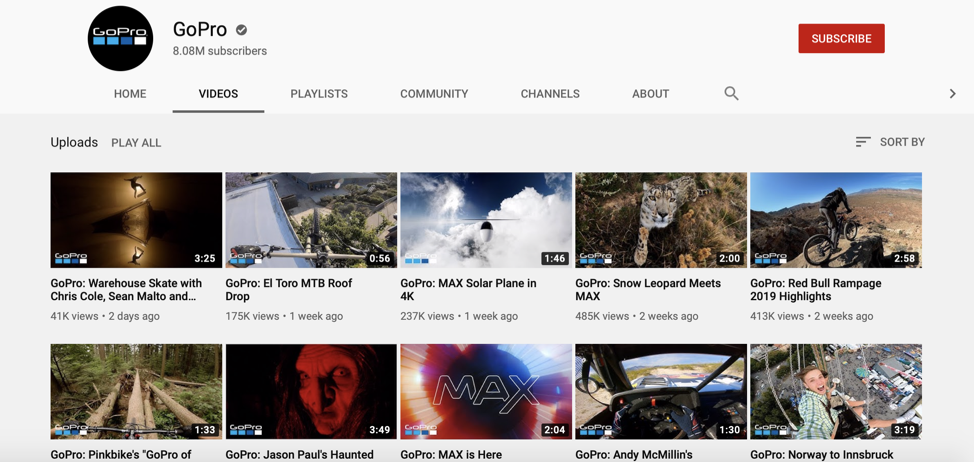 GoPro's YouTube account is full of videos captured by their consumers.
This works well because the footage being shared not only shows off the specs of their cameras – the clear video takes even in constant motion, the wide angles captured by the cameras, etc – but it also shows prospects different ways they can use a GoPro themselves.
This marketing tactic works well because people trust people who are like themselves instead of faceless brands. Even if a prospect had no idea who the other consumers are, as long as they see some kind of social proof to establish trust.
It also works to encourage people to create content for your brand in the hopes of getting featured.
How to get user-generated content for your own business
Regardless if your business offers products or services, you can make the most of user-generated content to market your business on social media.
To encourage customers to create content about your brand, consider offering great incentives like discounts and freebies.
For example, small business My Livia incentivizes leaving reviews on their site.
They've created a scheme that gives an exclusive coupon code to customers who leave a text review on their site. And for customers who leave a video review, they offer 6 months' worth of free refills of their product.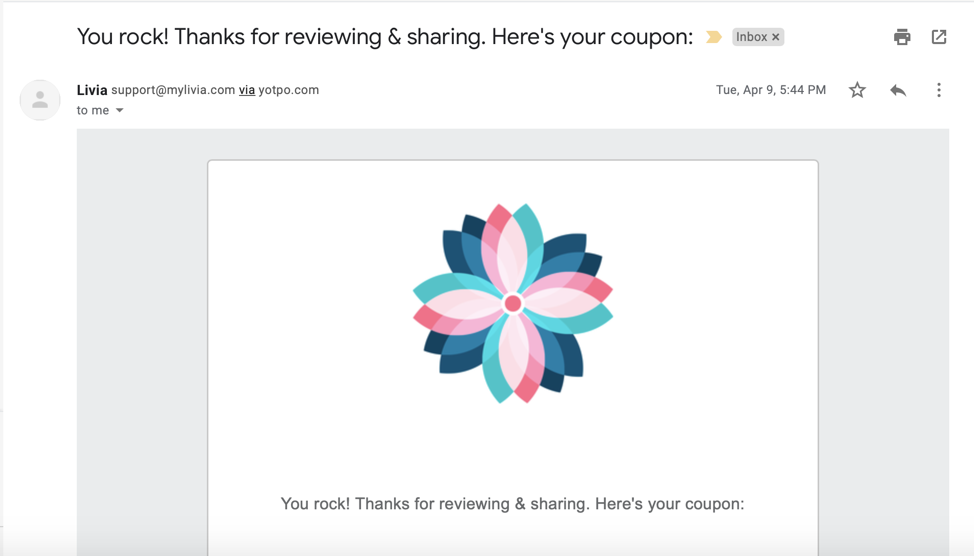 My Livia gives exclusive coupons for customers who leave a review
The rise of shoppable posts
Shoppable posts allow users to shop for items – from make-up to clothing and even cars and home products – all without leaving a video or photo.
Many brands have already taken advantage of this new technological advancement, especially brick and mortar and retail stores. Instagram, for example, lets you easily tag products in your posts and allow customers to shop what they see.
This works well for boosting sales because it lessens the time a customer has to spend logging on to the site, looking for the item they're looking for, and then checking out.
With shoppable posts, users can check out an item immediately or browse related items after adding a few to their cart.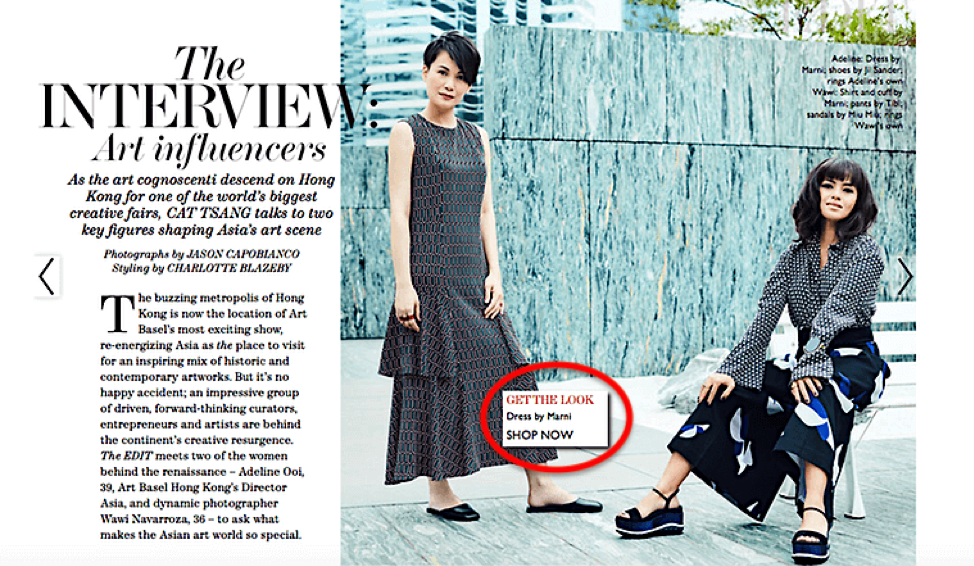 A Shop Now button appears when a user hovers over an item. (Image Source: Single Grain)
How to use shoppable content for your own business
If you sell goods, make it a habit to make the content shoppable on social media. For Instagram and Facebook, there are ways to instantly tag your item as shoppable so users can immediately check out.
While the use case isn't prevalent for service-based businesses, it's still possible to get creative with this new advancement. For services that have a fixed fee, for example, you may link to it from a post straight away and allow for online checkout.
Shift from global to local
By 2020, local marketing will be a must, especially with the rise of mobile and voice search. In fact, more than 55% of users use voice search to find a local business near them.
Because of this, it's important to optimize for local search and implement other best practices for local marketing.
Some tactics include using Google My Business to get discovered right from a search result, optimizing SEO for web pages, and using local and location-related keywords in social media posts.
How to use local marketing for your own business
Because local search – whether on search engines or social media – will be more relevant in 2020, use local SEO to optimize posts and pages.
Include the name of your city or state when creating copy for social media posts, and be sure to have a verified or address linked to a map on all your social media pages.
Stricter regulations and guidelines for influencer marketing
No matter how much the critics might claim it, influencer marketing isn't going anywhere. In fact, it's only expected to rise, as 90% of marketers reported plans to maintain or increase their influencer marketing campaigns going into 2019.
Mediakix has even projected that influencer marketing spend could hit a whopping $10 billion in 2020 as more marketers are focused on partnering with different influencers`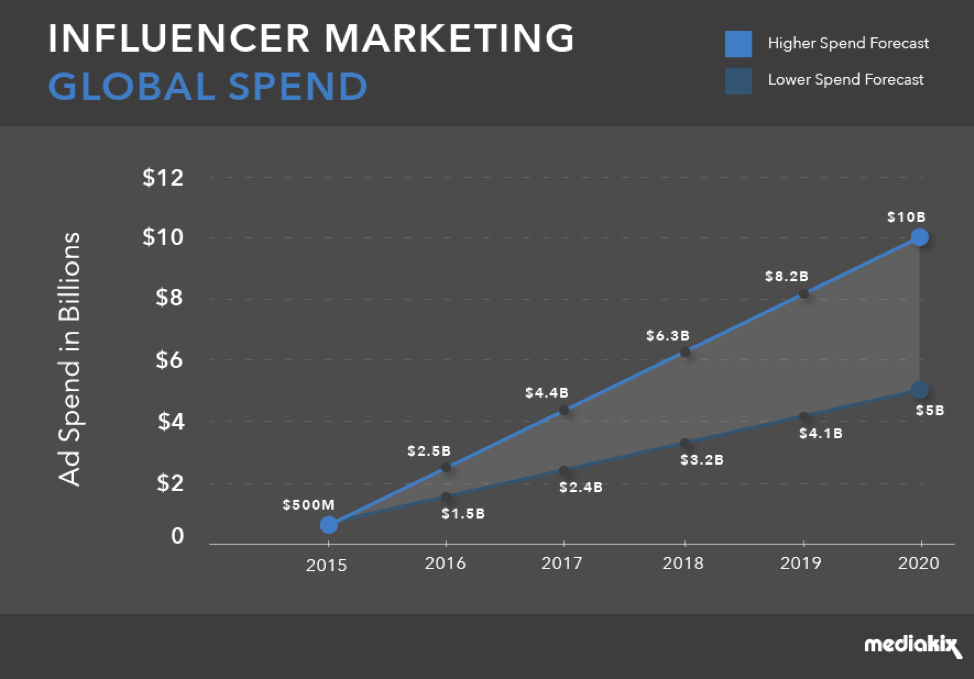 But perhaps the biggest influencer marketing-related trend is that marketers will be creating stricter guidelines and regulations before engaging with influencers.
Brands are also expected to partner with smaller influencers – those with about 10k-50k followers instead of the then-sought-out 500k-1 million bracket – for their higher engagement rates, niche followings, and lower cost per campaign.
How to implement effective influencer marketing campaigns for your business
When you're creating influencer campaigns for 2020, consider recruiting influencers with niche audiences. These influencers tend to have better engagement than mega-influencers with millions of followers.
Also, create brand guidelines to help influencers know how to handle communications about your brand. Allow them to be creative and genuine when promoting your brand, but still enforce your guidelines to follow – it's your business, after all, and you're paying for them to advertise you after a thorough deliberation process.
Social listening will become increasingly essential
With social listening, you're able to capture a lot of useful insights that are crucial to the success of your campaigns.
For example, social listening can tell you how well a current campaign is doing, and even help you identify which factors of the campaign are the reason for the success.
By knowing what people are saying about the campaign or your brand, you can tweak campaigns, push successful ones longer, or pivot completely.
How to use social listening for your business in 2020
There are many social listening tools you can use for this strategy. What's important is you check in regularly to see how your brand is performing.
These tools let you track who is mentioning your brand as well as what they're saying about it. You can even see conversations around your brand so you can pinpoint different tactics moving forward.
You can use social listening to bank on trends in your industry, such as how fast food joint Wendy's or tech company Microsoft has used social listening to develop new products for their businesses.
More social groups
While things like Facebook and LinkedIn groups are far from new, in 2020, we can expect their popularity to rise as people are looking for more ways to engage with brands and communities of like-minded people.
Even without brands stepping in, people have formed groups that are linked to common interests, such as bloggers joining blogging groups to connect with fellow bloggers and share tips and resources, or fans of the same TV series join "fandom" groups to connect with other fans.
But when a brand is behind starting the social group, it becomes easier to create brand-related content with the help of moderators and in-house marketers.
For example, Conde Nast Travelers started their own Facebook group in 2017 to let travel enthusiasts come together and share their travel experiences.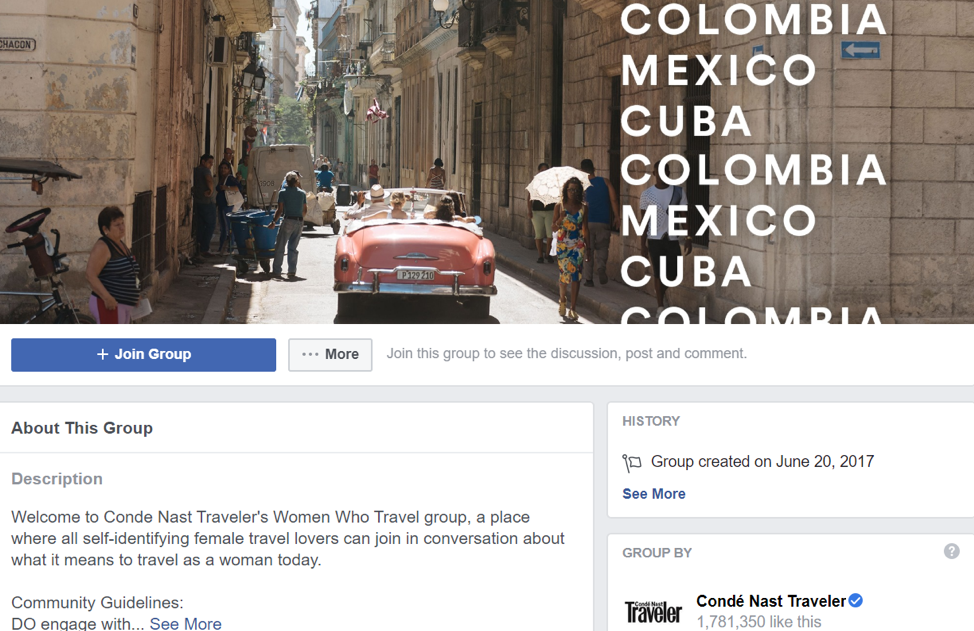 Conde Nast Traveler's Facebook group, Women Who Travel (Image Source: Influencer Marketing Hub)
Social groups work well for a brand because many people are on the lookout for advice and ways to share their own experiences or to be able to ask questions and get opinions from people with similar interests.
How to use social groups in 2020
Consider creating some kind of freehub – Facebook and LinkedIn are great places to start because nearly everyone has their own account – where customers and fans can get together to share experiences.
This is a great way to nurture your relationship with them in more personal ways, especially by assigning moderators and brand spokespeople to engage with users and encourage constant conversation.
To encourage engagement, offer to feature answers in a future social media post or make it a contest for the best ideas.
Social media as customer service
These days, when people have questions or concerns, they will more often than not turn to a brand's social media account to make their queries there.
Some examples of ways people are using social media as a customer service tool are: making product inquiries, asking for reservations, making formal complaints, and so on.
Because of this, brands must increasingly be aware of their social media presence, monitoring messages from customers and prospects so they can make timely responses.
How to use social media as your customer service hub
Prospects who make inquiries about your product or service are probably willing to make a purchase, so imagine the positive effect on your conversion rates if you're able to give timely and helpful responses.
Invest in chatbots with pre-loaded questions and answers, or in real-life representatives to monitor your accounts for you.
Have a list of ready-to-send responses to decrease friction, and if you don't have 24-hour customer service online, be transparent about your business hours to set customer expectations.
Your turn to make 2020 the year of social media
Many trends come and go, but that doesn't mean you shouldn't try out some of them while they're still on the rise. Use the trends above to evaluate which ones suit your business goals, then create a social media strategy with the tactics above as inspiration. Keep watching for new trends, test them out in on-brand ways, and don't be afraid to experiment and push the boundaries of your next social media marketing campaigns.