Imagine yourself in a store surrounded with dozens of new smartphones.
Wherever you look, there are new iPhones, Samsung smartphones, phones from Sony, Huawei, LG and many more brands you might have not even heard of. Now, focus, you want to buy a new smartphone for your loved one. It's going to be a gift for their birthday. What do you do?
I bet that the first thing you do is take a look at the phones in the store, write down the names of those you like and then, go online and read a bit more about them. After all, you wouldn't risk buying equipment nobody uses or recommends, right?
Thus, you put your trust in people's opinions about and experiences with a brand instead of trusting that brand's content and advertisements. Now, that's the amazing power of user-generated content (i.e. UGC).
In this article, I'll tell you a bit more about what UGC is, its benefits, and how to encourage it by creating a UGC contest on Instagram. Ready to start?
Scroll the page down a bit.
Benefits of encouraging UGC on social media
User-generated content can be defined as any type of content (for example, images, blogs, videos, tweets or reviews) created by users (i.e. people you don't pay) and posted online (usually on a social media platform). In other words, it's a situation during which your audience as well as followers promote your brand for free and of their own free will. Cool, isn't it?
Now, regardless of the platform, user-generated content can have enormous benefits for your brand.

1. It inspires purchase decisions
First of all, user-generated content can have a huge influence on people's purchase decisions. You may not even realize it, but chances are that sometimes you also get influenced by UGC. How come? Recall the story in the beginning of the article – surely, you've also checked people's opinions and reviews before buying an unknown or an expensive item, haven't you?
Would you like to say now, "You got me! I admit, I got influenced by UGC a few times, but it doesn't mean that the majority of people do as well…". Agreed. To prove that to you, I need to reach for something stronger than the above argument. So, let's take a look at the statistics:
According to a

survey

by Stackla, 60% of users admit that what encourages them to buy an item from a brand is content created either by their friends or family members (compare to 23% of users who get influenced by content created by celebrities as well as influencers). 

Similar results come from a 2017 study by TurnTo Networks:

They discovered that UGC influences 90% of shoppers (outranking search engines and promotional emails). Also, it occurs that shoppers under 30 (i.e. Millennials and Generation Z) are those who get influenced by UGC the most: 97% of them say that UGC has an extreme influence on their purchase decisions.
Convinced? Great! Now, encouraging purchase decisions isn't everything that UGC can do for your brand…
2. It builds brand trust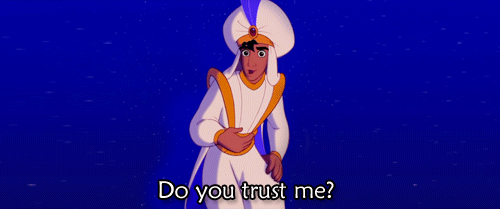 Will people buy your products, recommend them and eventually, become loyal customers if they don't trust your brand? The answer is: no, they won't. Thus, building brand trust is crucial to the development of your business.
Unfortunately, there's a bad news for you…
Consumers can live without you. According to Havas Group's Meaningful Brands report, users wouldn't care if 74% of the brands they use vanished off the face of the earth. Here's what Yannick Bolloré, Havas Group's chairman and CEO, stated:
"Only brands that form more meaningful connections with people will prosper."
Thus, building trust with your customers is more important than it's ever been. After all, these days, people have lots of choices and so, they may choose to buy from your competitors rather than from you. If you don't want that to happen, you need to invest more time in building closer relationships with your customers.
Guess what? UGC can help you with that. How come? Well, according to a study, 83% of consumers trust recommendations of their friends and family members over advertising. Thus, you can build stronger relationships with your customers by encouraging UGC rather than creating dozens of ads.
3. It helps you reach a wider audience.
UGC content is shared by the millions. That's a fact. But, how exactly does that help you reach a wider audience? Well, in two ways.
First, since your customers create and share content about your product or service on their social media profile, they spread the word about it among their friends. And, mind you: on average, people have 155 friends on Facebook and 150 followers on Instagram, so it's a rather wide audience.
Second, UGC reaches people who don't know your brand. Although the most popular way consumers discover new products is in-store browsing and word-of-mouth from their friends, online content created by users is also on the list (look at the image below): 26% of people discover new products when reading customer reviews, 20% when browsing social media accounts of their friends, and 15% when checking outside online content.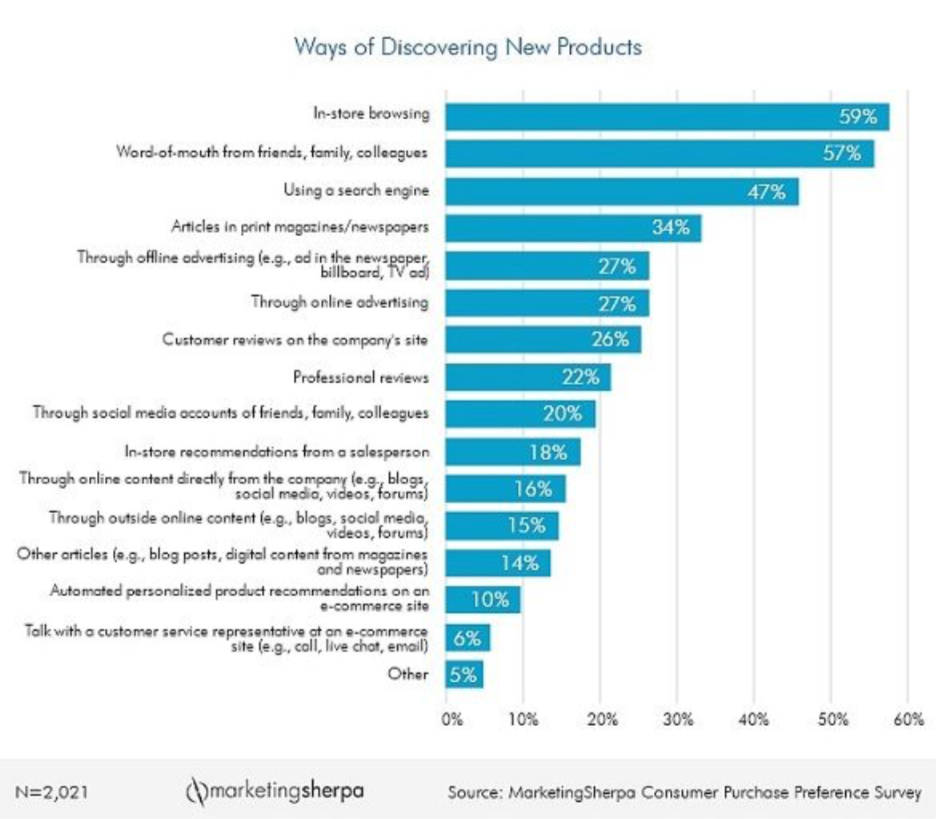 What's the conclusion? UGC can help you reach more people.
4. It boosts brand engagement.
Did you know that brand engagement increases by 28% when users are exposed to both professional content as well as UGC? That's right! When you encourage and share user-generated content along with branded content, you generate more engagement on your social media page.


Are you in doubt? Let's check it in practice, then. Take a look at this Instagram post created by HouseInHabit: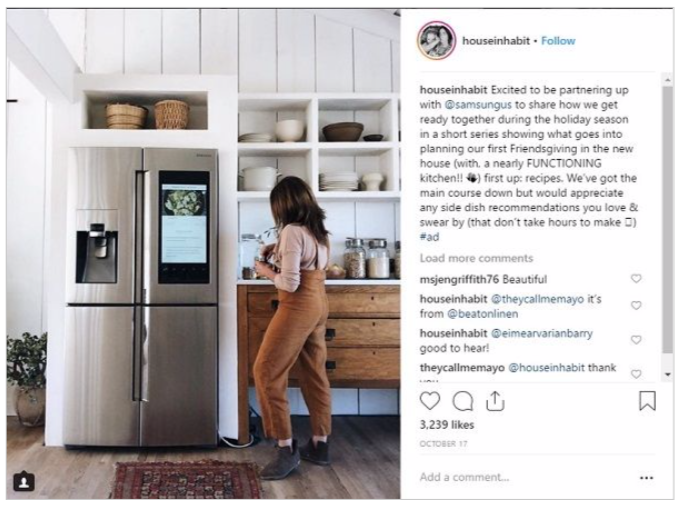 Can you see the number of likes? Over 3k. That's great, isn't it? Now, in that post, HouseInHabit presents her kitchen and so, promotes Samsung products. Next, SamsungUS finds her post and shares it on their Instagram page: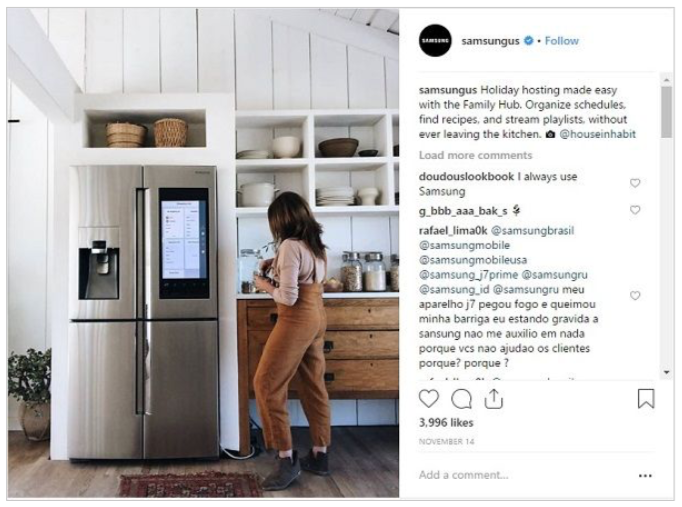 How many likes did they get? Almost 4k. Pretty decent, isn't it? Thus, as you can see, UGC has the power to drive engagement on your social media page.
If you're still doubtful, check other people's UGC campaigns. They confirm that UGC can have a positive influence on customer as well as brand engagement. So, it's worth to give it a try.
5. It's cost-effective
The final benefit of encouraging and sharing UGC is that it's a content (i.e. advertisements) you receive for free.
Yes, that's right! For free! UGC is nothing else but free ads. What's more, they work much better than traditional, paid ads, because users trust them more than branded content. So, all in all, UGC makes your brand more authentic without increasing the costs.
Since you now know that UGC is powerful, let's figure out what's one of the best ways to encourage it on Instagram.
UGC Instagram contest: What is it?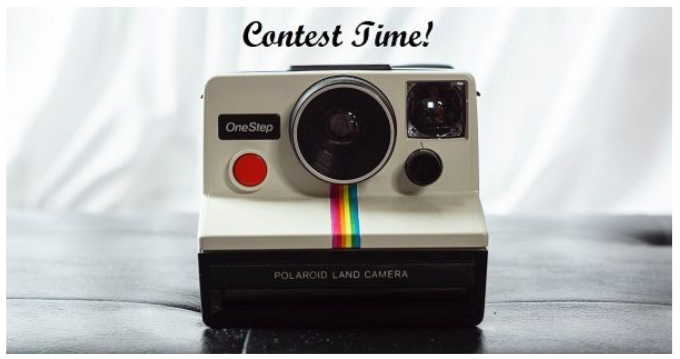 Social media contests were all the rage once. Are they as popular and beneficial nowadays? In fact, yes, they are. Here's what they can do:
They keep your customers excited and engaged,

They encourage social sharing,

They help you reach more people,

They draw people's attention (since they appeal to people's desire to receive something for nothing),

They help you build stronger and closer customer-brand relationships,

They help you build your email list, and… most importantly,

They can encourage UGC.
Now, not every type of contest encourages people to create content about your brand. Let's discuss in what way a UGC Instagram contest differs from a traditional Instagram contest, shall we?
Traditional Instagram contest
Each and every Instagram contest is similar: in a post, you announce that you're running a contest, inform your audience how to take part in it, tell them what the rewards are and then, announce the winner. That's the pattern. However, what contests differ in is the actual rules for participation.
In an ordinary, or traditional, contest, in order to participate, you have to do one or several of these activities:
Like the post,

Follow the brand,

Tag your friend,

Repost the image,

Share your opinion on something in the comments,

Answer a question.
Here's an example of such a contest: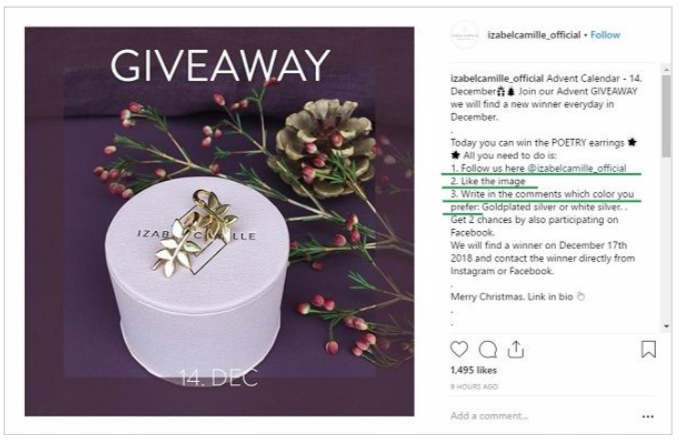 A UGC Instagram contest
To take part in a UGC Instagram contest, on the other hand, you need to create content, for example, a video, in which you'd say a few words about a service, or a photo, which would present a brand's product. Thus, a UGC contest encourages your audience to make and post content about your brand.
To give you an idea of what such a contest looks like, let's take a look at an example. In October, McDonald's ran a contest in which you could win $3 500 "towards a weekend getaway for two." All you had to do was to come to McDonald's with your grandma, take a picture together in the restaurant, and share it either on Instagram or Twitter with particular hashtags: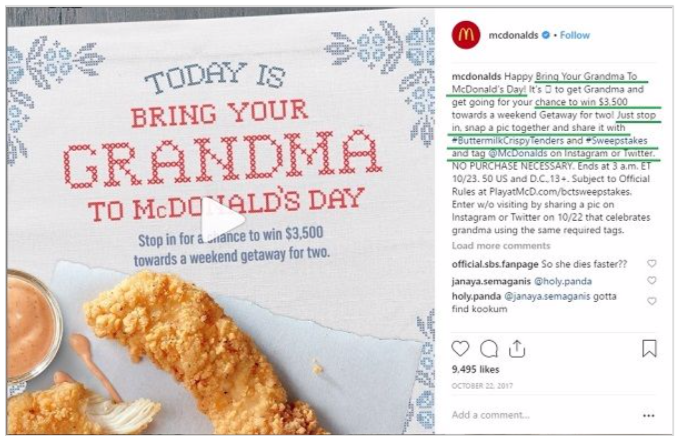 Since now you know what a UGC Instagram contest is and how it differs from a traditional contest, let's learn how to create one.
How to run a UGC Instagram contest: 6 Steps
Is it complicated to run a UGC Instagram contest? No, it isn't. However, it requires some time for brainstorming, a good plan, and a dose of creativity. Ready to learn about the details? Let's begin, then!
Step #1 Pick a theme and set a goal.
Every contest needs a theme. In other words, it has to be about, or connected to, something. It can be either an upcoming event, a holiday, current season or a trend. You can also run a contest about something that is connected to your area of expertise, market or your niche interests.
The purpose of your contest, on the other hand (apart from encouraging your audience to create UGC, drive engagement and sales), can be to figure out which items from your store your customers like the most or use most often, or to introduce your new products. There are many possibilities!
Here's a useful tip: people love to take selfies. So, a great idea would be to ask your audience to take a selfie with your product and post it on Instagram. This is exactly what Tupperware Brands Malaysia did in their contest. Take a look:

Step #2 Create a unique hashtag.
What is a hashtag? A hashtag is a short sharable link preceded by the "#" sign – which is called a "hash" or a pound sign. You can find hashtags on a variety of social media platforms, such as Twitter, Facebook or Instagram.
What do hashtags do? Well, they organize online content and make it discoverable. For example, if you want to find content about Game of Thrones, all you need to do is to type in #gameofthrones in the search box on Instagram, click "Enter" and voila!
Now, here are three things every beginner needs to know about Instagram hashtags, before they try to create one:
Hashtags have no spaces, so if you want to include a few words in your hashtag, you need to group them together. To make the words easy to differentiate, you can capitalize their first letters, and thus, instead of writing #whitehorse, you can write #WhiteHorse (whichever version you choose, it will not change search results).

Hashtags have no punctuation marks, so commas, periods, question marks or exclamation points are not allowed. Also, special characters such as asterisks or currency signs are a big "NO."

Hashtags start with a "#" sign and not a "@" sign. The "@" sign symbolizes official Instagram profile of a person or a company. So, for instance, if you include @starbucks in your post, you'll send people to the official profile of Starbucks.
You may ask, why is it important to create a unique hashtag and tell people to include it in their post when they decide to participate in your contest? Well, how otherwise will you find those people who took part in it? That's a good question, right?
With a hashtag, it's easy: you type it in the search box on Instagram and everyone who participated in your contest will appear on your screen. That's it! Let's now learn how to create a hashtag for your UGC Instagram contest, shall we?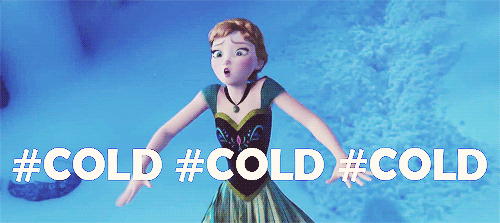 One of the best practices is to create a branded hashtag for your contest, that is, a hashtag unique to your company. It can be your company name, the name of your product or the name of your campaign.
For example, when Johanna Basford launched her new book "World of Flowers," she created a contest for her followers. To take part in it (and win a signed copy of her book), you had to color a page featuring flowers from one of her previous books, take a photo of it, and post in on Instagram with a hashtag #worldofflowers: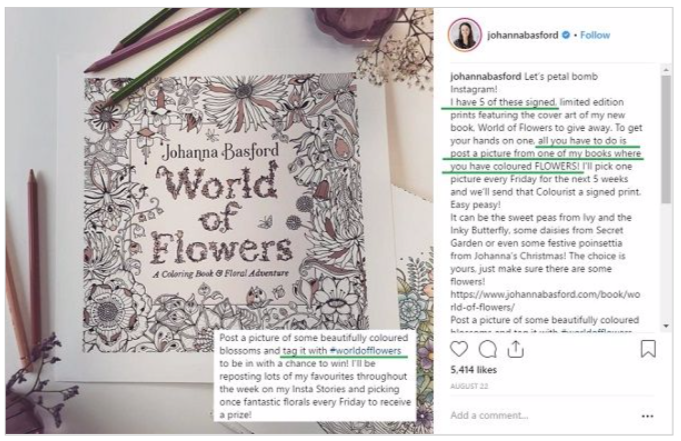 Thus, Johanna created a branded hashtag, which was basically nothing else but the name of her new book. Simple and relevant.
Now, when creating your own unique hashtag, remember to:
Make sure it's connected to your business, brand, or products.

Make it recognizable, short and easy to remember.

Make sure it's unique and original (before using it, check if it hasn't been already used by someone else on Instagram).
Step #3 Offer a relevant prize.
One of the common mistakes many businesses and companies make when running an Instagram contest is to offer an irrelevant prize, such as a smartphone or a certain amount of money. They think that this way they'll get more entries for the contest. Does it work?
Yes, it does. However, when you offer a prize, which isn't connected to your brand, you attract the wrong audience, i.e. people who aren't interested in your brand as well as your services and products. What's more, this way you don't strengthen brand awareness and don't give people a chance to try your products or services.
Thus, it's the most beneficial to your brand when the winner receives a prize connected to your business. Here are a few ideas for such rewards:
Your new product,

A gift card to your store,

A free entry to an event you're organizing,

Free services in your company for a certain amount of time.
For instance, LightCentreUK, which hosts Yoga and Pilates classes, offered the winner of their recently launched contest a month of free classes in their center. Take a look: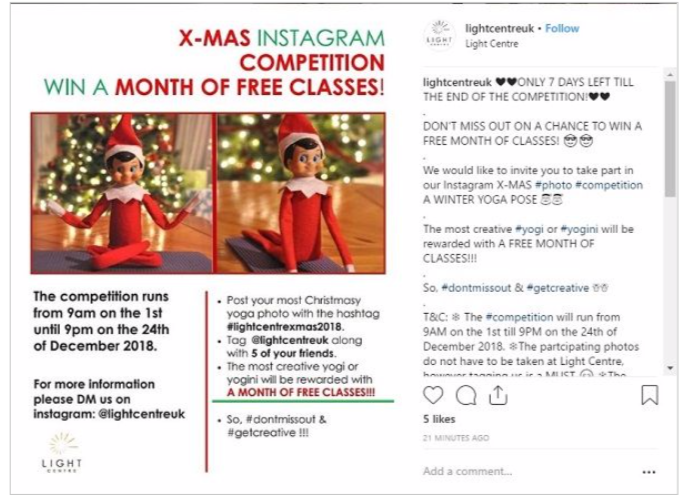 If you can't afford to give away your products or offer your services for free, consider this:
According to a

survey

, only 32% of consumer respondents are motivated to take part in a contest and so, create and share UGC to win prizes. As much as 60% say that what motivates them to participate is a chance to have their post Liked or featured.
Thus, another great idea for a prize can be a chance to get featured on your profile or become a face of your new campaign. Think about it.
Step #4 Decide about the timeframe.
The next step in creating your UGC Instagram contest is to decide about its length. Should it take a week, two weeks, or maybe a month? That's a good question! The answer is: it depends.
There are three main factors you need to take into consideration when deciding about the timeframe of your contest.
The first one is the quality of the content you ask users to produce. If those are photos, would you be satisfied if they were blurry and with uninteresting backgrounds? Or, should they be high-quality, so that you could use them later, in your future advertisements and campaigns?
The second factor, which determines the length of your contest, is the effort every user needs to put into the entry. Consider: is it difficult or easy to take part in your contest? Do people have to create something special in order to participate, or not?
The last factor you need to think about is the theme of your contest. Is your contest connected to some special upcoming event, such as the New Year or Christmas? If yes, then it has to finish before that event takes place.
Let's take a look at an example, shall we?
BooksNBeyondBox created a very interesting 5-day contest. To participate, you had to post a picture according to the prompts, which are different for each day. Winners were announced daily. Take a look: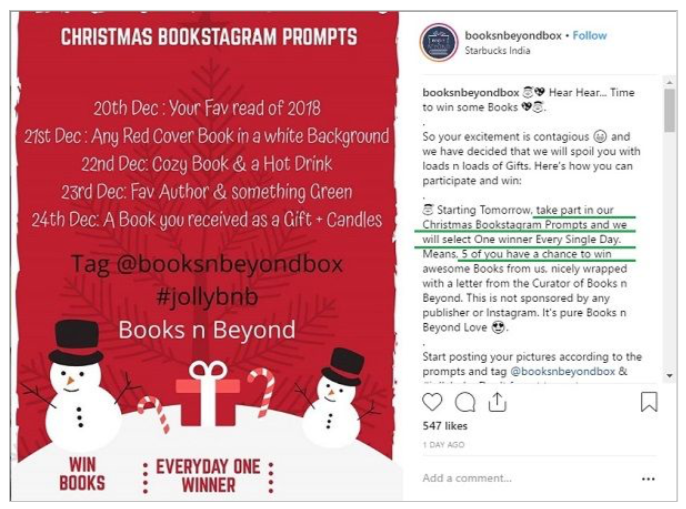 Is it difficult to participate in the above contest? No, it isn't. Is the contest dependent on a theme? Yes, it is. Thus, the contest doesn't run for long.
Step #5 Spread the word.
To make sure you receive lots of entries for your contest, you need to inform everyone that you're running it. That's right! Everyone: your followers, customers, friends and other Internet users. The more people learn about your contest, the better. So, take the matters into your own hands and spread the word.
Here are a few actionable ideas on how do it:
Inform people on other platforms that you're running a UGC Instagram contest. Encourage them to learn about the details of the contest and to participate.

Send emails to all your subscribers with the news.

Add hashtags to your Instagram post, which will make your contest easily discoverable, such as #contest, #competition, #win and #giveaway.

Ask your followers to repost your image on their profiles.
That's it! Now you can wait for first entries.
Step #6 Announce the winner
The last step in running an Instagram contest is to announce the winner. There's nothing complicated about it. All you have to do is to create a post, in which you share the winner's content (i.e. an image or a photo) as well as their name. Simple as that. Check how Johanna Basford did it: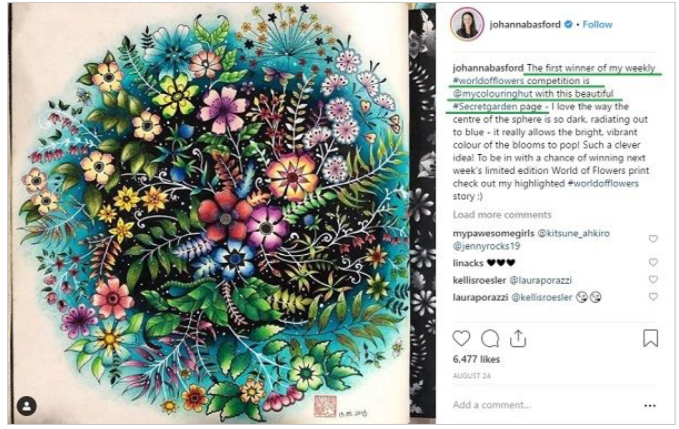 In the post, apart from announcing the winner, you can also say a few words about the winner's content, why it was chosen and how or when you'll contact the winner. Also, congratulate the lucky winner and thank others for participation.
Ready to run your first Instagram UGC contest?
Running an Instagram contest can seem to be complicated, but, when you consider all the details, it's actually not as difficult as it seems, right? All you have to do is create a post, in which you write:
Here's what's happening: "contest time!".

Here's what you need to do to participate.

Here's what you can win.

Here's when the competition finishes.

Here's when I announce the winner/s.
Piece of cake!
Did you find this article helpful? If yes, share it with your friends! If you've got any other tips about running a successful UGC Instagram contest or have experiences to share, tell us about it in the comments below! We'd love to know what you think.