Ever get the feeling that the internet is becoming more negative? That people online are just getting angrier?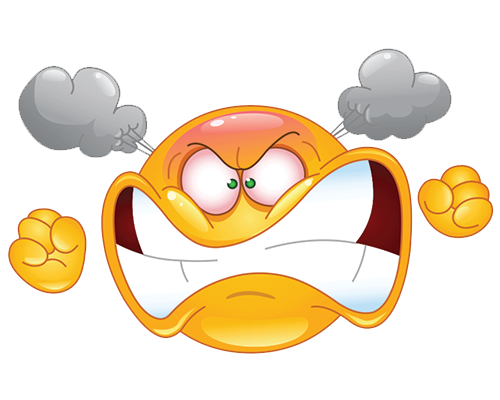 We hear that a lot. And if you're one of those feel this way, you're not alone:
Social media is too angry. Smart speakers are too creepy. @ShiraOvide has had it with technology https://t.co/MqiTgoo8rT pic.twitter.com/bCoY0BT5Fy

— Bloomberg Opinion (@bopinion) January 1, 2018
How social media creates angry, poorly informed partisans https://t.co/8OD2ONTwGs

— Vox (@voxdotcom) November 14, 2016
Social media is making us angry. The news was always shit but we didn't always feel all of that shit all of the time. We didn't carry the shit in our pocket. We didn't scroll through the shit. We went to the park. We read. We went to the cinema to watch a Jodie Foster movie.

— Matt Haig (@matthaig1) March 17, 2018

According to our new study of more than 11 billion mentions, you're right to feel to feel the way you do. Since only 2013, social sentiment has gone from overwhelmingly positive, to consistently negative.
The full study is available to view below, but here are a few of the key takeaways:
Social media has become considerably more negative in the past 5 years.
Overall, positive and negative comments are almost equal. But until recently, they were considerably more positive.
Users in the USA and Great Britain share more negative than positive posts.
Canadians and Indians are more positive than negative online.
Words like "love," "happy," and "good" still outweigh their counterparts "hate," "sad," and "bad."
Who can we blame?
This probably won't surprise many people, but hyperbole goes a long way online.
According to the Big Think, social media platforms love to promote "moral content." The more emotion the user puts into a post, the more engaging it is for others:

And since social media really rewards engagement – likes and comments make us feel good! – it's always tempting for users to take their posts to an extreme.
But while we definitely found a negative trend overall, there are plenty of happy people online, and lots to like about what they say.
And most important: positive and negative posts are about even overall – it's just that we found a lot more negative posts more recently.
So we can still right the ship!
Ready to dive into the numbers? Here's what we found.



For those who can't view the infographic, here it is in text form:
We Collected 11 Billion Mentions. Here's What We Learned.
In 2017, the number of worldwide social media users surpassed 1.96 billion. In the United States, more than 80% of the population is on social media. 
People go online social for news, entertainment, and to connect with each other. Or maybe it's to vent, start arguments, and spread false news.
Either way, they're on social media.
At Mention, we help brands track what people say about them and their competitors on social media. As a result, we've collected a giant database of social mentions.
We also have some pretty cool analysis tools that show us the sentiment for social media posts. So ran these tools over the whole database.
We wanted to know whether social media was a place for happy users, or just as miserable as people claim.
Social sentiment: Is the online world full of hate?
"The internet is such a negative place." We've all heard this, and most of us probably think it's true – at least to some degree. But do most people share happy thoughts online, or is social media and the web just a big pit of despair?
"The more we use social media, the less happy we seem to be" – Forbes
"The reality of social media today is that…you can't avoid negative reviews and comments." – Inc
"Our feeds often resemble an endless stream of stress." – BBC
We performed sentiment analysis for our english mentions to see just how positive or negative the digital landscape is. It may feel like social media is always a downer, but what does the data say?
Overall sentiment (all sources)
From our huge database of mentions, how many are positive or negative?
Positive: 6.51%
Negative: 6.40%
*Most mentions are neutral.
Overall, we see an almost even split between positive and negative mentions, going back to 2012. Social media has generally been neither more positive or negative.
Moreover, the vast majority (87.09%) of mentions are neutral – with no clear sentiment one way or the other. So maybe it's not as bad as it seems?
But many people feel that social media is getting worse. So has social sentiment changed over time?
Changes in sentiment over time
See how the amount of positive and negative mentions has changed year after year:
2013
Positive: 13.04%
Negative: 2.71%
2015
Positive: 13.61%
Negative: 3.87%
2016
Positive: 6.06%
Negative: 5.71%
2017
Positive: 5.57%
Negative: 6.86%
According to our data, social media has become considerably more negative over the past five years. Between 2013 and 2017, social media users went from largely upbeat, to feeling blue.
Sentiment by country
Where is all this negativity coming from? Are certain countries more positive or negative online?
USA
Positive: 5.74%
Negative: 7.08%
Canada
Positive: 11.46%
Negative: 4.98%
Great Britain
Positive: 6.24%
Negative: 6.92%
India (English language)
Positive: 5.31%
Negative: 3.59%
Social media users in the United States are the most negative, according to our data. And those in the UK are not far behind.
In stark contrast, these results support the stereotype that Canadians are happy, positive people!
How users express their feelings
Here's how often these common positive and negative words appeared in our database of mentions:
Love: 37173734
Hate: 4346669

Happy: 16308124
Sad: 2978166

Good: 35653846
Bad: 9082556

Awesome: 6417655
Sucks: 668036

Best: 33535990
Worst: 2865229
Despite our suspicions that social media is a negative place, users overwhelmingly prefer positive language!
What do the experts say?
That's what we found from our data. But what do other studies say about social media sentiment?
The bad
"In general, when people spend a lot of time passively consuming information — reading but not interacting with people — they report feeling worse afterward." – Facebook
"People who clicked on about four times as many links as the average person, or who liked twice as many posts, reported worse mental health than average in a survey." UC San Diego / Yale
The good
"It would be wrong to say social media is a universally bad thing, because clearly it brings myriad benefits to our lives." – BBC
"One in five teens said social media makes them feel more confident, compared with 4% who said it makes them feel less so." – CNN
Conclusion
Social media use can lead to feelings of depression or isolation; even Facebook admits this. But this may be more due to the way users compare themselves with friends and acquaintances, rather than the language or sentiment expressed online.
Watching others succeed can lead to envy or FOMO. But, "when not triggering feelings of envy, [social media] could be a good resource and have positive effects on well-being." (Psychology Today)
So while social media sometimes feels like the worst party in the world, in fact, there may be a lot more happy people out there than we think.
Methodology
To help you understand these results, here's how we gathered them.
2,268,798,327 mentions
At Mention, we've now fetched more than 11 billion mentions on behalf of our clients. Because that's a huge pile to analyze, we grabbed a sample of 20%. That's still an enormous pile of mentions!

Mention locations:
United States: 913,463,058
France: 168,139,124
Great Britain: 122,551,955
India: 62,689,952
Spain: 45,453,472
Canada: 34,688,875
Mexico: 25,112,466
Germany: 28,420,570
Australia: 24,257,922