While there are many effective ways to cut through all the noise and get your voice out there, many businesses find themselves stumbling at the finishing line.
They get all the leads they want through their sales funnel, but struggle with actually converting them into paying customers.
You can learn a lot about what goes into making an effective landing page, but one key thing that most people are forgetting is the power of social proof.
Social proof can drastically increase your conversions if used right. That's why I'm going to be teaching you how to start leveraging it and immediately start converting.
Why social proof works
Outside of opposable thumbs, the biggest reason humans are at the top of the food chain is because we're social creatures by nature. Ever since our ascent from the primordial ooze, we've always looked to each other for advice and confirmation before doing anything by ourselves.
After all, no one wants to be like Grug, also known as the world's first show-off, who decided to take on a sabertooth by himself and promptly ended up as prehistoric kitty chow.
That's why today we like to ask our friends for advice, or follow the latest trends. We inherently understand that there is safety in numbers, and this is often a highly influential factor in our decision-making process. Especially when we're uncertain about the outcome, we base our decisions off the similar experiences and actions of others.
In fact, in Professor Robert Cialdini's book Influence, he states consensus as one of the six principles of persuasion. Meaning that we're more likely to act if we see that others have already.
Social proof is simply leveraging that innate psychological need for consensus and using it to your advantage.
Examples of social proof in action
You don't need to go very far in order to see social proof at work.
You can see it on Wall Street when investors suddenly start flocking to a particular type of stock, just because others have started doing so.
One study analyzing the data around 442 different hotels found that the most significant factor in increasing demand wasn't necessarily its quality of service, design, or amenities, but the amount of positive reviews it had on social media.
Fashion business Rent the Runway found a 200% higher conversion rate over paid search when visitors were referred by an influential blogger or magazine.
Another study by Harvard Business School found that a one-star increase in Yelp ratings led to a 5-9% growth in sales for all types of business, regardless of niche.
It's why movie posters showcase favorable reviews by critics, or why shows like Big Bang Theory add laugh tracks.
Sometimes all it takes is the idea of someone else finding something good for you to think it's good too. Which explains why there are nine seasons of Big Bang Theory.
In short, social proof works and it's here to stay. Now what you need to figure out is how you can start leveraging social proof in your landing pages, so you can start converting more.
How you can use social proof
The key thing to remember about your landing page is that no matter how much value you may be giving away, your potential customer has absolutely no idea what they're getting.
The entire point of social proof is to show them that other people have used this thing and that it works. With that in mind, here are some very easy ways you can start integrating social proof into your landing page.
Testimonials
One of the most straightforward ways to start getting some social proof on your page is to get testimonials. They can be simple and straightforward text quotes, or you can go all out with videos. But it all depends on the type of audience and landing page you have.
Testimonials are so powerful because of their objectivity. Therefore, the ideal testimonial would be from someone outside of the brand, preferably an influencer.
One other important thing to note about testimonials is that it's vitally important that your testimonials actually address a specific problem that you know your audience is having. Weak testimonials can actually harm your brand in the long run.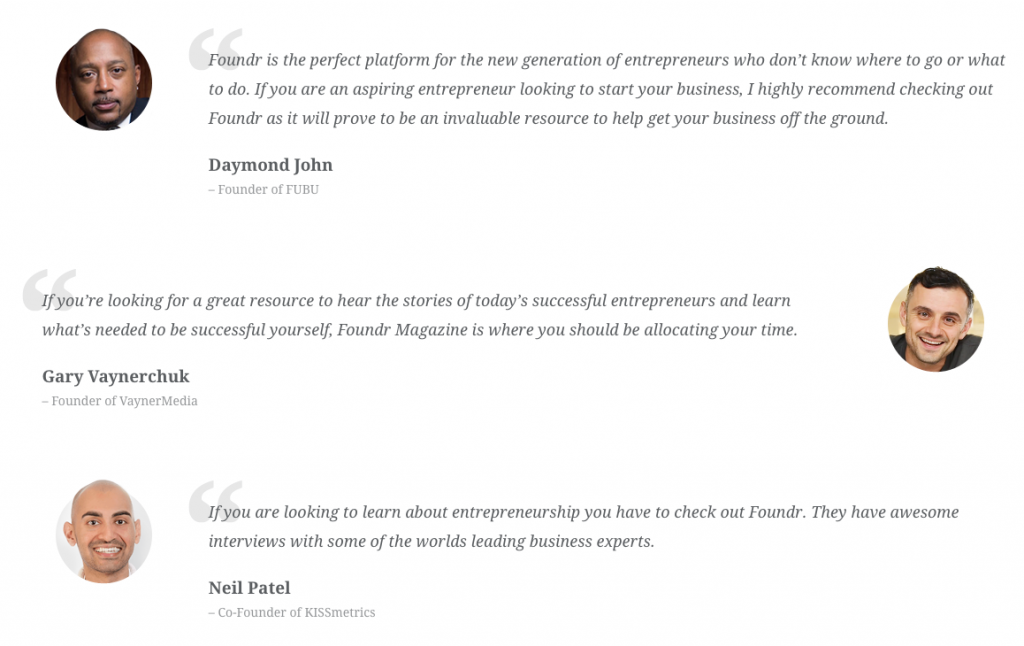 As you can see, here at Foundr we use testimonials from notable influencers like Daymond John, Gary Vaynerchuk, and Neil Patel on our homepage.
We know that these are the types of people our audience would listen to and aspire to be, so having their testimonials on our homepage has greatly reduced our bounce rate and increased conversions.
Case studies
One of the key reasons many businesses fail to convert is because their potential customer just doesn't know if it's going to work for them. Which is why you can hit the nail right on the head by using case studies.
Case studies are great because not only can you showcase your happy clients, you're primarily demonstrating your proof of concept.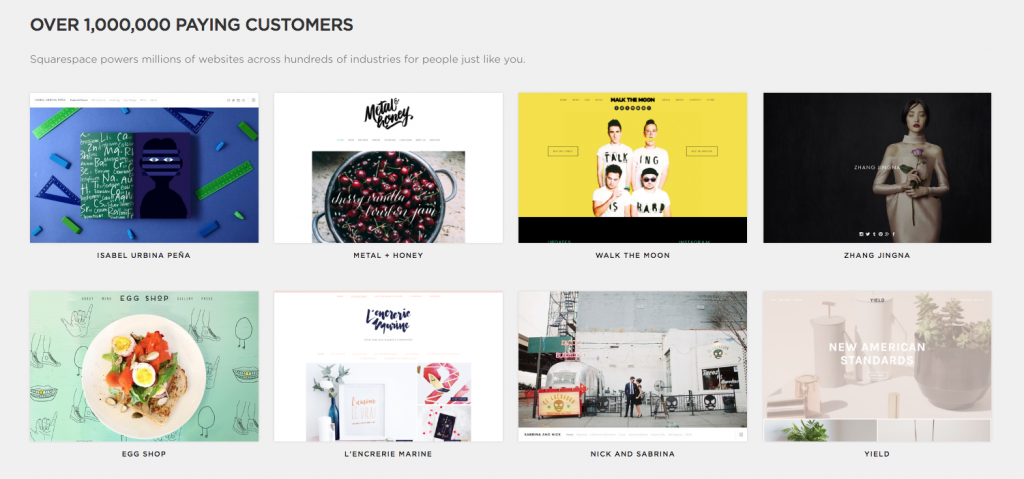 Squarespace does an excellent job of showing off the different ways their clients have used their service before. It's also important to note how they manages to demonstrate the versatility of their service by showcasing a variety of different customers.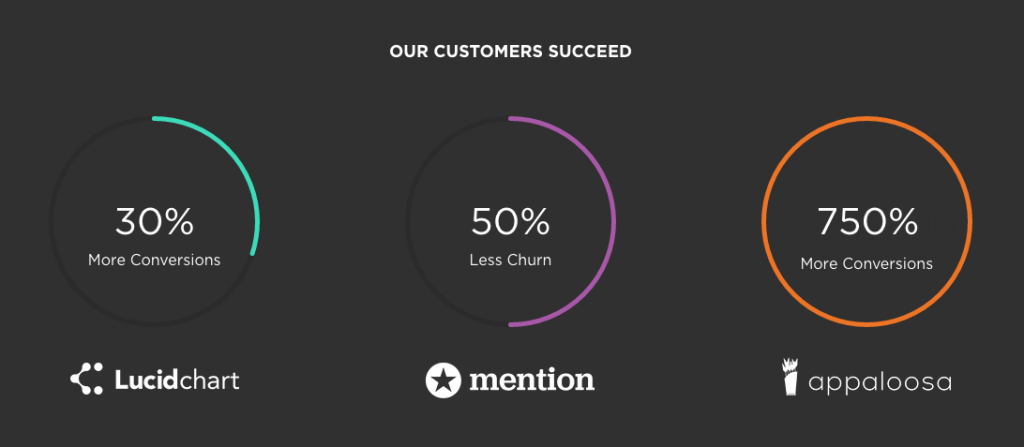 You can even go simpler than that and do what Kissmetrics does, giving examples of what their customers have achieved. By adding in data like this, you can provide further evidence of the quality of your brand.
User-generated reviews
Here we have possibly the most powerful form of social proof anywhere. While influencers and case studies are great, more than anything else, we will always trust the opinion of people who are just like us.
A consumer study by BrightLocal found that 88% of customers read customer reviews before they make a decision, with 85% of customers reading up to 10 reviews before they feel they can trust a business.
Ultimately purchasing something is an emotional decision, never an entirely logical one. We want to know that other people, authentic people, are liking and buying the same stuff as us. While it's all well and good to have influencers and individuals your audience aspires to, you also want to showcase people who are just like them.
When we're on the cusp of making a decision, we don't turn always turn to the leader. Usually we look at the people right next to us.
If you have user reviews, then you need to put them on your landing page right now.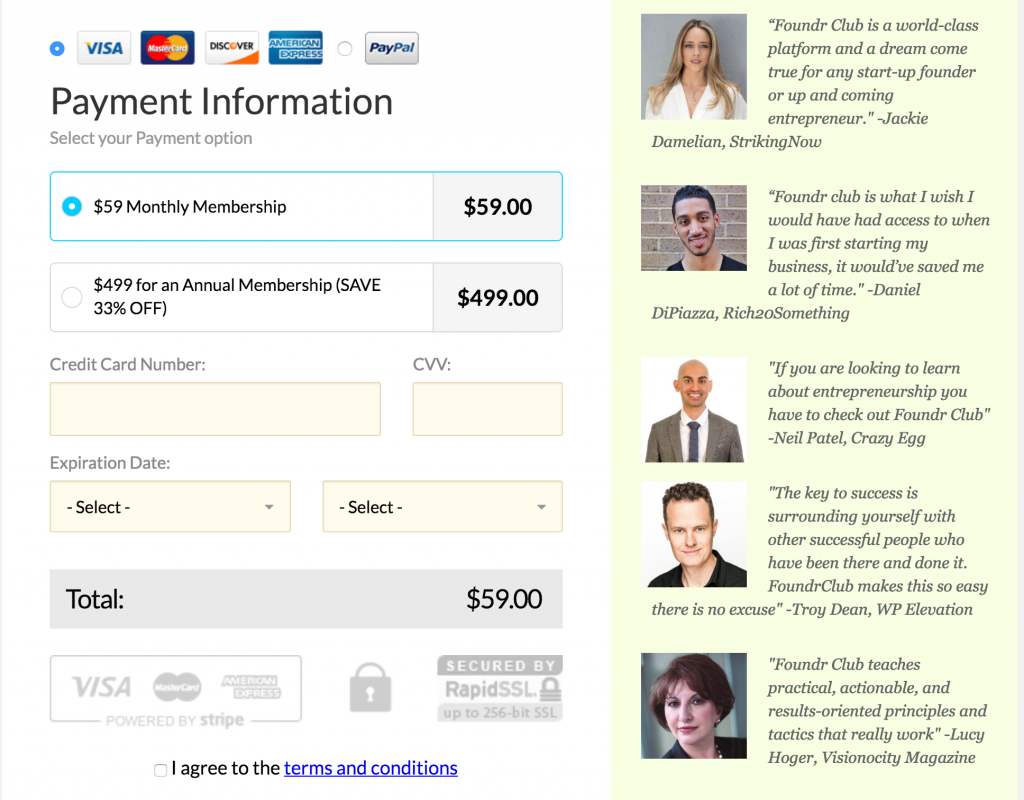 On our sales page for our private entrepreneurial community, we make sure to prominently feature our user reviews by the payment information to further encourage potential customers. We also make sure to use photos of our users as well, because it's been proven that pictures increase credibility, authenticity, and trustworthiness.
Social shares
A super simple way to implement social proof on your landing page is to showcase the amount of social media connections you have. Whatever kind of website you're running, you're sure to find plenty of widgets and tools that'll let you show off your level of influence.
You can see HubSpot using this simple strategy to great effect.



This type of social proof reinforces to your audience how connected you are, and how many people actually trust and follow your brand. It's even better when the widget actually displays the user's friends who like the page as well, as you can see here on Social Media Examiner: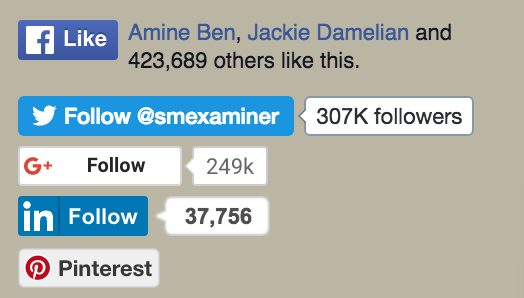 This type of social proof is great because it also demonstrates how many regular people follow your brand. It gives you a much more authentic and down-to-earth vibe that people appreciate.
"As featured on…"


If your business has been featured on any type of recognized media outlet, you need to let people know. It doesn't have to be anything flashy, just featuring their logo is more than enough for you to start reaping the benefits.
Every publisher from the Wall Street Journal to Inc carries a certain weight behind their brand. People will generally trust these publishers because they know that publishers, especially news sites, will only report on something that's worth talking about in the first place.



What you're essentially doing is associating yourself with their brand and letting the world know that these publishers actually endorse you.
Whether you're a blogger or a full-fledged business, this kind of social proof goes a long way in giving your audience confidence. Plus, it's super easy to attain if you know how to spin some PR yarn and you're willing to write a couple of blog posts.
Wisdom of the crowd
This type of social proof is designed to absolutely shock your visitor with sheer numbers. If you pull in decent numbers on anything from your mailing list to number of downloads, start drawing attention to it!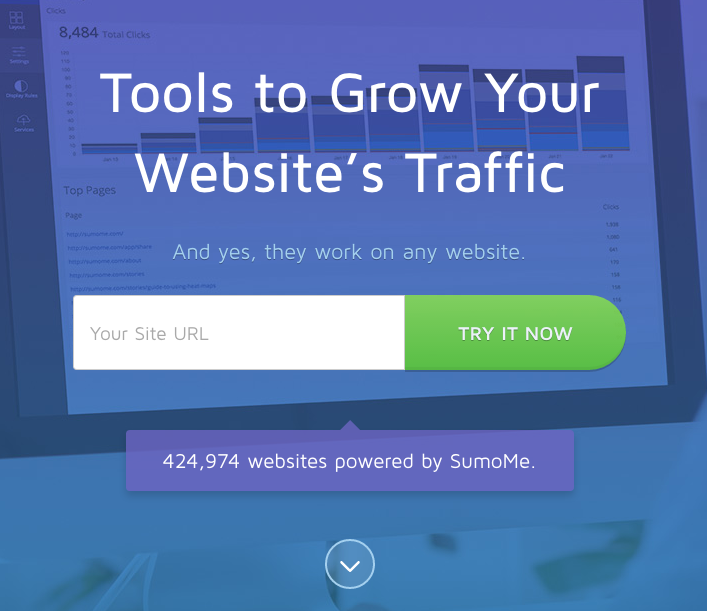 You can see how SumoMe proudly lets everyone know about how many customers they have. In fact, it's the first thing you see when you go onto their homepage.
By immediately letting your visitor know just how many people are using your service, you're almost asking them, "How come you haven't joined up too? Everyone else has."
FOMO at its best.
Another way to leverage the wisdom of the crowds is to display what your most popular products or posts are, depending on your website type.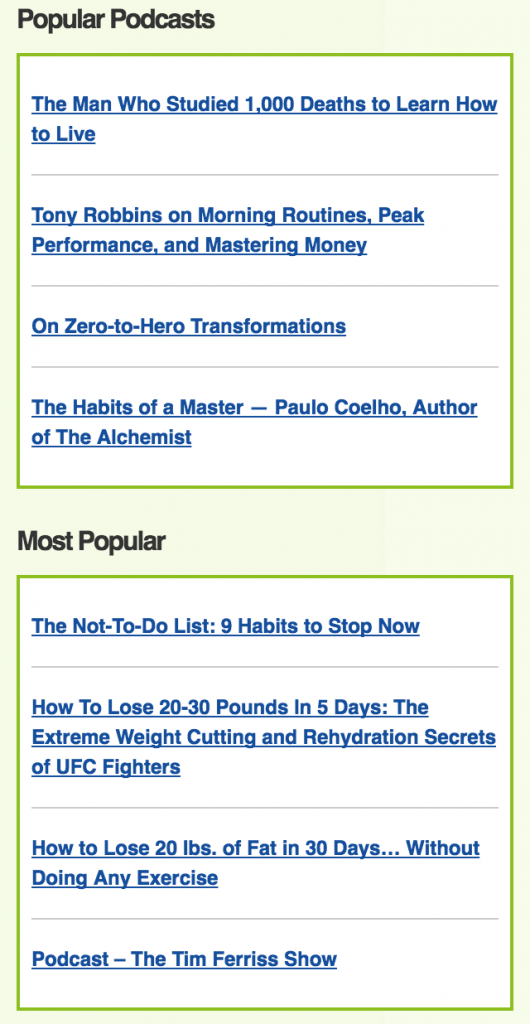 Here you can see how Tim Ferriss features the most popular episodes of his podcast, as well as the most popular pages on his site. Doing this has the benefit of constantly driving visitors to his best stuff and keeping them on his site.



If you're not running a blog and actually selling physical products then just do what Amazon and every other major e-retailer does, and show off your most popular products. New customers know what everyone else likes, and it'll be great data for you at the end of the day.
Conclusion
When someone asks me what kind of social proof they need on their landing page, I always challenge them to view their landing page as if they were a visitor.
To pretend for a moment that they knew nothing about their brand or their business, and were looking at their landing page for the first time.
What then would you want to see? If you were someone on the edge, what would push you over?
It really is as simple as that when it comes to figuring out what type of social proof you want for your page. After that it's just test, test, test. Just keep on A/B testing and figure out what works and what doesn't.
That way you know what it is, how it works, and the different ways it can work. When used correctly, social proof can be a very powerful tool in your arsenal.