We had a blast during our first #MentionChat on "Is Growth Hacking Bullshit?" with Morgan Brown of GrowthHackers.com. So much so, we're doing a second one!
This time, we're focusing on customer support and happiness with Lincoln Murphy on Thursday, Oct. 23, 2014 1pm EST / 7pm CET. Check out the Q&A with Lincoln below to get a taste of what we will be discussing during the chat.
Lincoln is Gainsight's Customer Success Evangelist and is responsible for driving Gainsight's thought-leadership in the areas of customer success, retention, churn mitigation, and expansion revenue. His passion is creating efficient engines of growth for SaaS (Software-as-a-Service) and Subscription Economy companies. Check out his blog.
Our recent data shows that Twitter mentions now actually rival support tickets, as the majority of company mentions on Twitter are neutral support-related inquiries. We're excited to see Lincoln's insights on what it takes to be a customer support pro in today's increasingly social world. Hope you can join!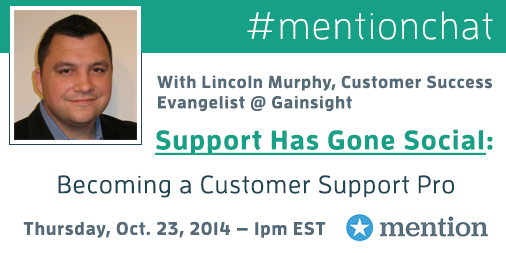 What tools/platforms are your must-haves as a support professional?
A full Customer Success Management platform (like Gainsight). Reactive support as the only — or one of the few — touch-points with a customer doesn't cut it anymore. I want a full, 360-degree view of my customer's health. I want to know how this one support interaction will affect their health – their likelihood to renew, churn, buy more, or be an advocate for us.
I want to be able to see how support interactions along with survey, payment, contract, and other data (including usage) come together to affect the health of my relationship with my customer.
What qualities do you find essential in an effective customer support professional?
Empathy… the main thing a customer support person (or customer success manager, account manager, account exec, etc.) has to remember is this: Your customers want to be successful with your product as much or more than you want them to.
You have to remember that your product is a means to an end for them — they have an outcome they're trying to achieve. Using your product is just the way they'll achieve that result, and if they aren't achieving that result, that will be frustrating, upsetting, annoying, etc. Be empathetic with that position.
What's the one thing you wish you knew when you first got started in support?
I wish I had understood the difference between reactive support and proactive, holistic customer success earlier. I fell into the same trap as everyone else in the early days — focusing on the functional use of our product rather than understanding that our customers don't buy our product to USE it… they buy our product to get a result. Use of our product is a way to get that result. As soon as I realized that, everything changed. Customer Success > Customer Support.