Customer reviews are valuable for converting new customers and driving sales. Research by Power Reviews revealed that only 40% of online product pages have reviews, but they attract 88% of all web traffic.
More than two-thirds of consumers say that reviews influence their shopping decision, compared with 43% saying the same about familiarity with the brand and products, and 37% citing recommendations from family and friends.
The power of reviews outweighs even a shopper's own previous brand experience.
But while feedback is as precious as gold, it can be just as hard to extract. In today's hyper-busy and attention-deficit era, nobody has time to chat with a marketing agent. Digital marketing budgets are slimmed down, so organizations need to get more creative about how they go about harvesting feedback.
Here are ten ways to boost the quality, quantity, and frequency of feedback you receive.
How to Get Feedback From Customers
It's relatively easy to get customers to submit star ratings, and although these have an impact on purchase decisions, they don't constitute all the detailed feedback that you're looking for.
You need more information to know what to double down on or improve, and potential customers want more descriptions to decide if your product is right for them.
One of the ways to get feedback from customers is by removing obstacles that might put people off from sharing their thoughts. For example, instead of sending an email or text message that asks recipients to click on a link to your website, enable them to submit feedback just by hitting reply, or completing fields embedded within the message.
Another approach is to construct multi-step feedback forms that boost engagement. You can use dynamic logic to optimize the fields and queries that people see, depending on their answers, allowing you to surface questions that encourage relevant respondents to be more comprehensive – like asking for a descriptive headline to their feedback, inquiring about specific features that the user liked or disliked, asking why they would buy it again, and leaving space for free comments.
Get Insights From Customer Interactions
Every time someone interacts with your business, it's a potential source of feedback. For example, you can analyze traffic to your knowledge base to see which topics and articles are accessed the most often. Frequently-read items could indicate confusion around some aspect of your product/service, or potential demand for a new feature.
Calls and chat sessions with your customer support agents can reveal clusters of complaints or queries about a specific issue, providing guidance about a bug in your app, a fault in your product, or a lack of clarity in your marketing messaging. AI analytics make it easy to track these interactions and spot patterns within them to glean advice about the best next step.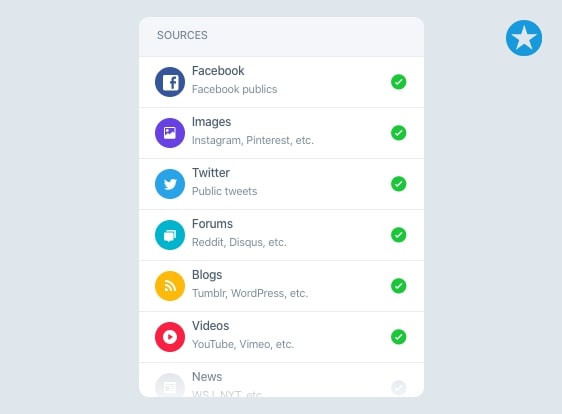 Social media listening lets you collect feedback by "eavesdropping" on the conversations that people have about your brand, and chatbots can ask visitors specific questions to gather feedback in real time.
Conduct Regular Customer Interviews
Customer interviews might sound old-fashioned, but they are a precious resource for authentic consumer opinions and discovering the real voice of the customer (VoC). Genuine, open conversations can reveal things you'd never find out from web forms or star ratings.
You can use your CRM to identify loyal customers who are more likely to agree to an interview, and conduct them through video-conferencing software like Zoom, as well as over the phone or in person.
The interview could be a formal, pre-arranged conversation, but it could also be more informal, like asking your support agents to ask a few extra questions at the end of a customer service call. What matters is to be ready to listen without bias and ask open-ended questions that don't imply judgment or prejudice.
Build a Community
Building a community around your brand is a long-term investment. It can take a lot of time to create an active and vocal community, but it's definitely worth it. When customers feel part of a community, they are more willing to give their time, opinions, and feedback to help make that community even better.
As marketing futurist Mark Schaefer recently told Drew McLellan on the Agency Management Institute podcast, communities are more enduring than any other marketing technique. "When many of these other marketing tactics fade away, and we evolve to the next thing, the last thing that's going to be left is community," he said.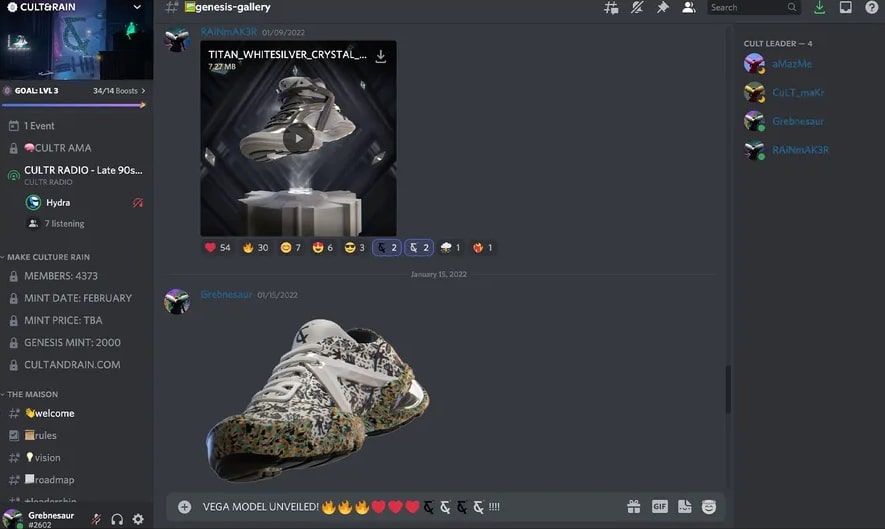 For example, luxury sneaker brand Cult & Rain manages a busy Discord server where over a third of community members are actively engaged, and PepsiCo and Kellogg's cereals among the big-name brands with Twitch communities.
Running a branded Facebook Group, Slack community or Subreddit can be effective for these purposes too. What matters is that you choose a platform where your audience is already present and feels comfortable, and that you actively forge relationships between the brand and your customers, and between the customers themselves.
Encourage Video Feedback from Customers
There's no reason why feedback has to be in text form, so why not solicit video input? You're likely to get a higher response rate from younger customers if you ask for video testimonials instead of written ones, because Millennials and Gen Z consumers are often more comfortable shooting a video than writing text.
User-generated content (UGC) in video form, in particular, is one of the most effective types of marketing content. User videos and photos are more powerful than written posts, driving a 106.3% lift in conversion rates, according to the aforementioned study from Power Reviews.
Martha Stoumen Wines, for example, doesn't have a physical tasting room to welcome in-person visitors, emphasizing ecommerce sales instead, which is why marketer Lorren Butterwick says video testimonials are so important to their brand. "They allow our customers to genuinely share stories and experiences, to dive deeper into their wine reviews and to connect with us," she recently told Vocal Video in a case study for the video collection platform.
You can also encourage people to share more video reviews by hosting a UGC contest on social media. Make sure to share every submission, and offer an enticing prize for the best one.
Run Customer Opinion Surveys
Customer opinion surveys and polls are basic but effective ways to gather feedback. You can create and send out surveys to your customer base through email, text, social media, or any channel you like. It can be useful to run the same survey through multiple channels at once, to see if the answers vary meaningfully between different user groups.
Tools like SurveyMonkey, Jotform, Google Forms, and Typeform make it easy to generate a survey form, but craft your questions with care. Make sure your survey is not too long, and structure your questions to focus on the aspects you most need to hear about.
You can even use simple NPS prompts as an entry point, automating tickets for customer success to reach out to detractors or asking people to elaborate on their feedback with follow-up notes as relevant.

Timing is vital for success when it comes to surveys. Try to trigger invitations to participate once people have had a chance to interact with your products post-purchase. And you'll generally get more replies if you send it on a weekday than on the weekend, when people are in "relax" mode and completing a survey feels too strenuous.
According to one report, the ideal time is between 6pm and 9pm, when people have left work but are still willing to check their emails and text messages.
Incentivize Useful Customer Feedback
Customer feedback is valuable, so it makes sense to compensate people for providing it. But you don't have to be as blatant as paying people to complete a survey or submit a review. There are plenty of ways that you can reward people for sharing feedback without sounding like you're offering a bribe.
For example, you could offer discounts, freebies, or exclusive limited edition items to all your customers who complete a feedback form. Another option is to base your loyalty program, or one aspect of it, around feedback. You could give program members X points for every month that they fill in a survey, or offer points for members who share their opinion on your latest product line.
Don't rule out the power of more subtle incentives. According to scientists, every time someone likes, shares, or comments positively on our social media posts, we get a hit of dopamine, the brain's "feel-good" chemical. Take advantage of that by engaging whenever someone mentions your brand on social media, and amplifying their posts on your own channels. This way you'll encourage customers to post more feedback, more often.
Use Gamification to Collect More Customer Feedback
One of the best ways to get customers to give you more feedback is to turn it into something they enjoy. When people hear "gamification," they often think of building a video game-style challenge, but gamification doesn't always have to be that ambitious or time-consuming. It's all about bringing creativity and fun to the experience.
Gamifying feedback requests can be as simple as jazzing up the wording you use to ask for the customer's opinion. For example, instead of asking them to rate your app from 1 to 5, ask them to compare you to different car brands, or invite them to fill in the blanks in a series of sentences instead of answering questions.
Challenges can be as simple as "Describe our product in five words" or "Post an emoji that expresses what you think of when you hear the word 'luxury.'" Quizzes and short polls where the customer has to swipe or check a box can be more engaging when you add cute graphics and animation.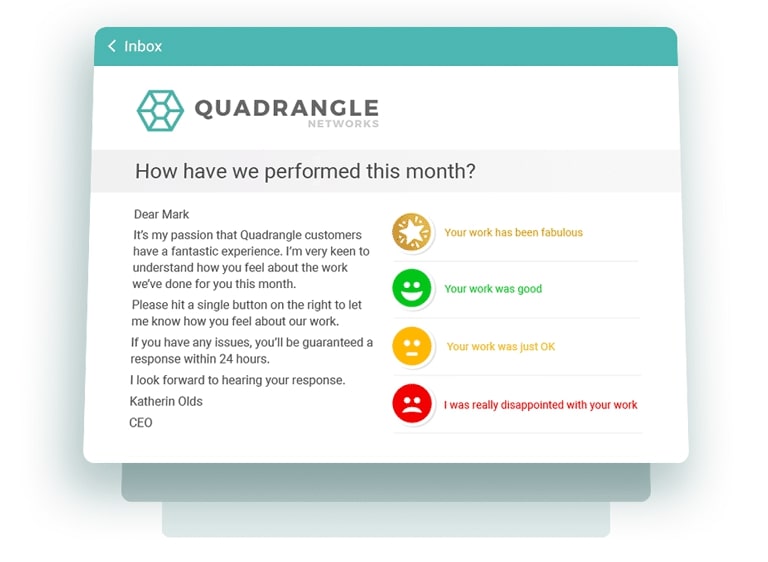 Gamification can also help if you're having trouble getting feedback that's detailed enough for your needs. You could build a bar along the top of the form that gets longer when the user includes specific elements, like descriptive headings or "Why I would recommend this product."
Invite Contributors for Co-Creation Sessions
Another way to tap into deeper and more thoughtful feedback is to invite people to collaborate with you on new products and services. They could come into your offices for a day of brainstorming and sharing ideas, or take part in a live online co-creation session.
Working directly with your customer base can provide valuable insights into what they are really looking for and which features they value the most.
You'll want to choose your participants with care, making sure that they are representative of your target audience and are likely to take the project seriously. It could be a great reward to include as part of your loyalty program.
Host Interactive Events
Last but not least, events are a great opportunity to discuss your business, products and services, and branding, ask for feedback from the audience, and hear directly from current and potential customers.
These events could be online, like podcasts or webinars, or in-person in the form of a workshop at a conference or a booth at a trade fair. If you're attending an in person event, you can pick up on subtler feedback and read people's body language to gain a better sense of how enthusiastic they are about your brand.
With online events, you can request feedback in real time at intervals during the event, through embedded surveys and polls, or ask on-demand viewers who are watching later to respond in the comments.
Takeaway
As you can see, there are plenty of creative tactics and clever strategies that you can use to encourage people to deliver the feedback you need. Gamification, rewards, and interactive events can stimulate more responses, alongside traditional approaches like interviews and surveys.
Good feedback can be a precious resource that improves every corner of your organization, helping you anticipate risks, rescue friction from your customer acquisition funnel, prepare for new trends, and keep your business on an even keel during stormy times.
Now that you've gathered all this information, make sure to put it to good use. Remove silos so that everyone in the organization can access your valuable insights, and keep your eye on long-term business goals so that the feedback you accumulate doesn't go to waste.