Backlinks are a major ranking factor for most search engines, including Google. If you want to do SEO for your website and get relevant organic traffic, building backlinks is something you should be doing. The more backlinks your website has from authoritative domains, the higher reputation you'll have in Google's eyes. And you'll dominate the SERPS.
Nowadays, link building doesn't have a great reputation, and it's often associated with link spamming. But it shouldn't be that way.
You can build backlinks using smart techniques and without spamming other sites. If you are in a boring niche, getting high quality backlinks can be challenging. Keep reading, and I'll show you eight ways to build links using ethical strategies and SEO tools that will make things easier for you.
1. Replicate competitors' best backlinks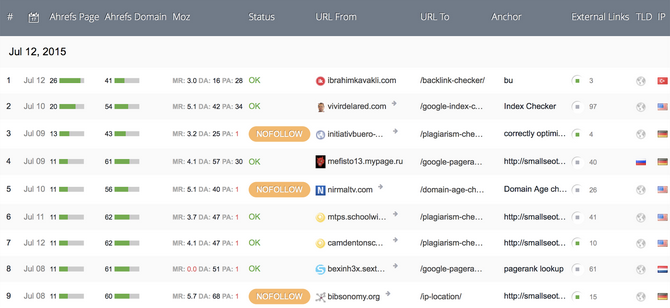 SEO is like playing poker with your competitors, and Google is the dealer. The exception is that everyone has to play with their cards on the table.
In our case, the cards are the backlinks, and everyone has access to them. You can effortlessly get a list of your competitor's backlinks and then try to replicate their best ones.
Replicating competitor's backlinks is one of the smartest ways to find new link building opportunities and improve SEO. Get started by choosing your primary competitors, the websites that are ranking on the top 5 positions for your main keywords. If they're ranking above you, it means they have a better link profile, and they have backlinks of higher quality. Once you've decide which competitors to spy on, you'll have to analyze their backlinks.
I'm going to show you how to replicate your competitor's best links using Monitor Backlinks, but you can use your own preferred SEO tool as well.
After adding your main competitors into Monitor Backlinks, use the metrics provided to determine which links are worth replicating. Don't fall into the trap of trying to replicate all of them. All sites have bad links, even Wikipedia. You should only replicate the links that have good authority. While not always the case, usually the more complicated it is to get a backlink from a website, the higher value it will have.
To see the value of a domain in a glance, look at the Moz Domain Authority and Ahrefs Domain Rank. If these metrics are right for you, check how those sites are linking out to third-party websites.
If they use dofollow links, it will be helpful for your SEO campaigns. If it's nofollow, it won't help you with SEO, but it might drive some relevant traffic to your site.
You'll notice that some links are highlighted in Monitor Backlinks. That happens when your website already has a link from the same domain, meaning you shouldn't spend more time replicating it.
After finding websites that have good metrics, you have to make sure the website is related to your site. For each competitor backlink, try to understand how your competitor got that link. If it was a guest article, send a request to become a contributor as well. If it was a product review by a blogger, contact the writer and offer them a good deal in exchange for a similar review.
2. Analyze competitors' mentions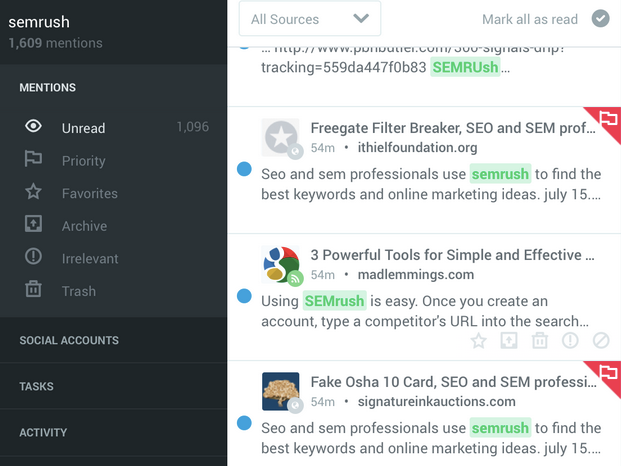 Spying on your competitor's backlinks is not enough. You should also know when their brand name is mentioned on the internet.
Whether it's a mention on social media, a forum, or a website, you'll know by using Mention.
For example, if a competitor's client asks a question and you're the first one to offer help, chances are you'll create a strong relationship with that customer. If he's got a website, you might even earn a backlink if he decides to endorse you.
By being helpful and answering questions ahead of others, you'll increase your chances to earn business and generate backlinks.
Another scenario where Mention can help you get backlinks is setting up alerts for your main keywords. For example, if you have a marketing tool, you can set up an alert for the keyword "marketing tool." Whenever someone writes an article about marketing tools or publishes something on social media, you can react and ask them to consider or add your tool as well.
3. Build backlinks with infographics

For the past few years, infographics have been one of the most popular link building methods. Since 2009, the demand for infographics has been skyrocketing.
Important publications like Mashable, The Verge, Huffington Post, and others are publishing infographics on a regular basis and readers love them. Not only are they great for building backlinks free, but also for driving traffic from social media, since infographics are highly shareable.
If you're not a designer, you can hire someone to create an infographic for you starting at just $5 on Fiverr. If you want a better looking infographic, you can use Dribbble to find professional designers.
Once you've created the infographic and published it on your site, you can submit it to some of the popular infographic directories.
To spread the word even more, you can use Twitter or Mention to find people that have shared related infographics in the past. You can do some outreach asking them to look at your newly published infographic and ask for feedback. If they liked it, they might share it on social media and also link to it.
4. Guest blogging

Guest blogging is still one of the best ways to make yourself heard on the internet. You can tap into already established audiences and interact with other people from your niche. It's a technique that's great for building more followers on social media, driving traffic, as well as building high quality links.
Contrary to popular belief, guest blogging has been around long before Google has started using backlinks as a ranking factor. To be more exact, guest articles started in the days when newspapers were popular.
Google itself is accepting guest contributors on their blog, so there's not much reason to worry about a penalty, as long as your guest posts aren't spammy and poorly written.
But if you are going to guest post, it needs to be high-quality stuff. At least as good as the content that you're publishing on your own website, if not better. Not all guest bloggers are successful, but if you take this method seriously, you'll see benefits.
You can find guest blogging opportunities with these key terms in Mention or Google:
Your keyword + inurl:write-for-us
Your keyword + intitle: write for us
Your keyword + guest posts
Your keyword + become a contributor
Your keyword + inurl:contribute
5. Build a solid internal linking structure
Internal links are an important part of backlinks management and can be used to increase the overall usability of your website. While they won't give you a major SEO boost, they can be a great way to build links while using your preferred anchor text.
Just be careful not to overuse this technique – creating more than 100 internal links per page can make your website look suspicious.
6. Outreach and promote your best content everywhere
Great content won't get backlinks if no one knows it exists. You have to do your best to find people interested in linking to your content and sharing it on social media.
Use influencer research tools to find people willing to share your content. The more bloggers you talk to, the higher the chances of getting your content shared.
Things will be a lot easier once you create a few good relationships with well-known bloggers from your field.
7. Give interviews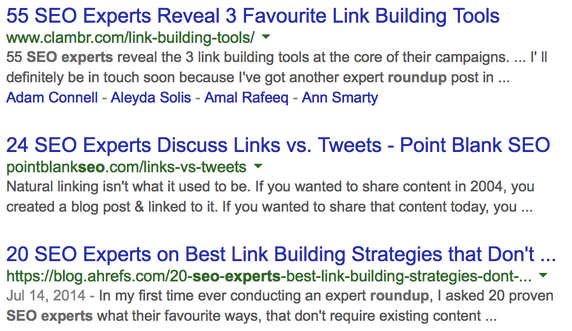 There are websites in virtually any niche that run interviews with experts. If you're not well-known enough to be invited, reach out and pitch the interviewer on why they should interview you.
Sites that run such roundups are always looking for great content, so you have an okay chance at getting accepted. Along with your answers, you can also link out to your website.
To find websites that run interview roundups, you can search for these key terms:
Your keyword + roundup
Your keyword + interview
8. Broken link building
A lesser-known way to build backlinks is called the broken link building technique. This involves finding 404 errors or similar problems on a blogger's website and politely telling them about it.
Because you're doing them a favor, they might reward your help by linking out to your website. These backlinks are commonly found on resource pages where bloggers link to third-party sites.
You can easily identify broken links using the Google Chrome Extension called Check My Links. After finding these issues, reach out to the webmaster and tell them about the problem. Give them direct instructions and make it easy for them to identify and fix the mistake. Then suggest your website as a resource to replace the broken link.
Conclusion
You can build backlinks to your website using smart techniques. If you're just getting started, the whole process might be very time-consuming, but in the long run, it's well worth it. Only build quality backlinks and never waste your time with links that might cause trouble.
To further increase your website's ranking, check out our blog post on SEO Tools to Improve Your Website's Rankings. It will help you leverage the power of backlinks and take your website's ranking to the next level.