When was the last time you were pleased to see a well-crafted cold sales email? Yeah, we thought so. Emailing as a way of sales prospecting has gotten a bad rap over the last few years, and for a good reason.
Overtly sales-y subject lines, phony personalization, bland content…even the salespeople themselves are tired of such emails. Let's say you worked with your sales team to produce an accurate price quote. Now you want to send your proposal to the prospective customer: how do you ensure your sales email hits the right note? Do you have a set formula in mind?
Here is something troubling in the world of sales: most cold emails fail. In fact, even the most strategically-crafted and well-written emails fail to resonate with the target audience. In the bottom line, only 21.5% of sales emails actually get opened, and about 21% get reported as spam even if the senders are not spamming. Pretty bleak, right?
What's more, you only briefly skim them over the subject lines, open a few emails that seem essential, and completely ignore or trash the rest until new emails land in your inbox. It is a vicious circle! Unfortunately, given the noise generated in a typical inbox today, you cannot help but send more and more cold emails.
You might conclude from this, though, that emailing does not work. That is absolutely not true. Done right, sales emails can help you form close personal connections in a way that is impossible with social media or other forms of marketing. So before you give up on email as a component of your strategy, read on.
What a cold sales email does
Let us start with the basics. What does a cold email accomplish? If you think the answer is conversions, you are wrong. Conversions are much further in the funnel — a cold email is a key to opening up that journey by getting you in touch with the key decision-maker and convincing them to set up a call or meeting.
In other words, an effective cold email can significantly boost your chances of making a final sale. But as you can imagine, every person you reach out to receives hundreds of sales emails daily.
When your prospect sees your email in their already-full inbox, what persuades them to click on it? What convinces them to read to the end? And more importantly, what helps them take that final, crucial step of reaching out to you?
The answer, let us be clear, does not mean composing an elaborate new piece for each individual recipient. Nor does it mean downloading a cold sales email template and using it ad infinitum. What you need — what every successful business needs — is a system that effectively contributes to the sales funnel.
Once you have a consistent and predictable system, writing cold emails will be neither a chore nor a soulless cut-and-paste job — and you will get the results you have been hoping for. That brings us to the essential part of this guide:
How to make a cold sales email a hot lead generator
Regardless of the industry you or your target audience operates in, there are some critical components that your cold emails need to get right to substantiate your sales efforts efficiently:
1. Craft your subject lines with care
Did you know that 47% of people open an email based on the subject line? Your email won't get opened if it does not grab their attention immediately. Simple as that. Make sure yours is short yet compelling and captures the intent of your email.
Addressing your recipient by name is a must — and if you do not have their name, use 'you' to make it feel more personal. Remember, personalized emails are up to 6X more likely to be opened. Some examples of custom subject lines for sales emails include:
"Do you have any X challenges?" — This intrigues the recipient to open the email and check out the challenges.
"A fresh perspective on your sales CRM" — Even if you love your software, you might still want to learn a fresh perspective.
"Got an impression you need a helping hand" — If you are genuinely struggling, you would want to check out and learn more about the help you get from the sender.
Types of subject lines you must avoid include the ones creating unnecessary urgency, demonstrating spammy behavior, or fake promises. Just be clear and genuine about your offering.
2. Retain their attention with the opener
Your subject line was the opening act; your first lines are the equally crucial follow-up. An email opener needs to be relevant to the reader, which means that as far as possible, it needs to be about the reader. If it is someone you know, were referred to, or whose content you have consumed, mention your connection to them or complement an article by them that you enjoyed.
Even if you do not know them personally, you can start with a compelling question or an interesting statistic that makes them sit up and keep reading. For instance, you could start with something that tells the recipient how awesome they are — a compliment — and then move on to describe what your company does and what value it can create for the recipient.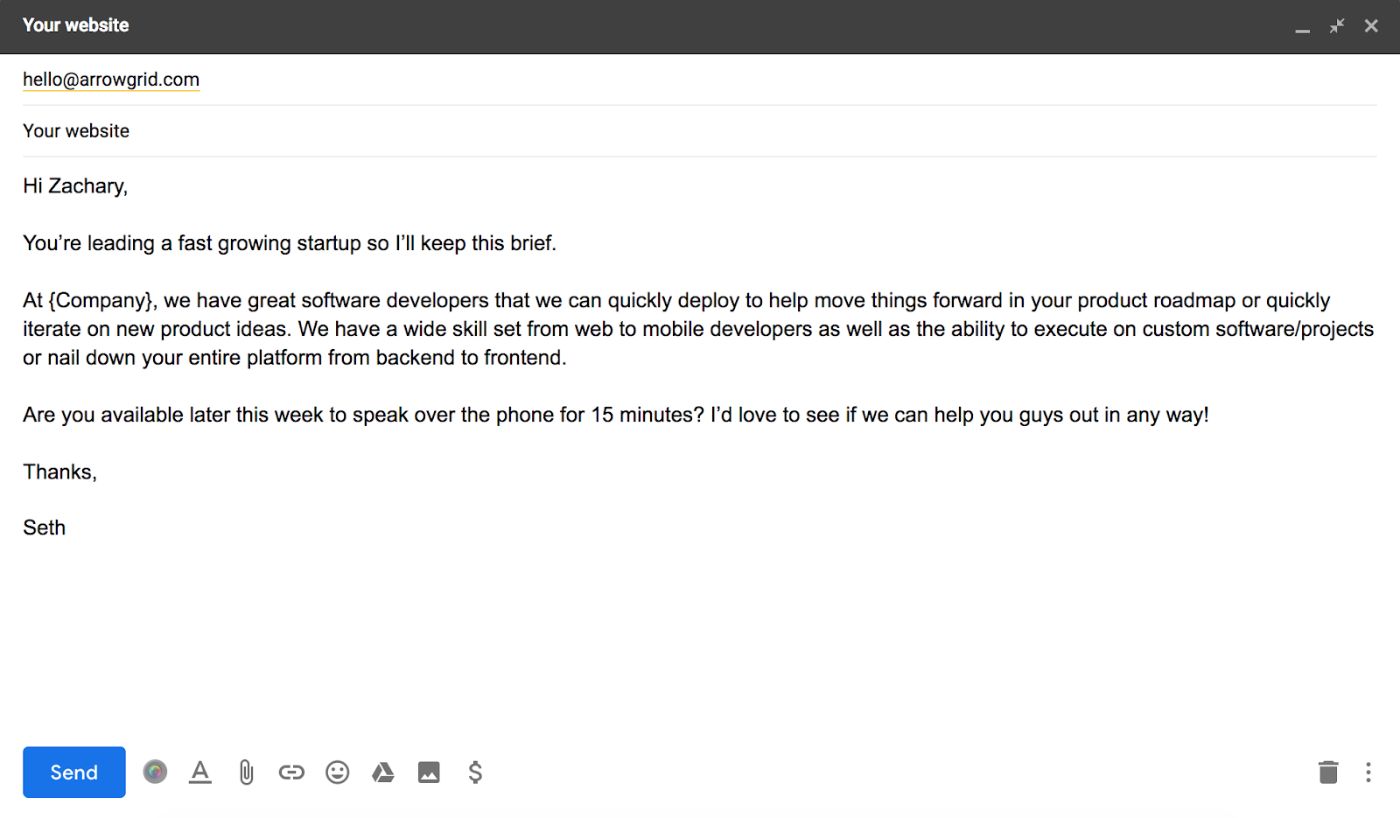 3. Keep your body copy succinct
This is the heart of your sales email, where you explain why you are reaching out and how you can help the reader. Remember that your reader's attention span is limited, so get to the point quickly.
Give them all the information they need without making them search for it too much — and yes, there is such a thing as too many funny memes. A perfect example of the same would be:
4. Use the PAS formula
This is a handy place to start if you need a little help with crafting a good body copy. The 'problem, agitate, solution' formula opens with a problem statement relevant to the reader, stirring up emotions that the problem evokes (irritation, confusion, despair, anger, and so on) and then offers an effective solution. It is a surefire way to present yourself as a brand that can give your recipient real value, rather than as someone just trying to push a product.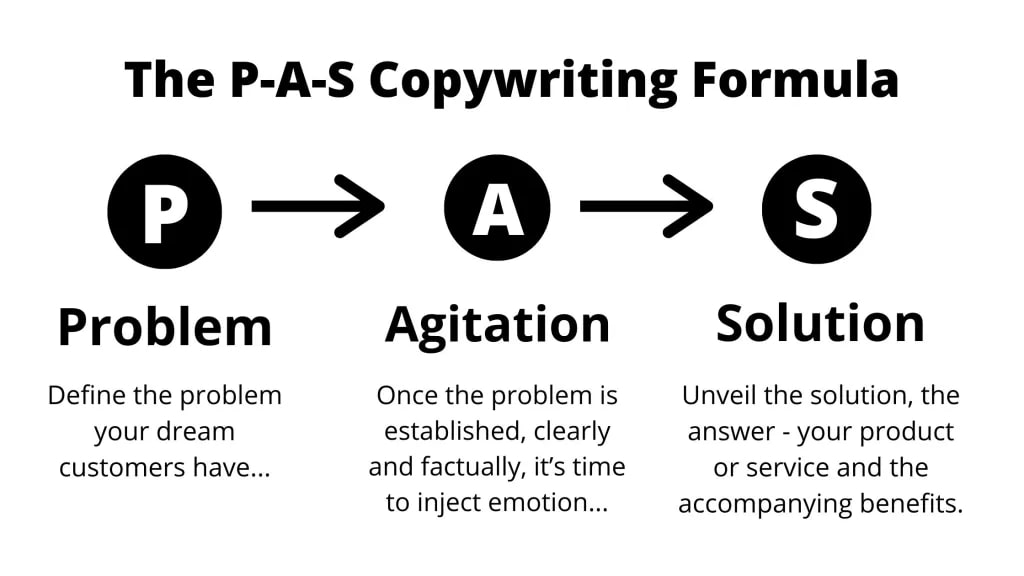 5. Address your readers' hesitations
However clever, any reader would have a few reservations about something being 'sold' to them. Instead of waiting until they reach out to you, directly address those reservations in your sales email copy, such as by saying, 'I know what you are thinking — too many forms to fill.'
But that is not all — follow that up by demonstrating how they need not actually have those reservations when they opt to work with you. It is a simple yet powerful way to gain their trust.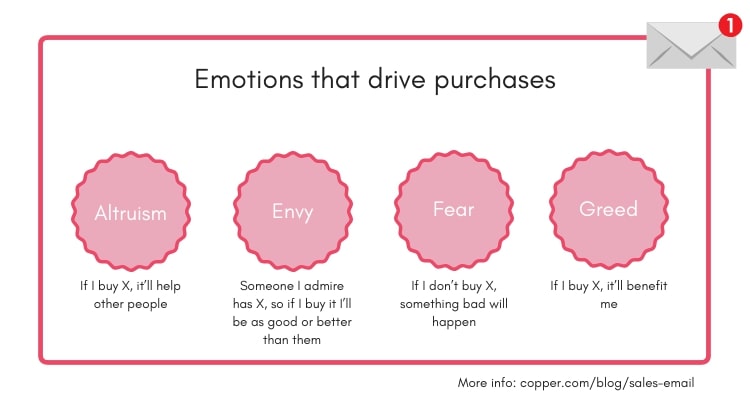 Your email might be part of your sales strategy, but it should not sound sales-y. Since you are not there in person to connect with the recipient, your sales email needs to sound warm, genuine, and friendly.
Your recipient needs to feel like you are interested in helping them rather than just peddling products. This is where having buyer personas help — consider the personality of each persona and tailor your tone and language to what would resonate with them the most. Be genuine in your tone.
6. Provide customer proof
The best way to dispel reservations or doubts is by offering real-world proof that your product works. Link some five-star reviews in your email copy, or provide a link to a success story or video testimonial they can view at their leisure.
And remember that this is not just effective for cold emails — follow-up emails that contain reviews or customer stories are great ways to nudge someone towards a conversion.
7. Have a compelling CTA
Think of this as more of a personal branding exercise. Your CTA follows your solution and tackles the crucial question of 'what next.' Now that your recipient knows how you can help them, how do they contact you to learn more? Keep your CTA direct and unambiguous by inviting them to a webinar the next day or providing a Calendly link where they can schedule an appointment with you. You do not need to design a CTA for this. Just a simple sentence towards the end of the email can work well.
8. Have a strong email signature
This is your bow out — it may be last, but it certainly is not the least. 'Sincerely' or 'Best regards' are good options, or you could go for something a bit creative. Include your name, your designation at the company, and at least one link where the recipient can reach you, be it your company website or a blog/Instagram link.
If you don't have a signature yet, you can use Mention's free email signature generator.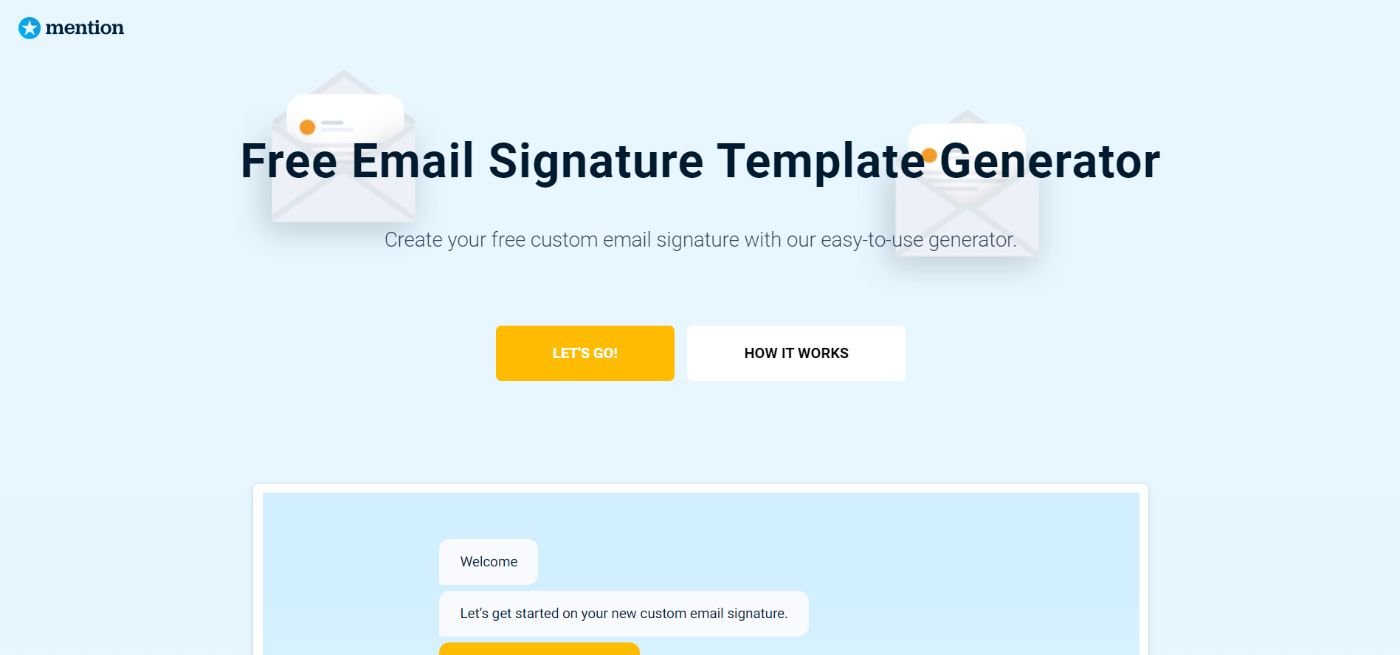 Your recipient may skim through the email and not be impressed enough to reply to you. A robust email signature subtly nudges them to check out your company profile on their own and make an informed decision to connect with you at their pace.
9. Time your sales email correctly
As with many aspects of business, timing is everything with a cold email. Schedule it to be delivered at a time of day when the recipient is likely to be a bit freer and more in a mood to read emails.
You should also watch for critical moments in the recipient's career, such as a new company acquisition or a book launch, then tie your email content with that event and schedule to send it out accordingly. According to SuperOffice, the best time to send a sales email is Tuesday, followed by Monday and Friday.
10. Format your email for mobile reading
Once you have made sure your copy is error-free, focus on ways you can make the email more digestible. Break the copy up into small paragraphs, and use subheadings as necessary. Highlight important points in bold and avoid abbreviations unless you are sure that your reader knows what they stand for.
Attractive fonts and images are a nice touch, but as we mentioned earlier, do not include anything that could slow down loading time across devices. Overall, the shorter your sales email, the better!
Moreover, format your email for mobile reading. It is no surprise that 47% of recipients across all demographics open their email on their phones — we are on our devices most of the day. So make sure your email loads quickly and is easy to read on screens of any size. Clunky graphics or oddly-sized font? A strict no-no.
11. Check your copy before sending
This may seem like a small step, but it is vital to review your email copy and ensure it is free of spelling and grammar mistakes or any factual errors. No one wants to see their or their company's name spelled wrong in an email! It can cause quite an aversion.
You might be a seasoned writer, but even the best of us have had days when we made spelling mistakes in an email. And you certainly do not want to do that with a prospective client!
Over to you
So, do cold emails work? The short answer is yes! When written well, cold sales emails can lead to plenty of revenue growth opportunities for your business.
Now that you have all the knowledge you need to craft an excellent cold email, we will give you the most critical piece of advice — keep writing.
It's important to keep practicing the craft of cold email writing and continue to reach out to prospects of different backgrounds and personas. The more consistent you write, the more you are setting yourself up for a stronger future sales pipeline.