Having a well-defined SEO strategy in place has become more critical than ever.
Here's why:
The COVID-19 pandemic forced consumers and businesses alike to make sudden changes at short notice.
So even though people are now consuming more online content than ever, that doesn't mean that everyone's benefitting from this surge of online traffic. 
That's because the COVID-19 pandemic changed not only consumer buying behaviors but search behaviors as well. 
For example, this graph from Google Trends shows how coronavirus-related content remains the most searched topic.
Meanwhile, businesses that offer non-essential products and services saw their site traffic take a massive nosedive within the first weeks of the COVID-19 pandemic.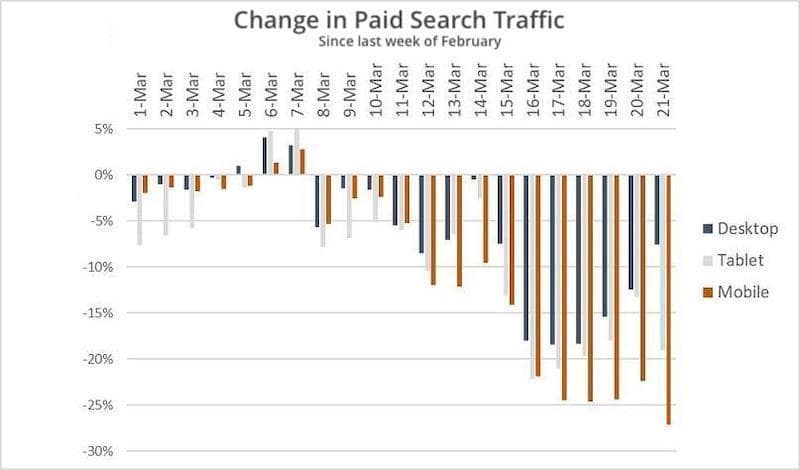 As a business owner, these stats can easily make you feel depressed and anxious about your business, especially if you aren't selling any essential goods. These can even cause you to question the fate of your business.
After all, how can you keep your business going if you're classified as a non-essential business?
The good news is that your business can still thrive in these uncertain times. However, you'll need to make several changes. One of these is the SEO strategy you're using to drive traffic to your site.
How to refine your SEO strategy to boost your site traffic during a pandemic
Table of Contents:
1. Do some house cleaning on your website's navigation and user experience
To understand why user experience plays a vital part in your SEO strategy, you have to first know how Google ranks websites on its search results pages (SERPs).
Google's main objective is to provide you and its other users with a list of the most relevant and useful content based on several key factors. One of which is the overall experience your visitors get using your website.
There are several signals that Google looks at to determine the overall user experience your website provides.
First is your website's loading speed.
One research done by Google shows that your website should load within three seconds. The longer your website loads, the more likely your visitors would leave.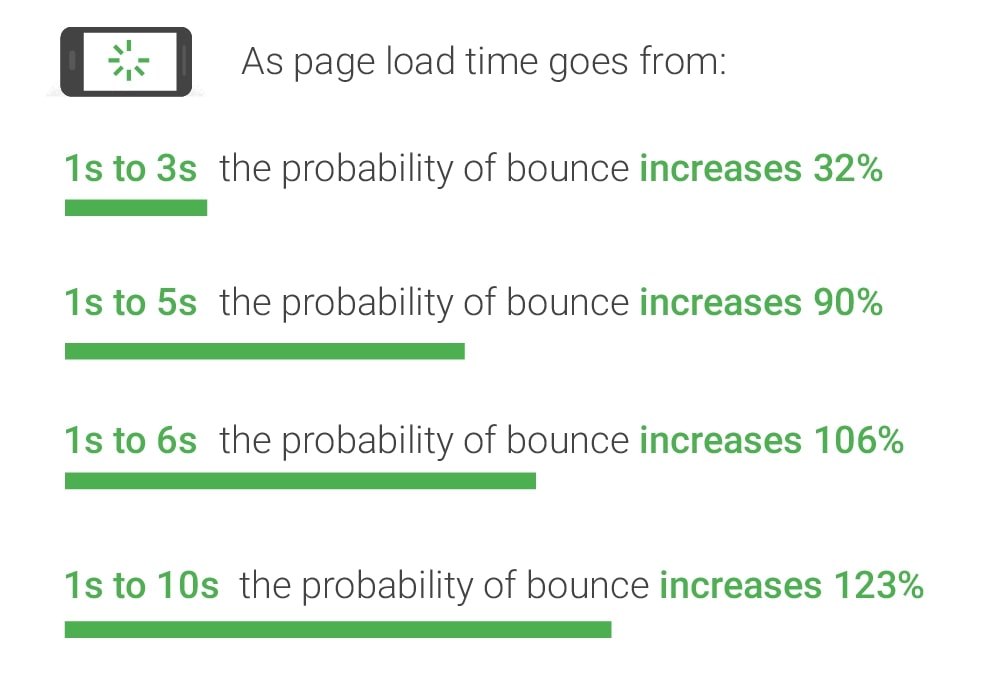 Google's Page Insights is an excellent tool to use here. Not only does it tell you your website's loading speed, but it also gives you suggestions on how to improve it.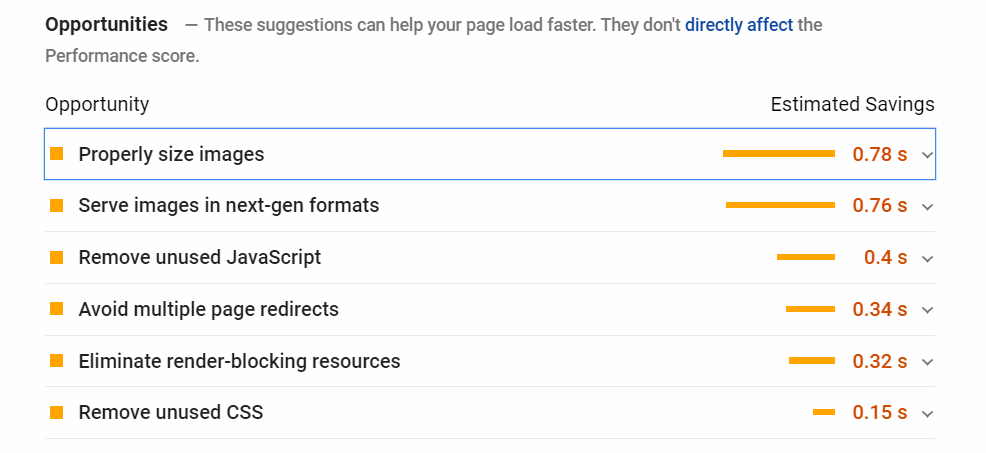 Another factor Google considers is how easy it is for your website visitors to find the information they're looking for.
One way to provide this to your website visitors is by organizing your content using the topic cluster model.
As its name suggests, the topic cluster model that links together the content you've published about a specific topic.
On top of making it easier for your site visitors to find the information they're looking for, the topic cluster model also encourages your visitors to stay longer on your website.
This, in turn, tells Google about the quality of the content you're publishing on your site, further improving your site's search rankings.
2. Have a schema markup in place
Schema markup is a code snippet that makes it easier for Google and other search engines to find and display the content you publish on your website.
More importantly, schema markup tells Google and other search engines what your content is about in a language that they can easily understand. 
This is crucial since Google puts a premium on how relevant your content is based on a user's search intent or context behind the search.
The good news is that adding a schema markup is very easy to do.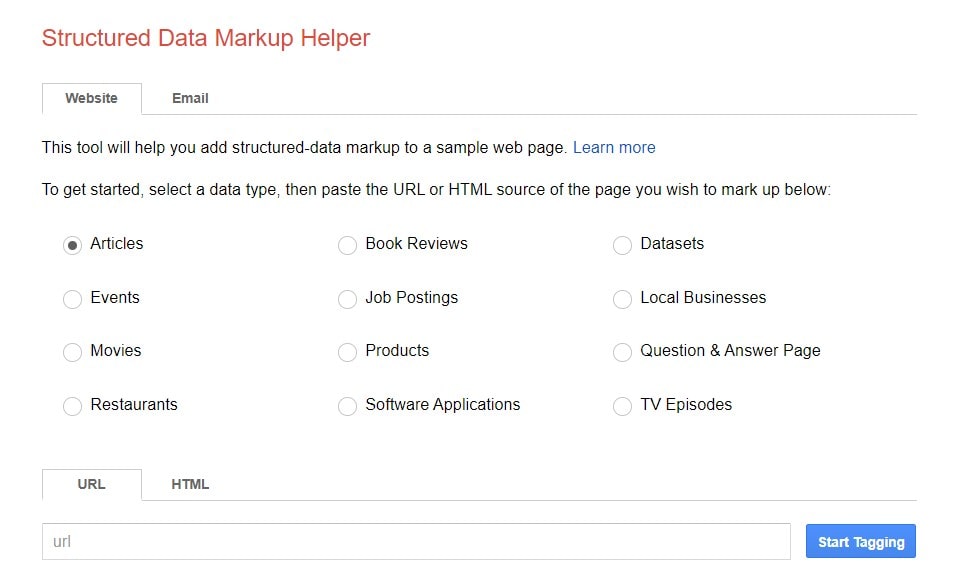 All you need to do is to go to Google's Structured Data Markup Helper tool, select the data you want to display, insert the target URL, and tag the right elements within your website's page.
You'll then be given a code that looks like this:

3. Publish content related to COVID-19 on your site.
Publishing content that specifically tackles topics within the context of the COVID-19 pandemic allows you to naturally incorporate keywords that are currently trending on Google search results and rank higher on Google search results. 
The key here is ensuring that whatever content you publish provides helpful information about the coronavirus while still being relevant to the products or services you're offering.
This blog post from HipCamp's website is a perfect example because it gives its readers guidelines on how they can stay safe and protected from the coronavirus while they're camping.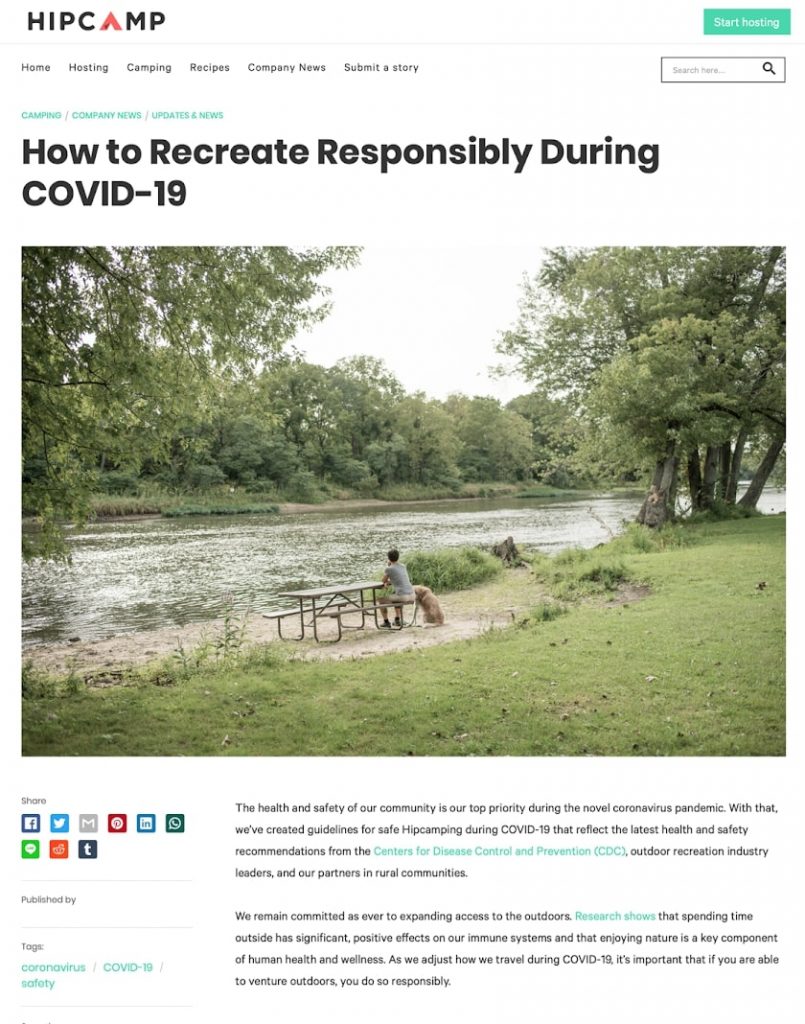 Another idea is to publish content about inspirational stories about you and your employees in light of the COVID-19 pandemic. Not only will this help your SEO strategy, but also help you build a trusting relationship with your customers.
That's because customers base how much they trust your brand on how you treat your employees. Publishing these stories and also how you're addressing your employees' concerns during this pandemic will help you win their trust and open the door to nurturing that relationship further.
4. Focus on delivering high-quality, evergreen content
In addition to publishing content relevant to the COVID-19 pandemic, take the time to publish long-form evergreen content that's packed with helpful information and actionable tips.
The reason?
COVID-19 has caused many people to evaluate their career paths. As such, they're looking for resources that'll provide them with the skills and knowledge to allow them to change jobs during the pandemic successfully.
And since evergreen content stays relevant to your target audience regardless of the times, they'll still be helpful and valuable to your target audience after the pandemic is over. As a result, you'll rank higher on Google search results, and drive more traffic to your website over time.
5. Pay close attention to what your customers are asking
Because social gatherings are now discouraged, people are spending more time connecting and conversing with each other online, particularly on social media platforms. In fact, one survey shows that 29.7% of internet users spend up to two hours on social media.
Investing in a social listening tool like Mention will allow you to keep track of the conversations happening around your brand and products. At the same time, it serves as a vital research tool in refining your SEO strategy.
How?
With social listening, you can track and analyze who's asking about your brand and your products. You can also identify which trends you need to address and even how your competitors are doing compared to your business.
By closely monitoring conversations about your brand and product, you can now develop content that'll address these concerns. You can include phrases they've used to describe these pain points in the list of keywords you'll target for your SEO strategy.
This not only provides them with relevant content but also improve your search rankings.
6. Claim your Google My Business page
If you're one of the many small business owners who had to migrate your business online because of the COVID-19 pandemic, now's the time to claim your Google My Business page.
Along with displaying your business information, your Google My Business page gives you the chance to collect reviews from your customers and include a link to your website.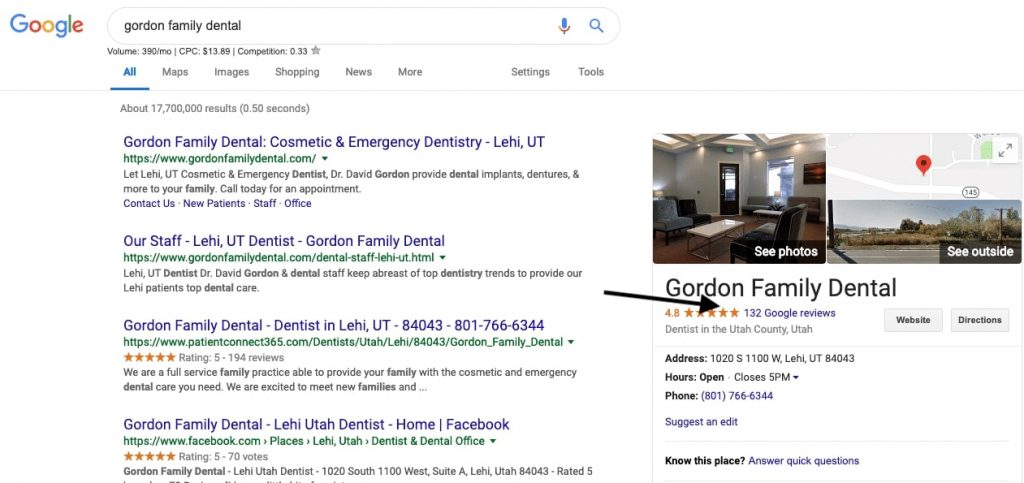 More importantly, your Google My Business page tells your target market if your business is open and what services you have that'll specifically address their needs during the pandemic.
7. Update your top-performing content to make this relevant
If you had any blog posts that performed very well before the COVID-19 pandemic, updating them so that they're relevant to the times will further boost your site traffic.
Buzzsumo is an excellent tool to use for this. You can type in your website's URL, and Buzzsumo will fetch your old blog posts with the most shares on social media.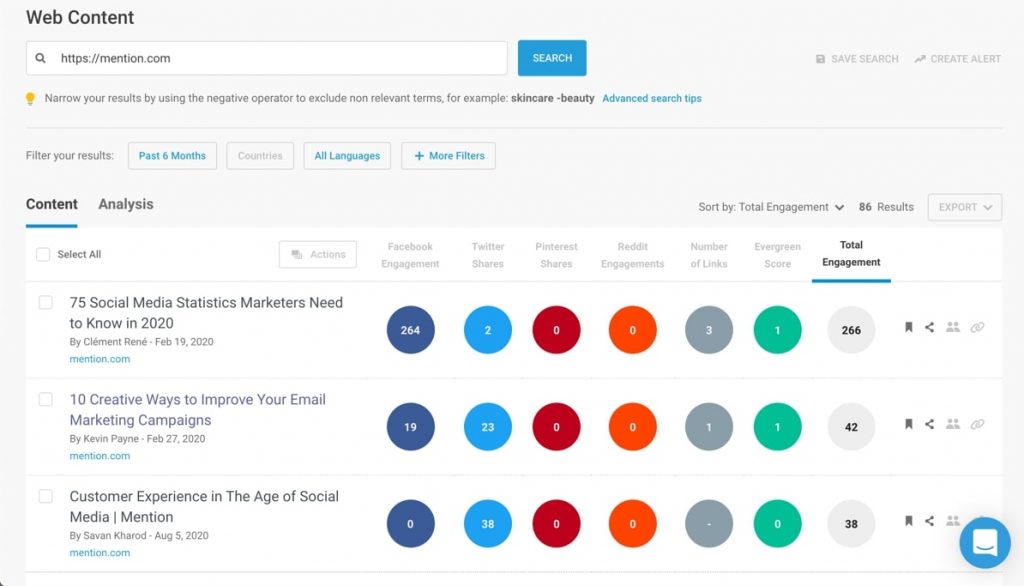 You can also find your top-performing posts by checking your Google Analytics for those blog posts and landing pages that generated the most page views on your site.
Once you've come up with a list, the next step is to freshen it up. Here are some suggestions:
Update data, statistics, and other figures shared with those coming from more recent studies.
Replace external links that now lead to 404 pages.
Link more articles you've recently published within your blog.
Add trending keywords relevant to your content.
When updating your posts, make sure that you include a disclaimer on the top or bottom of your blog post that looks like this:

That way, your readers won't get confused when they see comments submitted from years ago.
8. Collaborate with micro-influencers
Even though COVID-19 significantly impacted influencer marketing as a whole, it's still a good idea to incorporate this into your SEO strategy to boost your site's traffic.
That's because micro-influencers still have their loyal followers who are willing to engage with the content that they publish. They can also produce fresh user-generated content (UGC) for your brand.
Not only does UGC help promote your brand to your target audience, but it can also help you rank for the right long-tail keywords.
At the same time, these UGC can also help you build backlinks to your site. This is crucial because sites with lots of backlinks rank higher on Google than those that don't.
More importantly, UGC content published by micro-influencers provides you with social proof, making it easier for your target audience to trust your site.
9. Create a dedicated FAQ page for COVID-19-related questions
Another surefire SEO strategy to boost your site traffic is to provide your customers with an FAQ page with answers to questions they may have because of the COVID-19 pandemic.
This page will allow you to ride on the traffic brought in by trending keywords, even if you're not running an essential business.
More importantly, it will assure your customers that you're open for business and that you're taking all the precautions to keep them and your business safe during the pandemic.
Zero Grocery, for example, includes information on its FAQ page about the measures they're taking to ensure the safety of its workers and its customers like doubling down on sanitation and practicing social distancing.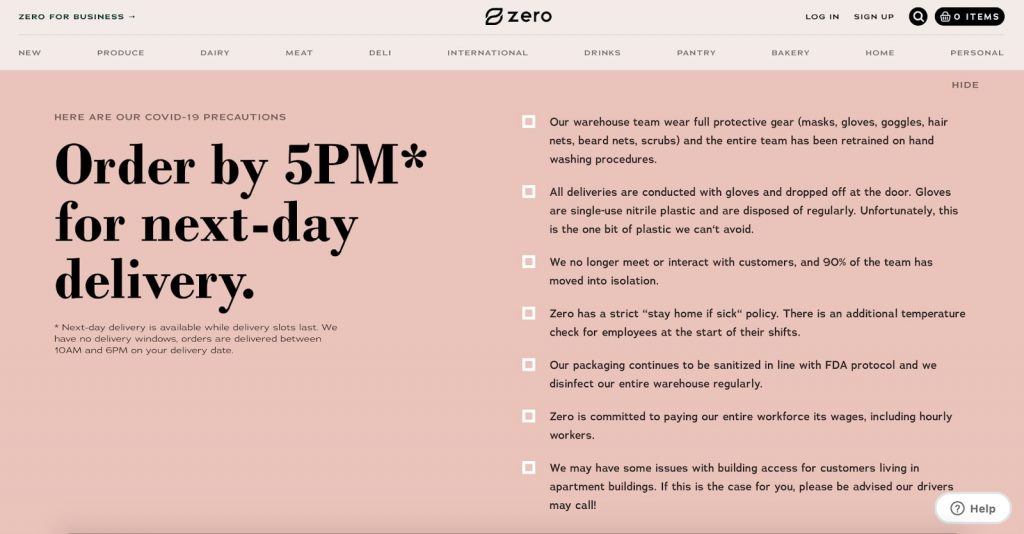 10. Keep the conversation going with your customers
Even if the COVID-19 pandemic forced you to close down your business temporarily, that shouldn't be a reason to stop reaching out and engaging with your leads and customers.
On the contrary, now's the time to stay connected and engaged with your followers on social media and subscribers on your email list. After all, you've worked so hard to build these. It would be a shame to let them slowly wither away.
That doesn't mean to say that you should start bombarding them with offers left and right. Doing this during these uncertain times would only drive them away.
Instead, make it a point to remain tactful and aware of the current crisis by focusing on providing them with helpful content that aims to solve their most pressing problems and to alleviate their concerns.
Take this email Nunn sent out to its subscribers, for example.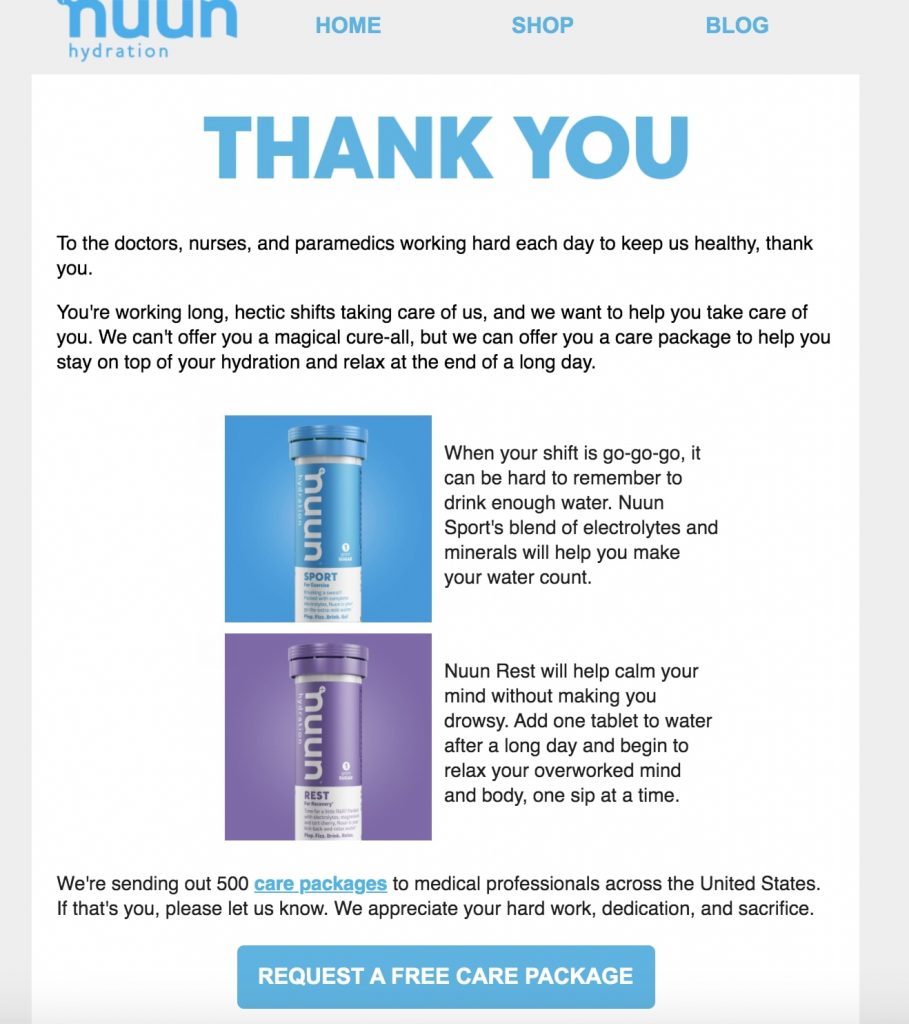 Even though the email was meant to promote its products, the email copy was carefully written so that it focuses on the brand's desire to assist its customers who are currently serving as front liners during the COVID-19 pandemic.
Key takeaways
As the COVID-19 pandemic continues to change the world as we know it, brands need to learn to adapt how they do business quickly. Otherwise, they risk being left behind.
Each of the different techniques shared in this article will help you refine your SEO strategy to boost your site traffic even during the COVID-19 pandemic.
The best approach in applying these to your business is to choose one of the strategies shared here and then incorporate this to your current SEO strategy. That way, it'll be easier for you to monitor and evaluate the results you're getting.